While I know it is easy to buy a can of beans, making these Instant Pot Beans at home is equally economical and easy. But with all of 5 minutes of prep work, and a little patience you can save tons of money by cooking beans from dry at home!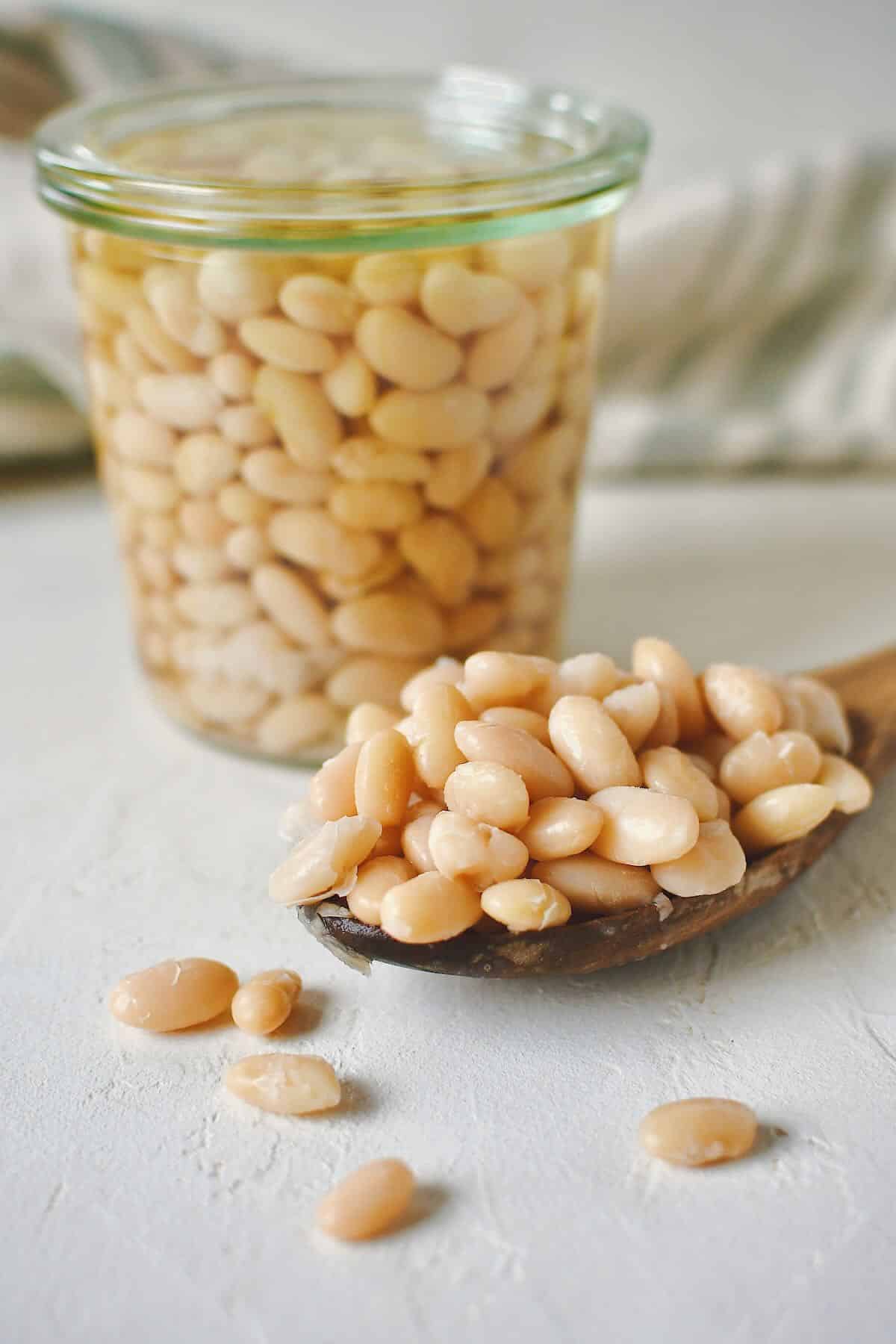 A can of Great Northern Beans for example, like you see in my photos can sell for $1.25-$3.99 a can depending on the brand. You can make the equivalent of 3 cans out of a pound bag of beans for about $1.50 on average.
Jump to:
Ingredients
This may be my shortest ingredient list ever. Beans, water, salt. That is all you need. Well, and an electric pressure cooker, I guess that is an ingredient for this one. I will include cooking times for a few popular beans below, for reference. I really believe this is a great money-saving way to cook that's totally worth it!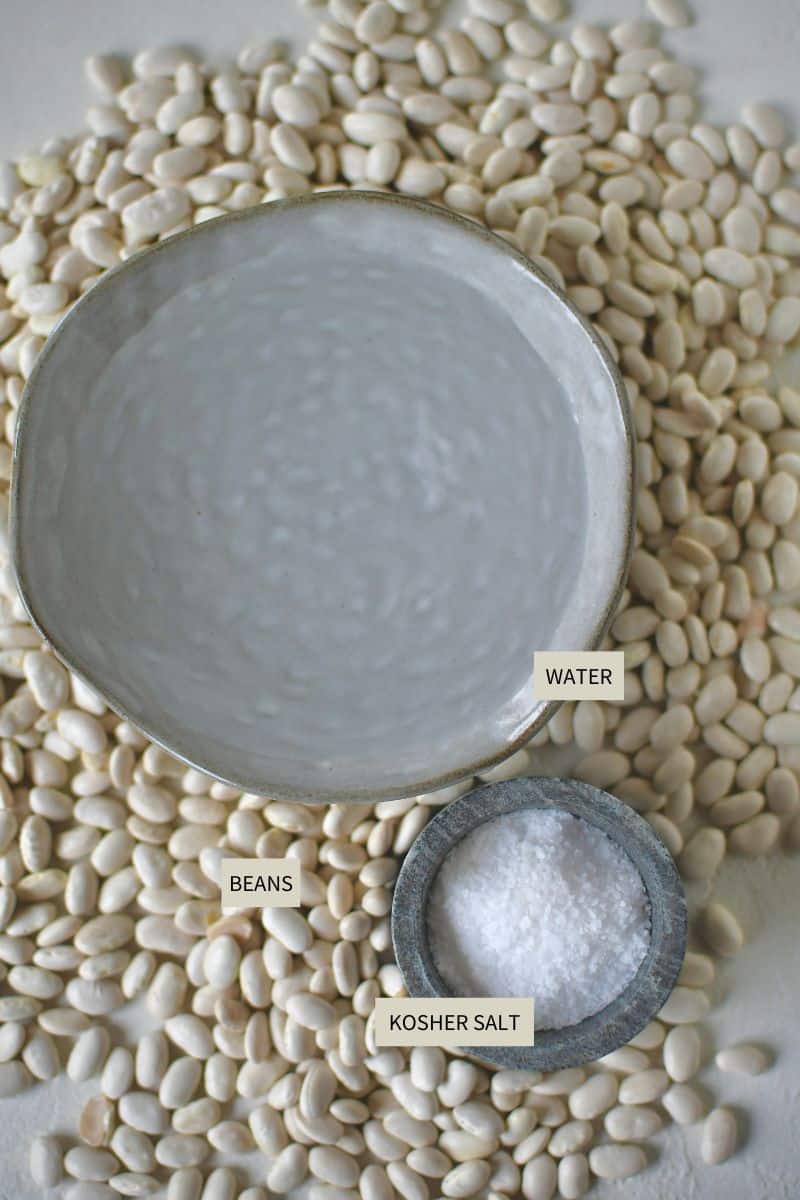 Use the JUMP TO RECIPE button at the top of the post, or scroll to the bottom of the post to see the full recipe card with ingredient measurements and instructions.
Method
To cook beans from dry, all you need is the beans and some water. I prefer seasoning my beans before cooking so they have some flavor when they are done. There are questions out there about the salt hindering the softening of the beans, but I have never experienced an issue with this.
Place the beans, water, and salt in the bowl of an electric pressure cooker and cook on manual high pressure for:
Black Beans - 30 Minutes
Great Northern Beans - 35 Minutes
Kidney Beans - 35 Minutes
Pinto Beans--25 Minutes
For these photos, I have cooked Great Northern Beans.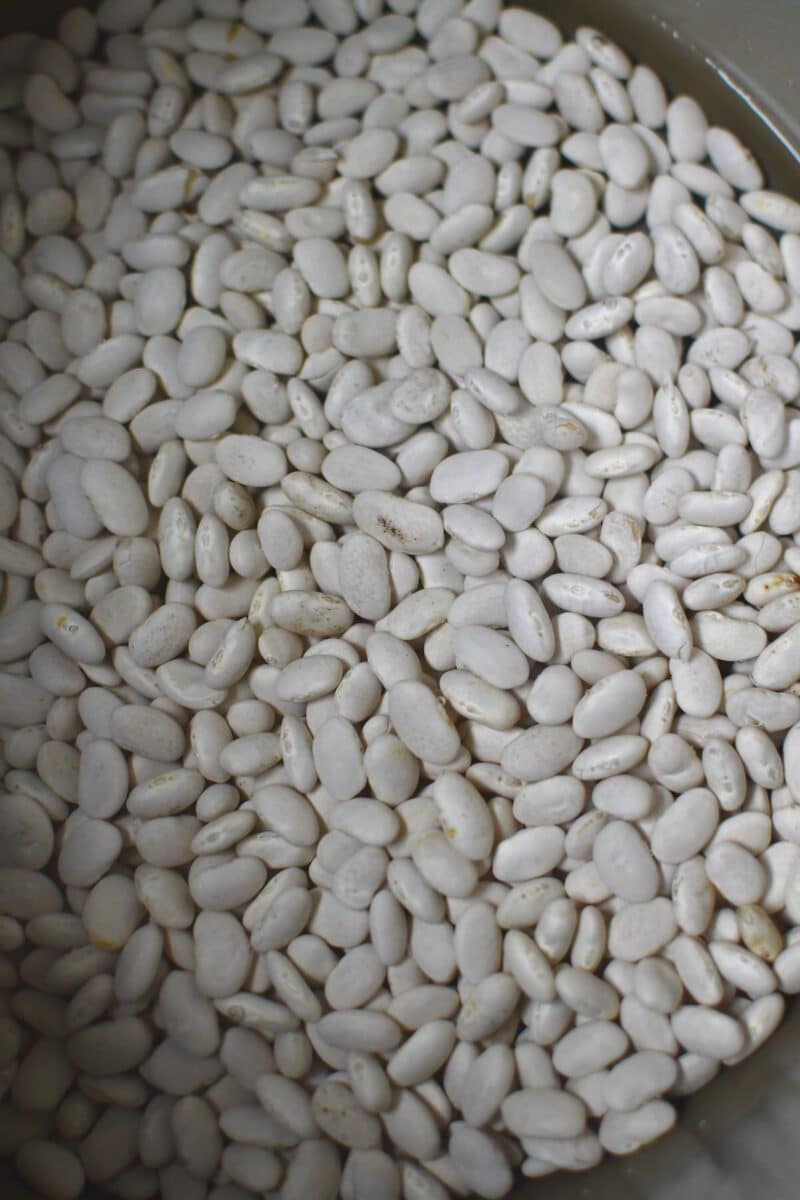 After the beans have cooked you can store them in jars with some of the cooking liquid, enough to cover. This is the best way to store the beans so they do not dry out if you are not going to use them right away. It is not totally necessary, but the beans can get a little dry if you don't.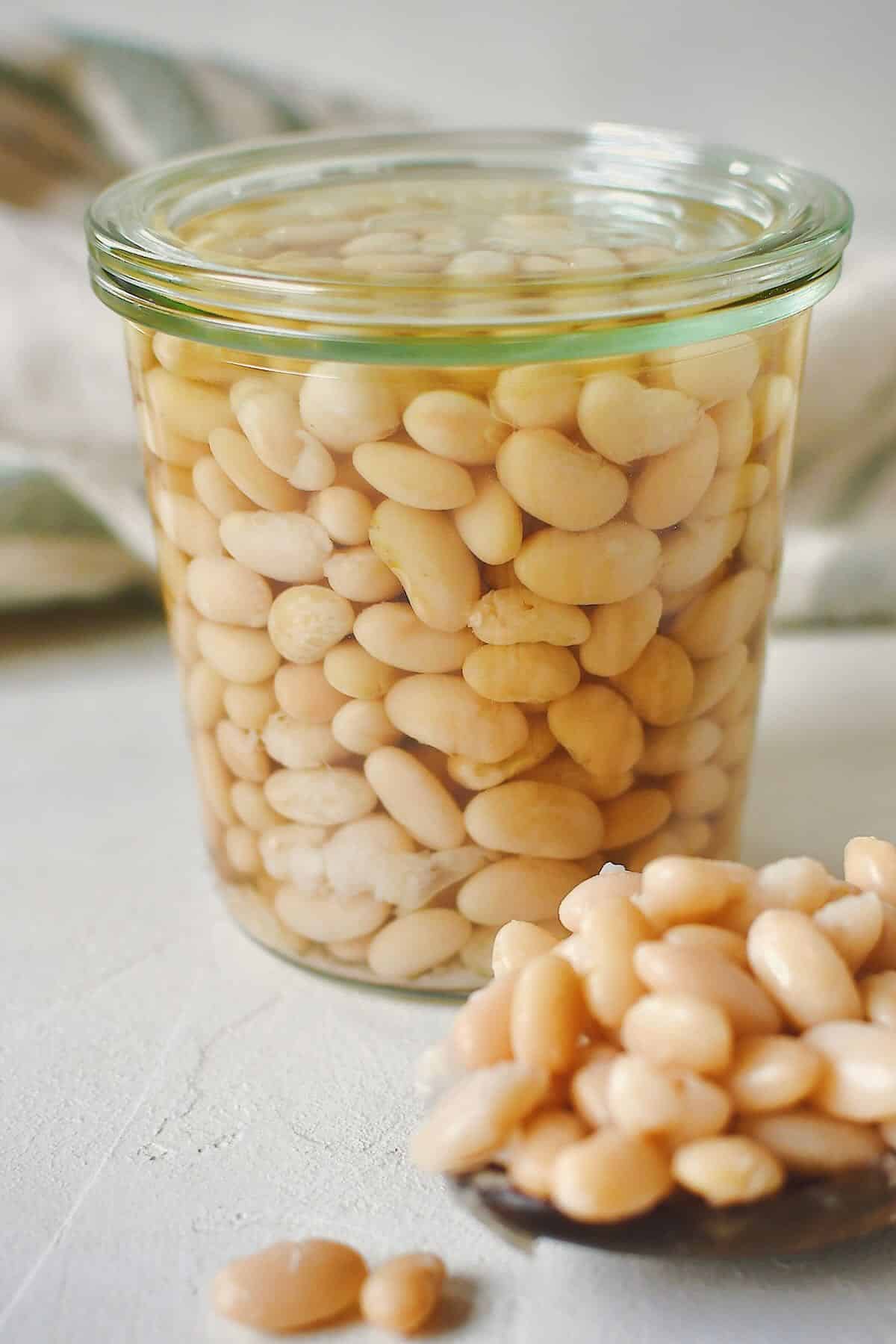 Notes & Tips
You can soak your beans overnight if you like, but using the electric pressure cooker removes the need for this. If you do opt to soak your beans, reduce the cooking time by 10 minutes.
That said, a way to reduce the gassiness of beans is to soak them. Soak for 12 hours in water to help reduce it. Or for 6-8 hours with a teaspoon of baking soda to help. Rinse the beans after soaking. While these are believed to work it is also believed that just cooking them in the pressure cooker cooks the sugars that lead to gas so quickly that it is reduced.
Another way I have read to reduce the gas is by stirring in a teaspoon of apple cider vinegar to the pot after cooking. Let the beans rest in the liquid for at least 30 minutes after cooking if you use this method.
When I prepare my pinto beans this way I like to soak them with some lime and baking soda, because on Mexican night I need to reduce the gassiness as much as possible!
You can drain cooked beans and use them immediately, like in these Dr. Pepper Baked Beans. You can also store the beans, in a clean jar, covered in the cooking liquid. Keep them in the fridge for 3-5 days. They can also be stored in the freezer for up to 3 months, thaw naturally in the fridge, drain, and rinse before using.d
Substitutions
This method works great with black beans, great northern beans, kidneys, and pinto beans. Any of them can be cooked this way and stored or used immediately.
If you would like to infuse more flavor in the beans, cook them in chicken stock instead of water.
I like to salt before cooking. You can also do this after cooking. If you are planning to add any other flavors or spices, I suggest doing it after pressure cooking the beans, as cooking them in this way dulls flavors, so keep them fresh by adding them after cooking.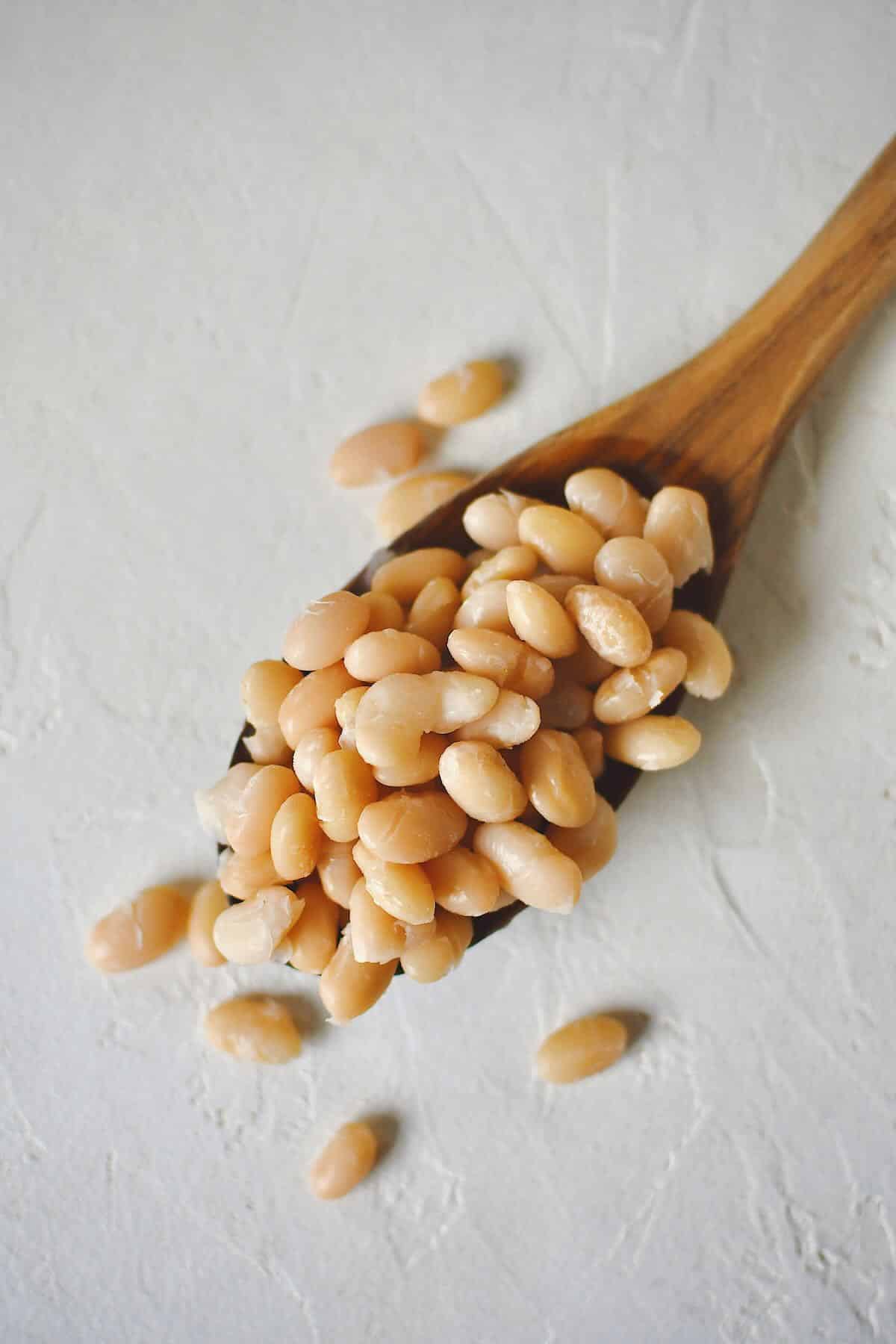 Did you make this recipe? Let me know by leaving a review or comment! And be sure to sign up for my newsletter, and follow along on Instagram, Pinterest, and Facebook!