I have been working for years to create THE smoothest Homemade Hummus Recipe like the one I enjoy from my favorite Mediterranean restaurant. And I have finally cracked it.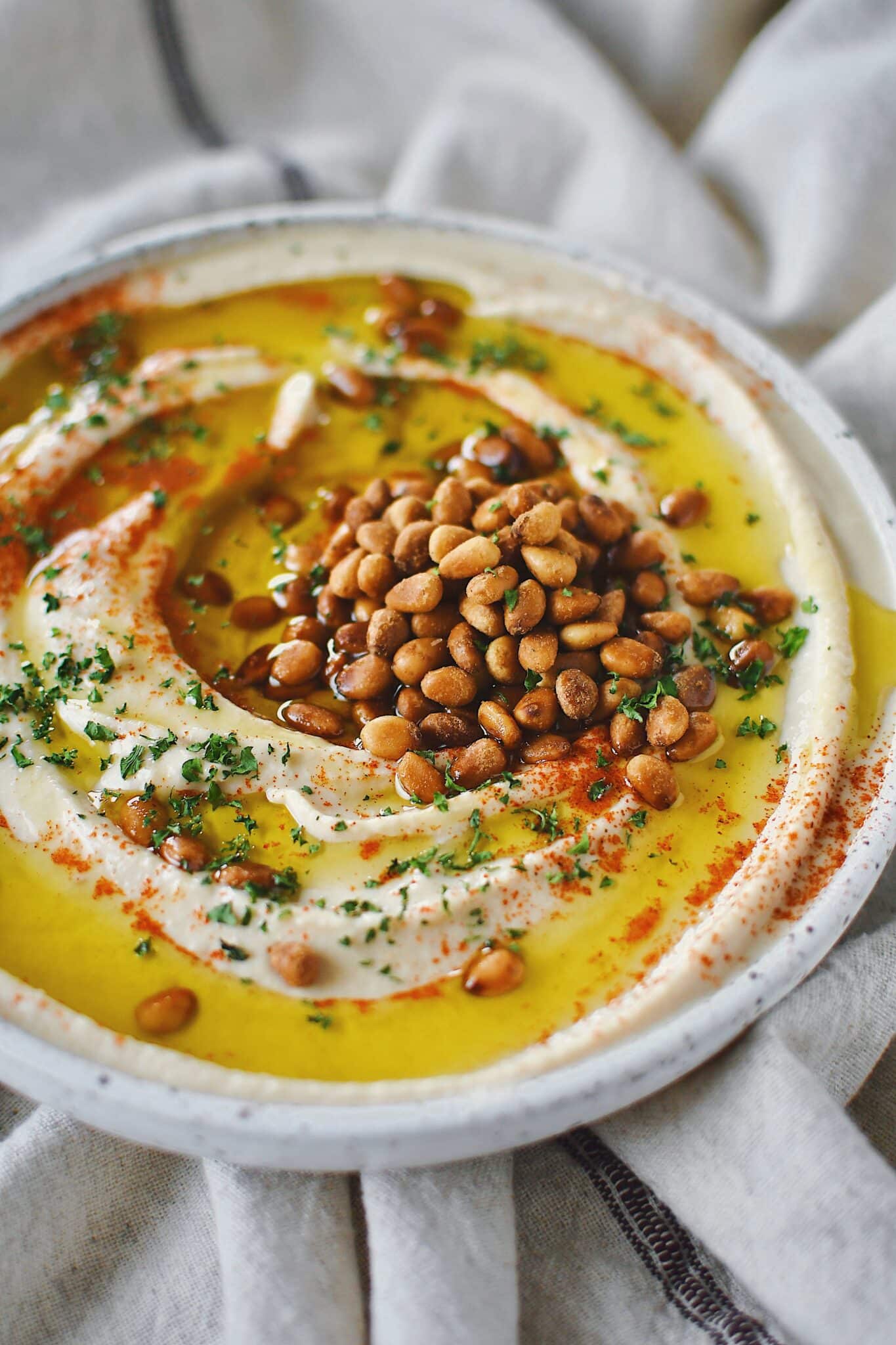 There are two secrets! You need a high-speed blender and chickpeas that you have cooked to death. Now lets dive in to that deeper.
Jump to:
Ingredients
For this recipe, because I need chickpeas that are basically mush, I like to start with dry and cook them in an instant pot. From there all you need is the basics for what you typically find in hummus. Some tahini paste, salt, lemon, and garlic. And if you like, some paprika, olive oil, and pine nuts for dusting on top, those are traditional.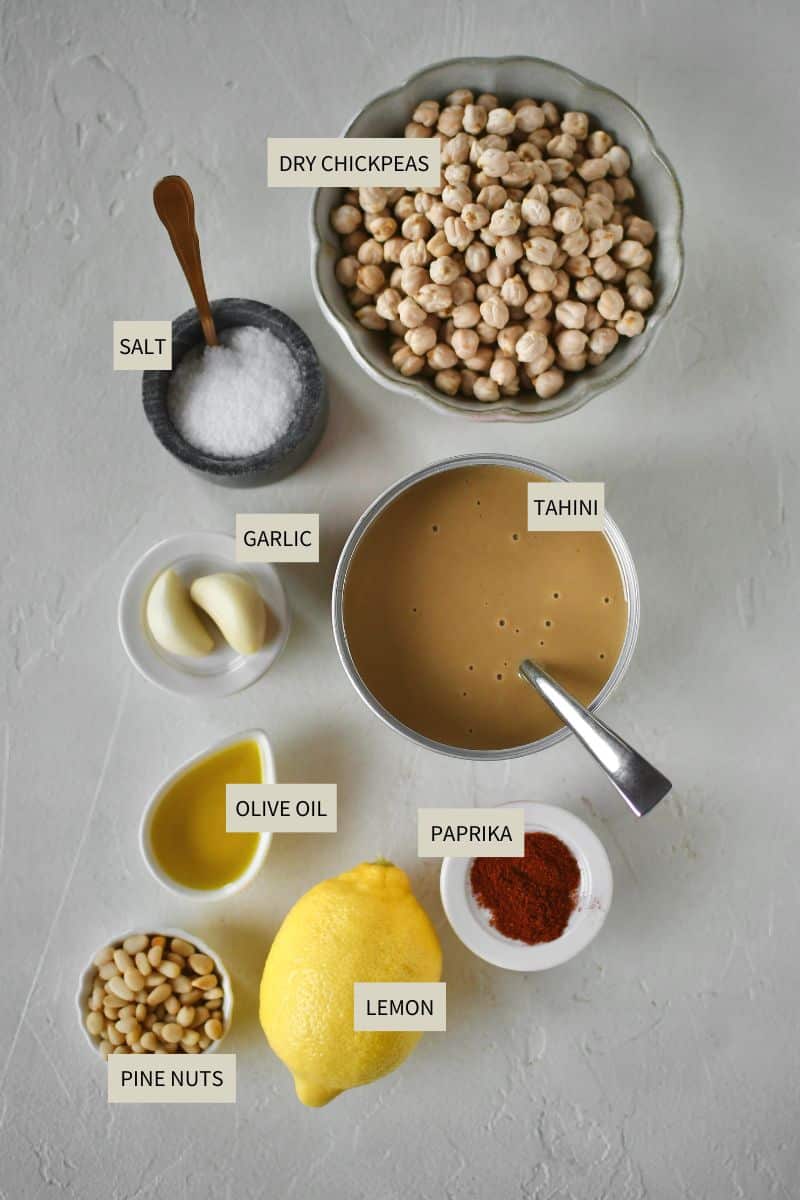 And while you could use canned chickpeas, it would require heating them up to cook them a bit further so starting with dry is cheaper and easier overall. If you don't have a pressure cooker, you can still make this recipe, simply soak the chickpeas overnight first, then cook them on the stove till mushy.
Use the JUMP TO RECIPE button at the top of the post, or scroll to the bottom of the post to see the full recipe card with ingredient measurements and instructions.
Method
First, place dry chickpeas and some salt in the bowl of an electric pressure cooker. Cover them with 2 inches of water and cook on manual high pressure for 30-40 minutes until they basically disintegrate when pressed.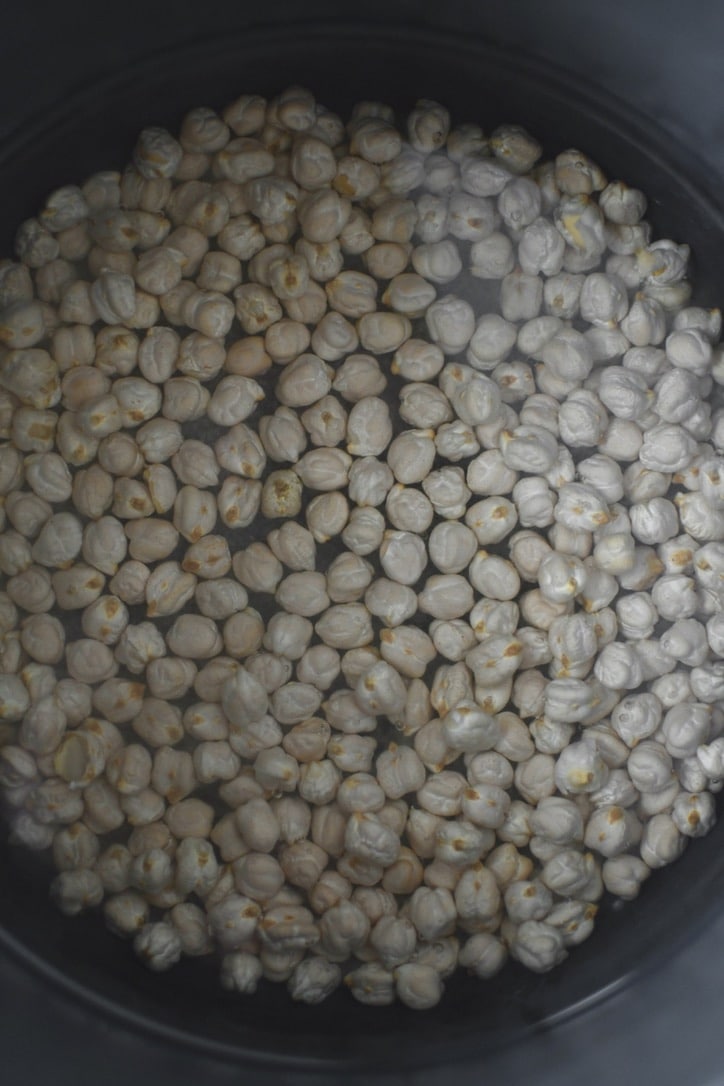 To make the hummus, first, blend the lemon juice and garlic together in a high-speed blender. Then add the mushy chickpeas to it and blend until perfectly smooth, adding in the cooking liquid as needed to get it smooth. I use all my cooking liquid. This is step one to this perfectly smooth Homemade Hummus Recipe.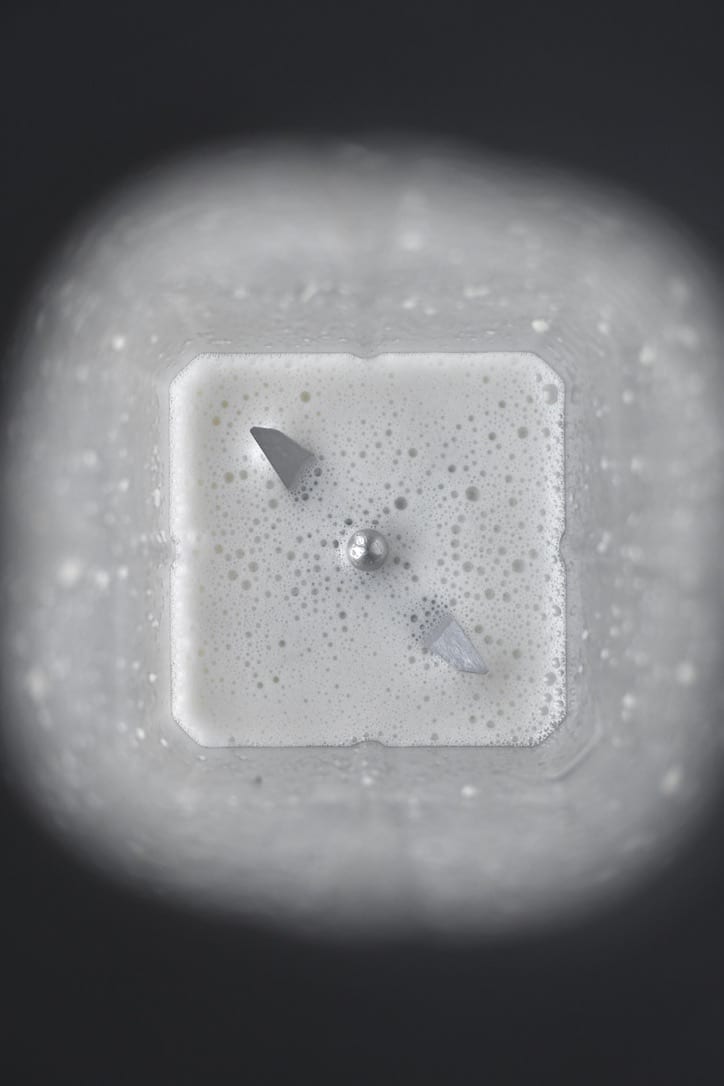 Then place the smooth chickpea puree into the bowl of a stand mixer, and fitted with the whip attachment. This is how you get really nice smooth hummus. Add the tahini to this step and whip it into the chickpeas. At this stage, the tahini will react with the lemon and tighten up the chickpeas and give you really smooth hummus.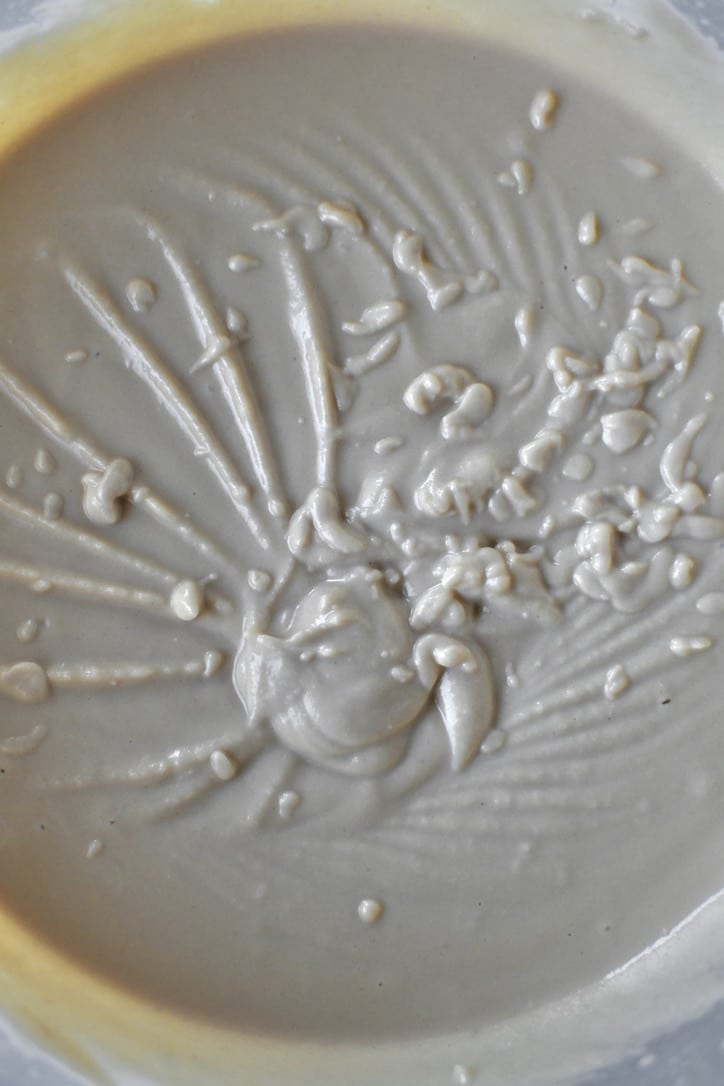 I then chill the hummus for a few hours, as it will thicken up even more as it cools. Then serve it topped with some olive oil, a dusting of paprika, and some toasted pine nuts. You can also add a little parsley, but that is optional and just makes it pretty.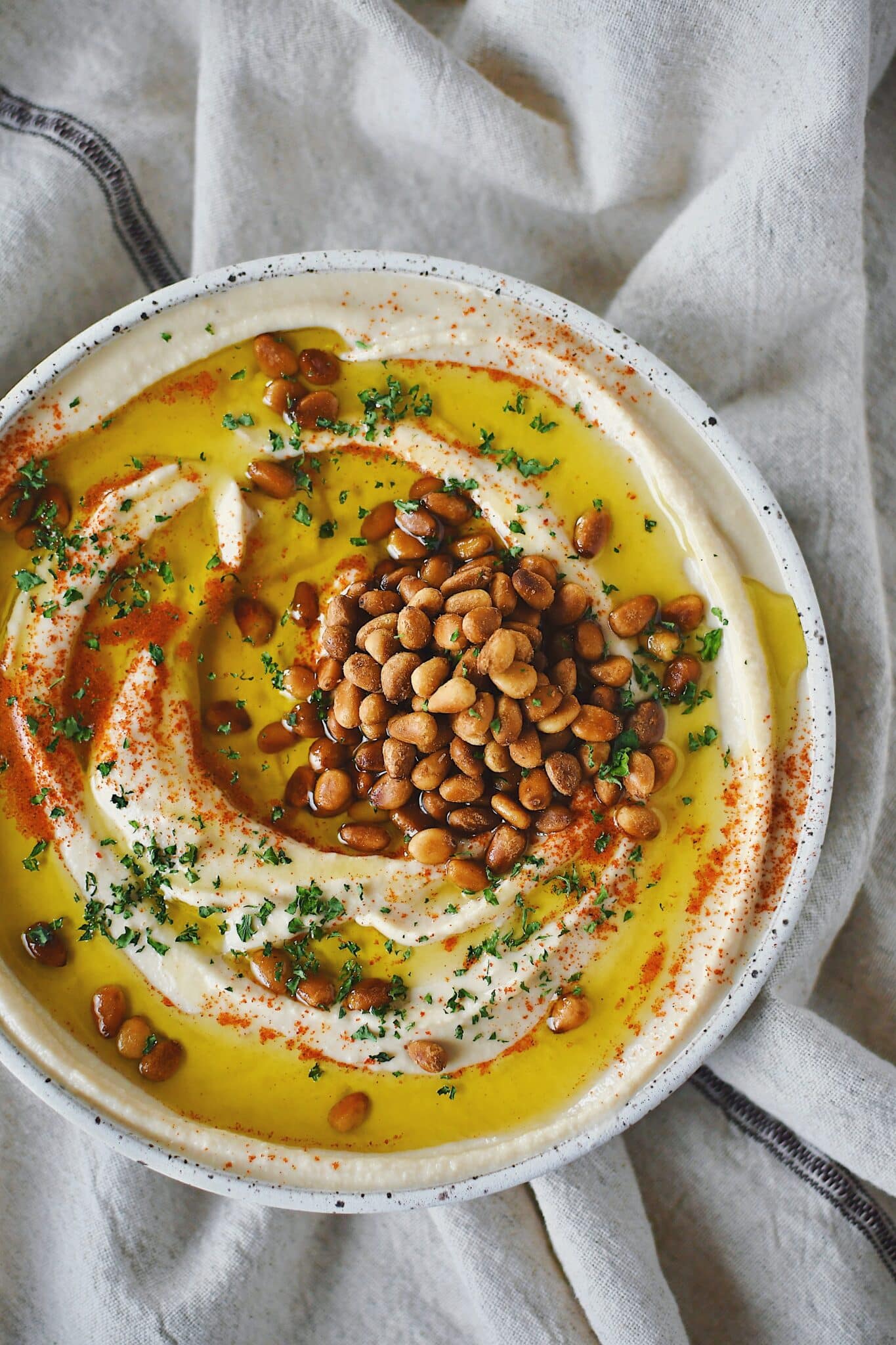 Notes & Tips
The top tip to getting really smooth hummus is basically cooking the chickpeas to death. They should basically be mush. Cook them to the point that they are so soft, and just before they completely disintegrate into the pot.
Next, process the super soft chickpeas in a blender. This eliminates the need to remove the skins from the chickpeas because no one wants to spend the time to do that. It gets the whole mixture super smooth while skipping this step.
You also want to blend the chickpeas while they are warm and use their cooking liquid. This is another key to getting everything super smooth. Add enough liquid to the blender to get a perfectly smooth, loose mixture. It should move freely like a liquid in the blender.
Don't worry about the mixture being too loose in the blender, when you whip in the tahini it will thicken when it reacts with the lemon juice. It will also thicken as it cools in the fridge, it should get thick enough to leave a well when a spoon is dragged through it.
If you do not have an electric pressure cooker, soak the chickpeas in water overnight, or for at least 8 hours. Then cook them in a pot on the stove, covered by 2 inches of water till SUPER soft.
Substitutions
While chickpeas are traditional, you could really follow this recipe with any bean. White beans would be a great option that would yield a very similar end result.
Lemon juice is very traditional to Lebanese or Mediterranean hummus recipes. However you just need an acid, so a mild vinegar like apple cider, champagne, or white balsamic can bring fun, different flavors to this recipe.
For deeper flavor, in place of fresh garlic cloves, confit garlic would be great and bring a nice deep garlic flavor to the final product. You could also drizzle the oil from the confit garlic over the top in place of the olive oil.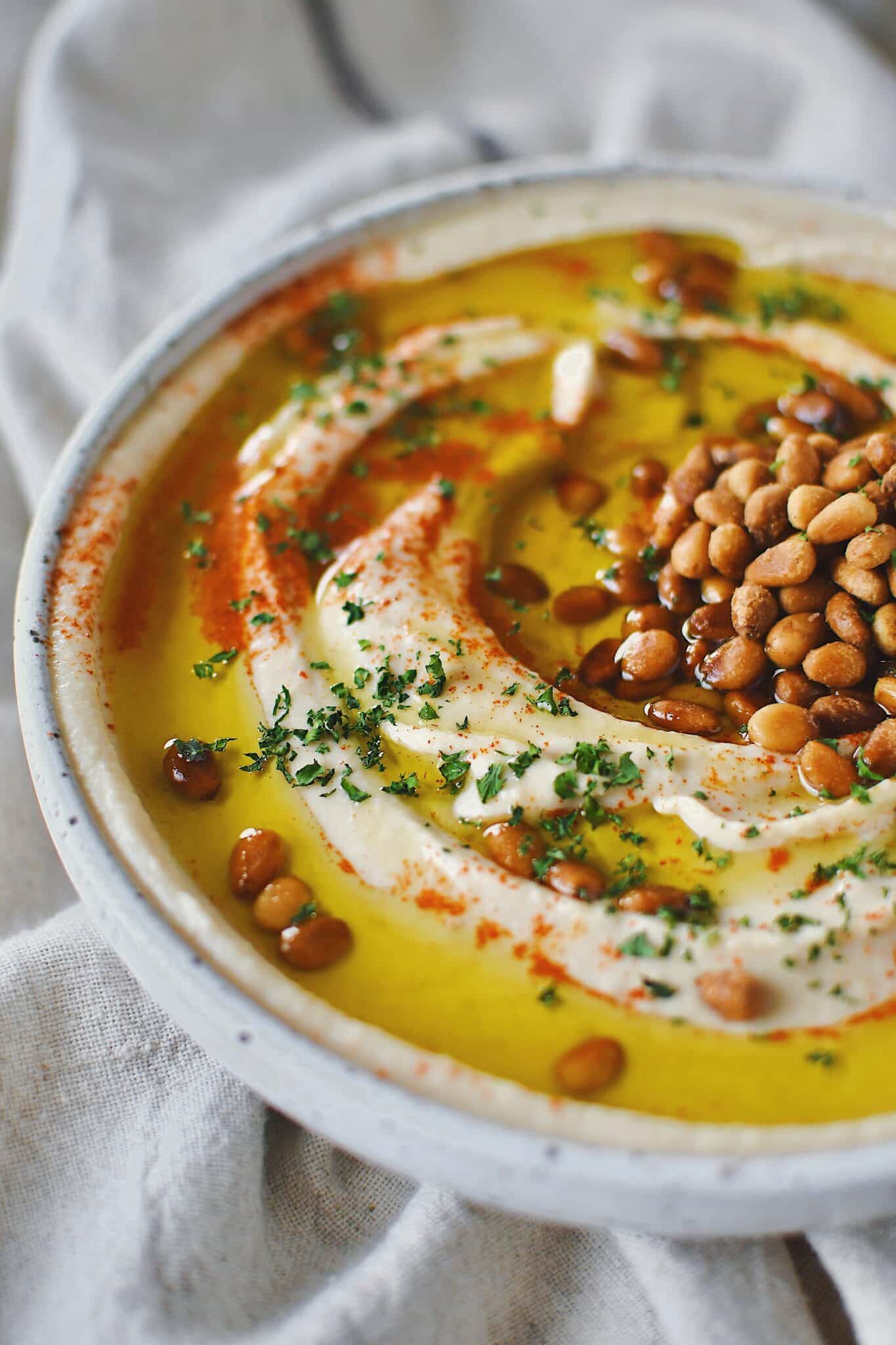 More of my Favorite Mediterranean-Inspired Recipes
Did you make this recipe? Let me know by leaving a review or comment! And be sure to sign up for my newsletter, and follow along on Instagram, Pinterest, and Facebook!