It's no secret that I LOVE Greek food, and this Mediterranean Bowl ranks right up at the top of the favorites list. It is so bright and fresh, perfect in summer, and full of flavors that highlight the season.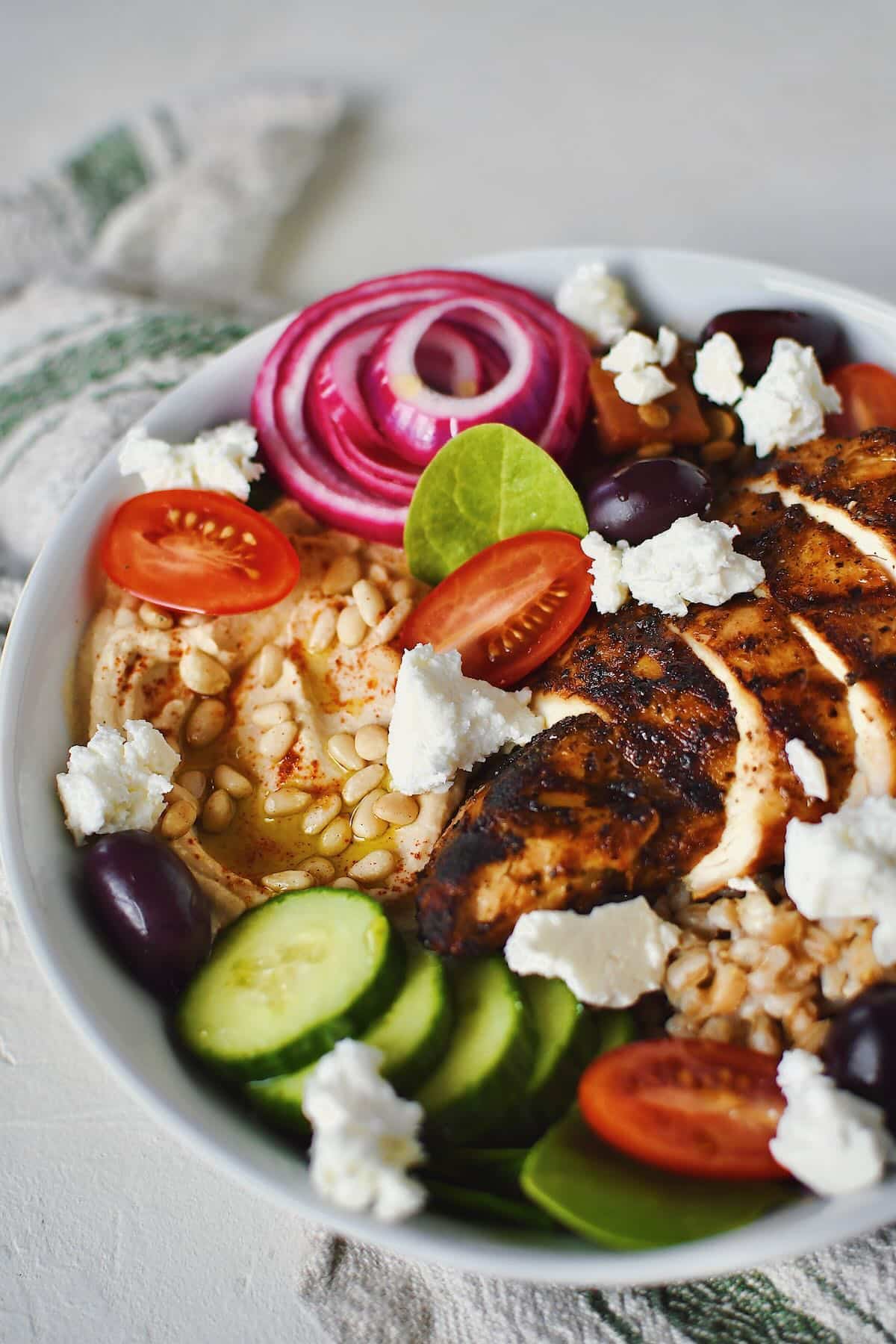 Now you can call this a grain bowl, or a salad, either one works. I like to serve the ancient grain farro and some lentils on a bed of greens to bolster the protein and nutrition of the meal. I like mine with chicken too, but you could leave that off for a well-balanced vegetarian or vegan meal.
Jump to:
Ingredients
When I make my Greek Chicken and Homemade Hummus I always have extra, and that gives me the perfect excuse to make this Mediterranean Bowl. I just cook up some farro and lentils and everything is ready to go.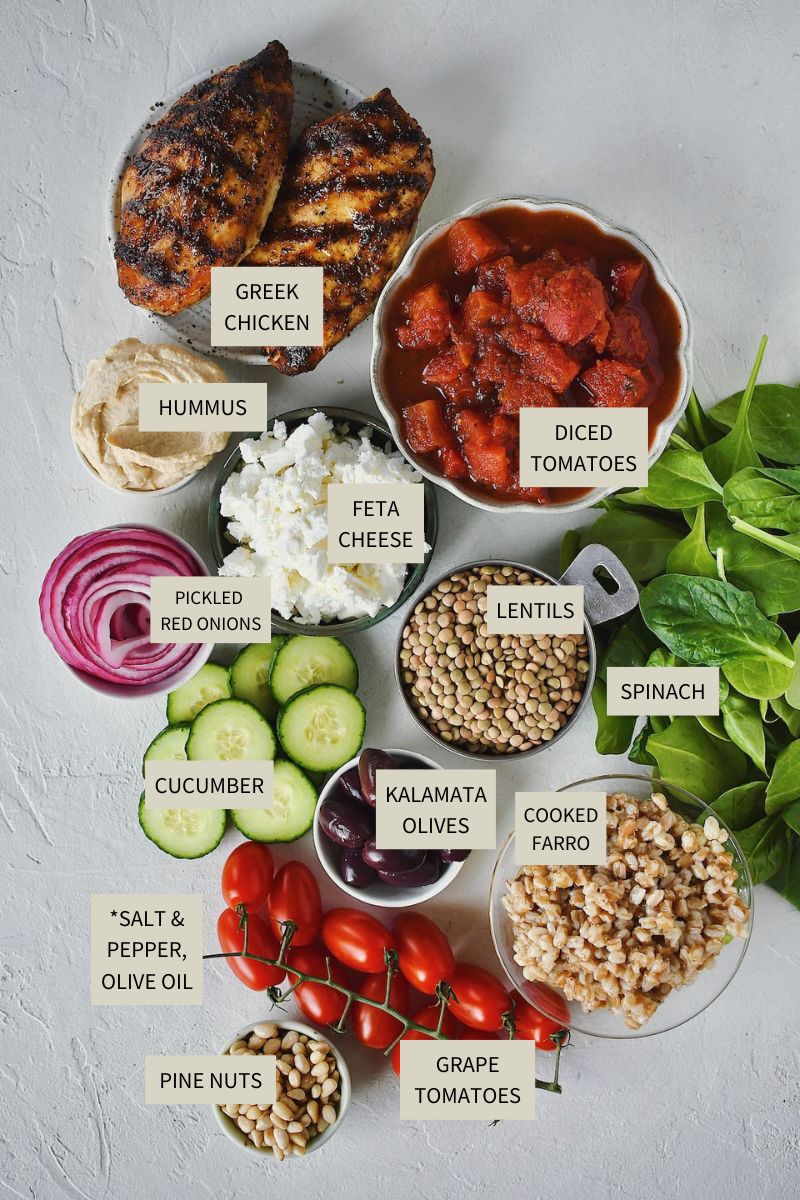 I always have some pickled red onions hanging out in the fridge, and I have even seen them prepared at Costco now too. I also love the sheep milk feta I get there, it has so much flavor and is so creamy! The cucumber, tomatoes, and olives can all be added or subtracted as you like, but I think they help keep it quintessentially Greek.
Use the JUMP TO RECIPE button at the top of the post, or scroll to the bottom of the post to see the full recipe card with ingredient measurements and instructions.
Method
This is a great second meal to make with leftovers. But if you aren't doing that, cook up some farro to package directions, but use chicken stock instead of water, and a teaspoon of chicken bouillon paste for awesome flavor! I also cook up some lentils with a can of diced tomatoes, they give the bland legum fantastic flavor.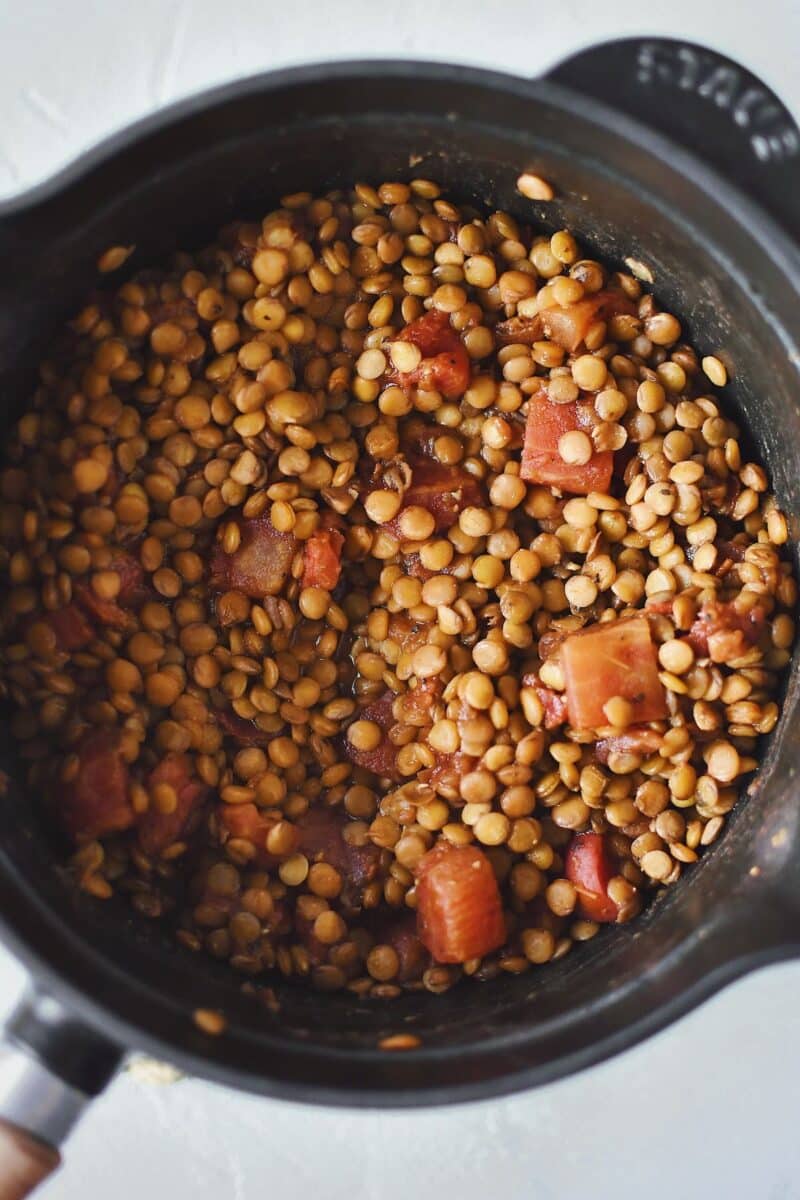 When your grains and legumes are ready, start with a bed of spinach or arugula in the bottom of a big bowl. Add a generous dollop of hummus to it, along with the farro and lentils.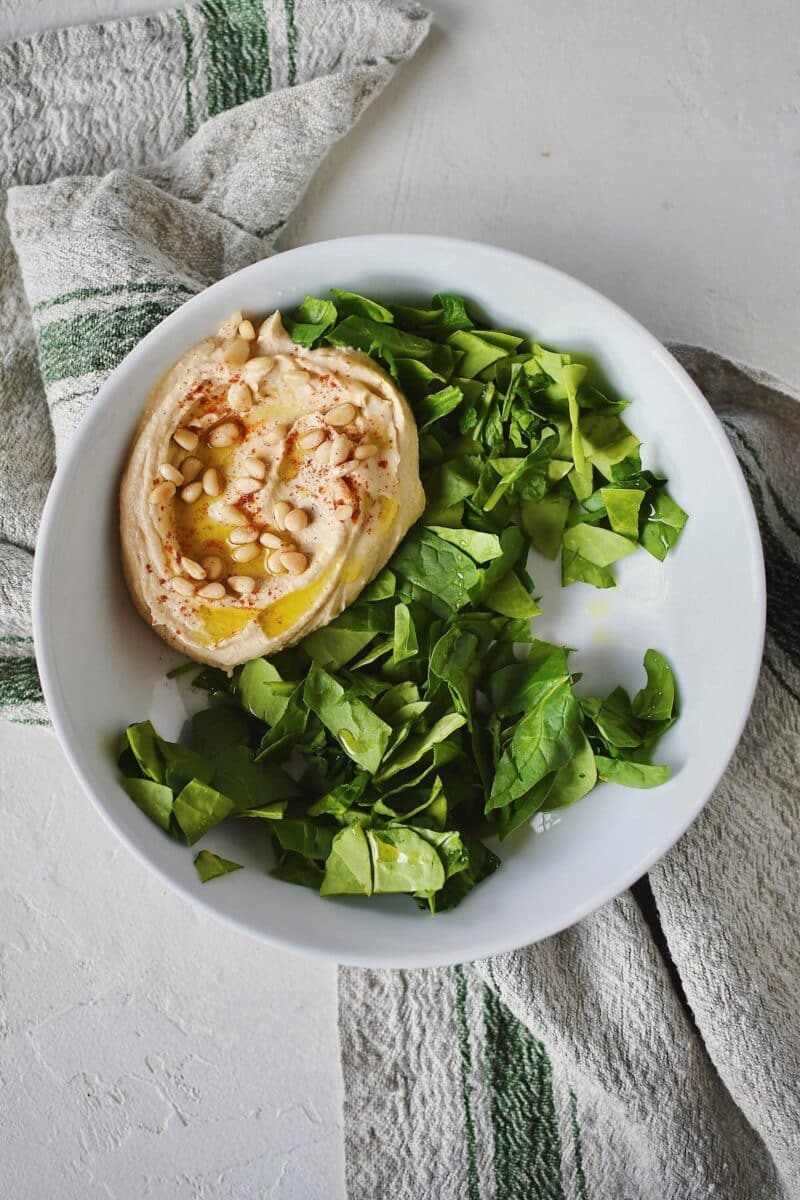 From there you can get as wild as you like with toppings. I add chicken, sliced cucumbers, pickled onions, feta, kalamatas, and halved tomatoes. I love this meal because you can put everything out on the counter and make a buffet of it.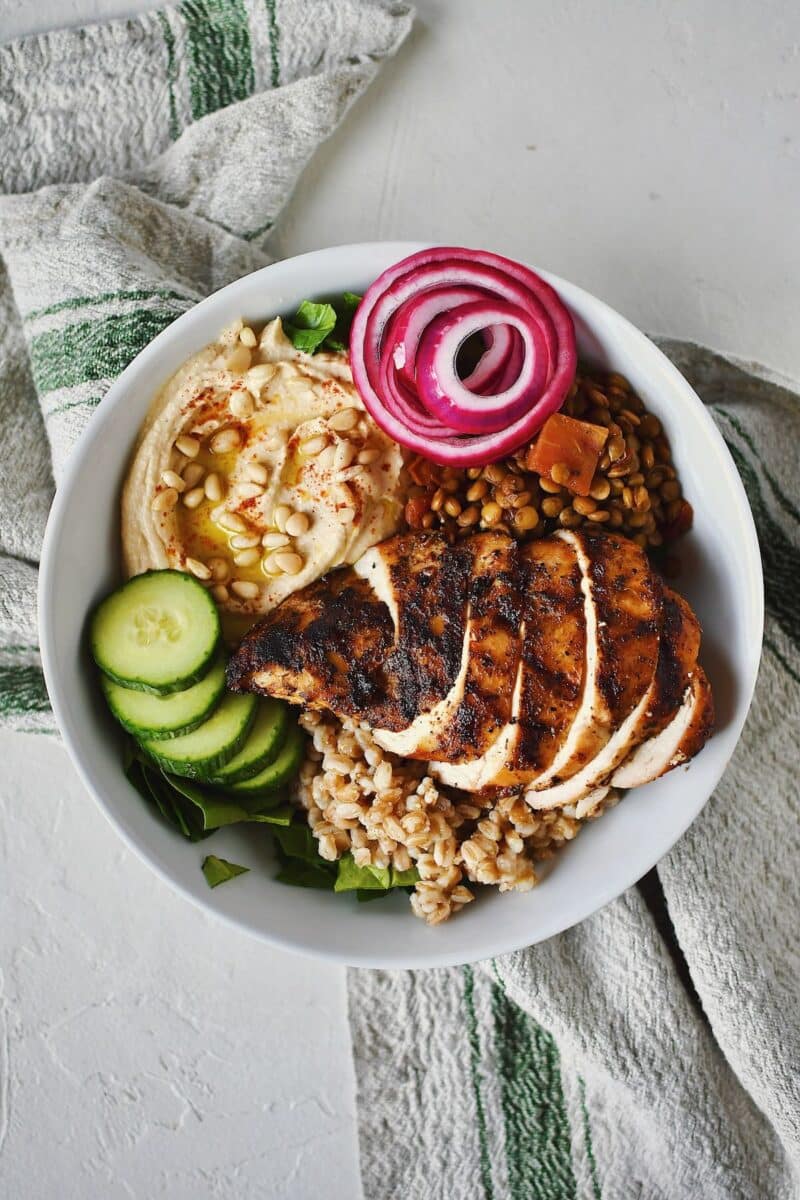 Let everyone build their own bowl and it makes dinner time even more fun. Plus picky eaters can leave off anything they might not like.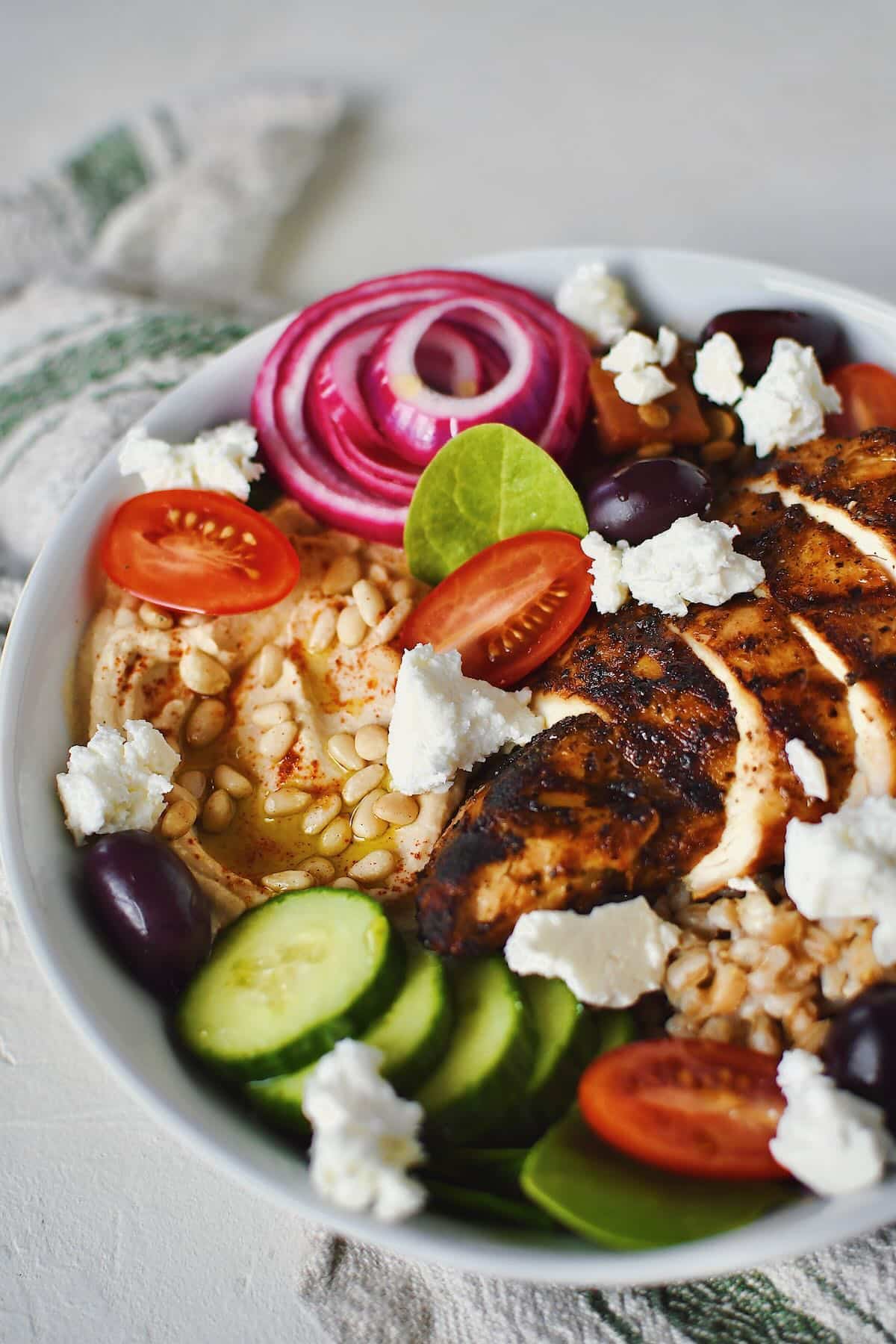 Notes & Tips
The farro and lentils can be prepared 2-3 days before you want to use them. I even use leftovers from a supper side to make this bow when I have them. It is a great way to ensure nothing goes to waste.
This recipe is a guideline. You can feel free to add or subtract any of the ingredients and customize them to your liking.
Use my Greek Chicken recipe if you want to top the bowl with extra protein. It has all the flavors you want and melds perfectly with them.
Substitutions
You can leave the chicken off if you would like to make this a vegetarian or vegan bowl. The lentils and farro provide plenty of protein together. You could also add tofu or tempe to bolster the protein too.
The farro and lentils feel very Medi to me, you could also swap them with basmati rice and white beans for an equally great, and protein-rich swap.
The spinach adds another layer of nutrient density to this meal. You could also use some arugula if you enjoy its pepperiness for some extra flavor.
I make my extra creamy hummus about once a month, but you can use any flavor you like from the store too.
I really enjoy the sweet, tang the pickled red onions bring. You could use regular red onions, but all you need to do is toss them in any vinegar (preferably white balsamic) and let them sit for about 10 minutes and you have a great garnish for this dish.
I call for English cucumbers because I usually have one laying around. Persian cucumbers would also be great.
I LOVE the soft feat cheese in contrast to all the other flavors going on. Haloumi would be well used here too.
People love or hate kalamata olives, serve them on the side to avoid controversy.
Pine nuts can be an allergen for some, if you have issues with them, leave them out altogether.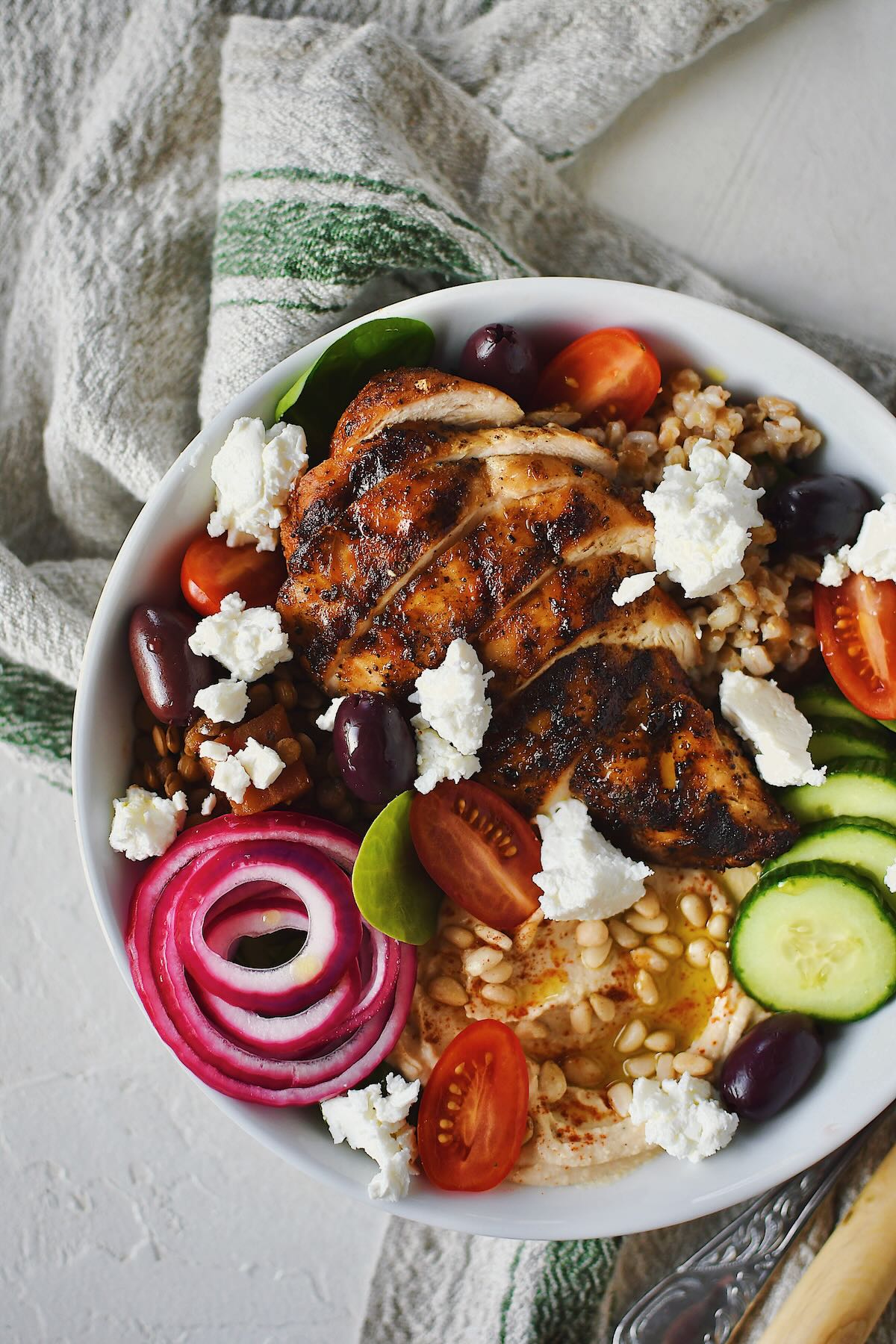 Did you make this recipe? Let me know by leaving a review or comment! And be sure to sign up for my newsletter, and follow along on Instagram, Pinterest, and Facebook!