These delicious Chicken Enchiladas with Sour Cream Sauce make a great family dinner and if you make a big batch, toss some in the freeze, your future self will thank you. Plus, with a little planning, they only take a few active minutes of work to whip up!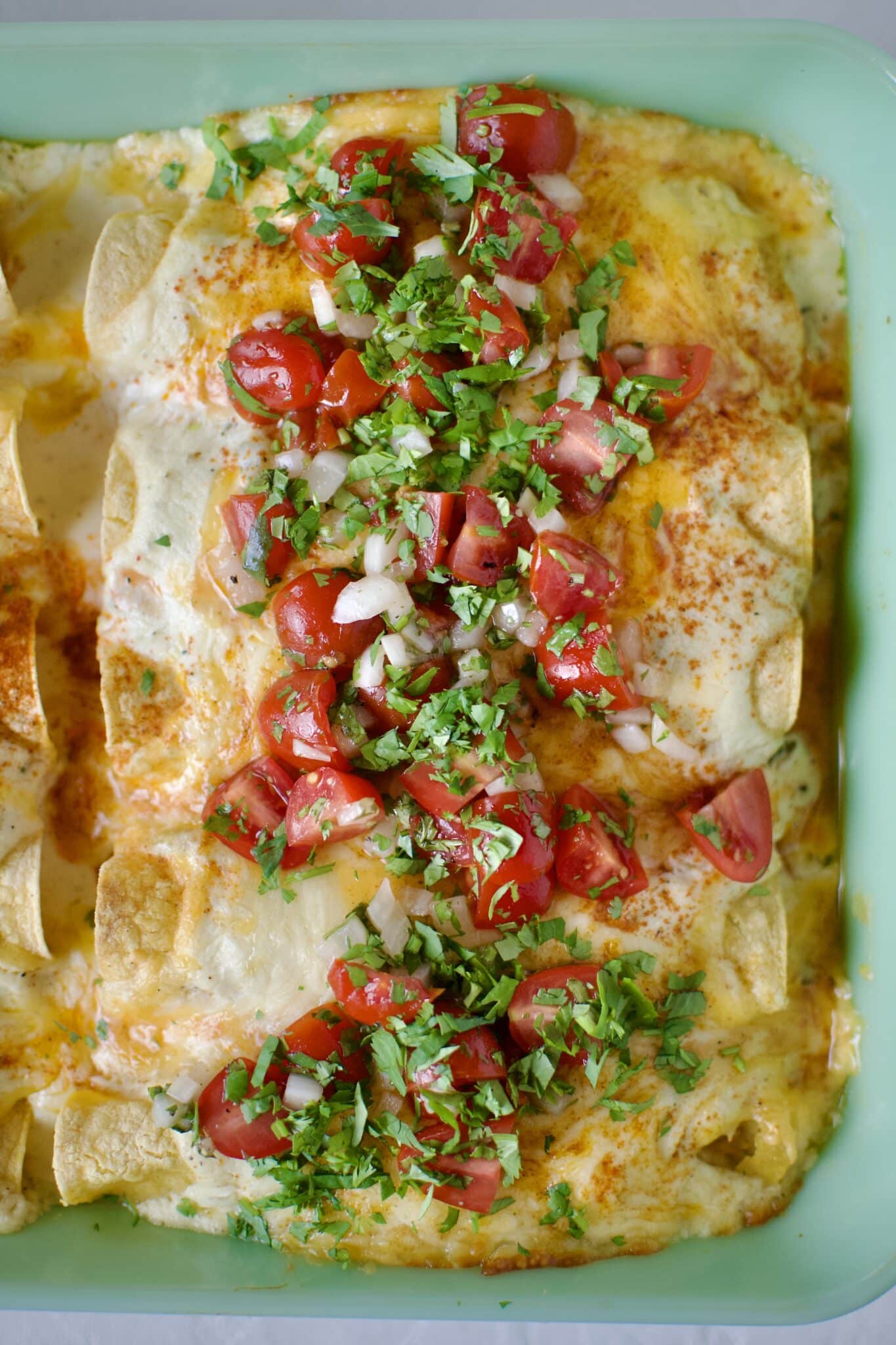 Think ahead and whip up a batch of my Mexican Shredded Chicken and some Sour Cream Enchilada Sauce. They can both be made ahead of time, then roll up some enchiladas and toss them in the oven and dinner is ready!
Jump to:
Ingredients
This recipe relies on a little pre-prep for its success. You'll want to prepare a batch of my Mexican Shredded Chicken, and I include the directions in this recipe to make my Sour Cream Enchilada Sauce. Both of those can be made up to a few days before you want to use them, then you just have to roll up and bake the enchiladas when you are ready to eat them.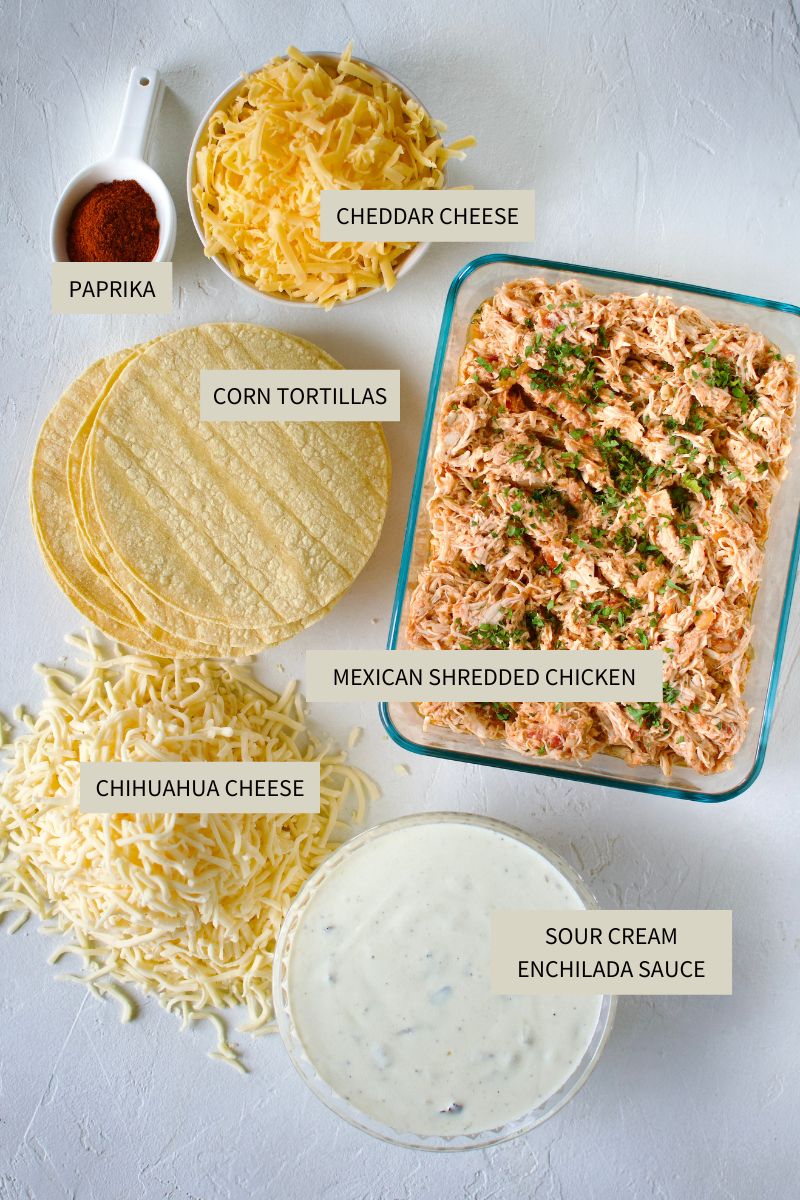 And be sure to use both types of cheese. Using both of them and the sprinkle of paprika are what make this recipe just like the ones I get at my favorite Mexican restaurant. Those little details are what sets them apart.
Use the JUMP TO RECIPE button at the top of the post, or scroll to the bottom of the post to see the full recipe card with ingredient measurements and instructions.
Method
Once you have prepared the chicken and sauce, it is time to roll up some enchiladas. You can use corn or flour tortillas, I prefer soft corn tortillas. Mix some cheese into the chicken and place about ¼ cup of the mixture into each tortilla.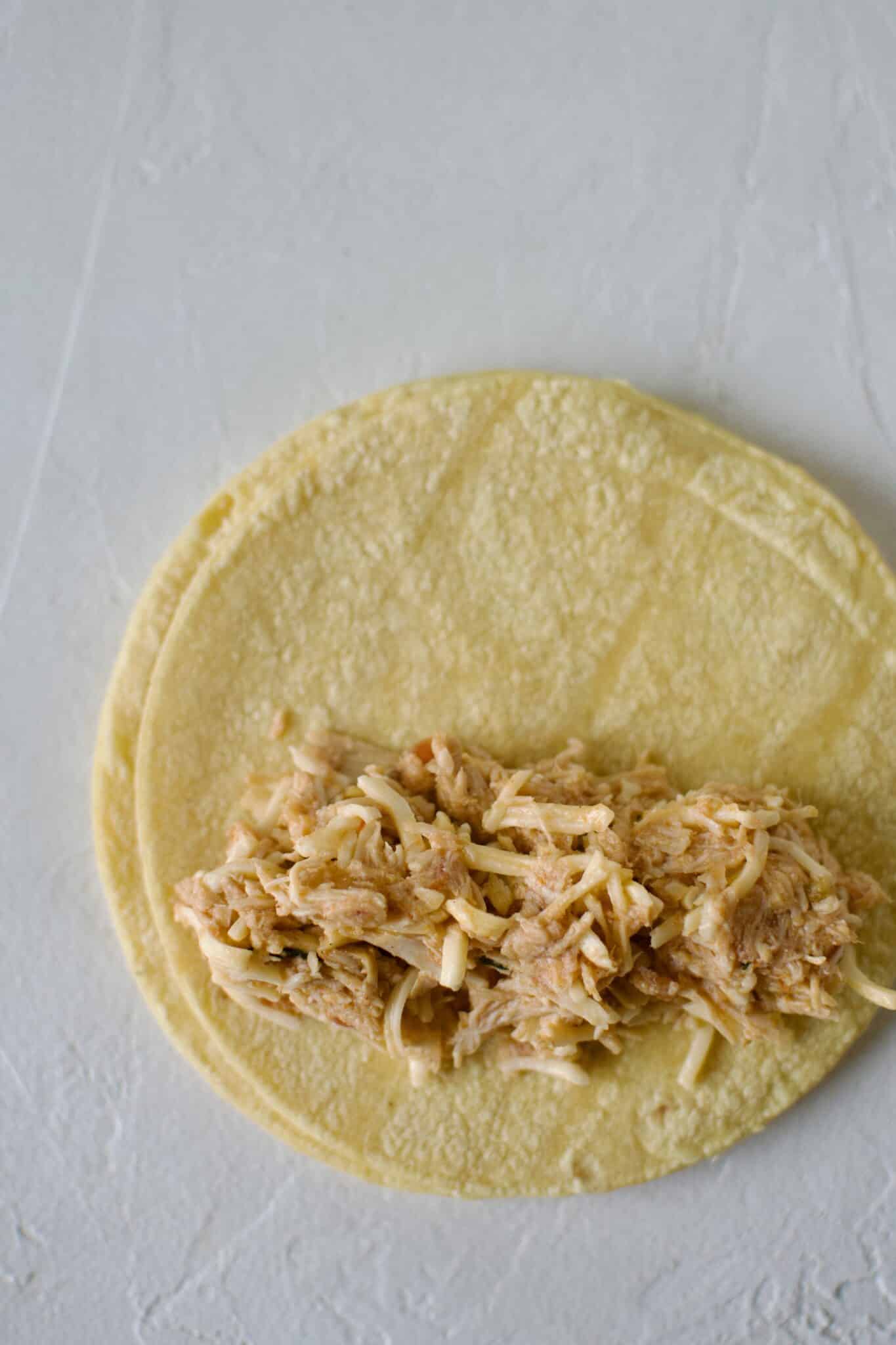 In a 9x13 baking dish, coat the bottom of the pan with some of the sauce, and then place the rolled enchiladas on top until the pan is full. Top them with more sauce and cheese and they are ready for the oven.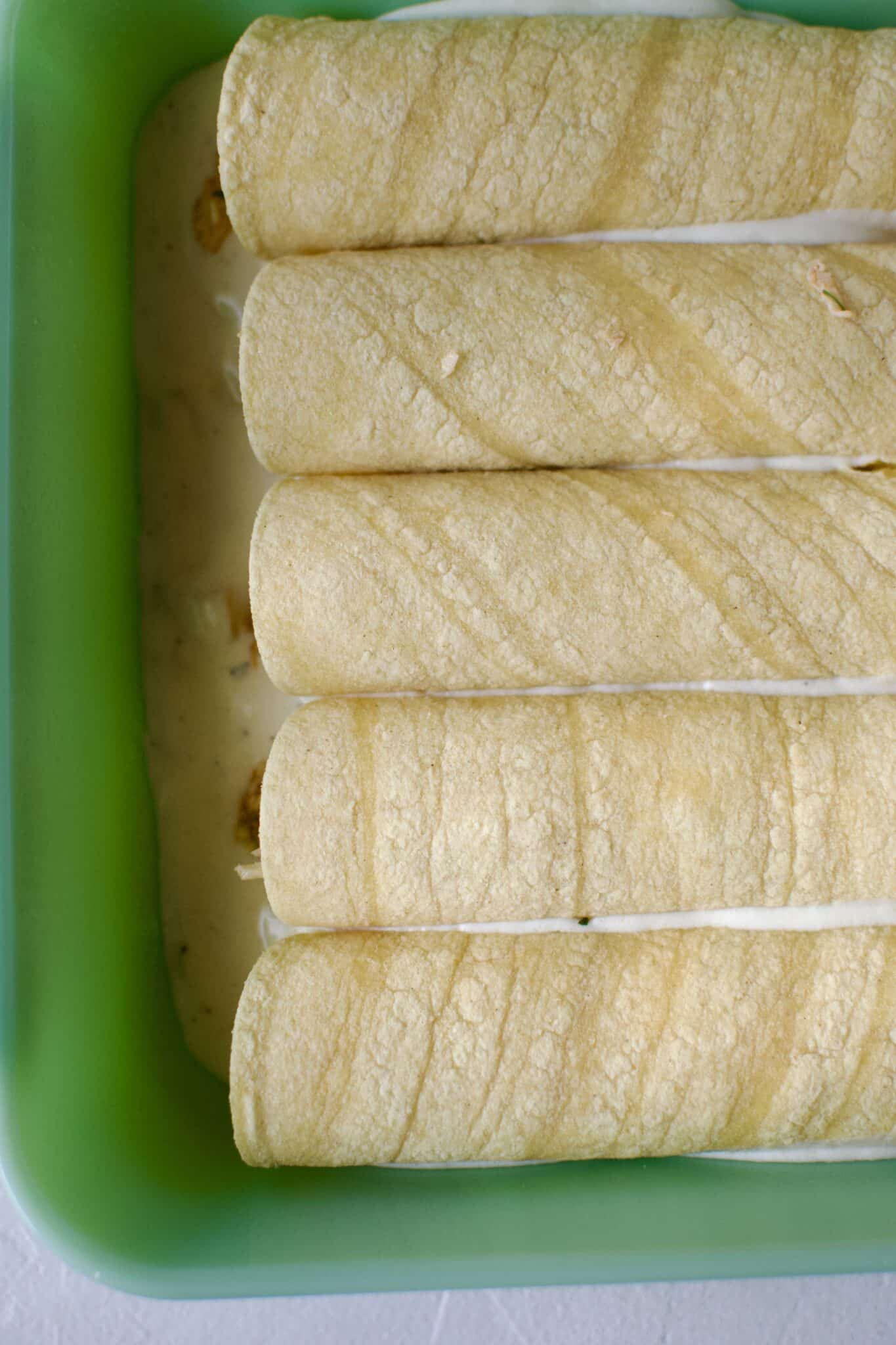 Bake until the enchiladas are warmed through, signaled by the melted cheese that should be bubbling and beginning to brown. When they come out of the oven, finish the enchiladas off with some pico de Gallo and cilantro before serving.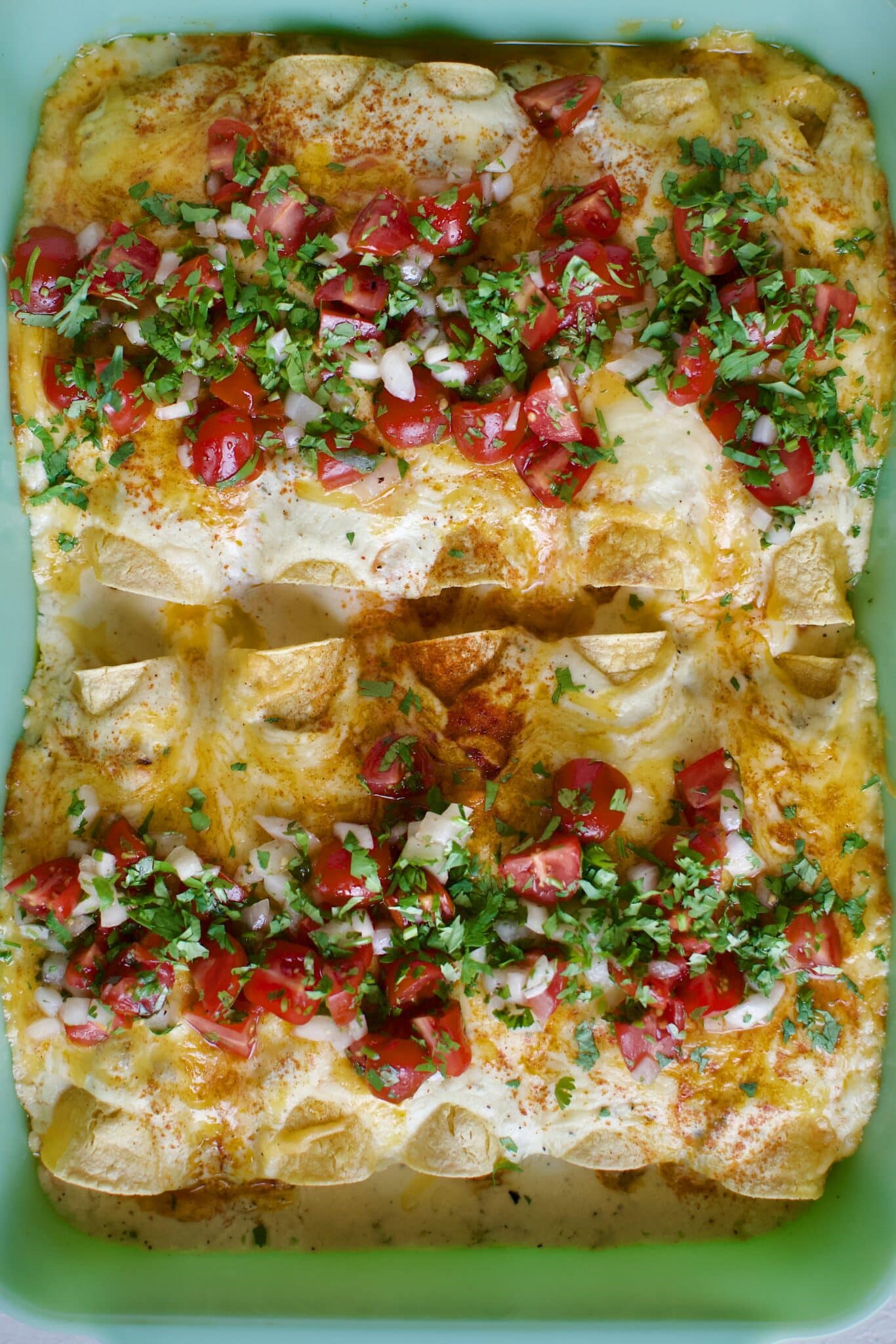 Notes & Tips
I use soft yellow corn tortillas most of the time when I make this recipe, but a really nice and soft flour tortilla would also be a great option. White Corn tortillas can also be used, but you may need to warm them a little with some oil to prevent them from cracking when rolled.
I make my own quick pico by mixing some chopped tomato, white onion, salt, pepper, and white vinegar together. If you prefer homemade to store-bought.
Substitutions
While I make these Chicken Enchiladas with Sour Cream Sauce, you could totally make them with Red Enchilada Sauce or green if desired.
Chihuahua Cheese has become easier to find thanks to the trend of Birra Tacos, but if you can't find it, use a mix of mozzarella and cheddar, or you can use all cheddar if you like. White and Yellow cheddar would also be a good combo.
I like the pico de Gallo on top for serving because it looks super festive and adds a little more flavor to the enchiladas. Of course, you can leave one or both of them off if you do not prefer them.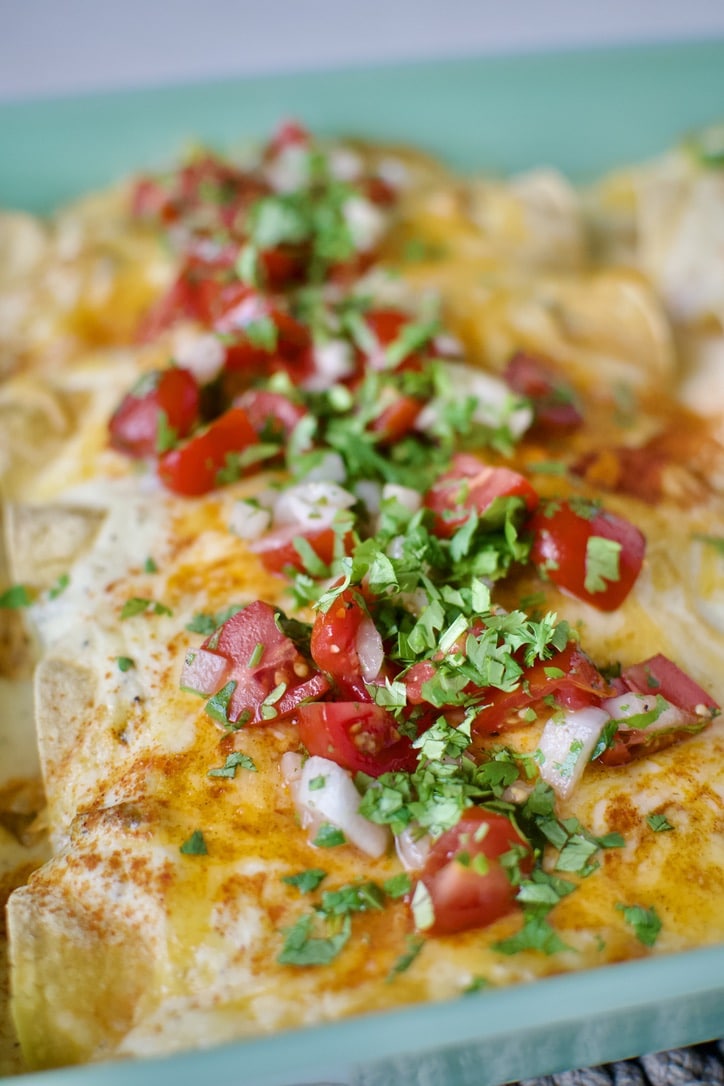 Did you make this recipe? Let me know by leaving a review or comment! And be sure to sign up for my newsletter, and follow along on Instagram, Pinterest, and Facebook!