This easy Red Enchilada Sauce Recipe pairs well with my Ground Beef Enchiladas, and I also use it to make my Mexican Shredded Chicken. It is a very versatile sauce, with a light, balanced flavor, with just a little spice. Any way you use it, it is sure to shine and elevate that dish.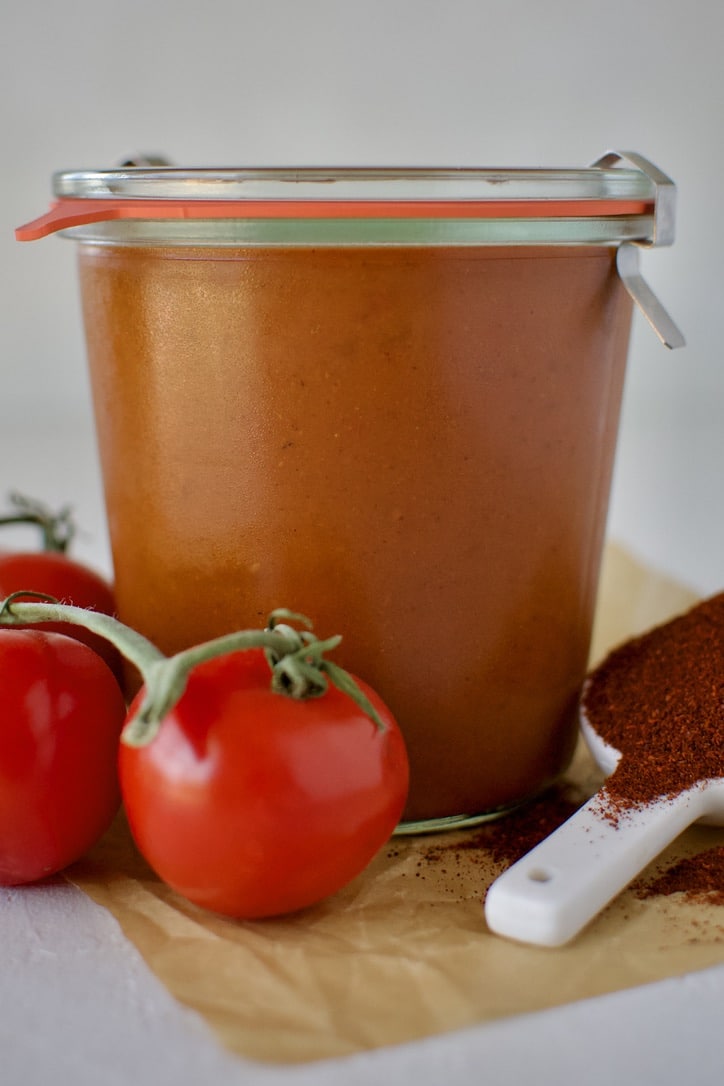 Jump to:
Ingredients
Most of the ingredients needed to make this recipe are fairly common and should be easy to find. One that can be a little hard to find is the Ancho Chili Powder. And while regular chili powder could be used, I would suggest seeking out the Ancho Powder, it has a little deeper flavor and light heat.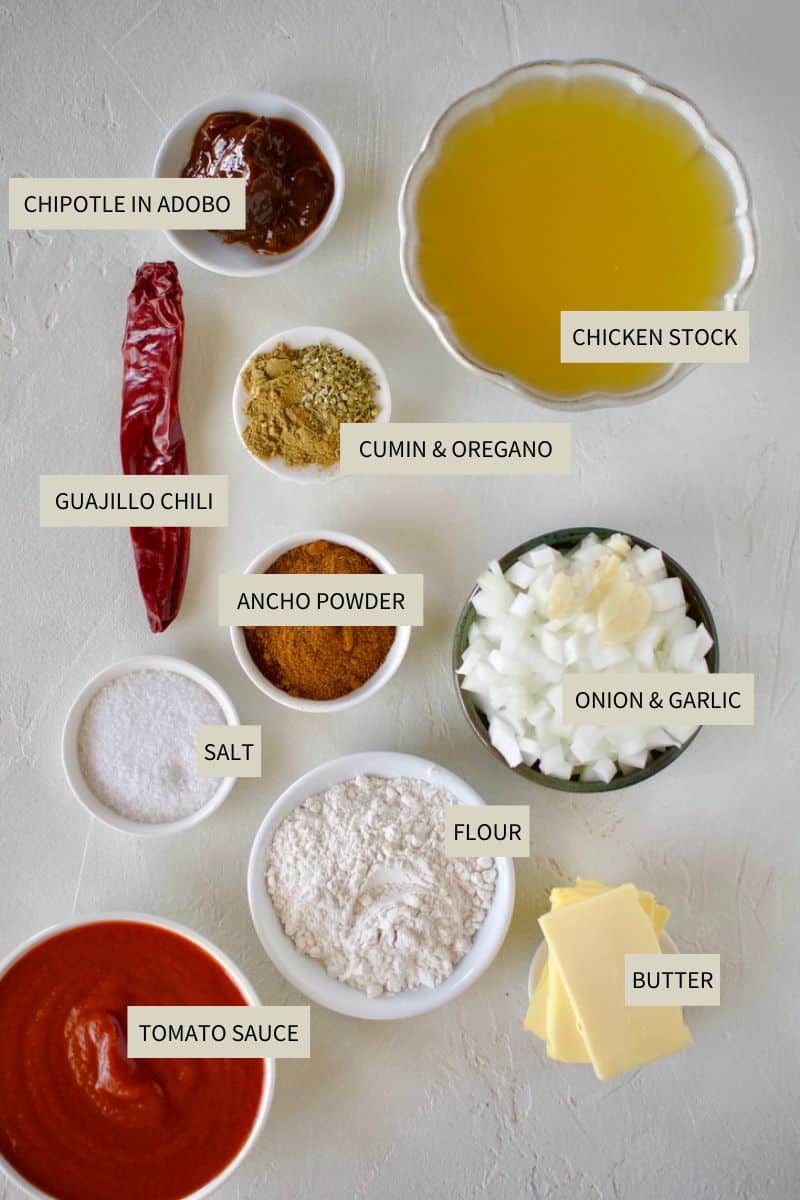 Use the JUMP TO RECIPE button at the top of the post, or scroll to the bottom of the post to see the full recipe card with ingredient measurements and instructions.
Method
To make the sauce, first sweat the onions in the butter, then add the flour and form a roux. Let the onions get nice and soft in the butter before adding it.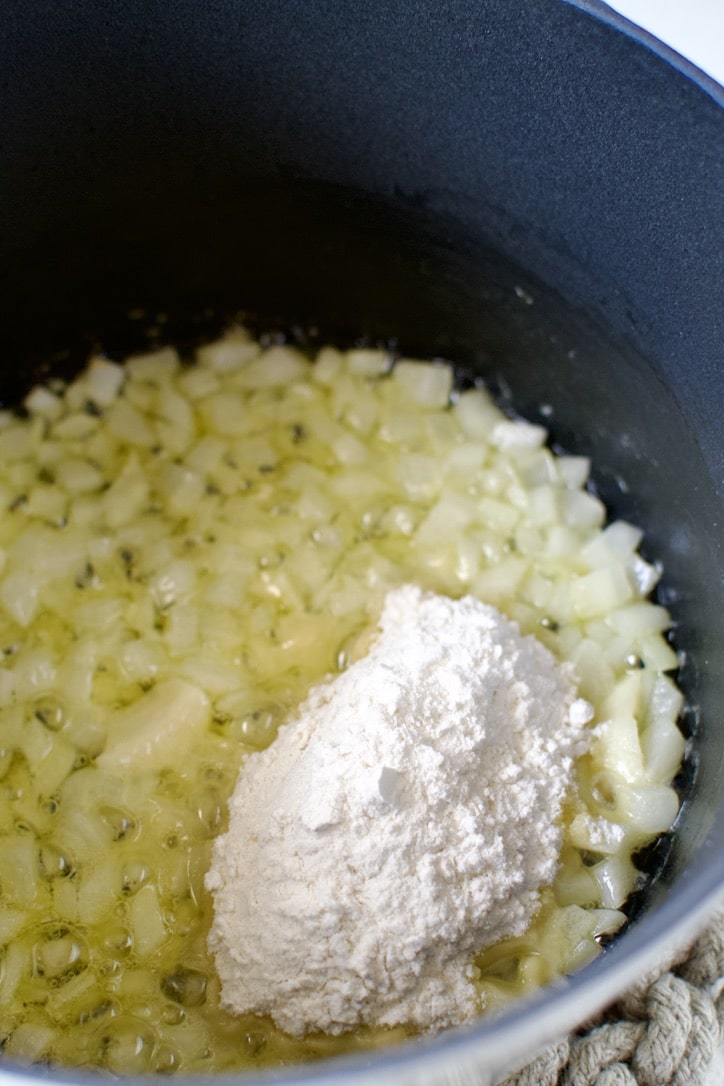 Then add the seasonings into the pot and stir until they bloom into the butter and become very fragrant. Cook for 1-2 minutes to toast everything.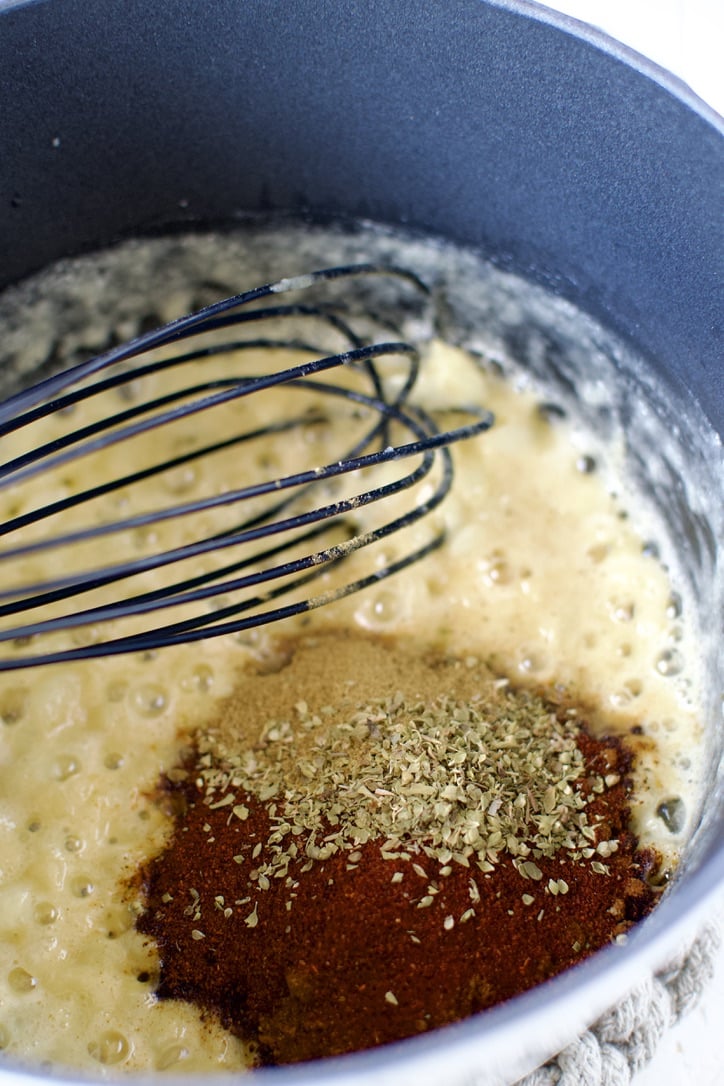 Then add the liquid ingredients into the pot and the chilis and let everything simmer together for about 15 minutes. Then use a hand blender to combine everything until completely smooth.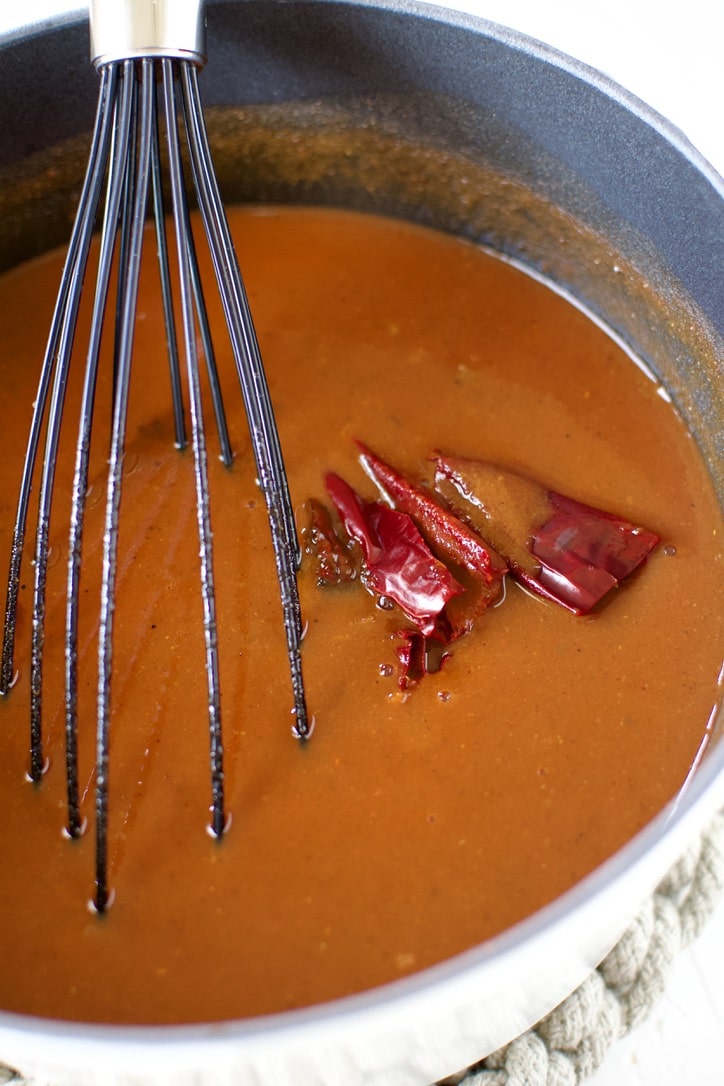 The sauce is now ready to use, but I have written this recipe to be on the larger size, so since I am taking the time to make it, I can put some in a mason jar for later use.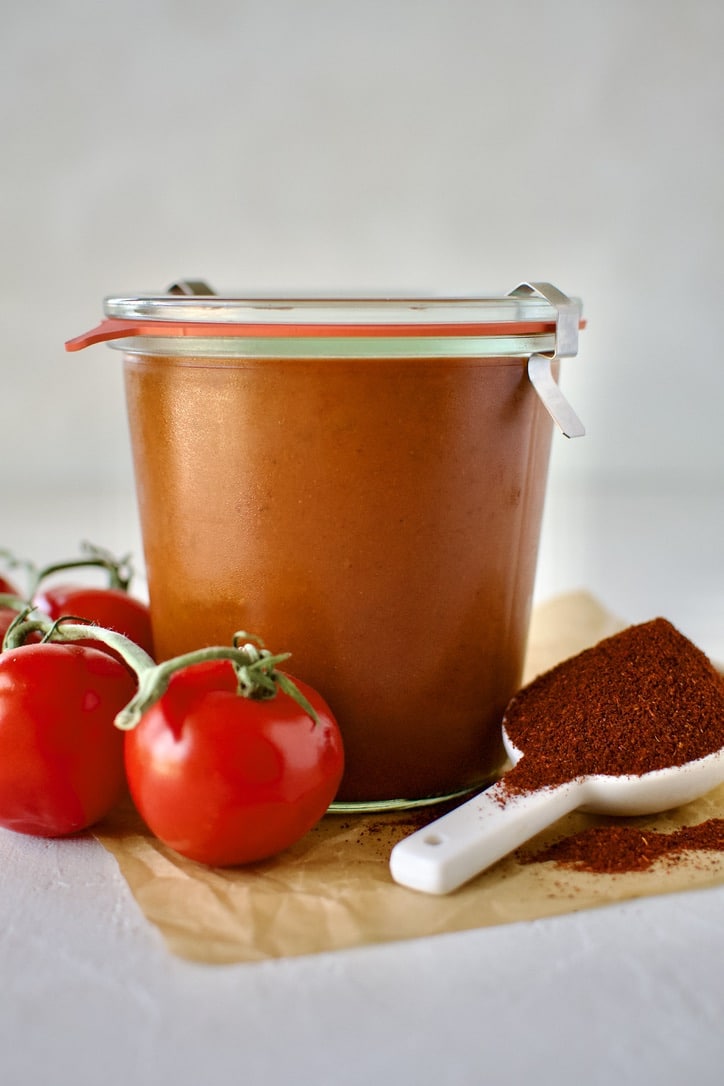 Notes & Tips
If you do not have a hand blender, let the sauce cool a bit and use a traditional blender. If the sauce is too hot it can explode out of the blender. I always put a kitchen towel over the lid just as a precaution.
Red enchilada sauce may also be called salsa roja, salsa roja para enchiladas or mole rojo. It is a sauce made of red chilis, like ancho, Guajillo, pasilla, etc. with onion, garlic, tomatoes, broth, cumin, and oregano, blended together, then simmered until thickened.
The heat of the sauce can vary, if you like it hotter you can add more chipotle peppers, or less if you want a more mild sauce. Feel free to make this Red Enchilada Sauce Recipe you own.
How do you make Red Enchilada Sauce less spicy? If you happen to overdo it on the heat, you can add some sour cream to the sauce to mellow it out, or serve some on top of your enchiladas to cool it down.
Substitutions
If you would like to keep the enchilada sauce dairy-free, you can swap the butter for olive oil or a neutral oil like canola or vegetable.
If you would like to make gluten-free enchilada sauce, you can leave out the flour. Replace it with a corn starch slurry, which is made of corn starch and water, mix 1 tablespoon of each and add to the boiling sauce before blending. If the sauce is too thin, mix another tablespoon of each, and add a little at a time until it reaches your desired thickness.
I like to use Ancho Chili Powder for its unique flavor. If you can not find it, you can use regular chili powder.
If you would like to make a vegetarian enchilada sauce, use vegetable stock in place of the chicken stock.
If Guajillo Chili's are hard for you to find, use 2 chipotle peppers in adobo sauce in place of the one Guajillo.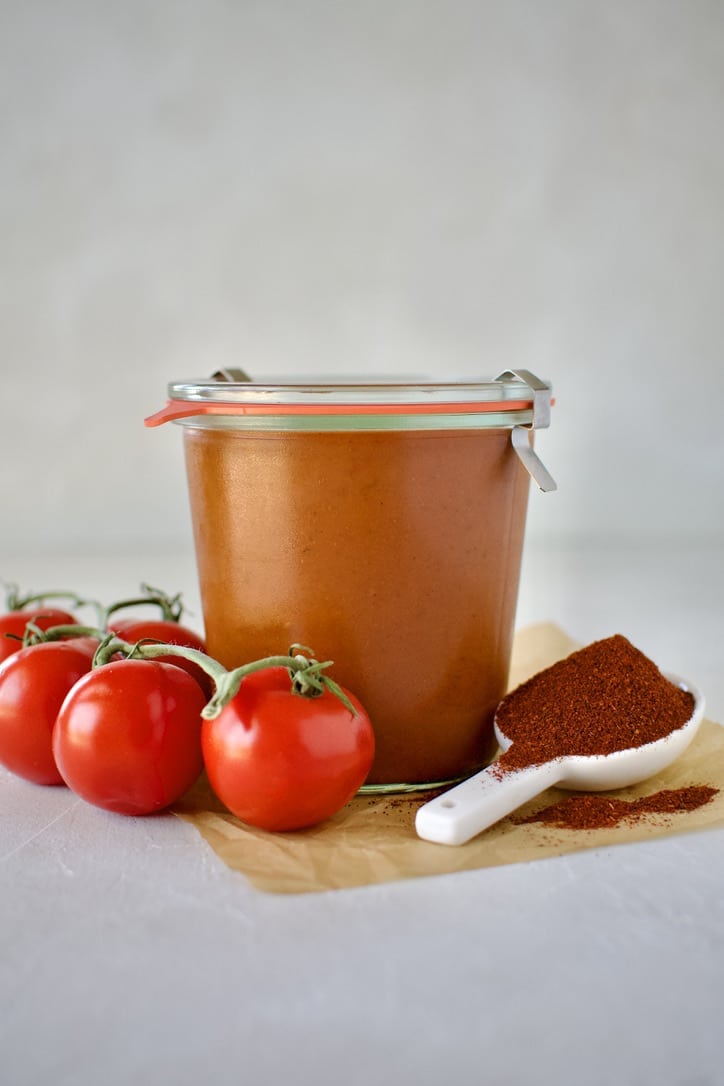 Did you make this recipe? Let me know by leaving a review or comment! And be sure to sign up for my newsletter, and follow along on Instagram, Pinterest, and Facebook!