For this flavor this Creamy Mushroom Chicken has, you'd think you worked all day for it. But it can be ready in under 40 minutes, which means it can be made any day of the week. This is good, cause you're going to want to eat it often!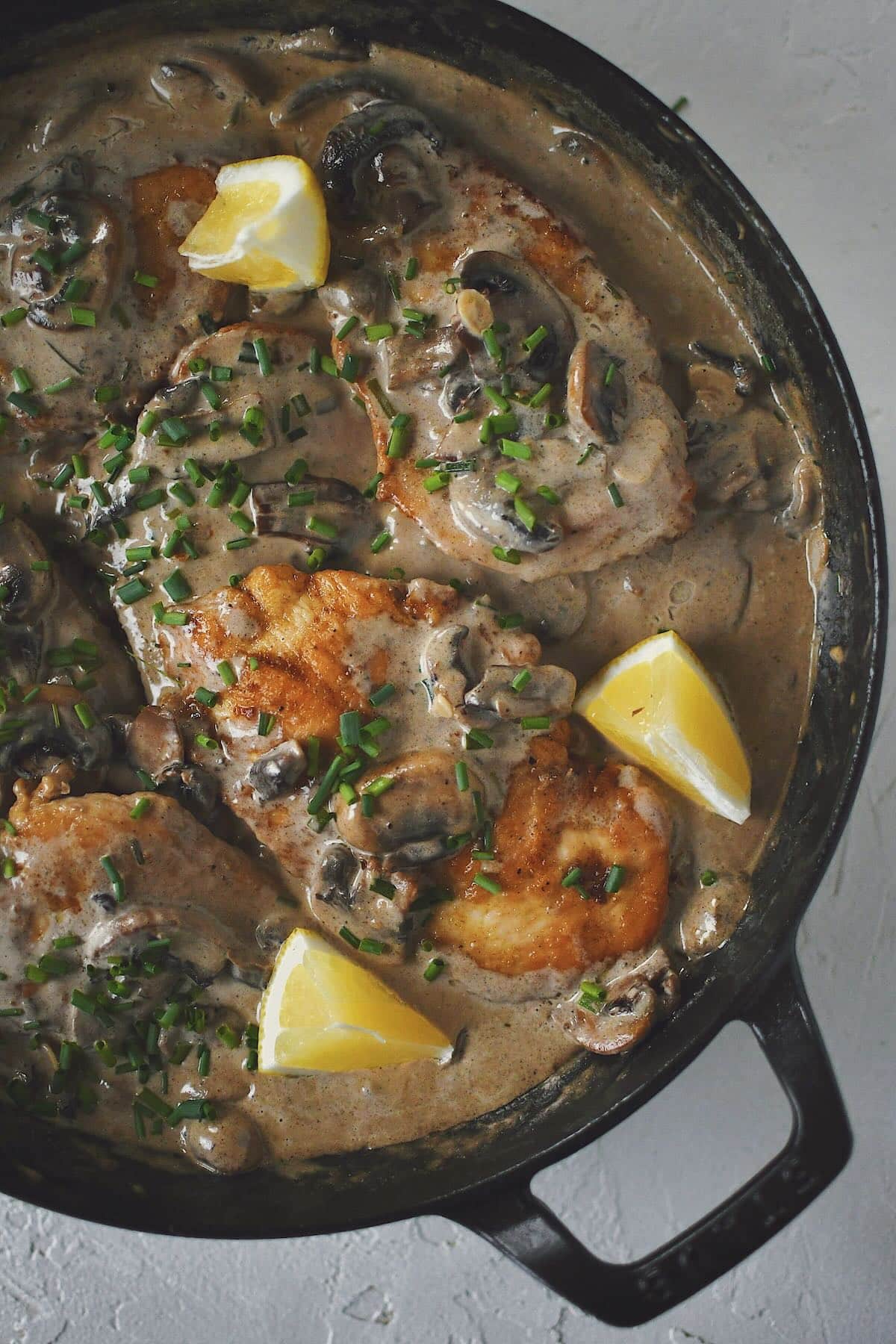 When you need to throw something else in the regular meal rotation, or you want some different flavors with your chicken, reach for this recipe. This is one of those that I'd be happy to eat again, and again. Put it in your meal rotation now!
Jump to:
Ingredients
This ingredient list is all about the flavor infusion! From rich mushrooms, fragrant chives, pungent garlic, salty parmesan, and tart lemon. Everything is married together with a creamy, peppery sauce that rounds everything out.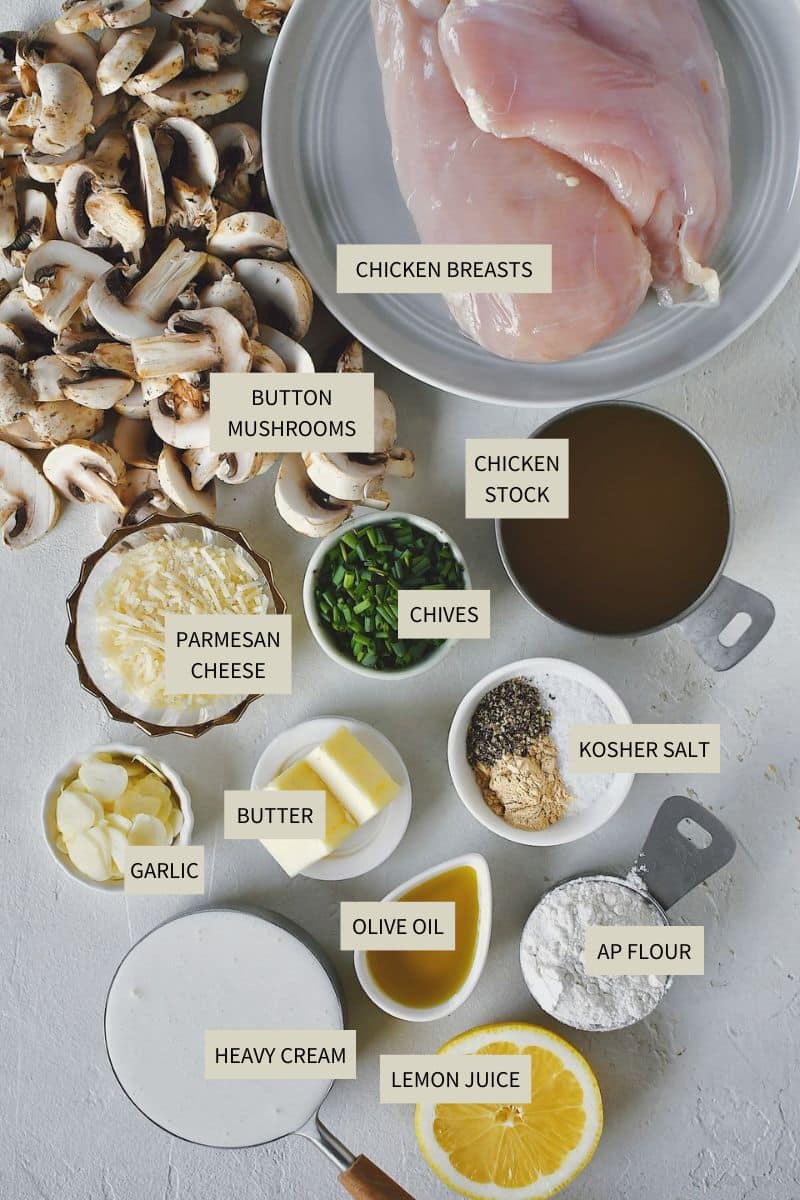 All of those ingredients create the most luscious sauce, that blankets perfectly cooked tender, and juicy chicken. Dare I say "moist"? Again I say, I could eat this ANY day of the week!
Use the JUMP TO RECIPE button at the top of the post, or scroll to the bottom of the post to see the full recipe card with ingredient measurements and instructions.
Method
First, blend the flour and seasonings together, dredge the chicken through it, and fry it in some oil in a hot pan. You don't need to completely cook the chicken at this point, so don't worry about that, just get it nice and brown on at least one side.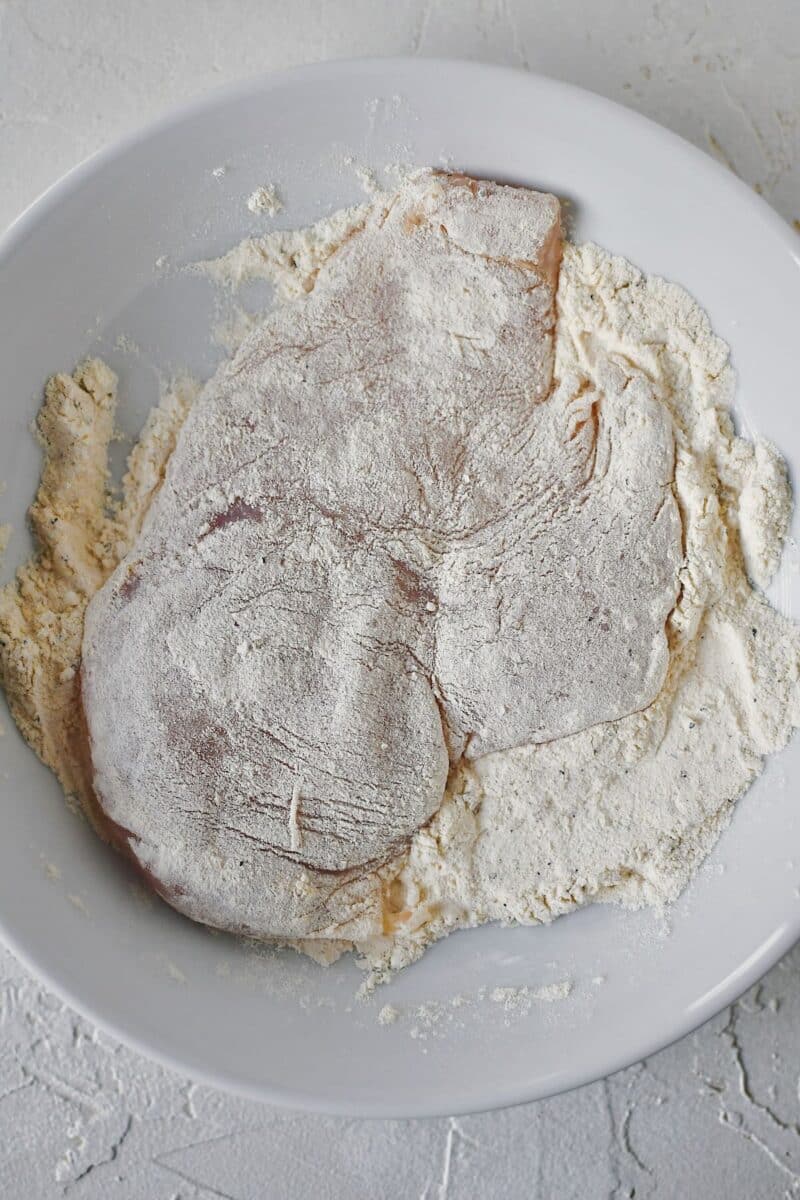 Remove the chicken from the pan and add the mushrooms. Cook them until they get deep golden brown. This can take some time, so don't rush this part. Let all the liquid cook out of the mushrooms and turn the heat up a little if needed during this stage.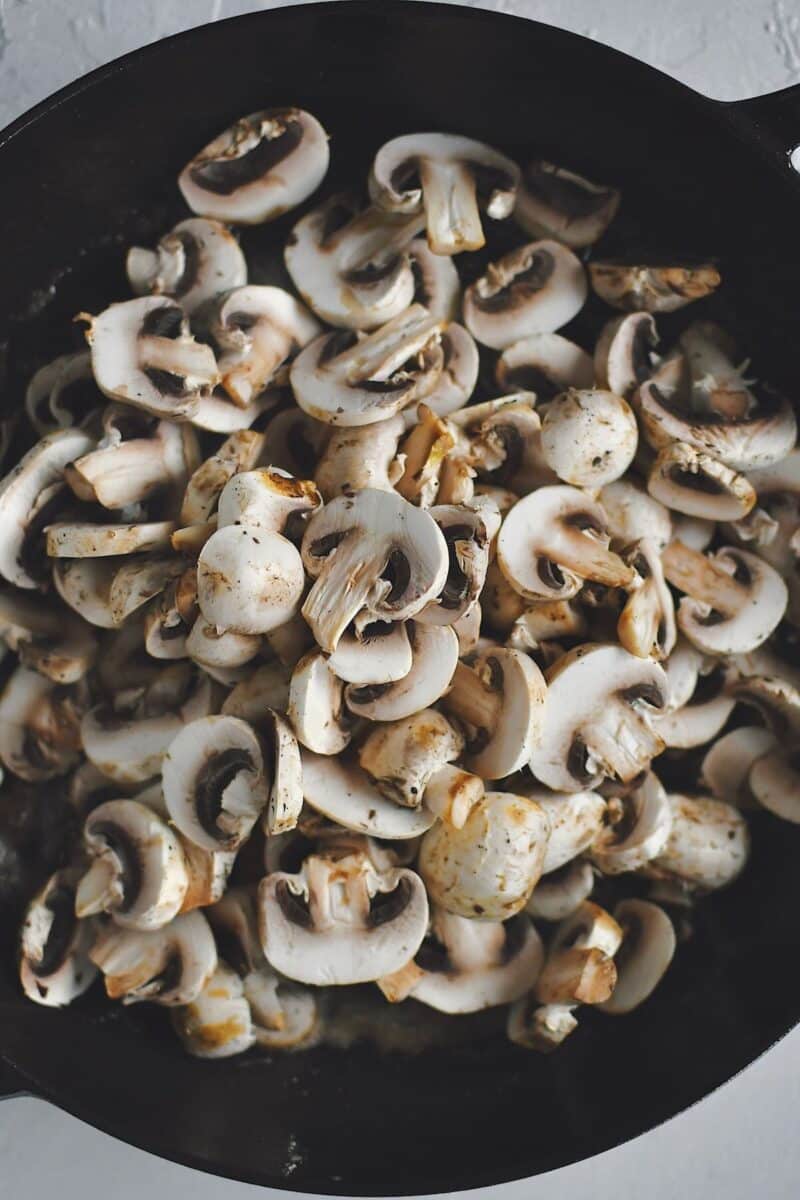 Deglaze the pan with the stock then add the cream and chives to the pan. Bring the mixture to a boil, and cook till the cream thickens then season it with the parmesan and lemon juice. Also, taste it and see if it needs salt and pepper at this point. Sometimes it does, sometimes enough has been given off from cooking the chicken.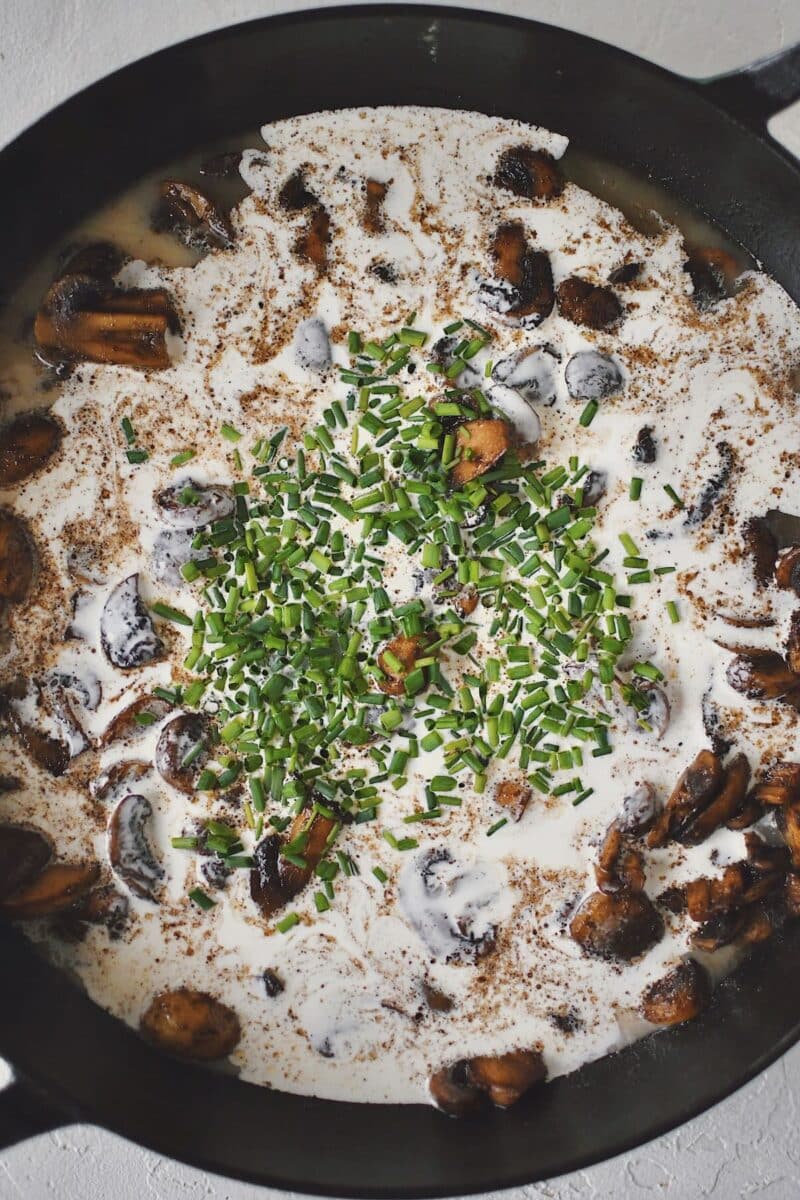 Finish the dish by adding the chicken back to the pan and simmering it in the sauce until it is warmed back through and finishes cooking. Use a meat thermometer to ensure it has reached 165˚F.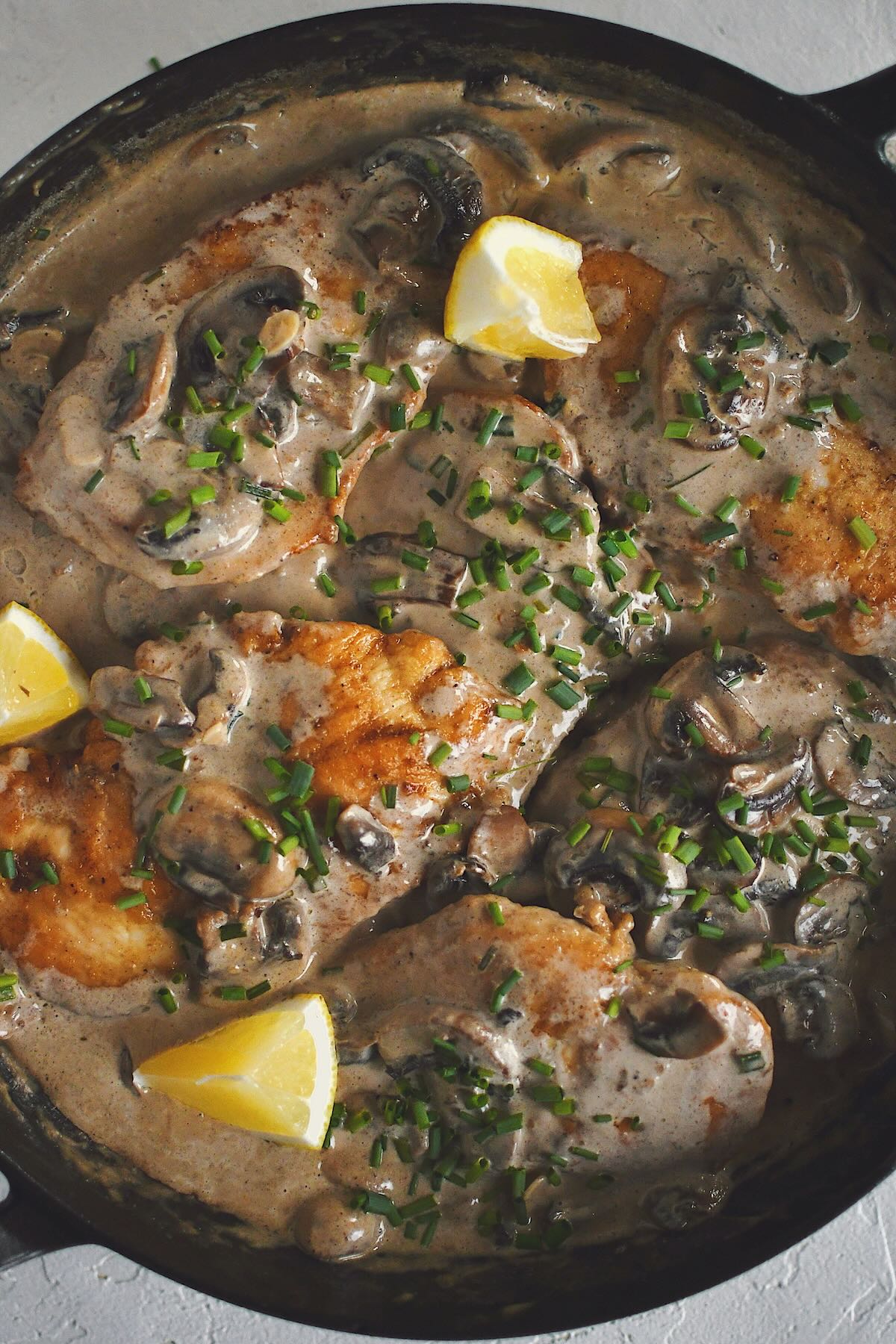 Notes & Tips
You don't have to do it, but I like to gently tenderize the chicken after cutting it in half. Place it between two pieces of plastic wrap and pound it out just till it is evenly thick. This ensures the chicken cooks quickly and evenly.
The mushrooms take a little while to get deeply golden brown. Cook them till they release their liquid in the pan, then add the salt and pepper. Then when the pan becomes dry again and they have browned, move to the next step.
After you add the cream, keep your eye on the pan and stir often. It can bubble over when it comes to a boil, this is also why it's important to use a wide skillet so it reduces quickly.
When you add the chicken back to the sauce, you can place the lid back on for a couple of minutes to help rewarm it and ensure it gets fully cooked. Chances are that it is already fully cooked if you tenderized it because being so thin it will cook super quickly. But if you skipped that step, just make sure it is cooked all the way.
Substitutions
In place of chicken breasts, you could also use tenderloins, or even boneless and skinless chicken thighs too. I'd cut them in half so they are smaller 2 to 3 bite pieces.
If you would like to keep this recipe gluten-free, swap the all-purpose flour for rice flour.
I enjoy the light flavor of button mushrooms for this recipe, but criminis would bring a bit more flavor and be a great swap.
I always have a hunk of parmesan on hand so that is what I used for this recipe. But any hard cheese would be great here, grana padano, pecorino, or even asiago can be used.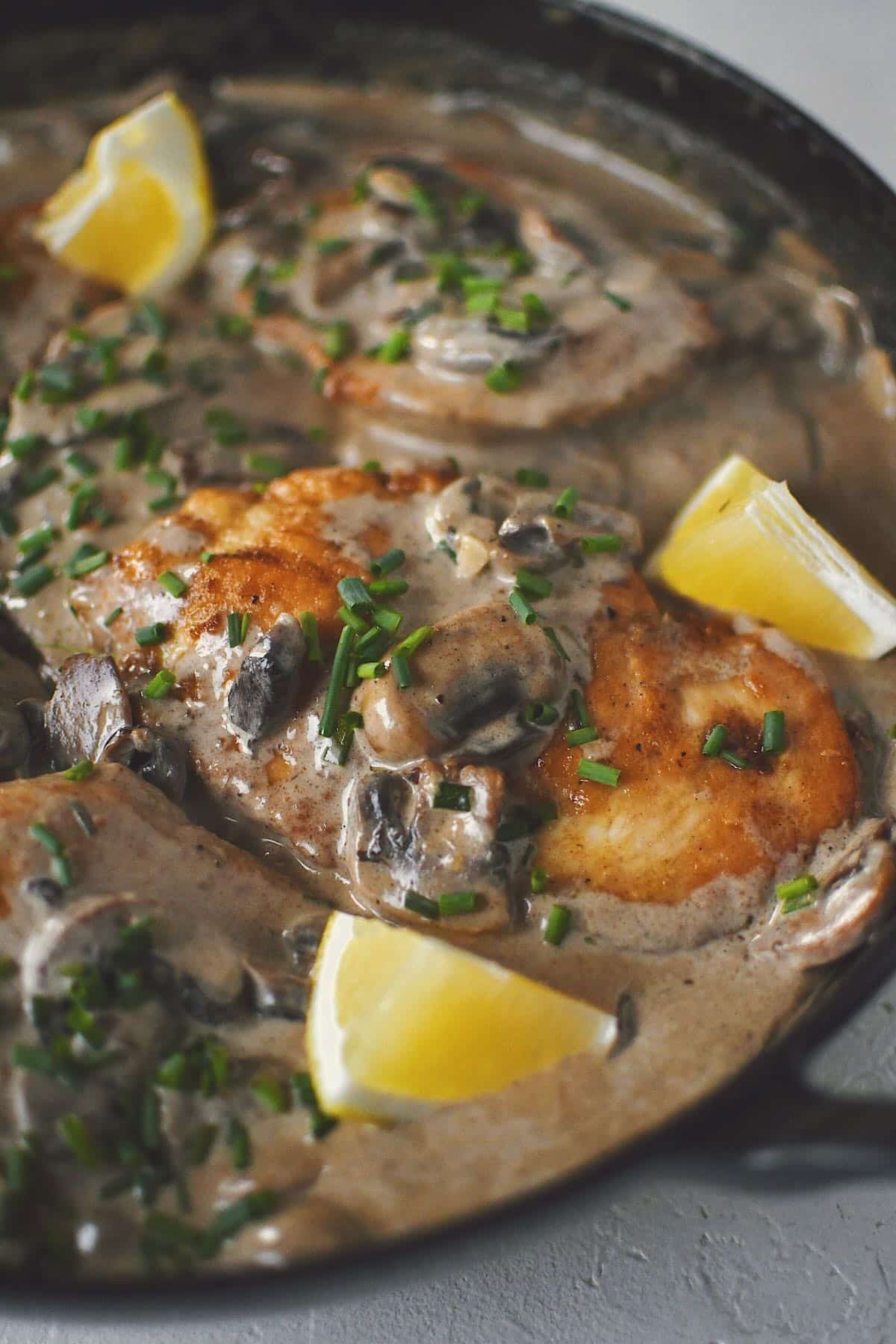 More great Mushroom Recipes
Did you make this recipe? Let me know by leaving a review or comment! And be sure to sign up for my newsletter, and follow along on Instagram, Pinterest, and Facebook!