While I know that Egg in a Hole can have many other names, I always call it great! The variation I am sharing steps it up about 12 notches, and makes it the best I have ever tasted. It's nothing crazy unless you want to call it crazy delicious!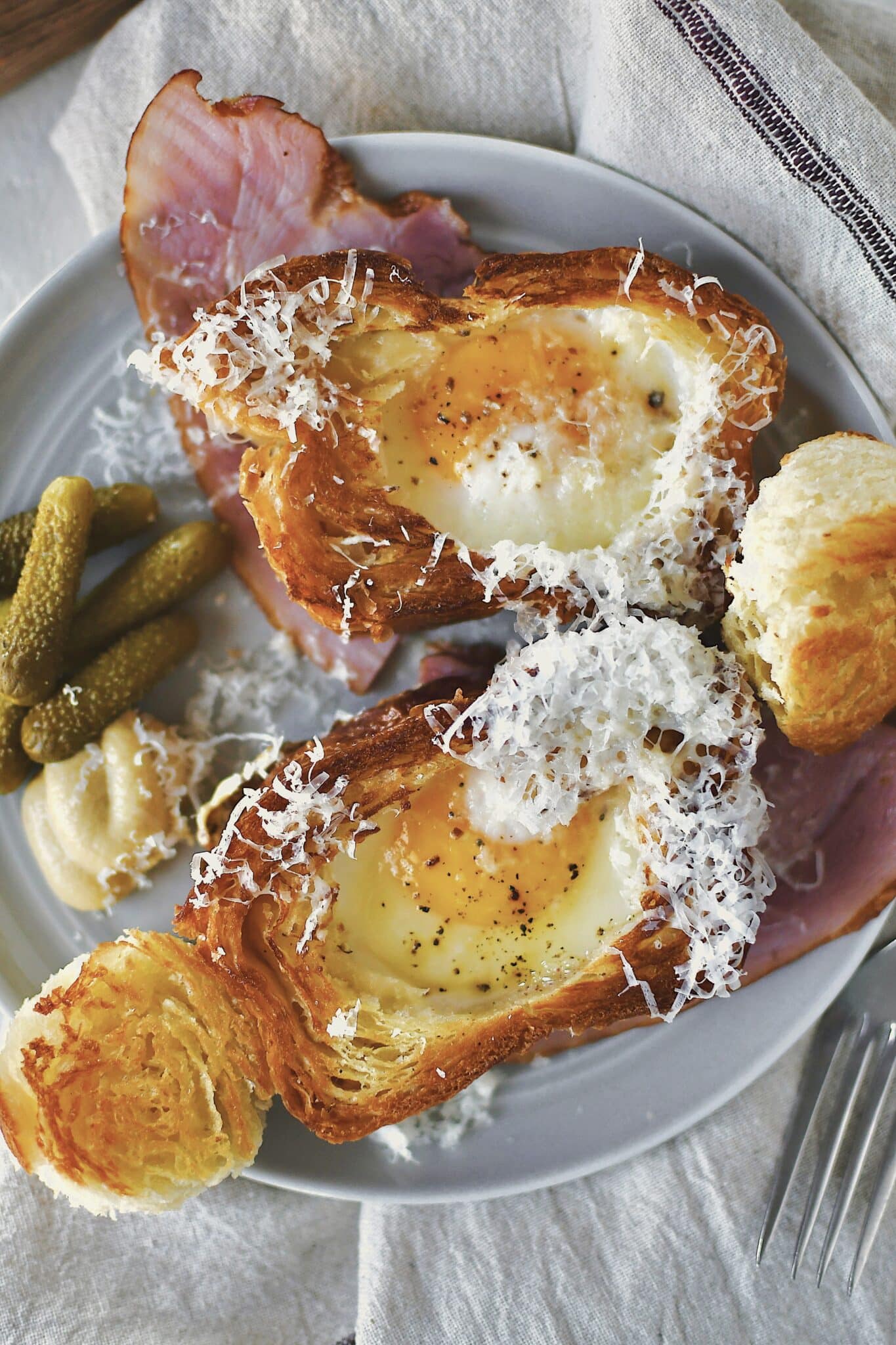 Just a light tweak and this fancy bread I found and this simple dish become something great you will want to eat EVERY DAY! I mean, cheese, ham, and eggs were meant to be together, right?
Jump to:
Ingredients
Ok, this recipe can really be made with just about any sliceable bread in the world! But I recently came across this "Croissant Toast" that is basically croissant dough baked like a loaf of bread, and it is OUT OF THIS WORLD delicious. If you can find it, buy it, I guarantee you will not regret it.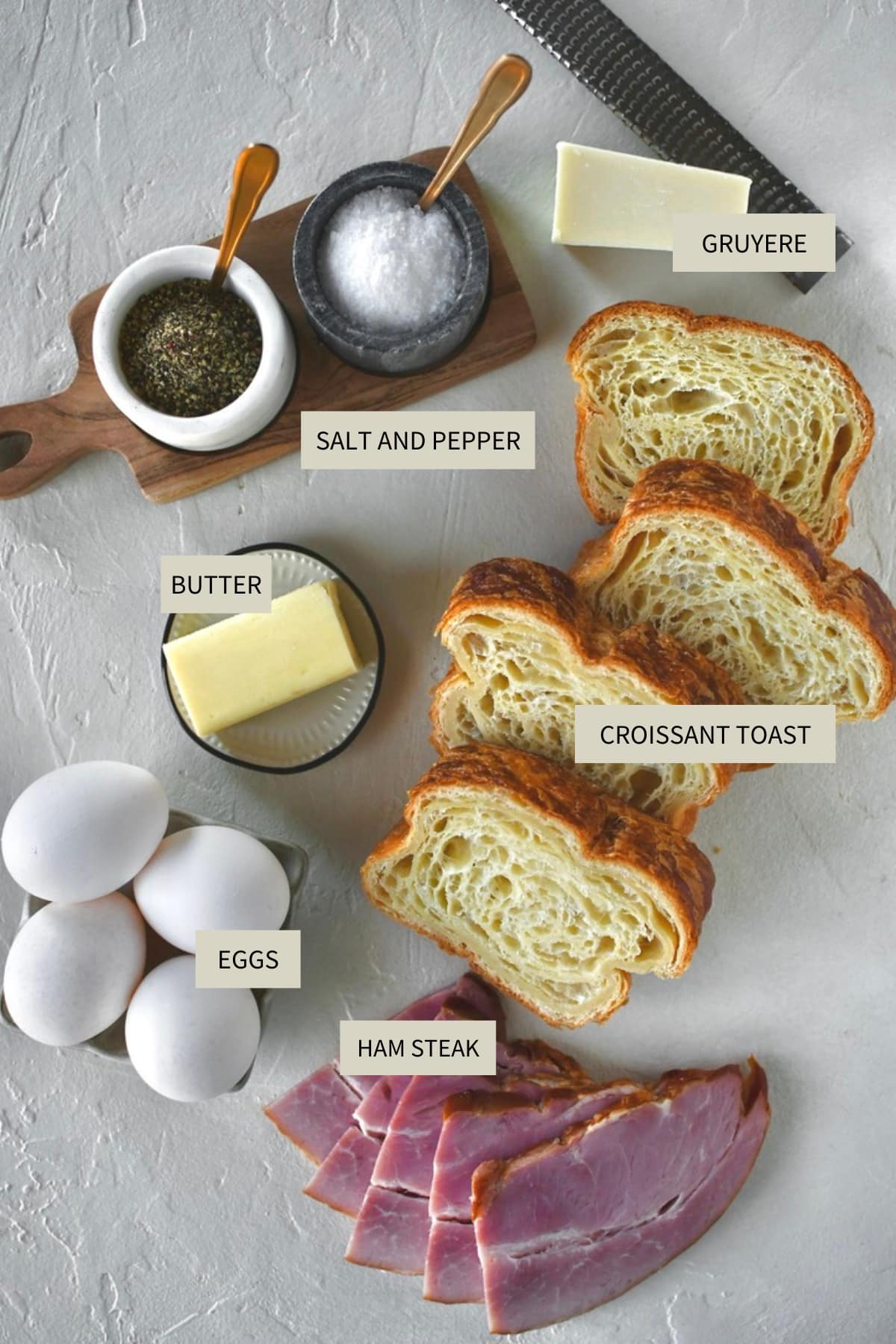 But of course, if you can not find croissant bread, use any bread you like. I will note I like to use something in a whole loaf, so I can cut extra thick slices for this recipe.
The only other thing I use that is a little different is the gruyere cheese. I think the little tang of swiss, and the egg toast served with some ham is a match made in heaven.
Use the JUMP TO RECIPE button at the top of the post, or scroll to the bottom of the post to see the full recipe card with ingredient measurements and instructions.
Method
First, slice the bread into 1 to 1 ½-inch thick slices. Then use a biscuit cutter or cookie cutter and cut out the center of each slice. This is where you can have some fun and change up the shape depending on the season or whatnot. Save the middles and brush them and one side of the big piece with some butter.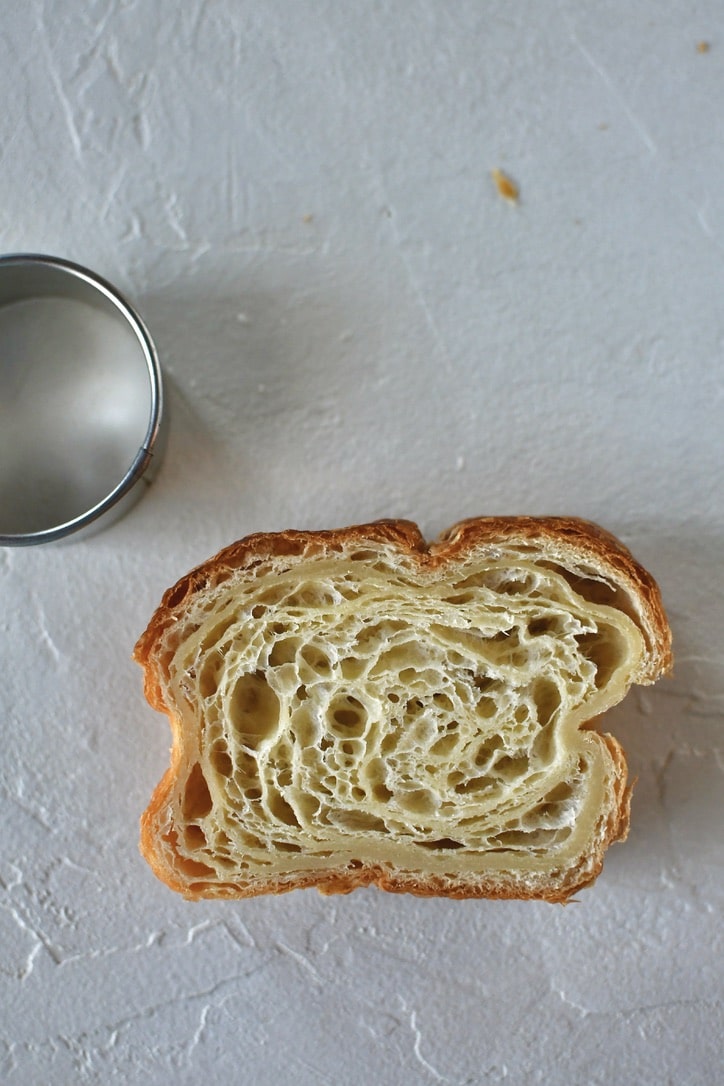 Heat a large skillet over medium-low heat, you want mild heat so you don't burn the bread, and toast one side. Flip the bread and drop a little piece of butter in each hole, then crack an egg in them.
Cook the egg to your desired doneness, I like a sunny side up so the egg stays runny and jammy. If your pan has a lid, you can also put that on top to help set the egg whites if you find this takes a bit longer than you like.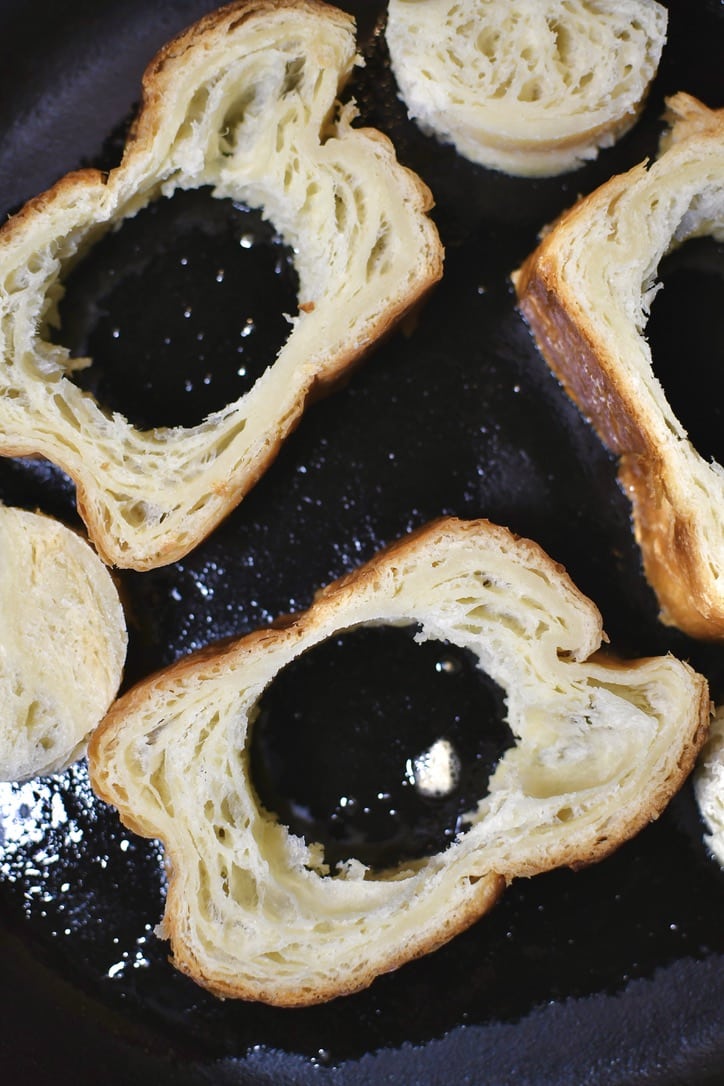 You could crack the egg in when you first put the bread in if you like an egg cooked on both sides. Then you'd have a fried egg in the middle, and you can cook that to your preferred doneness too.
When ready to serve, toss the ham in the pan just to warm it through, and serve each Egg in a Hole on top of a slice of warm ham, with a generous shave of gruyere over top. I also like to have some dijon mustard and little gherkin pickles on the side too.
Oh and don't forget to toast the little circle you cut out and serve alongside, you can dip it in the yolk or use it to soak up any runoff.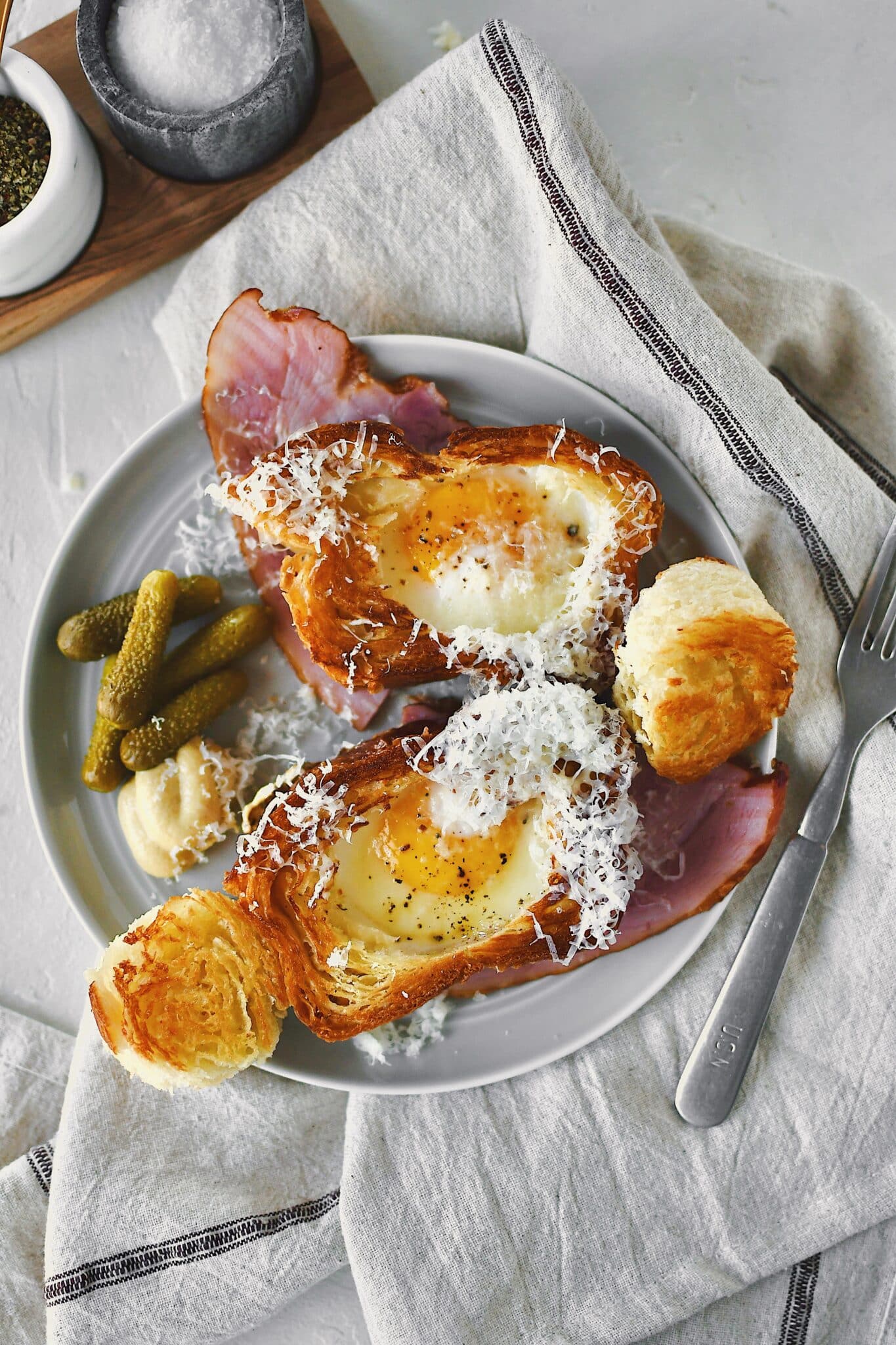 From breakfast to brunch I love the flavors of the ham, egg, swiss cheese, dijon, and pickles. It makes me feel like I am having the greatest little Persian brunch.
Notes & Tips
What is Egg in a Hole? An Egg in a Hole is a piece of bread that has had the center cut out and has been cooked in a skillet where an egg has been cracked into the opening and cooked till soft in the center. I choose to add the ham and cheese, to make it more of an elevated and fully composed brunch dish.
Be sure to heat your cooking pan over a gentle heat or the bread can burn before the egg cooks. And be sure to use a pan you historically know your eggs will not stick in, or use lots of butter to help ensure it. I use a really well-seasoned cast iron skillet, and nothing sticks to it.
If you don't butter the bread, generously butter the skillet so neither the bread nor the egg gets stuck. You want every to move as freely as possible.
If needed, you can use a lid on top of your pan to help speed up the cooking of the egg whites. Do this if you prefer your eggs not so runny.
You could crack the egg in when you first put the bread in if you like an egg cooked on both sides. Then you'd have a fried egg in the middle, and you can cook that to your preferred doneness.
Don't discard the middle piece of bread that you cut out. It has a purpose. Use it to dunk in the egg yolk of a sunny-side-up egg, or soak up any runoff that might occur when you cut into the egg yolk.
For reference or in case you have heard this recipe referred to as something else, here are some other things I have heard this called...No matter what you want to call it, simply call it delicious!
Eggs in a Basket
Toad in a Hole
Egg in a Basket
Frog in a Pond
Eggy in a Basket
Egg in a Nest
Toad in a Basket
Frog in a Pond
Substitutions
A great swap for the croissant toast if you can not find it would be brioche bread. It has many of the same rich qualities of croissant bread and toasts up just as well.
While I prefer a nice gruyere cheese if I am having it with ham and eggs, white cheddar or provolone would also be great cheeses to use with this recipe.
Again, it is all about the perfect flavor here, so I use ham for the way I have the recipe written. But sausage would be great if using white cheddar, or bacon with provolone. You could also leave the meat out completely if you prefer.
If searching for gherkin pickles, you may also find them labeled as cornichons.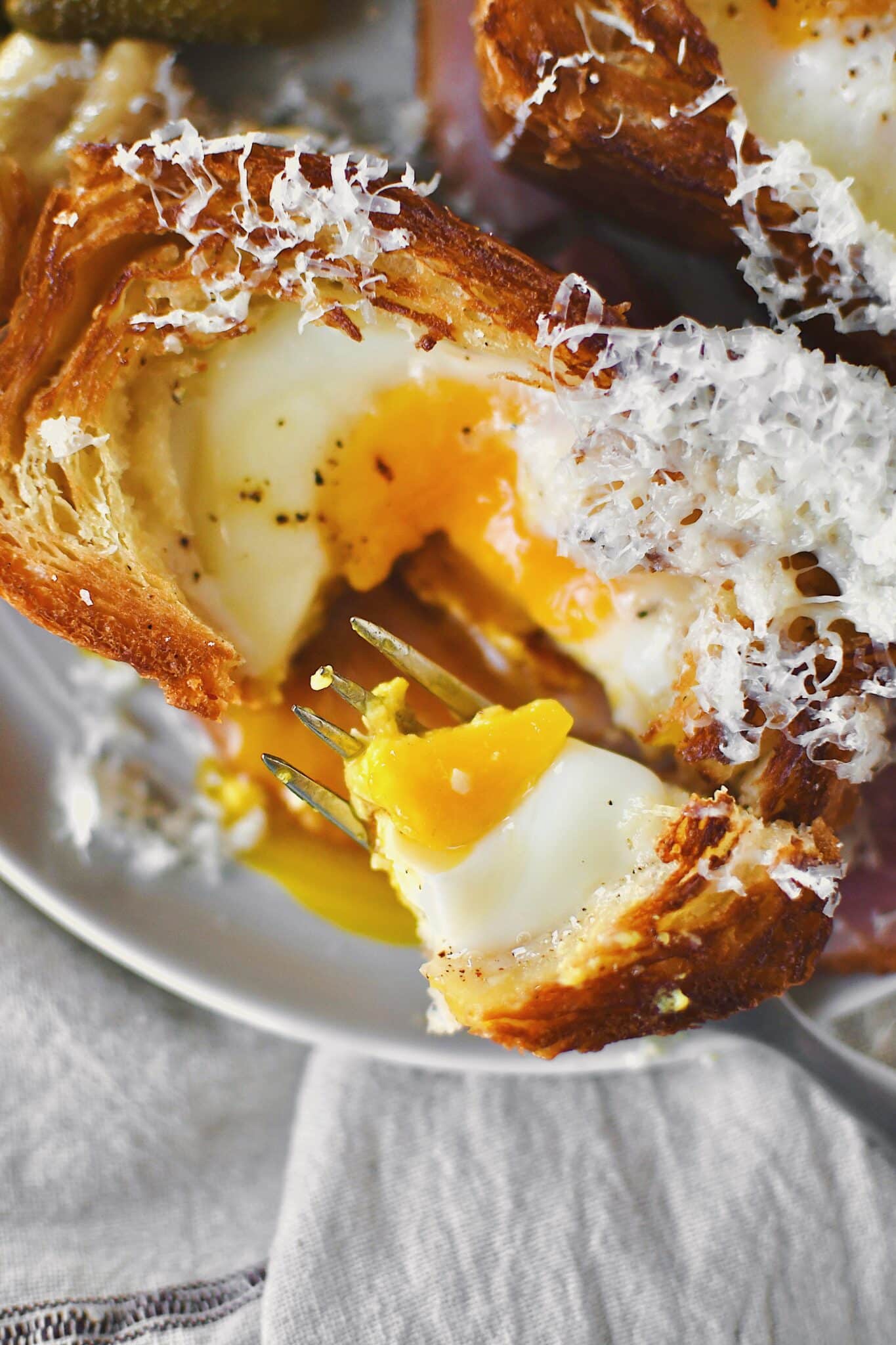 Did you make this recipe? Let me know by leaving a review or comment! And be sure to sign up for my newsletter, and follow along on Instagram, Pinterest, and Facebook!