One of my very favorite proteins to cook in the summer is a Grilled Pork Tenderloin. It is easy to make, and as tender as its namesake suggests. It also takes on flavor so easily with a quick marinade, it is sure to please the whole family!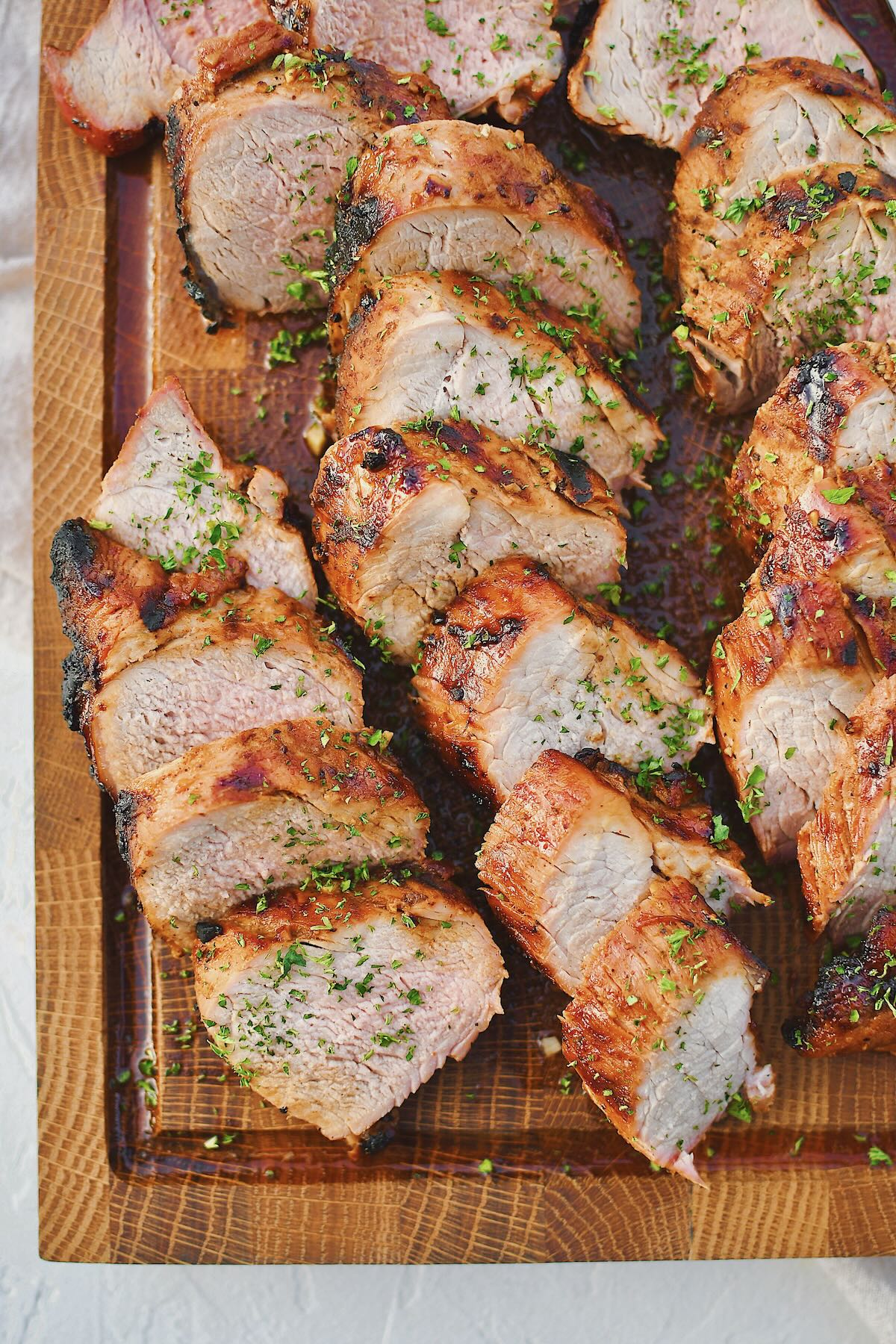 This is also a great recipe that you can multiply for a cookout as needed to feed a crowd. Put it in your back pocket and wow everyone all grilling season long.
Jump to:
Ingredients
I like to buy the pork tenderloins that they sell at Costco. They come in a pack of 2 for like $15-ish dollars, and each pack has 2 loins in it. They are such a great deal, and so versatile, I cook them in a myriad of ways.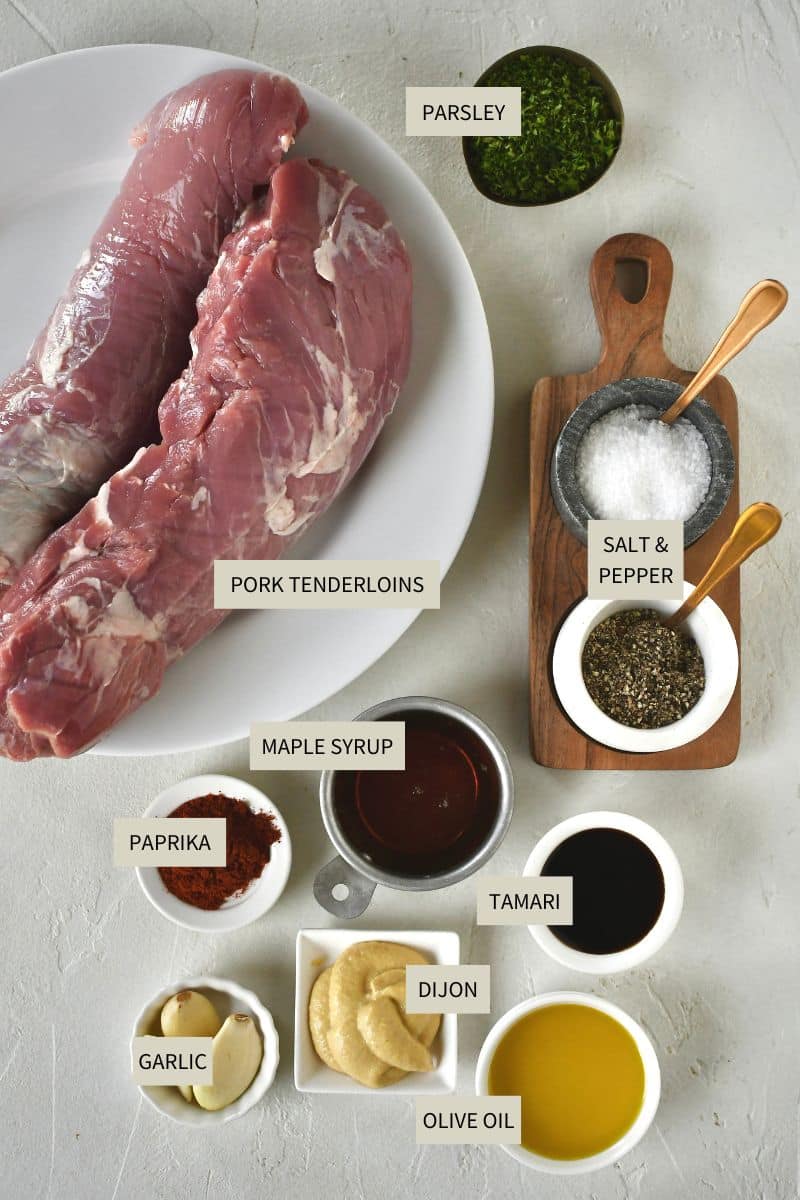 The rest of the ingredients make up the marinade. You can vary this as you like, but this is my quick go-to, using all ingredients that I always have in my pantry.
Use the JUMP TO RECIPE button at the top of the post, or scroll to the bottom of the post to see the full recipe card with ingredient measurements and instructions.
Method
First, I season the outside of the tenderloins with salt and pepper all around. Then place them in a zip-top bag and add all the liquid ingredients in the bag. Chop the garlic, press the air out, and close the bag up. Knead it around till the marinade is evenly spread among the loins, then place it in the fridge and flip it every so often.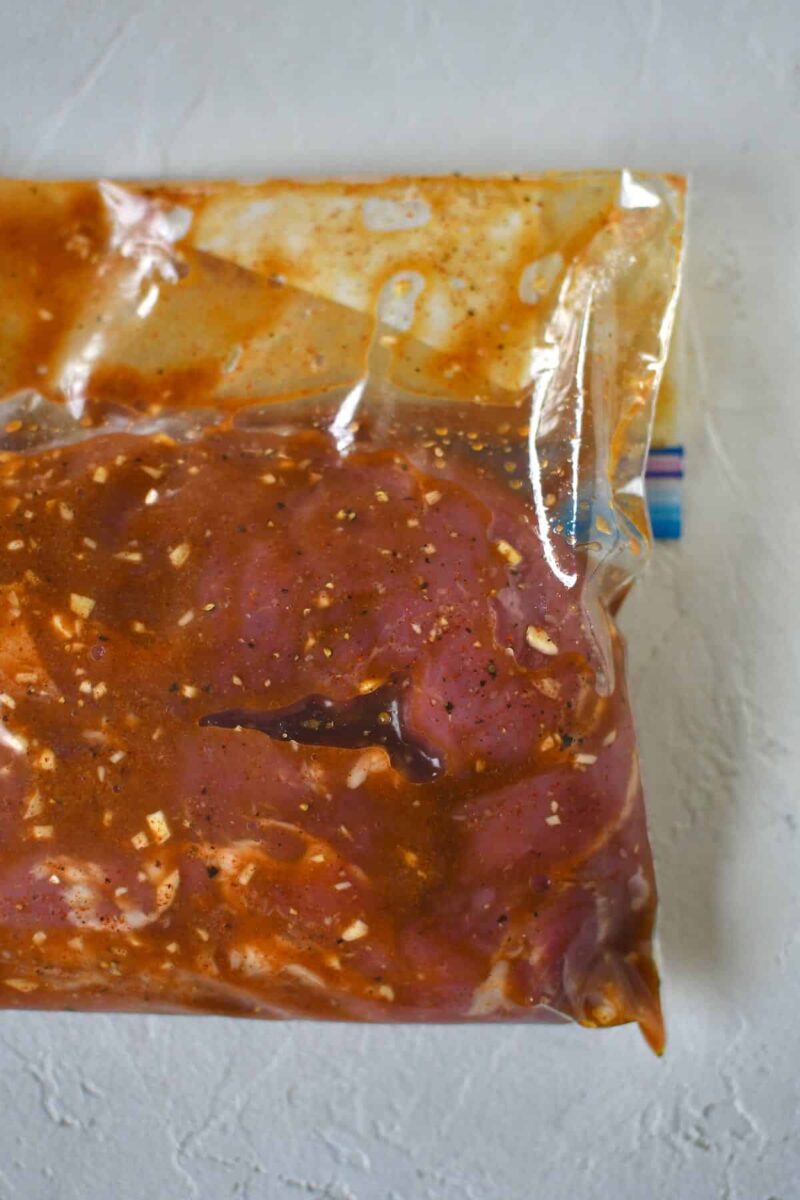 When you are ready to cook, heat a gas grill to high heat. Then sear the loins for 2-3 minutes on each side till browned, then turn the heat off on one side of the grill and place the loins on the off side.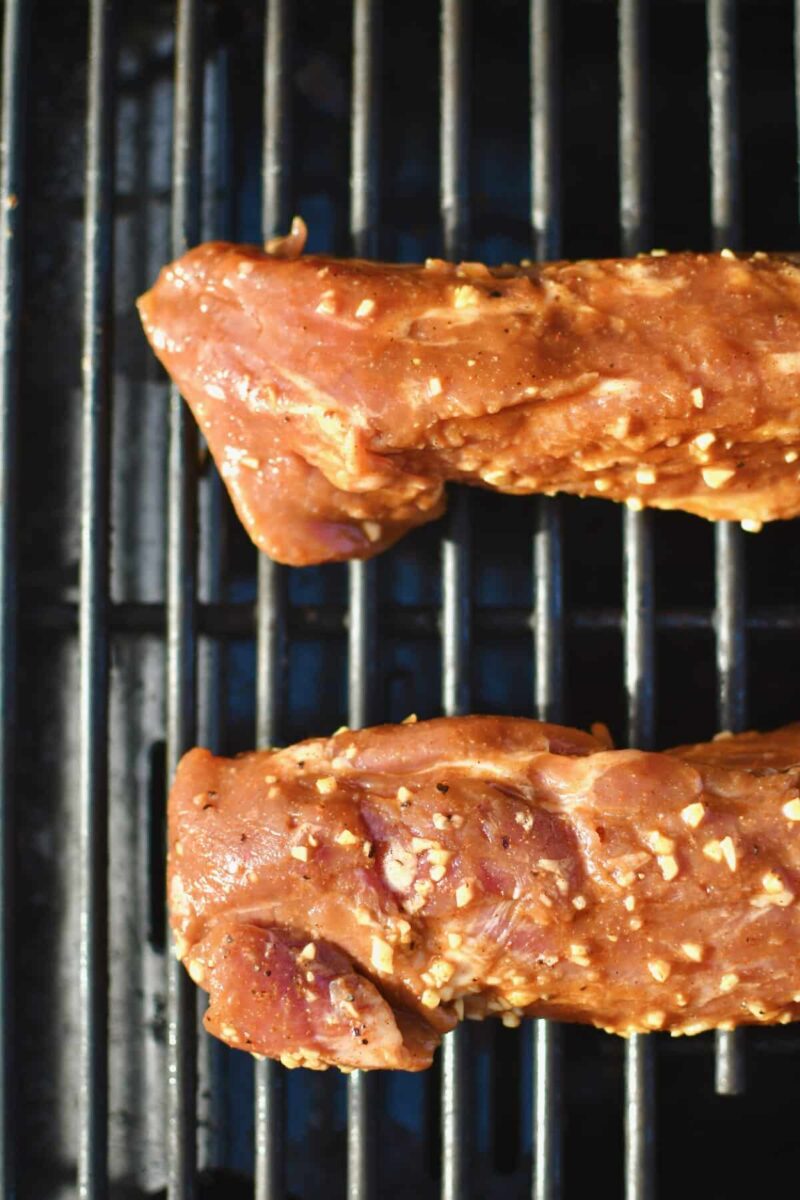 Close the lid and let them cook till an instant-read thermometer reads 140˚F. Then remove them to a plate to rest and cover them with foil. Let them stand for at least 10 minutes to allow all the juices to redistribute inside the meat, keeping it moist and juicy.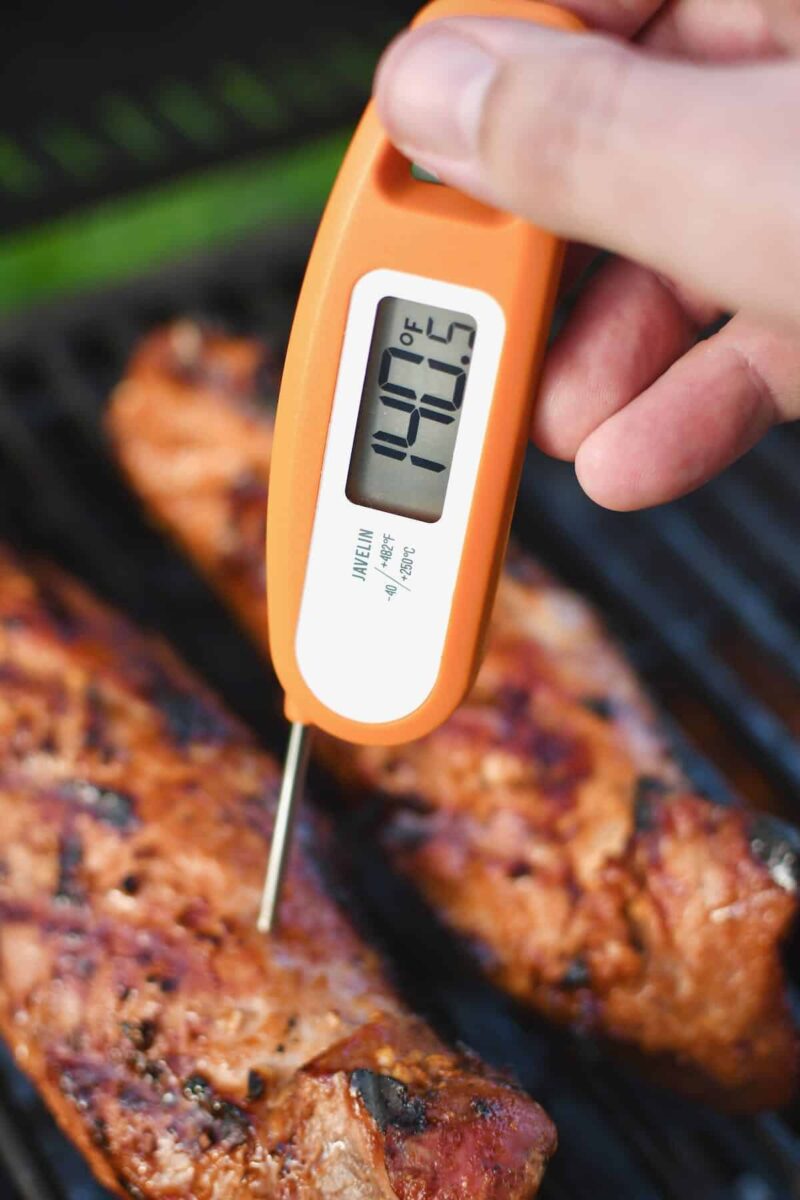 Then slice and if desired dust it with some parsley for color and beauty. And with any juices that do run out, dab the slices in them on both sides, this will make the meat so much more tasty. Or pour the juices over the potatoes or rice that you serve with your pork.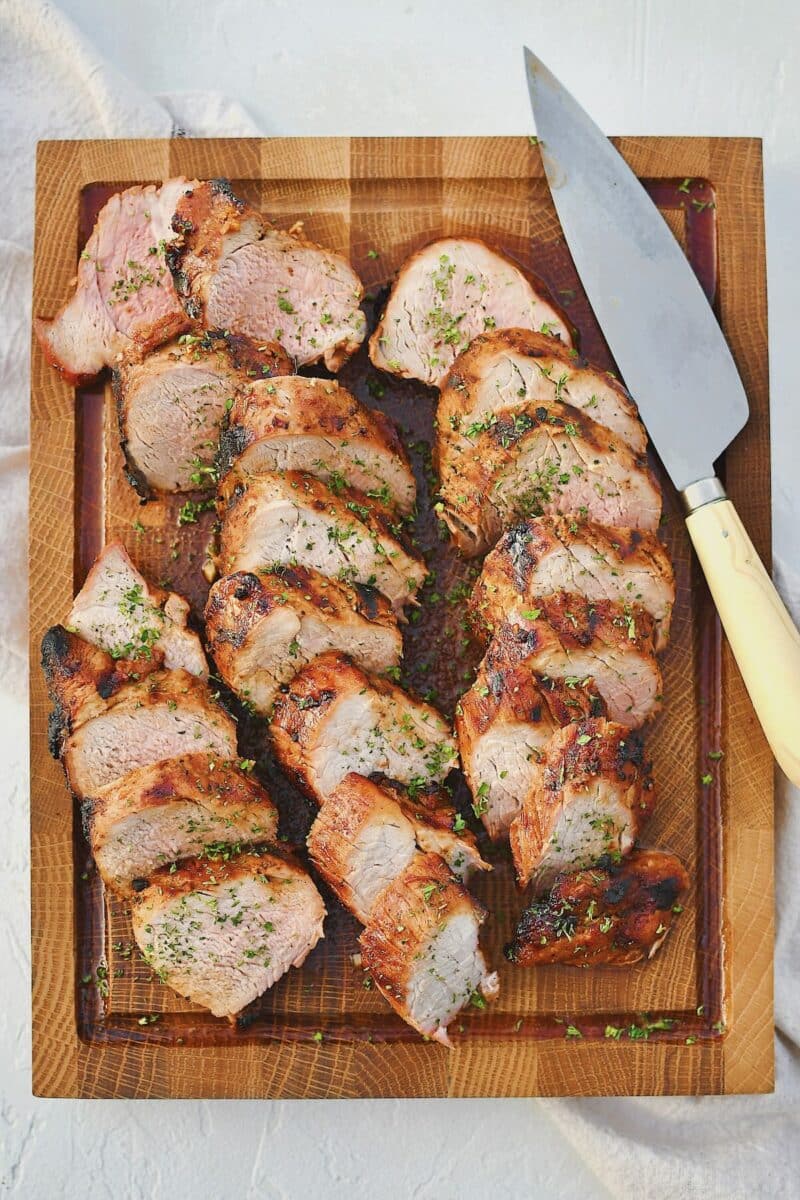 Notes & Tips
You can place the loins and the marinade in a zip-top bag or a vacuum seal bag to marinate them. The vacuum seal bag will allow you to marinate them for less time as it infuses the flavor quicker.
The marinade does its job in just about 45 minutes, I like to turn it and squish it every 10-15 minutes in this time. That's just me, you can also let it sit in the fridge overnight for deeper flavor.
The reason I suggest taking the loins off the grill when they reach 140˚F is because they will carry over and cook to a perfectly cooked medium. Of course, the thinner end will be a little more well done, but the beauty of pork tenderloin is that it will still be great no matter which end you enjoy.
Store any leftovers in the fridge for 3-5 days in an air-tight container. I also love grilling this pork tenderloin for meal prep. Portion it in containers with ½ a cup of rice and 1 cup of your favorite vegetables for lunches all week.
Substitutions
Be sure to use real maple syrup for this recipe, non of that grocery store junk. Use the real stuff or even use agave or honey if needed.
I prefer tamari because it is a little less salty than regular soy sauce, and bonus it is gluten-free for those who need it. You can use regular soy sauce though if that is all you have access to.
I prefer that hot tang of dijon mustard, you can also use plain yellow mustard if that is all you have on hand.
The sweet smoked paprika adds a really nice depth of flavor to this marinade. If you like a little heat you can use hot paprika.
Be sure to seek out pork tenderloins, they are different than pork loin. Pork loin is what pork chops are cut from and is much larger. Tenderloins are much smaller, leaner, and well...tender!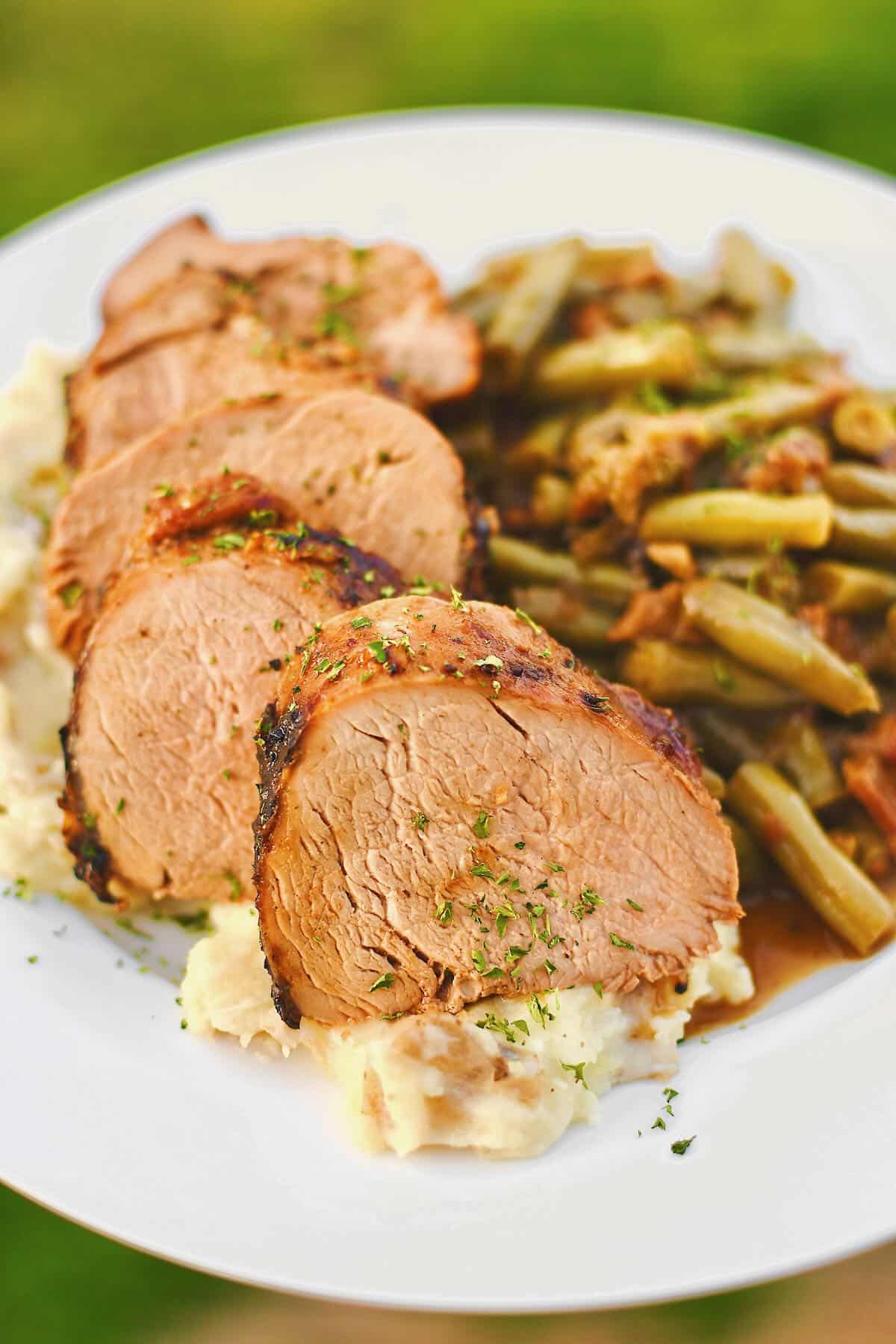 More great Grilling Recipes
Did you make this recipe? Let me know by leaving a review or comment! And be sure to sign up for my newsletter, and follow along on Instagram, Pinterest, and Facebook!