This recipe for Ground Turkey Tacos is a staple that my mom has made my whole life. They are the perfect family-friendly weeknight meal. Even on the busiest of activity-filled days, there was time for these tacos. I'm sure this will become a regular weekly meal for your dinner table too.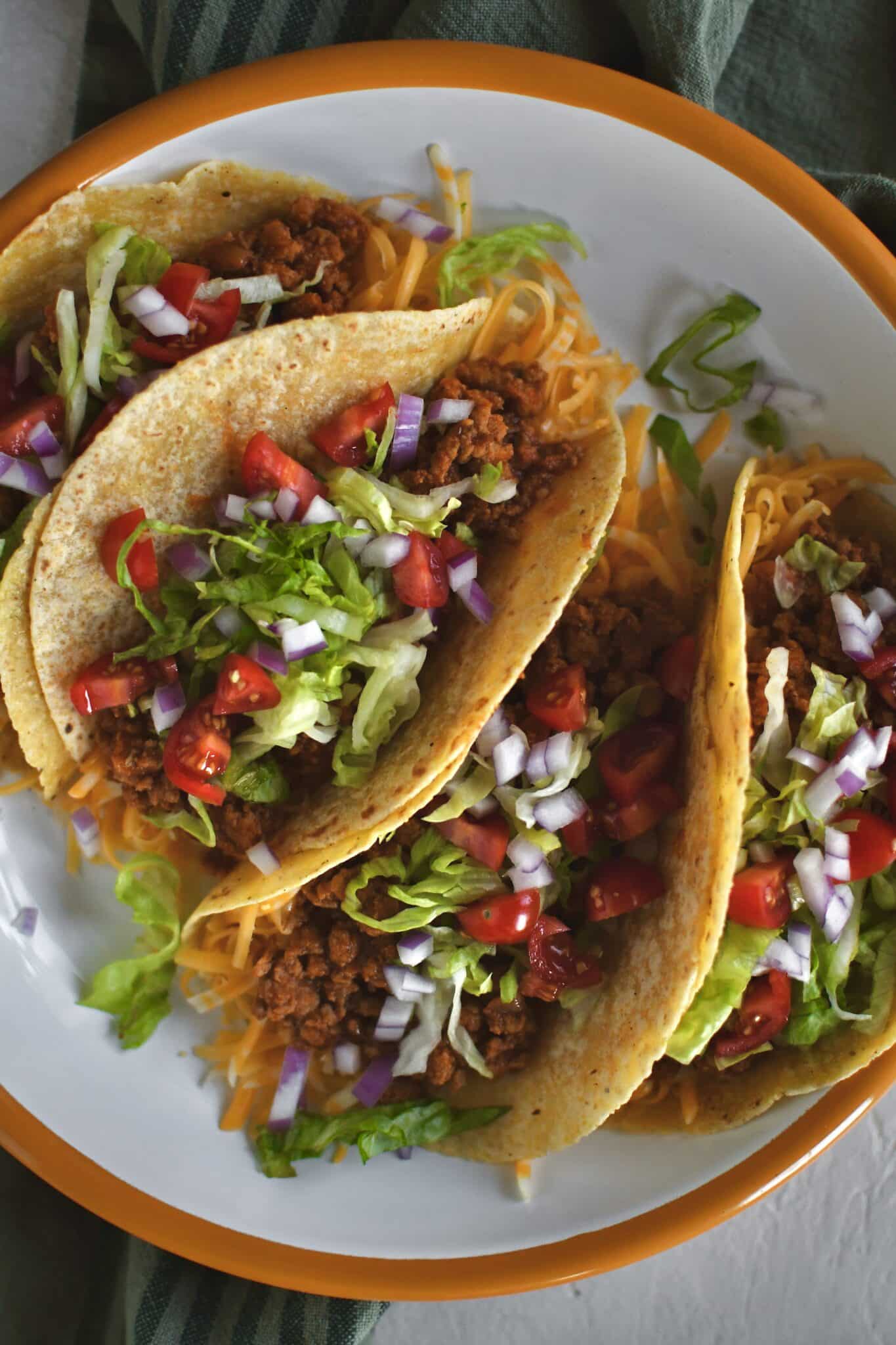 I have amped them up just a little with my homemade Taco Seasoning. But they stay true to the way mom always made them, and she still loves eating them my way today! Plus they make for a nice healthier twist on tacos with lean ground turkey.
Jump to:
Ingredients
This ingredient list is super short and humble. You can get so much flavor out of these simple ingredients, and feed a lot of people on a budget too! The only thing I put my foot down on these days is using my homemade taco seasoning.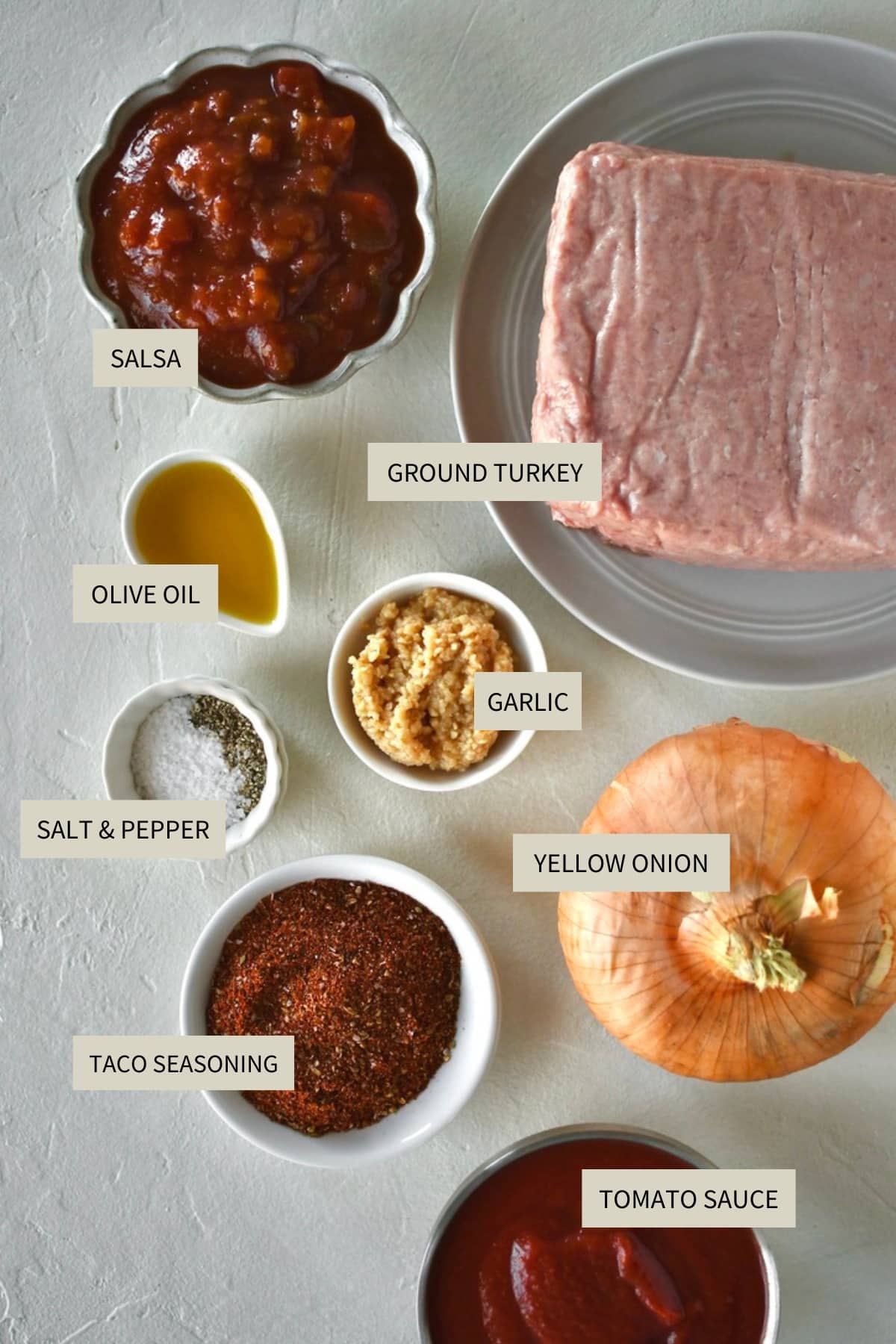 I do use a store-bought jarred salsa for this recipe. You can use homemade if you like, but feel free to use any type of salsa you prefer. This is also a great way to adjust the spice level to your liking. If you like really spicy, or not spicy at all, use what fits your taste level.
Use the JUMP TO RECIPE button at the top of the post, or scroll to the bottom of the post to see the full recipe card with ingredient measurements and instructions.
Method
Start by cooking the onions till translucent and begining to brown a little. Stir in the garlic and cook till fragrant, then add the turkey and taco seasoning to the pot.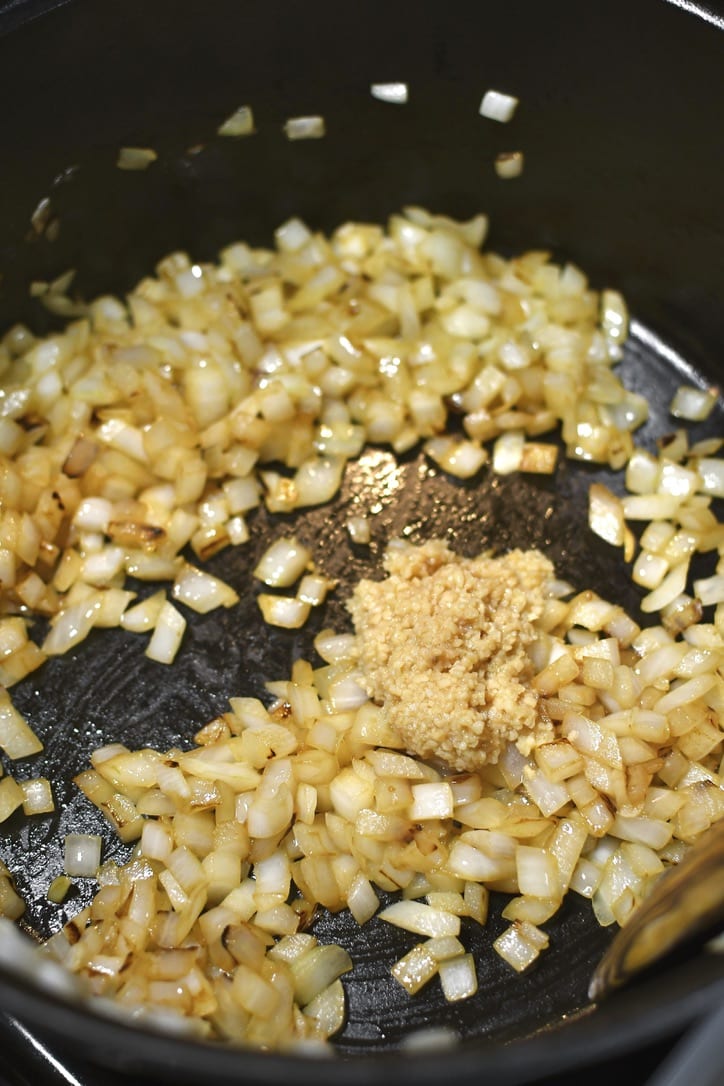 Break up the turkey with a spatula and stir together to mix in the seasonings. Cook until no pink remains and the meat is fully browned.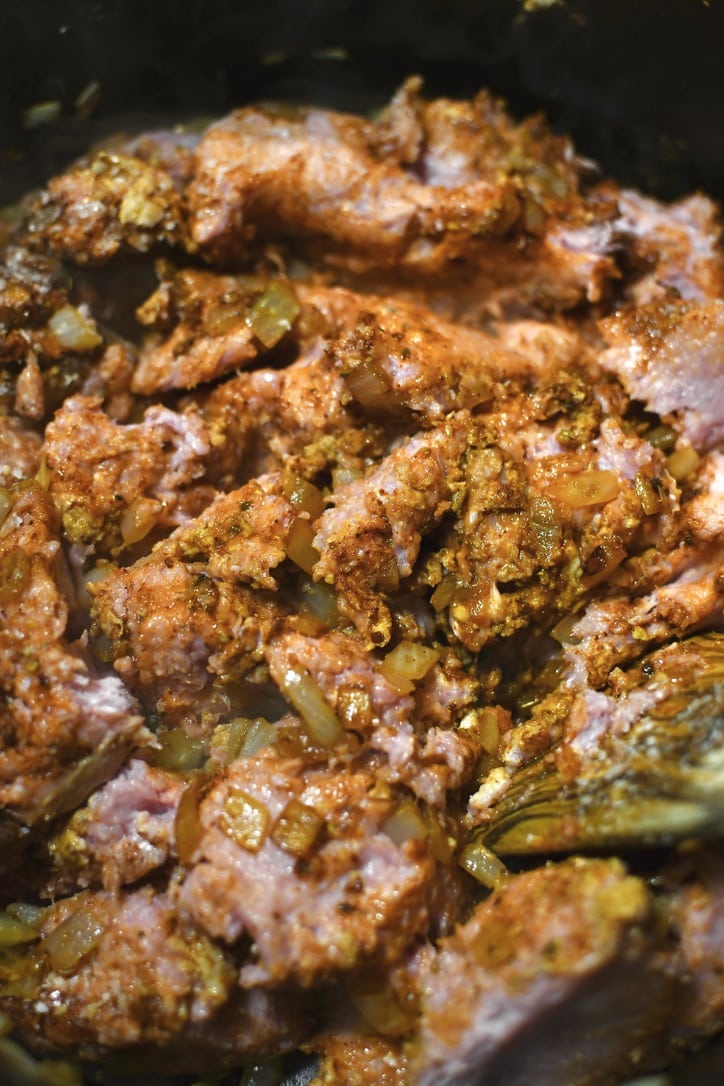 Add the tomato sauce and salsa to the pan and stir it in until it comes to a simmer. Reduce the heat and let the mixture simmer for at least 30 minutes, up to a couple of hours if you like. Stir often to prevent any sticking or burning, and keep the lid on if you will let it cook on the longer side.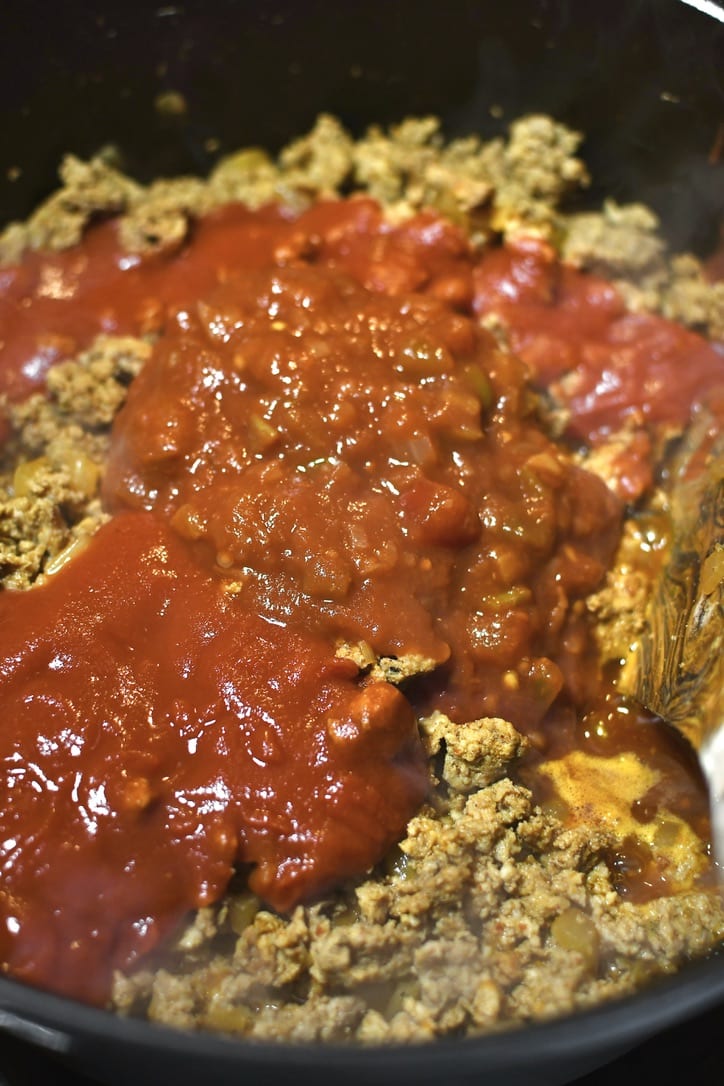 While the meat cooks, prepare a platter of toppings. Mom always made this so everyone could put what they like on top of their tacos.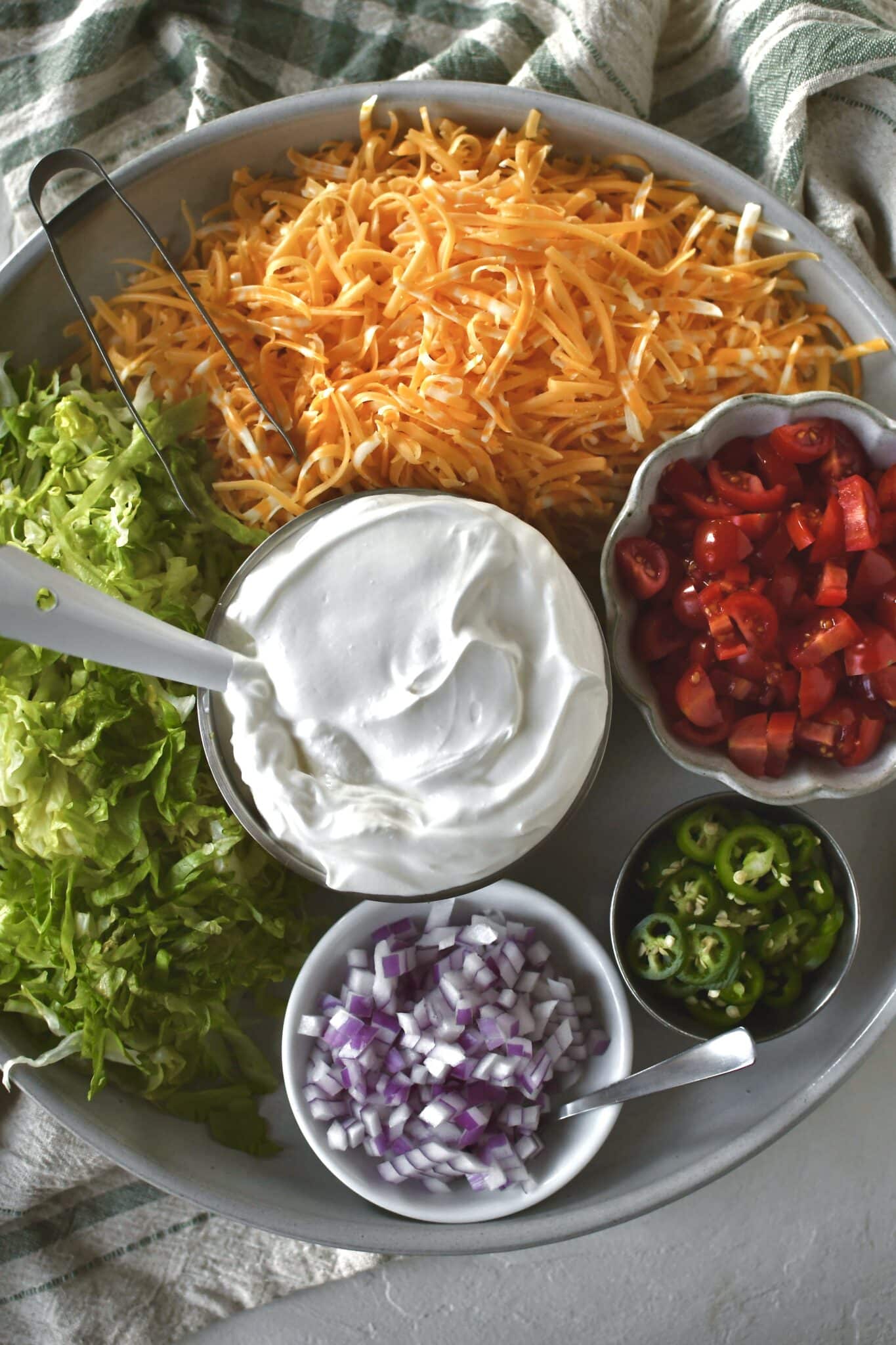 When ready to eat, warm some tortillas, and fill them to your liking. You can use any tortilla you like, hard or soft, corn or flour. That's what makes tacos great, you can do you!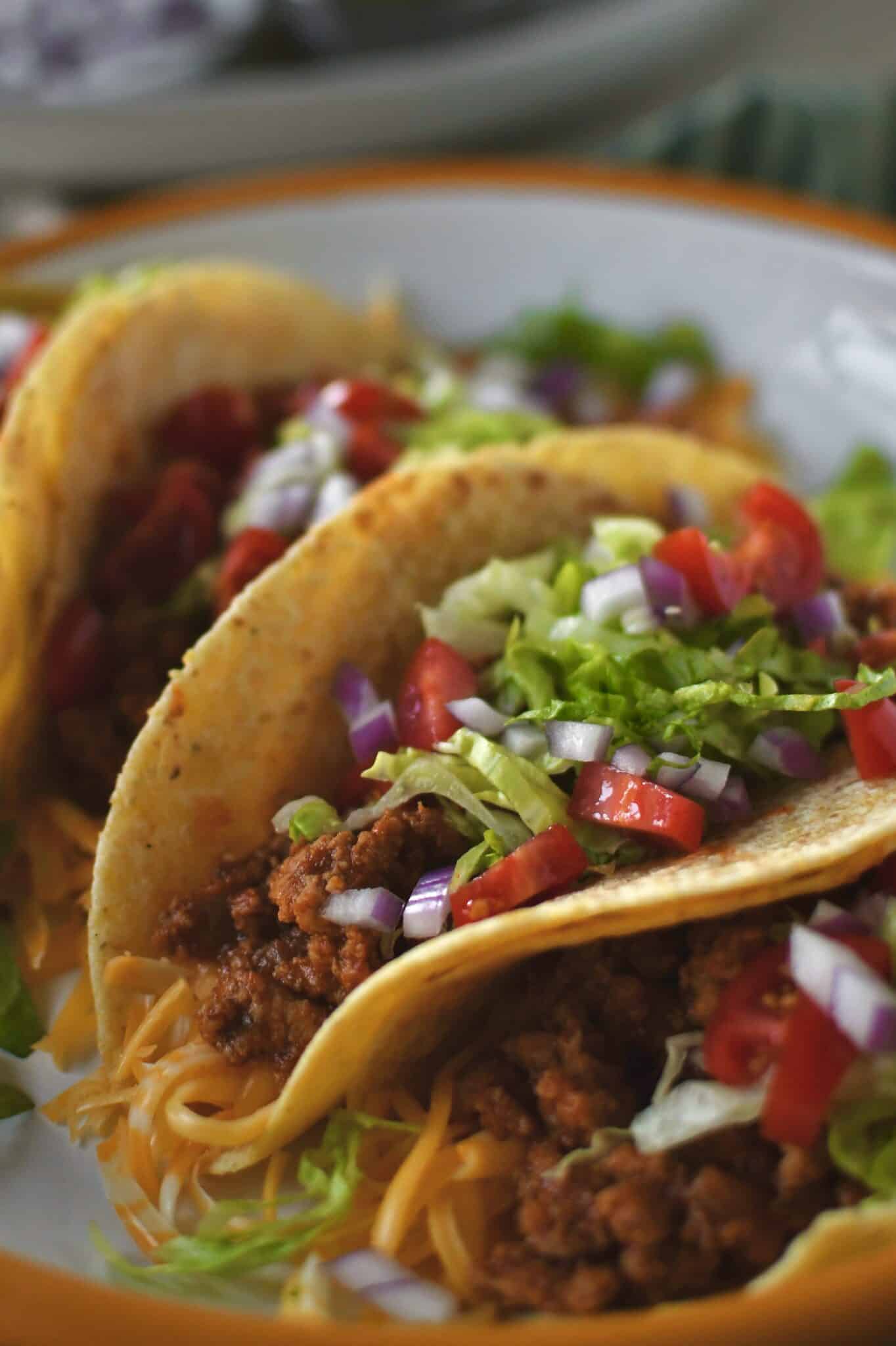 Notes & Tips
This recipe could be ready in about 30 minutes, but f you have the time, make these tacos a few hours before you'd like to eat them. Mom always made them in the late morning and let them hang out on low till dinner with the lid on the pot.
Of course check on it from time to time, adding a splash of water when needed if the meat gets dry at all. I sometimes even make the meat the day before. It is like when you make chili, it is always even better the next day.
I typically shred the lettuce and cheese fresh for topping the tacos, but you could save a little time and purchase pre-shredded of both of these to make this meal even easier and quicker to get on the table.
This cooked meat is also great for making nachos with, I even sometimes put some in a quesadilla. You could also use it to make my Taco Salad with Doritos in place of the beef.
I like to cook my tacos till the sauce is very thick and not loose at all. But if the taco meat gets too thick and beings to stick to the bottom of the pot, add a splash of water or chicken stock to keep the meat loose enough not to stick to the bottom of the pot.
This recipe is for a crowd, if I am going to make tacos I make a lot. Feel free to cut this recipe by ⅓ if you only want tacos for 3-4 people.
Substitutions
I usually use dark meat ground turkey for this recipe. It holds up well to essentially being stewed for a while. You could also use ground white meat if you like, even beef or pork. Mom would change them up from time to time depending on what was on sale.
I use storebought salsa, cause mom always did. You could use homemade if you make your own. You can also always use your favorite spice level of salsa too, if you like more or less spice, use your favorite salsa accordingly. And every salsa is a little different, if the one use you use is very thick, add a splash of chicken stock or water to the pot to keep everything loose.
If someone in your family likes a lot of spice with their tacos, serve their favorite hot sauce on the side so the majority can stay mild and family-friendly. My dad likes LOTS of spice, so the jalapenos and hot sauce on the side are for him!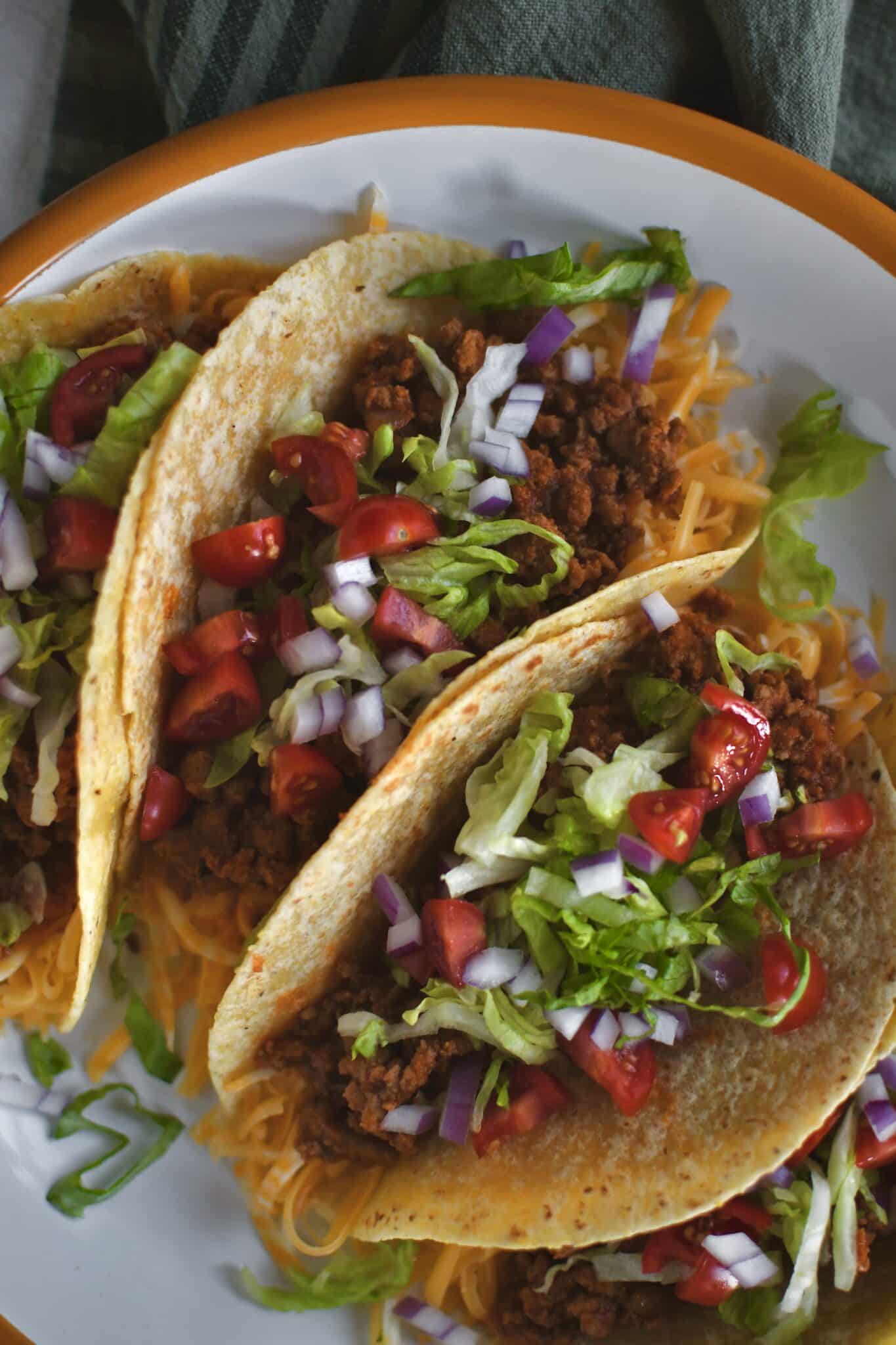 Did you make this recipe? Let me know by leaving a review or comment! And be sure to sign up for my newsletter, and follow along on Instagram, Pinterest, and Facebook!