You'll be surprised at how easy it is to make Homemade Pretzel Bites once you do it. Plus, the aroma and flavor will transport you right back to the mall stand, and hit ya right in the feels, in a good way! Cause honestly I can't tell you the last time I was in a mall, so this at-home version is everything I need.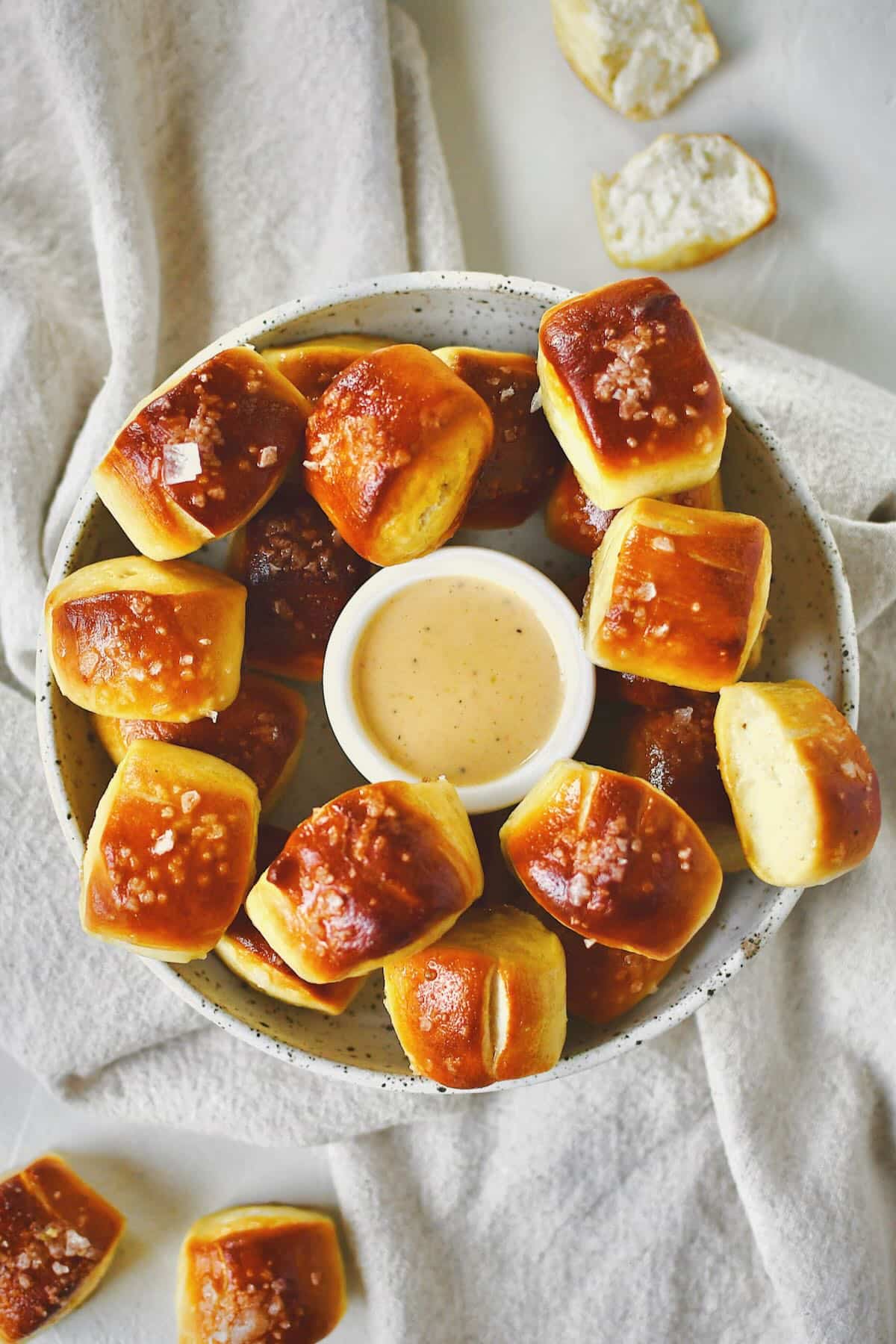 This recipe requires very little active work and you don't have to fiddle with trying to make a pretzel knot but you get all the yeasty, bready goodness!
Jump to:
Ingredients
The ingredient list for this one is super basic. For anyone who has even dabbled in baking, I think this is a recipe you can ace and you probably have most if not all the ingredients on hand on any given day you want to make them. Flour, Sugar, Yeast, Salt, and Water are the very base of what you need.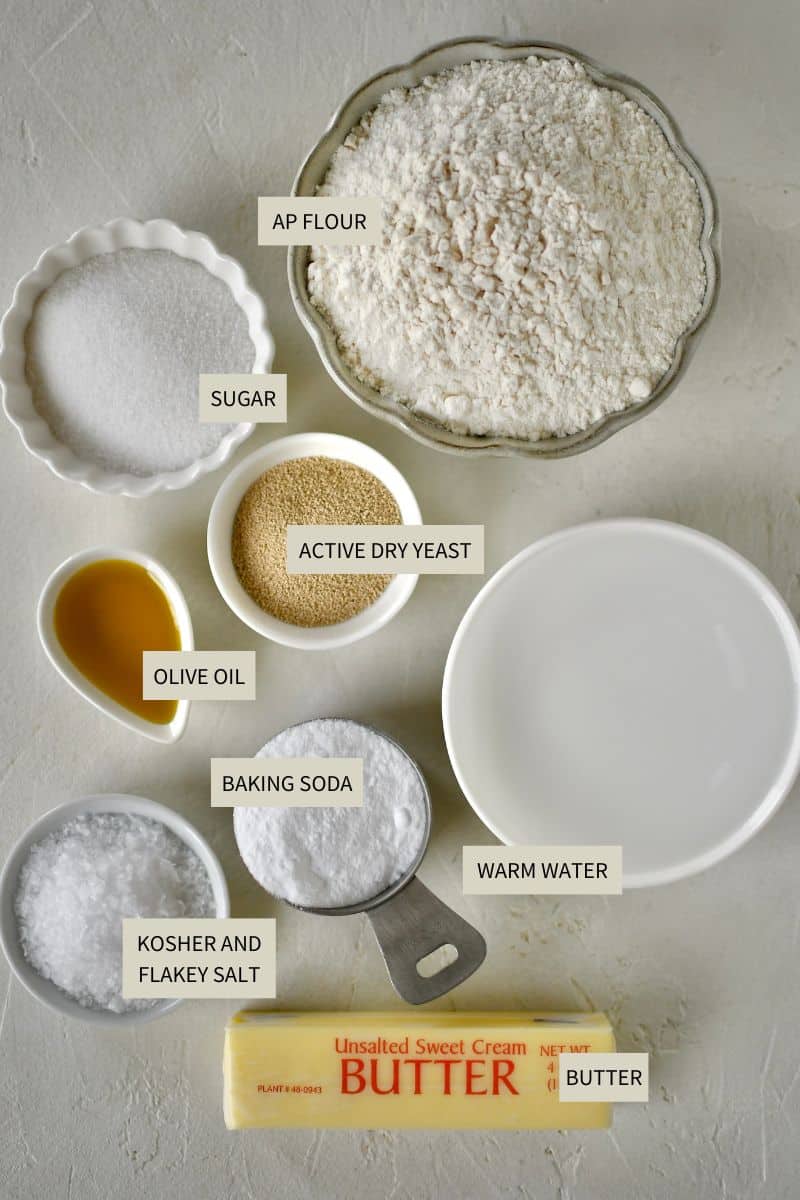 The addition of oil in the dough makes it a little more elastic and easy to work with, while the butter you brush on at the end can be used to add flavor or you can do without it if needed.
Use the JUMP TO RECIPE button at the top of the post, or scroll to the bottom of the post to see the full recipe card with ingredient measurements and instructions.
Method
First, bloom the yeast until it becomes light and foamy. You can see in the images below, the yeast starts as little granules and then after about 10 minutes, it becomes a foamy floating island. If your yeast does not do this, it is dead and you need to get fresh yeast before continuing.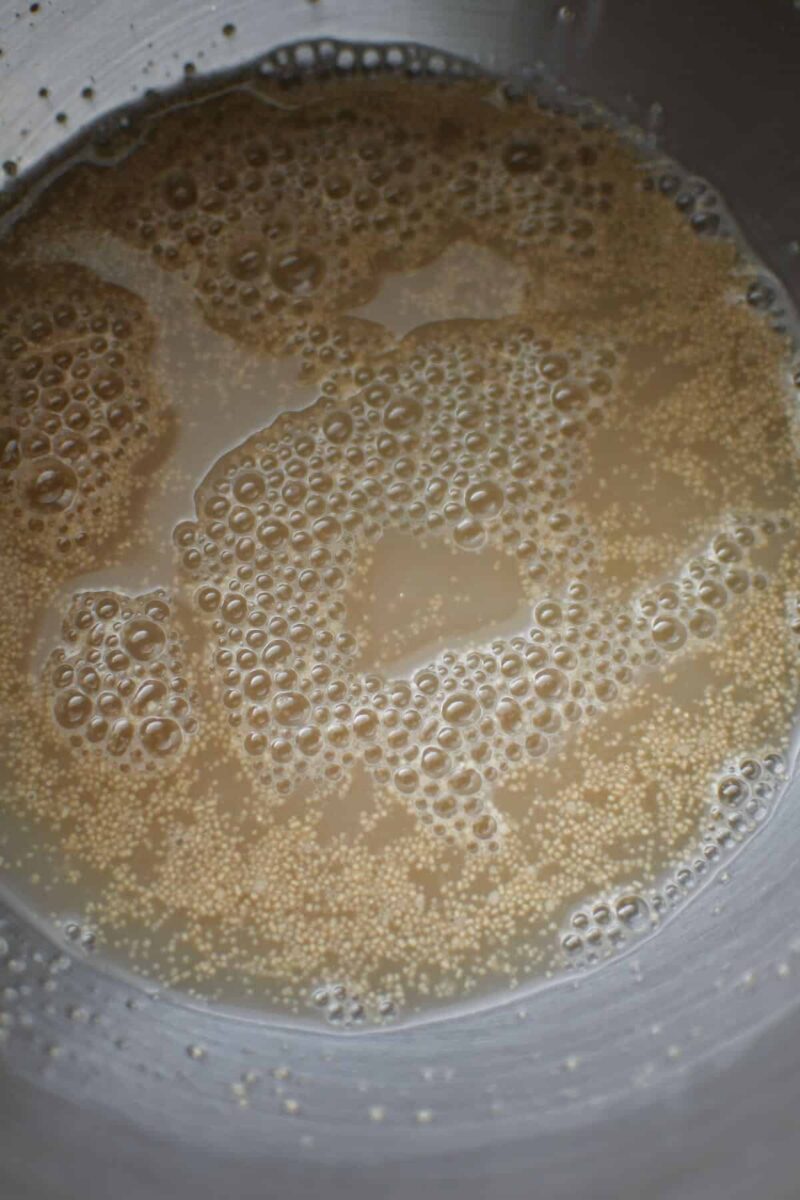 Then add the remaining ingredients to the bowl of a stand mixer. Start the mixer and after a shaggy dough forms, turn up the speed to medium till a smooth dough forms. Cover it and let it rest until doubled in size for about an hour. If your oven has a bread-proof setting, this is a great time to use it. The warmers the environment the faster your bread will rise.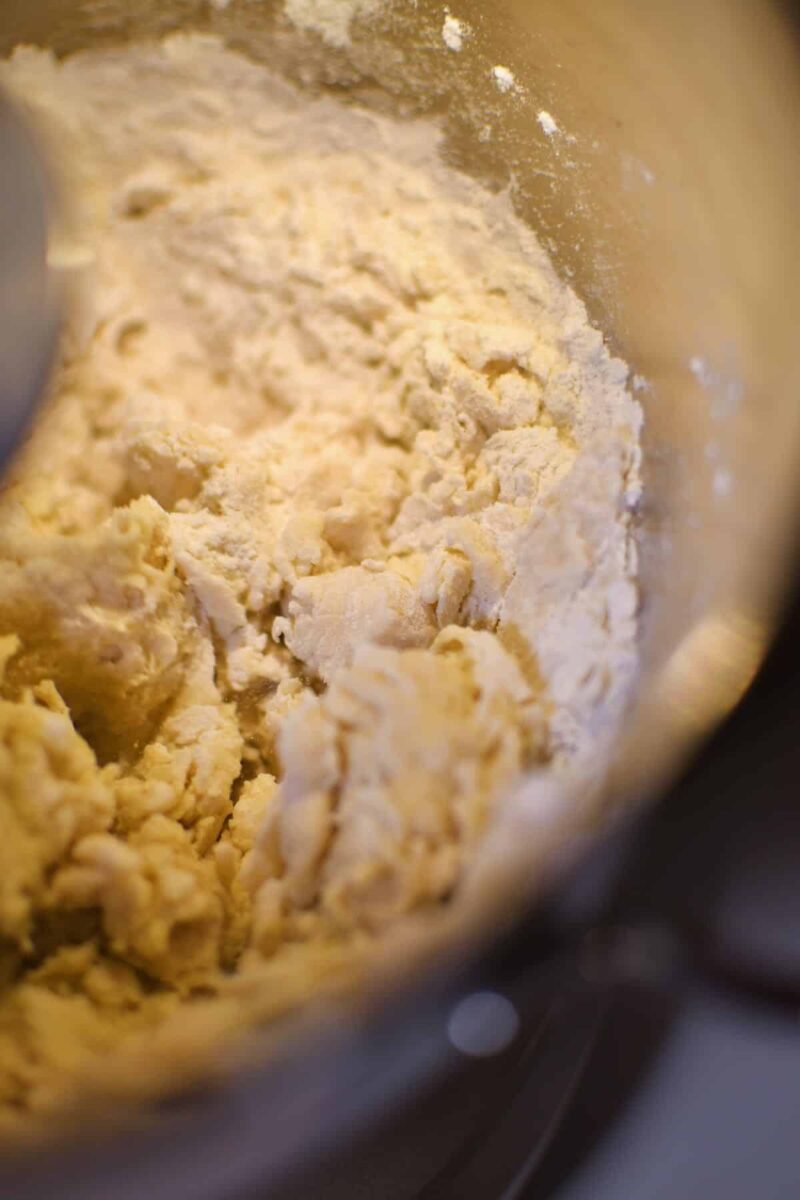 When the dough has doubled in size, remove it to your work surface and divide it into 4 pieces to make it easier to work with. Then roll each piece out into a log and cut it into pieces to form the pretzel bites.
The pieces then must be dunked in a baking soda/water wash, this is what gives a pretzel its signature brown exterior. Arrange the pieces on a sheet pan and top them with salt if desired, then they are ready to bake.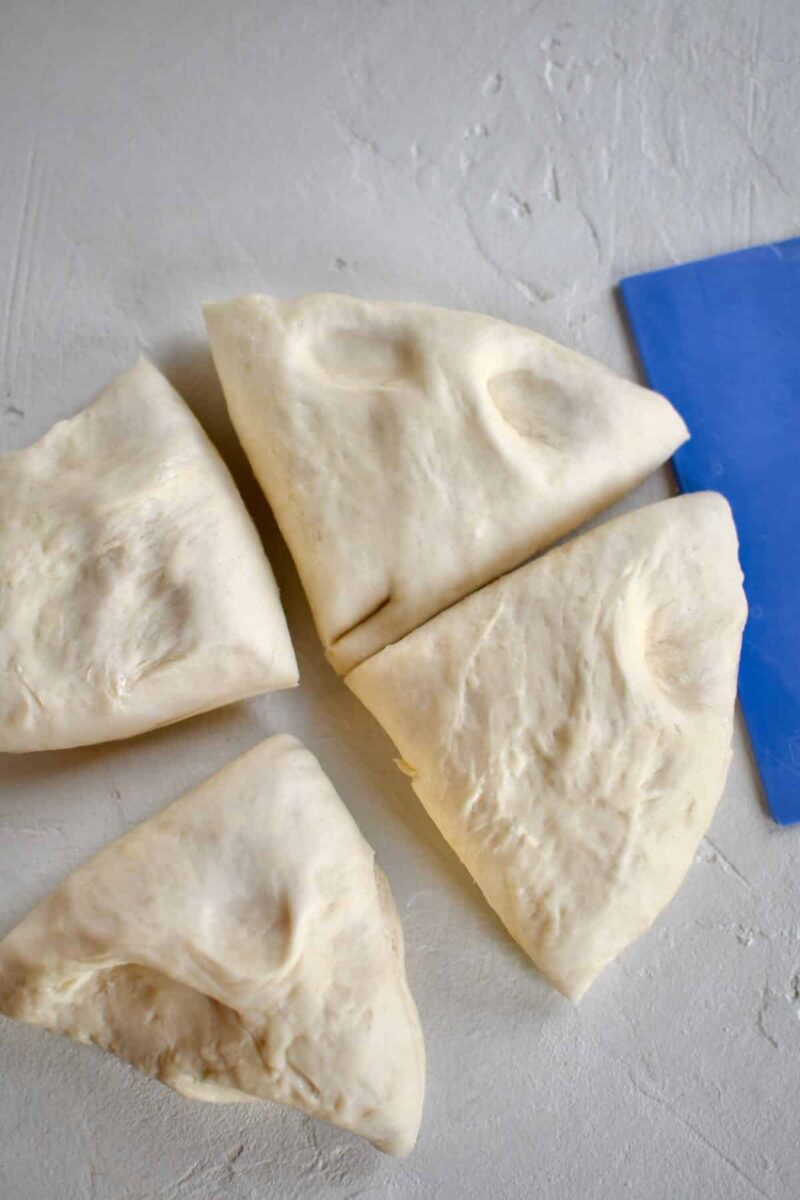 Look at that beautiful golden color, that is thanks to the baking soda wash they went through. Then to get the signature shine, brush them with melted butter. If you prefer to have a sweet or other flavor than salt, this is the time to add that. After brushing with butter, toss the bites in whatever flavor you prefer for your pretzels.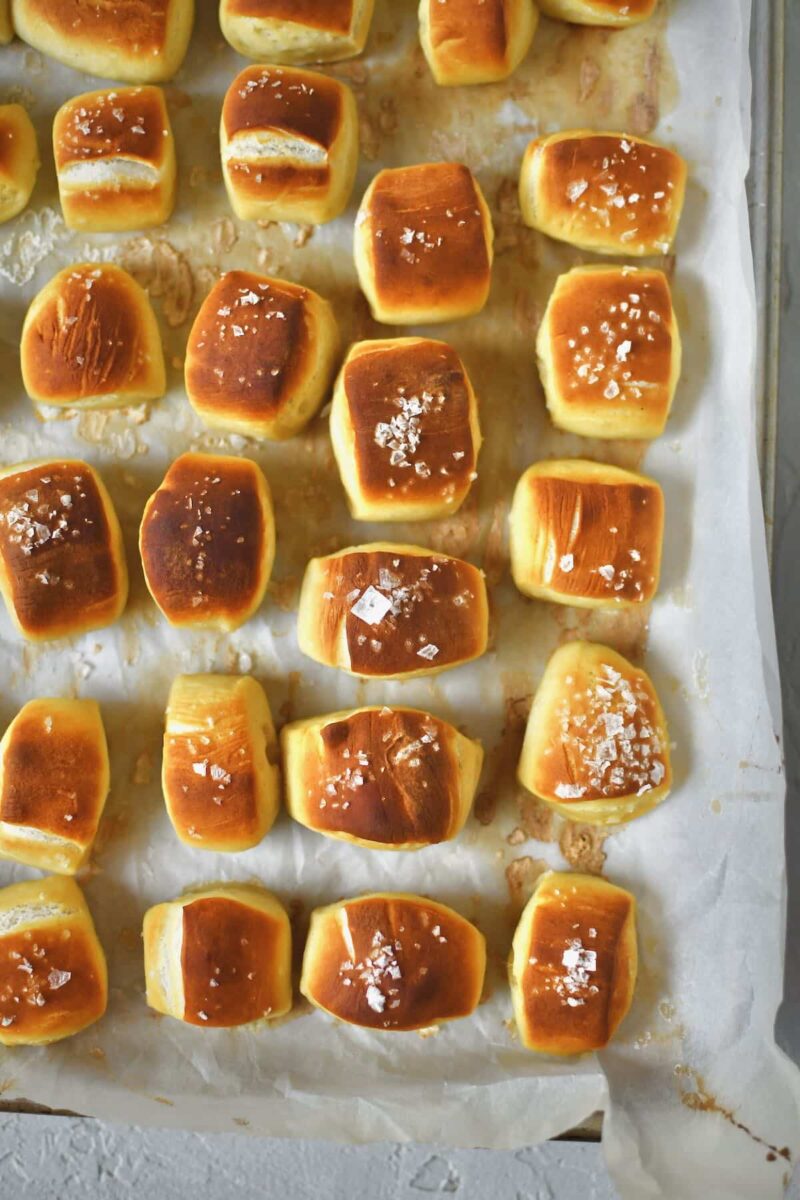 I have provided basic instructions for simply salted pretzels in this recipe, but even those are great served with a little cheese sauce or my favorite way to serve them, with my Beer Cheese Soup. They are great dipped in the soup and it's like eating them with a big bowl of cheese sauce!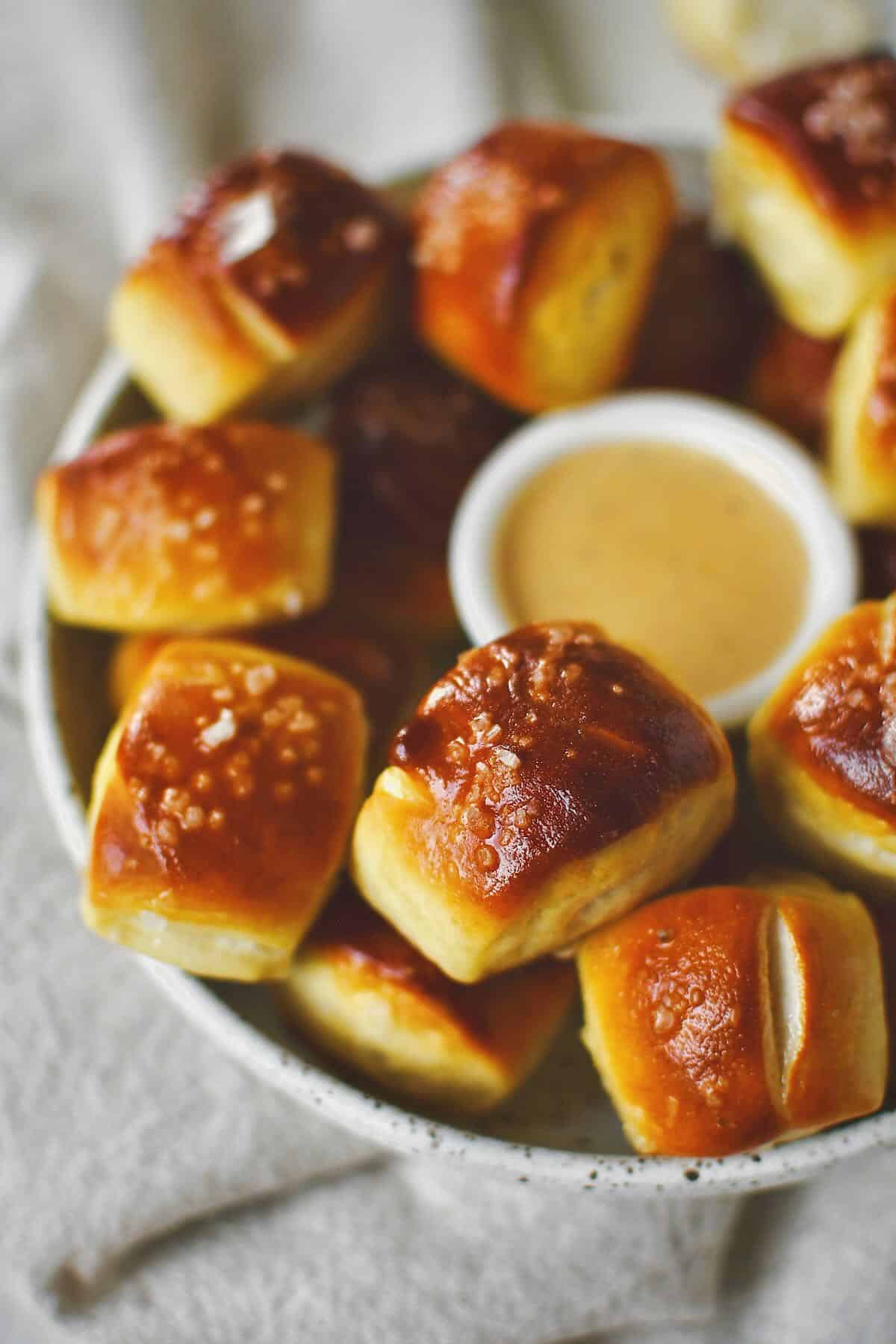 Notes & Tips
Be sure to bloom the yeast before continuing the recipe. I like to do this because I can continue KNOWING the yeast is alive and that my dough will rise. If the yeast does not get light and foamy it is dead or your water was too hot. Try again, and if it still doesn't get foamy and very fragrant, you need new yeast.
When the dough is done kneading in the stand mixer, it will get fairly smooth and not stick to the sides of the bowl. The inside of the bowl should also be very clean. Nothing sticks to the sides and the dough should not cling to your hands when held.
When resting the dough, I just lift it out of the bowl for a second and spray some pan coating around the inside. Then set the dough back in the bowl and cover it with plastic wrap and let it rest for 1 hour.
When adding the baking soda to the boiling water, this is best done in a large heat-proof bowl and by slowly adding the water to the soda. If your water is still boiling the soda will explode with foam. Do this slowly. Ask me how I know :\
And of course, if you want to twist these into traditional pretzel shapes, you absolutely can. Divide the dough into 6 or 8 pieces and roll out thin logs, then twist them into pretzels.
Substitutions
Active Dry Yeast or Instant Yeast can be used interchangeably in this recipe. They will both produce the same end result.
I typically use granulated sugar for this recipe, you could also use brown sugar if you like. It will give the dough a richer flavor, I would especially use it if I knew I wanted to make sweet pretzel bites.
All-Purpose Flour makes this recipe easy and accessible, I always have it on hand. But you could also use bread flour for a slightly stretchier dough.
When I am making these savory, I use olive oil in the dough, and even in sweet I don't notice the flavor, but you could also use a neutral canola or vegetable oil. It really doesn't matter what oil you use, you just need a little so any will do.
If you want to make regular pretzel bites, after dipping the dough pieces in the soda water dust them with salt. You can also leave them plain. Then brush the plain pieces with butter and dust them with cinnamon sugar, or your favorite dust flavor.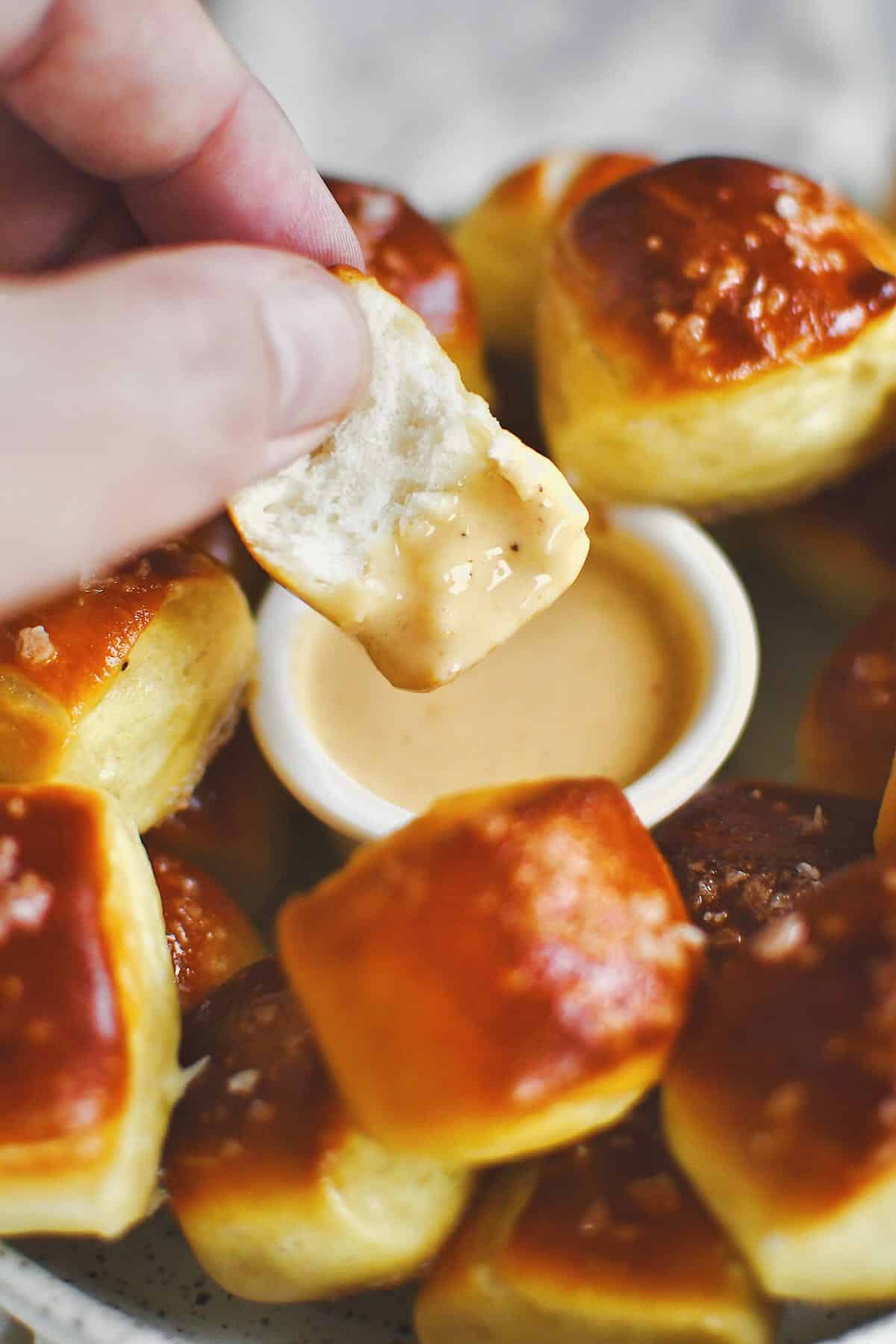 Did you make this recipe? Let me know by leaving a review or comment! And be sure to sign up for my newsletter, and follow along on Instagram, Pinterest, and Facebook!