I love to make this Calzone Recipe at home. They are SO GOOD, and when I make my Calzone Dough to make them with I just can't justify going out to eat! This recipe is so budget-friendly, easy to make, and beyond delicious.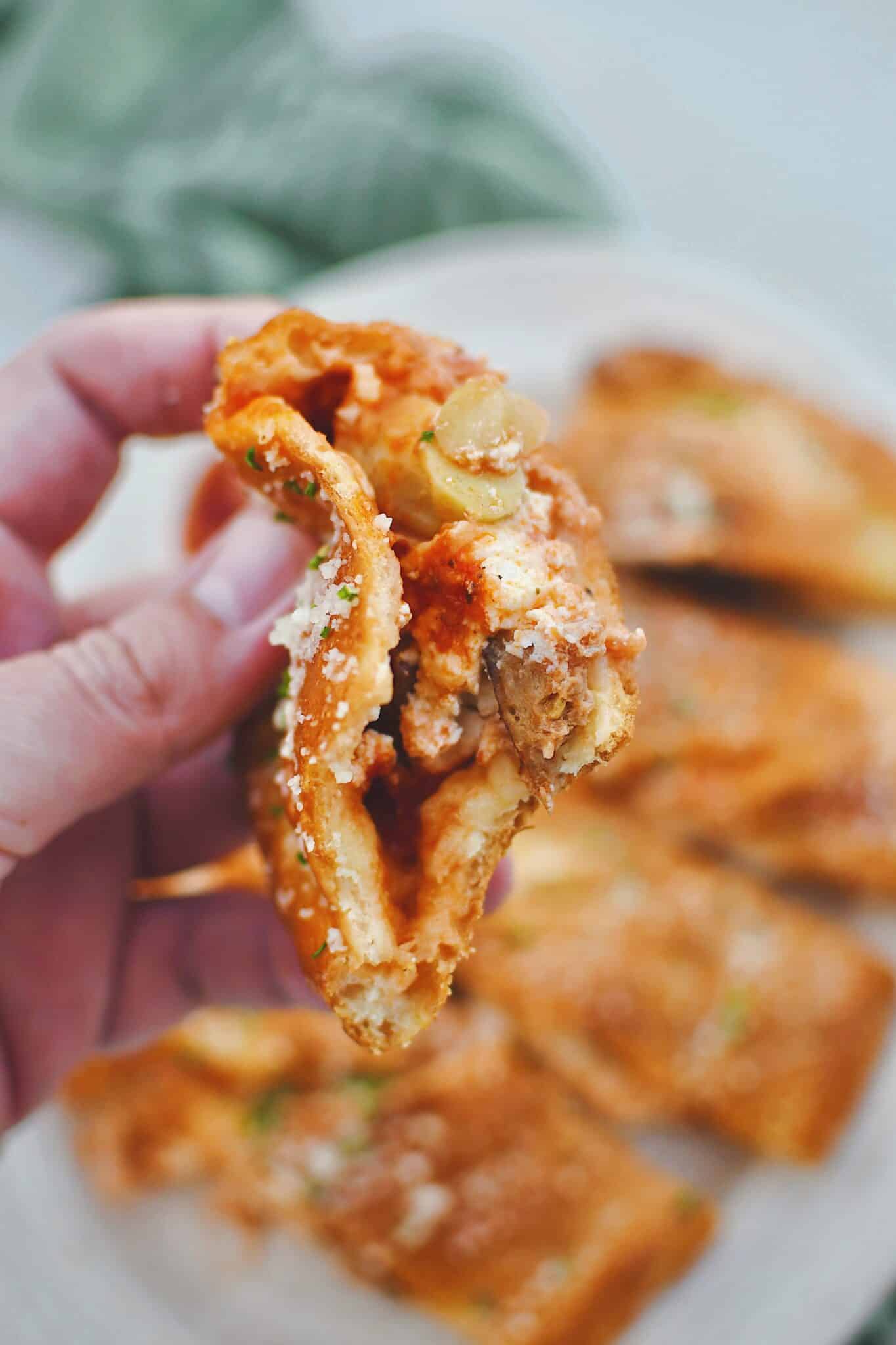 My goal was to mimic my favorite restaurant calzone, and I have done it! I may have even made it better. There is just something about eating something right out of the oven that sends it over the moon for me!
Jump to:
Ingredients
The list of ingredients you see below is a loose list that has some of my favorite things on it. Just like pizza, you can customize these calzones with any toppings you love. At a minimum, use some marinara sauce, ricotta, and mozzarella. The rest is pretty much interchangeable to you liking.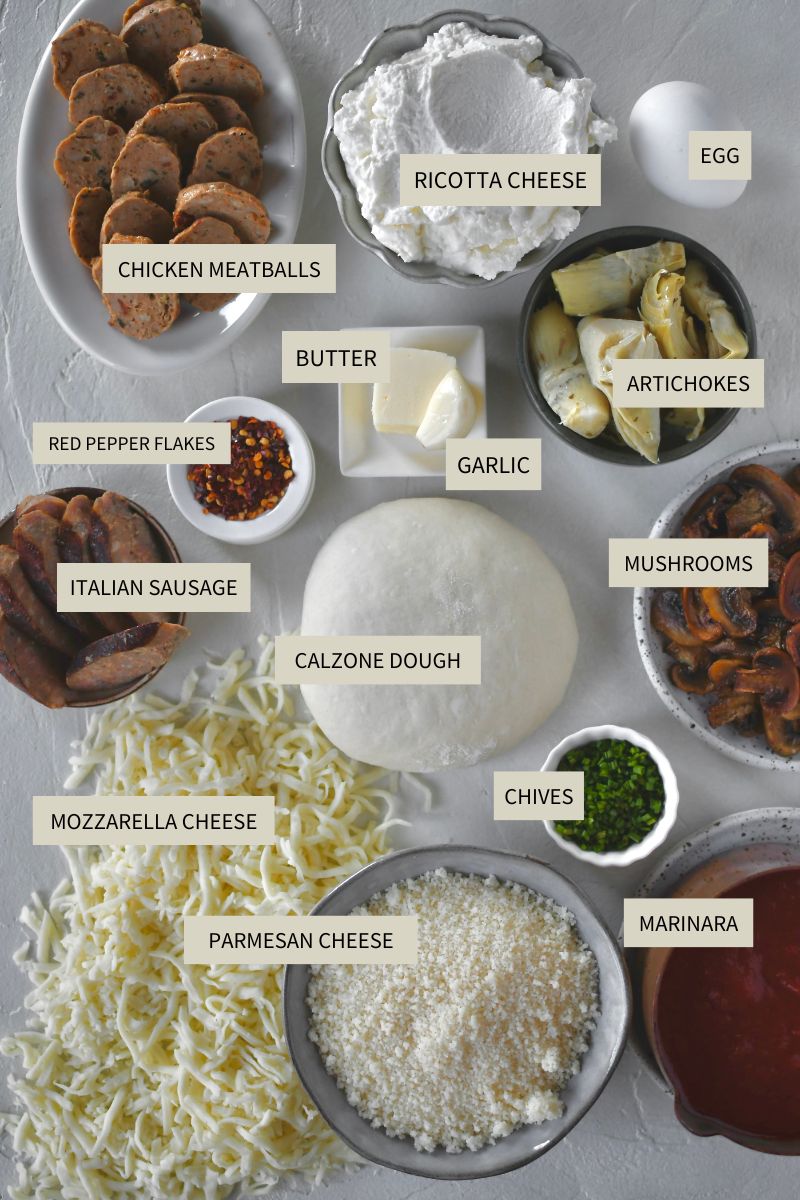 The one thing you really don't want to skimp on is the ricotta cheese. Buy a REALLY good one. My favorite is the BelGioioso "platinum label" it is restaurant quality, and just the creamies ricotta commercially available.
Use the JUMP TO RECIPE button at the top of the post, or scroll to the bottom of the post to see the full recipe card with ingredient measurements and instructions.
Method
Roll out ¼ of your calzone dough, then top it with marinara, mozzarella, ricotta, and then your favorite toppings. I have added chicken meatballs and Italian sausage I sliced, some mushrooms I sauteed, and some pickled artichoke hearts I quartered.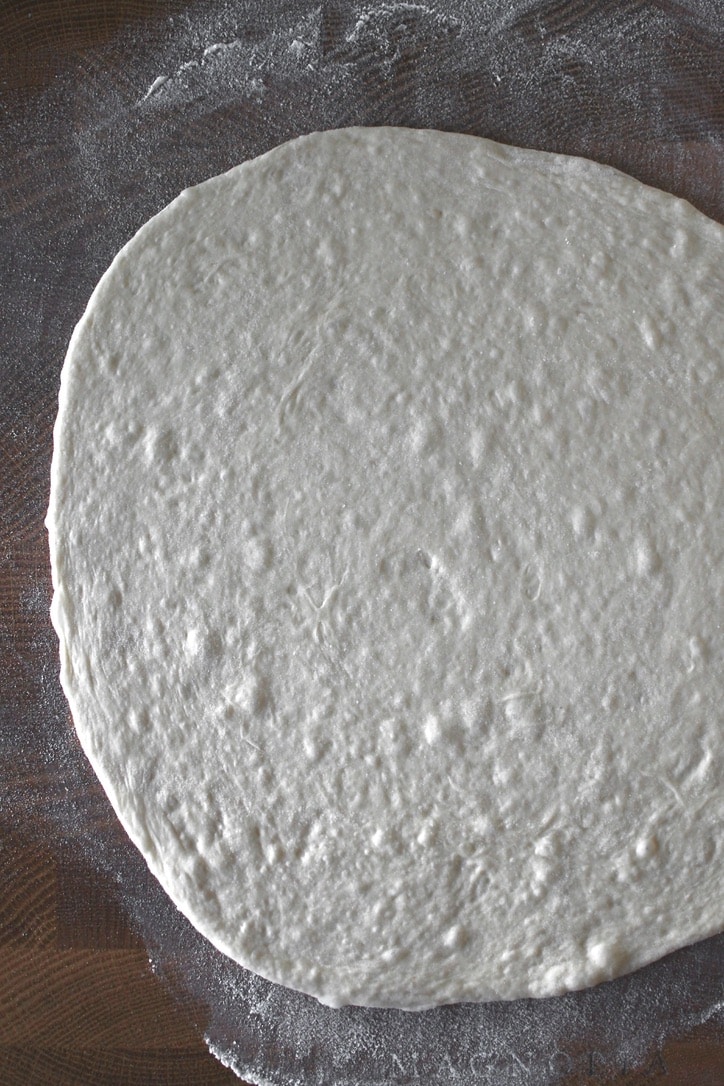 To form the pizza pocket known as a calzone, brush the outside of the dough with egg wash and fold it in half. I then like to twist together the seams, forming what I like to think of as a "breadstick" on the outer edge, to seal the pocket. Then add 3 slashes on top to release the steam, brush the whole top in egg wash, and bake.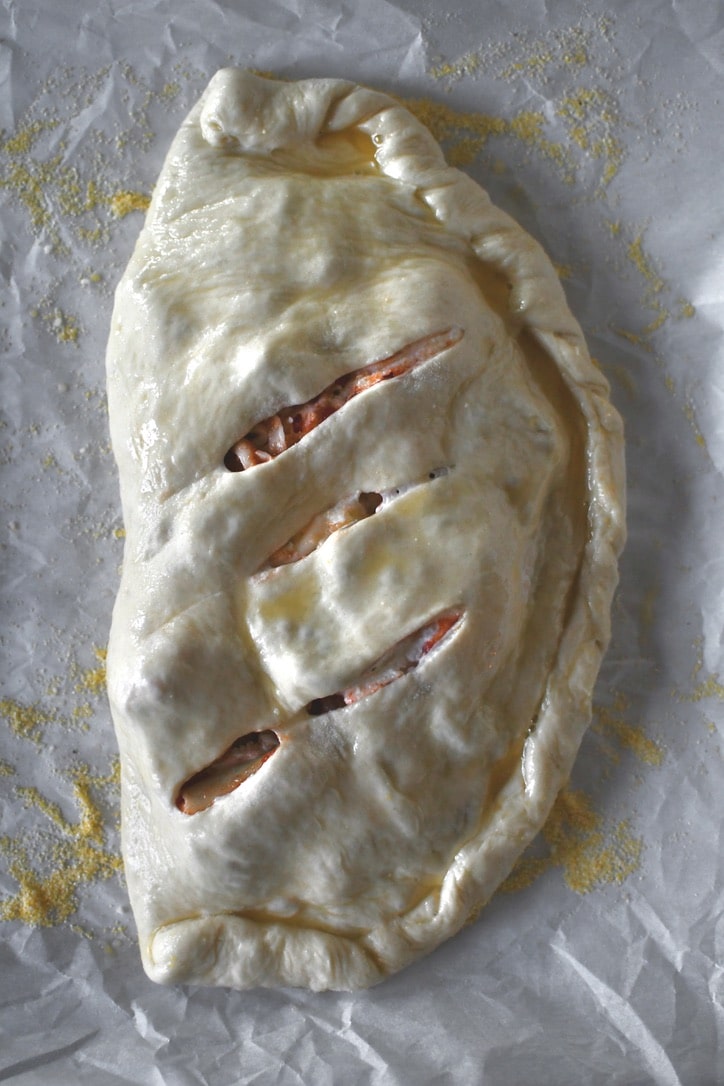 When the calzones come out of the oven, brush them with some garlic butter, and dust them with grated parmesan cheese, and chives. This finish really ups the ante and makes this as good if not better than restaurant quality.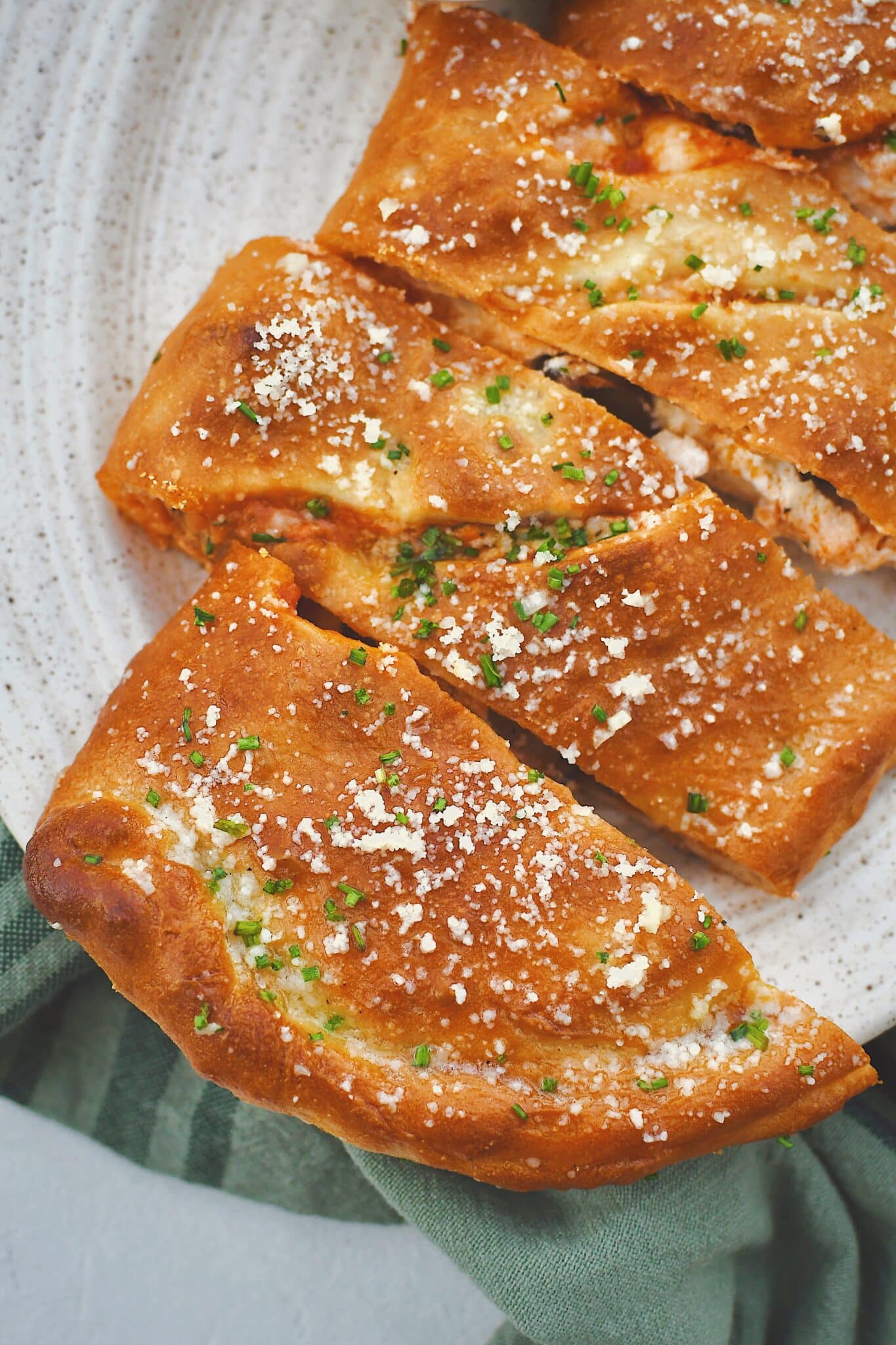 Notes & Tips
I like to heat a baking steel or stone in the oven when I preheat it. Even though you will cook these on a tray, placing the pan on the hot steel or stone will help to crisp the bottom of the dough and firm up the calzone pocket.
Be easy with the sauce, cheese, and toppings inside these calzones. There is an urge to really stuff them full, but you can overdo it. Just use a little restraint when filling them and do less than you might think or they could leak while cooking.
Be sure to brush the calzones with the garlic butter the moment they come out of the oven. This gives them a beautiful gloss and a last hit of flavor. And toss the grated parm on too, right away, this gives it a chance to slightly melt to the crust.
I typically use a store-bought marinara for this recipe. Heat up the portion you plan to serve on the side, and season it with a drizzle of olive oil, some salt, pepper, and a heaping pinch of grated parmesan.
Substitutions
Ricotta cheese is a must for me in making a perfect calzone. But you could swap it for whipped cream cheese.
Marinara sauce is traditional, but you could also make these with a white alfredo sauce in its place.
When it comes to toppings, I love mushrooms and artichokes in a calzone, that's how I always order it at a restaurant. Feel free to leave them out or use any veggie you like inside your calzone.
I found some great mozzarella chicken meatballs I like to use when making calzones. You can use those or cooked Italian sausage, pepperoni, or ground sausage. And if you are making calzones with white sauce, grilled chicken would be a great choice.
Red Pepper Flakes are totally optional. I just like a tiny bit of spice in my calzone and these just tend to keep it wonderfully traditional.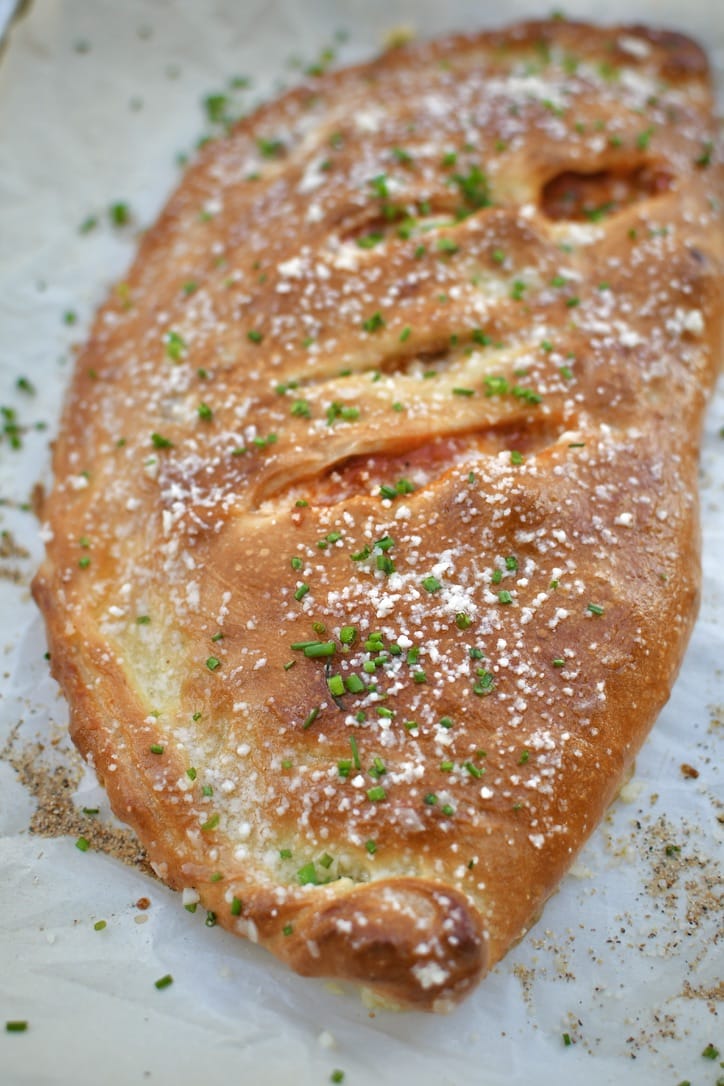 Did you make this recipe? Let me know by leaving a review or comment! And be sure to sign up for my newsletter, and follow along on Instagram, Pinterest, and Facebook!