If you have been reading my blog for any amount of time you will know I have a deep love for all things pumpkin! And that runs right into this Pumpkin Goat Cheese Soufflé. Filled with delicious cheese and roasted butternut squash and onions, it has a beautiful balance.
What to expect when making a soufflé
I know many people might have a few hesitations about making a soufflé, but I think setting the expectations in the right place to start. First, know that the soufflé will start to fall as soon as it comes out of the oven. But that's ok, just be ready to eat when they are done!
Next, it's not really as difficult as you might think. In essence, a savory soufflé is a mixture of whipped egg whites and cheese sauce. The most decadent egg sauce ever!
The goal is to bring them together as gently as possible. You do this by folding the sauce into the whipped egg whites gently by lifting from the bottom and rasing to the top. Continue working in a circle until completely worked together.
Next, to help the soufflé rise you want to grease the vessel you choose with butter and coat with finely grated cheese. I use parmesan here for some extra tang, but use whatever is your favorite.
Another note I want to share with you is the importance of being sure that NO egg yolks get into the egg whites. When you separate your eggs, if any yolks in the whites they won't whip up properly. If you want to be 100% sure you don't get any yolks in your whites, separate them each into a small bowl before adding to the mixer.
Preparing the fillings
All of the flavor that will be in the soufflé comes from the bechamel sauce that you make as the base. Pumpkin and goat cheese reign supreme in this instance. I also add some roasted "pumpkin" in the form of butternut squash.
Roast some off while the oven preheats with a little onion and truffle salt if your feeling extra fancy. Truffle and butternut squash are one of my favorite flavor combos, but don't let that stop you from making this. Regular salt will do just fine.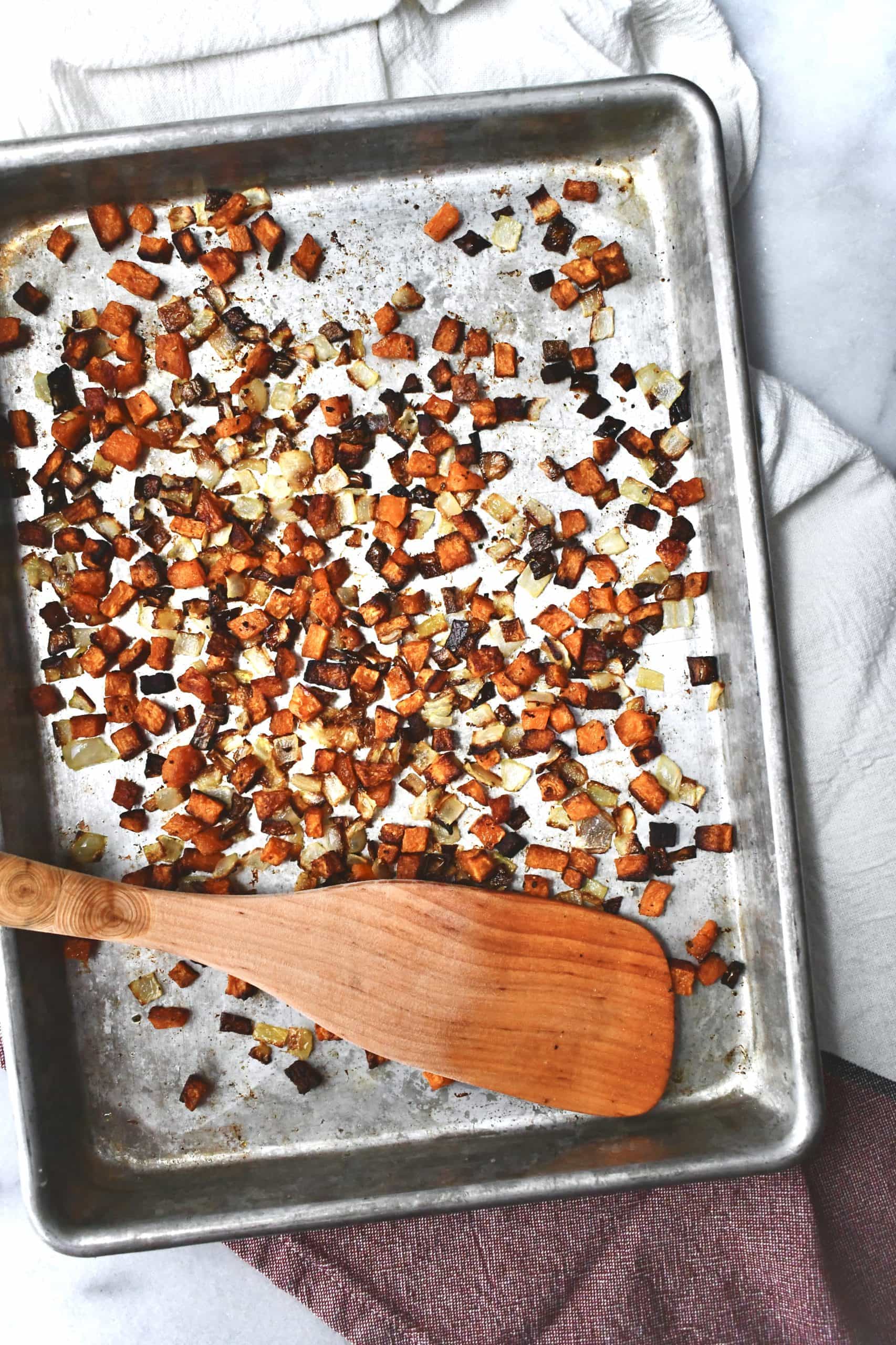 Fold the roasted veggies in gently at the end to ensure that they will float inside the soufflé. If you cut them nice and small they will have no issues being suspended.
I love the flavor of this pumpkin soufflé and hope you enjoy it as much as I do. If you make it feel free to leave me a comment below and let me know how it goes.
My 1-hour Garlic Parmesan Rolls would be a great pairing with this recipe. My friend Lori also has a great salad I would love to pair it with > Italian Crunch Chopped Salad or her Brussels Sprout And Fennel Salad With Citrus.
Did you make this recipe? Let me know by leaving a review or comment! And be sure to sign up for my newsletter, and follow along on Instagram, Pinterest, and Facebook!