If you have been reading my blog for any amount of time you will know I have a deep love for all things pumpkin! And that runs right into this Pumpkin Goat Cheese Soufflé. Filled with delicious cheese and roasted butternut squash and onions, it has a beautiful balance.
What to expect when making a soufflé
I know many people might have a few hesitations about making a soufflé, but I think setting the expectations in the right place to start. First, know that the soufflé will start to fall as soon as it comes out of the oven. But that's ok, just be ready to eat when they are done!
Next, it's not really as difficult as you might think. In essence, a savory soufflé is a mixture of whipped egg whites and cheese sauce. The most decadent egg sauce ever!
The goal is to bring them together as gently as possible. You do this by folding the sauce into the whipped egg whites gently by lifting from the bottom and rasing to the top. Continue working in a circle until completely worked together.
Next, to help the soufflé rise you want to grease the vessel you choose with butter and coat with finely grated cheese. I use parmesan here for some extra tang, but use whatever is your favorite.
Another note I want to share with you is the importance of being sure that NO egg yolks get into the egg whites. When you separate your eggs, if any yolks in the whites they won't whip up properly. If you want to be 100% sure you don't get any yolks in your whites, separate them each into a small bowl before adding to the mixer.
Preparing the fillings
All of the flavor that will be in the soufflé comes from the bechamel sauce that you make as the base. Pumpkin and goat cheese reign supreme in this instance. I also add some roasted "pumpkin" in the form of butternut squash.
Roast some off while the oven preheats with a little onion and truffle salt if your feeling extra fancy. Truffle and butternut squash are one of my favorite flavor combos, but don't let that stop you from making this. Regular salt will do just fine.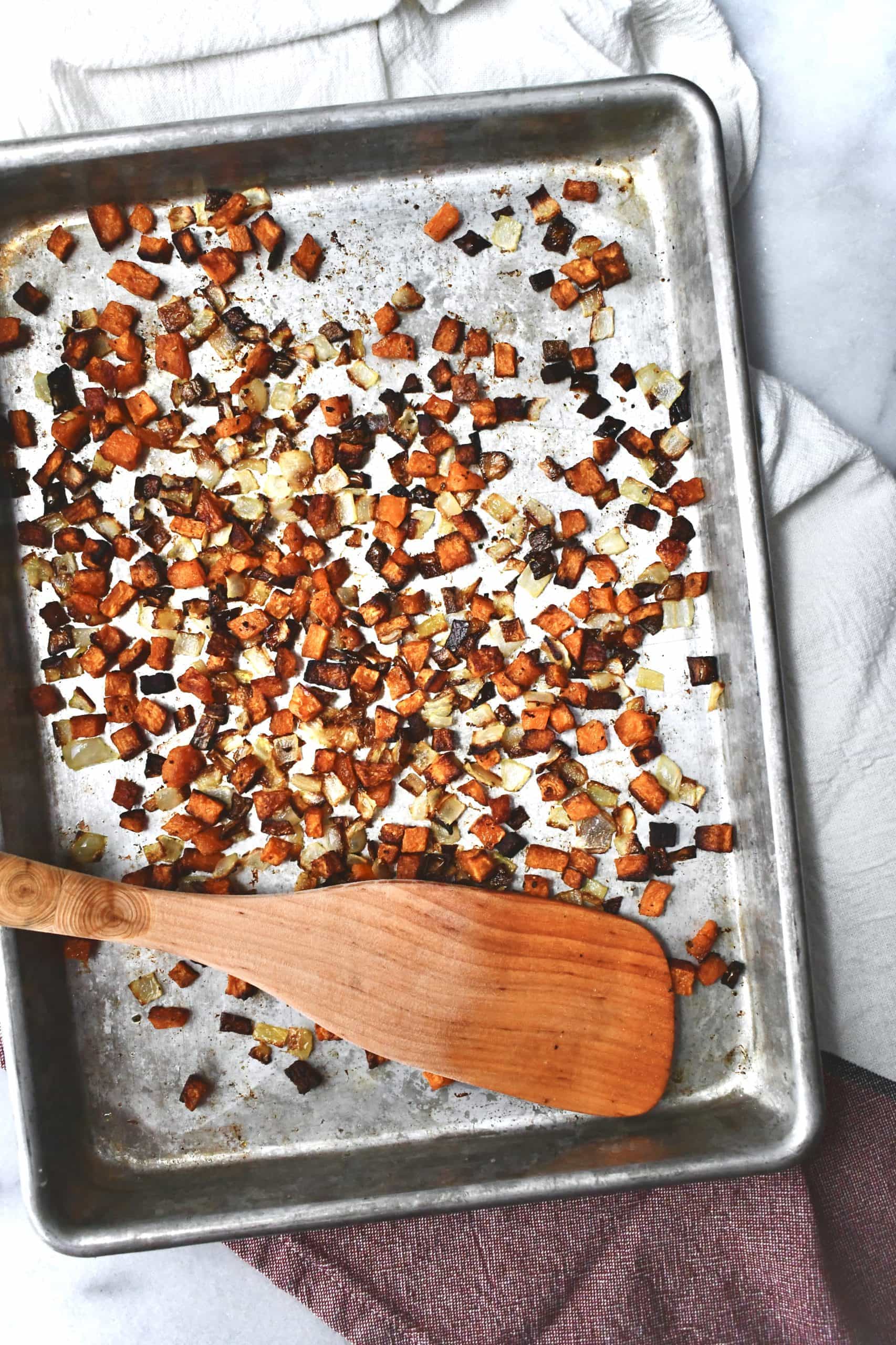 Fold the roasted veggies in gently at the end to ensure that they will float inside the soufflé. If you cut them nice and small they will have no issues being suspended.
I love the flavor of this pumpkin soufflé and hope you enjoy it as much as I do. If you make it feel free to leave me a comment below and let me know how it goes.
Pumpkin Goat Cheese Soufflé
Ingredients
1

C

Butternut Squash

small diced

1/2

medium Onion

small diced

1/2

t

Olive Oil

4

eggs

separated + 1 egg white

2

T

Butter

2

T

Flour

1

C

Milk

4

oz

Goat Cheese

1/2

C

Pumpkin Puree

2

T

Chives

chopped

1/2

t

Roasted Garlic Powder

1-2

tbs

of butter and grated Parmesan cheese for the bottom of the ramekins

Salt and Pepper
Instructions
Preheat oven to 400 °F

Small dice about one cup of butternut squash and half a white onion. Toss with a small amount of olive oil and season with salt and pepper. Roast in the oven 15-20 minutes until browned. Cool before adding to the soufflé mixture.

Generously butter 6 4-inch ramekins, and sprinkle grated Parmesan cheese on the bottoms and sides. Place the ramekins on a baking sheet and set aside.

Separate the egg whites and yolks into separate bowls, and reserve at room temperature.

Melt the butter and flour in a saucepan over medium-low heat, cook for 2 minutes, stirring constantly to form a roux.

Add the milk little by little until it's all incorporated and a thick bechamel sauce forms.

Season the sauce with salt, pepper, and the roasted garlic powder. Let it cool for a few minutes before adding the egg yolks.

Beat the egg yolks and spoon a little of the bechamel in, to temper them. Carefully add the egg yolks into the bechamel sauce whisking vigorously to combine. Add the goat cheese, pumpkin to the sauce and whisk to combine.

In the bowl of an electric stand mixer, whip the egg whites at medium speed into stiff peaks.

Take 1/3 of the egg whites and gently fold into the bechamel sauce base. Add the remaining egg whites, one third at a time, and fold gently, trying not to overdo it and take away all the air. Gently add the butternut squash and onions and fold until evenly dispersed.

Pour into the prepared ramekins, to about 1/2 inch from the top, and bake for 20 minutes.
Notes
This is enough to fill 6 ramekins, 4″ in diameter, 2″ high.
My 1-hour Garlic Parmesan Rolls would be a great pairing with this recipe. My friend Lori also has a great salad I would love to pair it with > Italian Crunch Chopped Salad or her Brussels Sprout And Fennel Salad With Citrus.
MY LATEST RECIPES!
Get my NEW e-Cookbook here!! ⬇️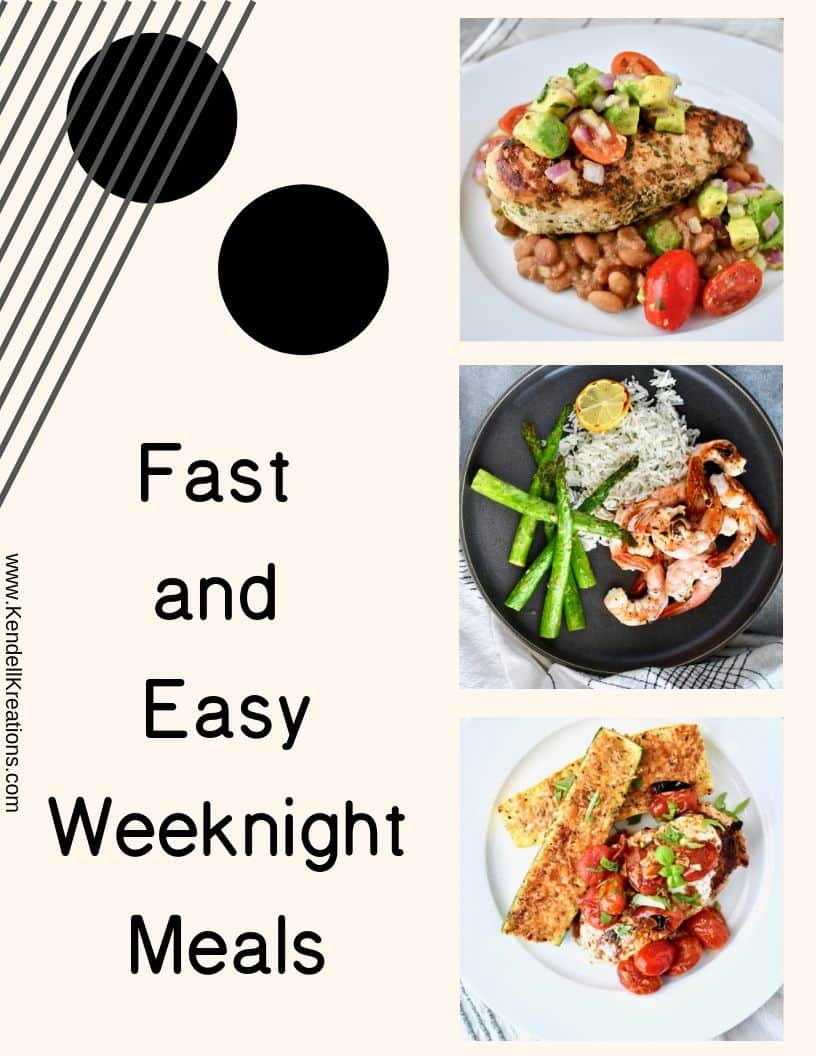 MY FAVORITE KITCHEN TOOLS!
Here are a few links to some of my favorite kitchen tools! You get a car, YOu get a car, YOU ALL GET A CAR…in my best Oprah voice
These Rösle Silicone Tongs are a little pricey but they will last you the rest of your life and are the softest in your hand. This is important for someone like m that cooks so much. It reduces strain, I have 4 sets in my kitchen!
These are my FAVE Nordic Ware Sheet Pans, every kitchen should have at least 2 sets of these! I think I have at least 4 of each of these.
This is my favorite pressure cooker, the Fagor is the same concept as the "Instant Pot" but easier to use in my opinion, if you don't have one you NEED one, it will be your best friend in the kitchen!
A sharp knife is the most important tool in the kitchen, these Japanese steel "Shun" knives are my favorite! And this is a great starter set to build on. Once you try them you will be in love so use this as a foundation you can build on for years to come.
This Scanpan 11″ skillet is just the right size for almost anything you will need to cook and my best friend and a real workhorse in my kitchen, it's also a great deal at $99. Scanpan is the best in the world for healthy cooking. It is coated with a proprietary ceramic-titanium coating that is durable while allowing you to use fewer fats and oils when cooking. It is a coating only they use. I could talk all day about my love for these pans, message me if you want more info. Here are some other sizes that are available if you are looking to outfit your kitchen with some new goodies. 8″ & 10″ Skillet set or 8″ Skillet, I still need this one for my kitchen Also, I don't really know how to cook small so the 12.5″ is my other fave!
This giant vat of olive oil is my favorite, I decant it into a smaller bottle for my counter. Or put this spigot on top of a wine bottle!
My favorite baking dish that is so easy to clean even burnt on cheese slides right off!
This Tovolo jar scraper has to be my single favorite kitchen tool, it is definitely the most used tool in my kitchen. If you are NOT a gadget person, this is the only necessity I say is a MUST beyond the wooden spoon.
A great wood spoon is essential, this Olive Wood one is my favorite, I have more than I can count. But can you really ever have too many?
A food scale can be a very important tool in your kitchen, this one is the one I use every day!
If you love Joanna Gaines as much as I do then the 'Magnolia Table Cookbook' is a must in your kitchen, get a copy HERE!