I really don't eat out anymore, and I miss simple favorites like this Panera Fuji Apple Salad so I had to recreate it at home! Plus I don't like the fact that if I do splurge for this salad, to get it how I like it, it runs $16 plus dollars. I just can't justify paying that, when I can buy all the ingredients to make it 4 to 6 times over for the same price!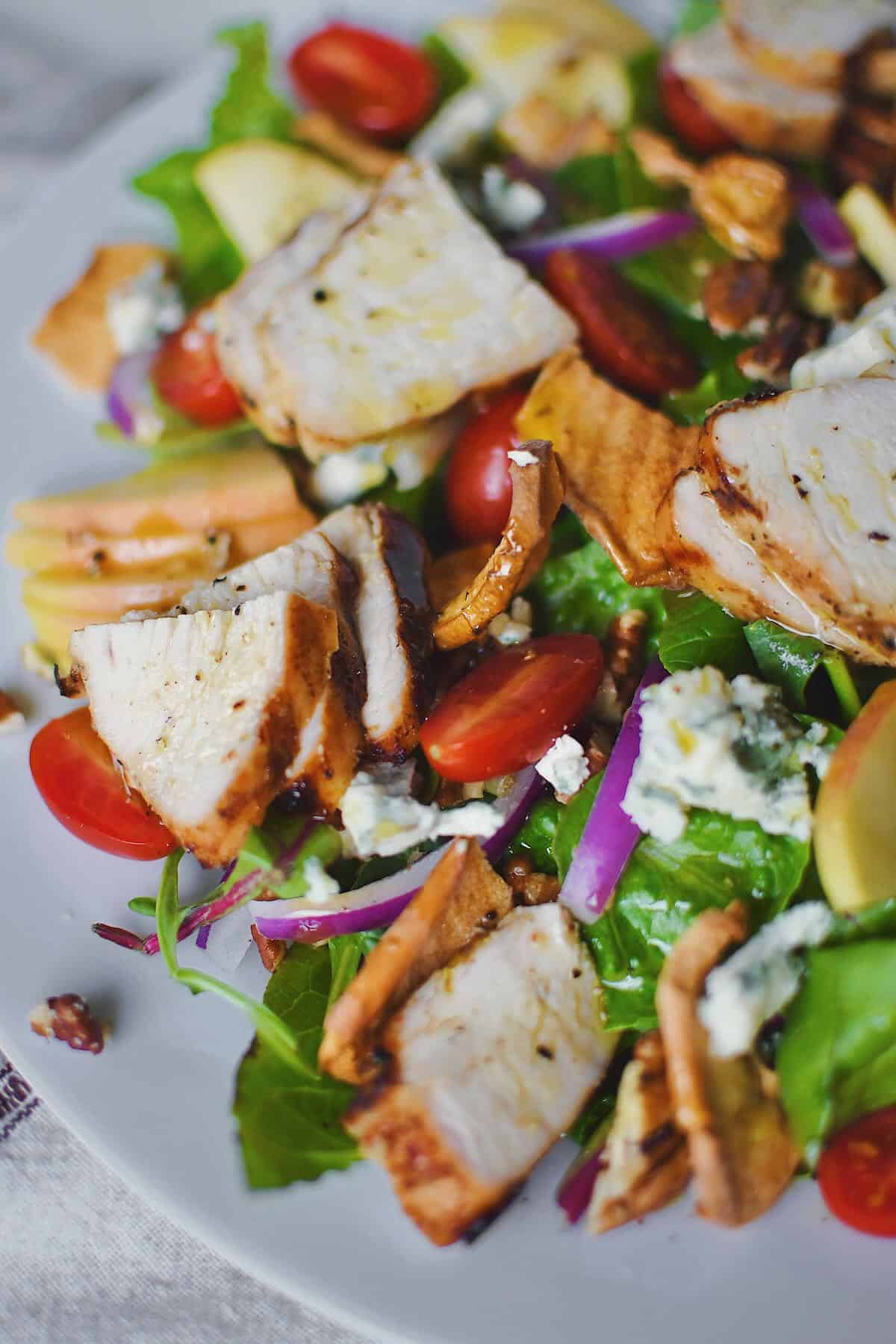 The recipe is mostly fresh veggies. And if you want it to just be vegetarian or vegan leave the chicken off. By I like it with protein on it, and I make my Perfect Grilled Chicken to top it with.
Jump to:
Ingredients
I start with an easy dressing, I balance it with some apple cider vinegar, and white balsamic. Then blend makes a sweet and tart vinaigrette that brings everything together really beautifully. You then need the namesake Fuji apple, I like to use fresh and dried chips to really amp up the flavor.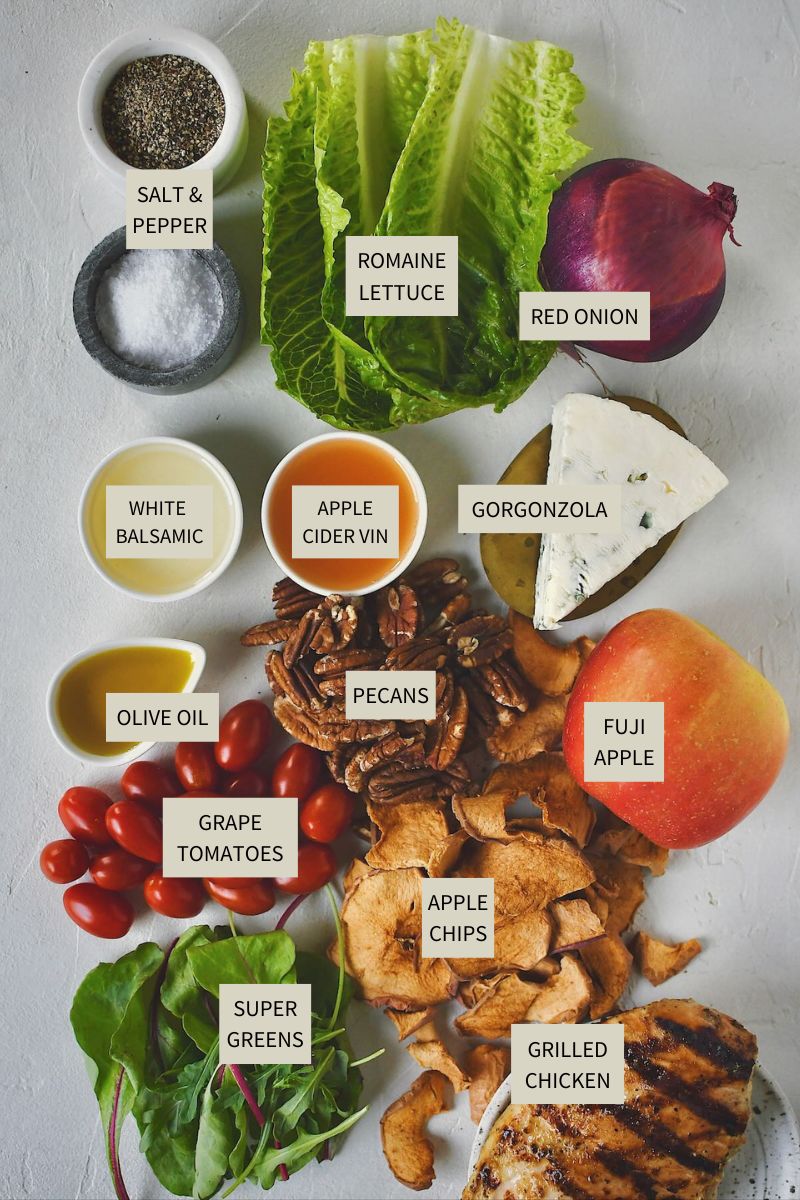 The sweet and tart are all balanced with crisp, spicy greens, nutty pecans, sharp red onion, and pungent gorgonzola. It all comes together and compliments each other so great, I love a big dinner salad and there is a reason this is a favorite!
Use the JUMP TO RECIPE button at the top of the post, or scroll to the bottom of the post to see the full recipe card with ingredient measurements and instructions.
Method
Start by making the vinegarette. I toss everything in a jar for it and just shake. It will separate again as it sits, but just give it a shake before you use it as needed.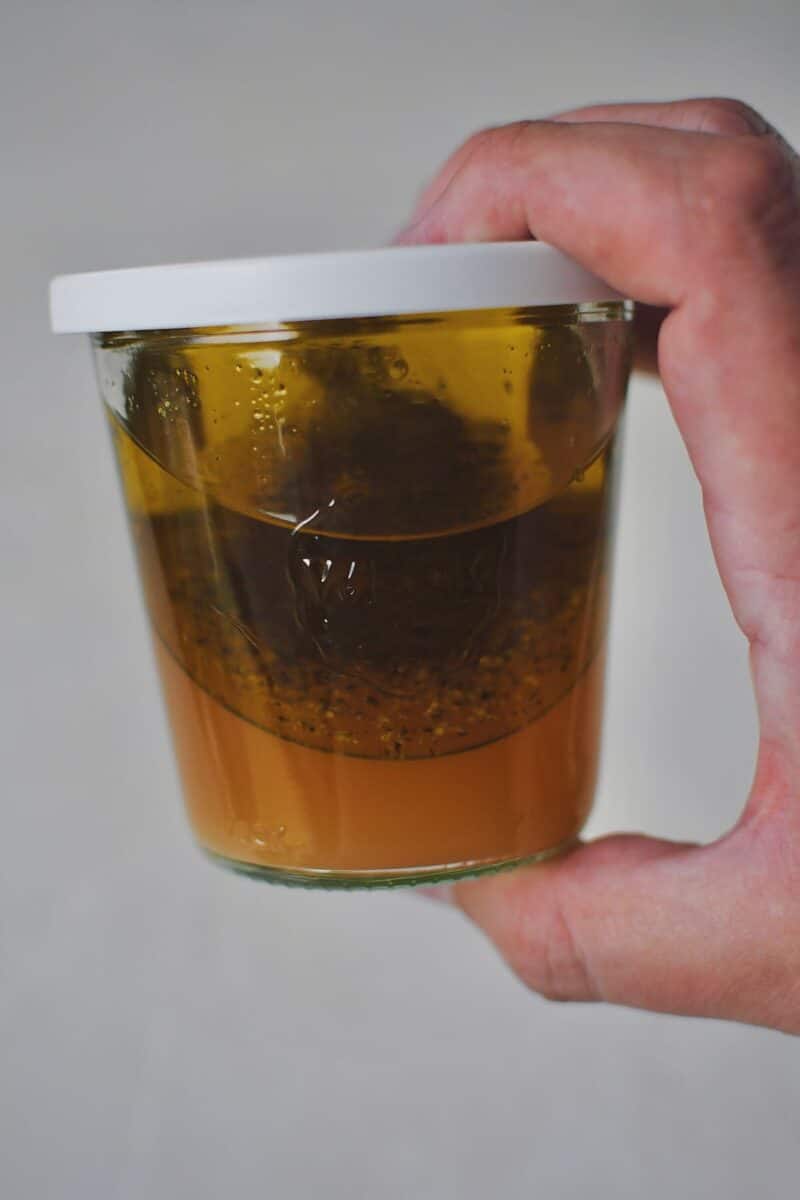 I then dress the greens lightly with the dressing and top it up to your heart's content with all toppings. This is a great time to lay everything out on the counter and let every make their own salad just how they like it.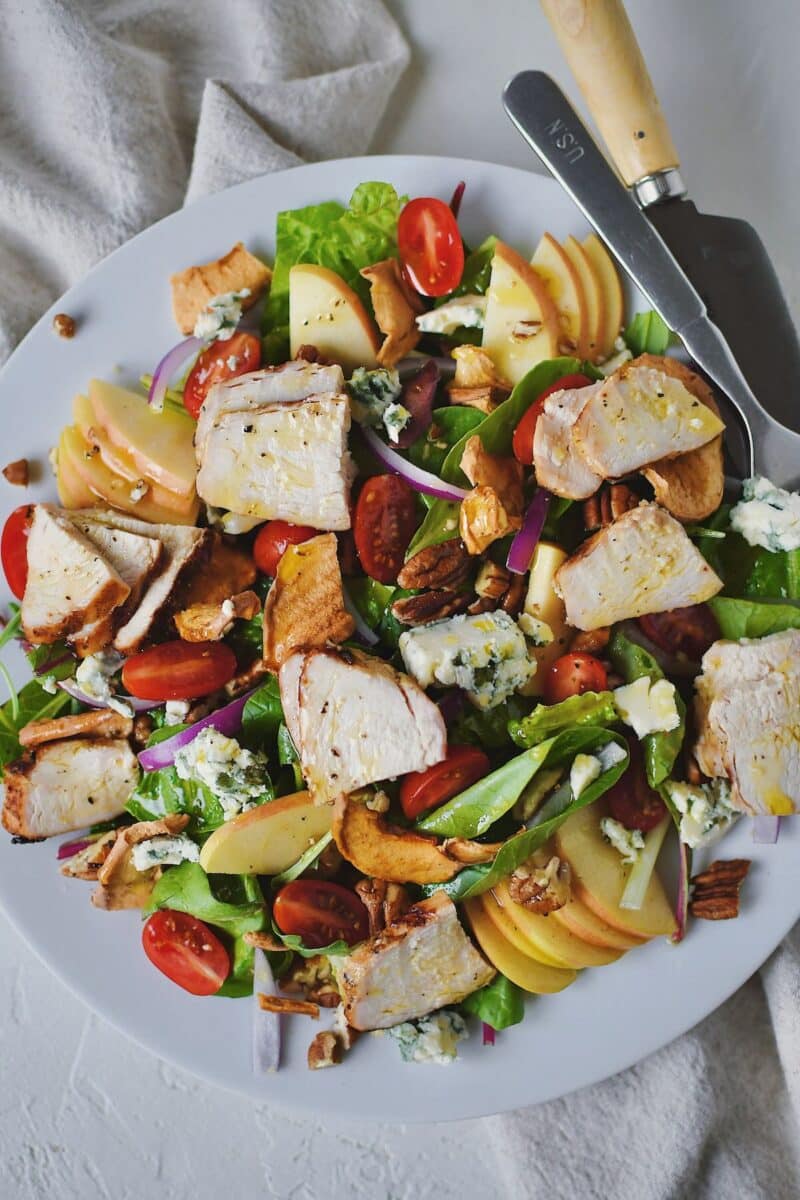 I like mine with lots of chicken and apples, some may not want chicken or gorgonzola, so this makes the perfect little buffet or make-your-own recipe. I would eat this Panera Fuji Apple Salad for lunch or dinner, either way, it is delicious! And I am a big fan of a giant dinner salad, especially in the summer when I don't want to slave over the stove.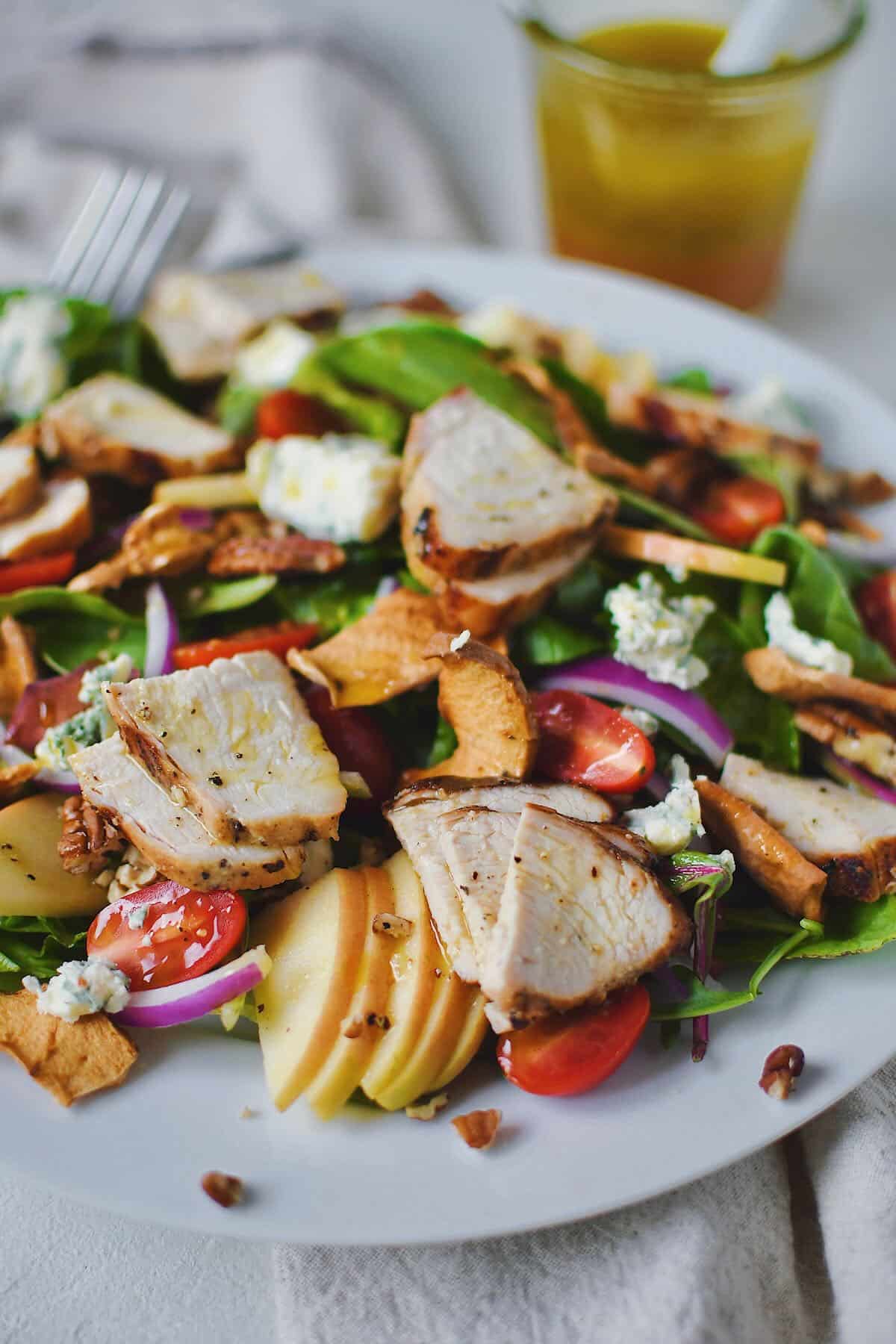 Notes & Tips
The vinegarette holds up really well. If you don't use it all keep it at room temp for up to a week. You don't want to store it in the fridge cause the oil will solidify. And all the ingredients are shelf stable.
If you choose to use chicken for this salad, make my Perfect Grilled Chicken. It is super easy and just what this salad needs. I often have some of this in the fridge for quick meals, I like to grill some up once a week for lunches or easy dinners.
This recipe makes for great meal prep too. If you don't dress the greens and keep the vinaigrette on the side, you can build the salad with all the toppings in a container and dress it when ready to eat. Composed salads will keep for up to 5 days in an air-tight container.
Substitutions
As fresh and clean as Panera states they are, their dressing still has things in it I don't like. But if you don't want to make your own, they sell an accompanying dressing to this salad.
I like the mix of crisp romaine, spicy arugula, spinach, and red lettuce. Using the mix is what makes this salad great in my opinion. But if you like them, just use a super green salad mix to make this salad.
If you don't want to use apples two ways, just use the fresh or the chips if you like. One or both are ok to use.
I prefer raw red onions on my salads, you could also use pickled red onions too if you like that extra tart flavor.
A great swap for the pecans is walnuts, they have similar flavor profiles and would both complement this salad well. Of course, leave them out if you can't do nuts.
Gorgonzola is my go-to because it is the less pungent sibling to blue cheese. But if you are a blue cheese lover, go for it and swap it for the gorgonzola.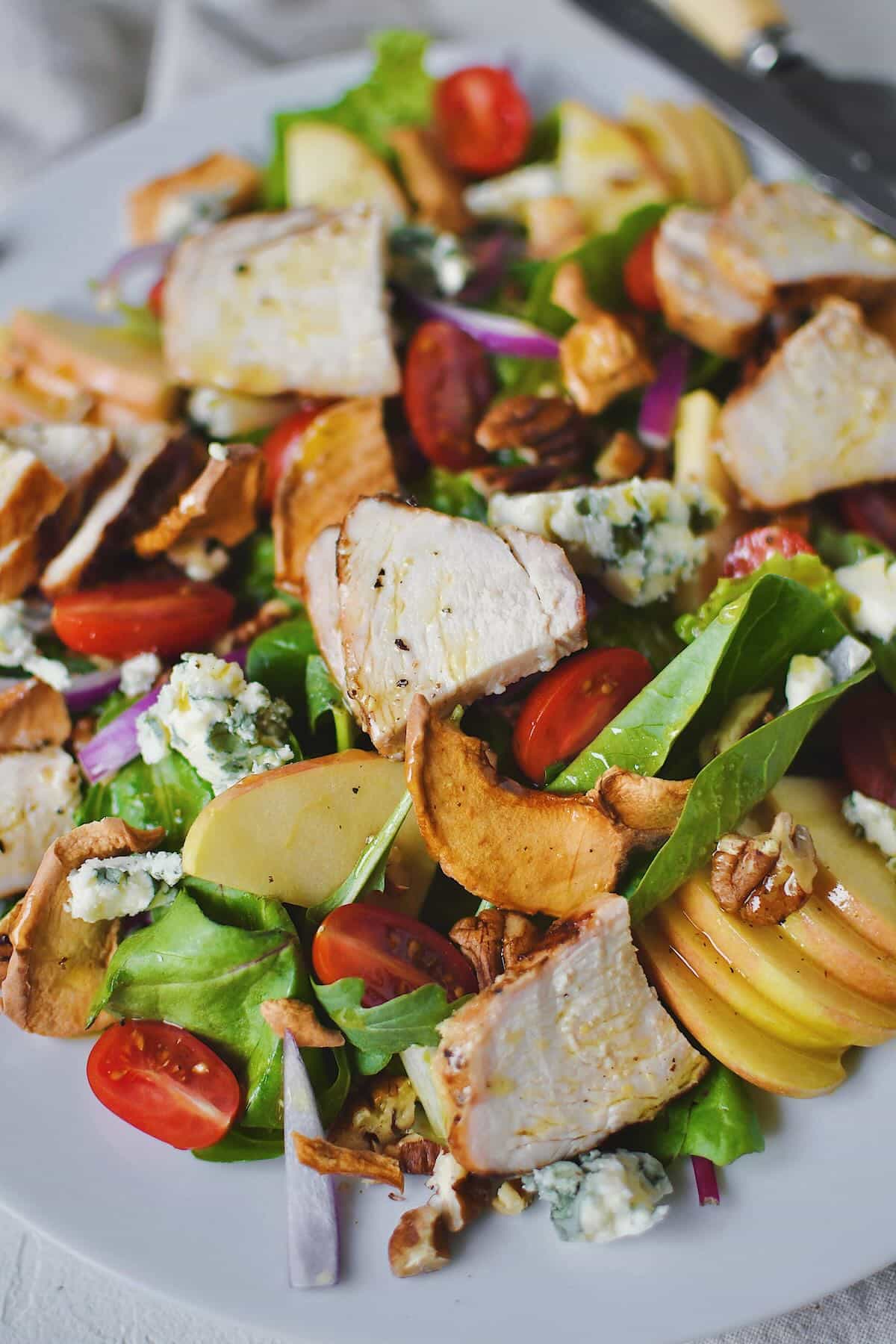 Did you make this recipe? Let me know by leaving a review or comment! And be sure to sign up for my newsletter, and follow along on Instagram, Pinterest, and Facebook!