Storebought Pistachio Milk is so expensive, and if you have just a few minutes you can make it at home for a fraction of the cost. It is super easy to make and just requires an overnight soak of the nuts, but it literally takes less time to make than going to the grocery store.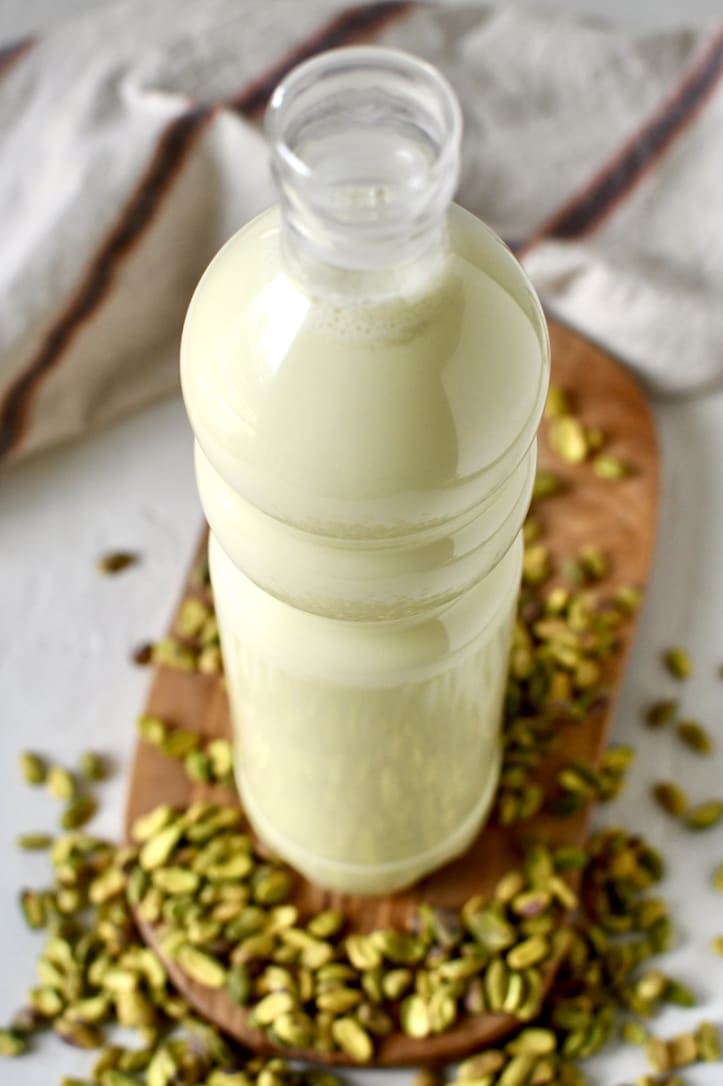 Jump to:
Ingredients
The ingredients needed to make this Pistachio Milk are VERY simple. You just need the nuts, a little salt, and some water. The vanilla extract is optional really, but just enhances the flavor of the nuts.
I love doing this because I can eliminate any preservatives that premade milk might have in it. And it is SO dang EASY, it is just worth it to do at home.
Use the JUMP TO RECIPE button at the top of the post, or scroll to the bottom of the post to see the full recipe card with ingredient measurements and instructions.
Method
Making your own homemade Pistachio Milk is BEYOND easy to do. First, soak the nuts overnight in some water, then blend them the next day in a high-speed blender for about a minute or two.
Then strain the mixture through a fine mesh bag, known as a Nut Milk Bag until all the liquid is extracted.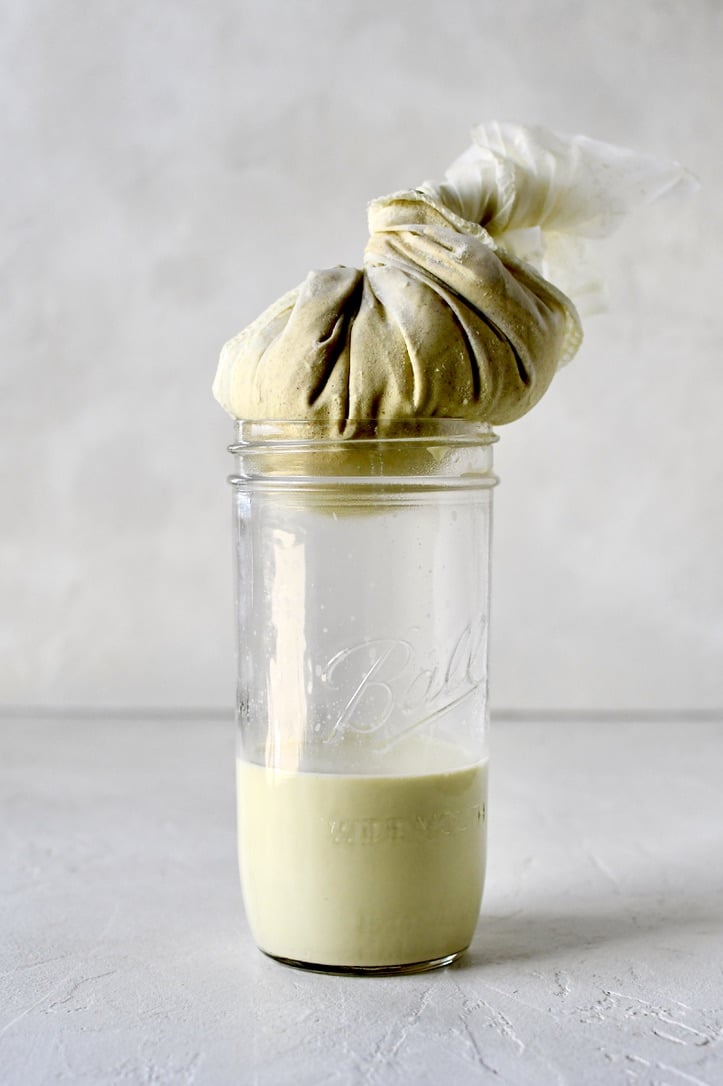 I then place it in an air-tight container and refrigerate it until ready to use. That is really it, it only takes a few minutes to do and you have super flavorful nutrient-rich pistachio nut milk.
Notes & Tips
There is only 1 really specific piece of equipment you need to make this, and it is a Nut Milk Bag. It provides perfectly smooth milk, and there just is no comparison to using it.
Do your best to just soak the nuts for 24 hours. They need that at a minimum, but I don't like to let it go much past that. Soaking the pistachios results in a silkier and creamier texture in the end product. I also like to use filtered water, your finished milk is only as good as the basic ingredients you use to make it.
Write the time you put them in on the bowl when you soak them so you don't forget. I just put some plastic wrap over the bowl and write on that with a sharpie.
You can add in a sweetener of your choice as well as any flavorings you might like. It is also great used in your coffee or latte or with your favorite cereal or in a smoothie.
If you like thicker nut milk that resembles more of a coffee creamer-like consistency only use 2.5 cups of water instead of 3.
If you would like thinner milk, use 3.5 to 4 cups of water when blending.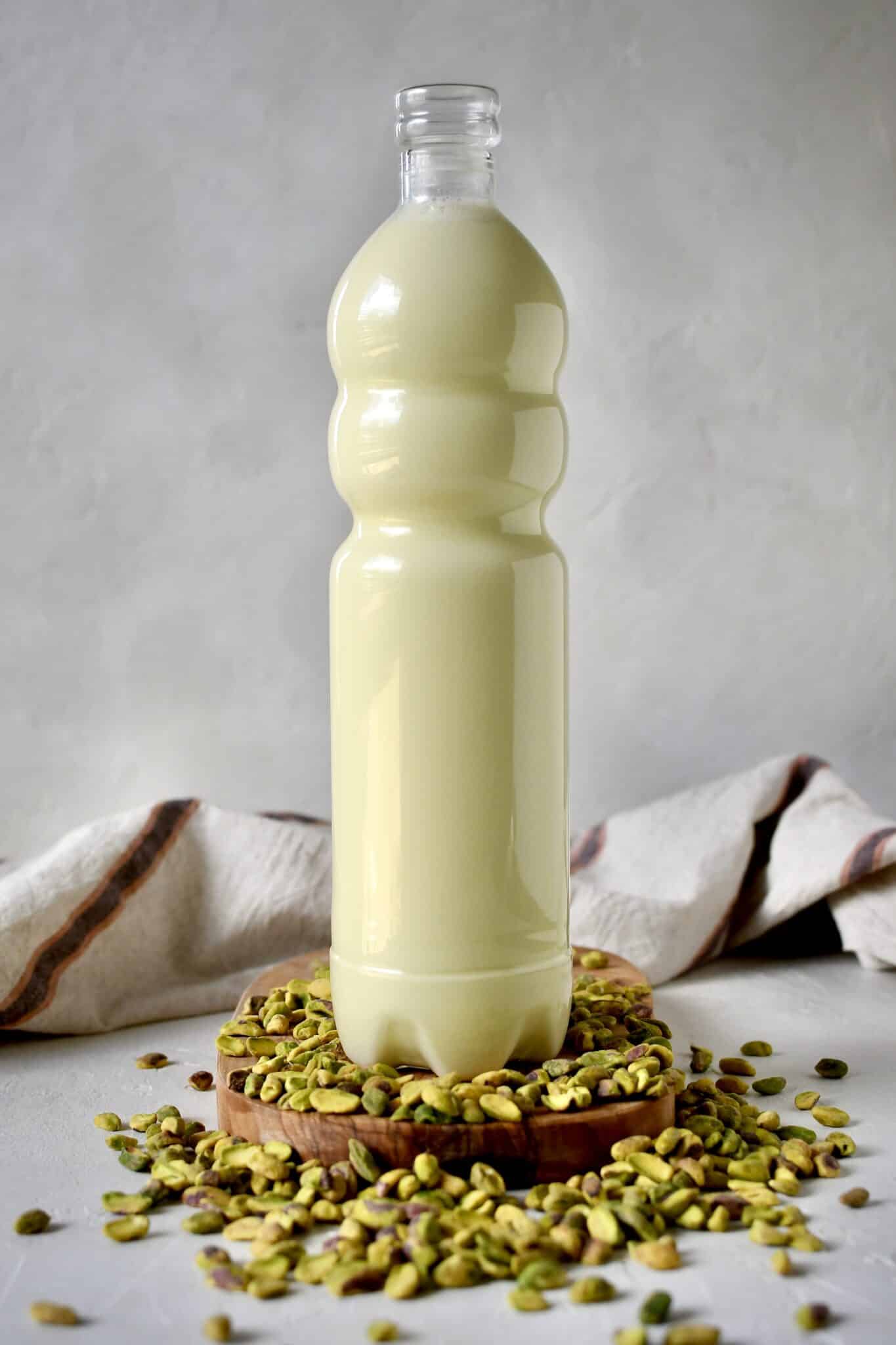 Did you make this recipe? Let me know by leaving a review or comment! And be sure to sign up for my newsletter, and follow along on Instagram, Pinterest, and Facebook!