As long as you have some patience, this is THE easiest thing you could ever make. And based on the ever-fluctuating price of vanilla, having a storehouse of Homemade Vanilla Extract is money saving too. Make one initial investment in vanilla beans, and you can have all the vanilla your baking heart desires for years to come!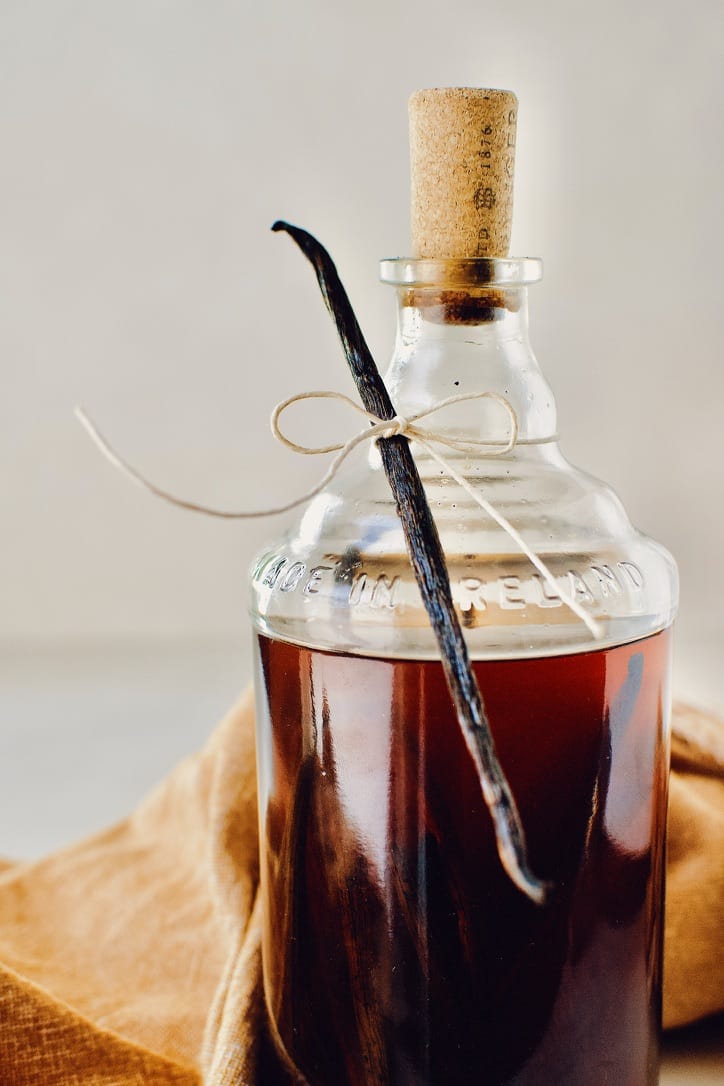 Seriously. A handful of beans will produce vanilla extract for you, for YEARS! Just top up your bottle every time it gets half empty, and if you're like me, I always have 2-3 bottles going at once, so I can always have full strength extract at the ready.
Jump to:
Ingredients
You only need 2, yes TWO ingredients to make homemade vanilla extract. So the only real note I have for you is to make sure they are of good quality. Spend the money on some good beans, a minimal investment compared to high-quality extract, because they will provide for you for years and years.
Next, get a decent vodka, something you would enjoy drinking, but nothing crazy expensive. I get something middle of the road for this, just nothing super cheap and harsh. A good, no taste, mellow vodka is your best friend for vanilla extract. Remember, you don't want anything altering the taste of your baked goods.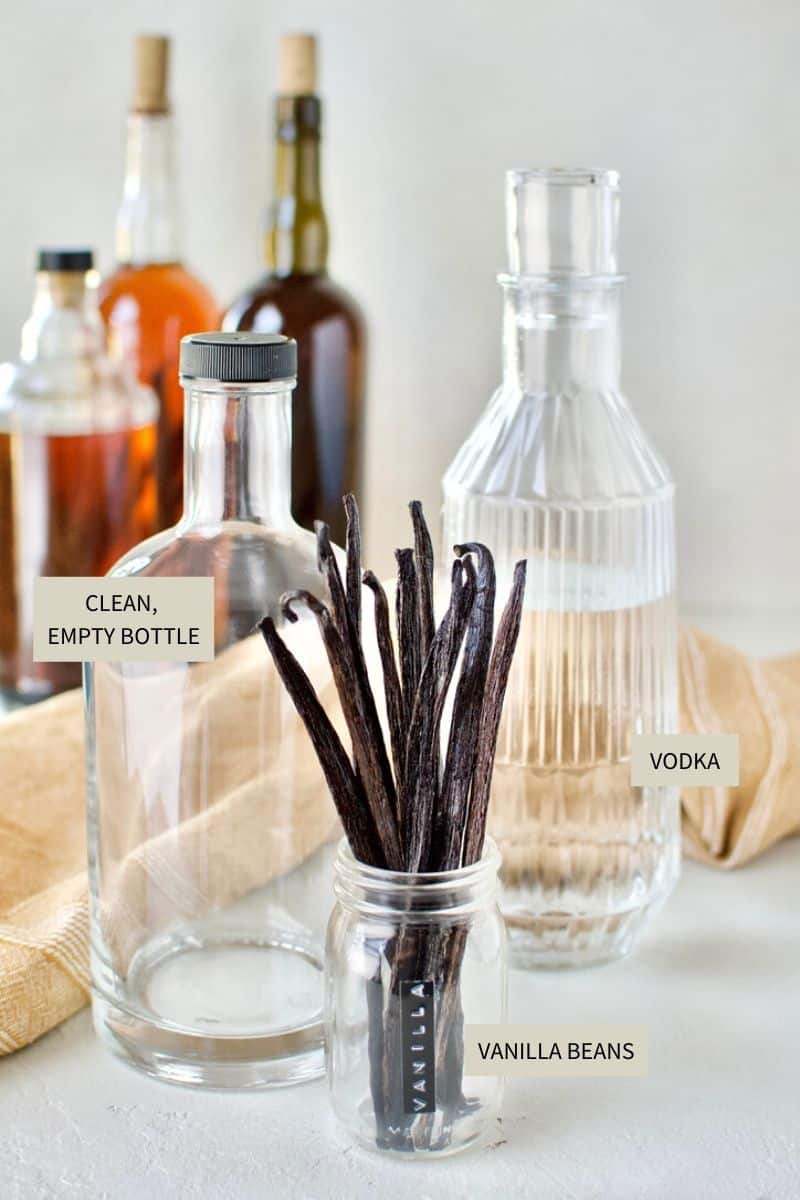 The only other ingredient you want is a clean empty bottle. I like to save fancy liquor or wine bottles, or not fancy, just ones I like to make my vanilla in. Vanilla Extract makes a great gift too, when I give it away, I tie an extra bean to the bottle for adding on when the person adds more vodka for the first time.
Method
Vanilla Beans are found inside Vanilla Pods, that is what you actually will be buying. The long black pods contain, thousands and thousands of vanilla beans inside them.
You need to split them open and scrape the beans out, this will also expedite the steeping process and strengthen your vanilla quicker.
Add multiple beans that have been scraped to a clean, empty bottle. I find 6-8 to be optimal for a quick infusion of flavor in a few weeks. You can add more or less, just know adding less will have your vanilla taking much longer to get a deep flavor.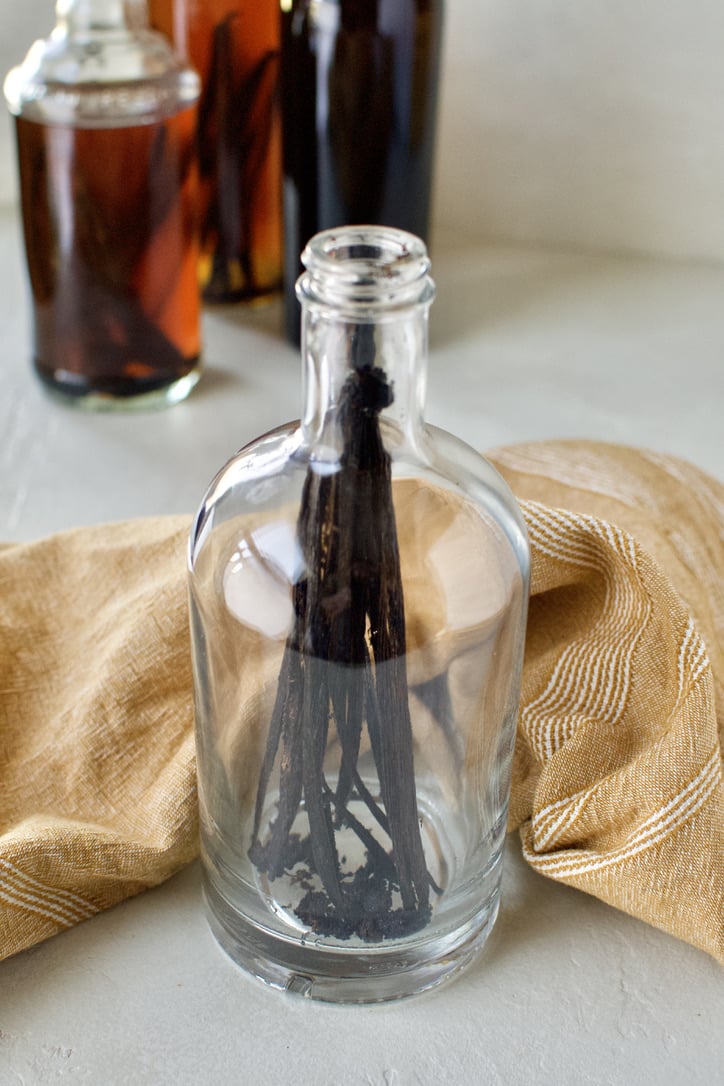 Then add the vodka to the bottle and give it a good shake. You should get some light color quickly. But be sure to shake the bottle every day for about two weeks to get the flavor moving.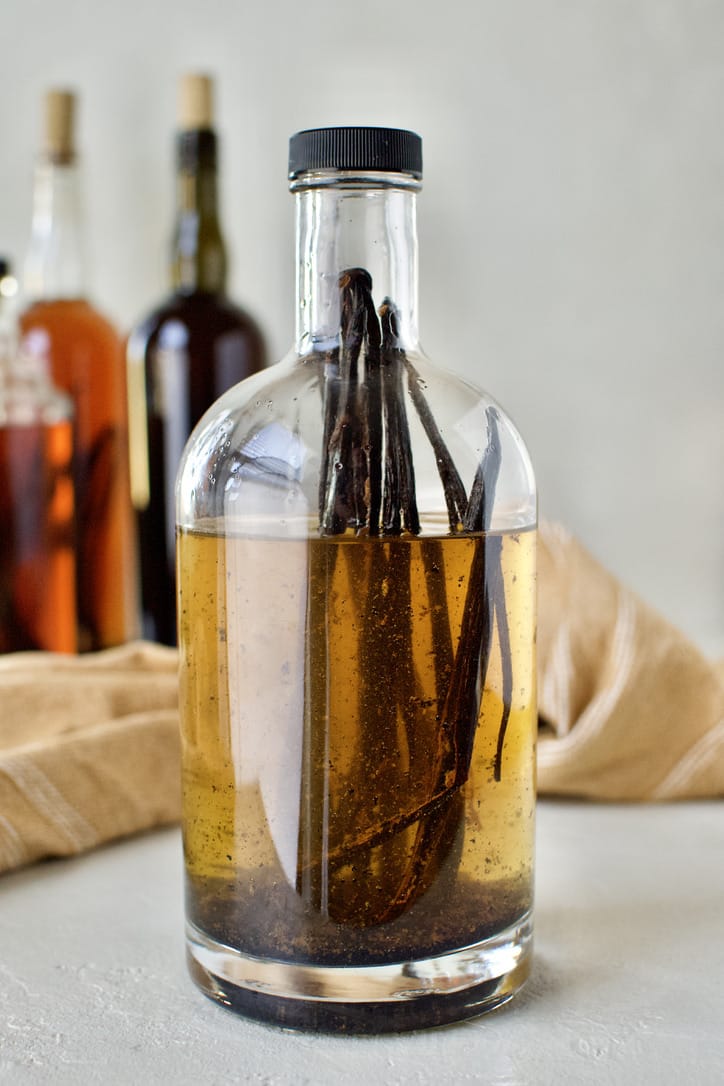 The last thing I do is label my vanilla. As mentioned above, I usually have a few bottles going at once, so I can give some away, or be stocked up for the holidays.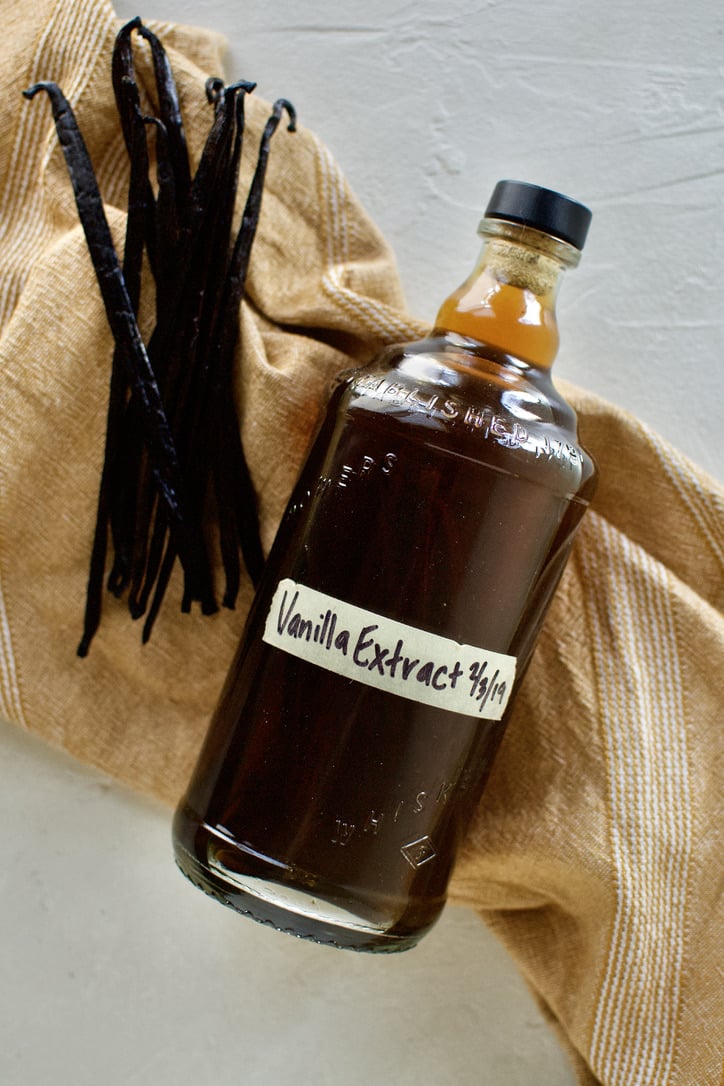 Your vanilla will be ready to use in 6-8 weeks (1.5-2 months) but will be best after 12 weeks (4 months). As with most things that need steeping, the longer the better, or stronger at least! Also, the more beans you add the faster the vanilla will steep. Toss in more beans to use it faster, about 8 weeks will still be best for minimal steeping time.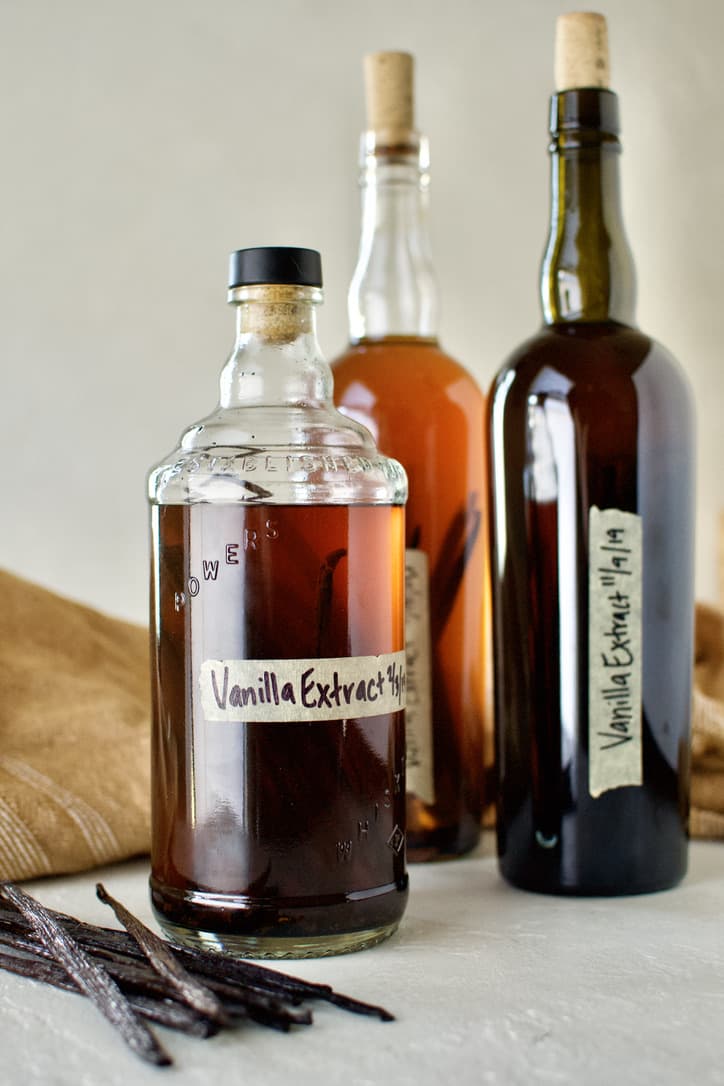 Notes & Tips
Buy the best quality vanilla bean pods you can afford. They come from many different areas of the world, Madagascan and Tahitian are the most popular, and known for high quality.
Buy a medium-quality vodka for making Homemade Vanilla Extract. Something you would buy to mix drinks with is what I always say to buy.
If you would like to turn a whole bottle of vodka into vanilla extract, combine a 750ml bottle, about 3 cups of alcohol, with 15-20 vanilla beans. This is great if you are only buying the vodka to make extract with and you don't drink it. You can then portion it out into smaller bottles for gifting if you like.
When your jar starts to get low, you can refill it. I typically go through a whole bottle in about a year, so I set a timer for myself to top my bottles up every first week of October. This gives the vanilla enough time to infuse for Thanksgiving and Christmas baking. Just top the bottle up with more vodka and you are all set. This is another reason why I always have at least two bottles steeping.
To make extract, you'll need a liquor that's at least 80 proof (40% alcohol). Clear, unflavored vodka is the most common kind of liquor used. This is a high enough proof to extract flavor and store the mixture safe at room temperature.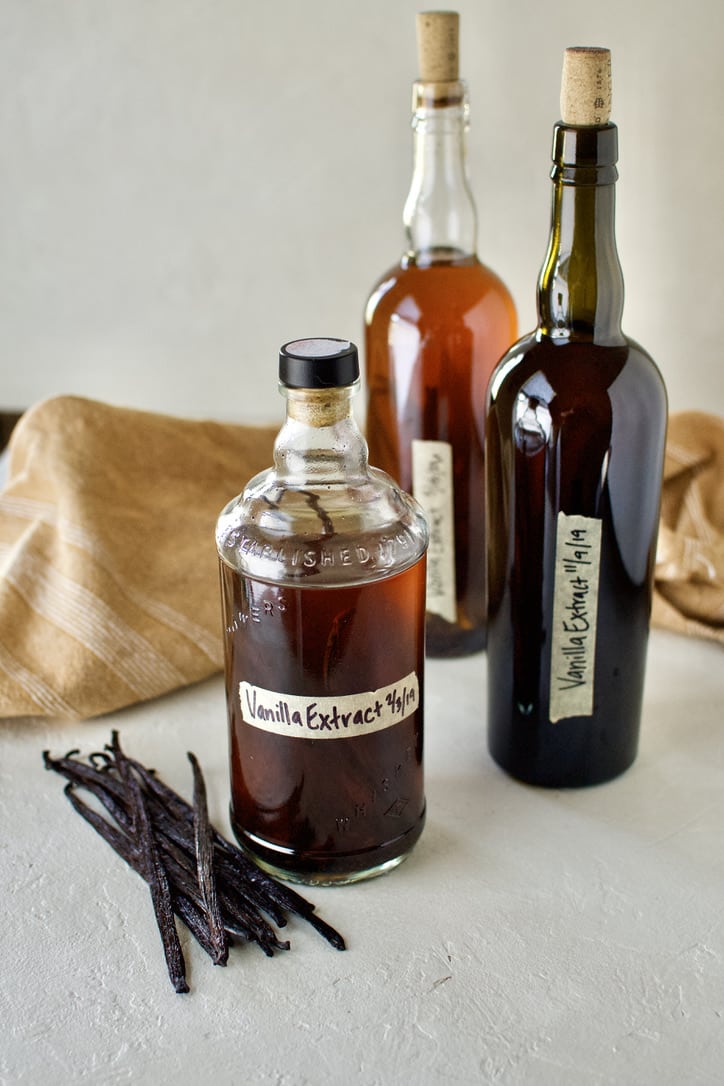 Substitutions
Vodka is a great option because of its neutral flavor and color. However, you could also steep vanilla beans in bourbon, whiskey, brandy, or rum.
Great places to use your Homemade Vanilla
Did you make this recipe? Let me know by leaving a review or comment! And be sure to sign up for my newsletter, and follow along on Instagram, Pinterest, and Facebook!