This recipe for Steakhouse Mushrooms is reminiscent of one that I used to make when I was a Chef in an actual steak restaurant. I have adapted it into something that you can whip up at home in about 15-20 minutes, and it has a MAJOR flavor impact.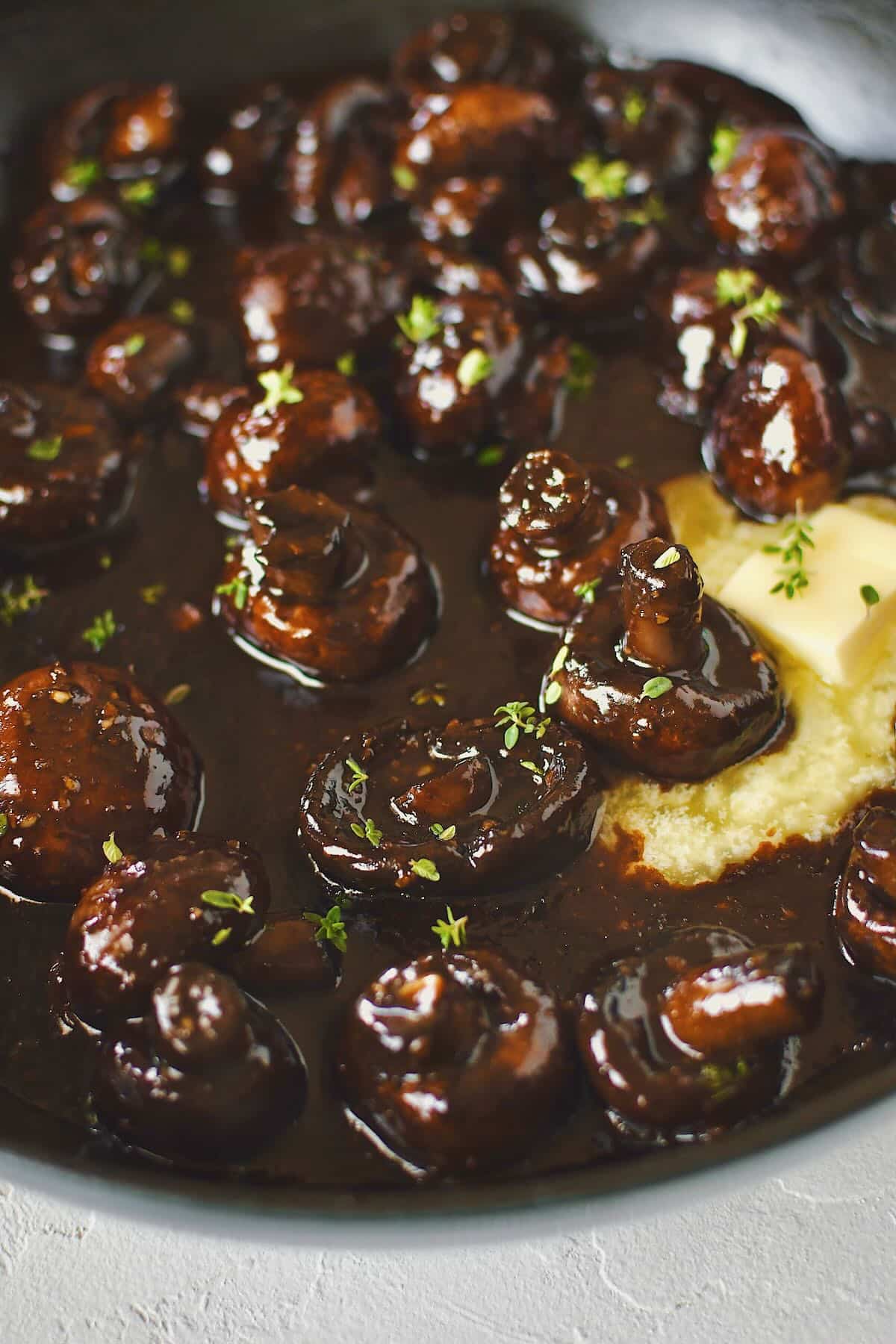 The cooked mushrooms are drenched in this gorgeous demi-glace and butter sauce. They turn out incredibly savory, dripping in umami, and they go perfectly with a steak or with my Pork Tenderloin Medallions.
Jump to:
Ingredients
One of the main ingredients in this recipe is demi-glace. Now, you might be asking, what is demi-glace, it is a sauce made of veal and beef stock, that has been reduced down with red wine till it is very thick. It is a proper sauce, and you can find it in grocery stores today as seen below, as a concentrate that when warmed with a little water, forms a rich decadent sauce.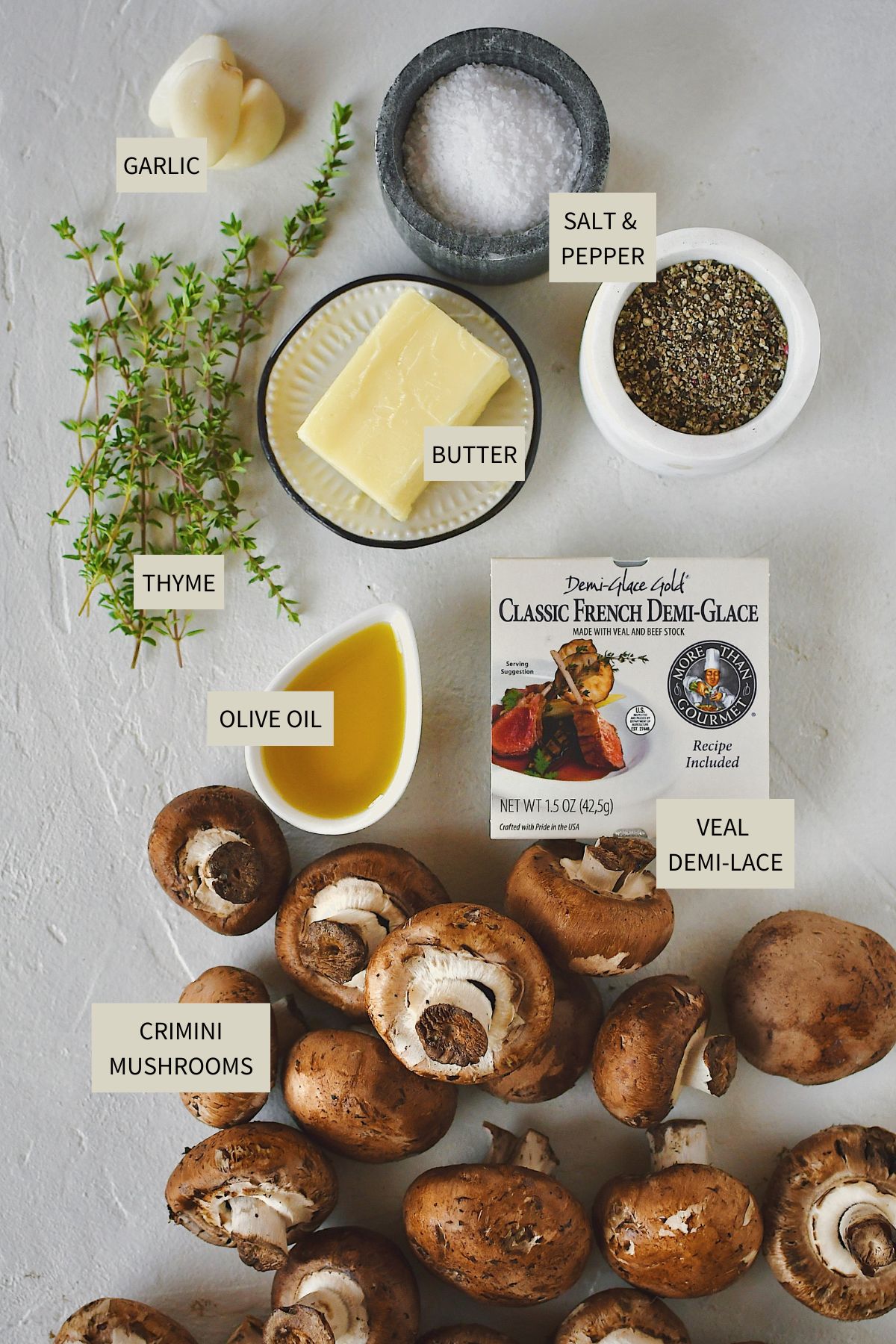 I like to make this recipe with crimini mushrooms, but you could make it with a mixture of them with button, shitake, and even portabello if you like. The butter is the other most important ingredient, it makes the sauce really rich and helps it cling to the cooked mushrooms. The garlic, thyme, salt, and pepper are all there to heighten the flavors of the sauce, and the mushrooms as compliments.
Use the JUMP TO RECIPE button at the top of the post, or scroll to the bottom of the post to see the full recipe card with ingredient measurements and instructions.
Method
Start with an extra large skillet, and heat the olive oil in it. I like to use one that has a lid, you could also use foil to form a lid. Add the mushrooms to the skillet with the garlic, do not stir, and add the lid. Let them steam for about 8 minutes. Then stir in the garlic and cook for a couple more minutes before adding the butter, demi-glace paste, and a little water to form the sauce.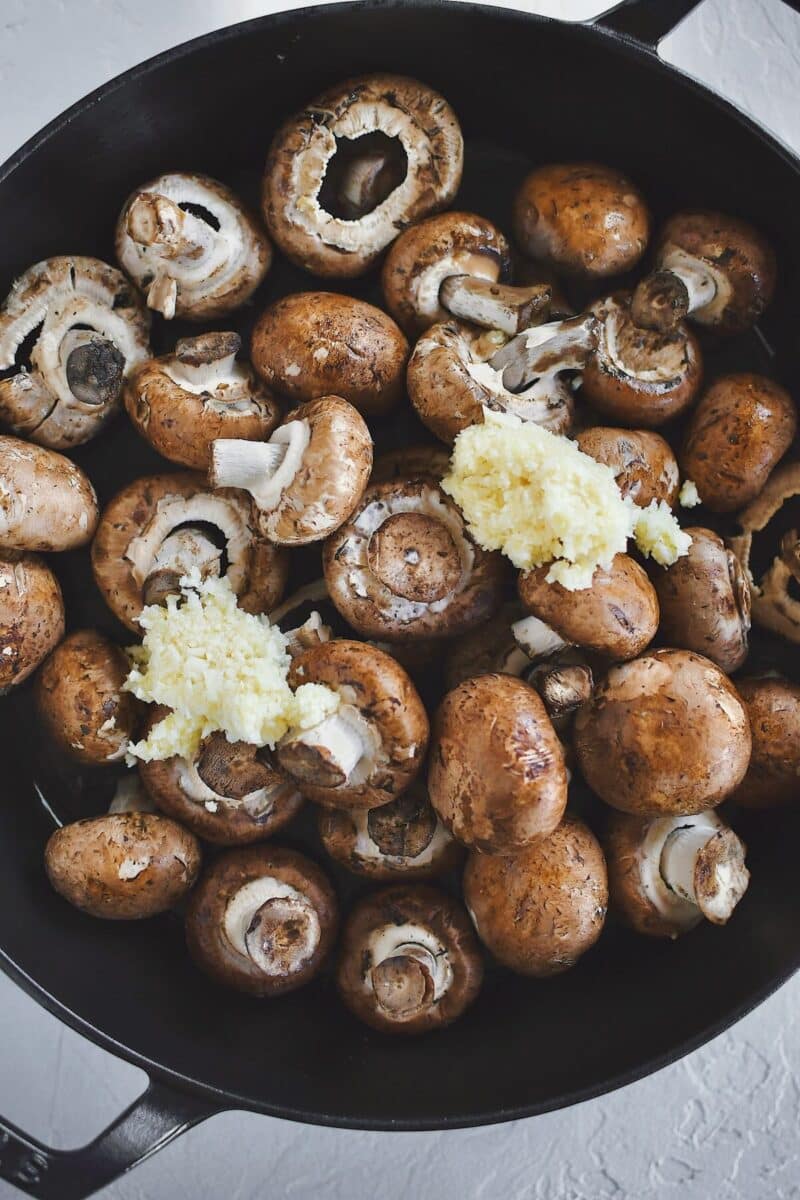 Continue cooking everything together until the demi-glace paste fully melts into the water and forms a thick, glossy sauce. Finish the mushrooms with some thyme and a little more butter.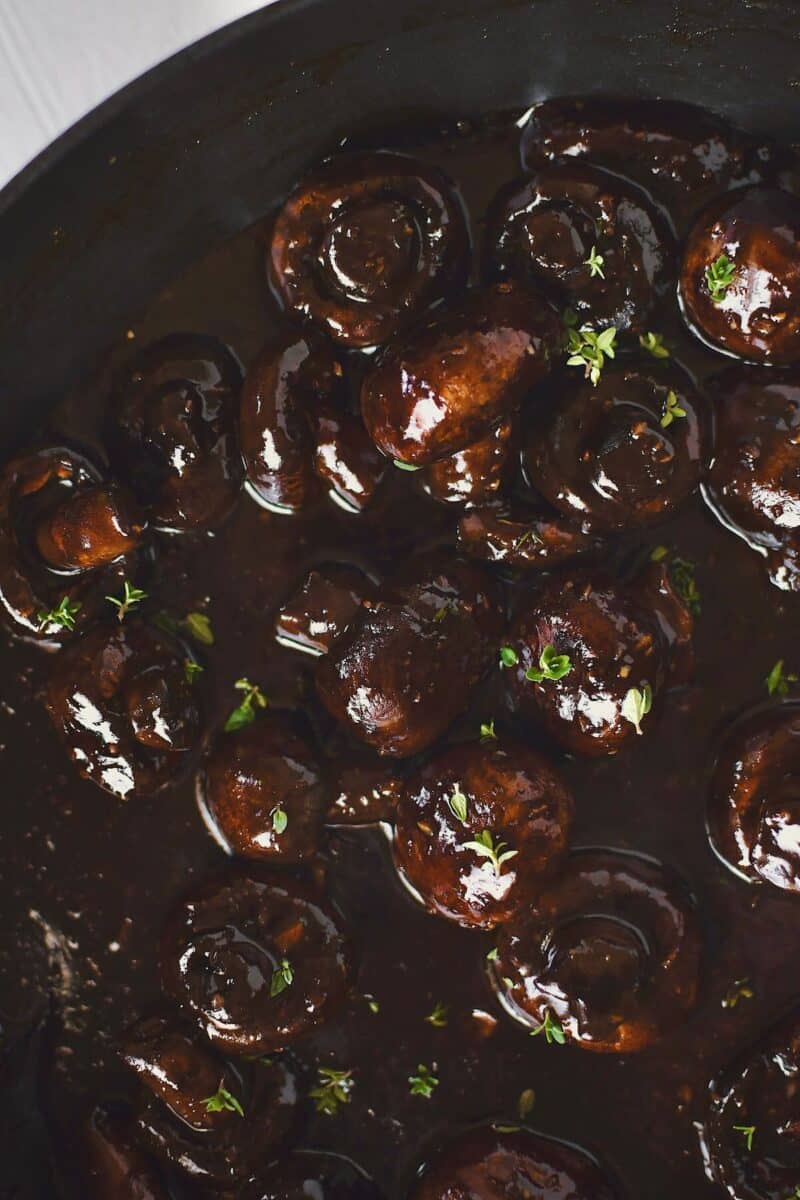 Let that butter melt in, and toss to coat the mushrooms in it. You can stop here, but depending on what I am serving these with I like to sometimes add in a couple of splashes of aged balsamic to bring a little lightness to the sauce. The sharp vinegar cuts the super-rich sauce, most of the time I add at least some in.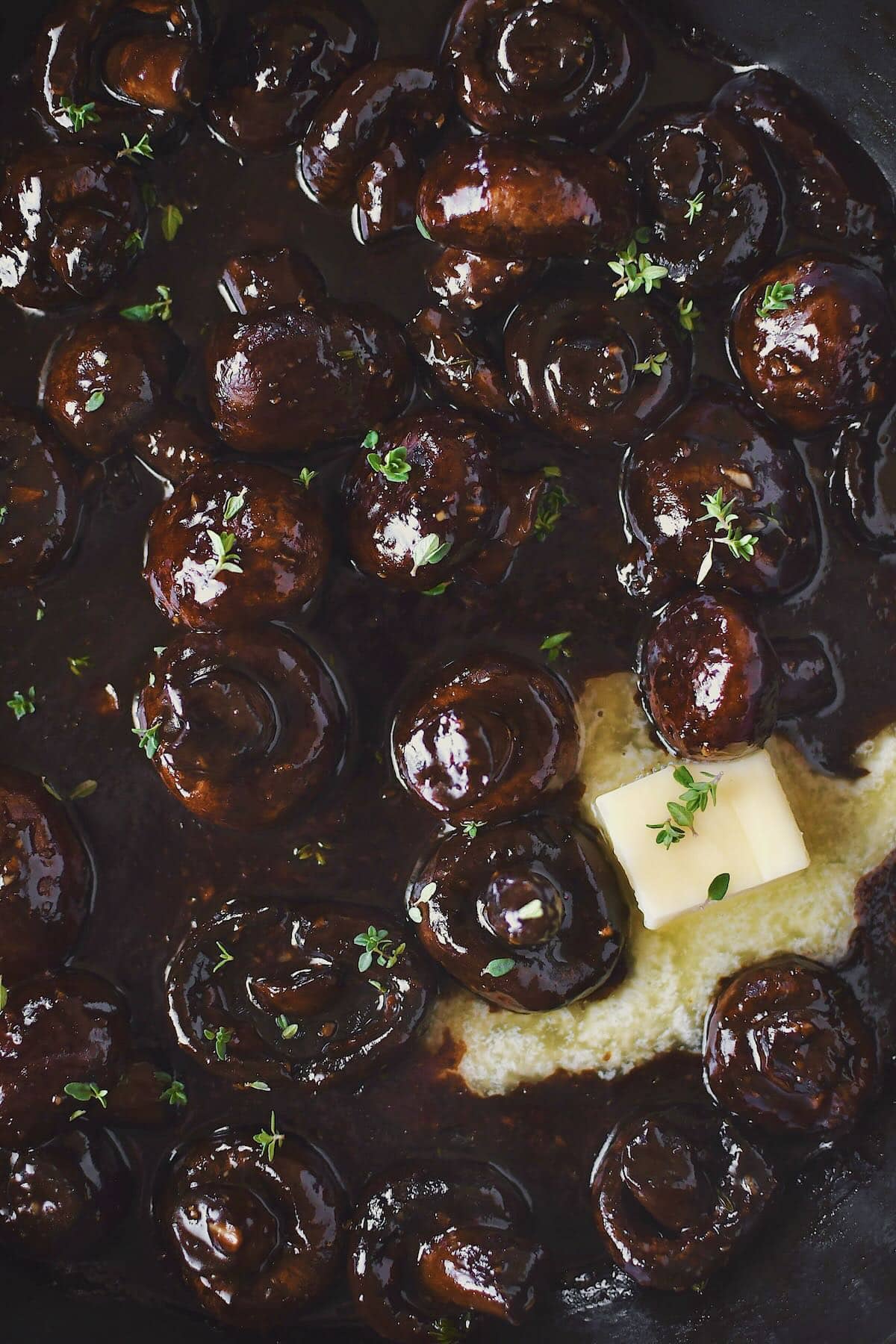 Notes & Tips
I like to dollop the garlic in, but not stir it in when I steam the mushrooms in the first step so it starts to perfume the mushrooms but doesn't burn during that initial cooking process. Stir it in after you remove the lid and cook just till it begins to brown for 1-2 minutes, then add the water and demi-glace to begin forming the sauce.
I forgot to add the balsamic vinegar in my ingredient photo, but I highly suggest adding some. I like to use aged balsamic or balsamic reduction so it doesn't thin my sauce too much. Those are already thick and will just add some sharp rich flavor.
Substitutions
I like to make this recipe with crimini mushrooms, but you could make it with a mixture of them with button, shitake, and even portabello if you like. These are the sturdiest mushrooms that would hold up the best to this sauce.
If you aren't a huge garlic fan, you can leave it out altogether. You could also replace it with a little bit of onion or even shallot.
I know the demi-glace sounds fancy, and it kind of is. It is a major process to make and you usually find it used in fine dining restaurants. But what you need for this recipe is not expensive, and it is easy to use too. You can find it HERE.
You can swap the thyme or add to it. Rosemary, oregano, tarragon, or chives all jive well with this mushroom recipe.
This isn't the recipe for you if you are vegan, or dairy-free. It relies heavily on the butter to make it luscious. No swaps for that one.
It is best to use aged balsamic vinegar or balsamic reduction. In a pinch, you could use a splash of regular balsamic vinegar.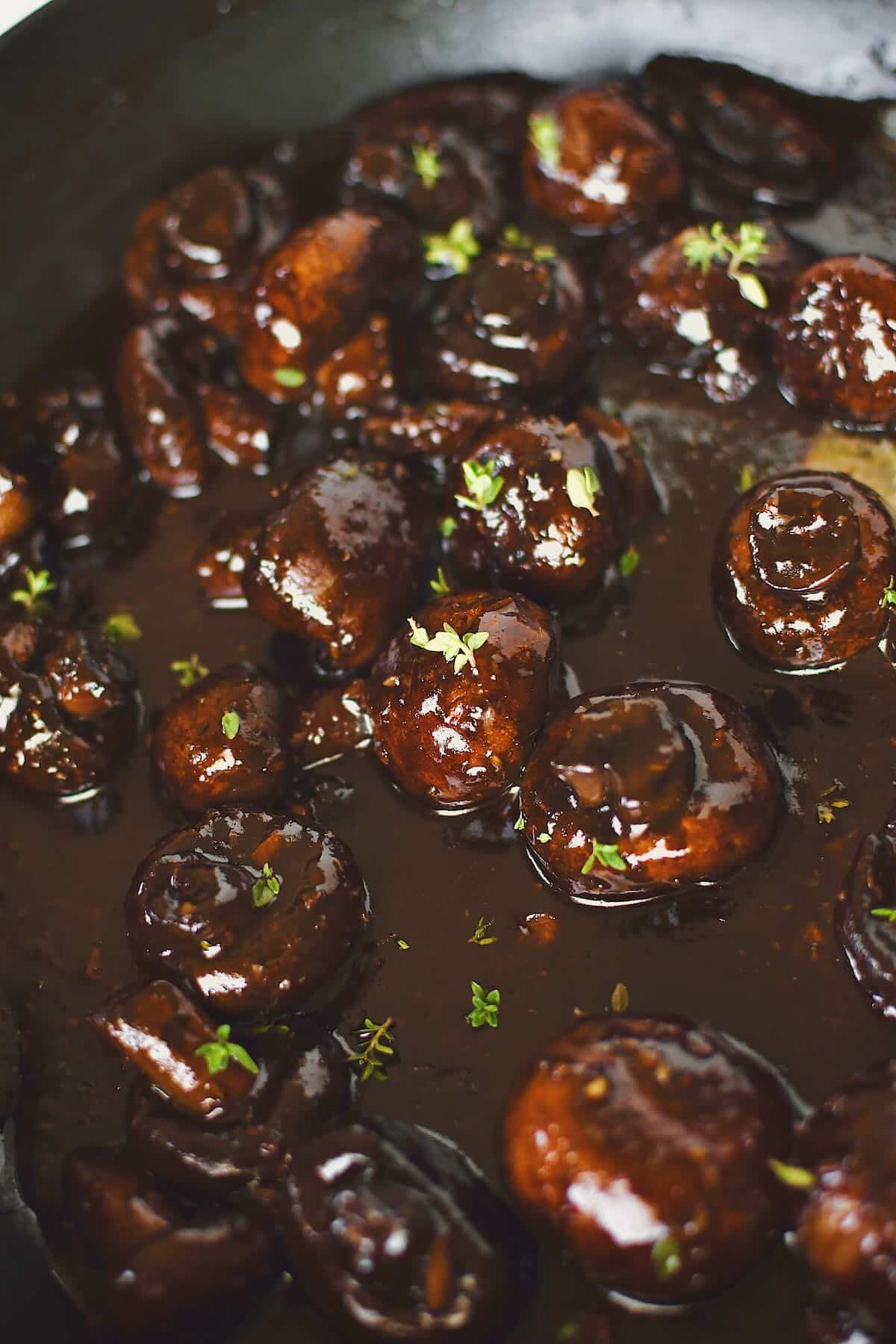 Did you make this recipe? Let me know by leaving a review or comment! And be sure to sign up for my newsletter, and follow along on Instagram, Pinterest, and Facebook!