This basic Italian Sausage Pasta from childhood gets a little glow-up with this recipe. It was a classic in my house, but I am taking it up a few notches and making it a little more decadent with the addition of cream, mushrooms, and lots of parmesan!
While you can leave the mushrooms and onions out if you need to make this more family-friendly, for the kids. But I love the extra flavor they add if you don't have picky eaters in the house.
Jump to:
Ingredients
This is the perfect time to use a jar of homemade marinara. I am usually on the side of homemade everything, but if I want to get this Italian Sausage Pasta on the dinner table in 30 minutes or less I must rely on it.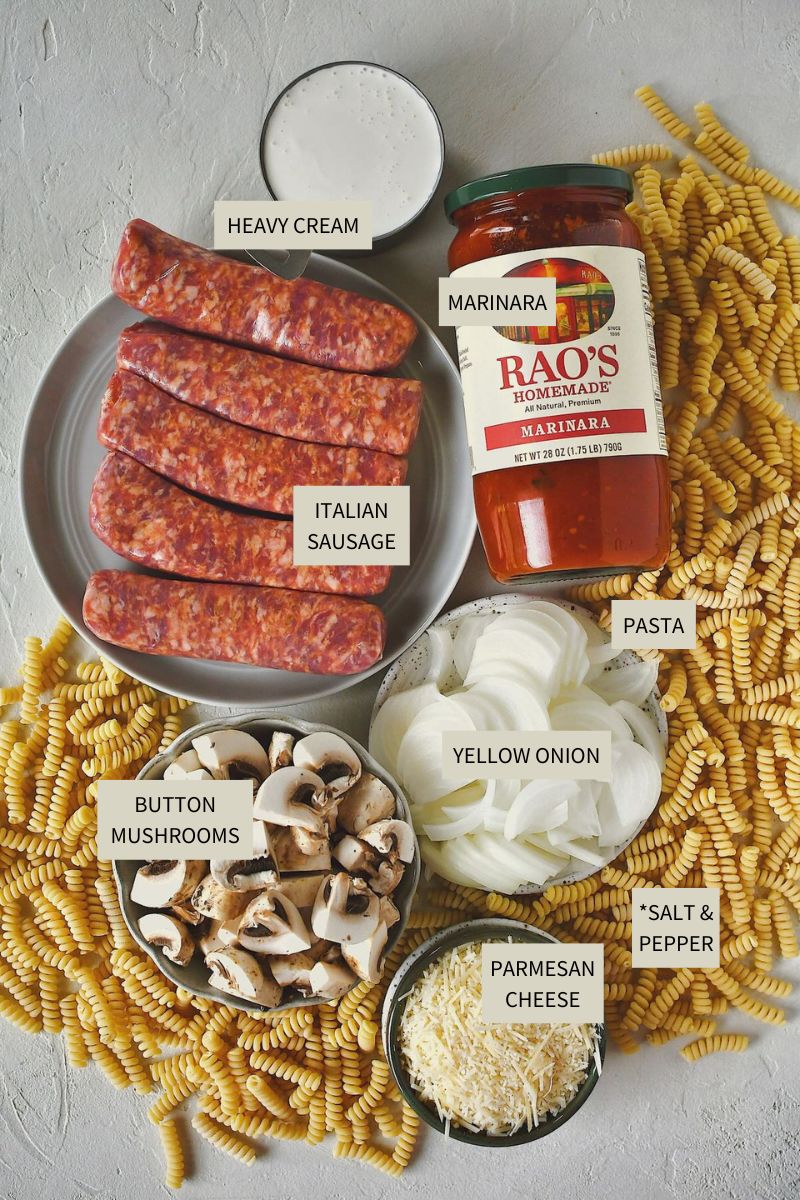 You can really use any pasta you like for this recipe. I found these fun spirals at Trader Joe's, I love picking up new kinds of pasta there. But ANYTHING goes here, from angel hair to ziti.
Use the JUMP TO RECIPE button at the top of the post, or scroll to the bottom of the post to see the full recipe card with ingredient measurements and instructions.
Method
I start by getting the sausage lightly browned, then stirring in the mushrooms and onions. Just get the sausage nice and brown if you are not using the veggies.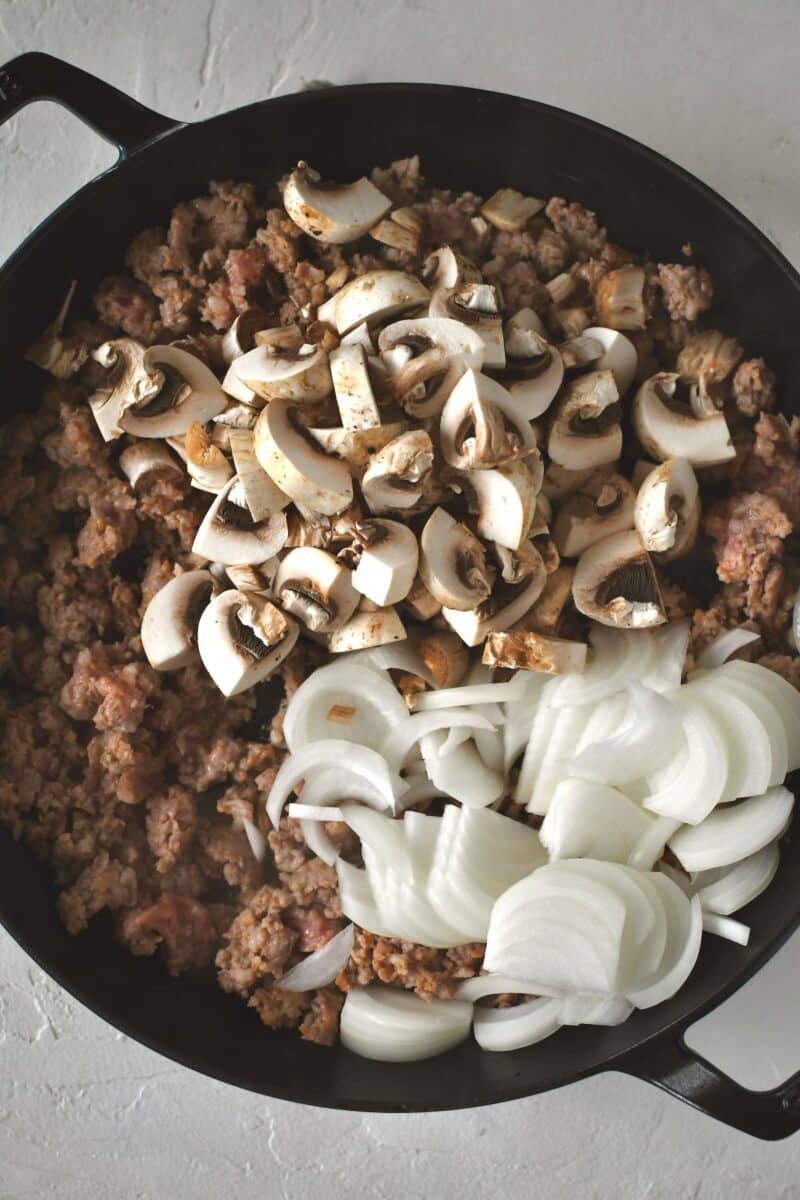 Once the onions and mushrooms have taken on a little color, stir in the jar of sauce, heavy cream, and a cup of pasta water. Be sure to use a really big pan for this one it really makes a hearty dinner.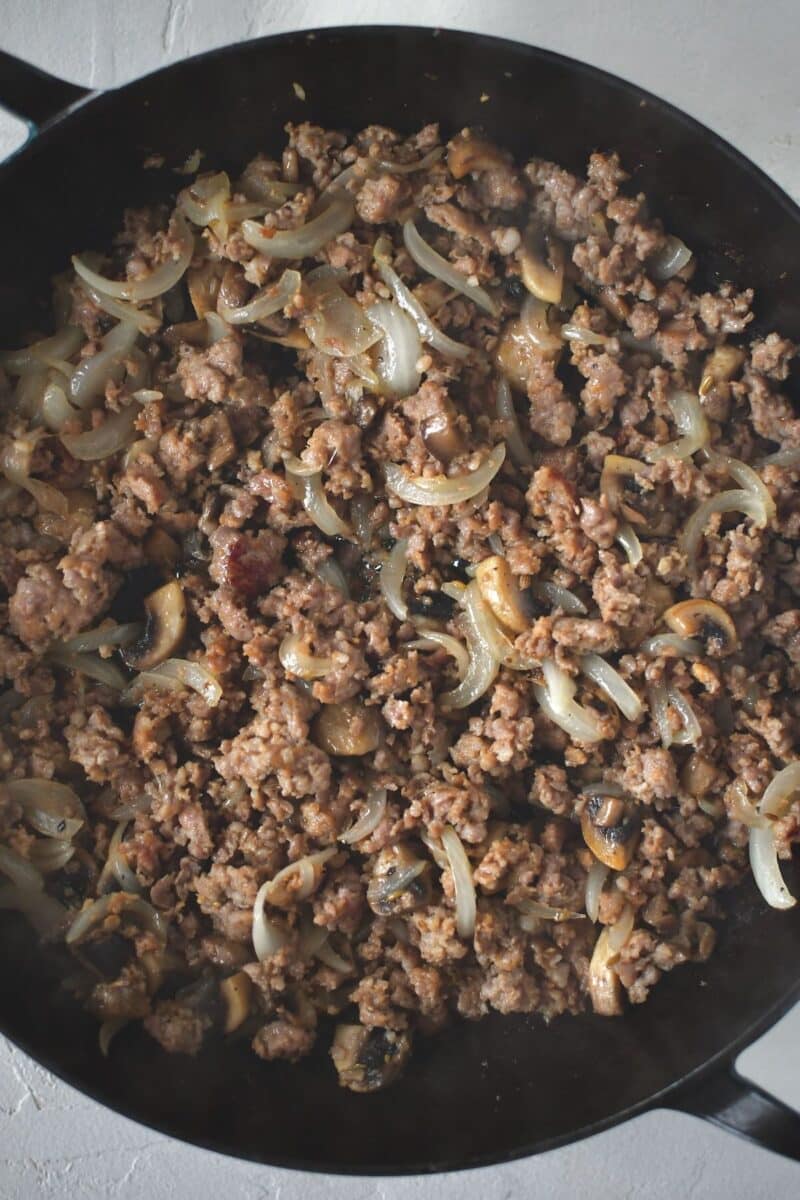 Boil the pasta on the side and then add it to the sauce after you have simmered it together for a few minutes. Reserve an extra cup of pasta water, you'll want to stir it in after the pasta sits in the sauce for a few minutes and you stir the cheese in too.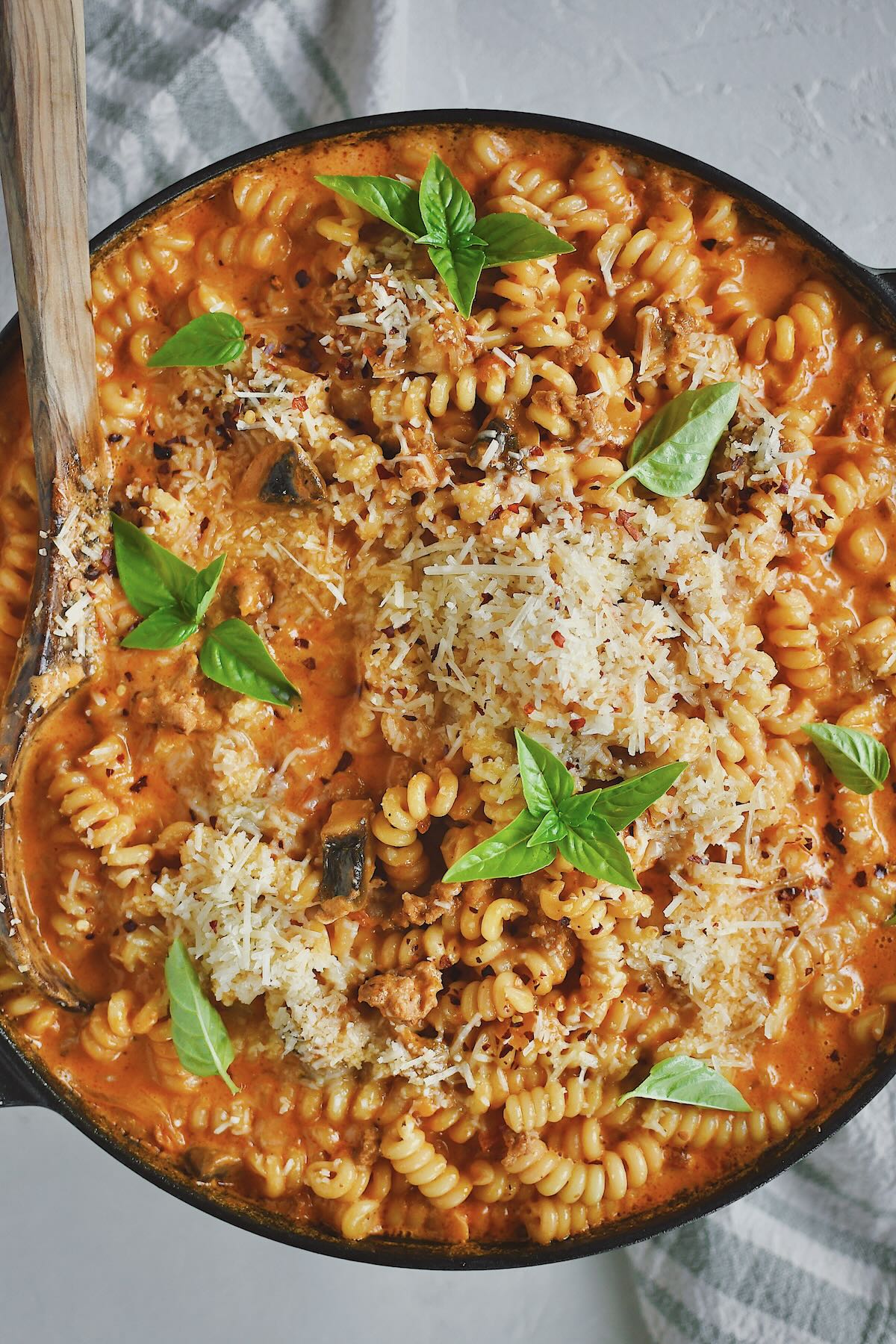 Notes & Tips
Before you start cooking, put the pot of water on for the pasta to boil. By the time it comes to a boil and you cook the pasta, the sauce will be ready.
Don't stir in the cheese until you have turned off the heat. If you do it will just sink to the bottom of the pan, stick, and burn. If you put it on last and stir in some pasta water, you will get THE creamiest pasta sauce EVER!
I never believed in the pasta water thing, but it helps make your sauce THE BEST every time! EVERY time you make pasta, you should add some water to the sauce. And if the pasta gets dry after it sits for a while add some more pasta water and it will bring your sauce right back to life.
The best way to reheat leftovers of this pasta is to warm it gently in a pan with a splash of water. Put a lid on the skillet and let it steam gently. The water will make the sauce creamy again and if you add too much, just boil the pasta till the sauce reduces.
Substitutions
I typically use link Italian sausage here because I usually have some on hand. You can use 1 pound of loose sausage if you prefer, you can also use hot, sweet, or mild as you prefer.
If you make your own sauce and jar it, this is a great place to put it to work. You can also make your own for this if you like, my friend has a great recipe HERE.
If you want this recipe to be dairy-free you can leave out the cream or use cashew milk in its place. Mom never made it with cream, but I LOVE a blush sauce and it makes this recipe so rich and delicious. Also, leave off the parmesan or use a dairy-free alternative.
There are so many things you can add to the top of this finished product. I like a sprinkle of red pepper flakes for just a touch of heat, and some basil to round everything out. You could also use oregano for a richer herb flavor, or Calabrian chilies for lots more heat.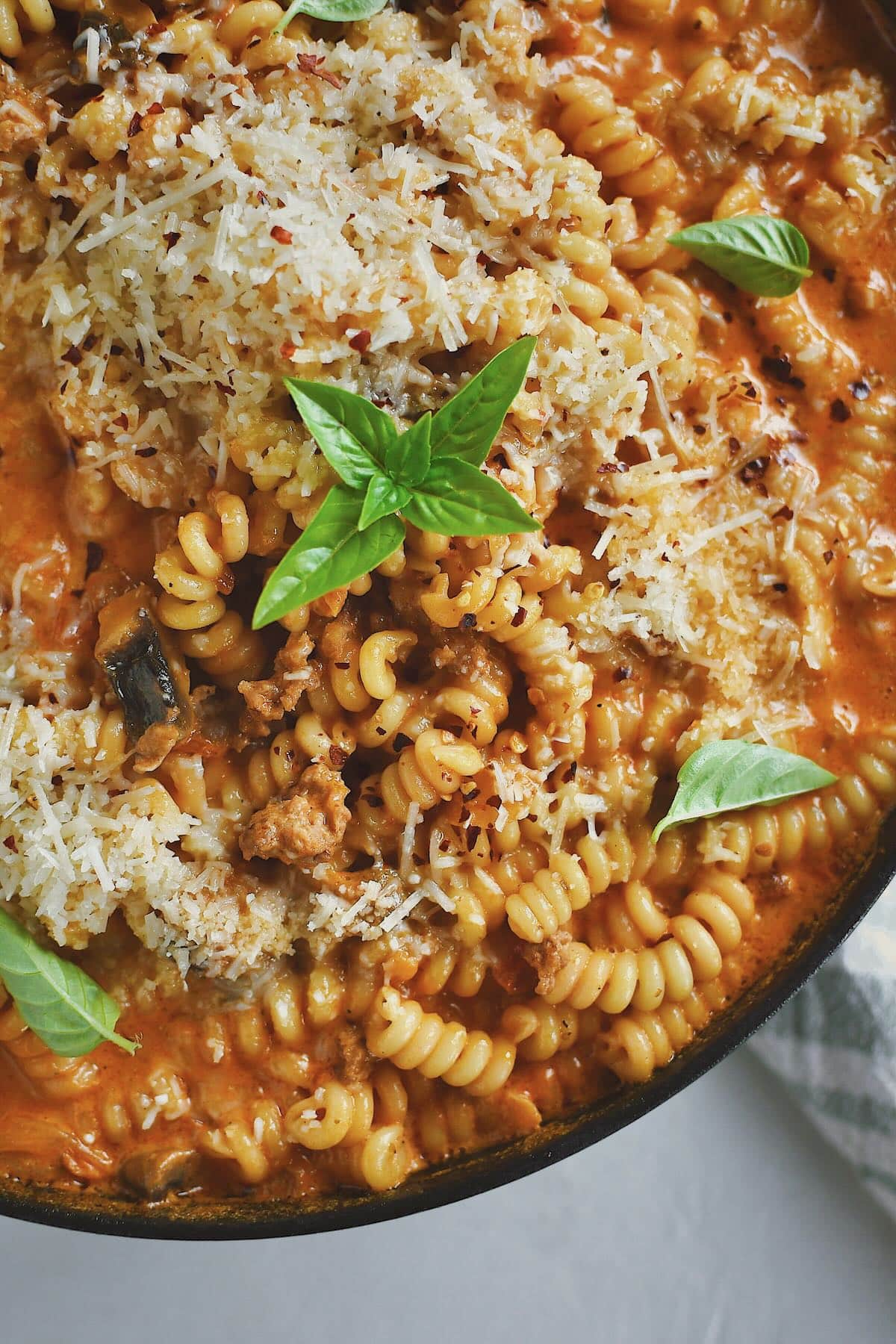 Did you make this recipe? Let me know by leaving a review or comment! And be sure to sign up for my newsletter, and follow along on Instagram, Pinterest, and Facebook!