When I need a little comfort food, even in warmer months, I reach for this Creamy Sausage Pasta that's made 100% on the stovetop. It is packed with flavors I love and even my little nephew LOVED it, so I'd say it's pretty kid friendly despite the vegetables.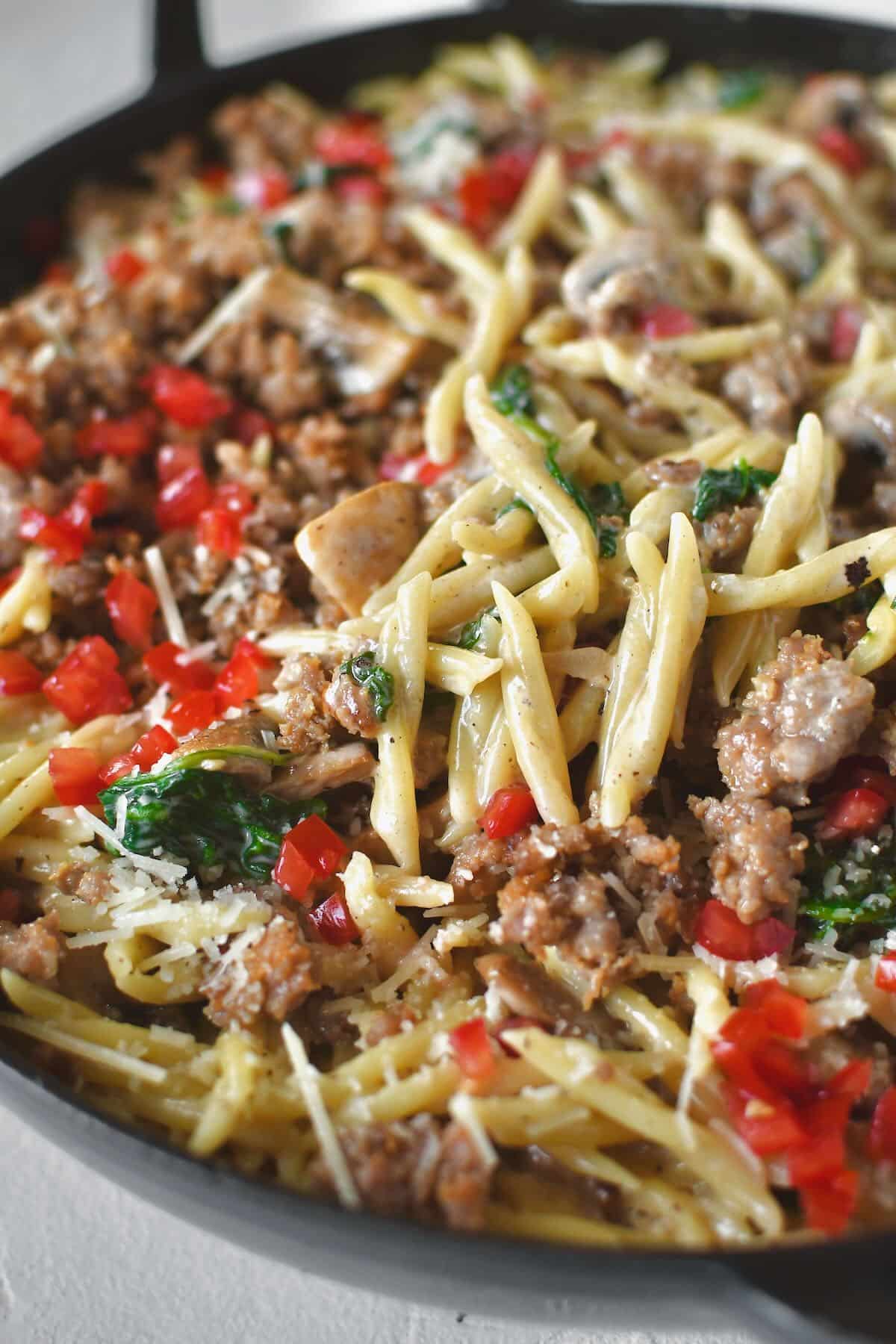 I wanted to make an Italian Sausage Pasta that was a little different and not with red sauce. This one fits that bill and I couldn't be happier with how it came out.
Jump to:
Ingredients
I always buy my Italian sausage in bulk at Costco so I have to remove the casing, you could purchase just ground Italian sausage in your desired flavor if you like. The pasta can also be up to you. I found this fun shape you see here at Trader Joe's but use any pasta you have on hand or love.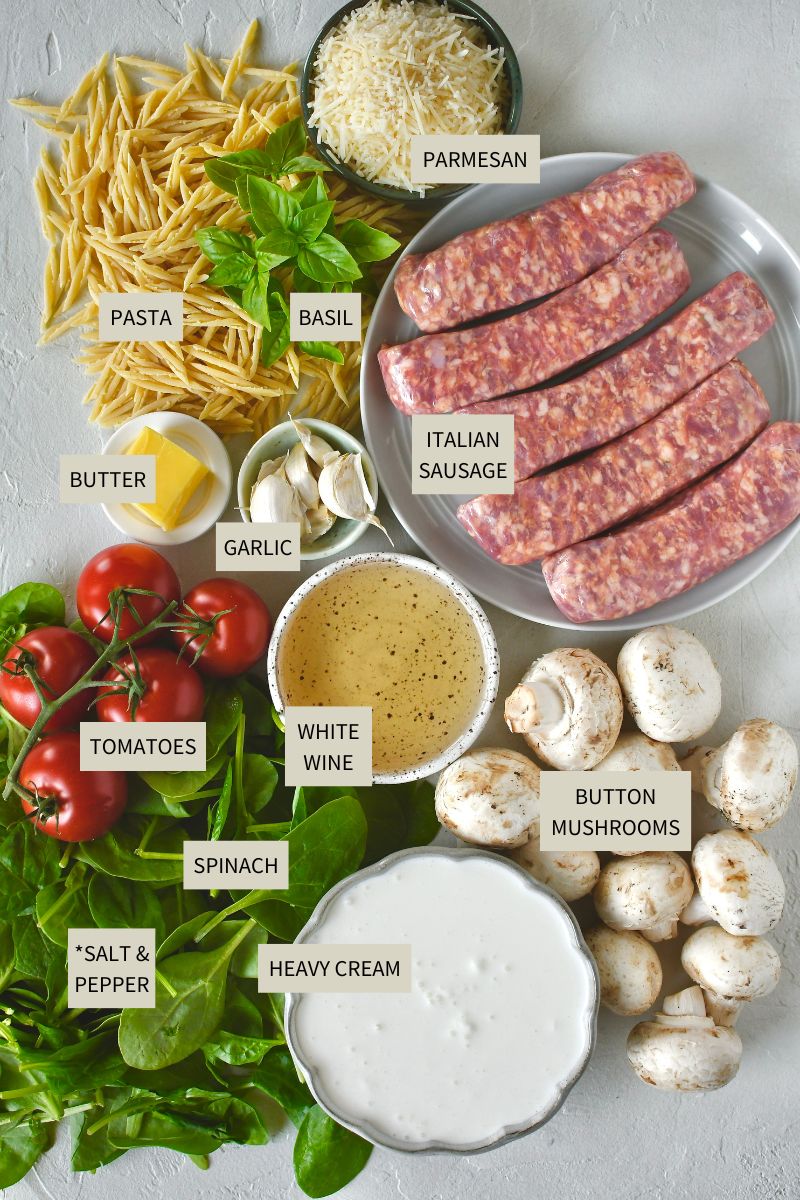 The wine and the cream are the most important ingredients in this list. The wine helps to create a well-balanced cream sauce. I also love the flavors simmered together with the mushrooms and garlic. The rest of the ingredients can be swapped or left out based on what your family will eat.
Use the JUMP TO RECIPE button at the top of the post, or scroll to the bottom of the post to see the full recipe card with ingredient measurements and instructions.
Method
I start by browning the sausage in an extra large skillet to make this as much of a one-pot meal as possible, aside from the pasta pot. Then remove it and cook the mushroom and garlic together till well browned.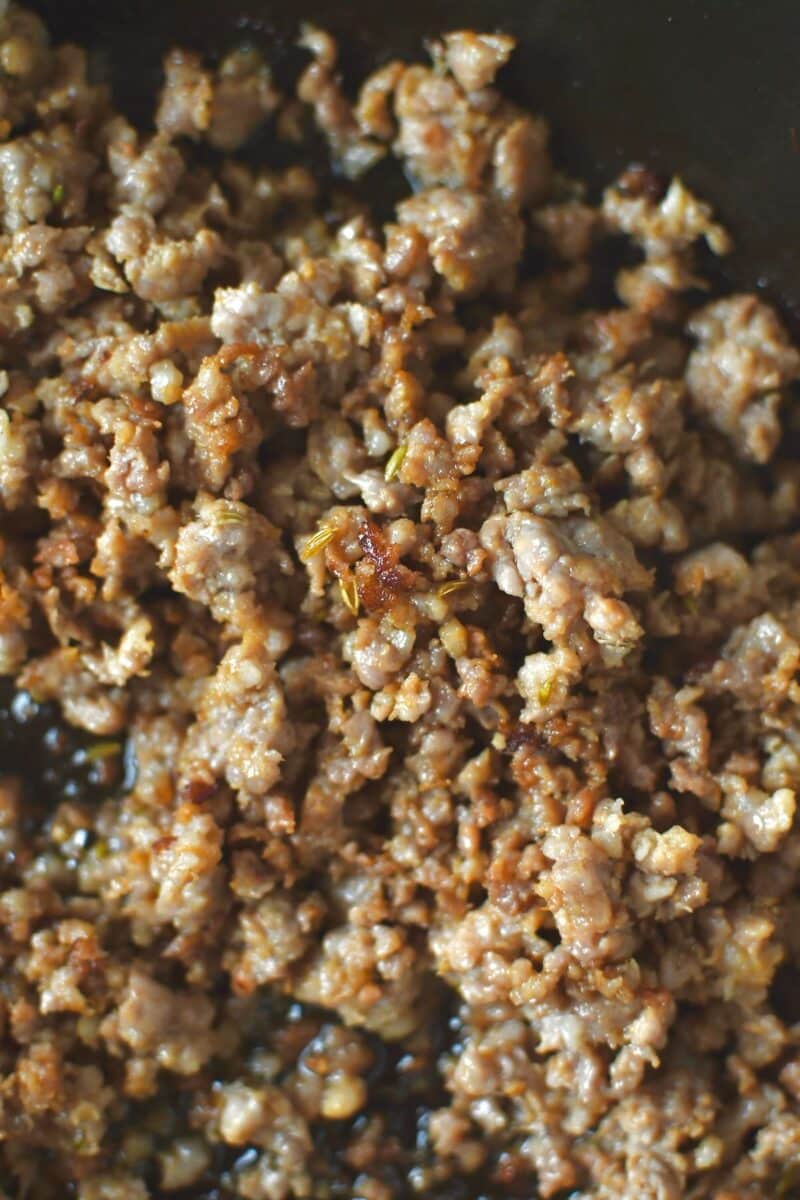 When the mushrooms are done cooking, deglaze the pan with the wine and when it comes to a boil add the cream. Simmer them together till the cream thickens, then add the spinach and pasta to the pan and stir to combine.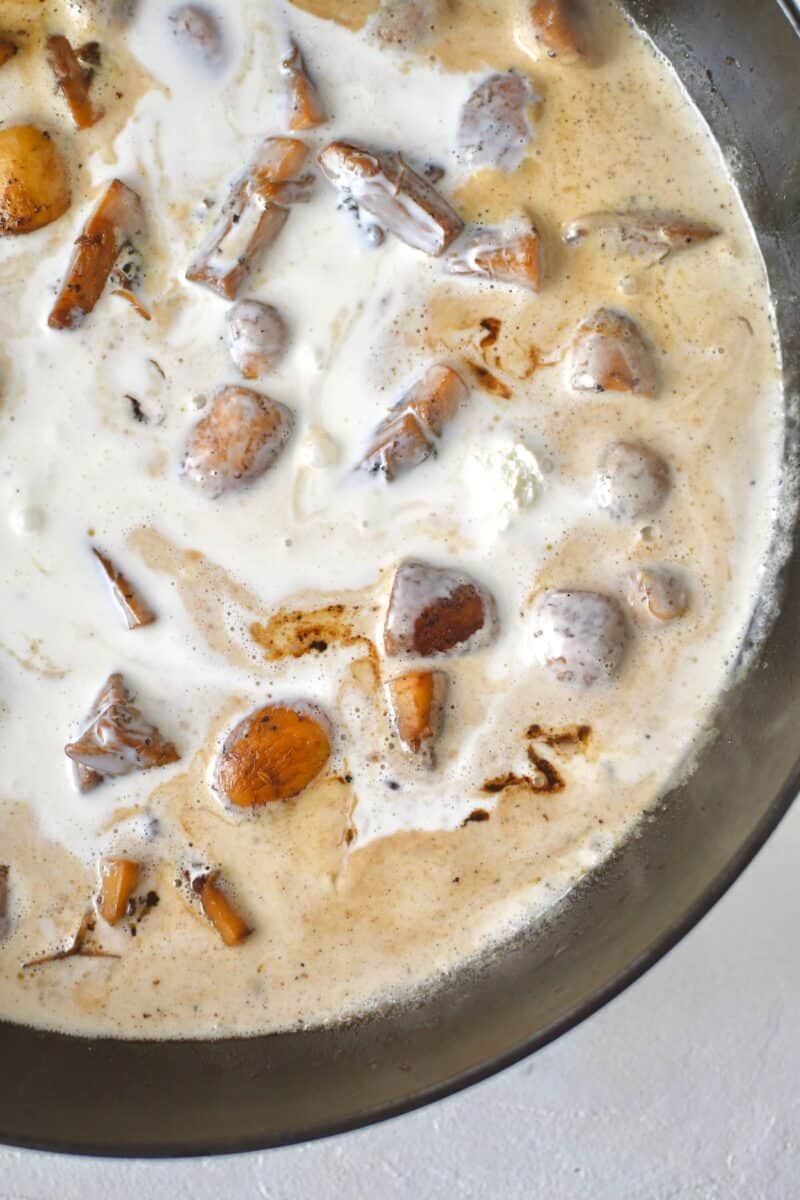 Simmer the pasta in with some of the pasta water, then stir in the sausage, tomatoes, and parmesan. Finish the pasta with a nice topping of some torn basil or whole small leaves for a little extra flavor and fragrance.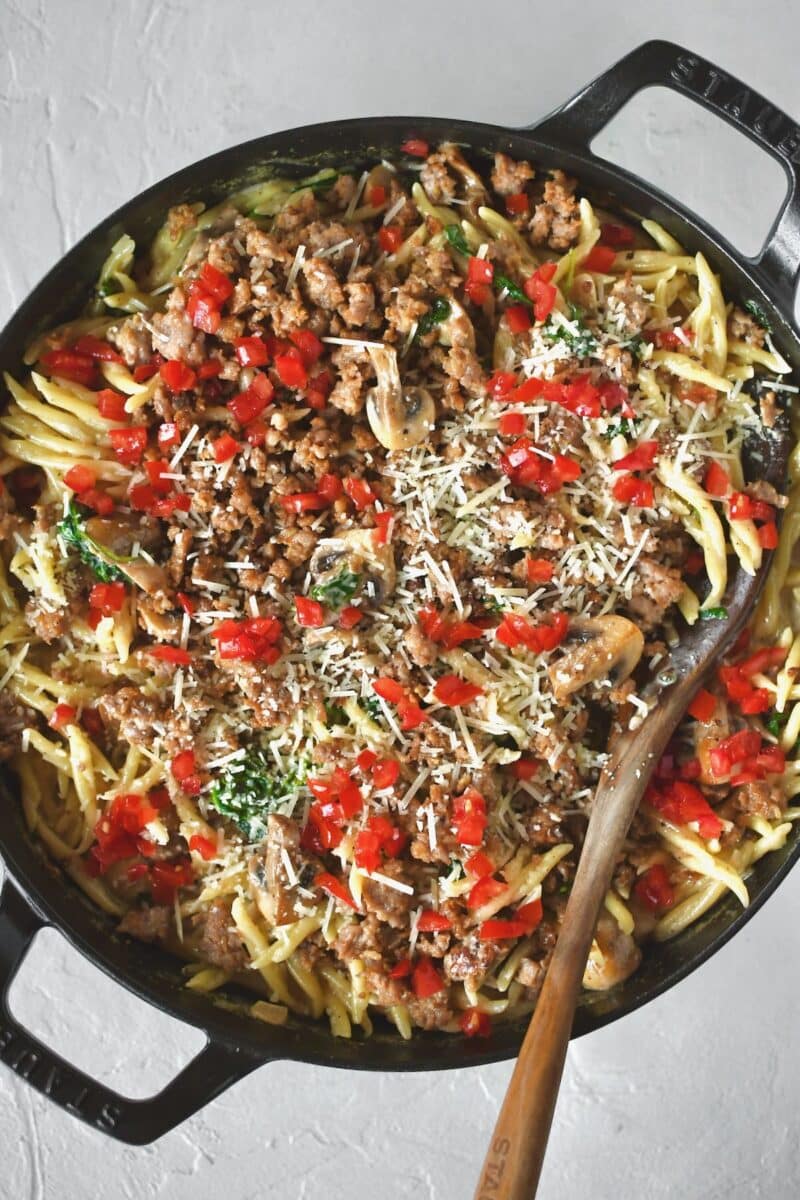 I really loved this pasta dish, it is a complete meal in one with protein, vegetables, and pasta. I always try to have well-rounded meals and this one meets all my criteria in a one-pot wonder!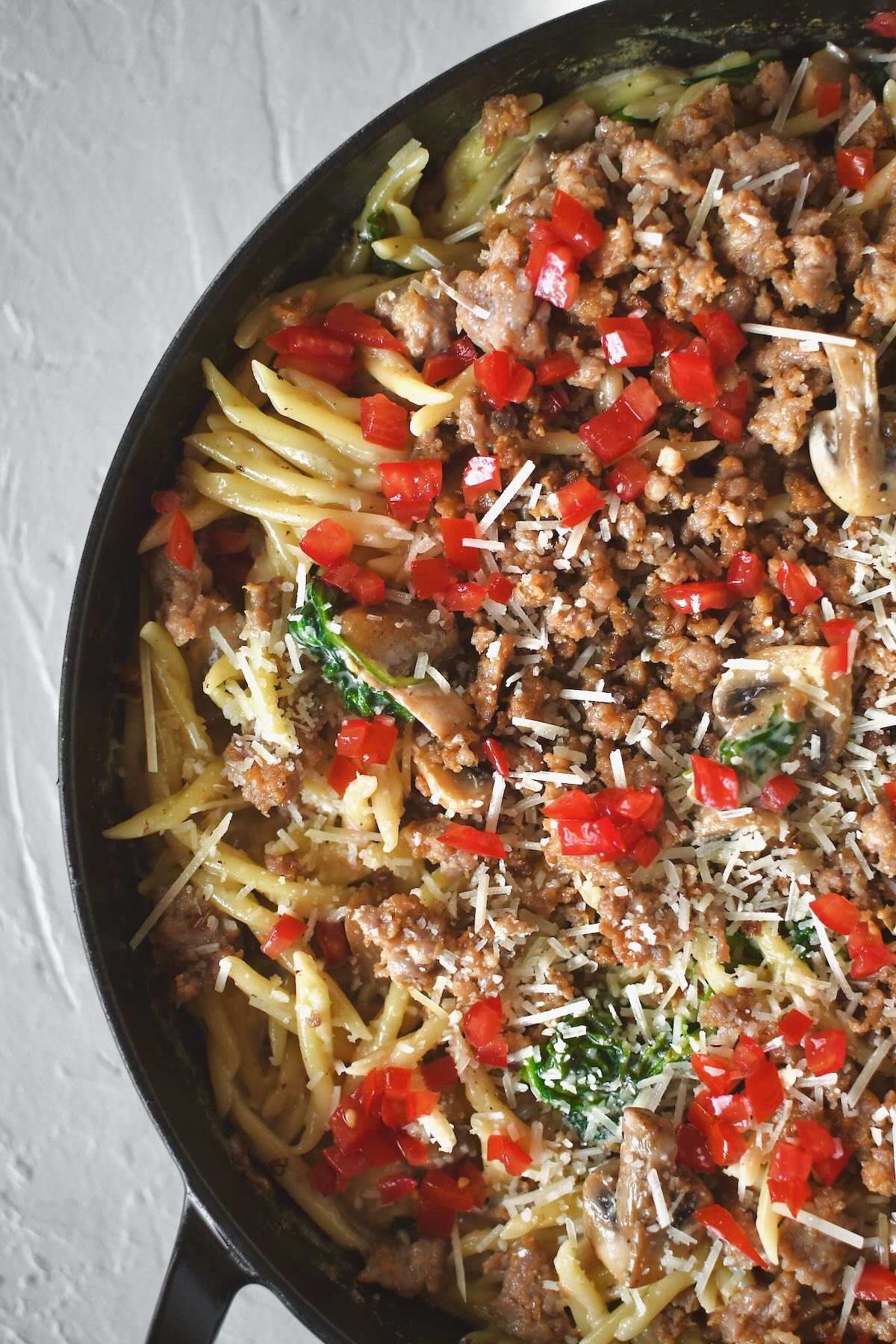 Notes & Tips
While you could probably leave the sausage in the pan to cook the mushrooms, I prefer to take it out so the 'shrooms get nice and golden. If you are in a hurry you can leave it in as long as there isn't too much fat left in the pan.
I stir in one cup of pasta water with the spinach addition. But if the sauce gets too thick after adding the pasta, or you just want it a little more creamy, stir in 1 more cup of pasta water.
Be sure to stir the cheese in after you turn the heat off. It will melt into the creamy sauce this way and not stick to the bottom of the pan.
To reheat leftovers, warm them over low heat in a skillet with a lid on top. Drizzle in about a half cup of water and the sauce will come right back to life when it gets warm and will be just like it was when freshly made.
Substitutions
Feel free to use ANY pasta shape you have on hand or love for this recipe, literally any pasta works here.
I used sweet Italian sausage that was in its casing because I purchase mine at Costco in bulk and that is how it comes. You could also use already removed sausage, as well as mild or spicy if that's how you like it. Any of them will work in this recipe.
I prefer a smaller mushroom for this recipe, which is why I used button mushrooms. Crimini mushrooms or even portobello, chopped small would work great too.
You just need a splash of white wine, so something you enjoy drinking will work great. I suggest a Pinot Grigio or Chardonnay for this recipe.
If your family won't eat this with the spinach, tomatoes, and mushrooms, you can leave one or all out and still have a great creamy pasta.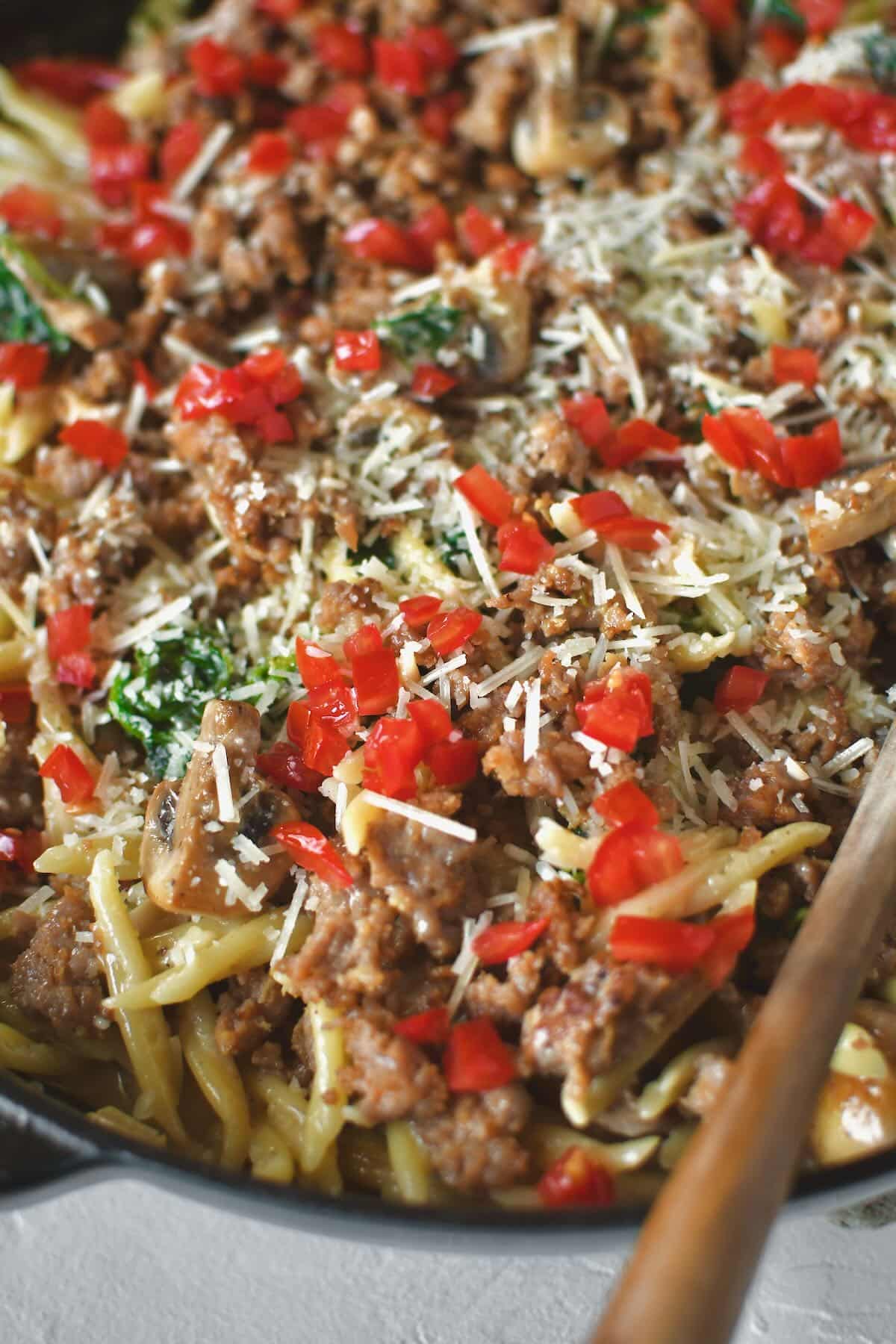 Did you make this recipe? Let me know by leaving a review or comment! And be sure to sign up for my newsletter, and follow along on Instagram, Pinterest, and Facebook!