I have been on the hunt for THE BEST White Queso Dip, and after many failed attempts, I have finally found it! And I have to eat my word on something.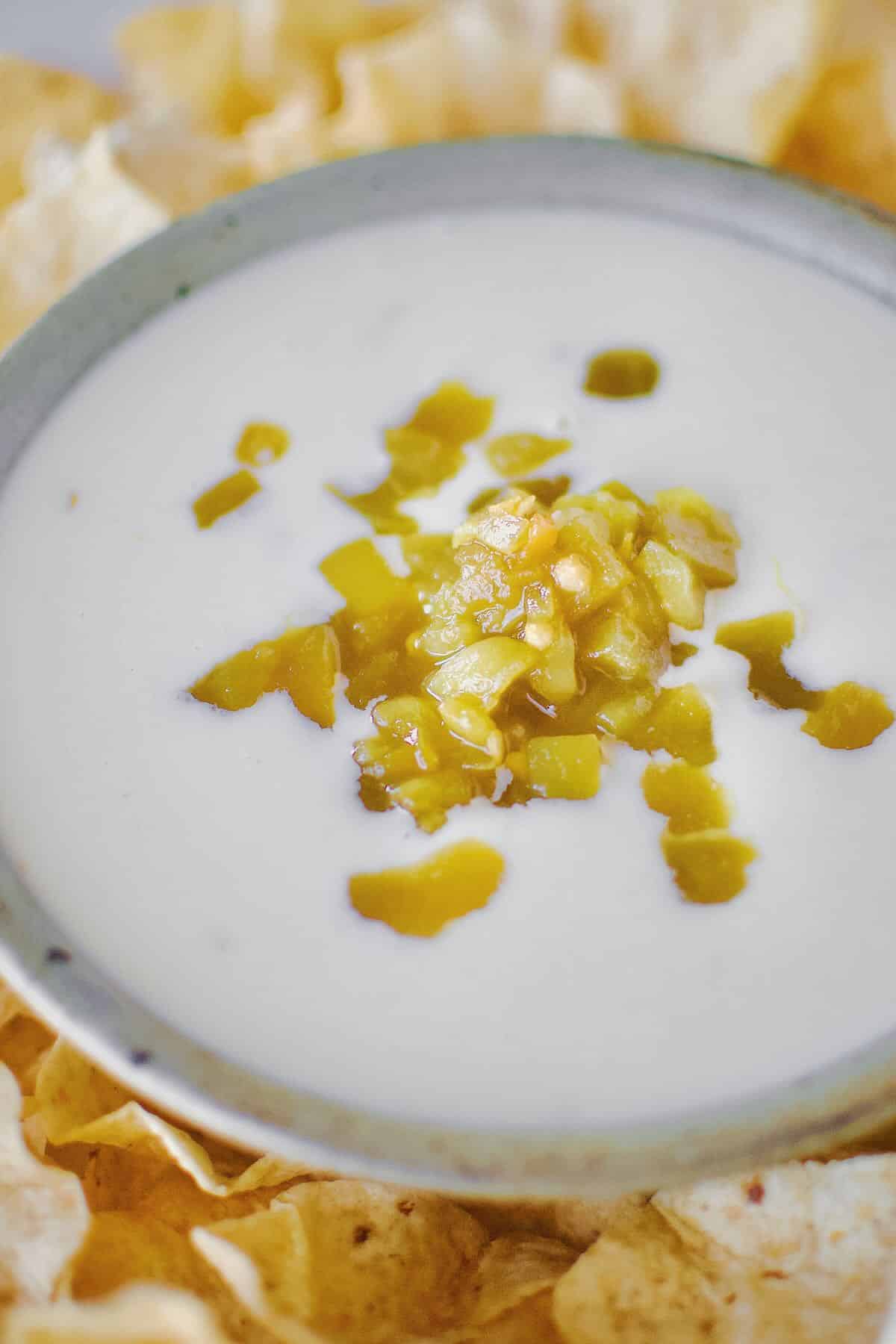 I have been a hater of processed cheese for a VERY long time, but I am here to tell you...in order to achieve a perfect cheese dip, you just HAVE to use it!
Jump to:
Ingredients
Let's dig into this whole processed cheese thing. While I still refuse to bring Velveeta into my kitchen, and I'm not running out to pick up some kraft singles, you do need some processed cheese to get just the right consistency in your cheese dip.
Now not all processed cheeses are created equal, and some ARE better than others. For this recipe, I purchased the best-quality white American cheese my deli counter had. I stress, you have to get the good stuff from the counter, this is still not the place for Velveeta or singles, but it makes all the difference in your sauce.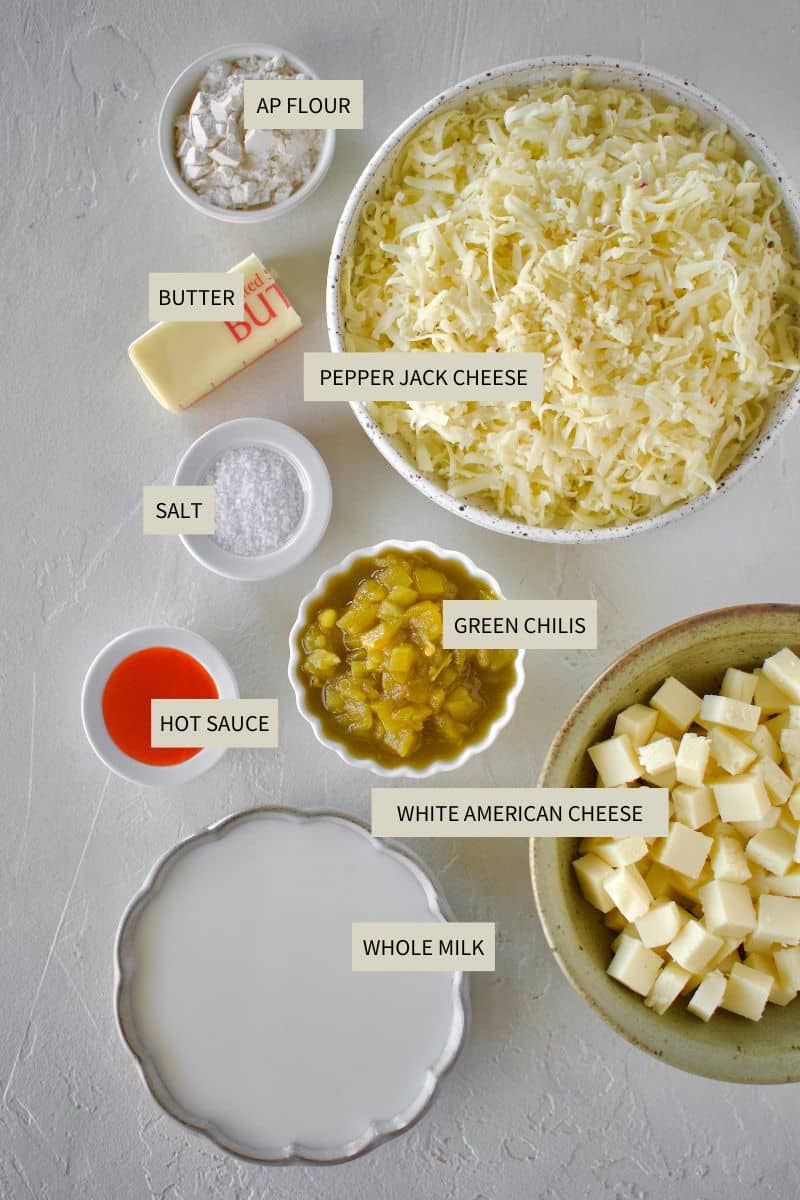 I have them cut it thick for me and then I just dice it up for making this sauce. I also use a really high-quality pepper jack in conjunction with the white American cheese. But the American cheese gives you the opportunity to mix it with a much better cheese because it helps bring everything together and keeps the sauce from getting grainy or splitting.
So you better mark this one down in the record books, because you won't here me tell you to by processed cheese very often, but it is the secret to perfect queso.
Use the JUMP TO RECIPE button at the top of the post, or scroll to the bottom of the post to see the full recipe card with ingredient measurements and instructions.
Method
To make the queso, make a roux by cooking the butter and flour together for 1-2 minutes. Then add the milk to the pot and bring it to a boil. The roux will thicken the milk and make a luscious sauce. Then you can add the cheese.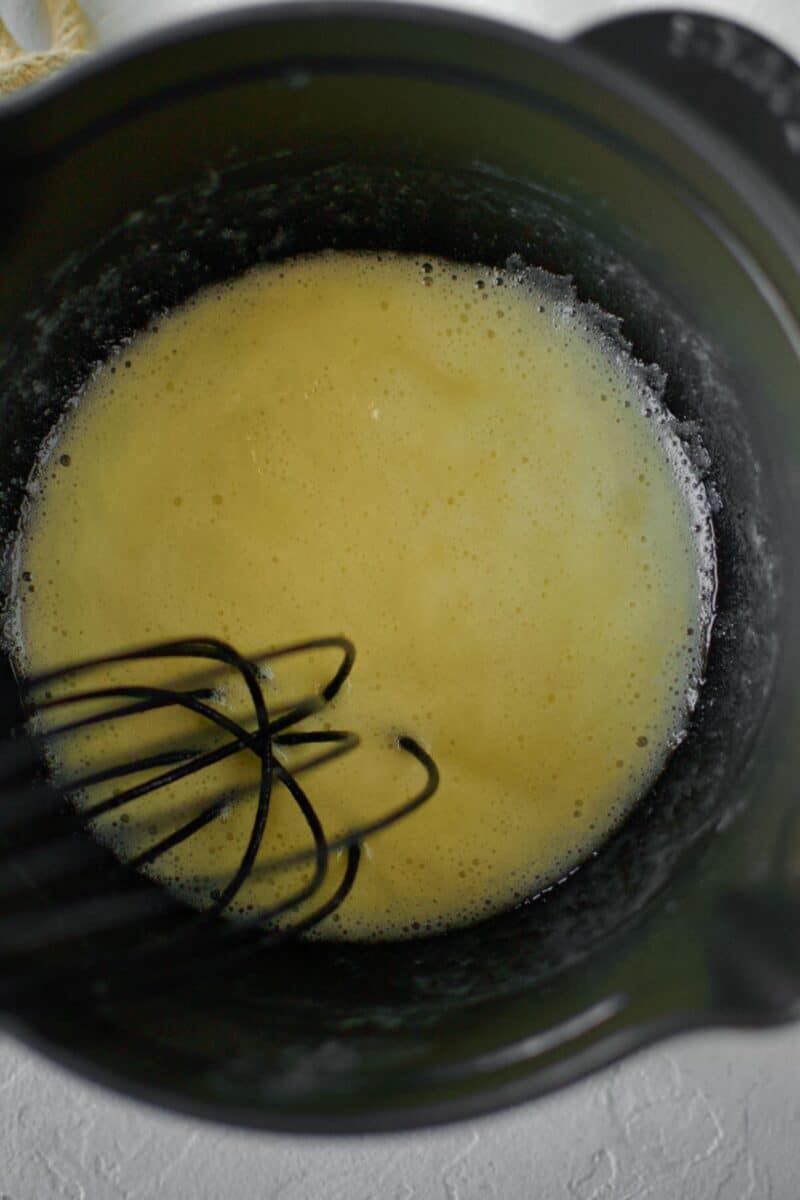 I drop in the American cheese, pepper jack, and salt along with the hot sauce. Whisk the cheese into the sauce until it is smooth, then add the green chilis and let the sauce simmer for about 5 minutes. Turn the heat to low on the smallest burner on the stove and let the cheese hang out and stay warm till ready to use.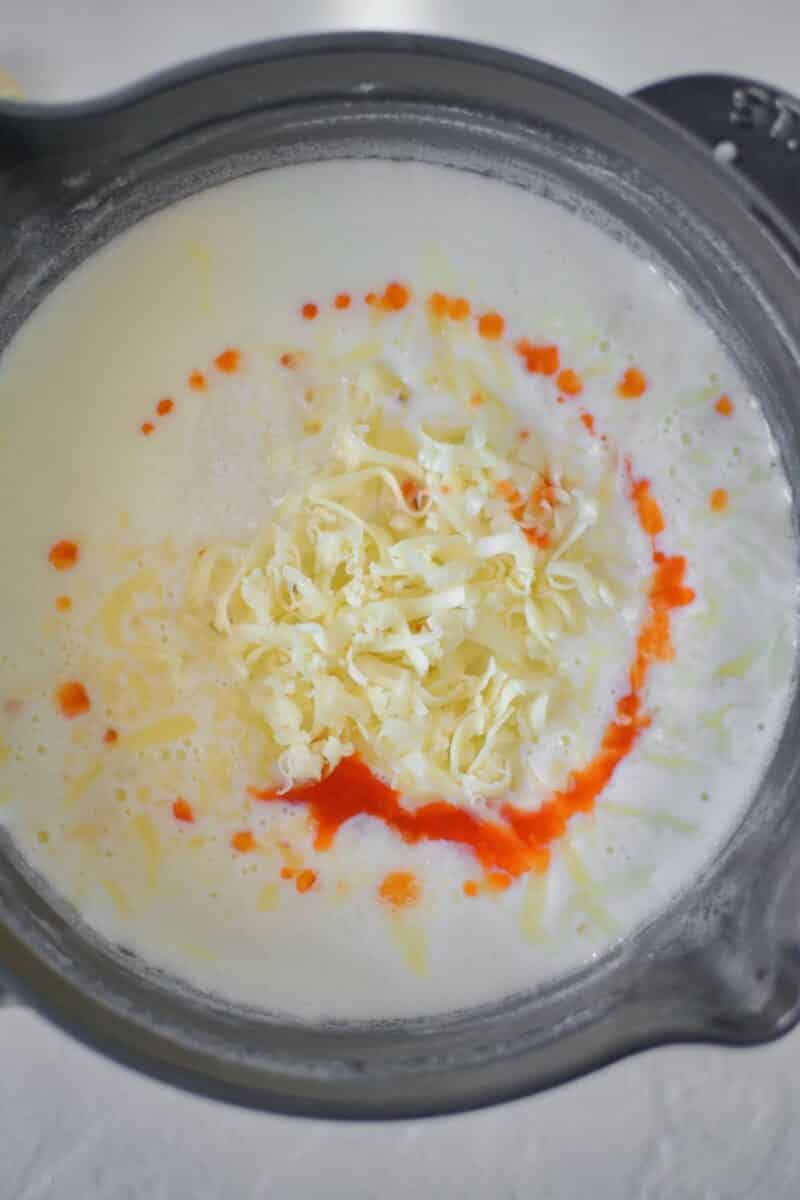 It is perfectly served with chips for dipping, I make this every super bowl and the family goes crazy for it! I use leftovers for making nachos with or dipping warm tortillas in for a snack.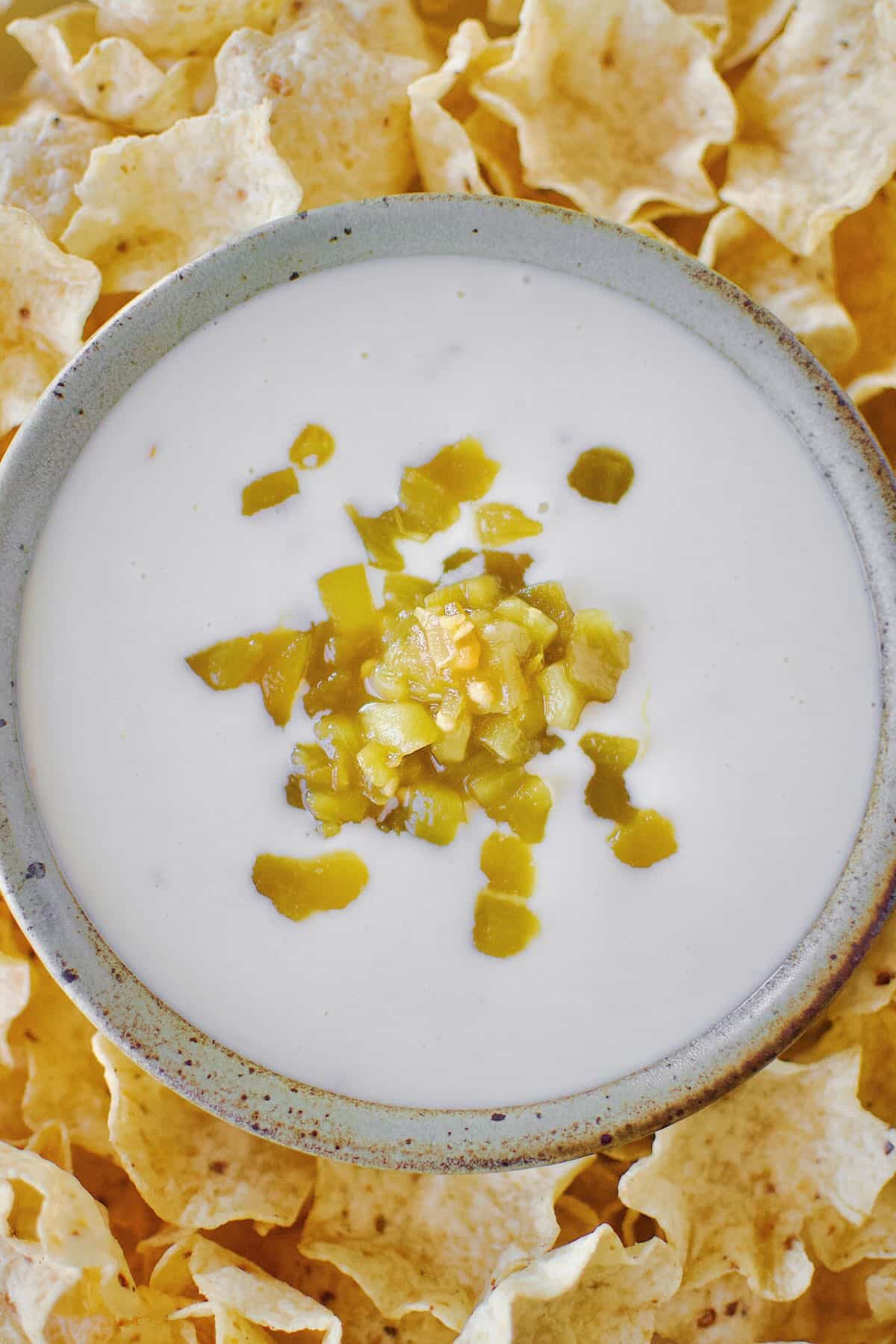 Notes & Tips
Use a blend of high and low cheeses. You can use any natural cheese you like, I typically buy Tillamook Pepper Jack for this recipe, and mix it with the American cheese. The American guarantees a smooth sauce with any other cheese you add.
Buy the best white American cheese your deli counter sells, and have them cut it thick for you. I do this so I can dice it up at home and drop it into my sauce for easy incorporation.
Because you have used processed cheese, this sauce holds up really well in the fridge and reheats like a dream. It does NOT split and can even handle being warmed back up a few times.
The dip will keep in the fridge for 7-10 days.
Substitutions
There is no substitution for the American cheese, it gives the dip the perfect consistency, but you can use white or yellow, and either will work in the end.
I like the pepper jack for some extra flavor in this White Queso Dip, it also helps keep it white. But if you wanted to make a more traditional queso, you could use yellow American cheese and cheddar.
I use a can of diced green chilis because it is easy. You could also put fresh peppers in it to your heat tolerance as desired. Jalapeno or Habanero or beyond!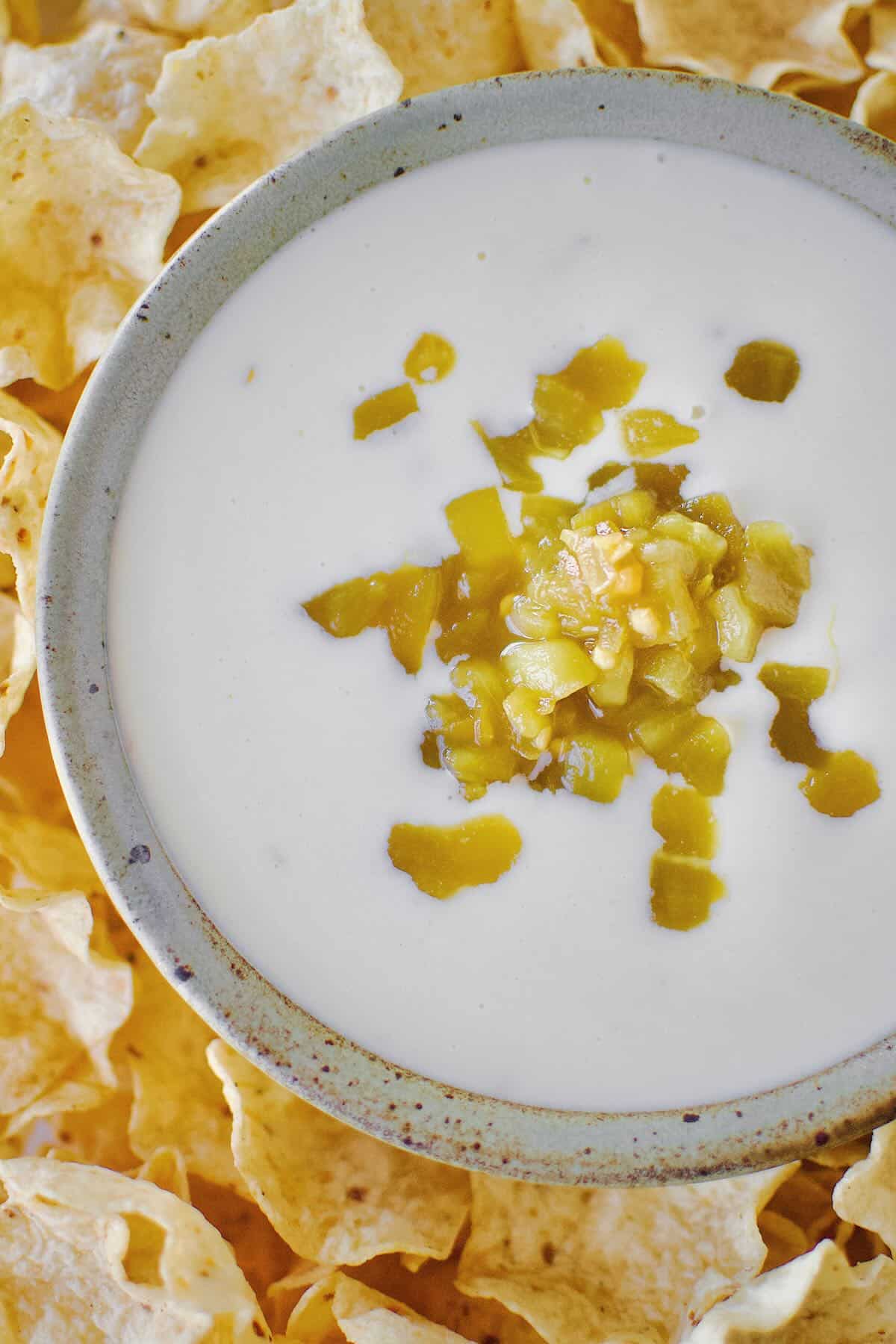 Did you make this recipe? Let me know by leaving a review or comment! And be sure to sign up for my newsletter, and follow along on Instagram, Pinterest, and Facebook!