Crispy, meaty, cheesy. Those descriptors alone are enough to make me want to make these Philly Cheesesteak Egg Rolls. And there is no fusion here, just delicious filling wrapped in dough and fried, the baseline of great American indulgence.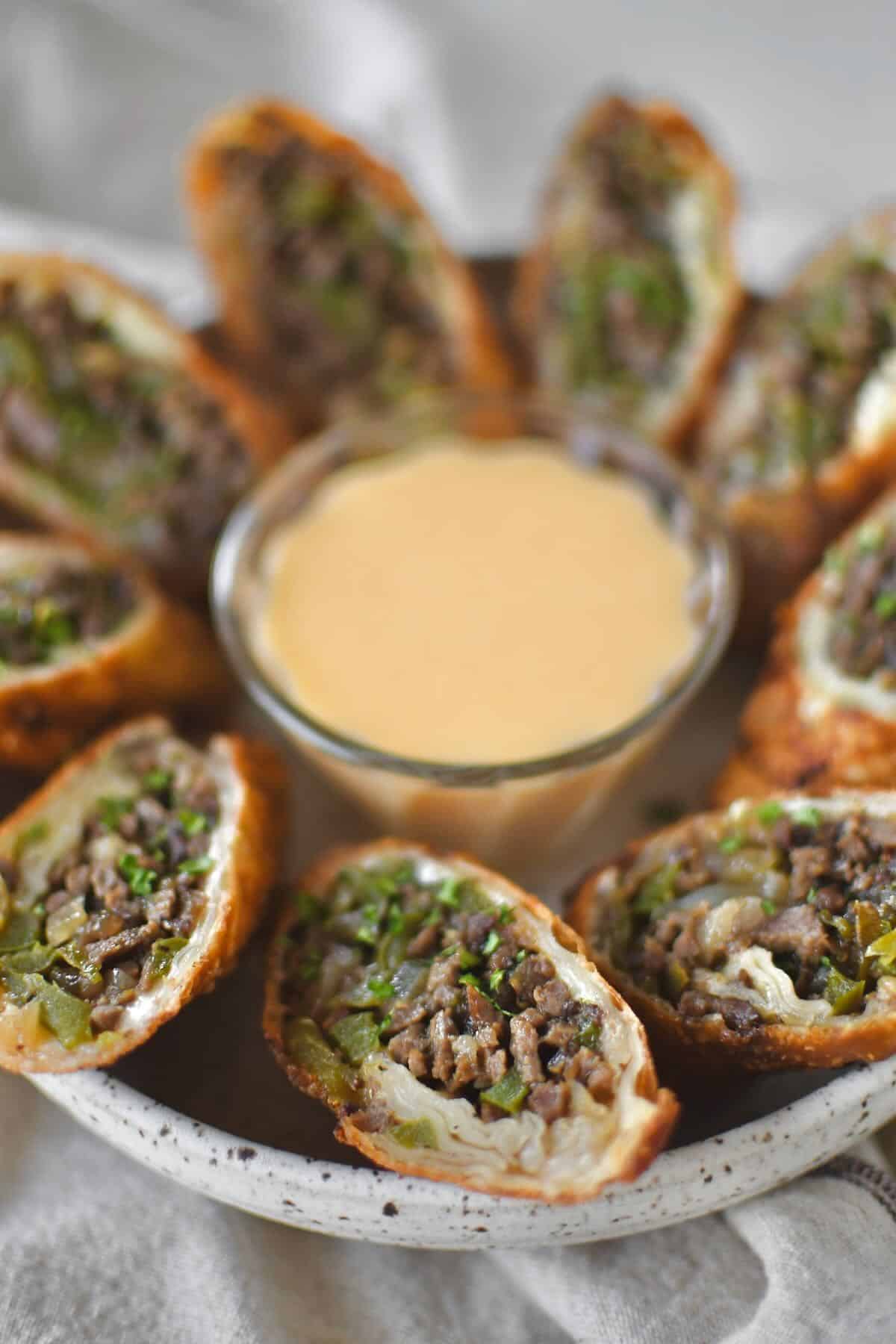 These egg rolls are so tasty I could eat them every day! They have all the flavor of a cheesesteak sandwich, but all wrapped up in a perfect little bundle.
Jump to:
Ingredients
I like to make this recipe when I have remnants of my Homemade Roast Beef for Sandwiches. It is a great way to utilize every inch of the roast, and you get a whole new meal out of it.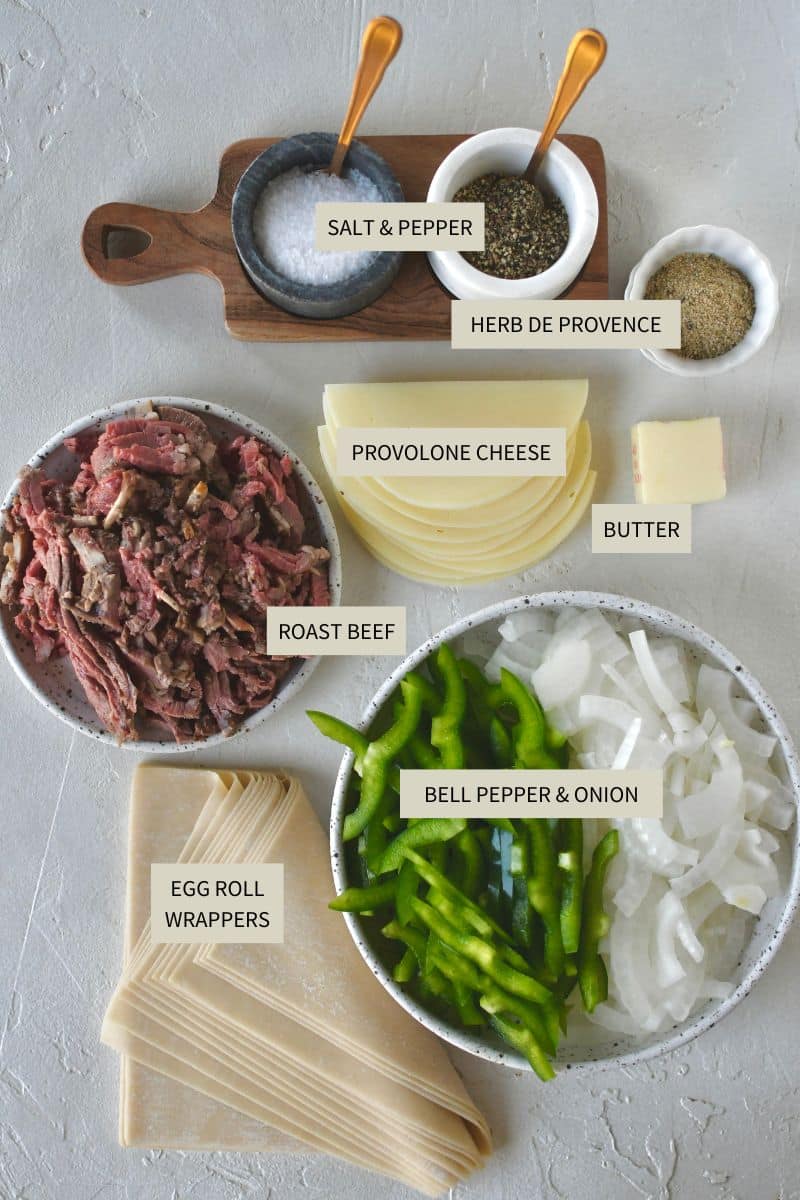 Then you just need some veggies, seasoning, and egg roll wrappers. The herbs de Provence just ups the flavor of the beef and veggies.
Use the JUMP TO RECIPE button at the top of the post, or scroll to the bottom of the post to see the full recipe card with ingredient measurements and instructions.
Method
To make the egg rolls, I first make the filling. In a hot skillet, saute the onion and bell pepper in the butter until they are soft. Then add the beef and seasonings and cook till it begins to crisp and brown, this adds more flavor.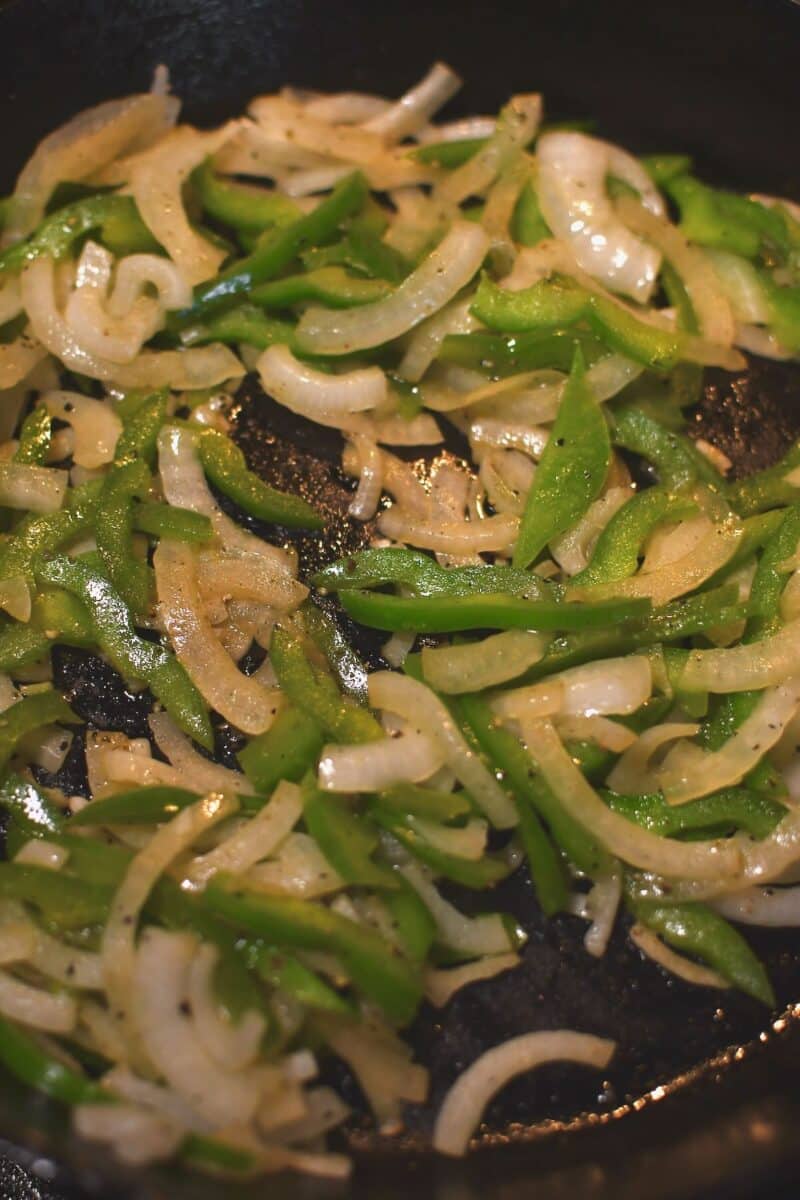 Let the beef and veggies cool a bit, then get ready to roll. Place a piece of provolone in the middle of an egg roll wrapper, and wet all the edges with water. Fold up the bottom corner, then the sides, and roll as tight as you can without ripping the wrapper. Form a tight cylinder and continue until all the meat mixture has been used.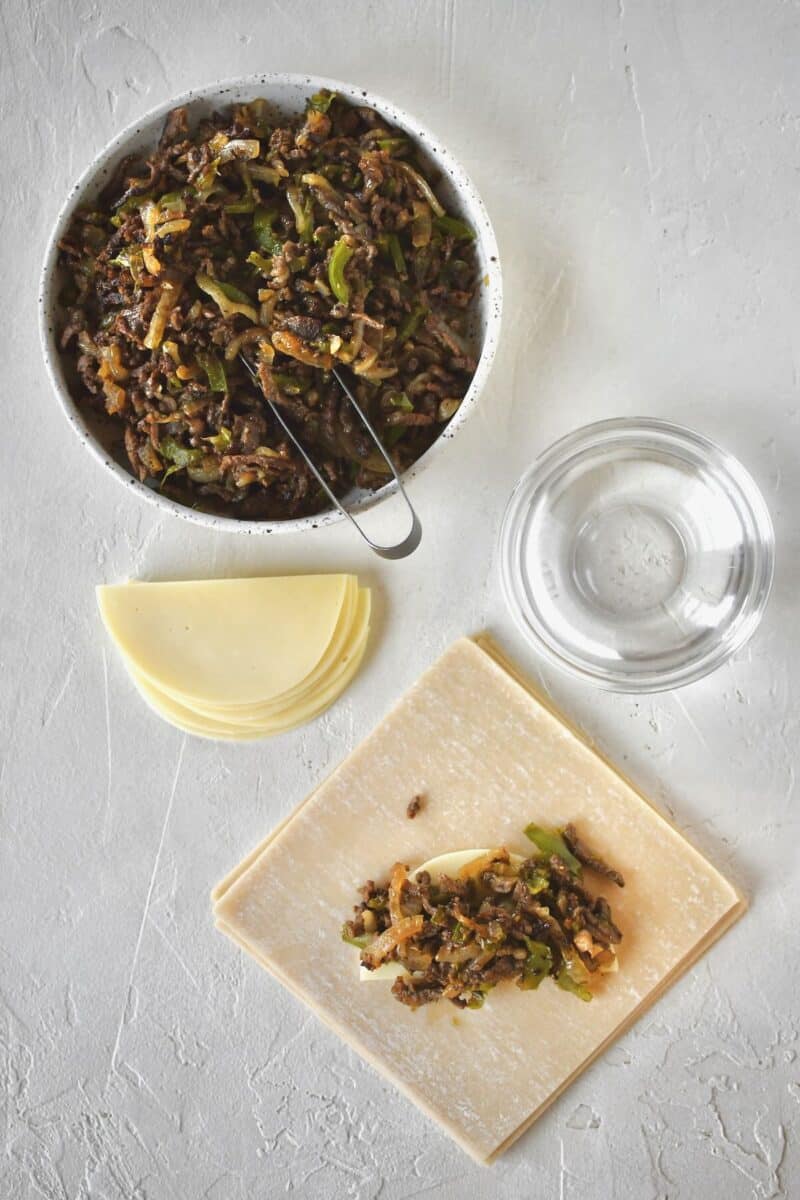 Then deep fry them in oil or brush with a little oil and air-fry till crispy. Either method works, but I tend to opt for the traditional deep fry most of the time. If you like, you can serve the egg rolls with the optional cheese-wiz-like sauce, cause who couldn't use more cheese on their Philly!?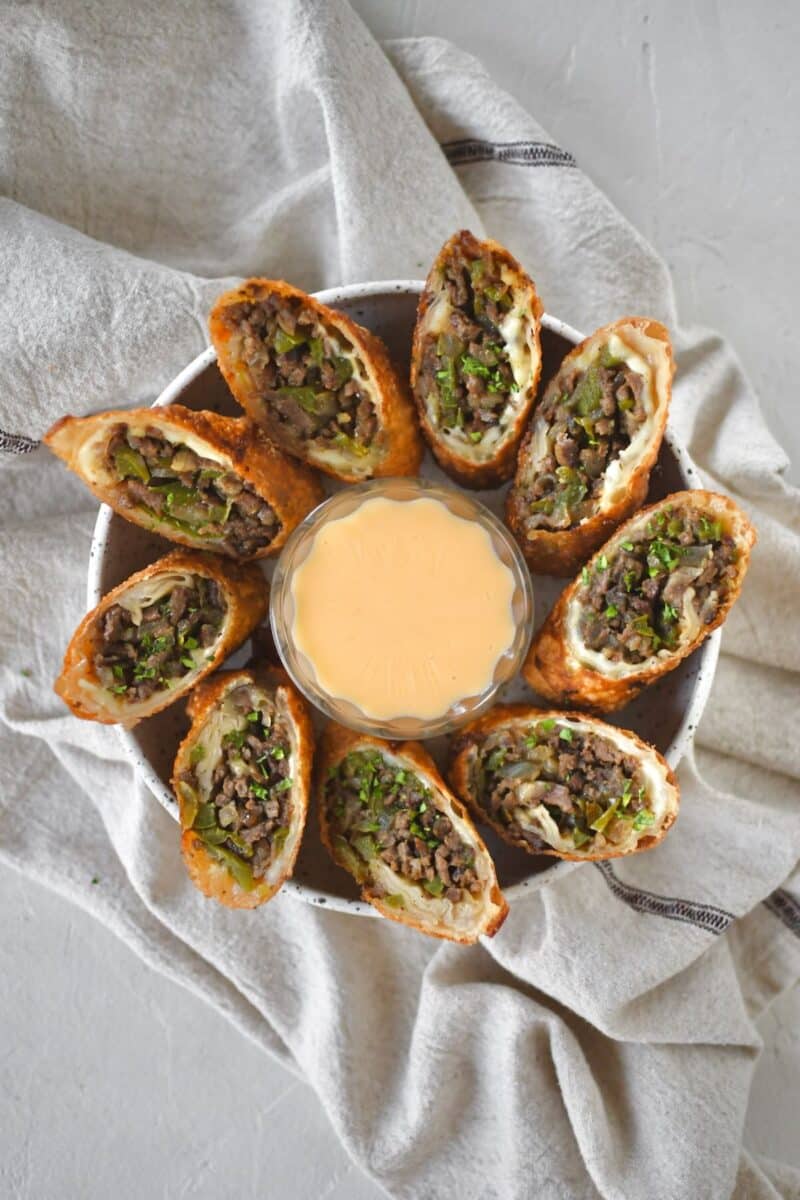 Notes & Tips
When using Herbs de Provence in a recipe like this, I like to grind it down a bit in a spice grinder. The spice blend comes in a whole, dry form, and grinding it down a bit helps spread out the flavor and makes it more enjoyable to eat.
Be sure to not overfill the wrappers. The final rolled egg roll will probably be smaller than you think it will be. But that is right. A finished egg roll will be about 1 ½ inches by 3 ½ inches or so.
Substitutions
If you prefer not to use butter, you can swap it for olive oil.
I feel like green bell pepper and yellow onion are the most traditional, but you can use any color of bell pepper or onion. A red onion will simply give a bit more sweetness.
I use my homemade deli roast beef, but you can also pick some up at the grocery store deli counter. I like to use deli roast beef because it gives the feel of steak-ums that would be used in traditional Philly's, with much less work.
I like to use Herbs de Provence because I think they up the beefy flavor of this recipe. It is a great compliment, but you could also use a good steak seasoning if needed.
If you'd like to make this dairy-free, opt for a dairy-free cheese slice, it can even be an American cheese slice swap if needed. And most egg roll wrappers are vegan, so no dairy there either.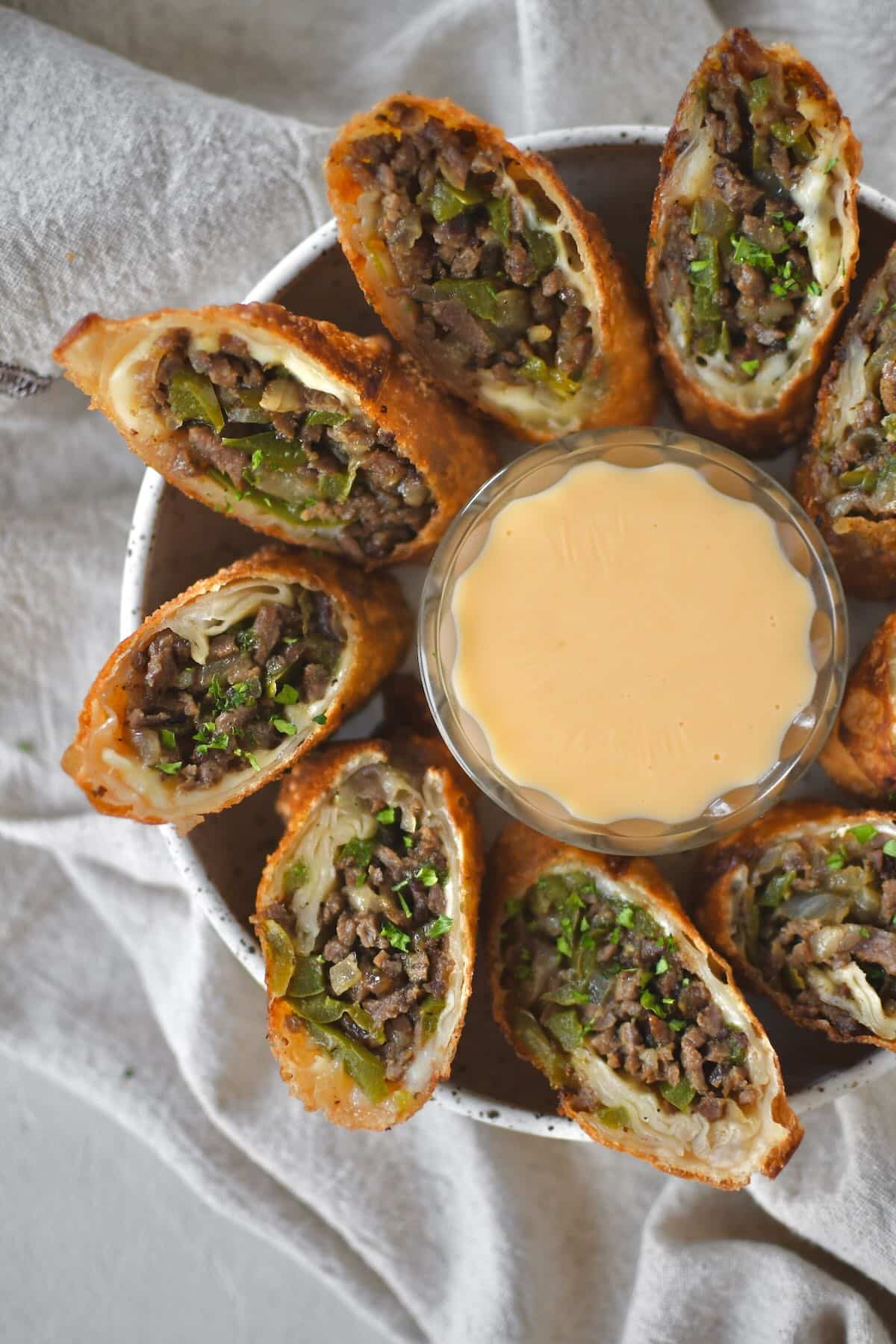 Did you make this recipe? Let me know by leaving a review or comment! And be sure to sign up for my newsletter, and follow along on Instagram, Pinterest, and Facebook!