Is there anything better than rich creamy sauce coating perfectly cooked pasta? Well adding chicken to it and making it this Cajun Chicken Alfredo. But that's about it!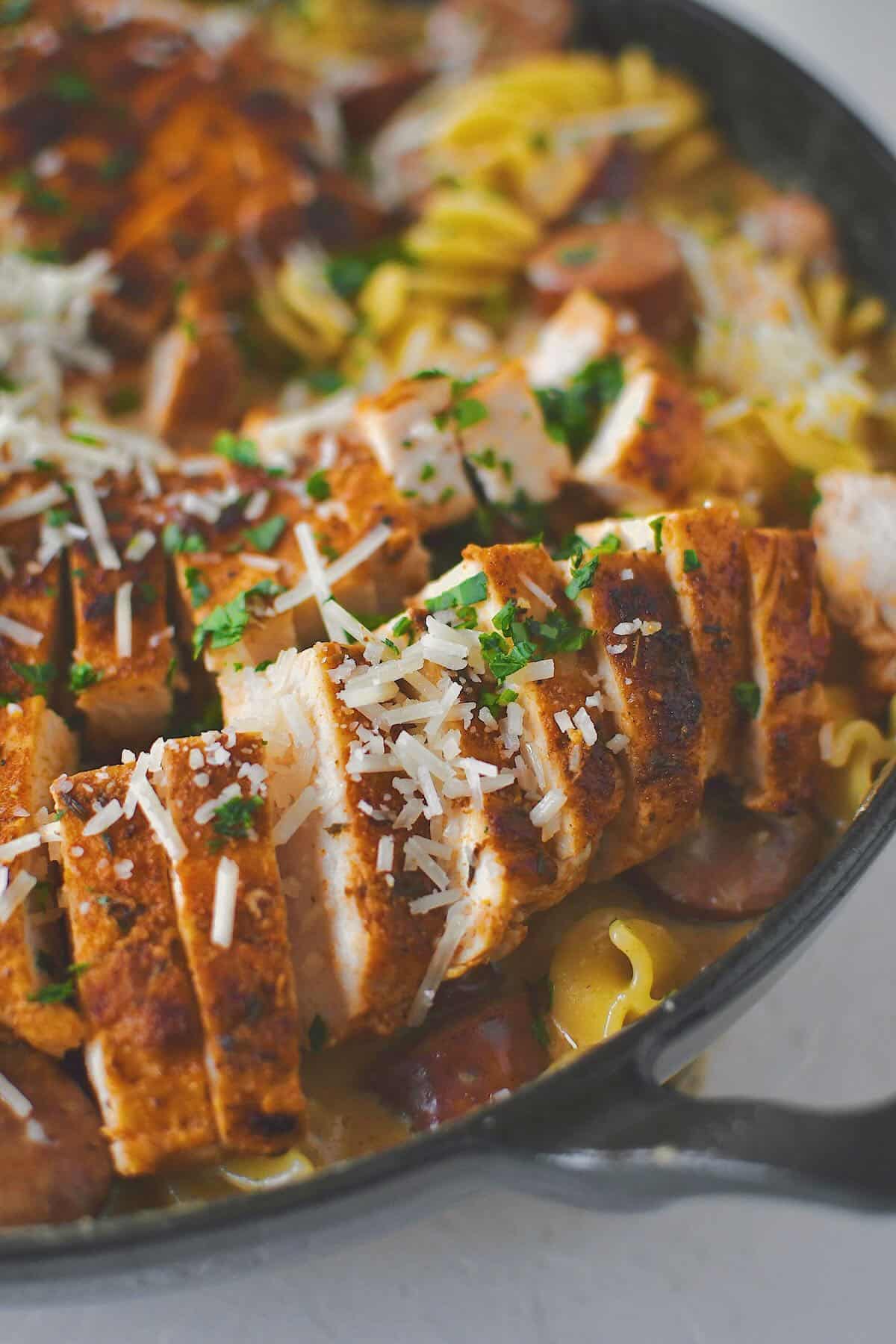 And as I did, you can use any pasta you like or find at the store to make this recipe. Fettucini would be traditional, but I found this giant fusilli at the store and just had to have it. That is the beauty of cooking at home, you get to do whatever you want!
Jump to:
Ingredients
When making this recipe, it is a perfect excuse to use my homemade Cajun Seasoning. I use it like blackened seasoning on the chicken and sear it before making the sauce. I also add andouille sausage, because my family of meat eaters likes their pasta with lots of protein!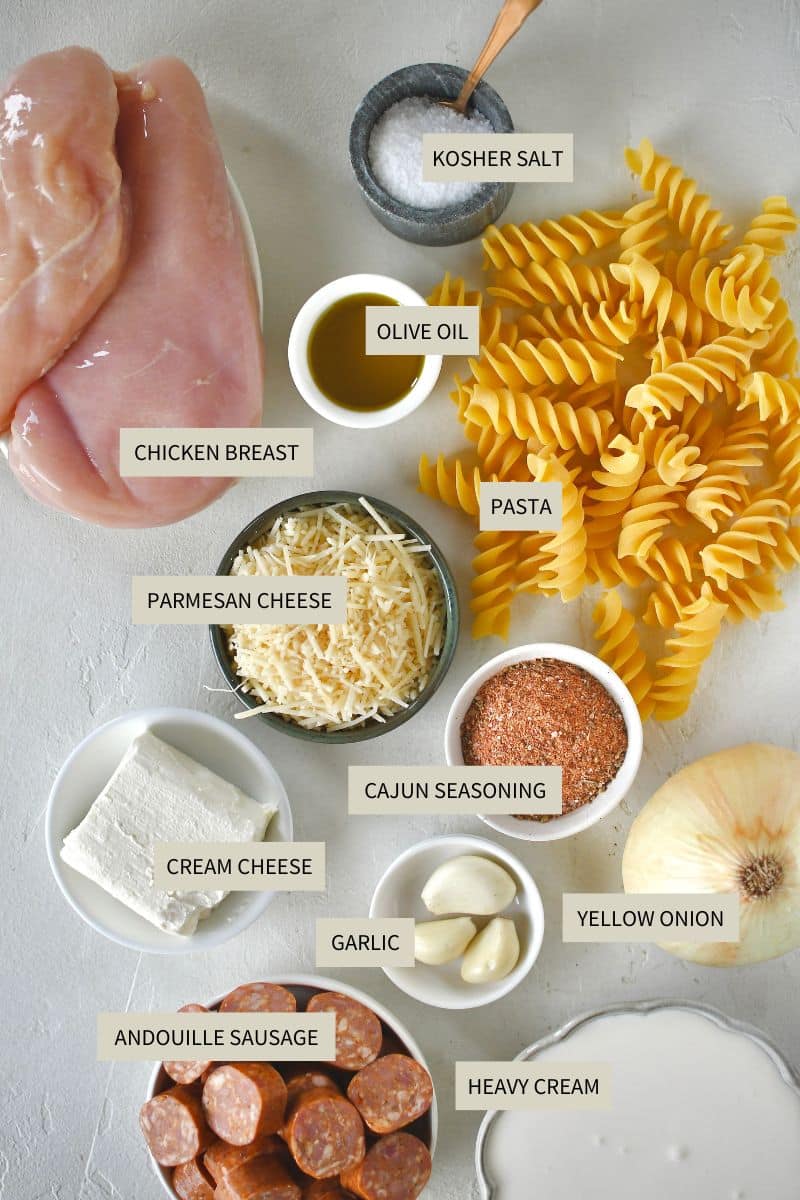 And feel free to use any pasta you like or find at the store. I picked up the giant fusilli at trader joes, but any noodle you like works great!
Use the JUMP TO RECIPE button at the top of the post, or scroll to the bottom of the post to see the full recipe card with ingredient measurements and instructions.
Method
I start this recipe with the chicken. Place it between two pieces of cling film and pound it flat with a meat mallet or small frying pan. Then season it generously with the cajun seasoning.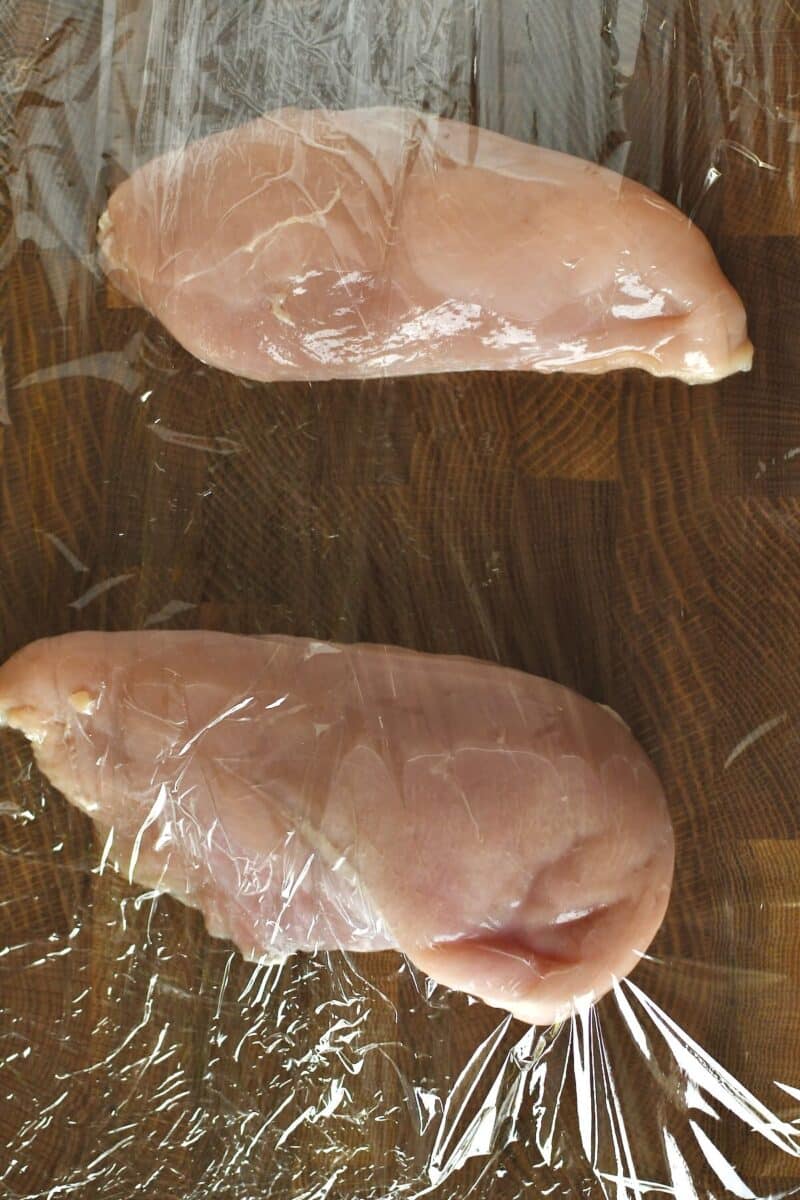 This recipe is almost a one-pot meal, aside from boiling the pasta in a second pot. I start by searing the chicken breast in a large deep skillet until slightly "blackened" by the seasoning. Then remove it from the pan and cook the onion and sausage in it before adding the cream and cream cheese to it.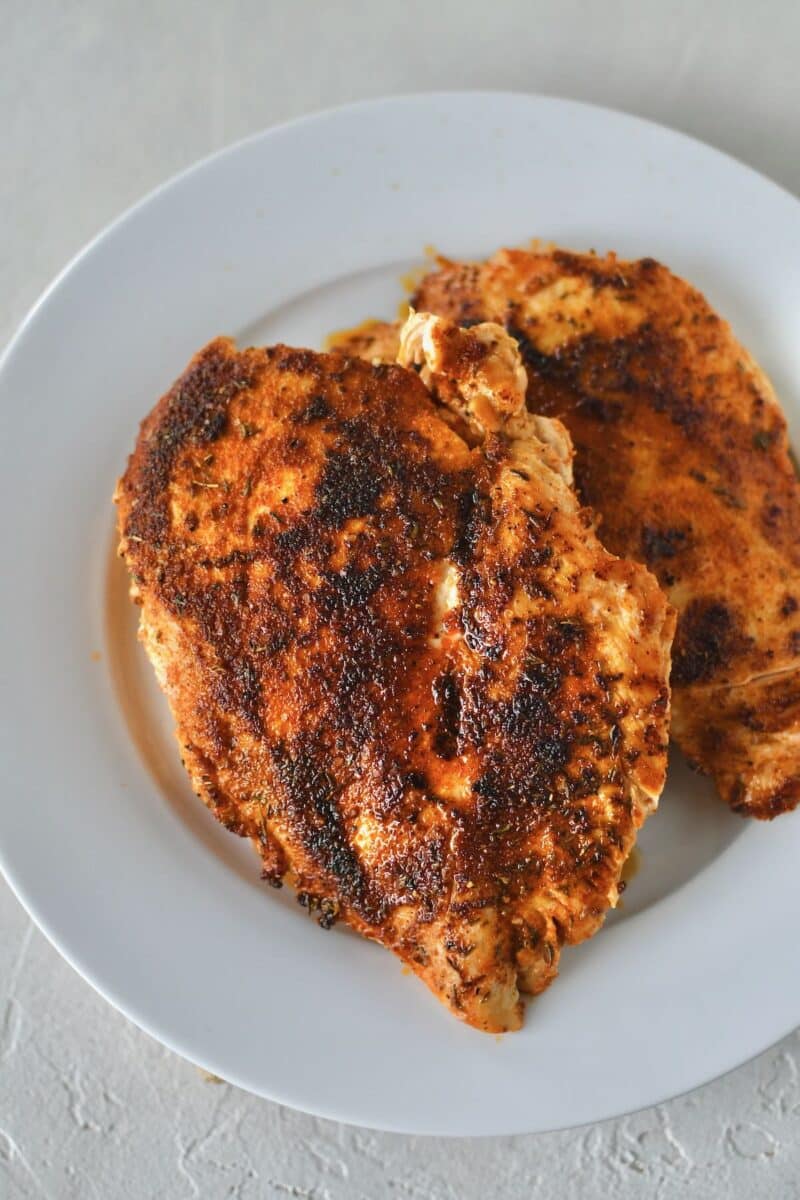 Bring the sauce to a simmer and cook until the cream cheese is fully melted int. Add the parmesan, and some parsley, and toss the cooked pasta in. Stir everything together.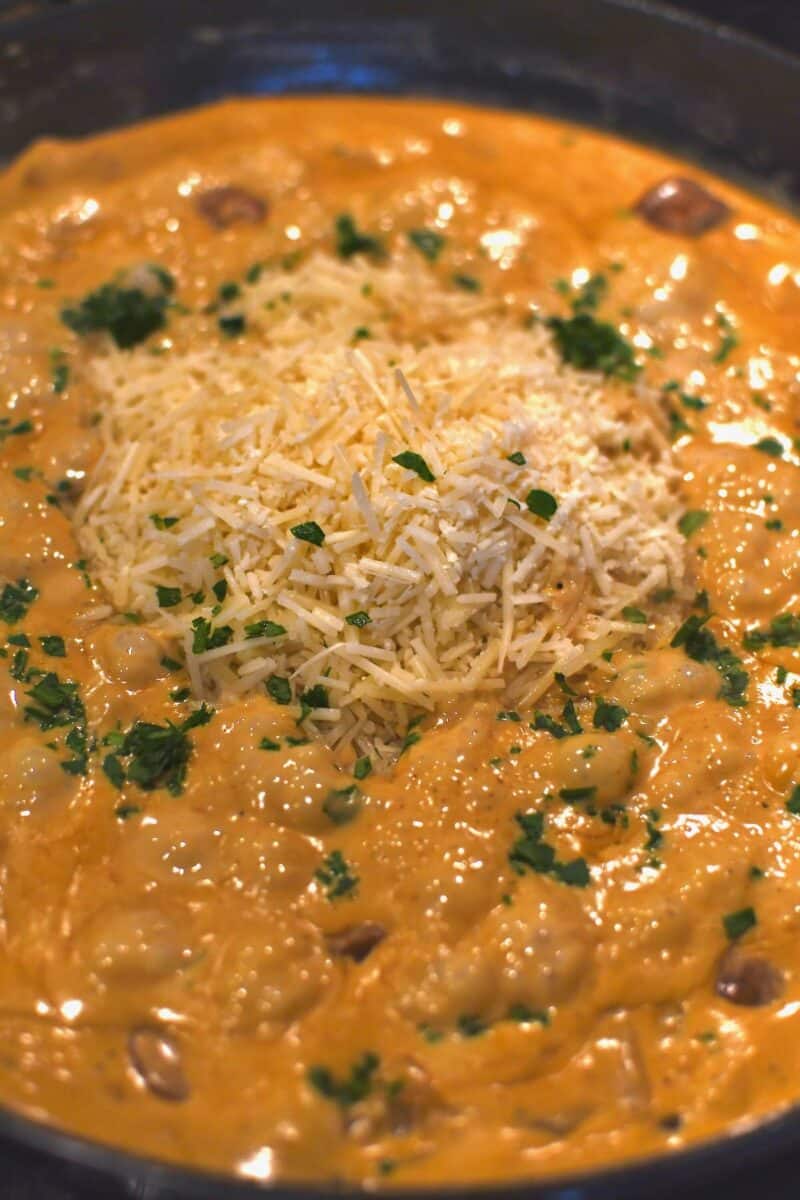 Simmer the noodles in the sauce for a couple of minutes, then slice the chicken and place it on top. Garnish with a little more parmesan and some more parsley and dinner is ready. This meal can be on the table in 30-40 minutes and is a tasty, filling, dinner the whole family will enjoy.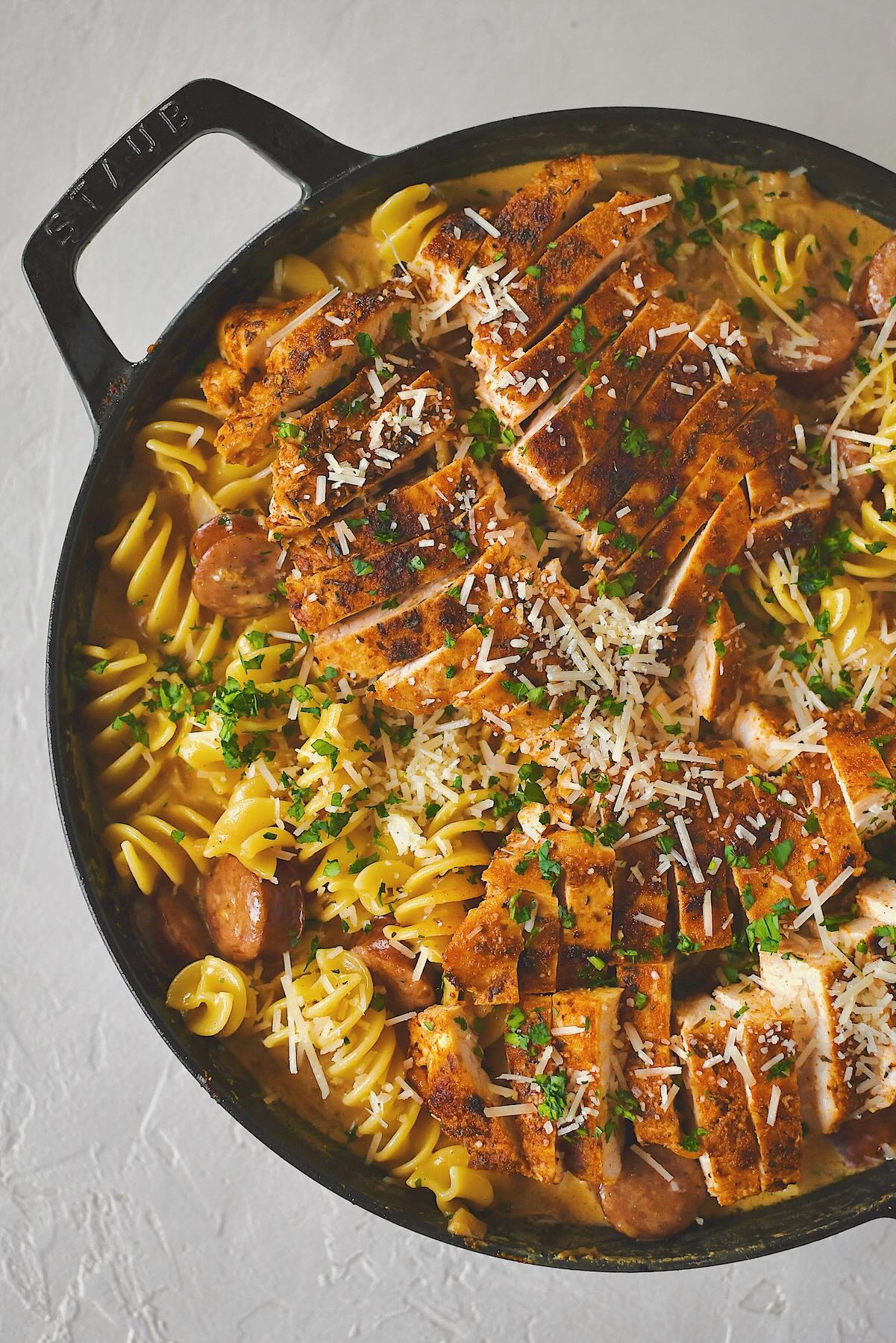 Notes & Tips
The only thing keeping this from being a true one-pot wonder is cooking the pasta separately. Other than that it is spot on. But I prefer this over cooking the pasta in the sauce.
Flattening the chicken as the first step both tenderizes it and helps it cook quickly when searing it. Don't skip this step, it makes it much better.
If using my cajun seasoning, toss it in a spice grinder for a couple of pulses to make the oregano and thyme finer. This also helps give it that blackened seasoning effect when searing it.
The chicken does not have to be fully cooked, just cooked till dark browned or slightly blackened. I actually prefer not to cook it all the way, as it typically carry over cooks as it rests. And it ensures it stays tender and moist, and it can finish cooking when you put it on top of the finished pasta and sauce if needed. If you have any concerns it hasn't cooked all the way, stir it into the pasta and simmer for 1-2 minutes to finish it.
Substitutions
As you see in my photos, I used giant fusilli pasta, but you can use ANY pasta you prefer. Fettuccini would be traditional.
If you prefer, you can leave the chicken out and just use the sausage, or vice versa.
Cream cheese is what I usually have around for recipes like this, you could also use creme fraiche or Neufchatel.
I think the parmesan cheese really compliments the alfredo sauce, but pecorino could also be used. I think pepper jack would also be great and complement the cajun flavors.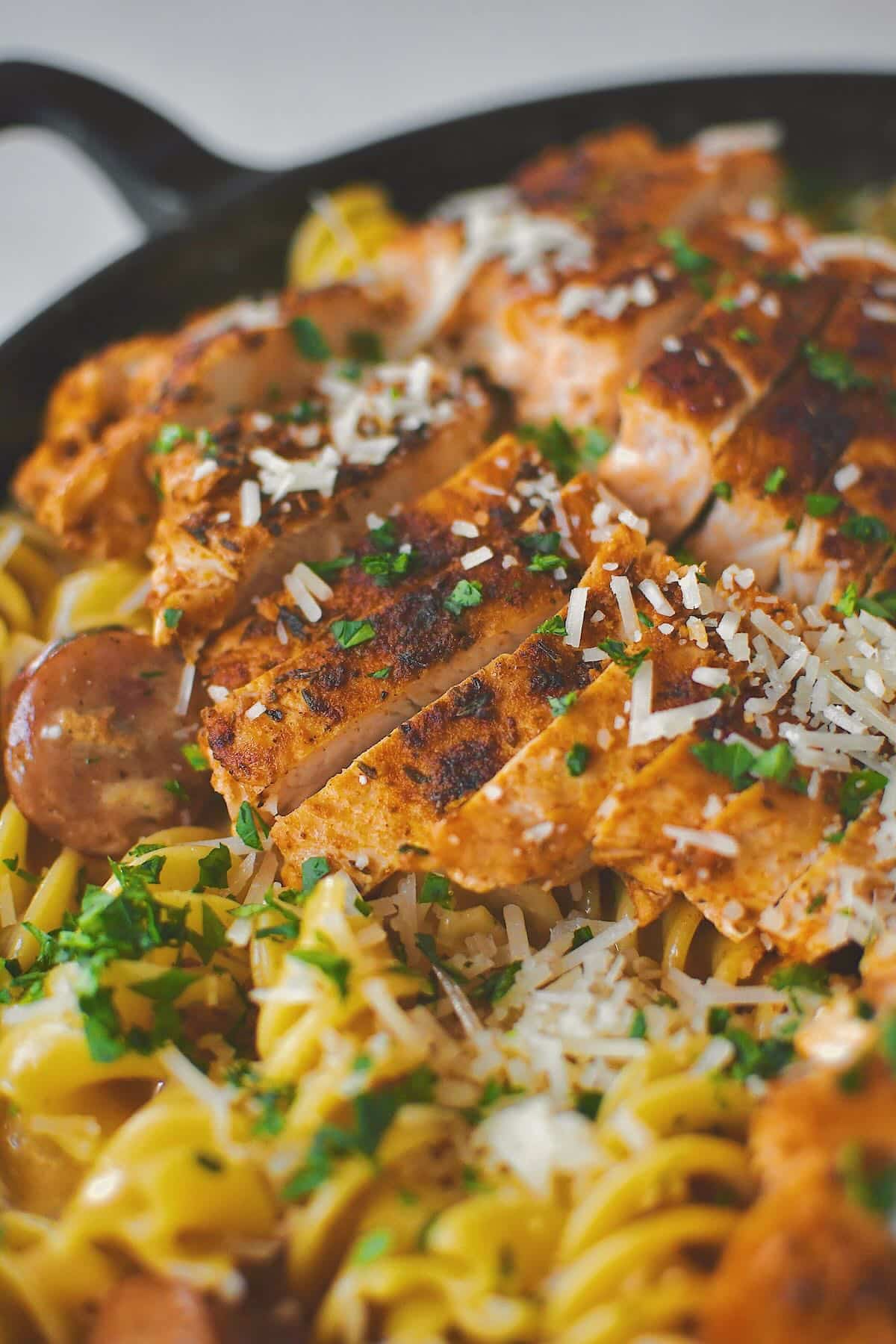 Did you make this recipe? Let me know by leaving a review or comment! And be sure to sign up for my newsletter, and follow along on Instagram, Pinterest, and Facebook!