This recipe for Crispy Smashed Potatoes is super simple and makes a great side dish for an array of meals. But they are also a great snack dipped in sour cream too.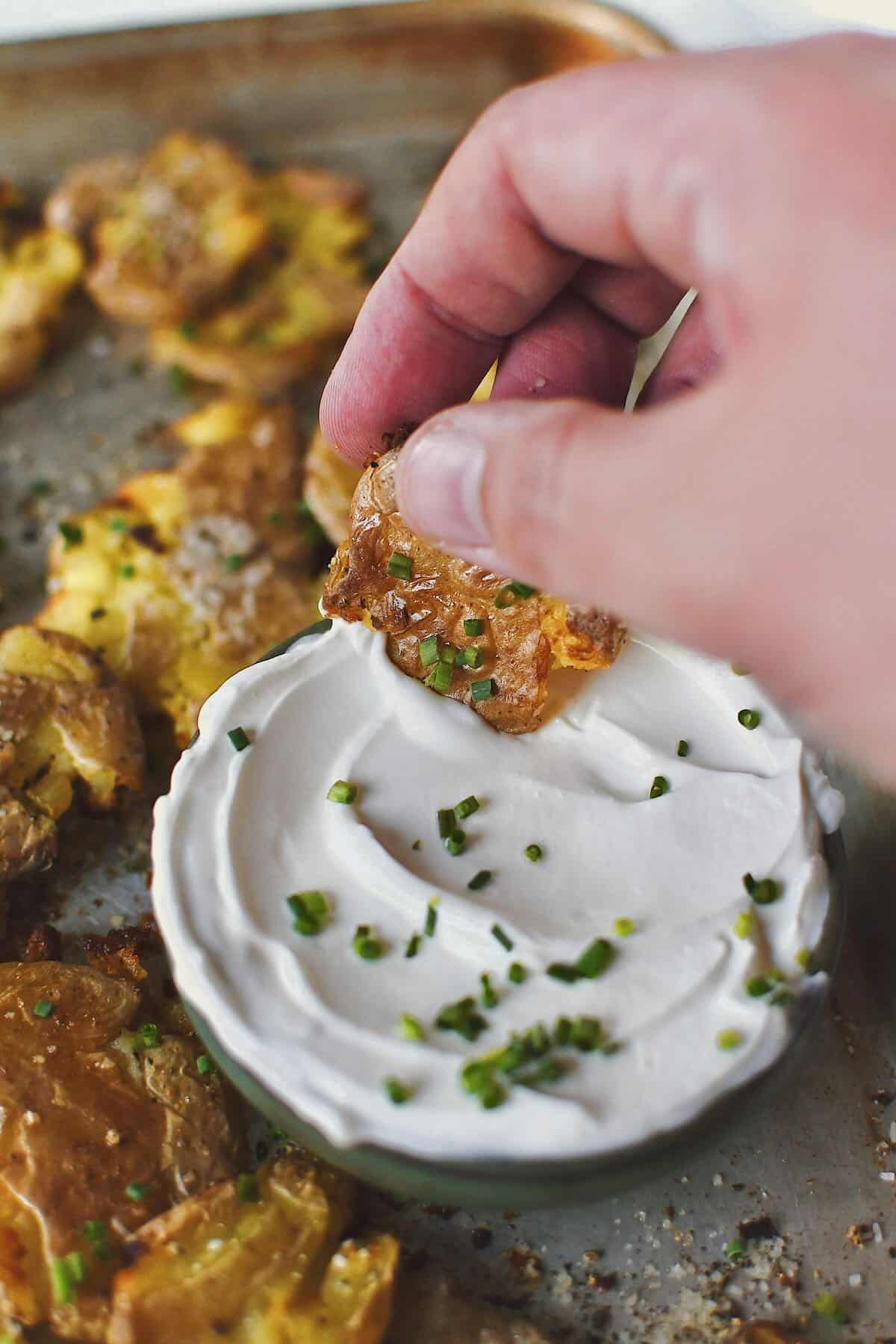 I like to serve them alongside my Instant Pot BBQ Ribs, or Roasted Rack of Lamb. But I really love them under my Irish Chicken with Whiskey Cream Sauce so soak up all the extra sauce that runs off.
Jump to:
Ingredients
The ingredients list for this recipe could not be simpler. And whats better than potatoes and butter together? They are a match made in heaven.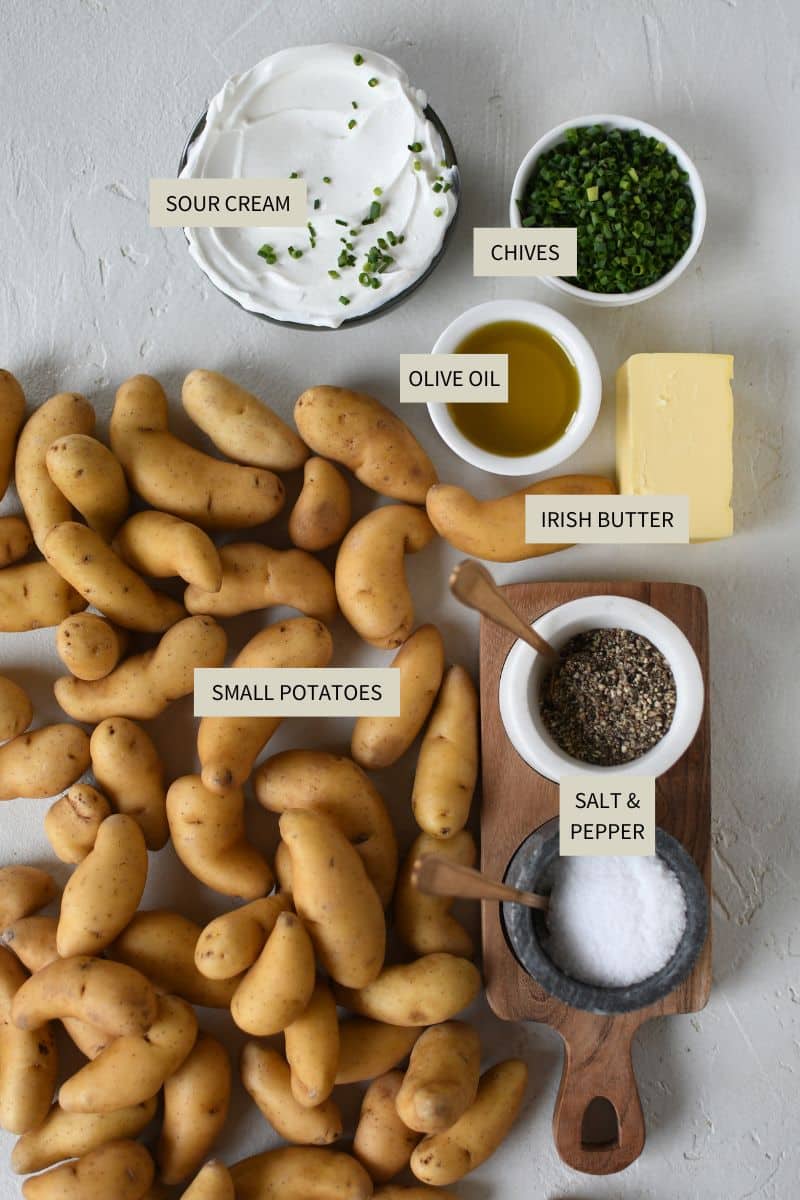 I like to use these fingerling potatoes to make my smashed potatoes. But any smaller-sized potatoes work. Just choose something where there are all fairly the same size so when you boil them they all cook at the same time.
Use the JUMP TO RECIPE button at the top of the post, or scroll to the bottom of the post to see the full recipe card with ingredient measurements and instructions.
Method
First, bring a pot of water to a boil and cook the potatoes till they are fork tender and they smash easily when pressed. You don't want to cook them to mush, but they should smash with little effort and not bread apart much. When they are ready to be smashed, remove them from the water to a rimmed baking tray.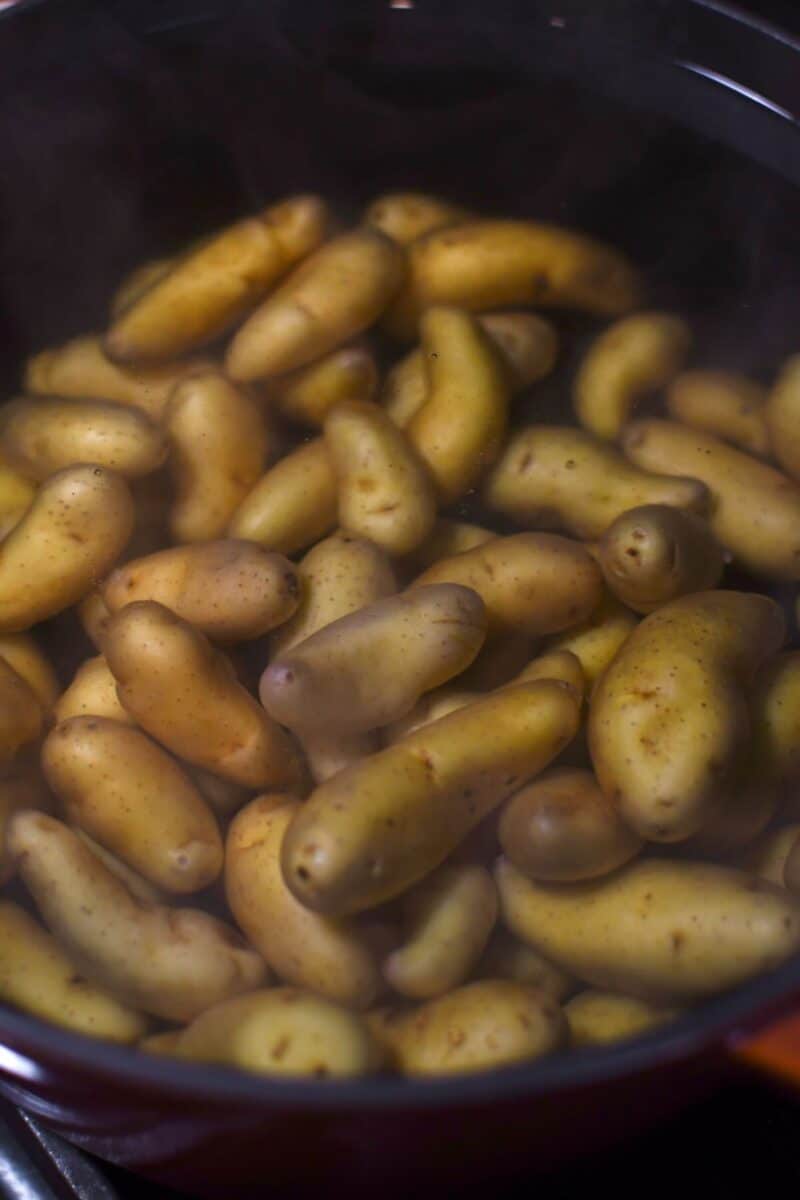 Using the bottom of a sturdy glass, smash each potato and space them out on the tray or trays just till they don't quite touch. Drizzle over the butter and oil them sprinkle them with salt and pepper.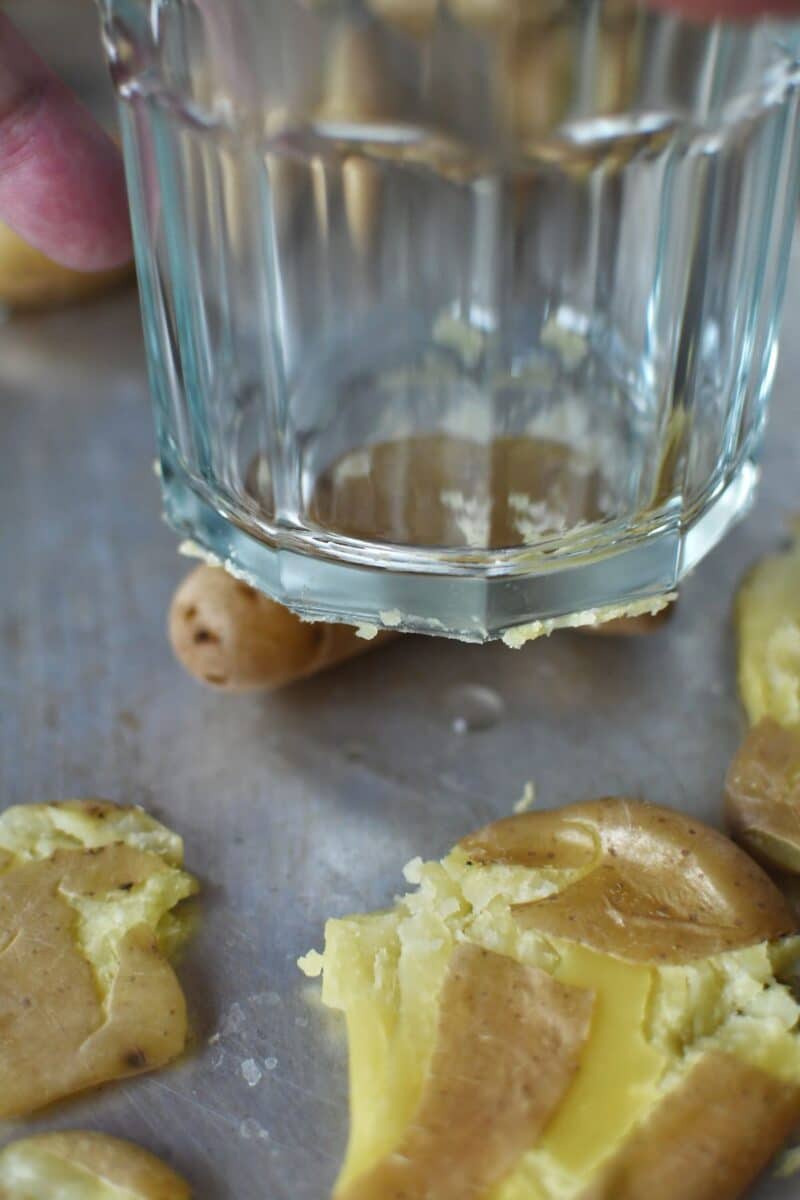 Toss them in a hot oven till they get nice and crisp on the bottom and sides and they get stiff enough to pick up. This is when you know they are done. Garnish them with the chives, and I love this because you can smell the chives as soon as they hit the hot potatoes and it smells so good!
The potatoes are ready to snack on with some sour cream for dipping or toss them alongside your favorite dinner.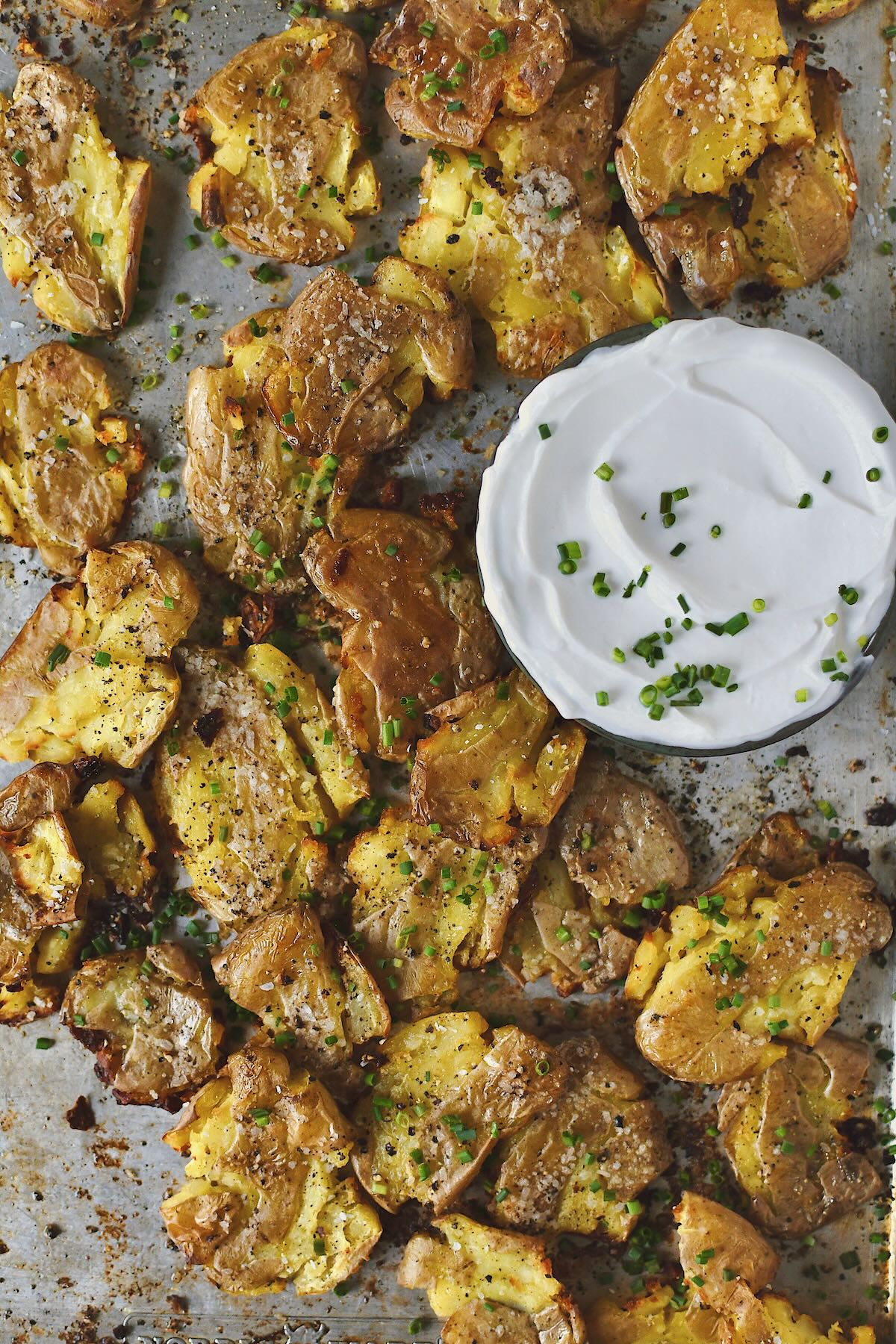 Notes & Tips
Choose potatoes that are all mostly the same size so when you boil them they will all become soft at the same time.
Spread the potatoes out among two sheet pans if needed, you don't want to have overlap or stacking, they won't get crisp that way.
I use a drinking glass to smash my potatoes, but you can use pretty much anything with a flat bottom. Just make sure it is sturdy, don't go using grandmas crystal to smash potatoes.
These make a great snack or add to let's say, a Super Bowl Spread, but they also hold up great to being a dinner side dish. There are plenty of ways to use this great recipe!
Substitutions
I choose fingerling potatoes for my recipe, you could also use small russets, Yukon golds, or new red potatoes too. You can make this recipe with ANY potato you fancy.
The butter is there to help the potatoes caramelize and give some flavor. But if you'd like to keep this recipe dairy-free or vegan, simply use all olive oil and leave the butter out.
Chives just go with potatoes and sour cream in my opinion, but just like with the potatoes, pretty much any herb goes with them. Don't like oniony\garilcy chives, use thyme, rosemary, or basil. Potatoes are friends with almost all herbs.
And again, if you are keeping dairy-free or vegan, leave the sour cream out, it is just an optional dipper. There are also some great plant-based sour creams out there you could also use.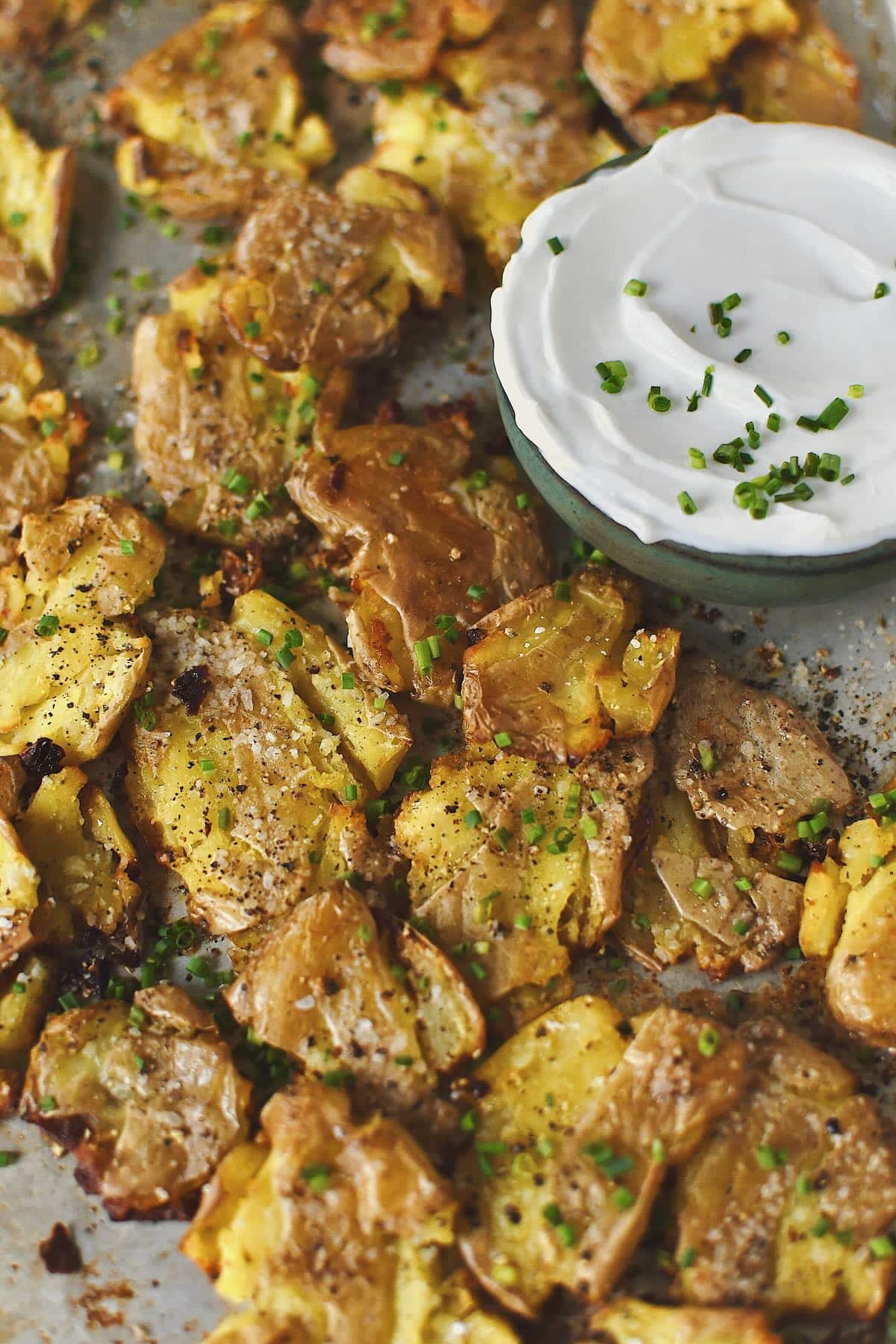 Did you make this recipe? Let me know by leaving a review or comment! And be sure to sign up for my newsletter, and follow along on Instagram, Pinterest, and Facebook!