I am quite the peanut-butter-aholic, the love runs DEEP, and these Fluffernutter Cookies evoke nostalgia while also satisfying my peanut butter craving!
If you are looking for the Fluffn'Butter Cookie (that's what we had to call it for T.V.) that was baked in the Silos Baking Competition by ME, this is the recipe. If you haven't already heard, you can see me bake them for Joanna Gaines, as a baker in Season 1 of the Silos Baking Competition on Magnolia Network.
It was a blast meeting her and if you followed my journey of cooking through her whole first cookbook, you'll know it was a dream come true!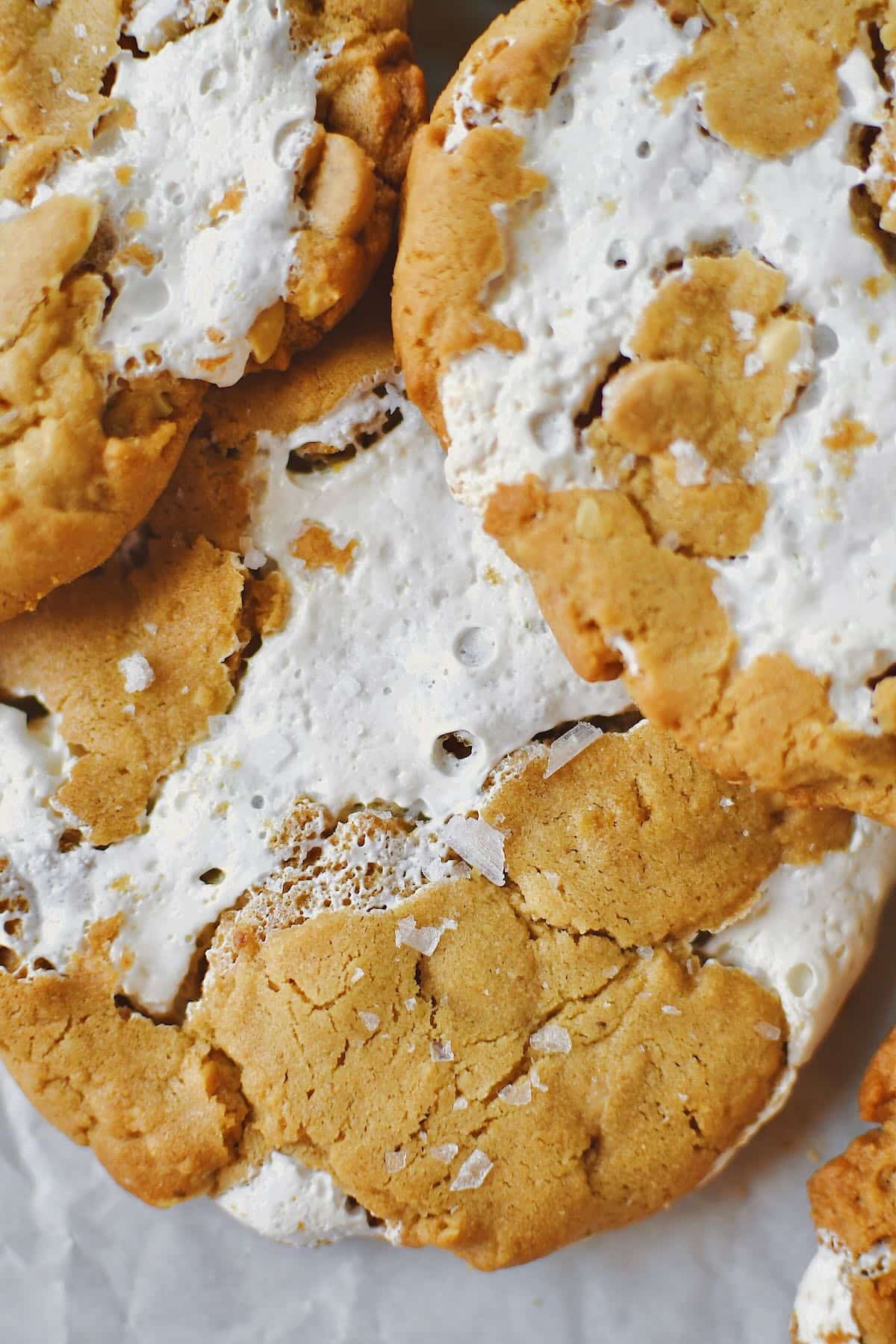 Pillowy marshmallow cream surrounded by decadent peanut butter cookie dough will have you reminiscing on those namesake fluffernutter sandwiches of summer days past! I can still taste it, lots of peanut butter, a heaping glop of fluff, and some crisp potato chips from the yellow bag! It was my favorite summer treat.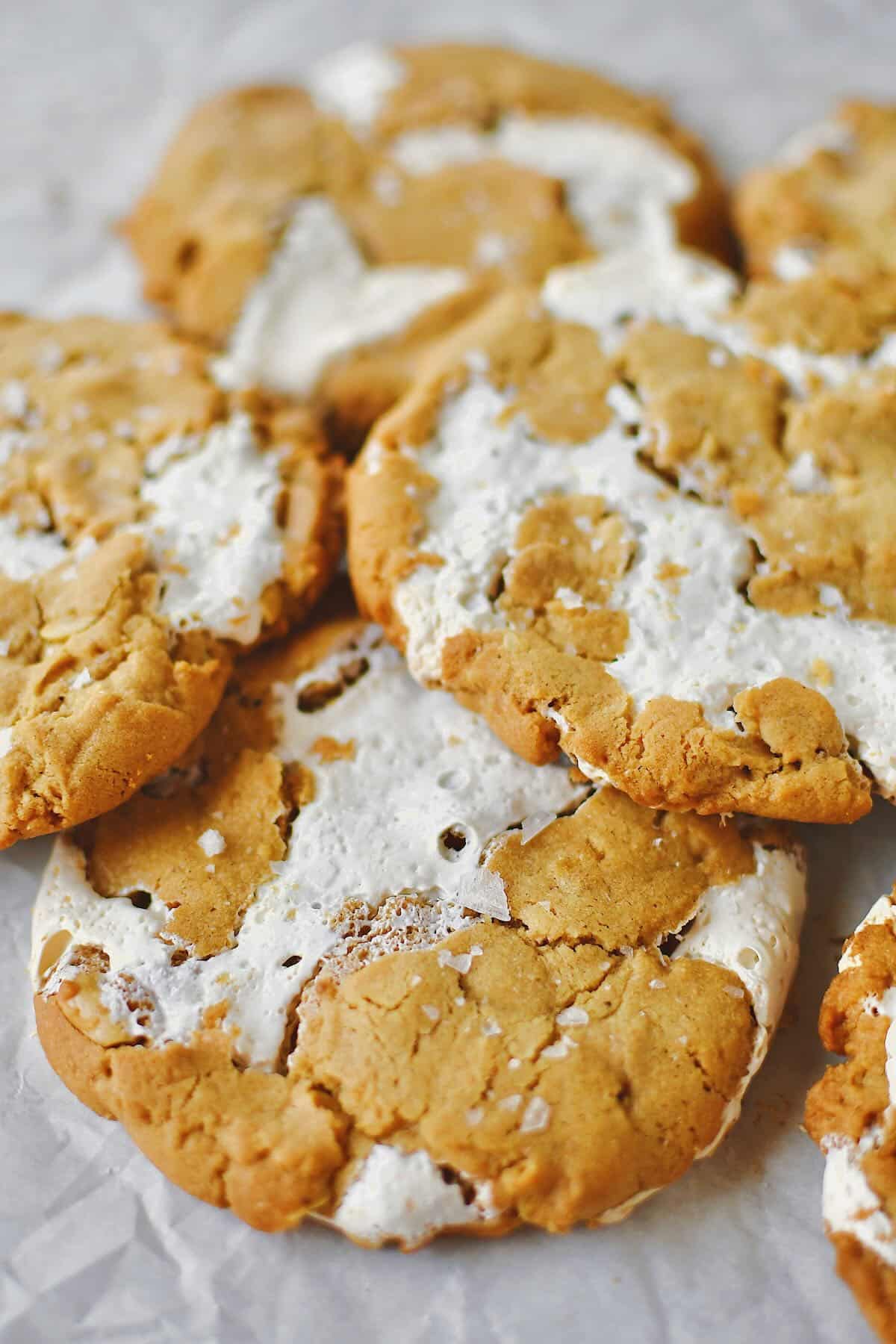 And if you are not as much of a peanut butter fan as I am, you may be asking, what is a fluffernutter? It is a peanut butter and marshmallow fluff or cream sandwich. Made popular by Emma Curtis during World War I, she originally published the peanut butter and marshmallow creme sandwich naming it the 'Liberty Sandwich.' A few years later, the Curtis family developed a recipe for marshmallow fluff and offered it for sale. It included the sandwich recipe on the label and wasn't until 1960 that the sandwich was officially called a "Fluffernutter", for marketing purposes.
Jump to:
Ingredients
The one ingredient that I insist on for this recipe is Virginia Peanuts. They are extra crunchy and almost have the texture of a fried peanut if you've ever had one. They add that extra bite to the cookies and stay crisp even after baking! Everything else you need is straightforward peanut butter cookie stuff, I have actually adapted this recipe from my grandmother's original peanut butter cookie recipe, and you can see me talk to Joanna about that on the show!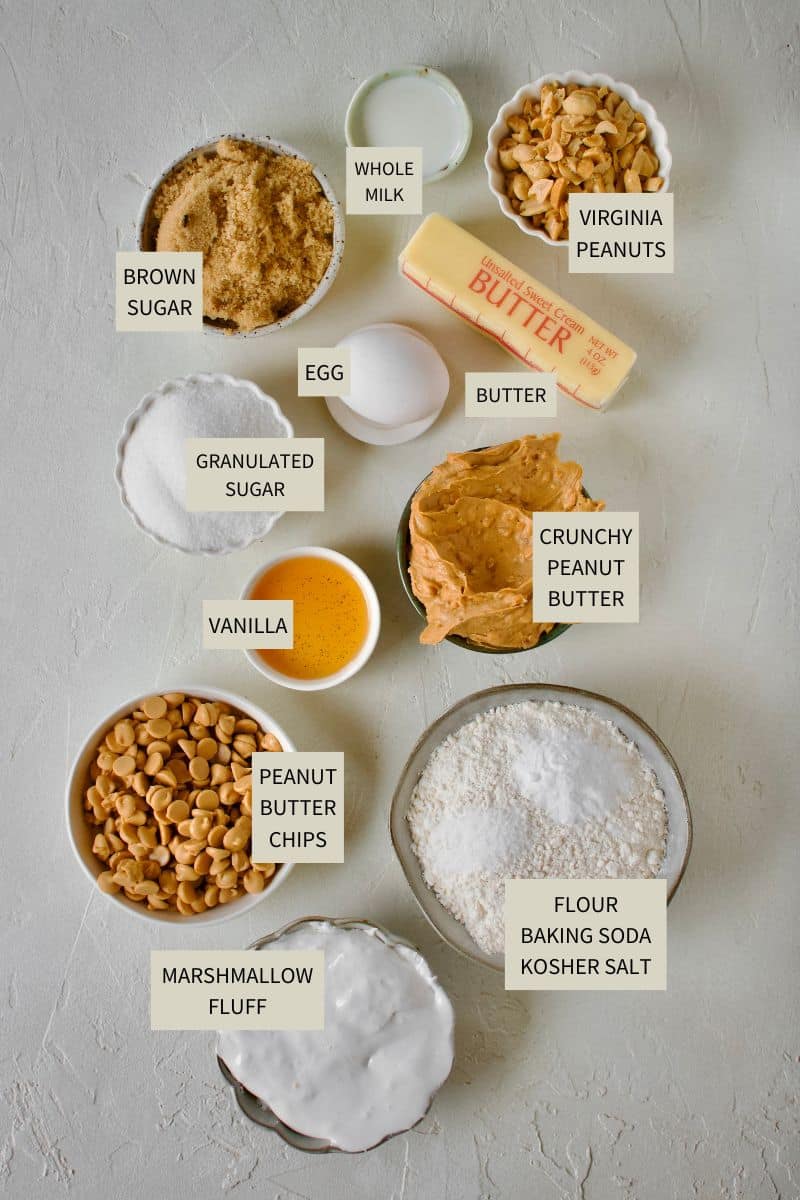 And while you can make your own fluff if you like, I prefer using using what I know and love, I think the flavor is just a little different. I find real Fluff kinda hard to find, so I order mine, GET SOME HERE. Oh, and one last note, I LOVE crunchy peanut butter, so you will also see that is what I call for in this recipe, not smooth or creamy.
Use the JUMP TO RECIPE button at the top of the post, or scroll to the bottom of the post to see the full recipe card with ingredient measurements and instructions.
Method
To make the cookies, start by creaming the butters and sugars together until light and fluffy in the bowl of a stand mixer. You should blend this for 3-4 minutes, I set a timer to ensure I get enough air in my cookie.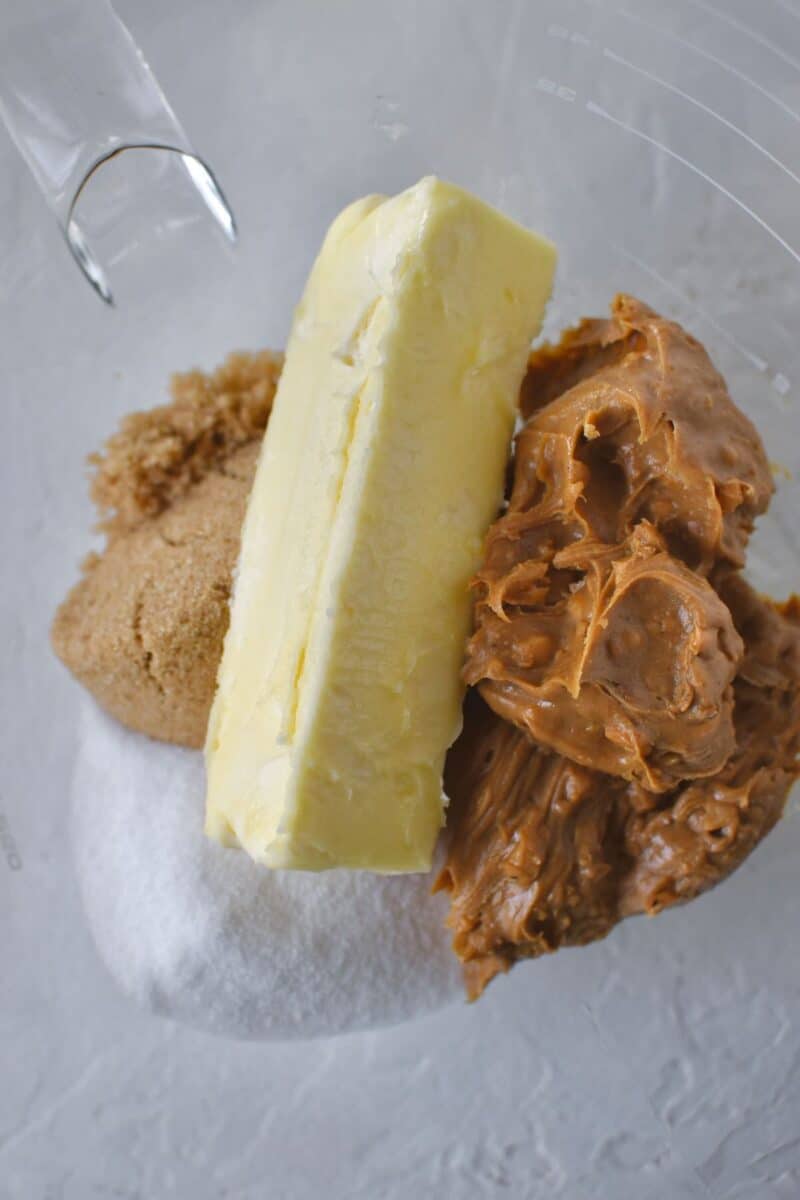 Then beat in the egg and vanilla just until completely combined. You can then add the dry ingredients and milk, giving just enough of a turn to still see a little flour streaking, then drop in the peanuts and peanut butter chips.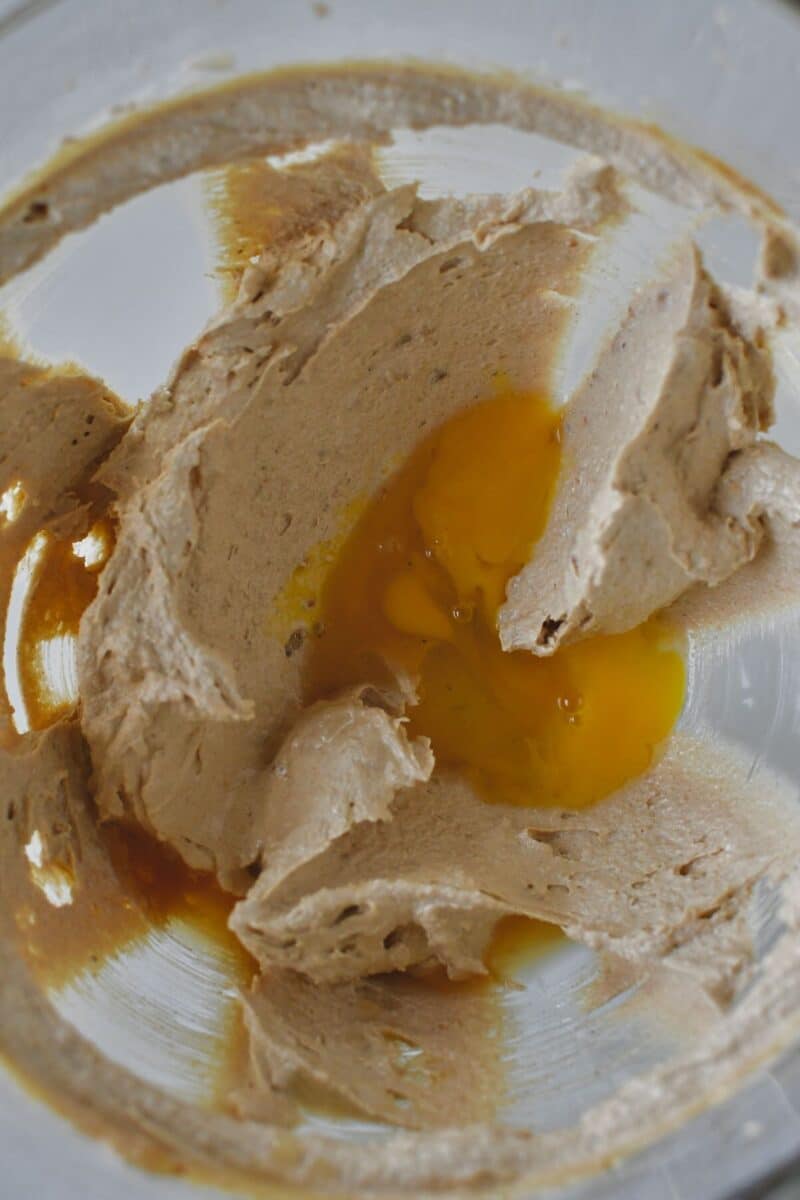 Let the peanut and chips fold in for 2-3 turns in the mixer, then portion the cookie dough out into 12, 2-ounce cookies. Use THIS SCOOP for perfect portions! Flatten the portioned dough out and fill each with about 2 tablespoons of fluff. I find it easiest to put the fluff in a piping bag, cut the tip-off, and pipe some into each cookie.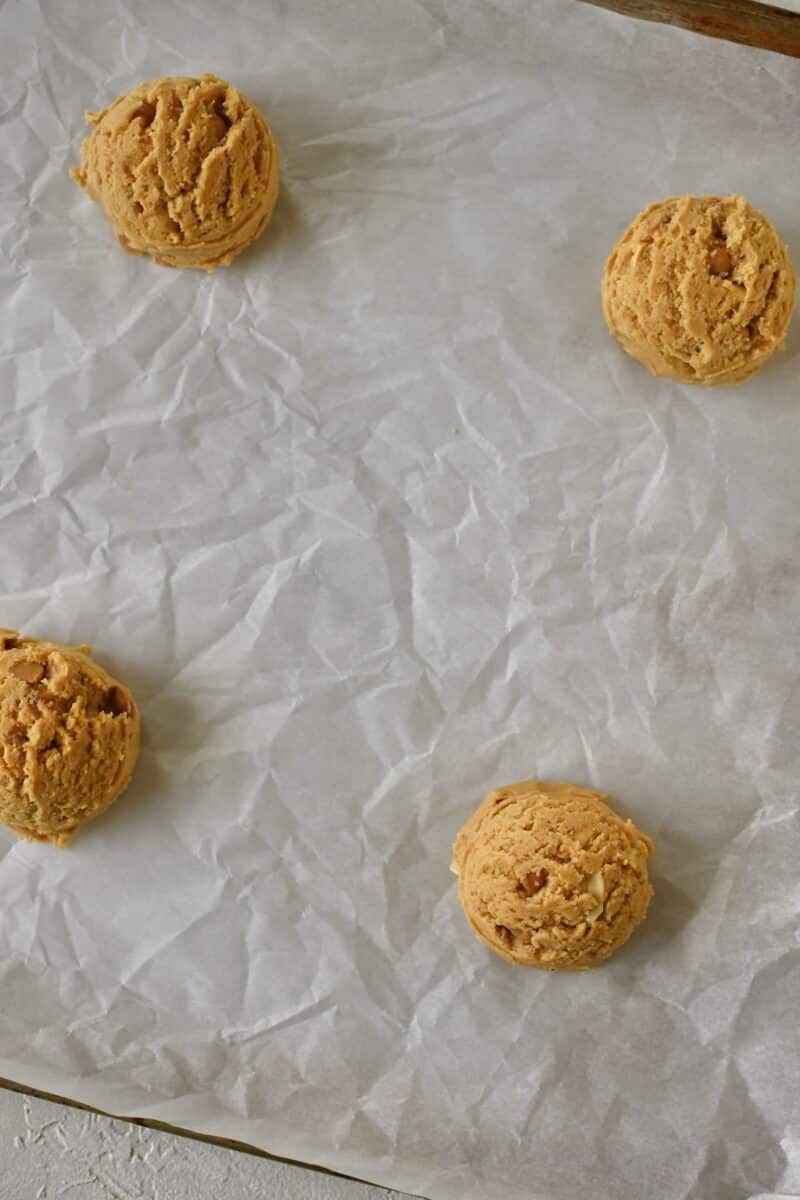 Then, raise the dough around the fluff, mostly encasing it, place the filled dough balls back on the tray, and flatten them slightly again. The cookies are now ready to bake.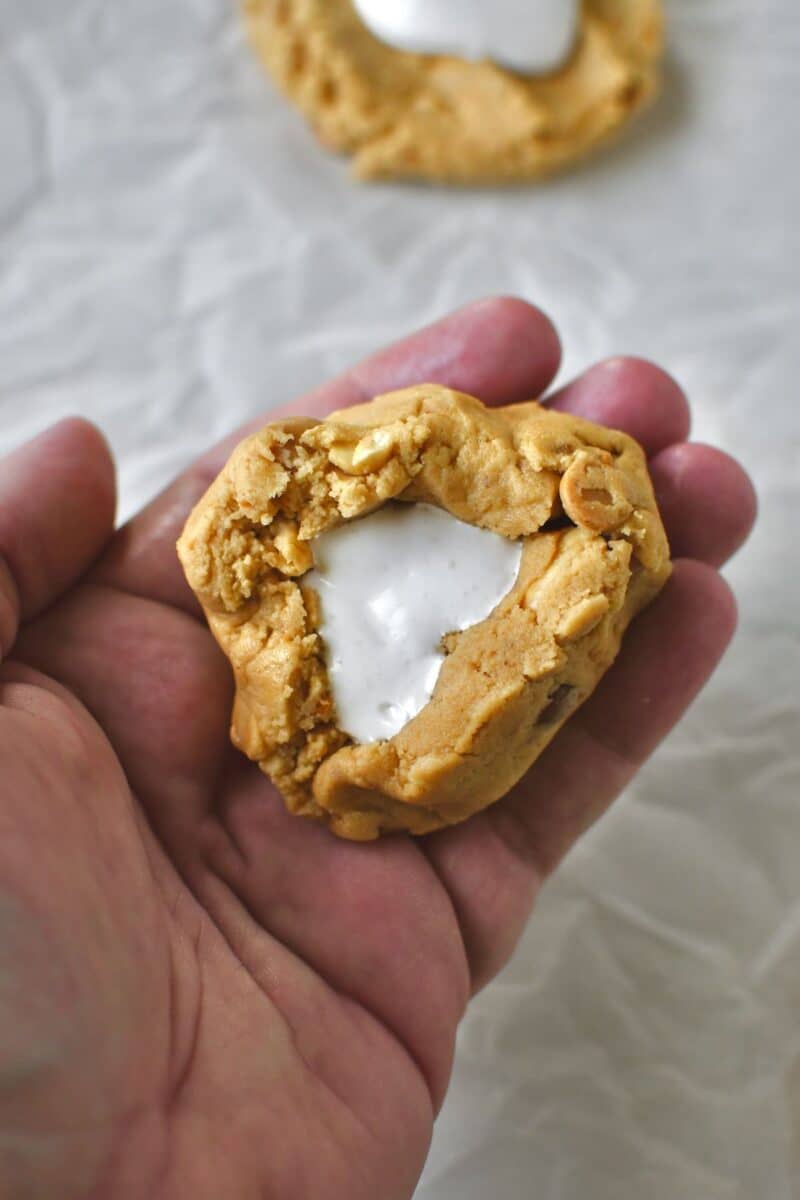 Bake the fully formed Fluffernutter Cookies until they become set and golden brown around the edges. Give them a tap on the stove or counter as they come out to give them a crisp edge and keep the centers beautifully tender.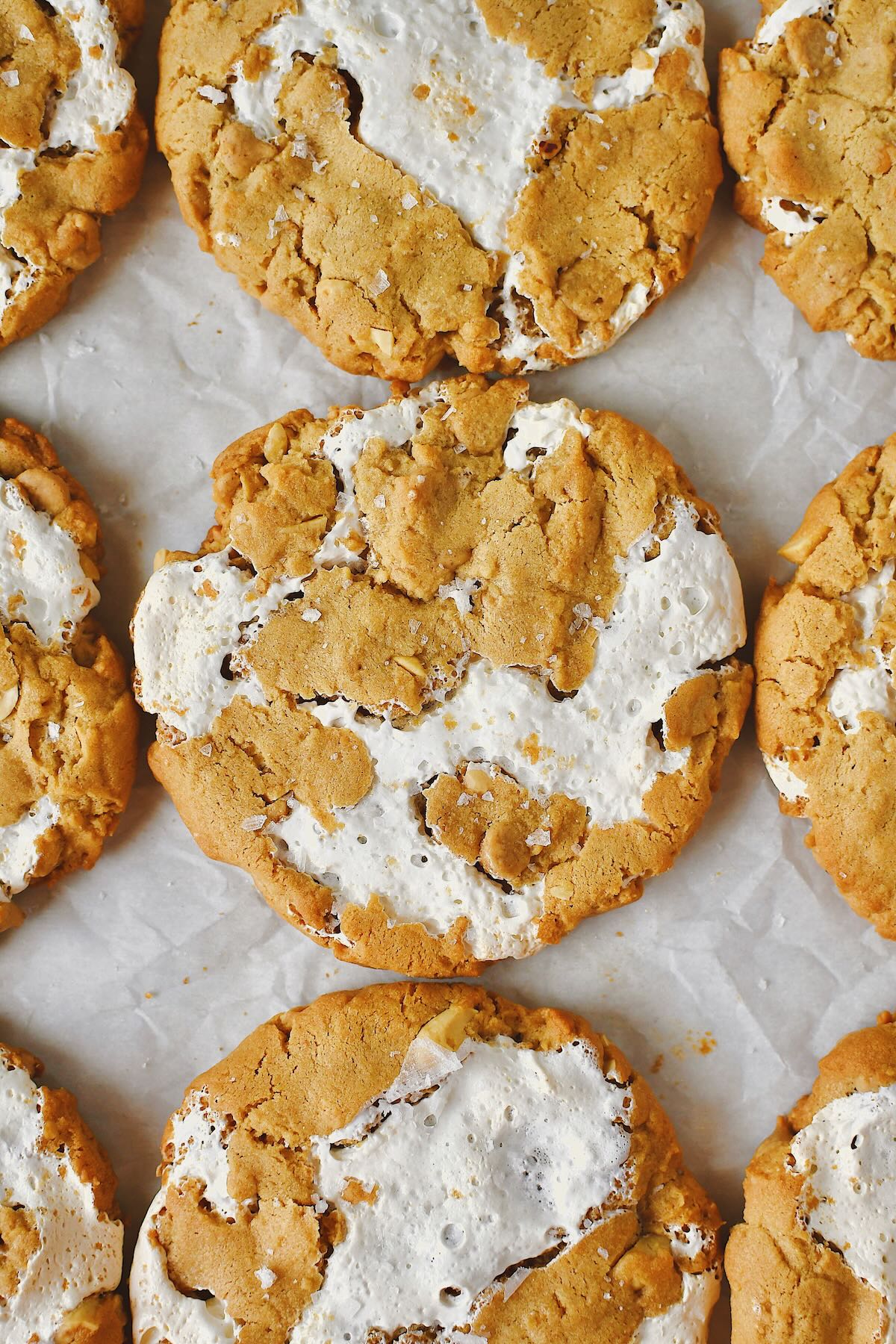 Notes & Tips
If you would like to seek out making homemade fluff, go for it! But for me, the flavor is just different, and the storebought just has a different texture. While you will see me make my own on the show, at home I suggest storebought, plus it's easier! I know I often preach homemade, but I forgo it for nostalgia in this one.
Be sure to cream the butters and sugars together for 3-4 minutes, you will see the mixture change to a lighter color. When it gets pale you have beat in enough air.
After you have made your cookie dough, portion it out and flatten each of the 12 portions using your 3 center fingers. Place the marshmallow cream in a piping bag, then cut off the tip and pipe about 2 tablespoons into the center of each cookie. Wrap the cream in the dough, then flatten again before baking. This gives a very consistent and not too flat, not too tall cookie.
When the cookies come out of the oven. Immediately sprinkle them with a little flakey sea salt, it helps cut the sweetness of the cookie and the marshmallow cream and makes them even more enjoyable!
Baked Fluffernutter Cookies will keep in an air-tight container for up to 5 days at room temperature. And while mine would never make it there, they can be frozen for up to 3 months. Freeze them flat on a tray, then transfer them to a zip-top freezer bag.
Substitutions
My favorite peanut butter is crunchy! But you can use smooth in a pinch if you need to. There are whole peanuts going in later anyway.
If you have to use salted butter because that is all you have on hand, remove the addition of salt later in the recipe.
Light brown sugar is preferred for this recipe, however, you can use dark in a pinch. The cookies will just have a little deeper color and molasses flavor to them. Which isn't bad, just a little richer.
These cookies bake up beautifully and can be made gluten-free when you use THIS cup-for-cup baking flour swap.
Virginia Peanuts are a must for me, if you can't get your hands on some, use raw peanuts and toast them up before using.
There is nothing like these peanut butter chips, I would absolutely be sure to get some. They amp up the peanut butter flavor...no swap for those!
While I prefer the original marshmallow fluff, you may also find other brands out there calling it marshmallow cream, they are essentially the same and you can use either for this cookie. You may also encounter it called marshmallow paste or spread.
While you might be tempted to use mini marshmallows in place of the "fluff" and it does work, the texture and end result just isn't the same. You CAN do it, but I'd heavily suggest using the cream.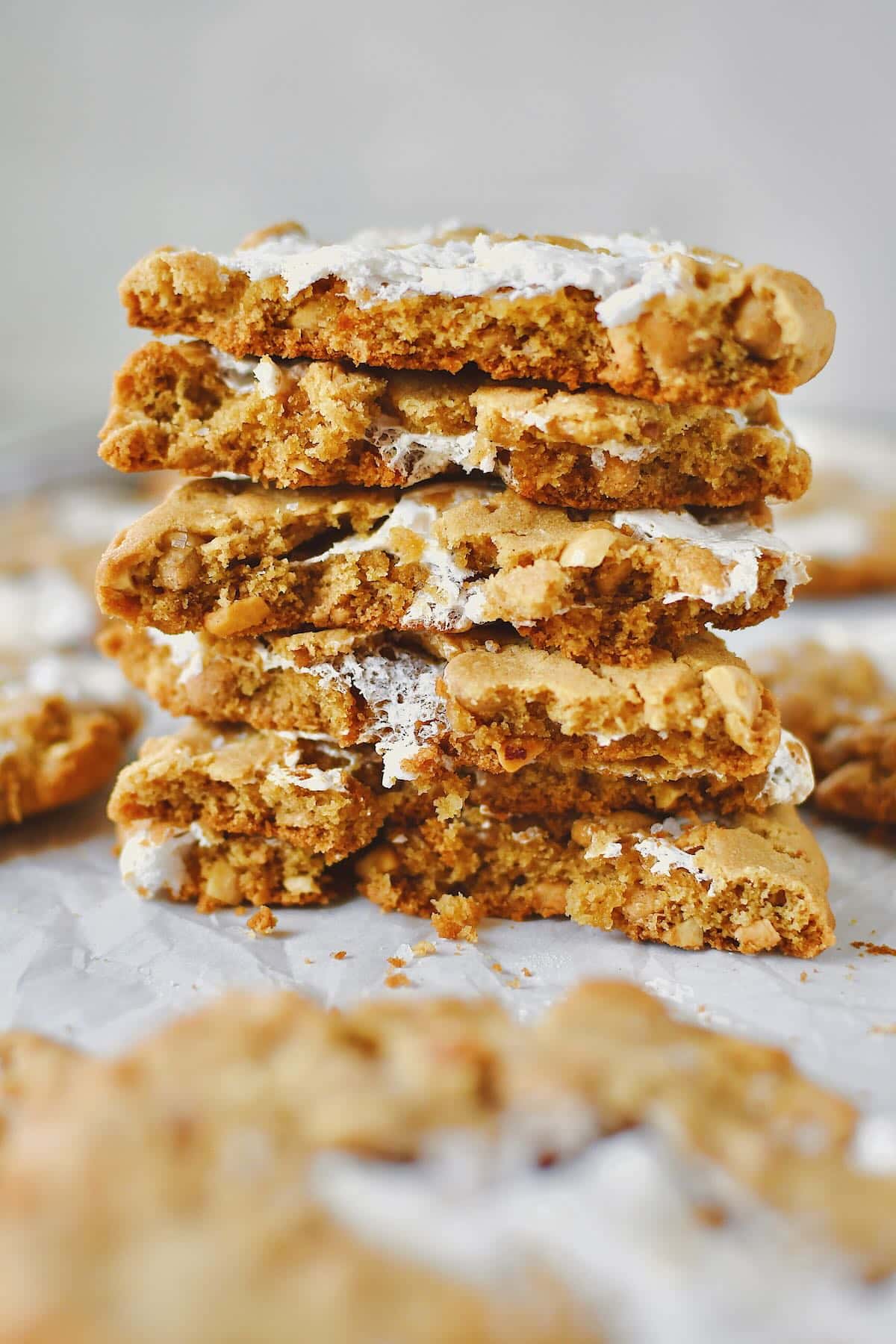 If you LOVE this cookie, take a look at my Strawberry Cookie that is made with Strawberry Fluff, call it a Strawberry Fluffernutter Cookie I guess. It is a riff off this one and absolutely just as delicious as this one.
And if you love chocolate and peanut butter, because who doesn't? Check out my Chocolate Marshmallow Cookies, they are like a campfire fluffernutter!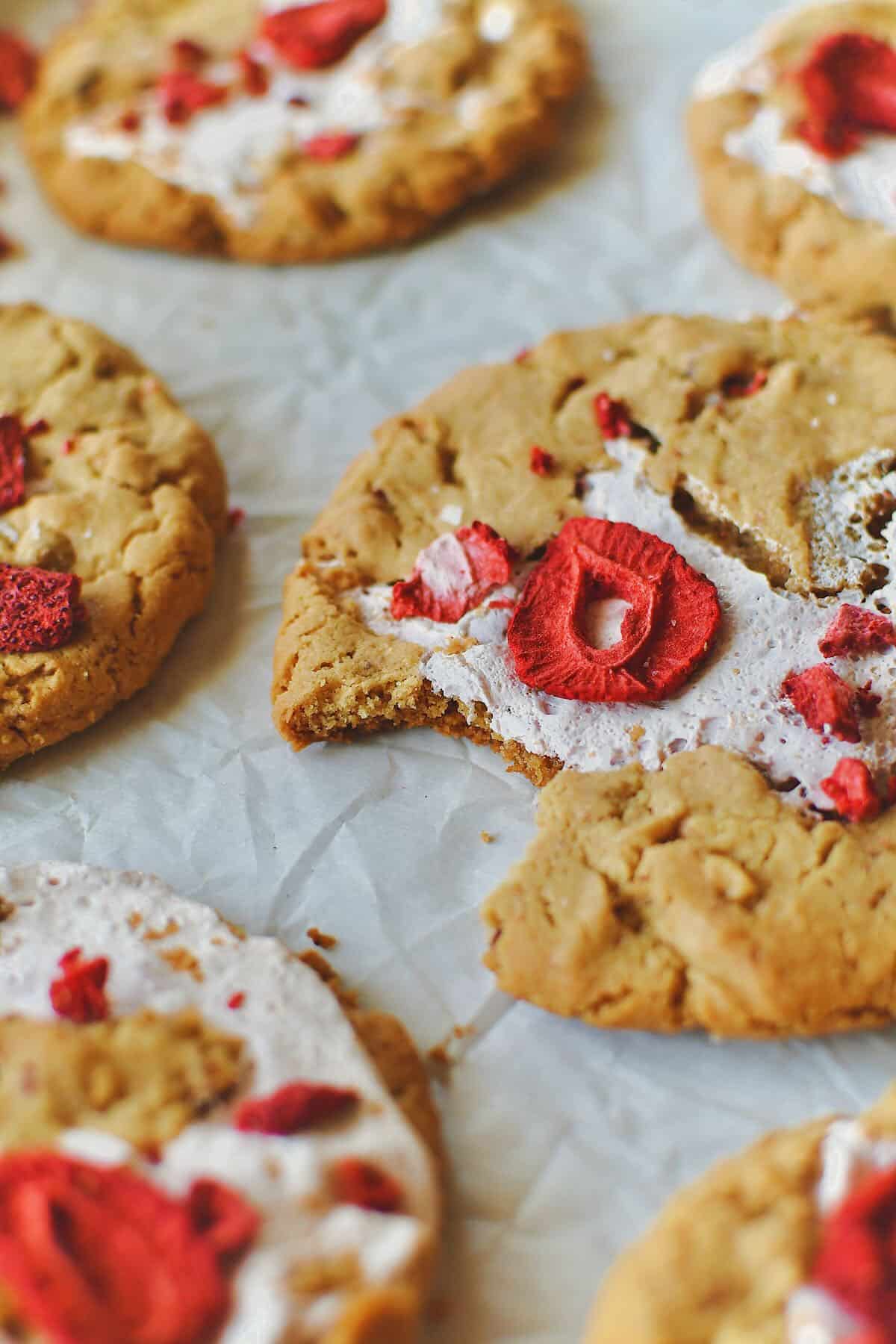 Did you make this recipe? Let me know by leaving a review or comment! And be sure to sign up for my newsletter, and follow along on Instagram, Pinterest, and Facebook!