These delicious Strawberry Cookies further my love for FLUFF and are a variation of the Fluffernutter Cookies I made for Joanna Gaines. If you saw me on the Silos Baking Competition, you'll love this new cookie that doesn't stray too far from the original.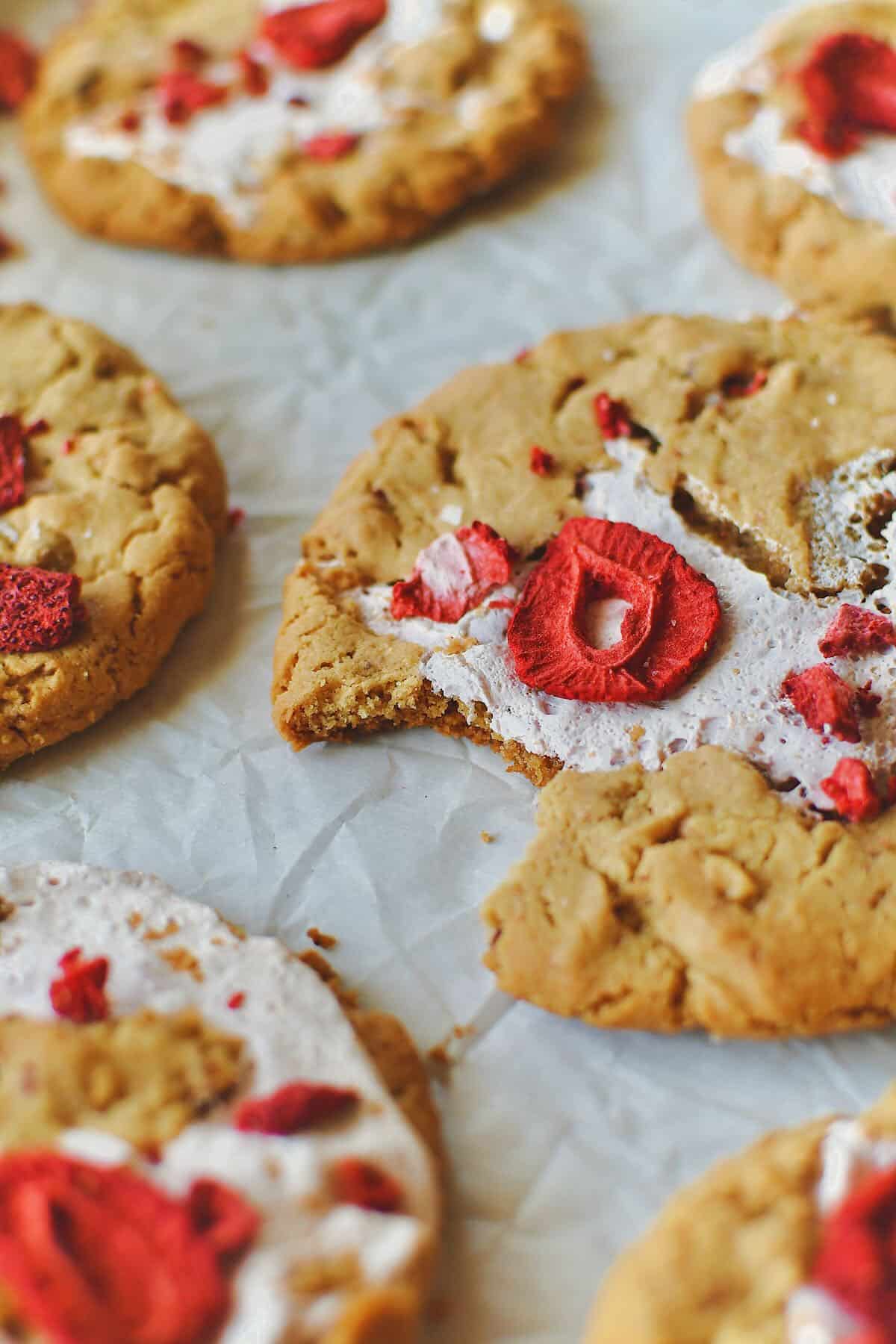 It is just a little spin on my classic cookie but features the fluff sibling, strawberry fluff. It's made by the same company so I thought it was fitting to make a cookie that honored the strawberry version too.
Jump to:
Ingredients
Ok, so this is a peanut butter cookie still, at its core. I like to think of this Strawberry Cookie as a Strawberry Fluffernutter Cookie. The flavor is boosted by the addition of freeze-dried strawberries, and a little strawberry extract to perfume the whole cookie.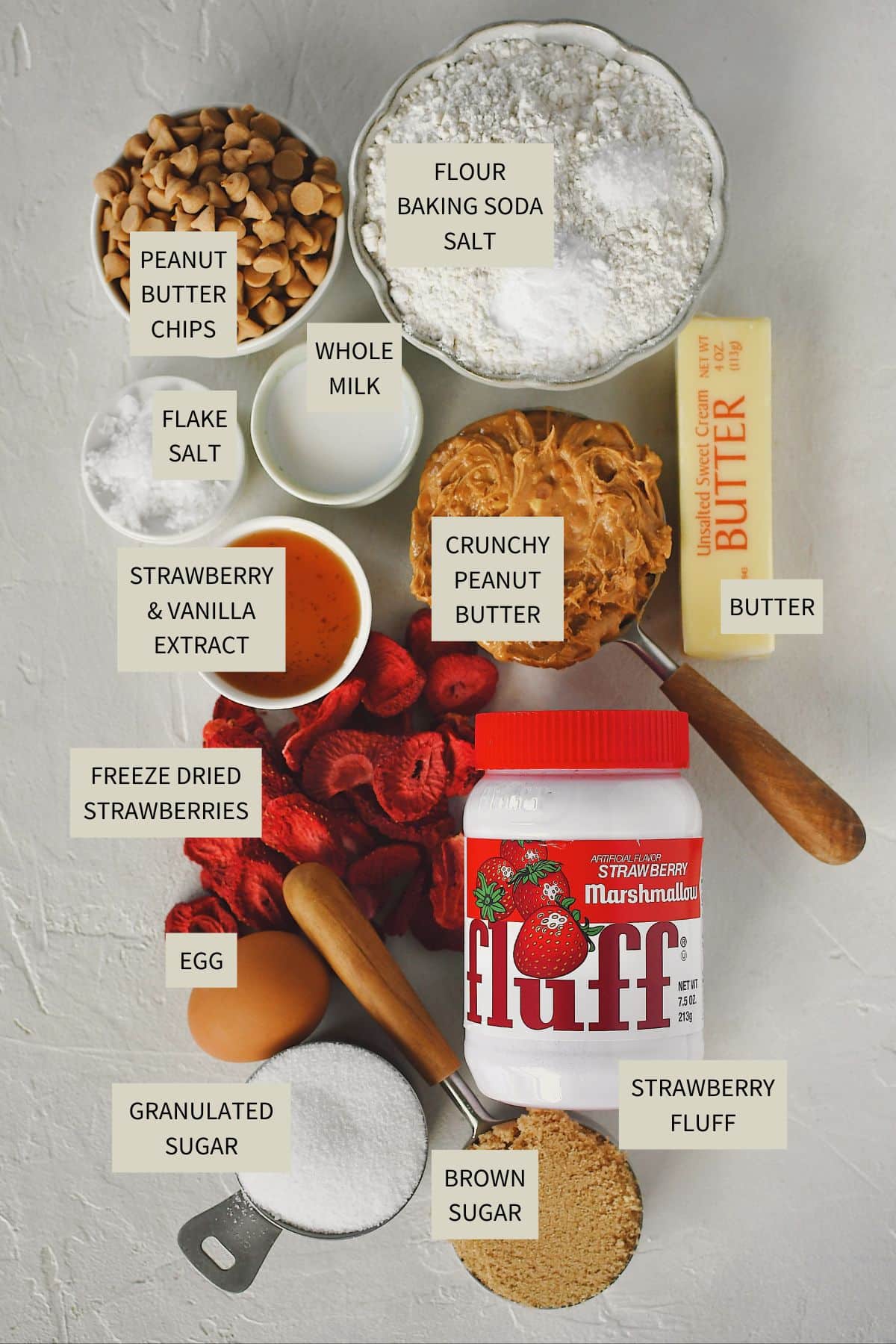 Aside from those additions, the flour, butter, peanut butter, and sugars are all part of the classic cookie. I also like the addition of the peanut butter chips, it makes the final cookie taste like a peanut butter and jelly sandwich.
Use the JUMP TO RECIPE button at the top of the post, or scroll to the bottom of the post to see the full recipe card with ingredient measurements and instructions.
Method
Start by creaming the butters and sugars together in the bowl of a stand mixer. When they are fluffy, add the egg, extracts, and milk before adding the dry ingredients.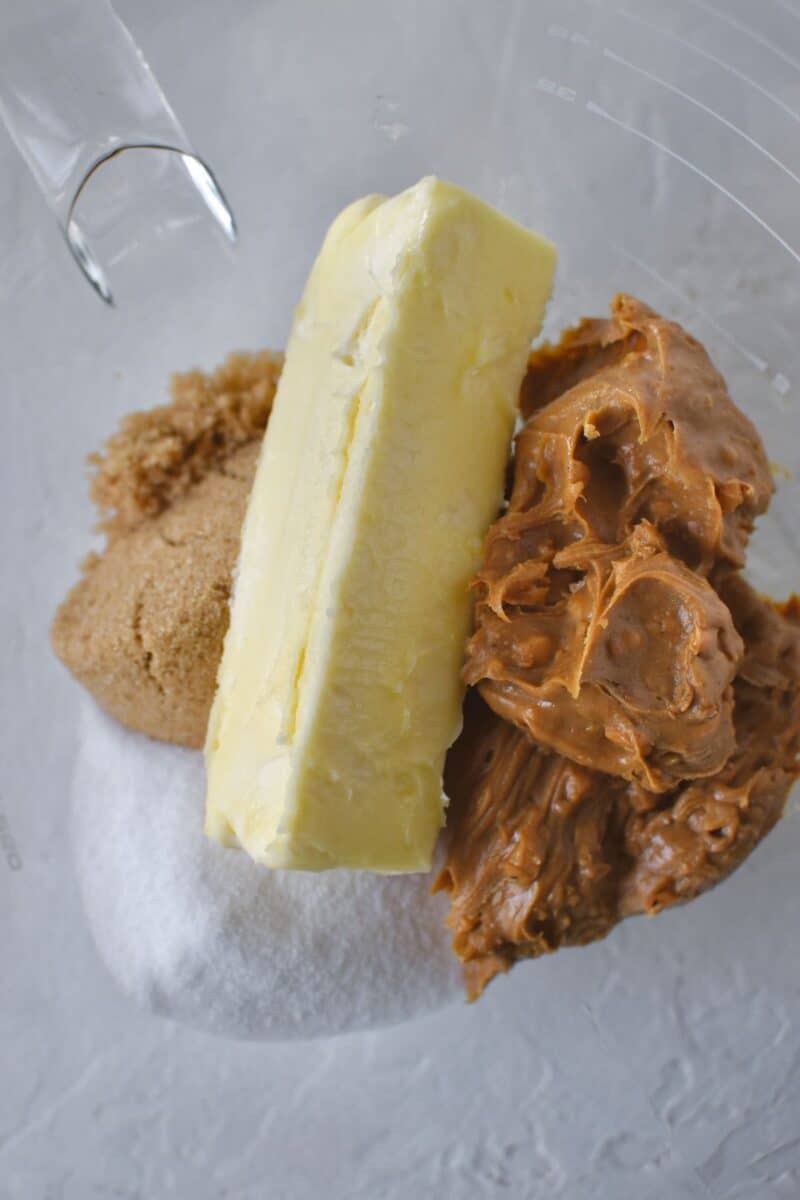 Blend the dry ingredients in just till a dough begins to form, then add the peanut butter chips and chopped freeze-dried strawberries and mix just till they are worked through. Then portion the cookies out, flatten them a little, pipe on some fluff, then wrap the cookie dough around the fluff, before lightly flattening them just a little and baking.
For further shaping instructions take a look at my original Fluffernutter Cookie recipe.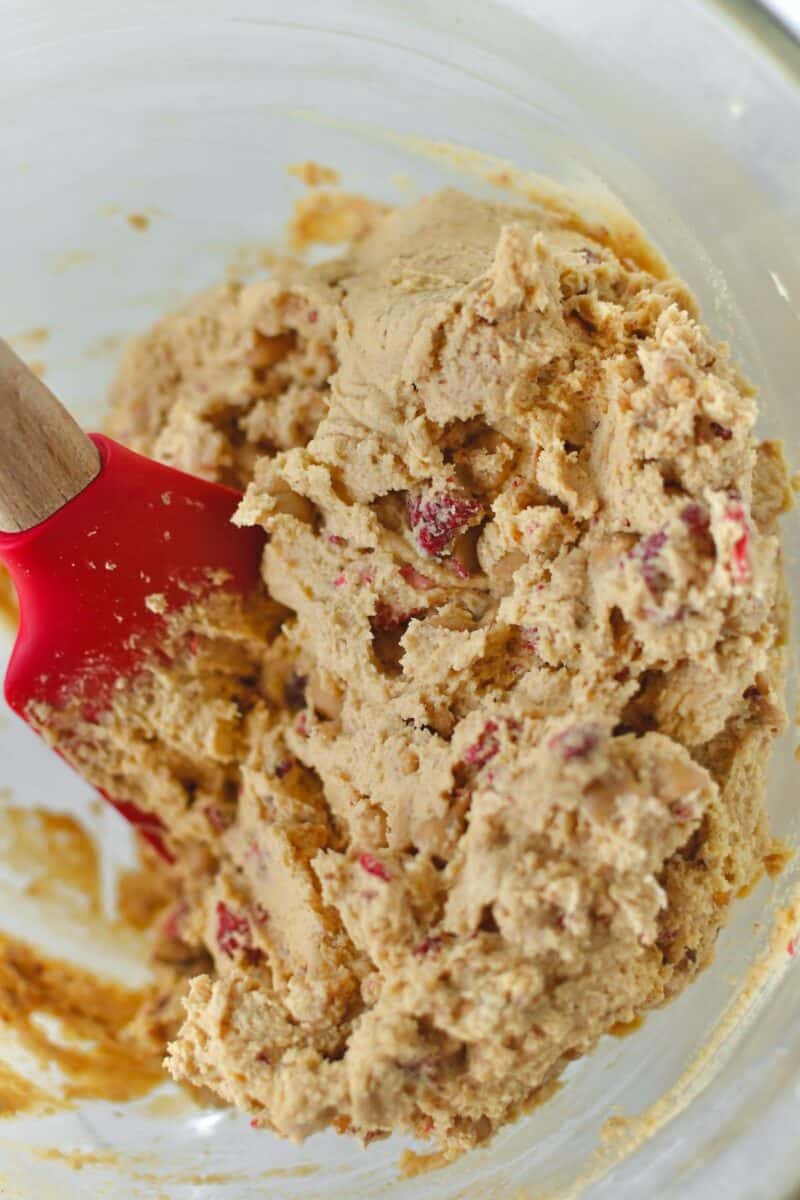 Bake the cookies till they are firm set on the edges and soft in the center still, then tap the pan on the counter and dust over some more chopped freeze-dried strawberries, pressing some larger pieces into the fluff while it is still warm so the stick.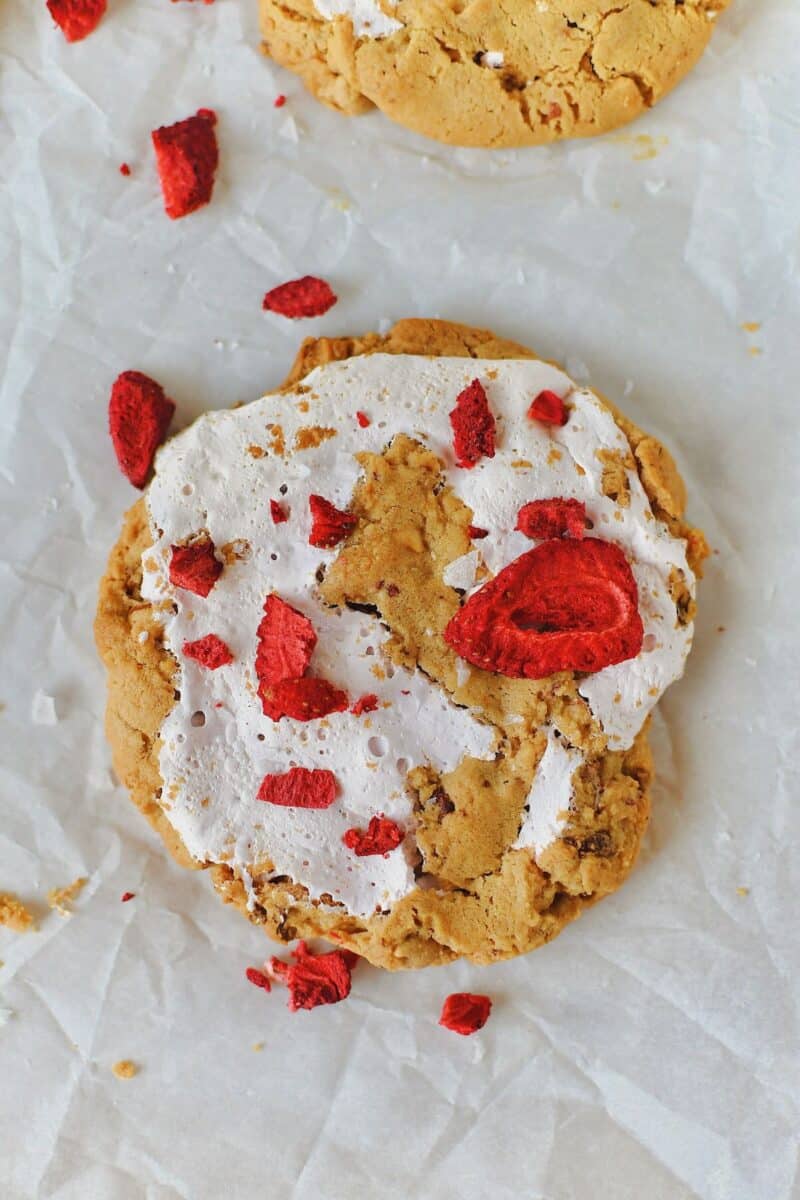 Finish with a little flakey salt and you have an absolutely beautiful well-balanced cookie! This is such a fun, light twist on the original, with a little berry tartness.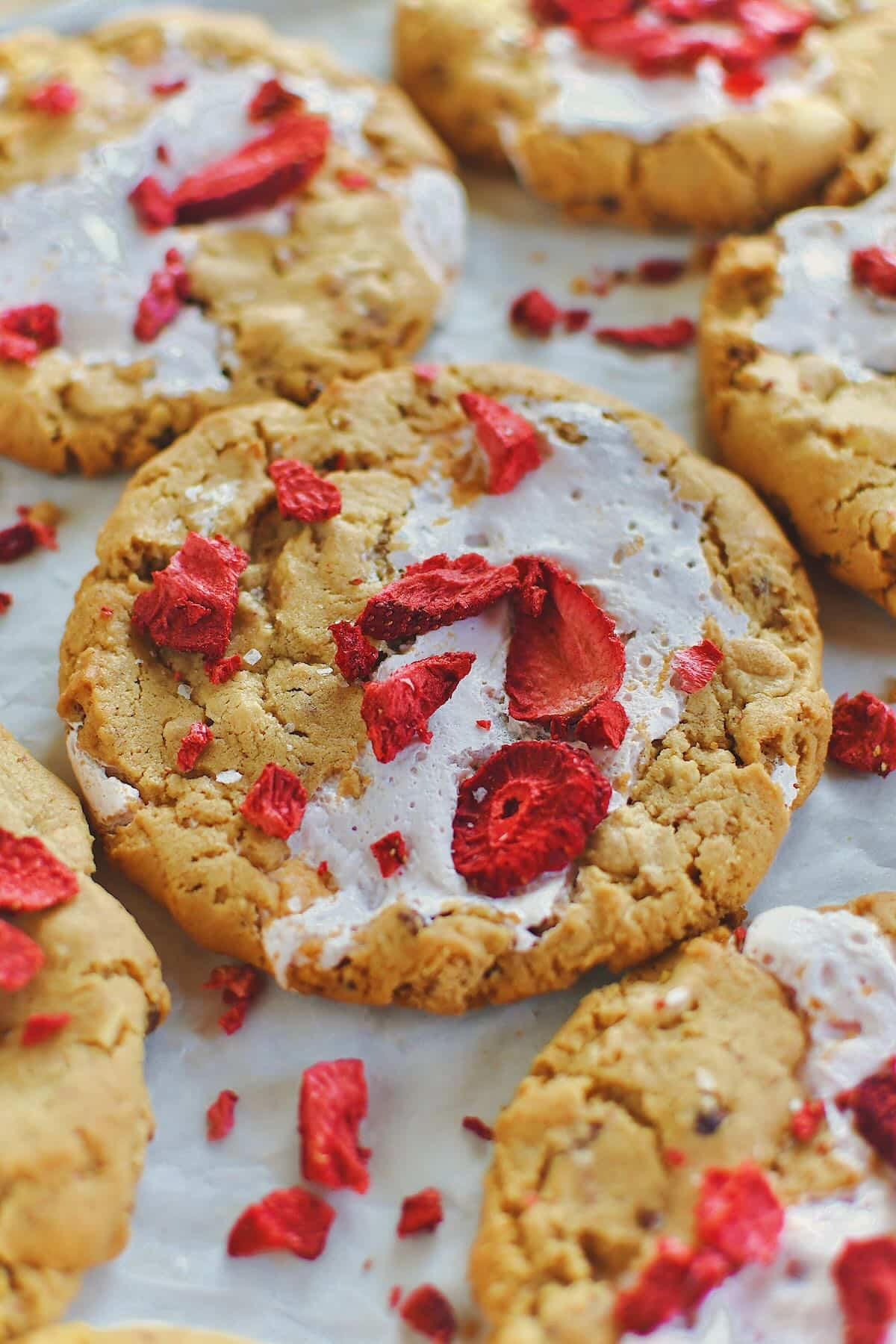 Notes & Tips
For the real nostalgic flavor, I suggest using the store-bought fluff. I am not always one to suggest a store-bought item, but here it really is best.
Be sure to cream the butters and sugars together for 3-4 minutes, you will see the mixture change to a lighter color. When it gets pale you have beat in enough air. If you use a flex edge paddle you will only have to beat it for 2 minutes.
After you have made your cookie dough, portion it out and flatten each of the 12 portions using your 3 center fingers. Place the marshmallow cream in a piping bag, then cut off the tip and pipe about 2 tablespoons into the center of each cookie. Wrap the cream in the dough, then flatten again before baking. This gives a very consistent and not too flat, not too tall cookie. It also lets the fluff ooze out a little, which is welcome!
When the cookies come out of the oven. Immediately sprinkle them with a little flakey sea salt, it helps cut the sweetness of the cookie and the marshmallow cream and makes them even more enjoyable! Also dust them with some chopped freeze-dried strawberries too, pressing some larger pieces into the fluff while it is still warm and they will stick to the cookie.
Baked Strawberry Fluffernutter Cookies will keep in an air-tight container for up to 5 days at room temperature. And while mine would never make it there, they can be frozen for up to 3 months. Freeze them flat on a tray, then transfer them to a zip-top freezer bag.
Substitutions
My favorite peanut butter is crunchy! But you can use smooth in a pinch if you need to. There are whole peanuts going in later anyway.
If you have to use salted butter because that is all you have on hand, remove the addition of salt later in the recipe.
Light brown sugar is preferred for this recipe, however, you can use dark in a pinch. The cookies will just have a little deeper color and molasses flavor to them. Which isn't bad, just a little richer.
These cookies bake up beautifully and can be made gluten-free when you use THIS cup-for-cup baking flour swap.
I love these Freeze-Dried Strawberries, I just give some of them a light chop before mixing them into the batter. You could also use the same amount of fresh strawberries if you have to.
There is nothing like these peanut butter chips, I would absolutely be sure to get some. They amp up the peanut butter flavor...no swap for those!
You may also encounter marshmallow fluff called marshmallow paste, spread, or cream. Though I think only the original FLUFF company makes the strawberry version.
While you might be tempted to use mini marshmallows in place of the "fluff" and it does work, the texture and end result just isn't the same. You CAN do it, but I'd heavily suggest using the cream.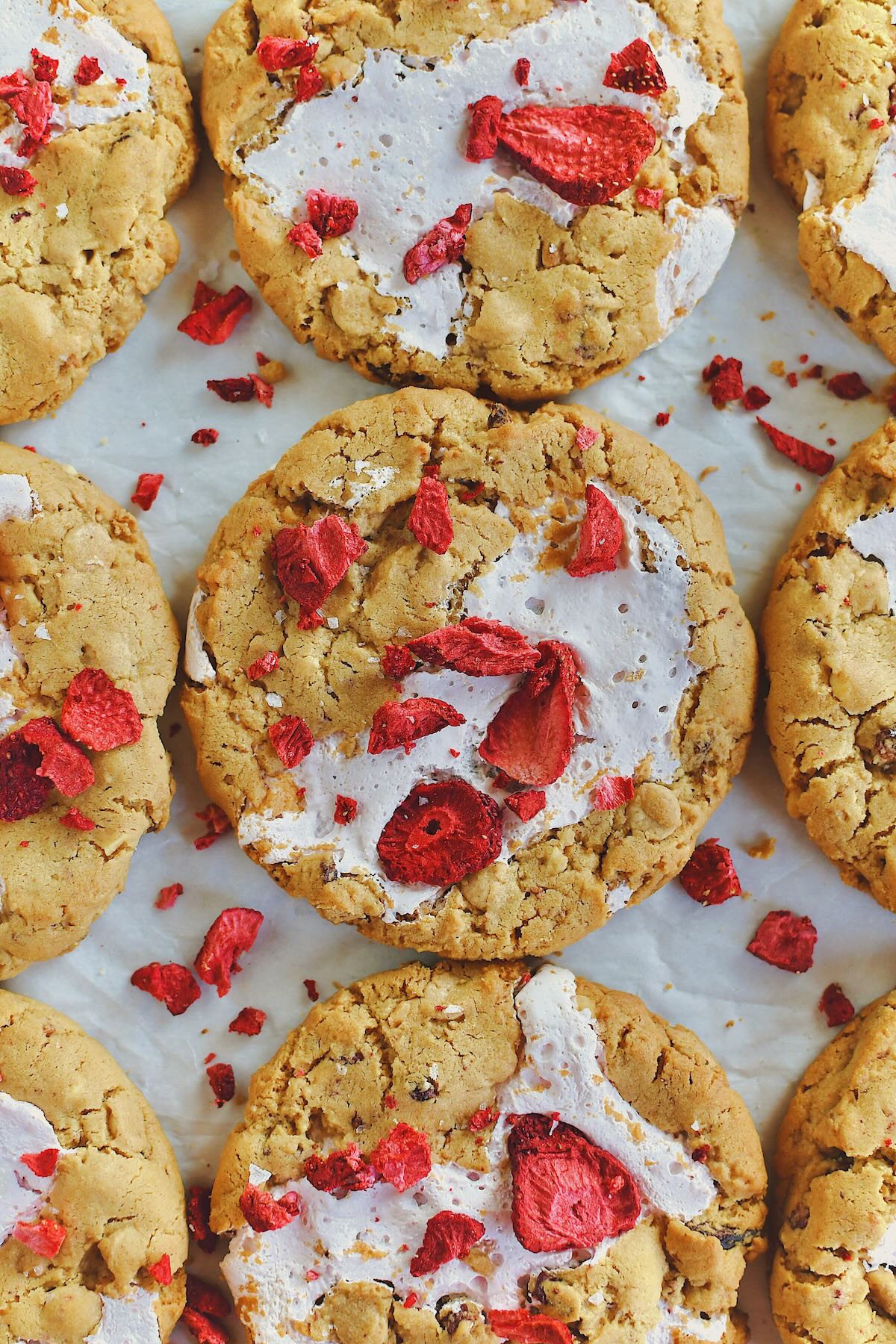 Did you make this recipe? Let me know by leaving a review or comment! And be sure to sign up for my newsletter, and follow along on Instagram, Pinterest, and Facebook!