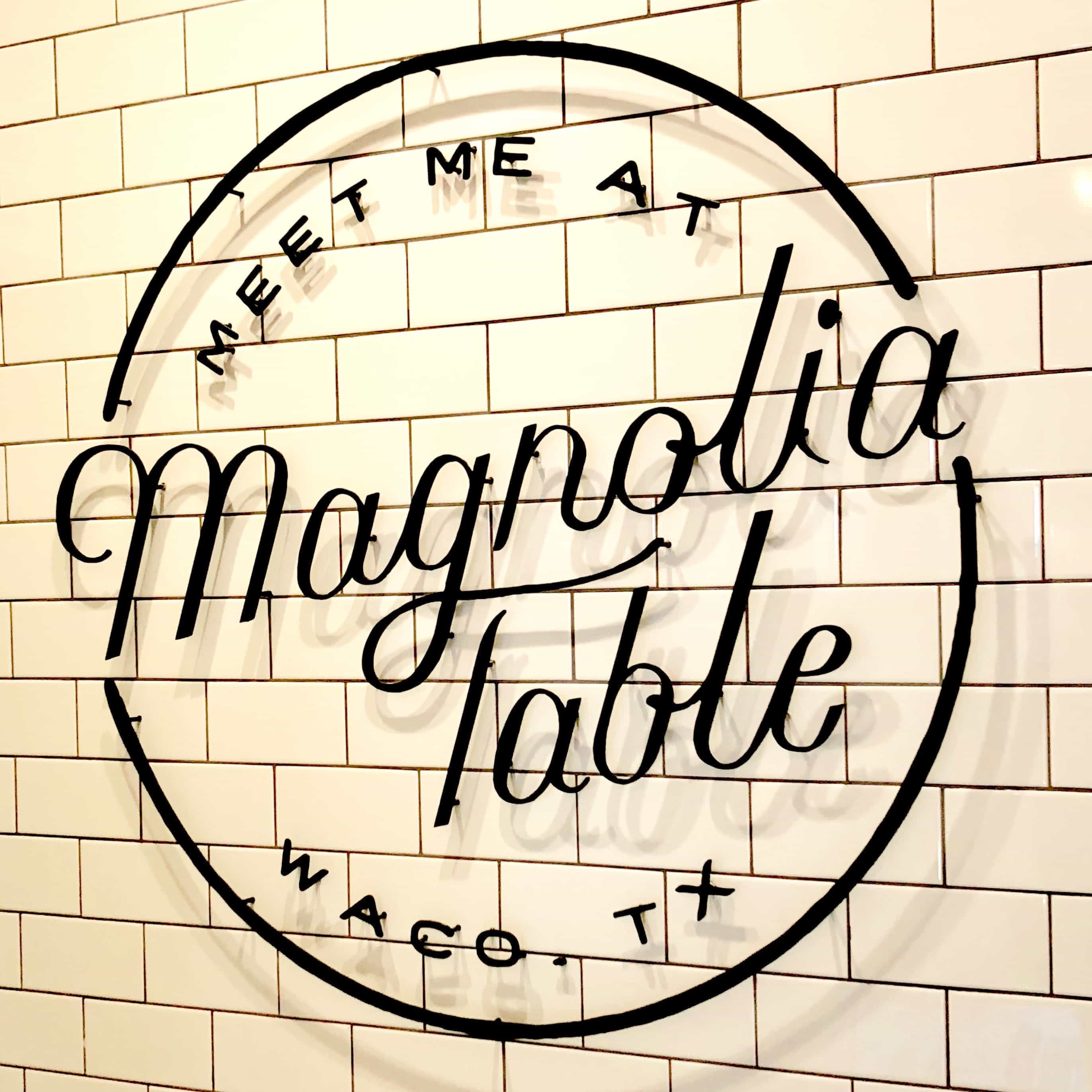 Magnolia: The Brand
To say that Joanna Gaines outdid herself with the Magnolia Table Cookbook would be a bit of an understatement. It has sparked a movement to cook as many recipes from the book as possible, and I can't help but think it came at just the right time in the fast-paced world we live in today. I love that it has inspired men and women to get into the kitchen and cook for their families. Too often we can get caught up in the day to day activities of life and rely on the "all too easy drive-through window" or frozen tv dinner. Even I, a Chef, get caught up in that from time to time, seasons of life send me off the deep end of food and I just don't make time to grocery shop and cook like I would like to. But, that is the greatness of this cookbook. Jo put together a fantastic collection of recipes that are quick and easy to make and that have a short ingredient list, for the most part. There is the occasional recipe that requires a bit more planning and work, but the majority are things you could produce even on a busy weeknight.
Now I hear those of you asking, "Why is this guy so in love with Chip and Joanna Gaines; their tv show "Fixer Upper"; and what they have done in Waco, Texas?" You can read more about that in my blog post here. But for me, it isn't about fame, the shop or the home decor. When I see the tips of those silos as I roll down the highway, it's not about the stuff, it's about the dream. And that fills me with the hope that the dreams I have are still alive! Walking onto the property at 'Magnolia' is walking into a real-life dream that has been brought to life. Chip and Jo had a vision and they made it happen. As a BIG dreamer myself, that speaks to me every time I visit. Many are there just to consume the latest goods, but I am there to stop and consume the feeling of hope that one day my dreams can come true too.
I sometimes take a day trip down just to gain new insight and inspiration. At this time in my life, it's MY happiest place on earth!
Magnolia: Cookbook Rankings
I did a poll on my instagram wanting to know if y'all wanted me to share a full ranking of the book or just my top 10 favorites and the overwhelming response was that you wanted a full ranking. So what I am going to do is give you a top 10 (because they come from all sections of the book), and then give you a ranking in order of favorites of each section.
By my count, there are 159 recipes if you have the Target edition that includes some bonus content. The regular edition has 151 by my count, the official count from Magnolia is 125. I get this number because I count the dressings and some other 2 part recipes as individuals because they are great stand-alone or pantry recipes that I would make even if they were not going with the called for dish.
Kendell's top 10 favorites:
JoJo's Biscuits - This is the first recipe that is in the book. I always tell anyone that asks me if they should buy the book, first, YES get you a copy of the book, second, make the biscuits FIRST! They are recipe 1 for a reason. Making them first will make you fall in love with the entire book. Now they can be a little tricky, and take a few tries to get just right. Click the recipe name above to read my review and about some of the things I learned while making them. Joanna has also shared the recipe, so you can get it there, FREE!
BLT Sandwiches - There is a reason that a sandwich as basic as this has stood the test of time and Jo puts her own special twist on it that takes it to the next level. The "Easy Herb Mayo" also included, makes this a sandwich that will be asked for day after day.
After-School Banana Bread - The story Joanna shares about this one is just about a sweet as the bread itself, and that's a good thing. Again, quick, easy, and minimal ingredients produce one of the most magical recipes in the book. It's kind of hard to control myself anytime this comes out of the oven. I even hide the bananas so they will over-ripen and I can make banana bread!
Creamed Corn Spoonbread - I have said it before and I will say it again, this just might be the BEST recipe in the entire book. It has changed me forever and I don't think I will ever be able to eat cornbread ever again. This will be my go-to anytime cornbread is called for from here on out!
Herb Cheddar Scones - This recipe blew out a light bulb for me at the first bite! This is the Prized Pig from the shop in Waco. If you ever get the opportunity to visit Magnolia, go to the Silo's Baking Co. and have the prized pig biscuit. If you don't have plans to go anytime soon, add bacon to this recipe and you will get THE BEST sandwich biscuit ever.
Aunt Opal's Banana Pudding - This recipe ain't yo backyard bbq's banana pudding. It is rich and creamy and nothing like something you had in elementary school or at a picnic. It is literally the best, you'll never use another recipe ever again!
Mexican Rice - This makes my top ten because it is almost EXACTLY like the rice that my Spanish grandmother makes. She is 93 now and doesn't cook often anymore, but, after making this recipe for my dad who won't eat rice unless it is his mothers, he asked if she was hiding around the corner because it tasted "JUST like moms".
Chicken Pot Pie - This recipe is LIFE! It is what gave 'Comfort Food' its meaning. IF, and this is a big IF, you make it topped with JoJo's biscuits and not the crescent rolls and the 'Mashed Potatoes'. I had many messages sent to me that it was to wet of a mixture, but when served over mashed potatoes and topped with the fresh biscuits, the liquid is soaked up and makes the most heartwarming mixture EVER!
Lemon Poppyseed Bread - I am listing this as a favorite because it came out looking nothing like the picture in the book and bakery perfect! It is like something you would get from Starbucks and being able to make something that good at home makes me pretty happy.
Mom's Bulgogi - This recipe had me scared to make for the longest time, but my love for experimenting with Asian foods had me falling in love at first bite. It is one that is on the more time-consuming side of preparation, but it is worth it in the end. I encourage everyone to step outside the box and give this one a go. Get the recipe free here!
Kendell's recipe ranking by category:
Listed by category, breakfast, lunch, etc.
Numbered from favorite to least favorite in each section.
Breakfast
JoJo's Biscuits
After-School Banana Bread
Eggs Benedict Casserole
Cinnamon Squares
Baked Egg Bread Pudding
Vanilla Cake Donuts
Asparagus Fontina Quiche
Orange Scones
The Best-Ever Fluffy Pancakes
Cinnamon Swirl & Walnut Quick Bread
Pie Crust
BoBo's Classic Gravy
Bacon & Gruyère Drop Biscuits
Quick Orange Walnut Sweet Rolls
Sausage & Hashbrown Casserole
Ricotta Pancakes
Pop's Strawberry Jam
Three Cheese Quiche
Syrian Donuts
Mushroom, Spinach & Swiss Cheese Quiche
Overnight French Toast
Savory Ham & Cheese Bread Pudding
Garlic Cheese Grits
Lunch
BLT Sandwiches
Easy Herb Mayo
1919 Pimento Cheese
Gaines Brothers Burger
Bacon-Tomato Drip Jam
Jalapeno Drip Jam
Curry Chicken Salad
Flatbread Pizza
Chicken Salad Croissant Sandwiches
Poached Chicken Breasts
Grilled Havarti, Tomato & Basil Sandwiches
Sweet Pepper & Pancetta Frittata
Egg Salad Sandwiches
Soups and Salads
Romaine Salad
Skillet Croutons
Buttermilk Ranch Dressing
Tomato Basil Soup
Autumn Butternut Squash Soup
Toasted Pepitas
Peach Caprese
Layered Arugula Salad
Pear Vinaigrette
Buttered Walnuts or Pecans
Roasted Cauliflower Soup
Sausage and Kale Soup
Tortilla Soup
Jo's Quick Table Salad
Red Wine Vinaigrette
Brussels Sprouts Salad
White Cheddar Bisque
Country Potato Soup
Chicken and Wild Rice Soup
Apple Cider Salad
Apple Cider Vinaigrette
Appetizers & Starters
Herbed Cheddar Scones
Baked Bruschetta
Beck's Crackers
White Bean Hummus
Sheet Pan Nachos
Baked Spinach Artichoke Dip
Garlic Toast
Fresh Tomato Salsa
Guacamole
Last-Minute Party Dip
Party Queso
Deviled Eggs
Baked Brie
Roasted Elephant Garlic Bread
Side Dishes
Creamed Corn Spoonbread
Green Beans Amandine
Creamy Squash Casserole
Brussels Sprouts
Balsamic Reduction
Becki's Mac & Cheese
Souffléed Broccoli Casserole
Scalloped Potatoes
Dutch Oven Cabbage and Bacon
Roasted Asparagus
Red Wine Béarnaise Sauce
Potato Gratin Mini Stacks
Garlic & Herb Tomatoes
Mashed Potatoes
Steamed Artichokes
Fried Green Tomatoes
Quick Rémoulade Sauce
Dinner
Chicken Pot Pie
Mom's Bulgogi
Cucumber Kimchi Salad
Fried Chicken
Sticky Poppy Seed Jam
Mrs. Gail's Chicken
Fettuccine Alfredo
Mexican Rice
Chicken Spaghetti
Beef Tenderloin
Pickled Jalapeño Sour Cream
Pickled Jalapeños
Bow Tie Pasta
Chicken Piccata
Fresh Spinach & Leek Risotto
Grilled Raspberry-Chipotle Pork Tenderloin
Perfect Roast Chicken
Blackened Fish Tacos
Red Cabbage & Mango Slaw
Shepherd's Pie
Sour Cream Chicken Enchiladas
Meat Loaf
Almond Chicken Tenderloins
Beef Stew
Chicken and Dumplings
Grilled Salmon
Baked Chicken with Bacon Bottom
King Ranch Chicken
Mexican-Style Jicama Salad
Gaines Family Chili
Homemade Chicken Broth
Beef Enchiladas
Dedication Casserole
Sunday Supper Beef Tips
Cod in Parchment
Jalapeño Cornbread
Jo's Fatayar
Desserts
Lemon Poppy Seed Bread
Aunt Opal's Banana Pudding
Chocolate Chip Cookies
Spiced Pecan Pie
Bevie's Chocolate Roll
Hot Fudge Sauce
Lemon & Lavender Icebox Cookies
Mocha Trifle Cups
Strawberry Shortcake
Home Made Whipped Cream
Brownie Pie
Buttermilk Blueberry Puff
Lemon Pie
Chocolate-Cola Cake
Chocolate-Cola Buttercream
Mina's Lemon Bars
Broiled Honey-Thyme Peaches
Dulce De Leche Apple Pie
Lemon Bundt Cake
Cherry-Almond Crisp
Chocolate-Dipped Shortbread Cookies
Lemon Angel Food Cake
Fresh Blueberry Compote
Peach Almond Tart
Chocolate-Orange Bread Pudding
Candied Pecan
Target Edition Bonus Recipes
Open-Faced Grilled Cheese
Pasta Puttanesca
Polenta-Crusted Chicken
Avocado Cream
Corn Chowder
Bacon & Cheddar Quiche
Sour Cream Coffee Cake
Brunch Salad
Wow. That was a little more difficult than I thought it would have been. So many of the recipes have become new favorites that I want to make over and over. There was only a handful that I wouldn't make again, but I think out of 159 recipes, to not care for 5 is a pretty good record.
Recipes I wouldn't make again:
Jo's Fatayar - This one just lacked flavor...good flavor that is. I think that if a different vehicle was used instead of the refrigerator biscuit that they could be good. The filling was good, the biscuit was not!
Cod in Parchment - Just wasn't my thing and felt really out of place in the down-home cookbook. I would have just left it out completely.
Jalapeno Cornbread - Why? When you can have spoonbread!
Roasted Elephant Garlic Bread - Whoa! You have to be a real salt lover and an olive lover to like this one. I would make it again only if I left out the olives altogether.
Brunch Salad - This was a bonus recipe from the Target Edition and it showed. I wanted it to be good but it just had too much bitterness going on to make it delightful.
Conclusion:
All in all, I really loved the book. My only complaint is that it is not functional, it is beautiful but you can't USE it! It won't stay open and even in a cookbook holder it is so tightly bound that it is hard to read when on the counter. I haven't done it yet, but, someone told me to take it to an office supply store and have binding removed and spiral bound. I got some clips and clamped it down when I was using it. After the Fatayar, that is the only edit I would make. Jo, please bind it differently so it can be used. ??
That aside I am happiest about the journey that the book took me on in rediscovering food and my passion for feeding people. When I went to culinary school and began working in kitchens I thought I liked food because one day I wanted to be on the food network and that I needed to learn everything I could to achieve that dream. Well, that dream has evolved over the years and I now know that my biggest joy that comes from cooking is feeding people and the happiness bringing them together around the dining room table brings to me. It's about the people, not the food, and knowing that makes all the time in the kitchen worth it.
Until next time, happy cooking!
Kendell
Did you make this recipe? Let me know by leaving a review or comment! And be sure to sign up for my newsletter, and follow along on Instagram, Pinterest, and Facebook!