I have a bit of an obsession with all foods Greek. This signature recipe of mine for Greek Pico de Gallo is great for when you want to have a little peek of summer all year. And I love using it to create some delicious Greek-Style tacos by stuffing it in a tortilla. Add some of my Greek Chicken inside too!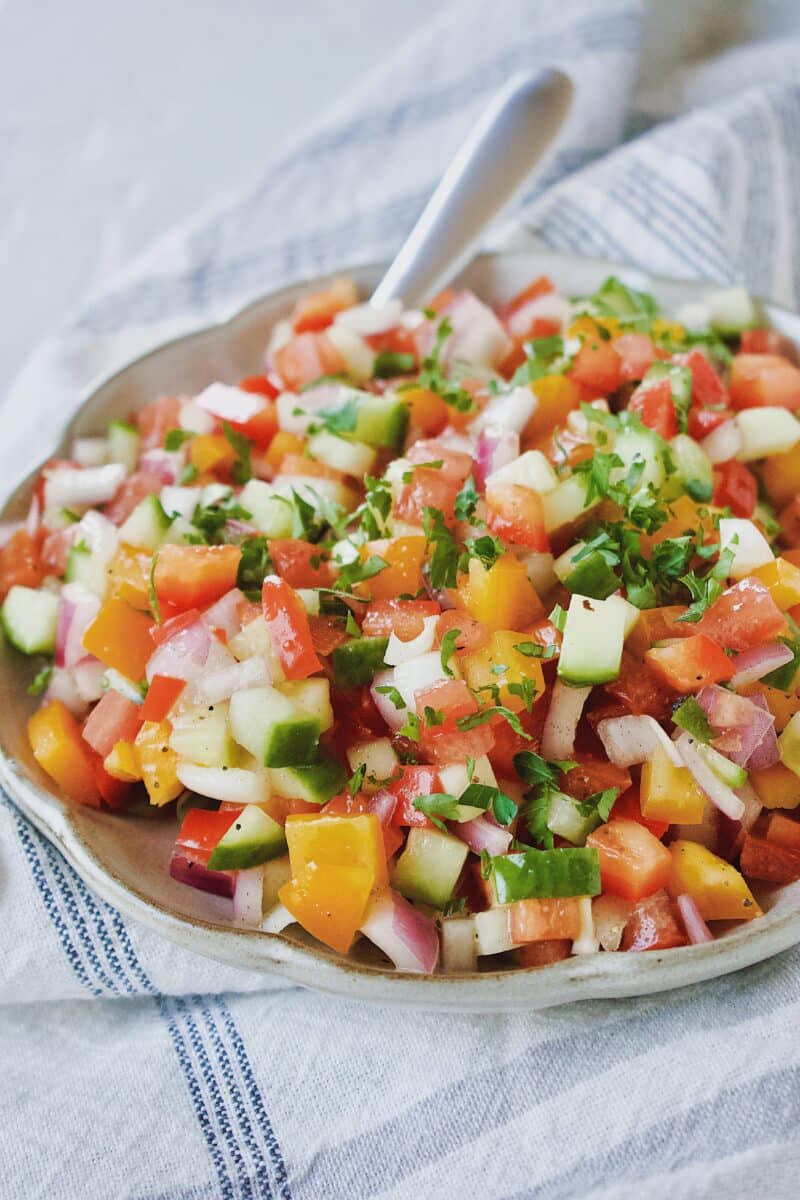 This post was first published October 28, 2019, and was last updated June 9, 2021.
I have a hard time finding a GREAT premade salsa that I love, so I usually resolve to making it myself. That is where I have come to on Pico de Gallo as well. This Greek Pico de Gallo is my own version born out of a love for greek salad. But uses the simple technique of pico de Gallo.
I apply all of the same basic principles of Pico de Gallo to this recipe, exchanging the ingredients for greek versions. When you really look at it, it's simply a small diced Greek salad at heart.
Jump to:
Ingredients
Fresh is best for this recipe. This Greek Pico de Gallo is best on a hot summer day when the produce is at its best. But it brings an equal ray of sunshine with great hothouse vegetables any time of year.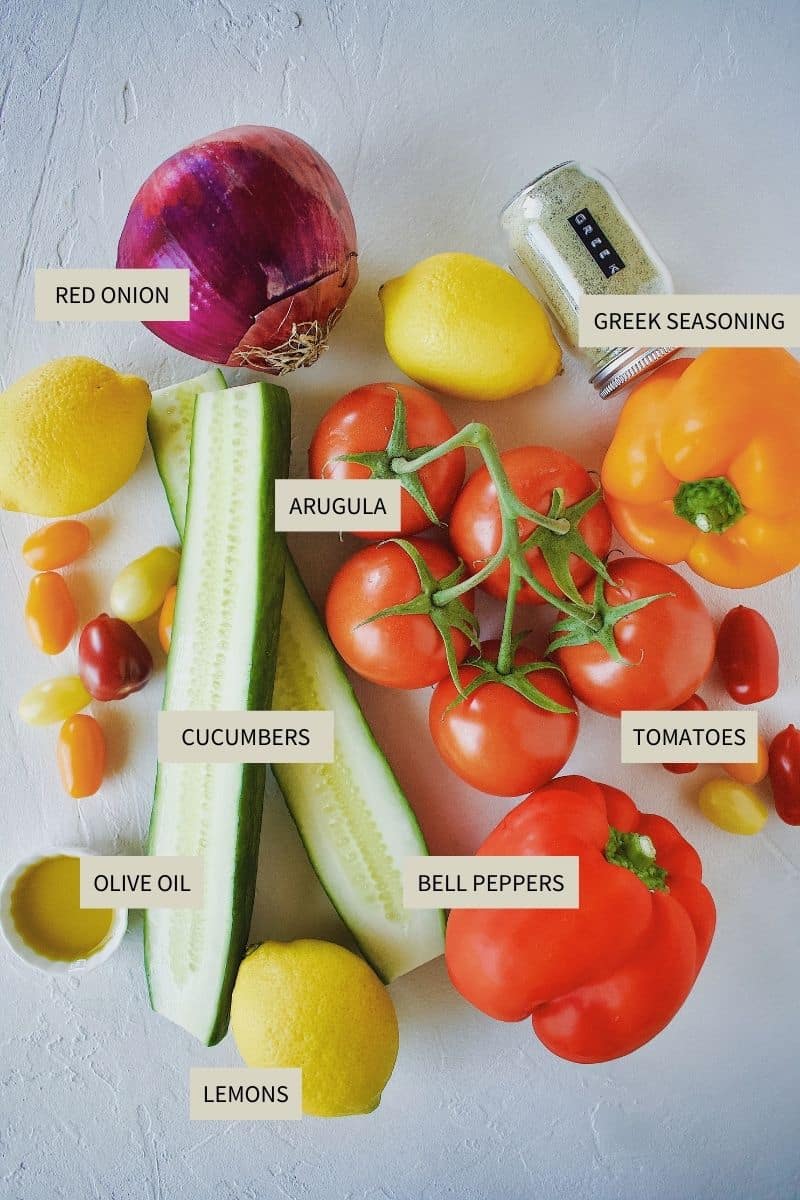 The other key ingredient is great Greek Seasoning. Preferably I like to buy the salt-free version so I can really get that herby flavor in whatever I am using it in without over-salting. I always like to be in control of the salt.
I replace the white vinegar or lime juice that is typically used in traditional Mexican Pico de Gallo for Lemon juice. The jalapeño is replaced with bell peppers. Tasting and adjusting the salt and pepper, and a sight drizzle of olive oil is all that is left to do.
Use the JUMP TO RECIPE button at the top of the post, or scroll to the bottom of the post to see the full recipe card with ingredient measurements and instructions.
Method
What I have done is take the best of Greek Salad ingredients and diced them small enough to fit on a chip or on/in a taco. Joy comes in making it your own, add a little more or less of your favorite ingredients, and tweak it each time you make it!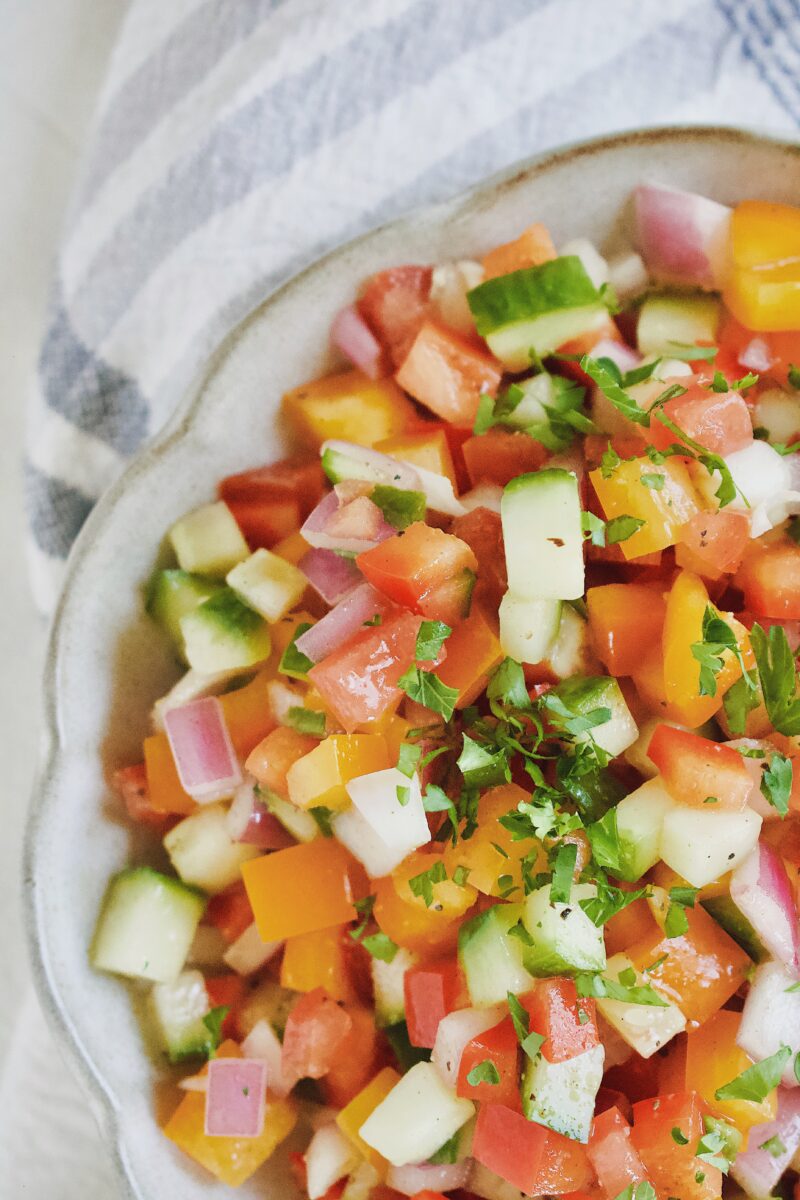 The goal for each ingredient is to chop them all about the same size. There is really no right or wrong size, consistency is the key.
I will tell you, for me, making this great is all in the layers. I start with chopping my onion and squeezing the lemon juice over it to give them a bit of a quick pickle. It takes the raw edge off of them too. This will set the tone for the size you will cut all of your ingredients. Just stick with the size and carry on.
Notes & Tips
This pico is best the day it is made, but I do like to let it marinate in the fridge for a couple of hours before serving. A nice chill will keep everything fresh while allowing all the flavors to meld really well.
I enjoy eating this with a chip, a plain tortilla chip is great, pita chips are even better. Sprinkle in a little feta cheese to make it amazing as a "salsa".
To use this recipe to make Greek Chicken Tacos, simply whip up a batch of my Greek Chicken. Slice it up, and put it in a tortilla, top with this pico and some cheese.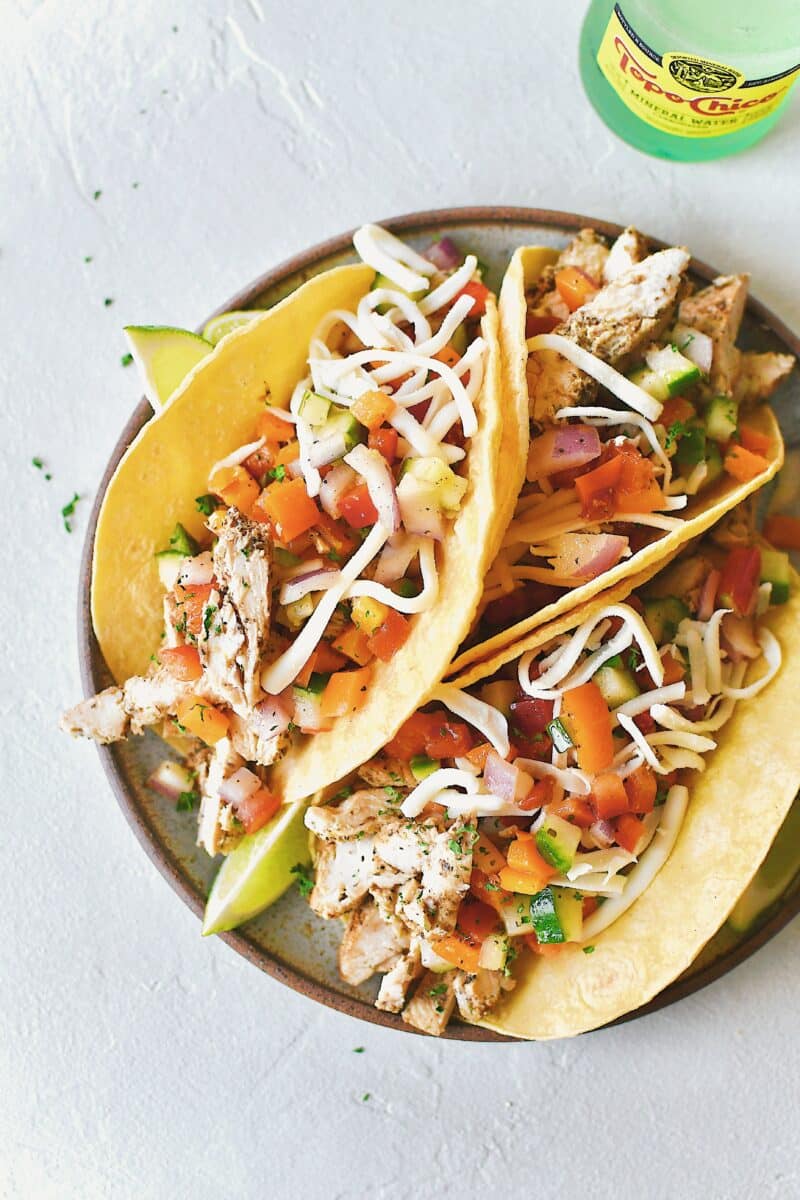 Substitutions
This is a hard section to address. Each of these ingredients, few as they are, makes this Greek Pico de Gallo what it is. That said, here are a few tips.
Bell Peppers - They can be swapped for any color you like. Green is traditional for Greek Salad. Some of the tiny little sweet peppers can be used if you have them around.
Red Onion - Red Onion is my preference for this recipe, but you could easily swap it for white or any sweet yellow onion you might have on hand.
Cucumber - The cucumber really makes this Greek in my book. I don't have a good swap for you, except to say, you could use any cucumber, English, Persian, or regular.
Tomato - These make this recipe a "Pico" but don't be stopped by the tomato. It could be omitted, you can also use any size or shape of a tomato.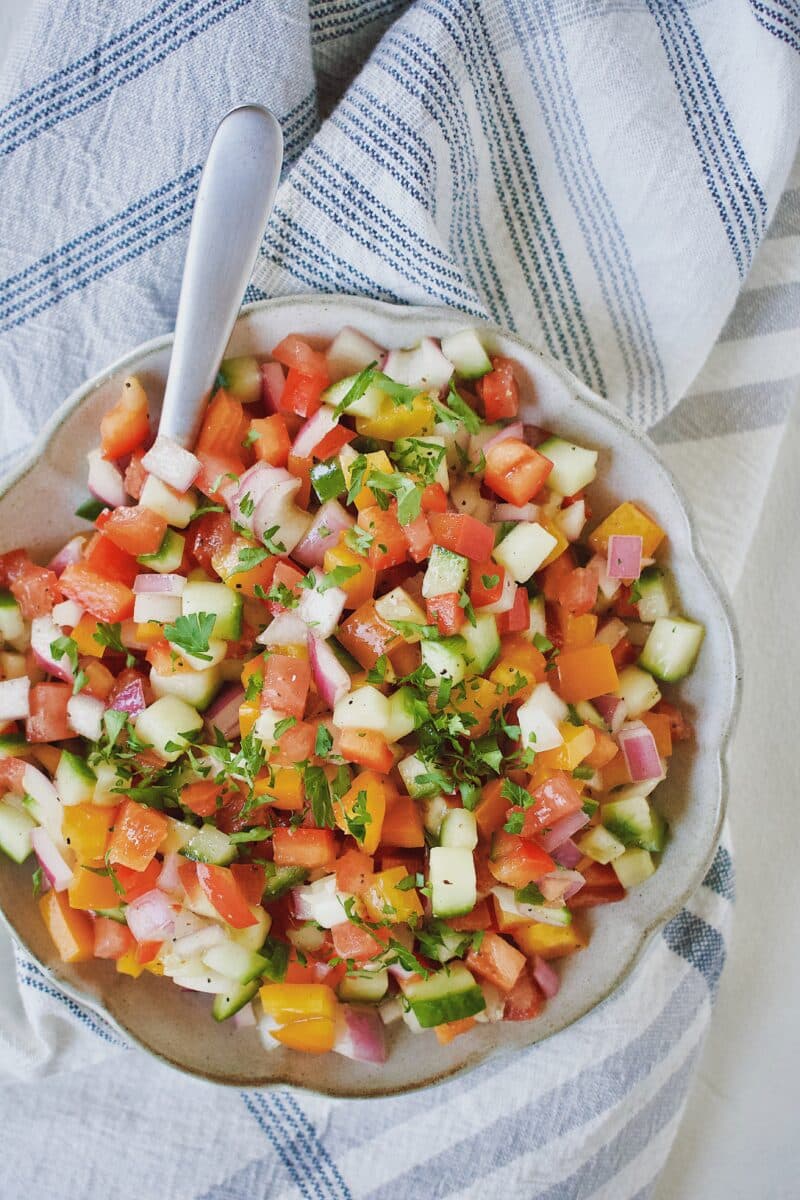 Great parings for Greek Pico
I could eat this straight on pita or corn chips, but my favorite way to enjoy it is atop my Greek Chicken recipe inside a tortilla. It adds a much-needed dose of flair to the weekly menu rotation, and I LOVE Greek food so it's a win, win!
Greek Lemon Rice Soup - Avgolemono
Mediterranean​ ​Saffron Chicken and Mushrooms
Quick Pickled Onions and Cukes
Wild Caught Salmon with Dill Tzatziki
Did you make this recipe? Let me know by leaving a review or comment! And be sure to sign up for my newsletter, and follow along on Instagram, Pinterest, and Facebook!