Whenever someone asks me How to cook Couscous I tell them, your kid could cook it, even if they've never cooked anything before! It is one of the easiest side dishes you could ever make, but there are a few keys to making it GREAT.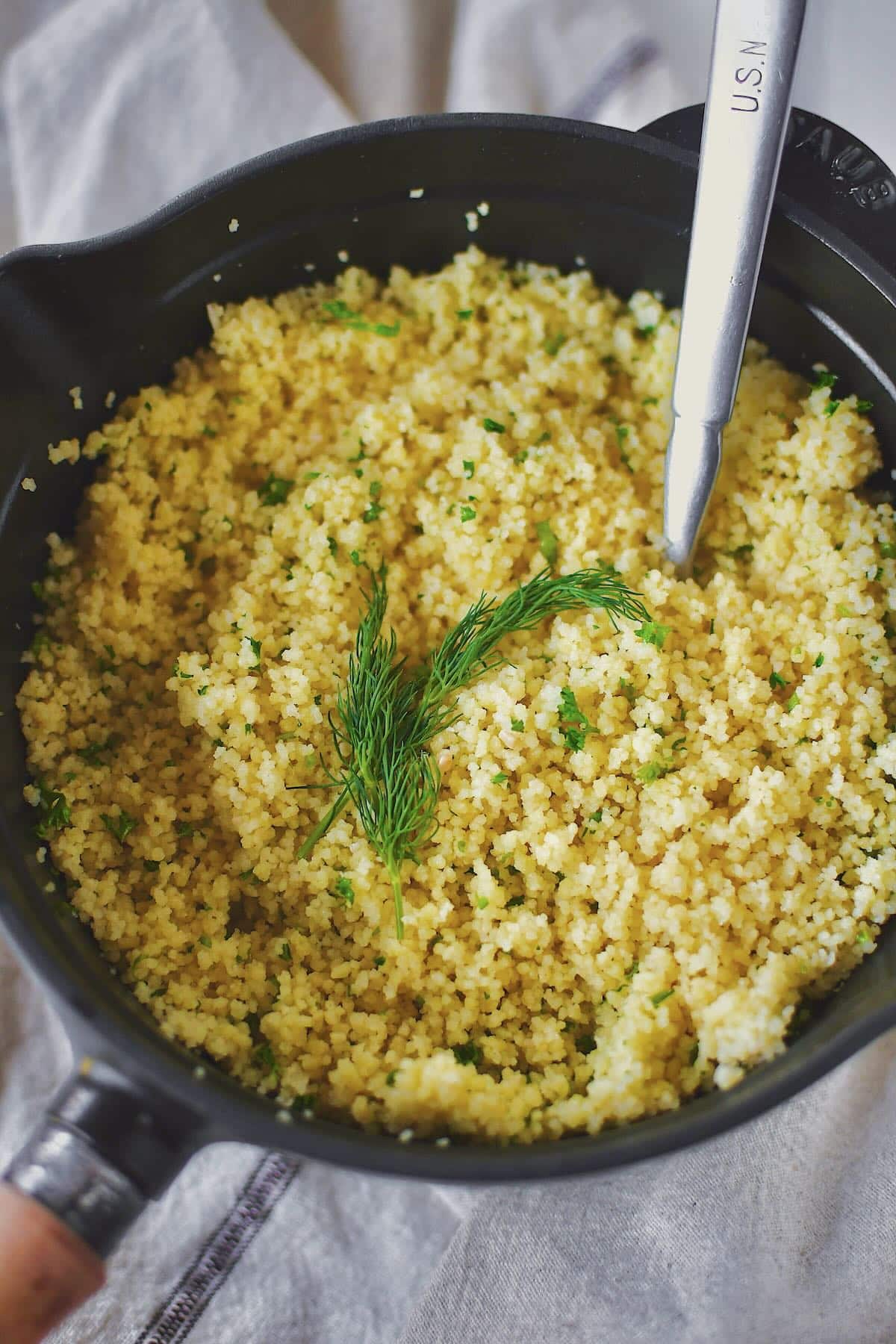 It is all about building flavor for the couscous to absorb because it will only taste like what you cook it in. And if you want TONS of amazing flavor, I love serving this couscous alongside my Greek Salmon, they are a perfect pairing! Now, let's dive into how to make this easy side dish you and your family will love.
Jump to:
Ingredients
First, let's start with, What is Couscous? It is technically pasta, it is tiny grains of semolina pasta that puff like rice when cooked, but it is not a grain. It is also not considered a pastina, even though it is a tiny pasta, it is even small than a pastina.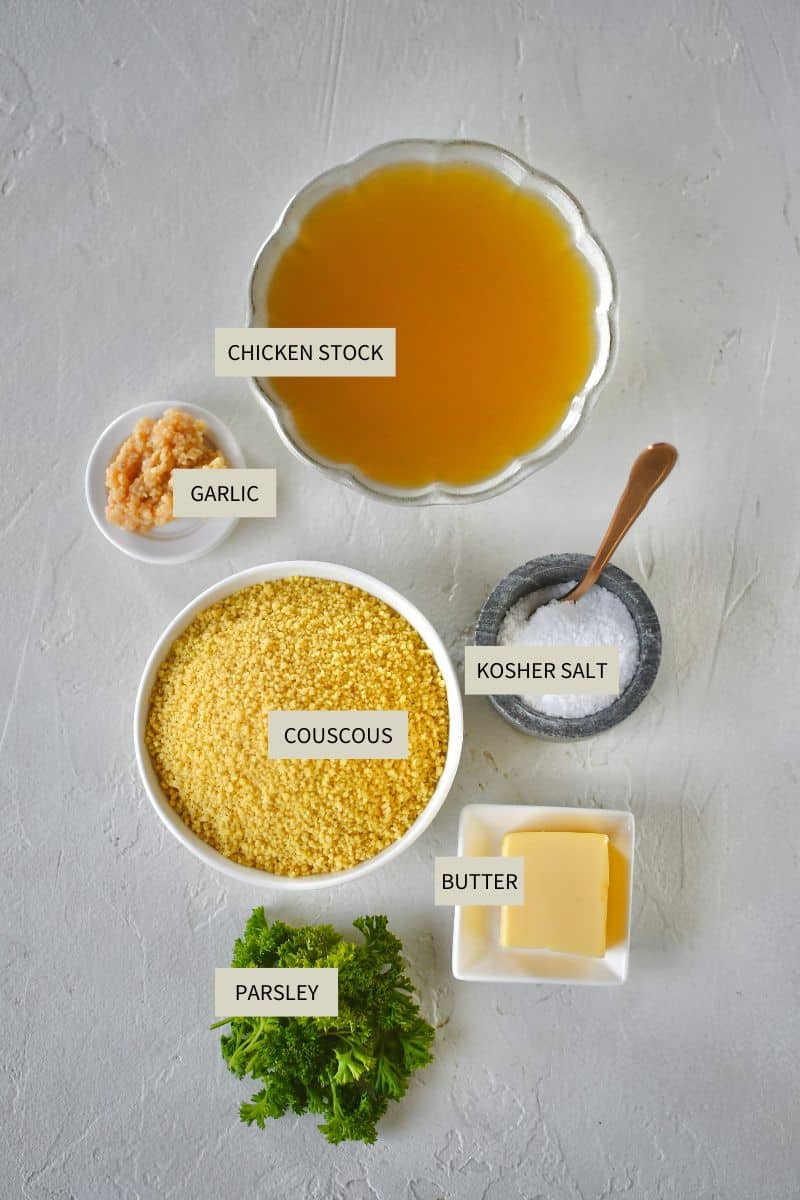 Next, let's chat about what to flavor your couscous with. To me, if you cook it in just water with nothing in it, it tastes like playdough, and that's where most people go wrong. I never suggest cooking in water, use a stock, of any kind for flavor.
I also like to brown my butter a tiny bit with garlic and salt in it. Scenting the butter builds a layer of flavor, and since your couscous will essentially taste like whatever you cook in that butter, it better be delicious.
Use the JUMP TO RECIPE button at the top of the post, or scroll to the bottom of the post to see the full recipe card with ingredient measurements and instructions.
Method
As stated above, I start by perfuming my butter with garlic and a little salt. I cook it just till it begins to brown, then I add the chicken stock to the pan and bring it to a boil. You can taste the chicken stock as it is warming, whatever it tastes like, your couscous will taste like, so add more salt if needed, or some herbs, whatever you enjoy. Then toss in the couscous.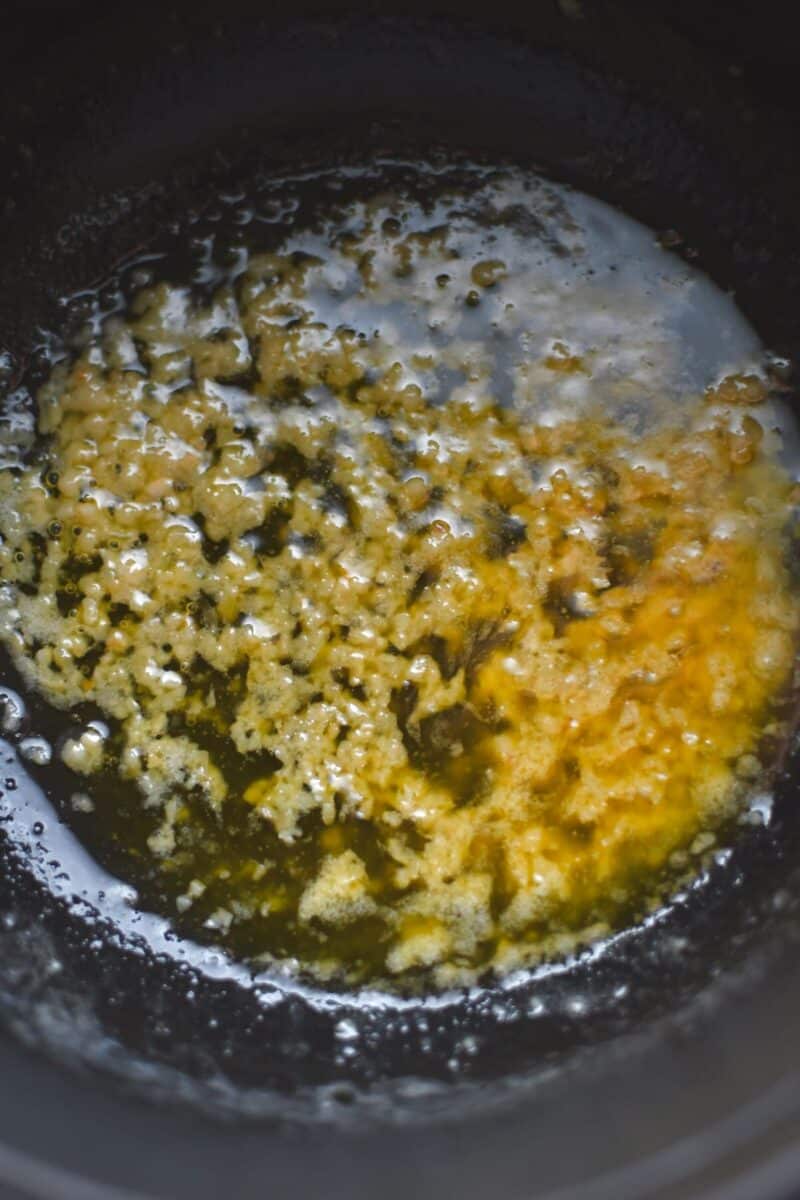 Stir the couscous into the boiling stock, then shut off the heat and place the lid on the pan. You let it sit for 5 minutes and it is cooked! That is IT!! Told you, your kid who's never cooked a thing could do it if they tried! I then fluff some parsley into it and it is ready to serve.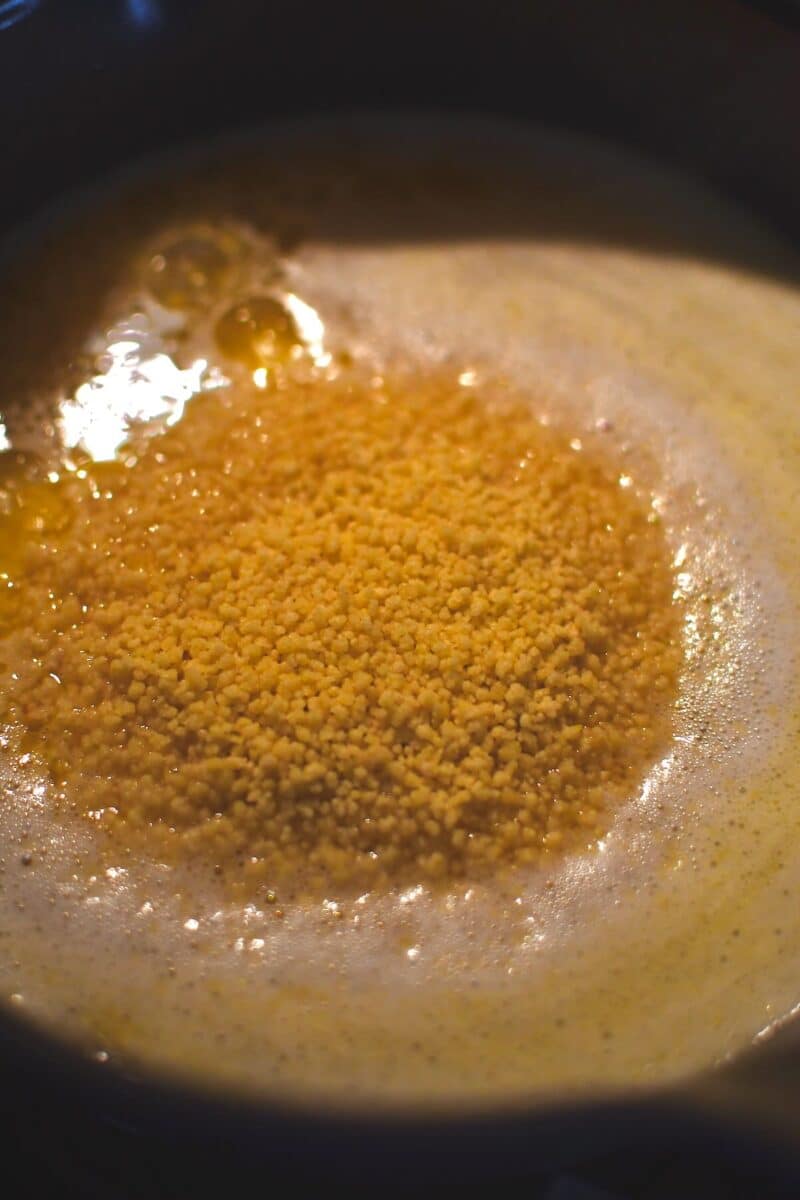 This is a super basic and simple recipe to get you started with making couscous. The possibilities are pretty much endless with it. You can add any herbs, spices, butters, olive oils, anything that has flavor can boost the greatness of this easy side dish.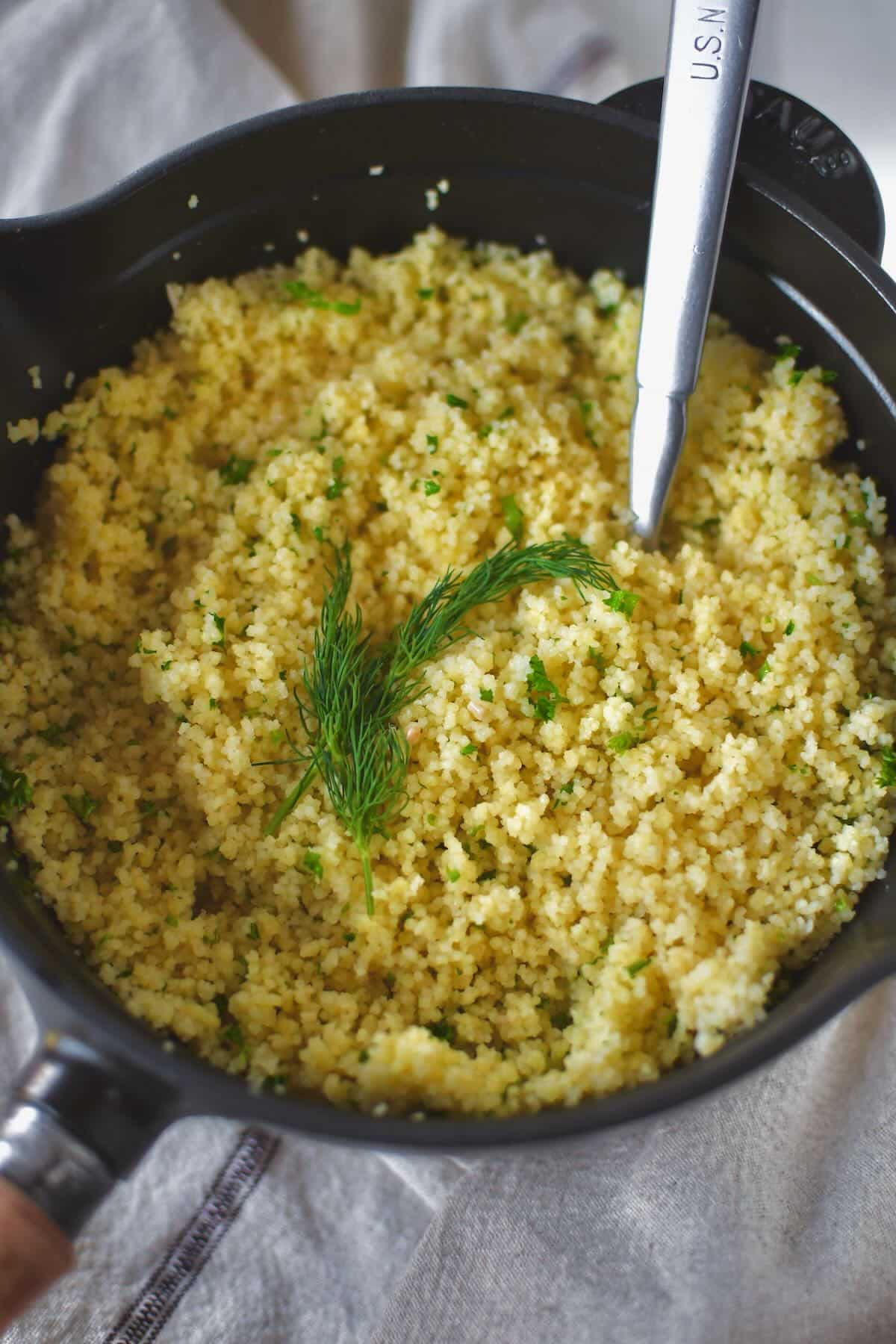 Notes & Tips
Prep all of your ingredients and have them ready before you start cooking this recipe, and have your main course ready too. This recipe takes SECONDS of active work to make and comes together SUPER quickly.
Lightly toasting the butter and garlic make a huge difference in this recipe. Just when you start to see the butter brown around the edges of the pan, add the stock.
Substitutions
If you would like to keep this recipe dairy-free or vegan, swap the butter for olive oil.
You can still add the garlic if you use oil, just cook it in the hot oil for 30-45 seconds so it doesn't burn, just enough to perfume the oil. You could also use shallot for a slightly different flavor.
I prefer chicken stock, but you could use veggie stock to make this vegan or vegetarian, just taste it before you add the couscous and make sure there are good flavor and salt levels.
Parsley is part of my basic recipe for you. Feel free to stir in your favorite herb at the end, I just encourage you to use SOMETHING. Herbs make such a big difference in the flavor of your food. Anything works, from rosemary to basil and everything in between.
Other Couscous Ideas
Lean Moroccan and replace the garlic with shallot, add a dash of coriander, and fold in some toasted pine nuts, golden raisins, parsley, and the juice of a lemon at the end.
My sister loves when I sautee some mushrooms and peas in butter, then fold them in after cooking. Add some parsley for color and a pinch of red pepper flakes for some zip.
Make it Medi and fold in some tomatoes, cucumbers, and feta in the end. Enjoy it hot or cold this way.
Make it a one-stop shop as a dinner side dish and roast all the leftover veggies in the fridge and toss them into cooked couscous for your starch and veg all in one pot.
One of my family's other favorite ways to eat it is simply adding half a bag of peas into this recipe when bringing the stock to a boil. It's super simple, but so yummy!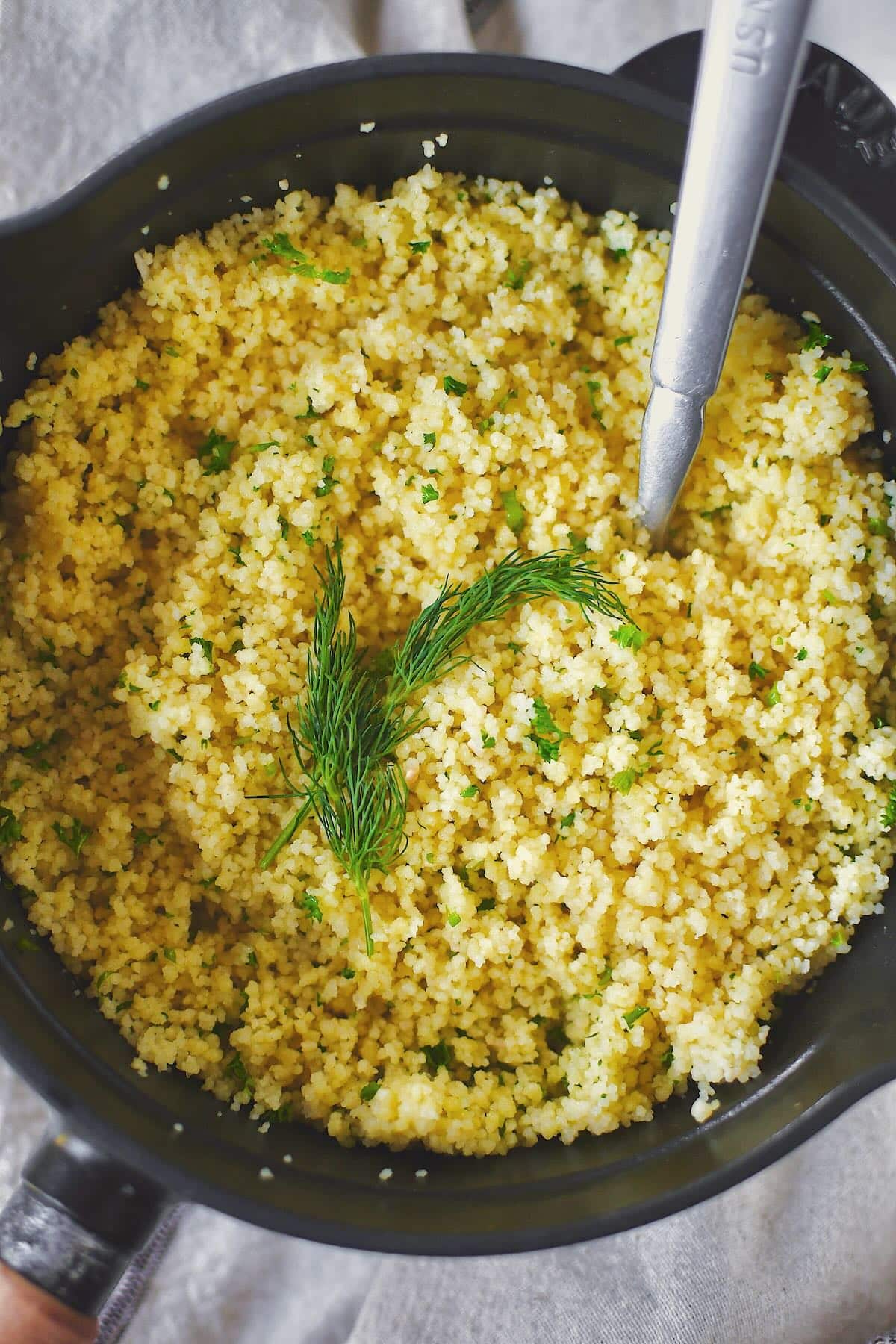 Did you make this recipe? Let me know by leaving a review or comment! And be sure to sign up for my newsletter, and follow along on Instagram, Pinterest, and Facebook!