I LOVE this Pecan Crusted Chicken for a super flavorful, super quick weeknight dinner. It comes together in minutes and has so much flavor!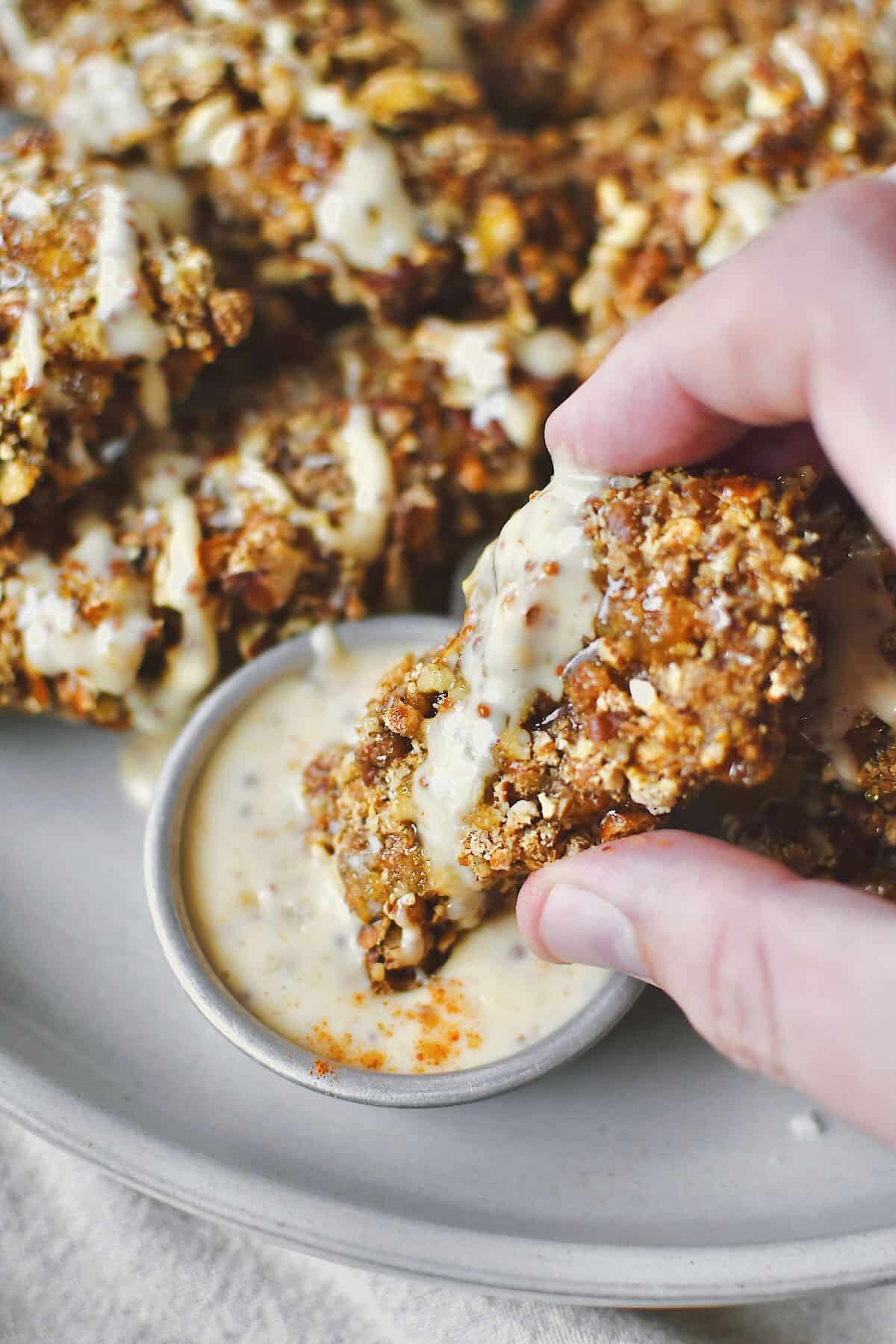 I can have this recipe on the dinner table in about 30 minutes when I am super motivated to get dinner out quickly. It is so tasty and just makes chicken...not blah! It has a little spice, it's deliciously nutty, and a little salty. It's just GOOD!
Jump to:
Ingredients
I start with chicken breasts, this is because I usually have some on hand that I can whip out for this recipe. You could also start with chicken tenders if you are buying specifically for this recipe. And when it comes to the pretzels, you can honestly use ANY kind, even the stale ones you find in the back of the pantry. They will crisp right back up when you cook the chicken and no one will ever know.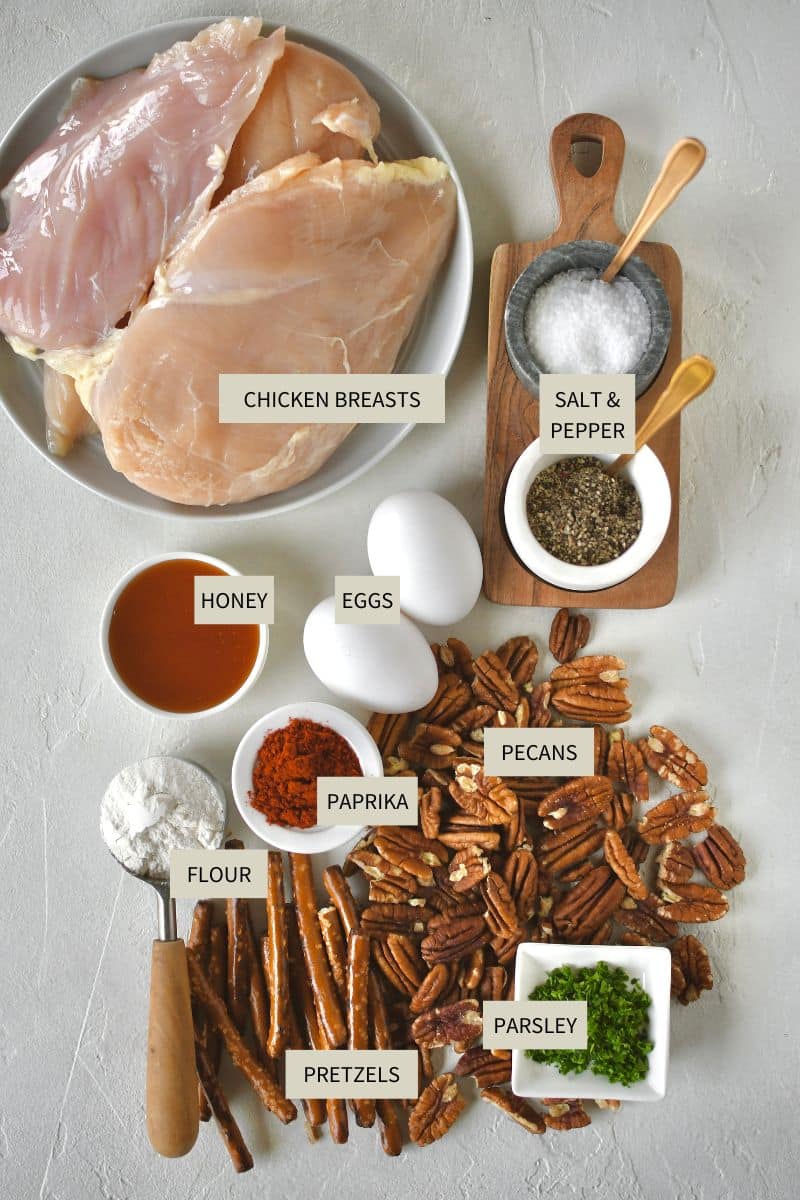 Beyond that, the remaining ingredients are mostly spices and herbs. This is a super simple pantry staple recipe that uses things I typically always have on hand. I love recipes like this that look like I am showing off and its really just stuff I already had.
Use the JUMP TO RECIPE button at the top of the post, or scroll to the bottom of the post to see the full recipe card with ingredient measurements and instructions.
Method
If you start with chicken breasts, I suggest you pound them out so they are the same thickness throughout. This helps ensure quick cooking of the tenders, as well as makes the chicken more enjoyable to eat. You could also start with just chicken tenders if you like, or even bread the whole breasts if you prefer not to cut them up.
I then blend together the flour and seasonings and dust it on both sides of the chicken, this is my lazy "dredge" of the chicken, making the breading process only 2 steps vs. 3.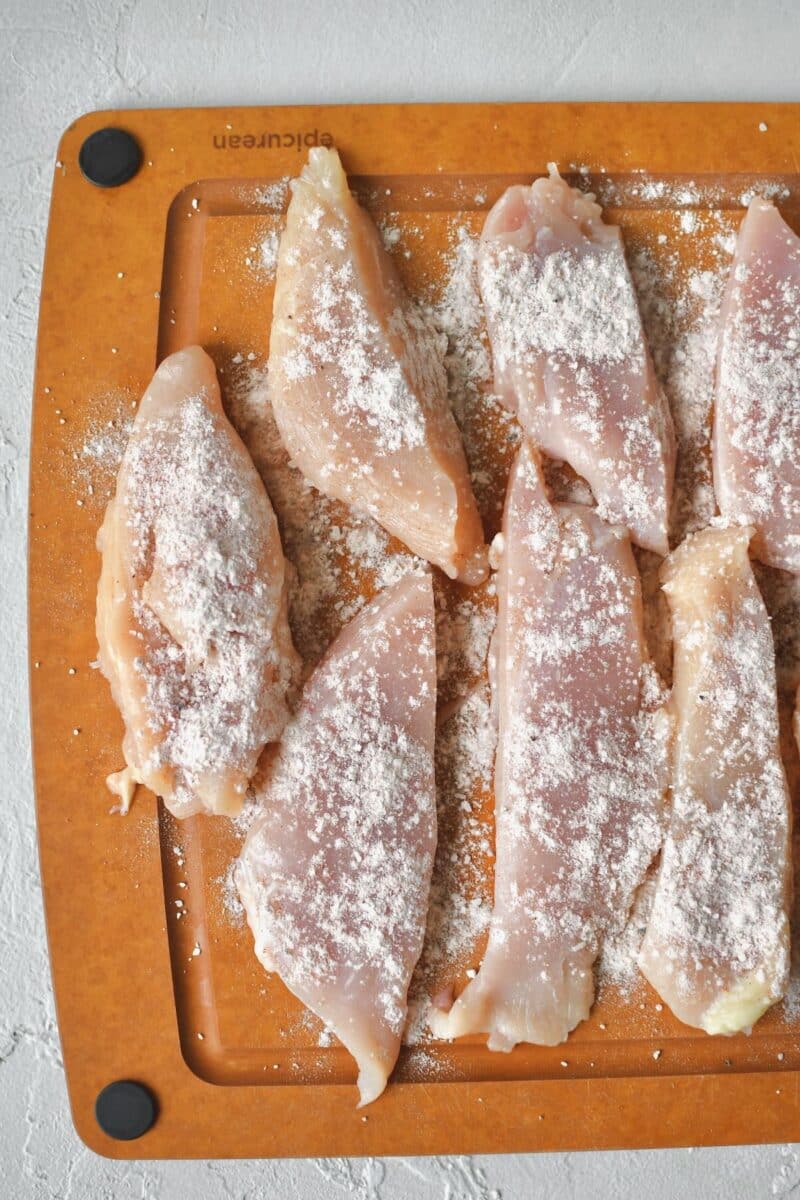 Then whip up the eggs and crush the pecans and pretzels into little pieces. I then throw them in shallow bowls and get to breading. A quick wash through the egg, then press the pecan/pretzel mixture on and place on a parchment-lined baking sheet.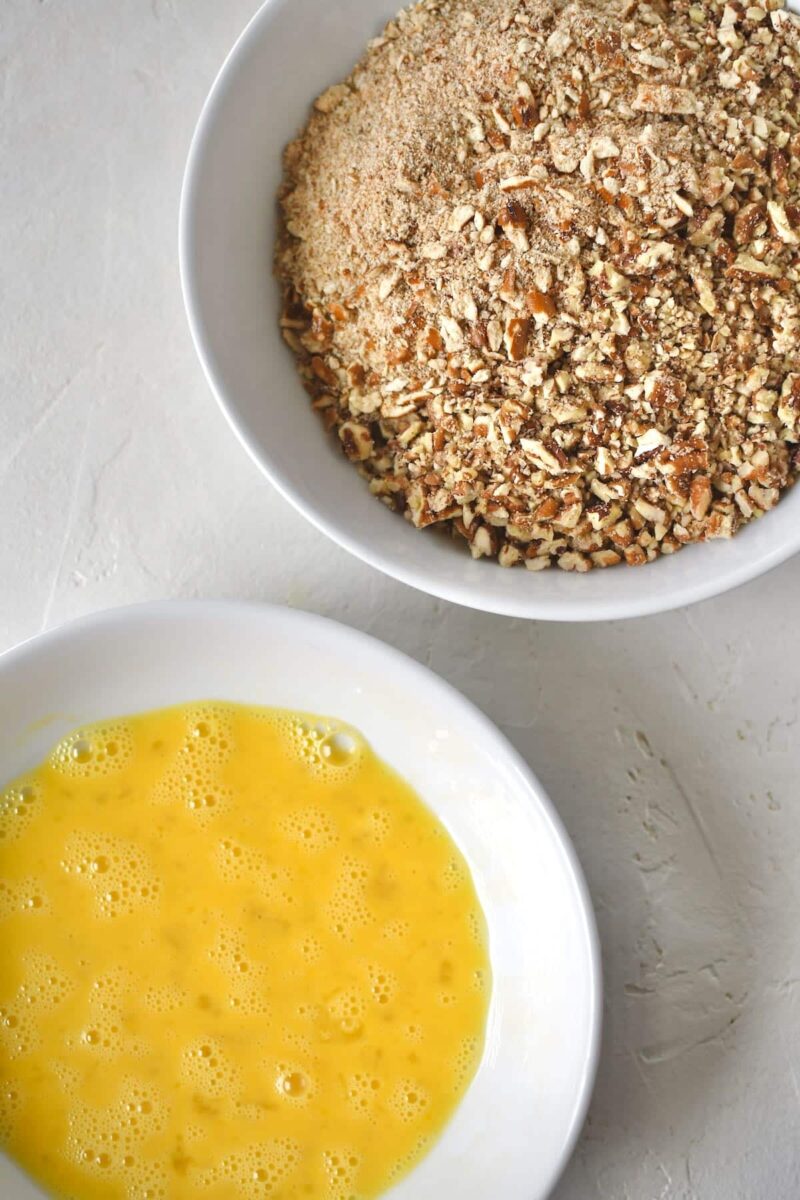 Bake for 10 minutes on each side and that is it, dinner is ready to hit the table. I sometimes whip up some mashed potatoes to serve with them, but usually just have a salad on the side to make it a quick and simple dinner.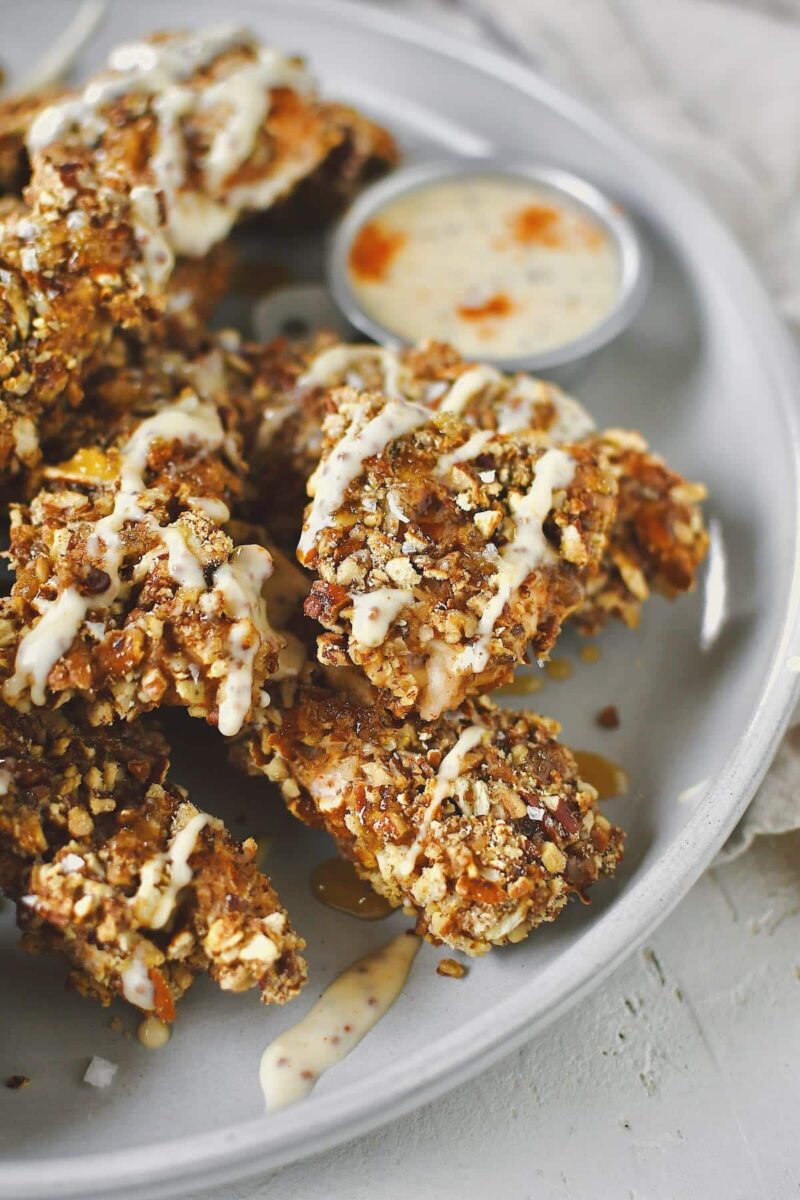 Notes & Tips
For the most tender juicy chicken, start by tenderizing it between two sheets of plastic wrap. This is if you are using chicken breasts or even thighs. No need to tenderize if you start with chicken tenders.
You can cut chicken breasts into tenders as you see I have done in my images, you can also leave the chicken breasts whole if you like. I would still tenderize them.
When crusting the chicken, really press the pecan/pretzel mixture on. It will stick really well, you just kind of have to press it in a little.
Substitutions
I typically have some chicken breasts or tenders in the fridge or freezer so that is what I use. You could also start with chicken tenders or even cut up thighs into nugget sizes.
If you need to keep this recipe gluten-free, drop the flour and use cornstarch. Also use a gluten-free pretzel, there are many great options for those on the market.
I like to use sweet smoked paprika, it really boosts the flavor of everything. If you like a little more heat you can use hot paprika or a dash of cayenne too.
I like to drizzle some honey on the chicken the moment it comes out of the oven. This is also a great opportunity to use some hot honey or even some chili onion crunch if you like things a little spicy.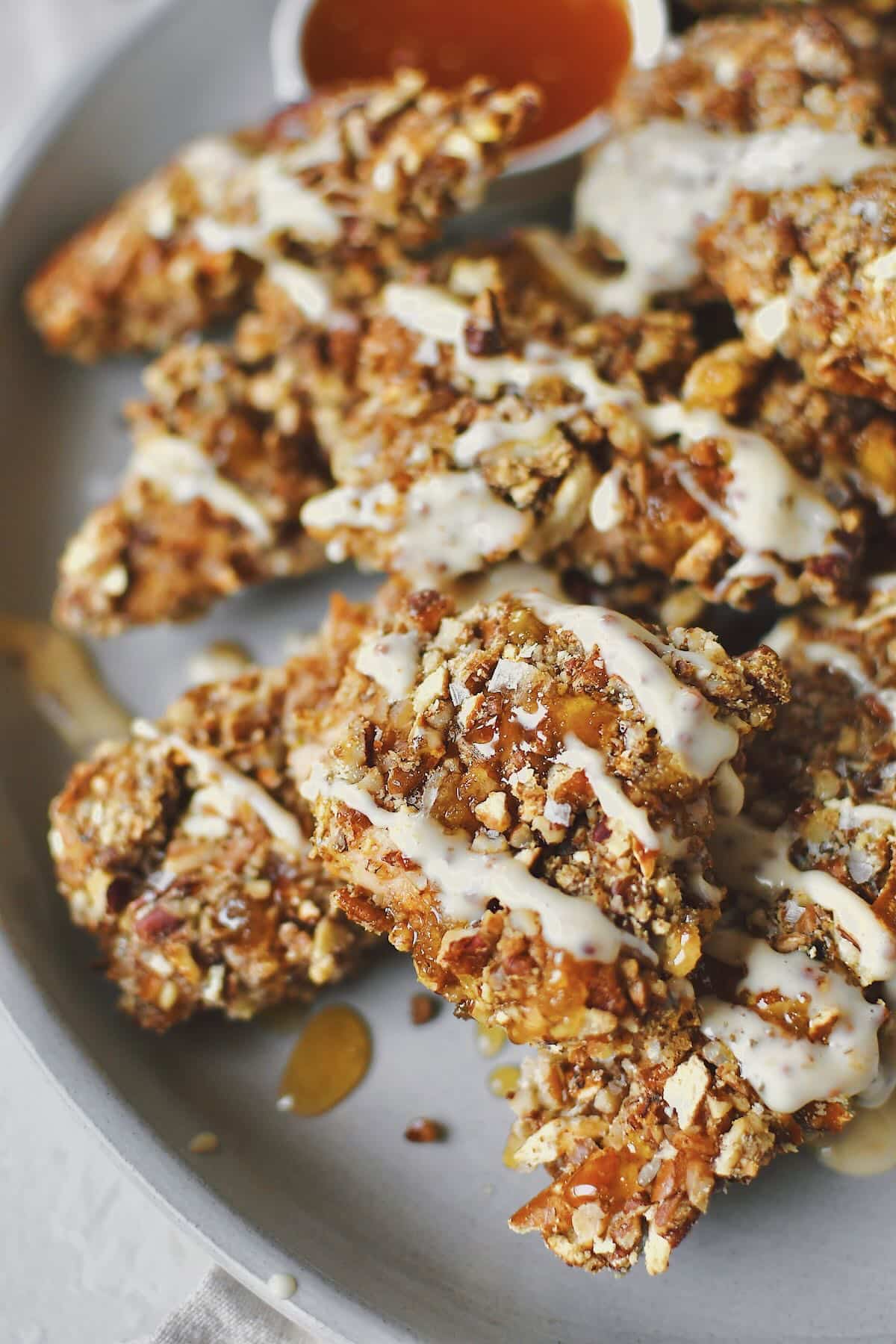 Did you make this recipe? Let me know by leaving a review or comment! And be sure to sign up for my newsletter, and follow along on Instagram, Pinterest, and Facebook!