This is the actual Alfredo Sauce of your dreams. Have you ever been to a restaurant and had a sauce that just doesn't compare to anything else you have ever had? That's because it is made from scratch and by a real sauce loving culinarian.
When I was coming up as a Chef and working in restaurants this is one of the first sauces I learned to make. It is so simple and goes against most of what I learned in school, but it works beautifully and holds up even better. It can be kept warm on the stove over a very gentle heat for a while, or jarred and kept in the fridge for about a week.
I like to make a big batch and use it over the course of a week. I will make Chicken Fettuccini Alfredo one night, a Chicken Alfredo Pizza another, or even just some bread rolls or sticks to dip in the sauce. Grab this pizza dough recipe to make something like this beauty you see below.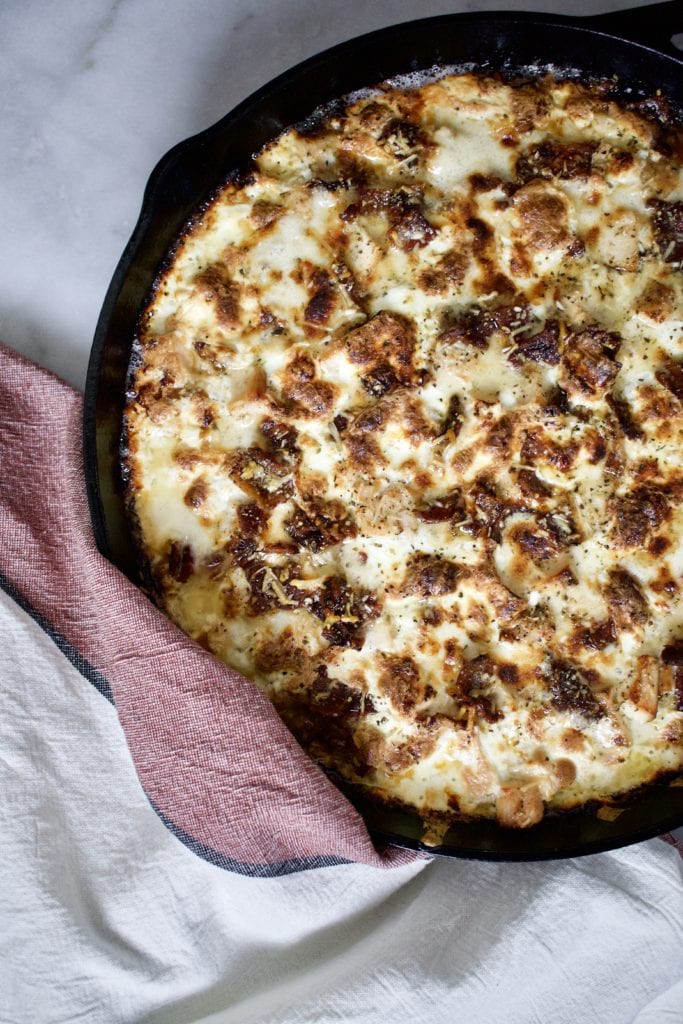 How to "Alfredo" like a Chef!
This sauce is a simple white wine cream sauce that you then work a little parmesan cheese in to. What's great is that you are building so much flavor in the way that you start the sauce, that a little cheese goes a long way!
You begin by cooking down a little bit of white wine, garlic, and shallots until the wine is almost completely reduced in the pan. This creates what is called a fond and this is the origin of all of our flavor. The cream is then added and brought to a simmer.
Gently get the cream up to a simmer, but be careful, when it starts to bubble, it will want to simmer right out of the pan. The cream will grow quickly and boil over. When you start to see a few bubbles on the surface of the cream, reduce the heat to medium-low and whisk consistently for about 5 minutes until the cream reduces a bit and no longer wants to boil over.
At this point the sauce will have thickened slightly, making more of a sauce and less, simply warmed cream. At this point, you will add your cheese and continue to whisk until it has fully melted. It is a lot of whisking, but it will all pay off in the end. When the cheese is fully incorporated, you can remove the sauce from the heat and set aside or store it for use.
Toss it over some fresh pasta (Get my recipe here) or on top of a pizza crust with some grilled chicken, mozz and more parm. It even pairs well with shrimp if that is more your speed. The point is, now you have this awesome sauce recipe in your arsenal, take it and make it your own!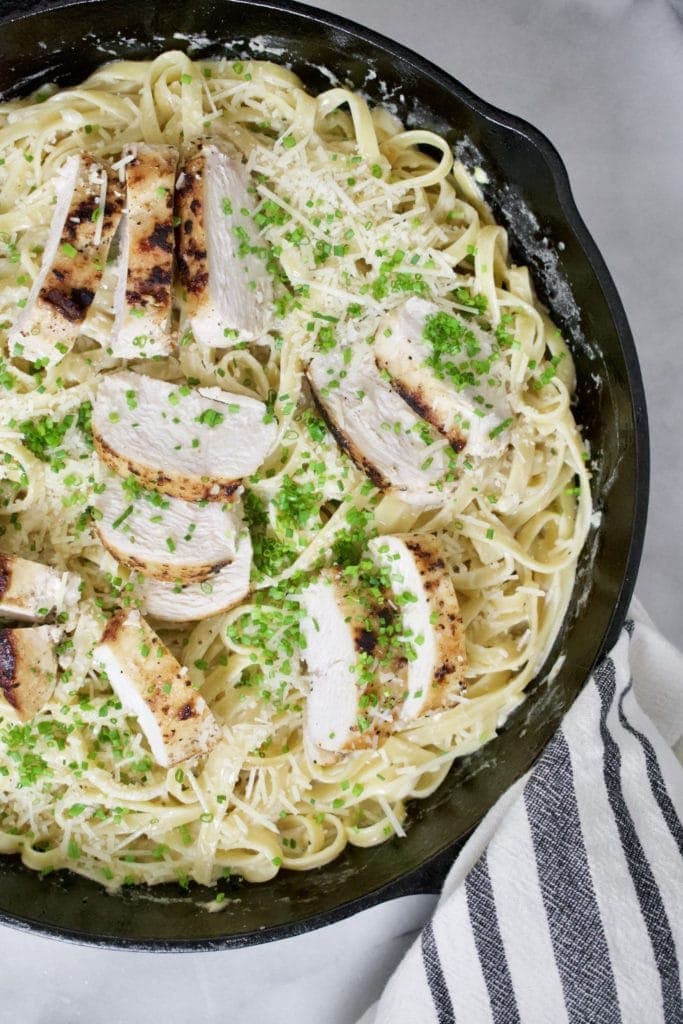 If you make this recipe, please let me know by leaving a review at the bottom of this page!
And make sure to sign up for my newsletter and follow along on Instagram, Pinterest, and Facebook for more KendellKreations!
MY LATEST RECIPES!
Get my NEW e-Cookbook here!! ⬇️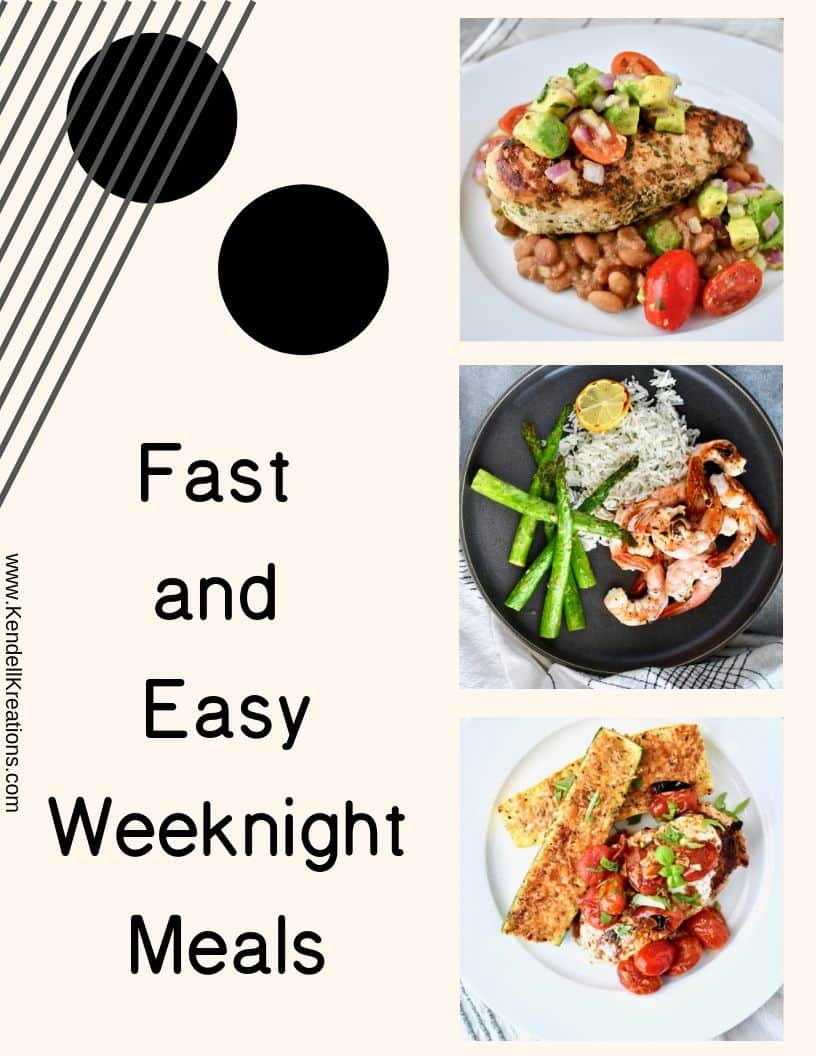 MY FAVORITE KITCHEN TOOLS!
Here are a few links to some of my favorite kitchen tools! You get a car, YOu get a car, YOU ALL GET A CAR…in my best Oprah voice
These Rösle Silicone Tongs are a little pricey but they will last you the rest of your life and are the softest in your hand. This is important for someone like m that cooks so much. It reduces strain, I have 4 sets in my kitchen!
These are my FAVE Nordic Ware Sheet Pans, every kitchen should have at least 2 sets of these! I think I have at least 4 of each of these.
This is my favorite pressure cooker, the Fagor is the same concept as the "Instant Pot" but easier to use in my opinion, if you don't have one you NEED one, it will be your best friend in the kitchen!
A sharp knife is the most important tool in the kitchen, these Japanese steel "Shun" knives are my favorite! And this is a great starter set to build on. Once you try them you will be in love so use this as a foundation you can build on for years to come.
This Scanpan 11″ skillet is just the right size for almost anything you will need to cook and my best friend and a real workhorse in my kitchen, it's also a great deal at $99. Scanpan is the best in the world for healthy cooking. It is coated with a proprietary ceramic-titanium coating that is durable while allowing you to use fewer fats and oils when cooking. It is a coating only they use. I could talk all day about my love for these pans, message me if you want more info. Here are some other sizes that are available if you are looking to outfit your kitchen with some new goodies. 8″ & 10″ Skillet set or 8″ Skillet, I still need this one for my kitchen  Also, I don't really know how to cook small so the 12.5″ is my other fave!
This giant vat of olive oil is my favorite, I decant it into a smaller bottle for my counter. Or put this spigot on top of a wine bottle!
My favorite baking dish that is so easy to clean even burnt on cheese slides right off!
This Tovolo jar scraper has to be my single favorite kitchen tool, it is definitely the most used tool in my kitchen. If you are NOT a gadget person, this is the only necessity I say is a MUST beyond the wooden spoon.
A great wood spoon is essential, this Olive Wood one is my favorite, I have more than I can count. But can you really ever have too many?
A food scale can be a very important tool in your kitchen, this one is the one I use every day!
If you love Joanna Gaines as much as I do then the 'Magnolia Table Cookbook' is a must in your kitchen, get a copy HERE!