This extremely easy and absolutely delicious Confit Garlic Recipe is a staple every cook should have in their arsenal. Just be sure you don't let it linger in the fridge, but there are so many get ways to use it, that won't be a problem.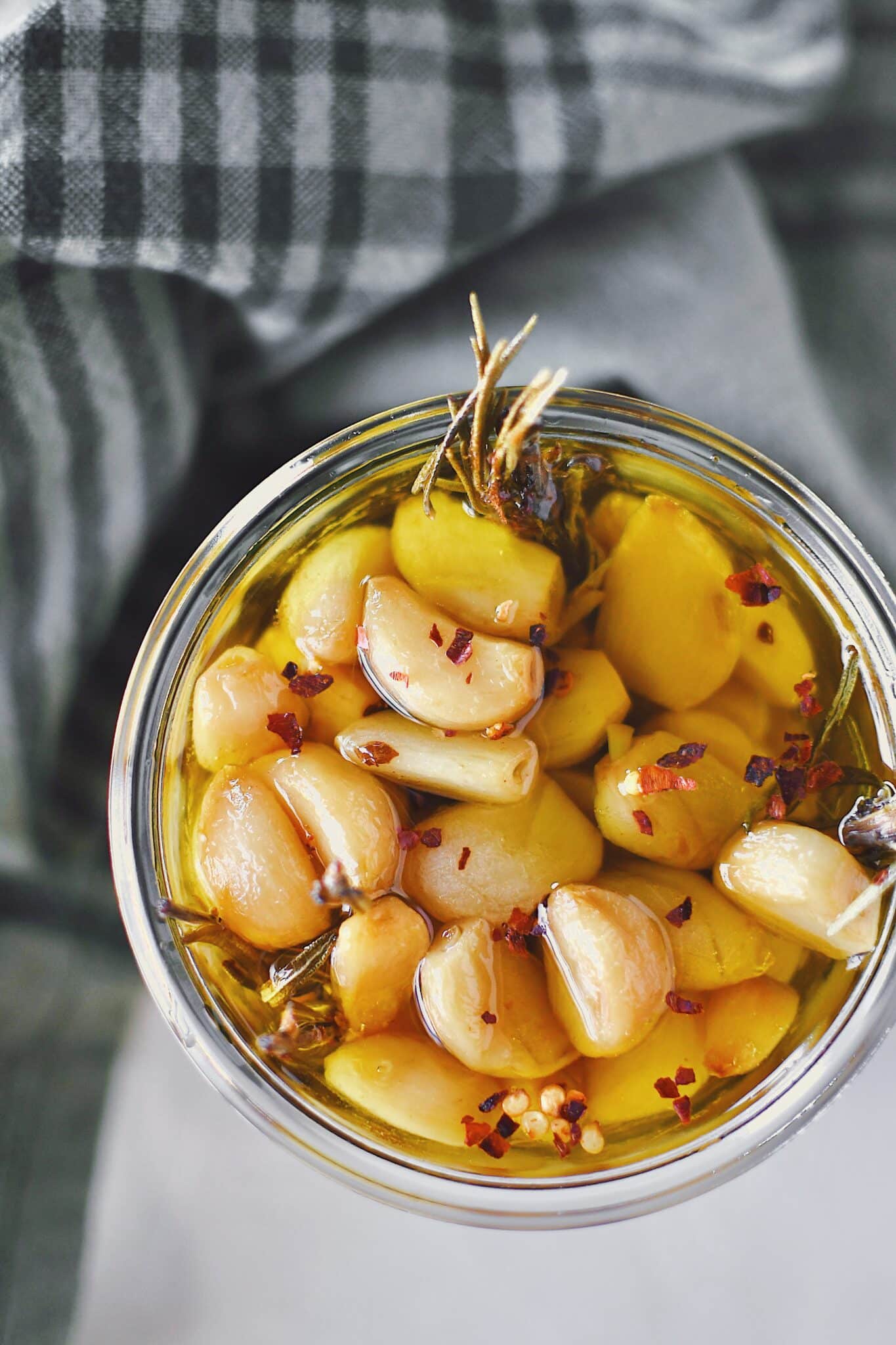 While there can be some concerns over botulism growth in a recipe like this, because of its lack of acid, as long as you use it within about 7-10 days, and keep it refrigerated, there is little to be worried about.
I did some research, and there are less than 100 cases of botulism reported across the US each year. Most of those are related to poor pressure canning techniques from food that has been stored for a longer period of time. So as long as you treat this garlic as EXTREMELY perishable and use it up quickly, you should be able to erase any concerns associated.
Plus, it is so easy to whip up, you can make it whenever you have a taste for it!
Jump to:
Ingredients
I think the recipe name pretty much sums up exactly what you need to make it. Essentially you need garlic and oil. Confit refers to something slow-cooked in oil or its own fat. But since garlic doesn't really create its own fat, cooking it in olive oil till soft and creamy is just the right choice.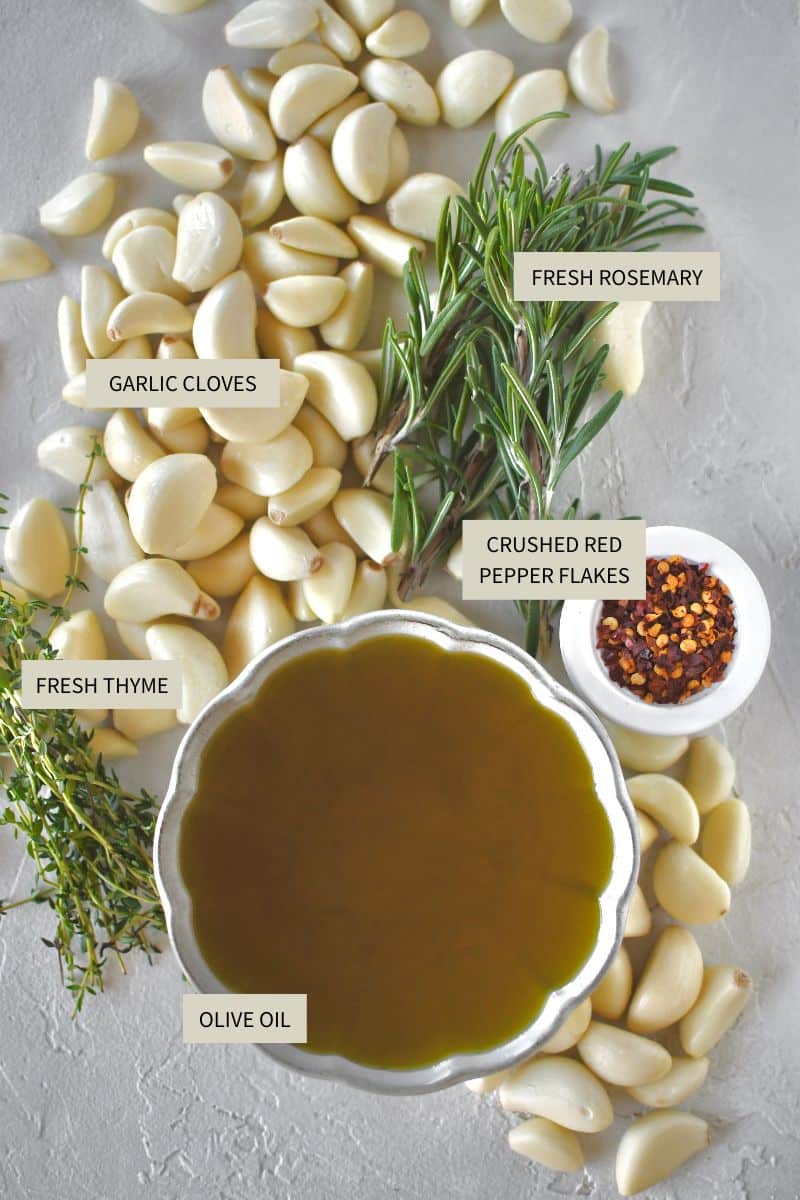 And while I like to add a little extra flavor by using herbs and some crushed red pepper, those are totally optional. You could just make this with garlic and oil.
Use the JUMP TO RECIPE button at the top of the post, or scroll to the bottom of the post to see the full recipe card with ingredient measurements and instructions.
Method
So the first thing I like to do, which takes a little extra time to do, but is worth it in my opinion is to trim off the root end of the garlic cloves. It is just a bit of a pet peeve of mine when those get left on. They stay hard and are not enjoyable to eat. While taking them off is totally up to you, it is a must for me!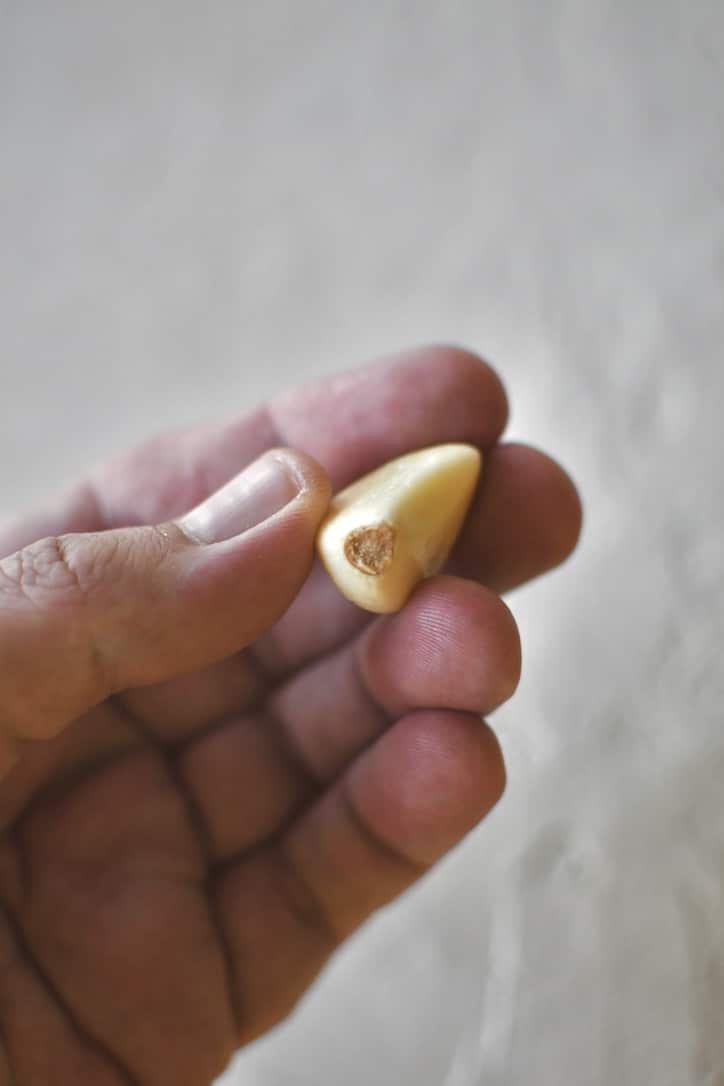 Then place the trimmed garlic in an oven-proof dish or little dutch oven like you see here. Use enough oil to cover the garlic completely and nestle in the herbs and red pepper flakes if you choose to use them.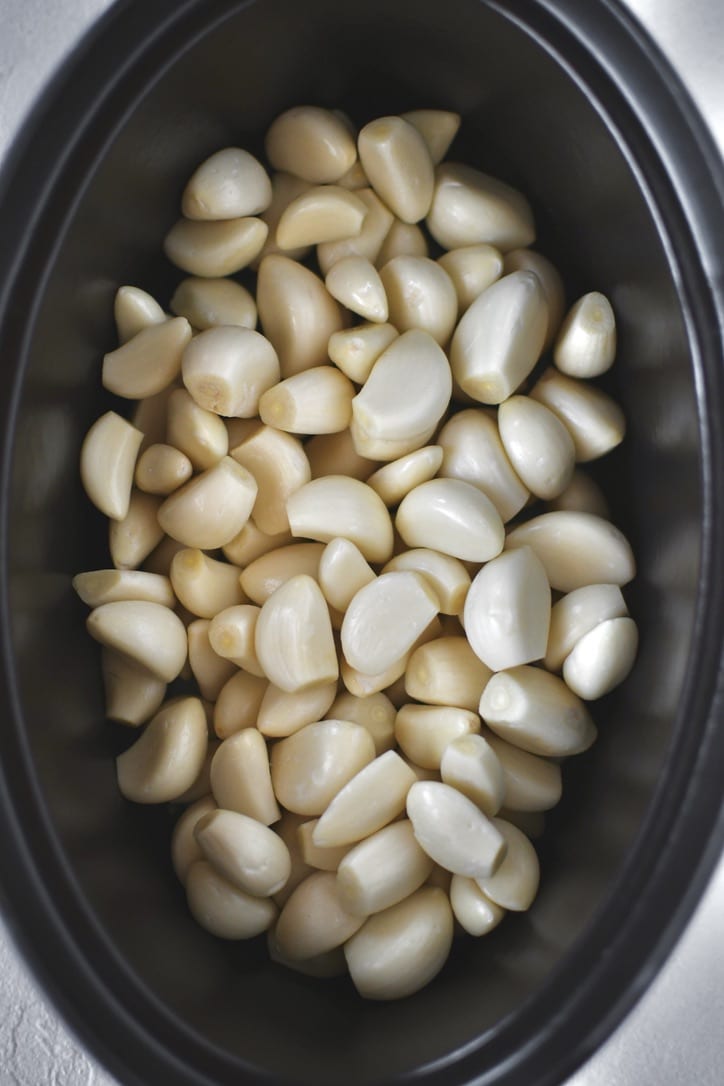 Bake the mixture for at least an hour until the cloves have become a perfect golden brown and turn to mush when pressed. And to avoid any bacteria growth, cool the garlic as quickly as possible. I do this by transferring it to a glass jar, letting it cool for about an hour at room temp, and then right into the fridge.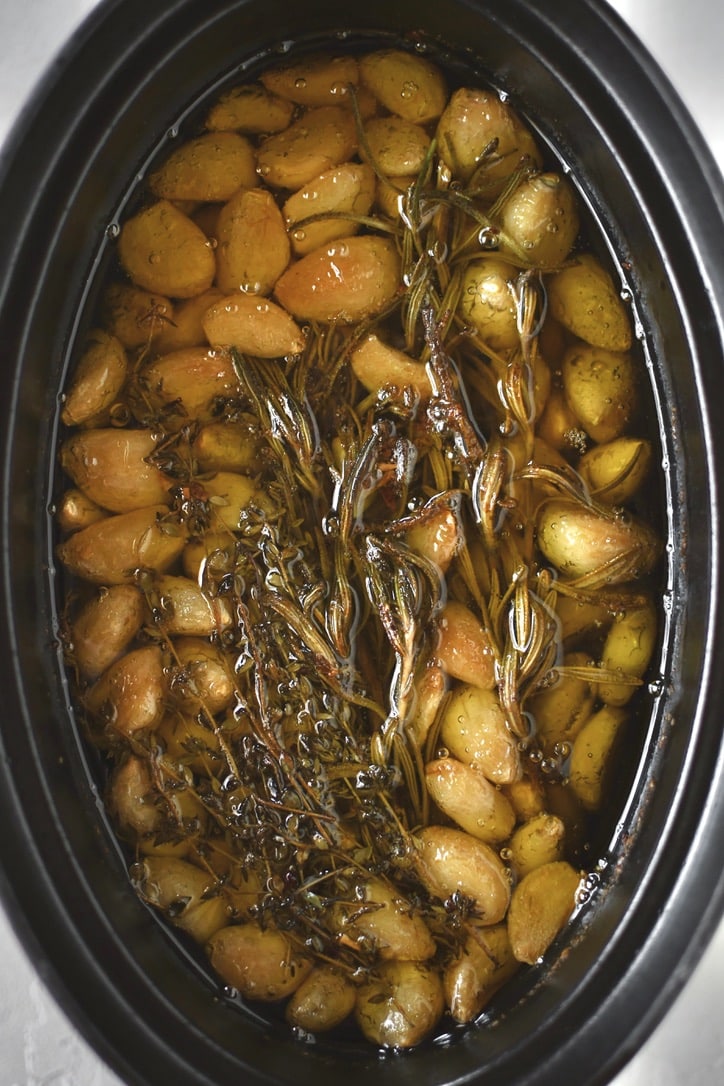 You can leave the herbs in if you like, or take them out, there is no wrong answer. Just be sure to use a really clean utensil every time you take any garlic out of the oil, so there is no contamination in the jar.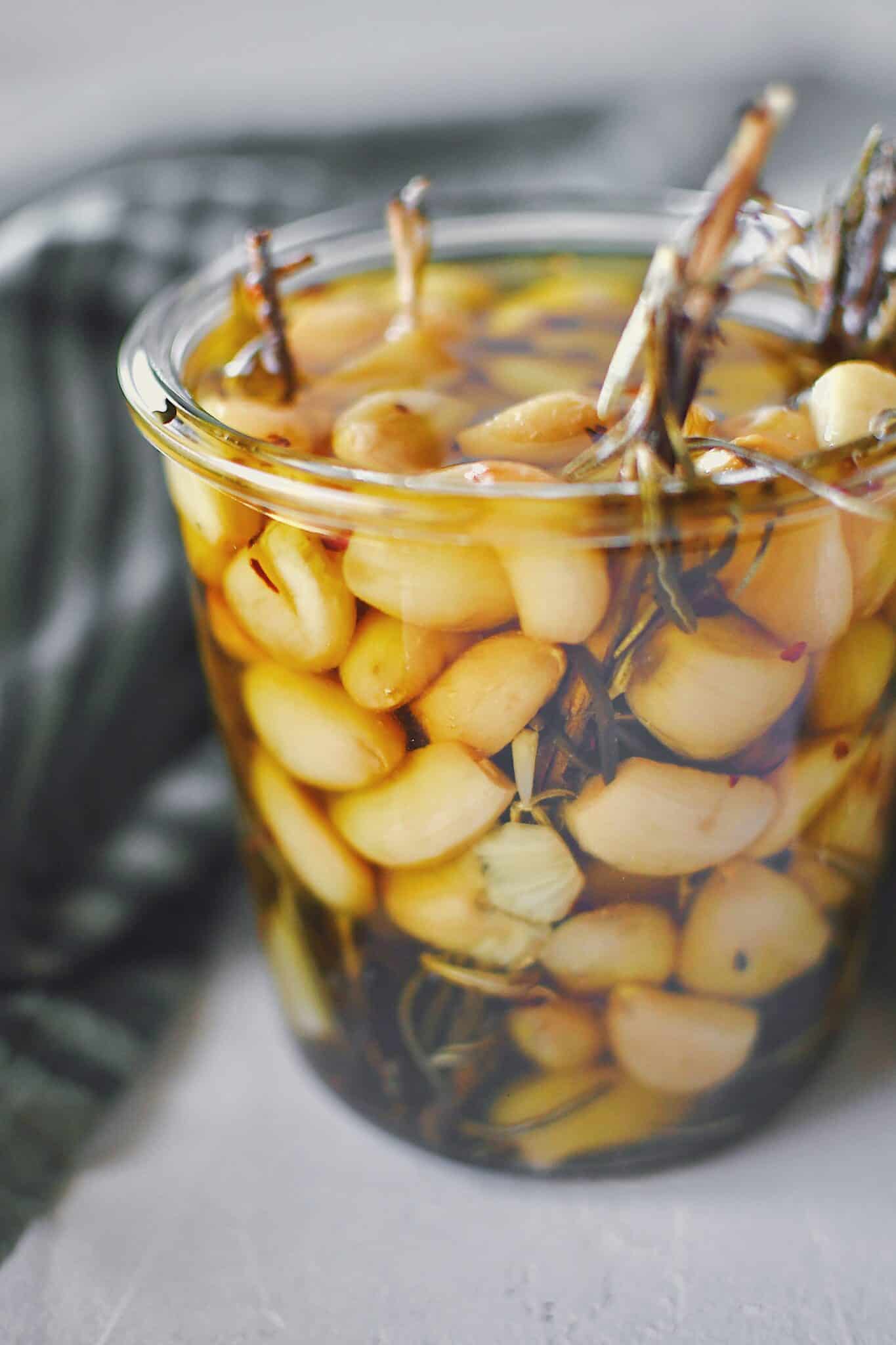 Notes & Tips
The first thing I do for the recipe is to remove the hard, stem end of each garlic clove. This is a personal preference and takes a couple of extra minutes to do, but it makes for a much more enjoyable eating experience, in my opinion.
It also makes it so that the garlic cloves completely mush when pressed with no clunky hard bits to bite down on.
The recipe is a little bit fluid, and more of a guideline when it comes to the ingredient measurements. You need about 2 cups of oil to cover 2 cups of garlic cloves but just use enough to cover the garlic. That is what is more important, that they are fully submerged in oil when cooking, rather than using a specific amount of oil.
Be sure to cool the garlic and oil as quickly as possible and get it in the fridge to avoid any bacteria growth. Because of the lack of acidity in this recipe, it can spoil quickly. There is also a concern for botulism growth in confit garlic, so it is imperative it is always stored in the fridge and a fresh, clean utensil is ALWAYS used to retrieve the garlic.
Substitutions
I typically use light olive oil for this recipe. Don't use your expensive extra virgin that is meant for finishing salads. You could also use avocado or sunflower oil if you'd like.
I used rosemary and thyme in this recipe to set a baseline for you. But feel free to experiment with any herb you personally love in your garlic confit. The options are limitless.
I like the little kick of flavor the red pepper flakes bring, but if you prefer the leave them out, feel free to do so.
You can also leave all the herbs and spices out altogether and just cook the garlic in oil.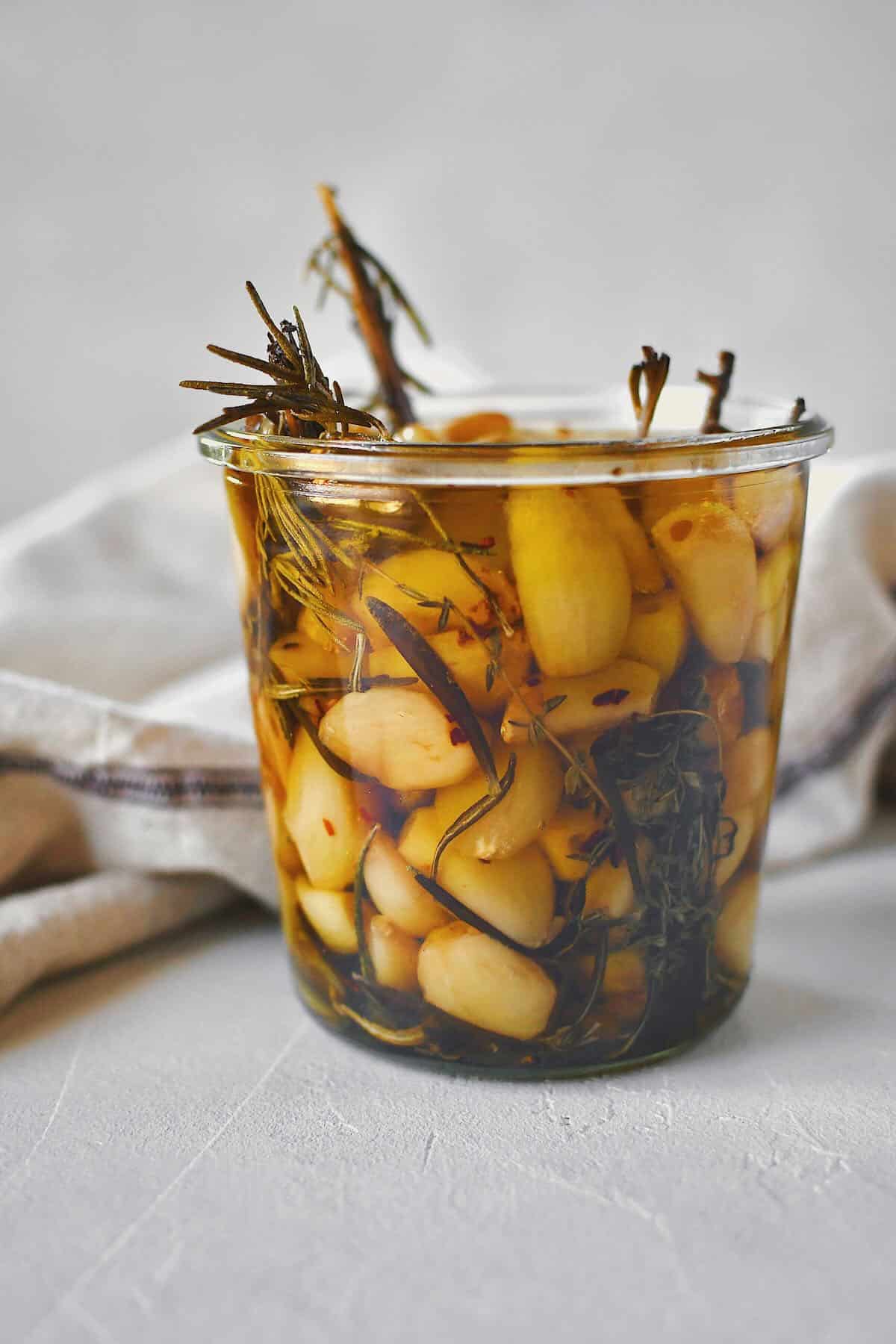 Did you make this recipe? Let me know by leaving a review or comment! And be sure to sign up for my newsletter, and follow along on Instagram, Pinterest, and Facebook!