Meet your new favorite side to bring to a potluck or bbq in this Snap Pea Salad. Inspired by a veggie tray, but without the need for dipping. Just scoop this delightful salad right into your mouth, cause you won't want to stop after the first bite!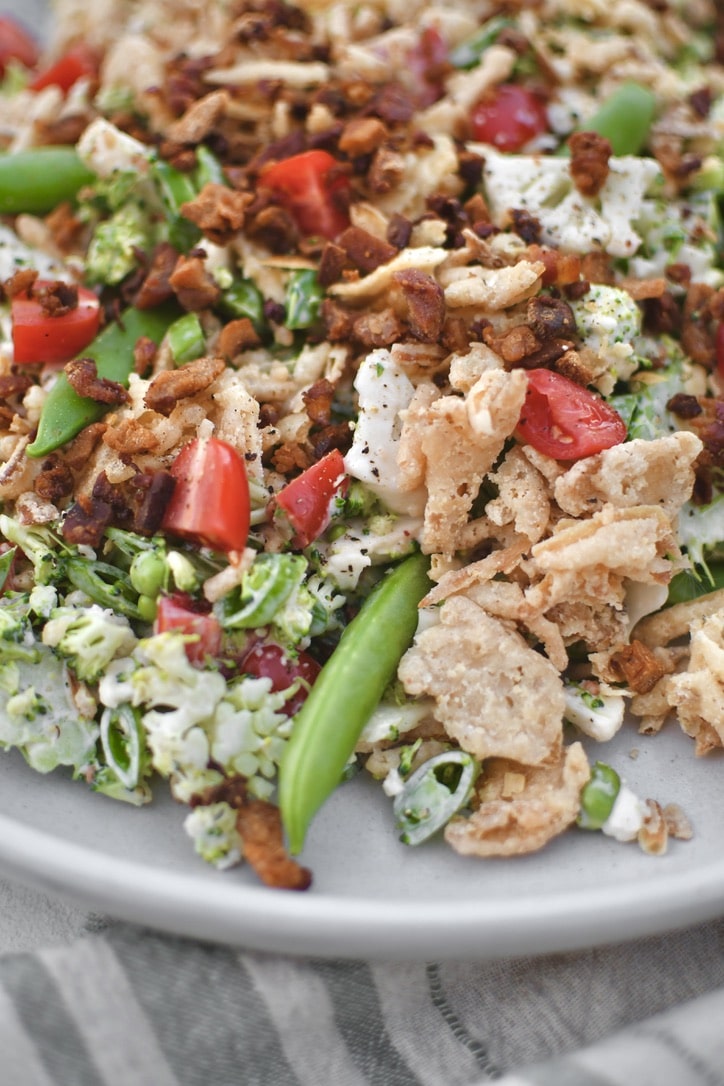 This salad is the perfect place to use my 3-ingredient Ranch Dressing. It is super simple to whip up and is way better than anything storebought or from a bottle.
Jump to:
Ingredients
I love this recipe because it is a great way to get in some great fresh veggies in a super tasty package. I mean, should I just stop at bacon bits!? I buy the big bag at Costco for use in recipes like this. My chef's secret is warming them up in a skillet on the stove and draining them on a paper towel to get them freshly crisp.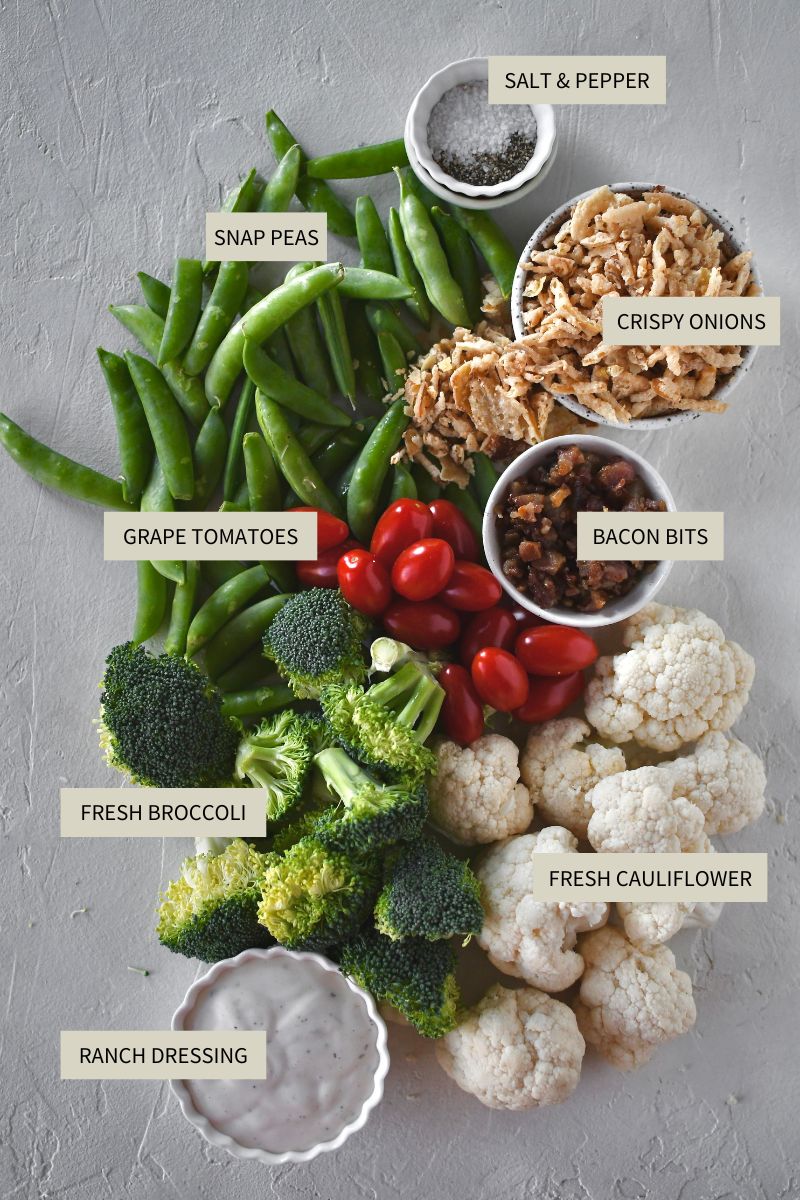 I also buy all the veggies already cut up in the bags. Just grab the small side-sized bags for this Snap Pea Salad recipe if you don't want to have leftovers. It is just the right amount.
Use the JUMP TO RECIPE button at the top of the post, or scroll to the bottom of the post to see the full recipe card with ingredient measurements and instructions.
Method
I like to shave all of the veggies for this recipe super thin with a knife. You could also use a mandoline if you like, but it is simple enough to do with a knife. Just work on a sharp angle for the snap peas, and get the broccoli and cauliflower as thin as you possibly can.
You can halve or quarter the tomatoes, I like to make them a little smaller so I can use less and spread them farther throughout the salad. Then add some salt and pepper and the ranch and toss everything together. Give it a taste at this point and see if you want more salt or pepper in it and adjust it to your liking. You want the veggies to have some flavor.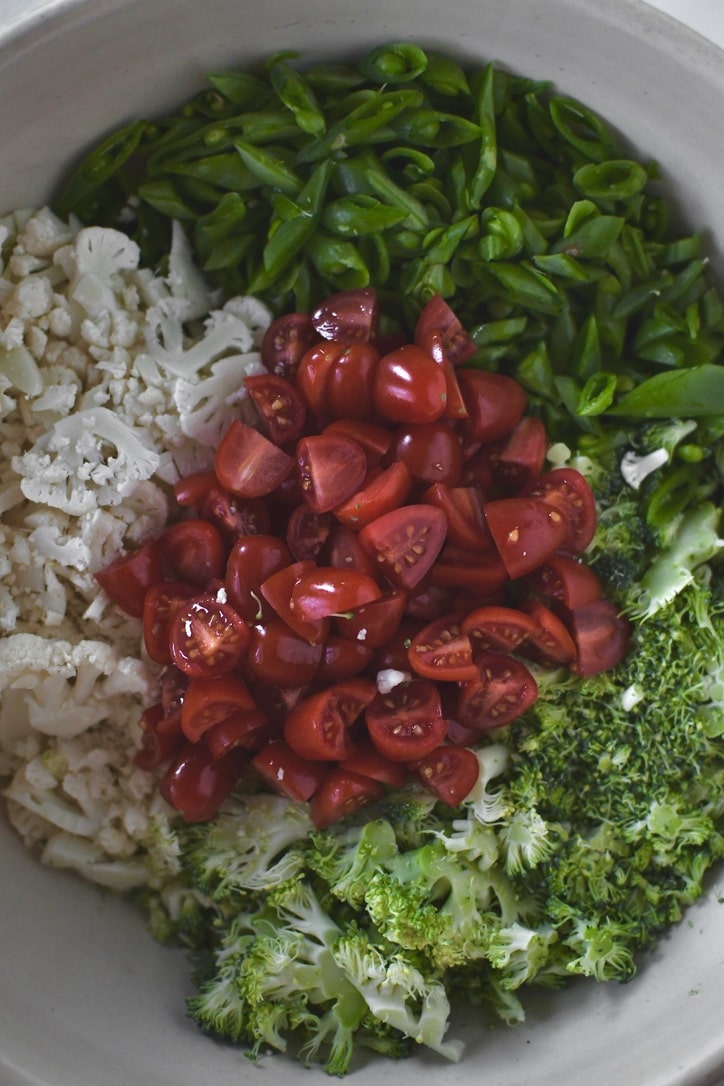 Then stir in some of the crispy onions (yes the ones you use for thanksgiving) and the bacon. I like some of them tossed through the salad. Then serve in the mixing bowl or on a platter after chilling for a bit if you have time.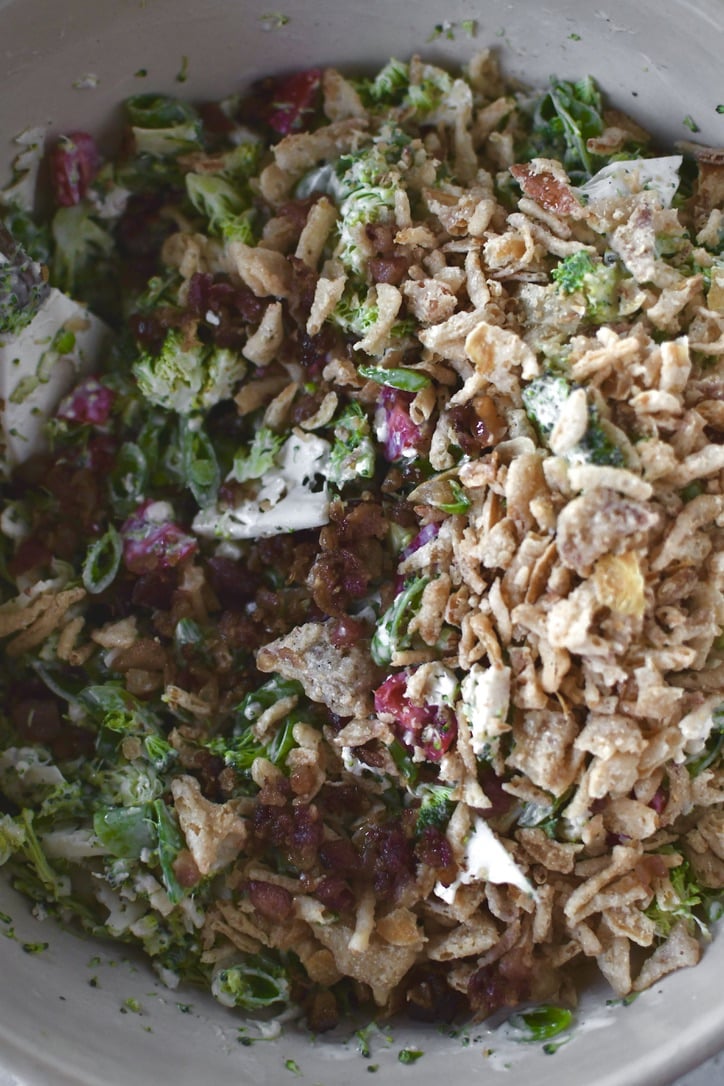 Top with some more crispy onions and bacon, and I like to reserve a handful of the snap peas to scatter on the bottom of the platter before I add the mixed salad on top.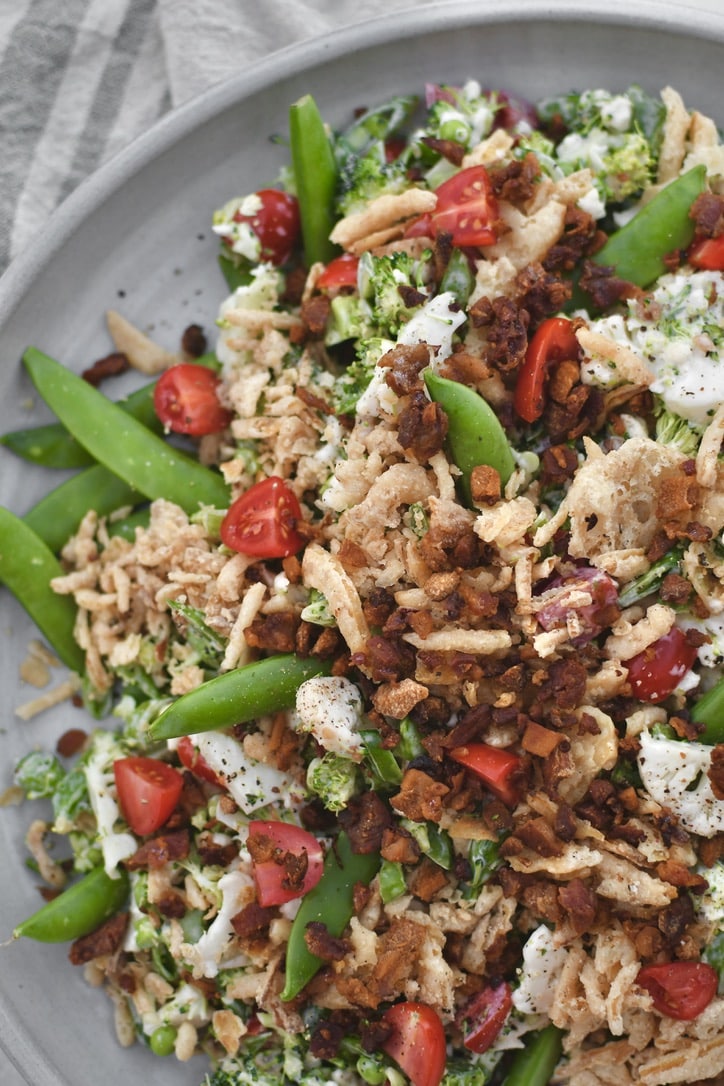 Notes & Tips
Cut everything as THIN as you are capable of. As long as it is, all the same, is all that matters. I like to cut the peas on a really sharp angle, think thin green onions as your favorite take-out garnish.
I like to try and cut the broccoli and cauliflower tall-ways from side to side (as if it was standing in the garden), so you get these really pretty little shavings of their outline in the salad. As opposed from top to bottom, then it just shreds into little bits.
I save some of the onions and bacon for after chilling so they can retain their crunch but stirring some in gives great flavor to the salad. So just hold a handful back of each.
Substitutions
I use snap peas because they are usually just right there with the other vegetable for me to grab. You could also use snow peas, English peas in their pods, or whole green beans here too!
This would also be a really fun place to use some broccoflower or romanesco broccoli. Or that colorful cauliflower, like purple or orange. If you want to add a little extra flair to your salad bowl!
If you don't have grape tomatoes, cherry tomatoes, or ANY other tomato will work for this recipe. If you have something bigger coming out of the garden, just chop it up bite-sized and toss it in!
While I am a LOVER of the ranch, this salad would also be GREAT made with balsamic vinaigrette. I even sometimes use ranch and balsamic together. Try it, you'll LOVE it!
If you'd like to keep the salad vegetarian, by all means, leave the bacon out, or serve it on the side for those who may want it.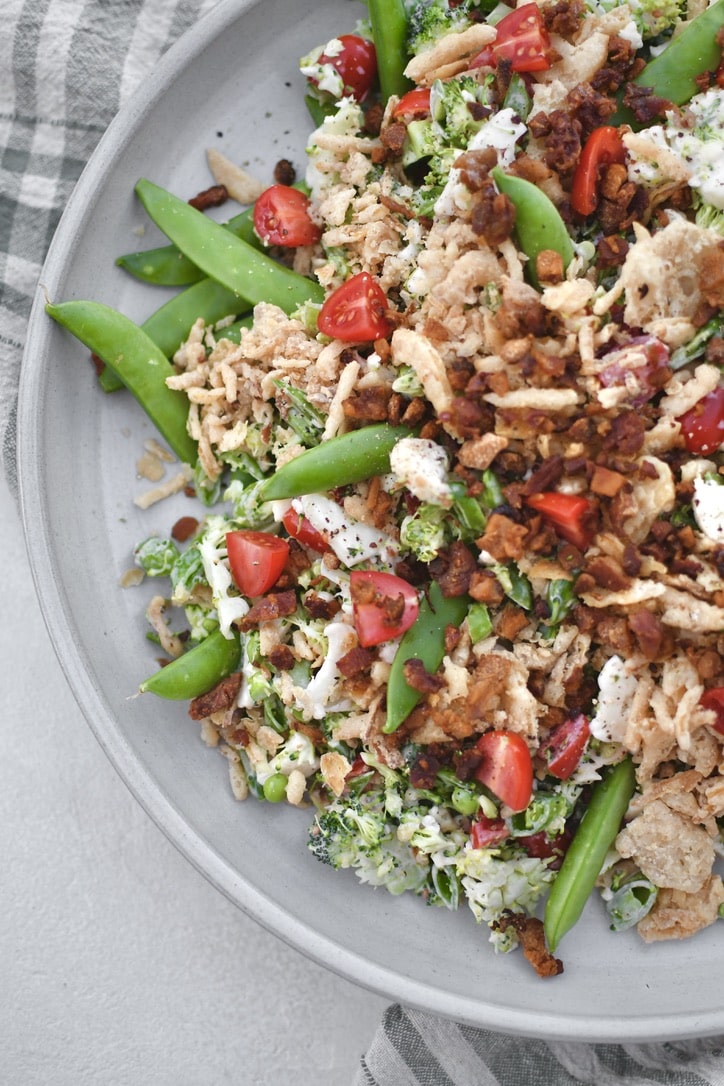 Did you make this recipe? Let me know by leaving a review or comment! And be sure to sign up for my newsletter, and follow along on Instagram, Pinterest, and Facebook!