I love this Whipped Goat Cheese as a dip or spread, but I also use it as a topping for my Zucchini Fritters too. Toss your butter board out the window and get dipping into this whipped goat cheese.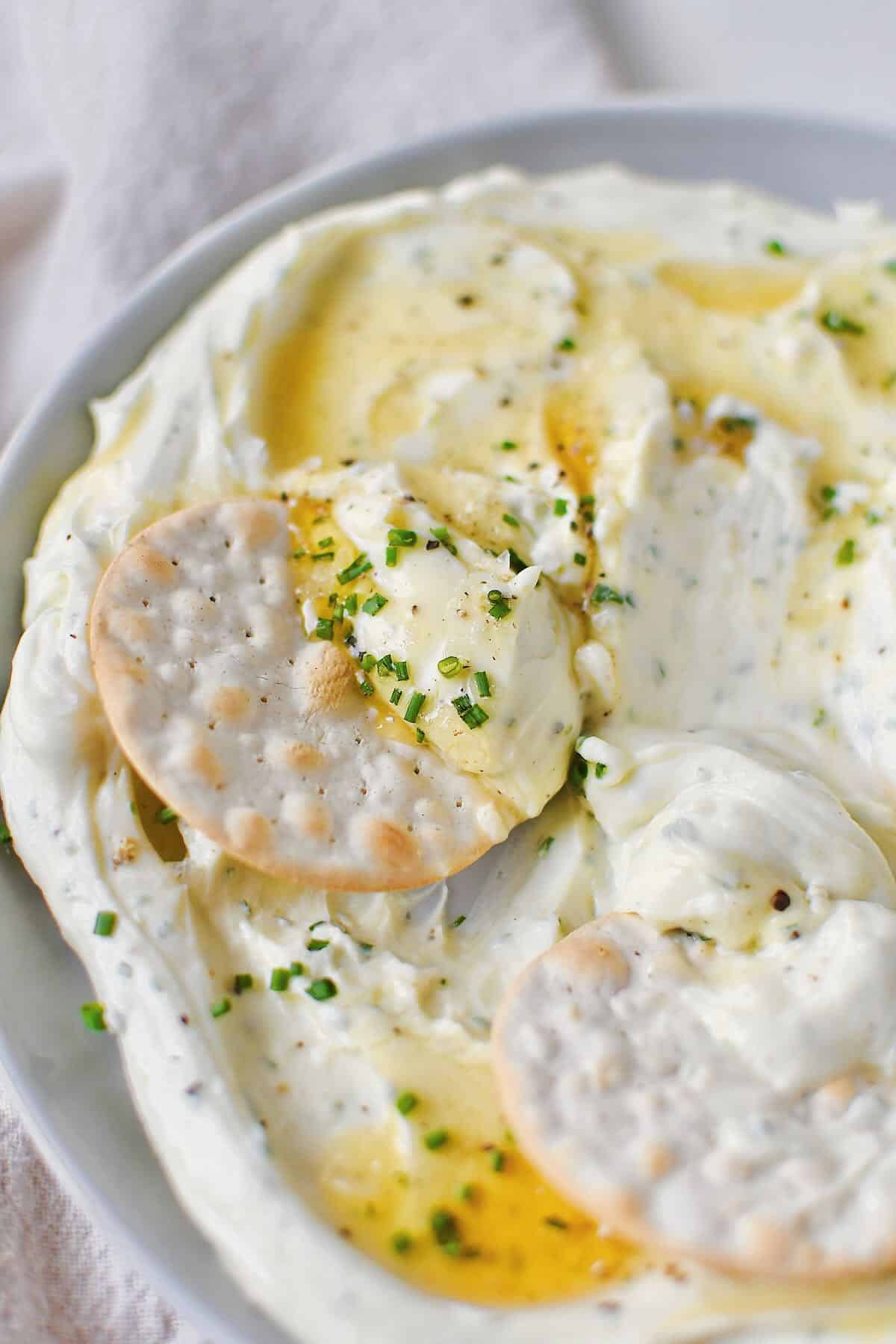 You can make this your whole cheese board, or serve on a charcuterie board. It is a great compliment to any snack spread. I love dipping black pepper water crackers in it for some extra pow.
Jump to:
Ingredients
The ingredient list for this one is simple. The goat cheese is THE highlight and everything else is its supporting accompaniment. A drizzle of honey brings balance and the cream cheese helps keep the consistency thick and luscious.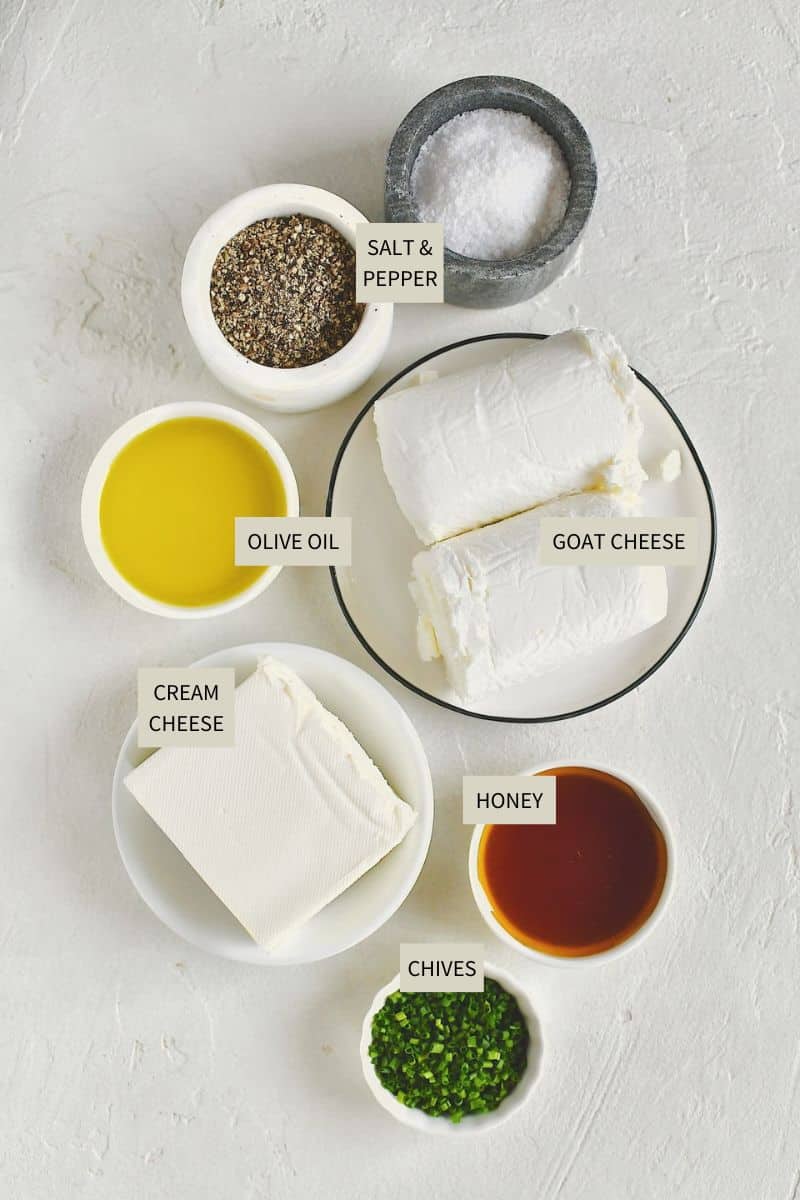 A little olive oil balances everything out and the chives bring a welcome zesty spice that really works well. Use the salt and pepper to bring everything together and taste and adjust the amount you use to your liking. Sometimes I like a little more pepper kick so I add a little more.
Use the JUMP TO RECIPE button at the top of the post, or scroll to the bottom of the post to see the full recipe card with ingredient measurements and instructions.
Method
Making this Whipped Goat Cheese could NOT be easier! You literally toss everything in a food processor and whip it till creamy. This is my favorite mini version that is super easy to clean and it fits this recipe perfectly!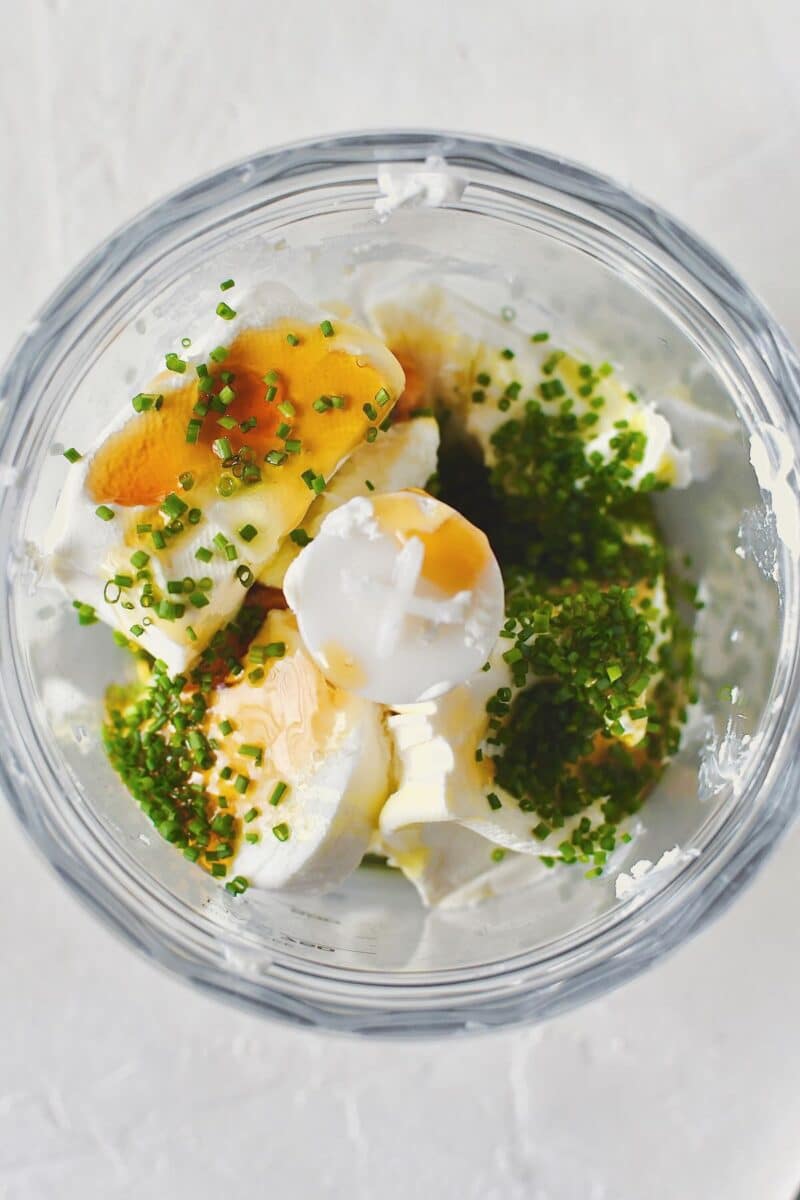 I then scoop the whipped mixture out onto a plate or shallow bowl and drizzle over a little lavender honey and some more chives. I also like a little more salt in the form of flakey sea salt on top and few more cracks of black pepper.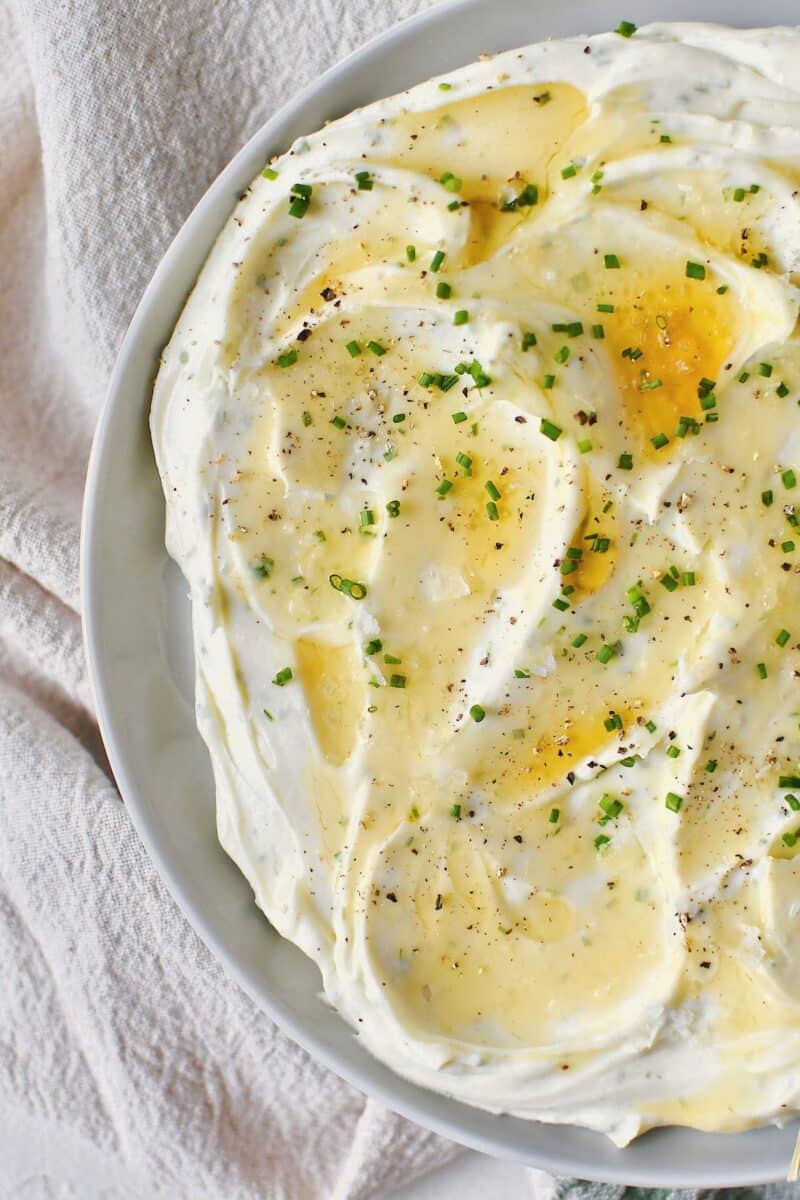 I also love this Whipped Goat Cheese on top of my Zucchini Fritters! It is a perfect compliment to them.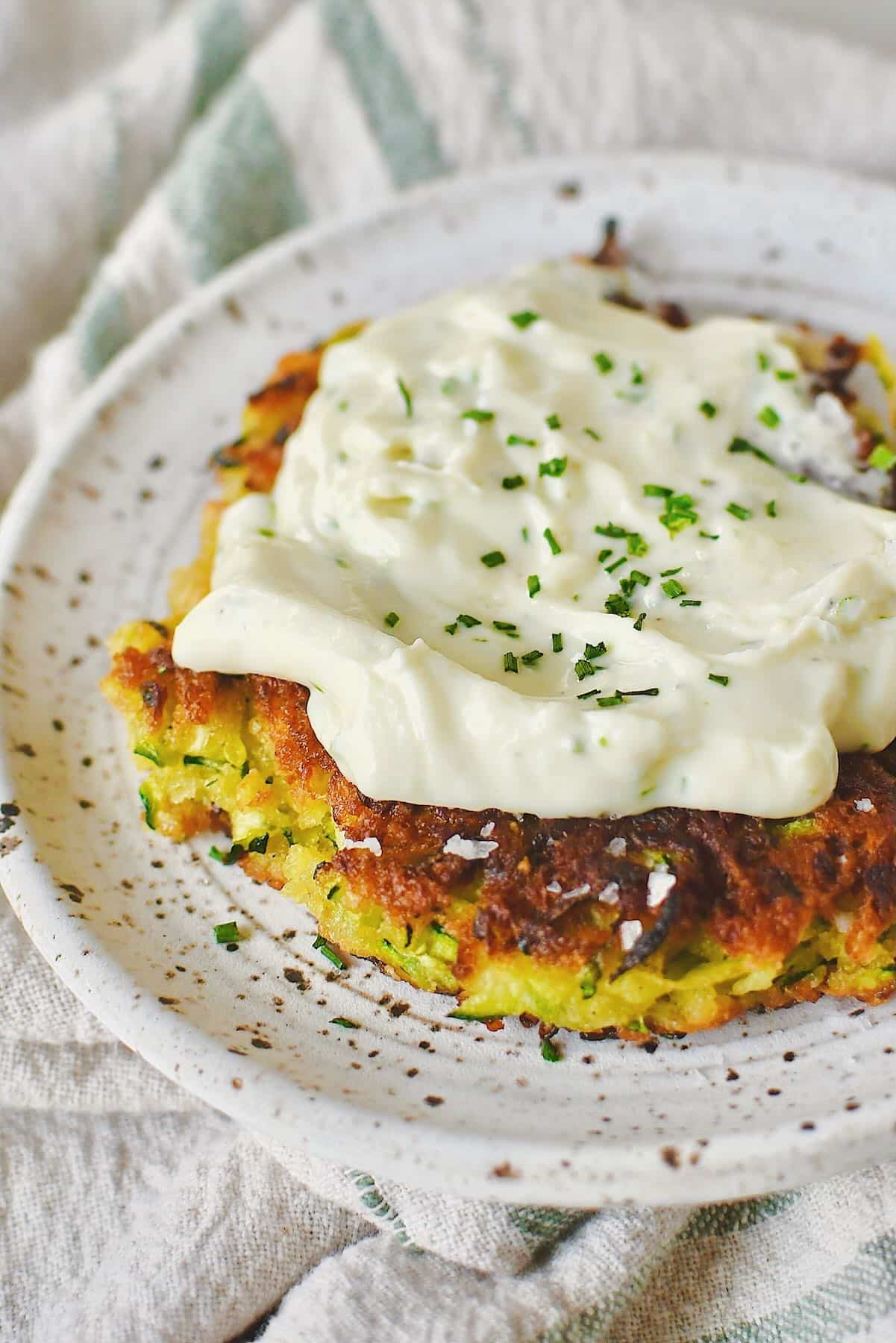 Notes & Tips
This makes a great precursor to dinner on a charcuterie board, but it could also be fantastic as part of a cheese course or end-of-dinner treat.
You can make this whipped goat cheese up to 2 days before you want to use it. It will keep in the fridge for 3-4 days total.
Store any leftovers, if there are any, in an air-tight container in the refrigerator.
Substitutions
YES! You can do this with any flavor or iteration of goat cheese you love or come across. Herbed goat cheese will have TONS more flavor punches, but the honey and oil will still balance everything out.
The cream cheese is needed. It helps add stability to the finished product, the goat cheese alone would get a little runny. You could also use Neufchatel or mascarpone.
This is a great time to use your good salad olive oil. Something with great flavor and that is robust is welcome. It is also a good time to use an infused oil to add that flavor to the final product.
I prefer wildflower honey for the blended mixture, then adding something like lavender honey over the top or any special honey you have. But the best is any local honey you can get your hands on, use that if you can. A good honey swap would be maple syrup.
For me, goat cheese and chives are a match made in heaven. But you can literally use ANY herb you love here. Try tarragon or basil for wildly different iterations.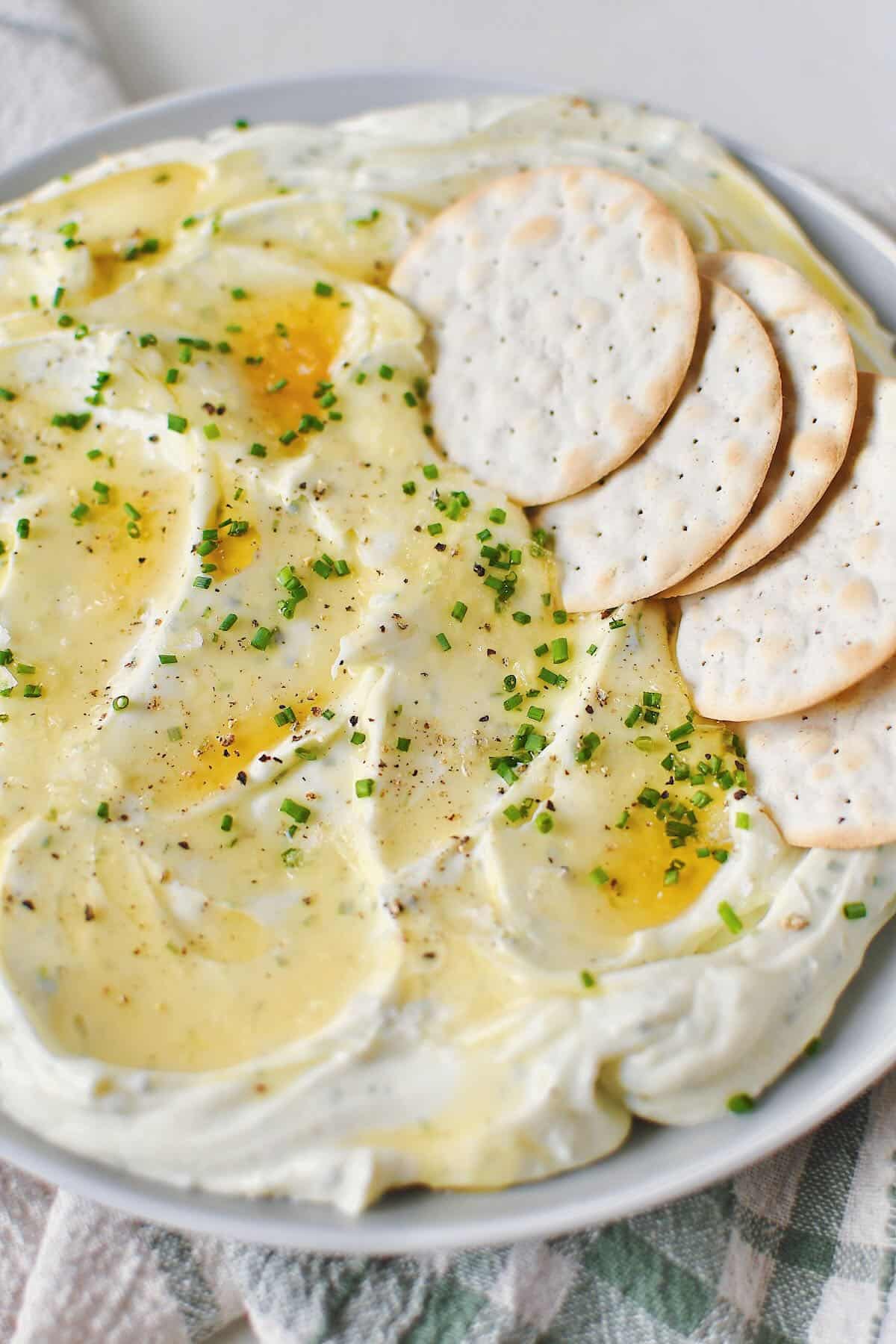 Did you make this recipe? Let me know by leaving a review or comment! And be sure to sign up for my newsletter, and follow along on Instagram, Pinterest, and Facebook!