This deliciously easy Greek Pasta Salad comes together in minutes and has the perfect balance of fresh flavor. I just LOVE it! And whether you are making it as a perfect summer cool down, or to brighten up the winter, it's GREAT any time of year.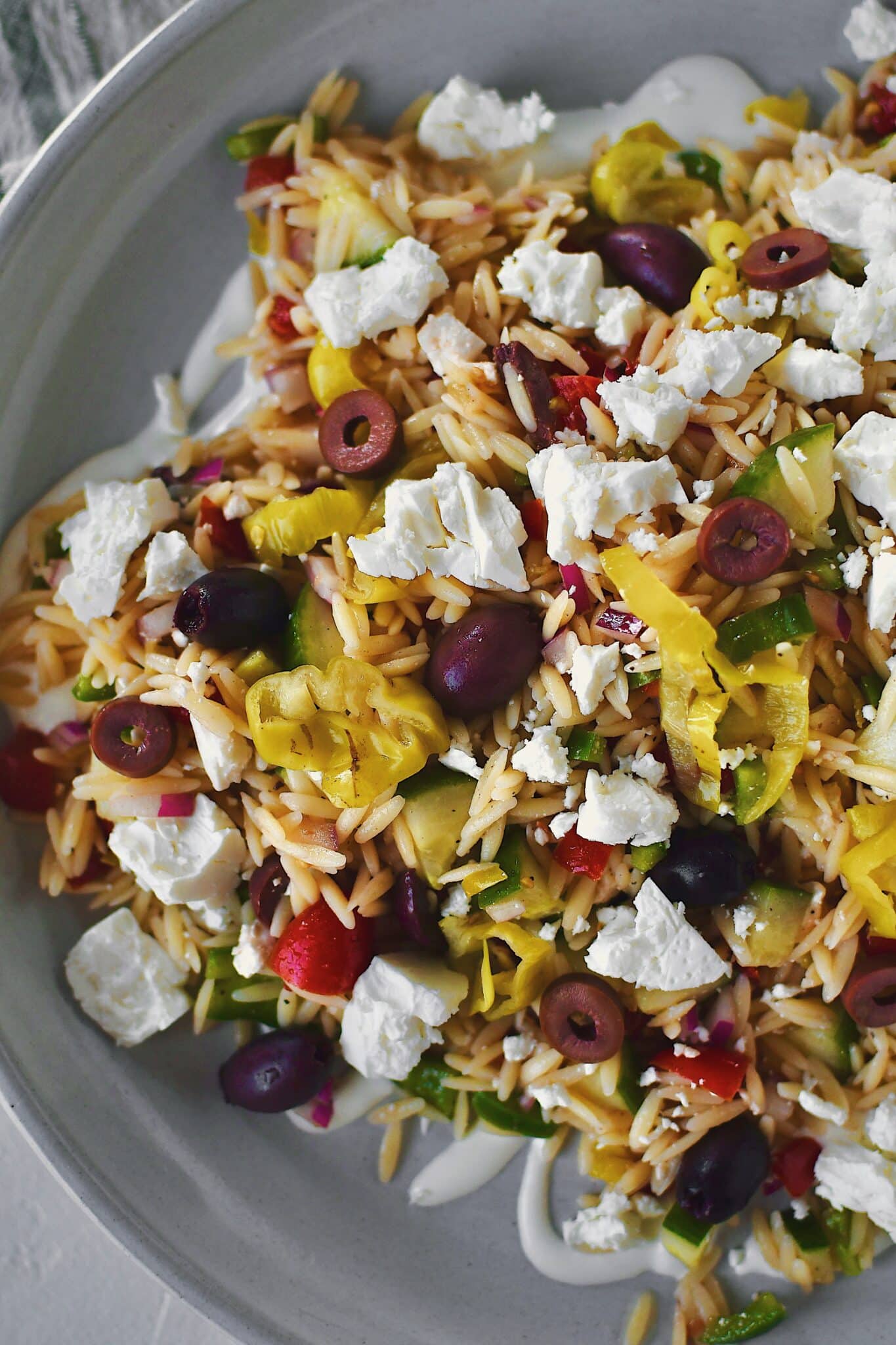 And if you have the time, mix up some of my Whipped Feta Dip to serve with it, and drizzle under it. You won't regret it, it brings so much more great flavor to the dish!
Jump to:
Ingredients
This ingredient list is packed with quintessential Greek flavors. Everything should be familiar to what you know, or what you want to experience when enjoying greek food. Fresh vegetables, and creamy feta, tossed with some pasta, briny olives, and pickled peppers, just yields something I would love to eat EVERY DAY!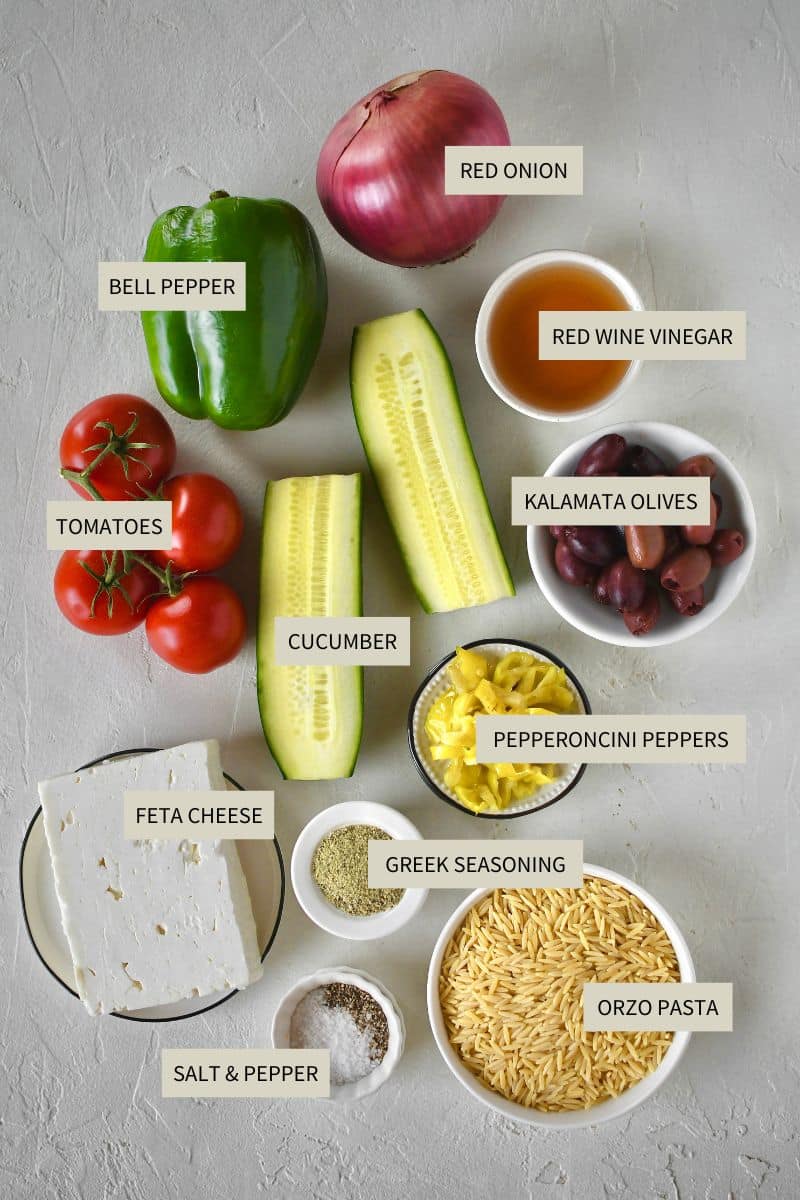 The fresh bell pepper, cucumber, onion, and tomatoes tossed in red wine vinegar are just GREEK! Just toss that together and you have a little salad that you could find served to you in any little side street restaurant in Greece.
Use the JUMP TO RECIPE button at the top of the post, or scroll to the bottom of the post to see the full recipe card with ingredient measurements and instructions.
Method
Start by chopping all the veggies and placing them in the bottom of a bowl. I like to cut everything just a little differently, so when you toss it with the pasta there is some variation in there. Then add the seasonings and vinegar and toss everything together and let the vinegar soak in and also help take the hardness off the onion.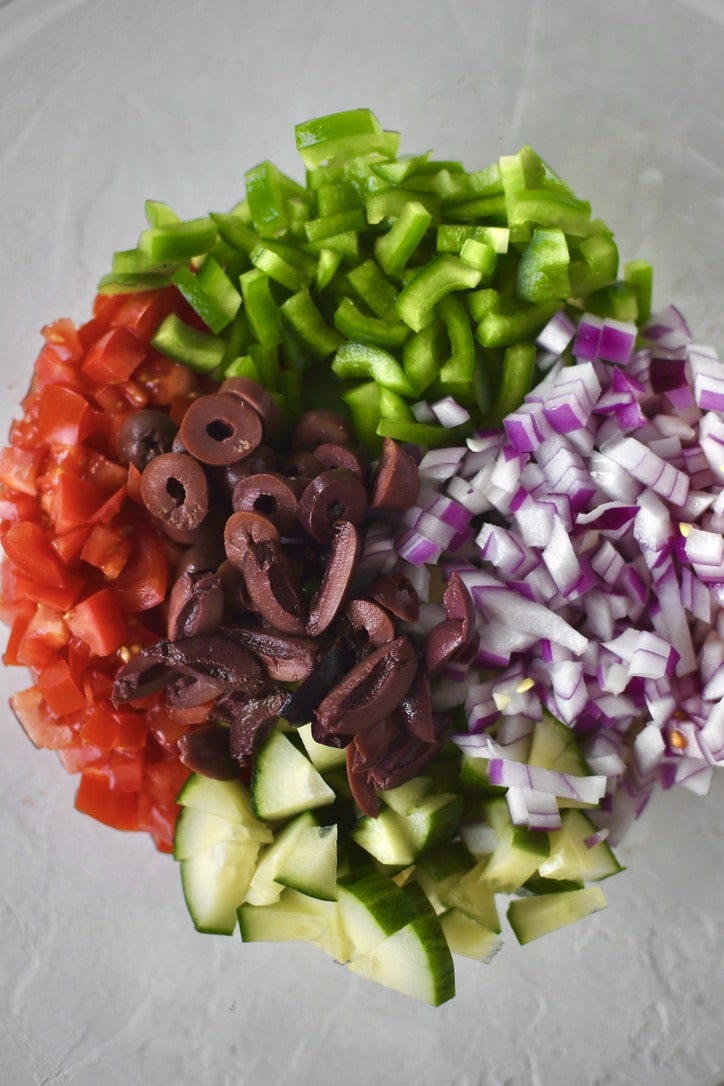 While you chop your vegetables, cook the pasta. I love orzo for this salad because it lets the veggies all really shine. Then drain and cool it and add to the veg along with the banana peppers and toss everything together. Crumble the feta into the bowl and very gently fold it into the salad so it doesn't smash in and make the whole salad white an milky looking.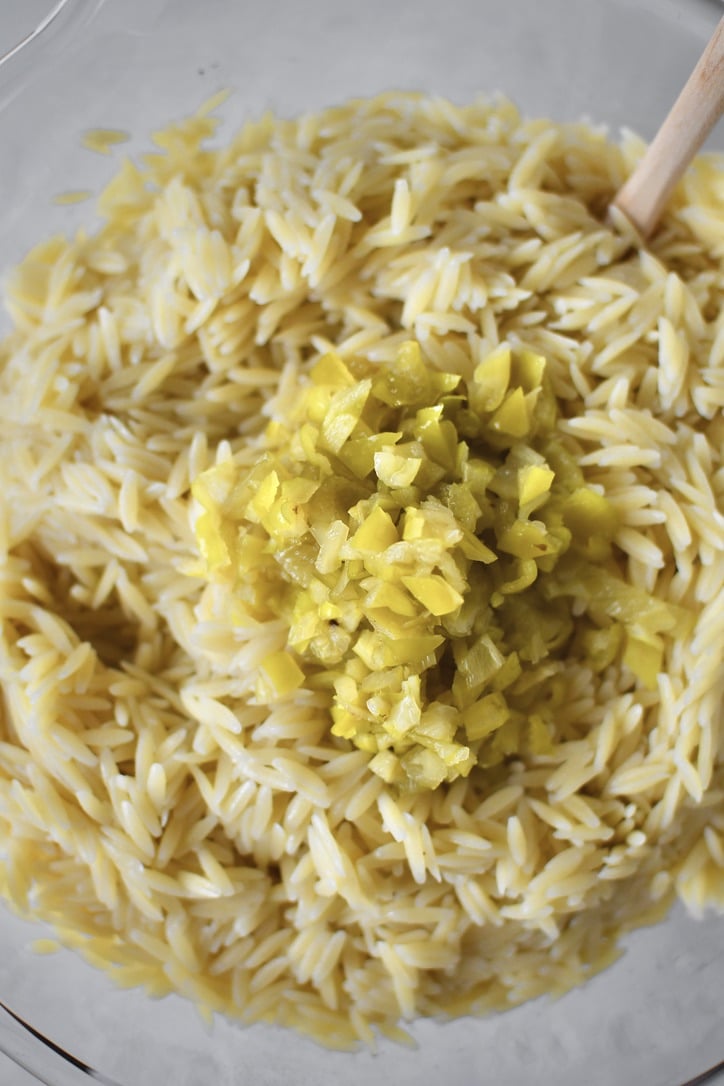 And if you took the time to make some Whipped Feta dip, drizzle some on the bottom of a platter before serving the salad. It just adds a nice little extra punch of flavor.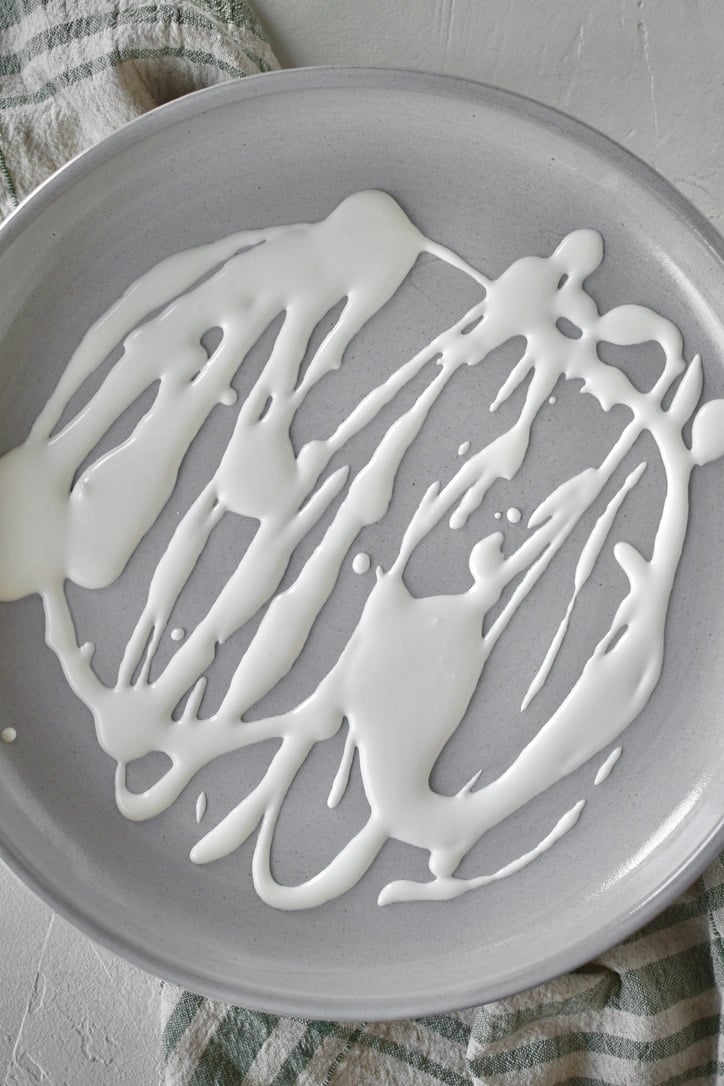 If you have the time, you can let the salad chill in the fridge for a couple of hours, or up to overnight before serving it. This is great because it really punches up the flavors throughout the whole salad, however, you can serve it immediately if needed. But that just means the leftovers will be really yummy!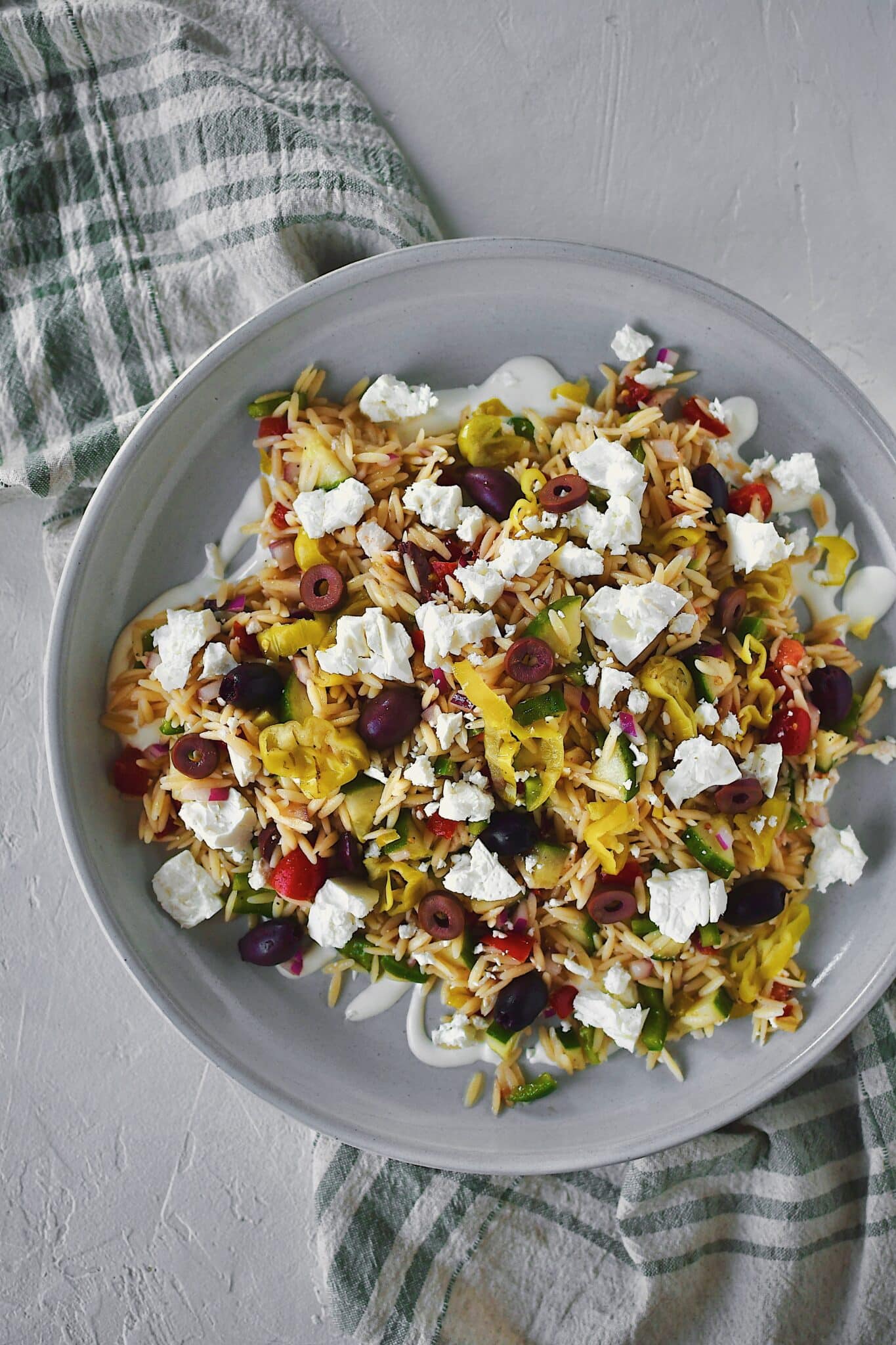 Notes & Tips
Set your pot of water to boil before you do anything else. Then start to chop your vegetables, by the time the water boils, and the pasta cooks, you should be done chopping the veg. This should only take a few active minutes to make.
After you prep all the veggies, toss them with the vinegar. This is an important step, it helps to mellow everything out, especially the onion.
When the pasta is done cooking, drain it off and rinse it with cold water till cool enough to touch. Run your hands through it to ensure it isn't too hot, and then toss it right into the bowl with the veggies.
While the salad can be served just as soon as you make it, there is something I love about eating it a little warm still. It is best to let it chill in the fridge for a couple of hours, or even overnight. It is a great recipe to make ahead.
Substitutions
While I call for orzo because I think there is just something kinda Greek about orzo. You could use any small pasta or pastina you prefer. But I would recommend sticking to something on the small side.
I simply prefer to use English cucumbers, but this would be a great place to use Persian cucumbers and just cut them into round slices. That would be really fun to have those little rounds in there.
In place of the kalamata olive, or even in addition to them, Castelvetrano olives would be great too.
I sometimes find rosé vinegar in the store. If you find that, BUY IT, and use it in the recipe. It just brings a little something extra to this recipe. It is a little sweeter and milder than red wine vinegar. It's so good!
I prefer a great goat's milk feta cheese that I pick up at Costco. If you didn't know the one they sell in water in the big tub there is goat's milk. It is so good and creamy, and a little less salty than most commercially made feta out there. So get that and use it if you can.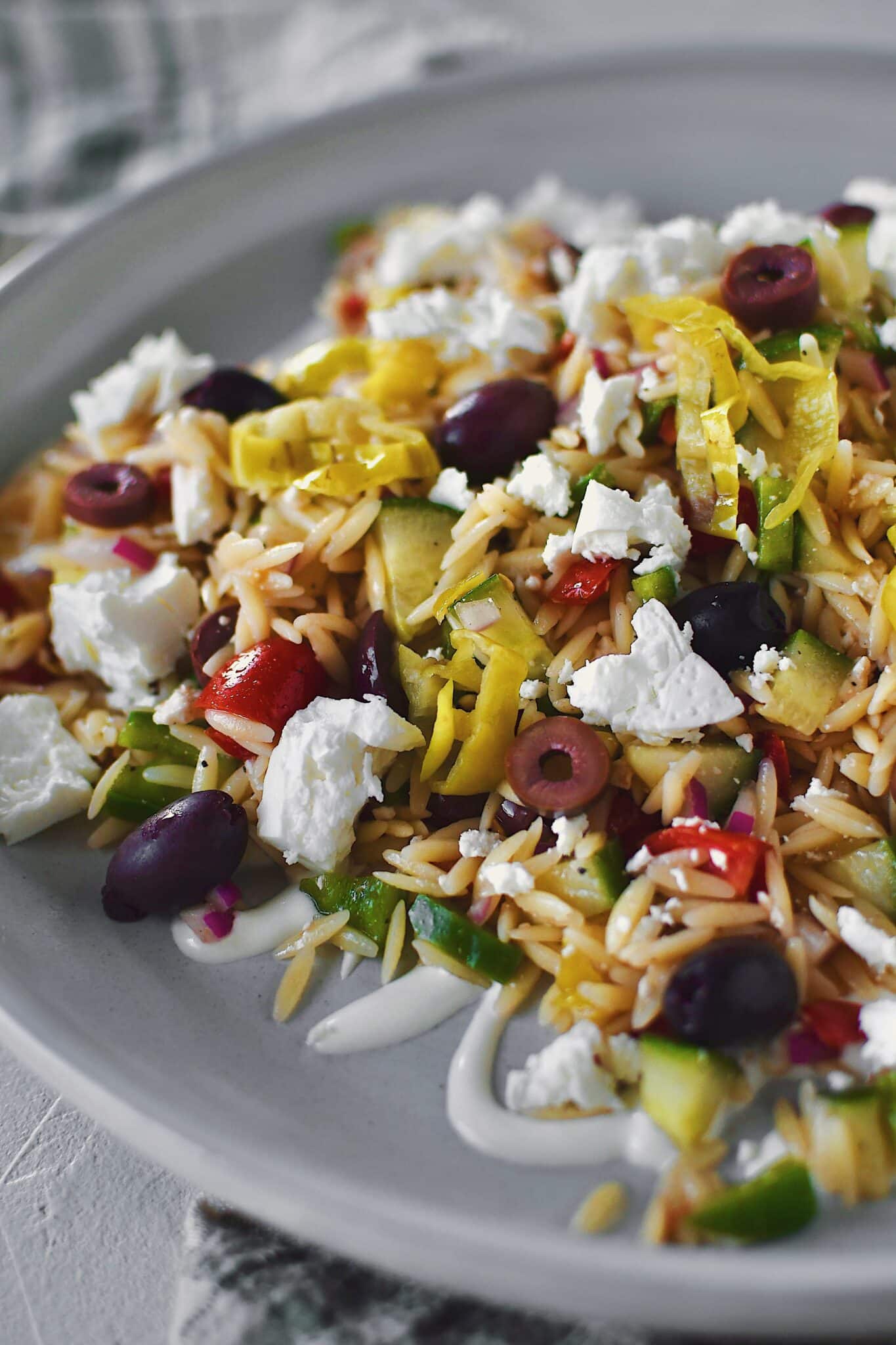 More of my favorite Greek Recipes
Did you make this recipe? Let me know by leaving a review or comment! And be sure to sign up for my newsletter, and follow along on Instagram, Pinterest, and Facebook!