It is just my reality these days that I just don't eat out anymore. So when I crave a classic like this Olive Garden Italian Salad I have to remake it at home! I mean it is still a great salad, and you'll soon find out, SO easy to whip up at home.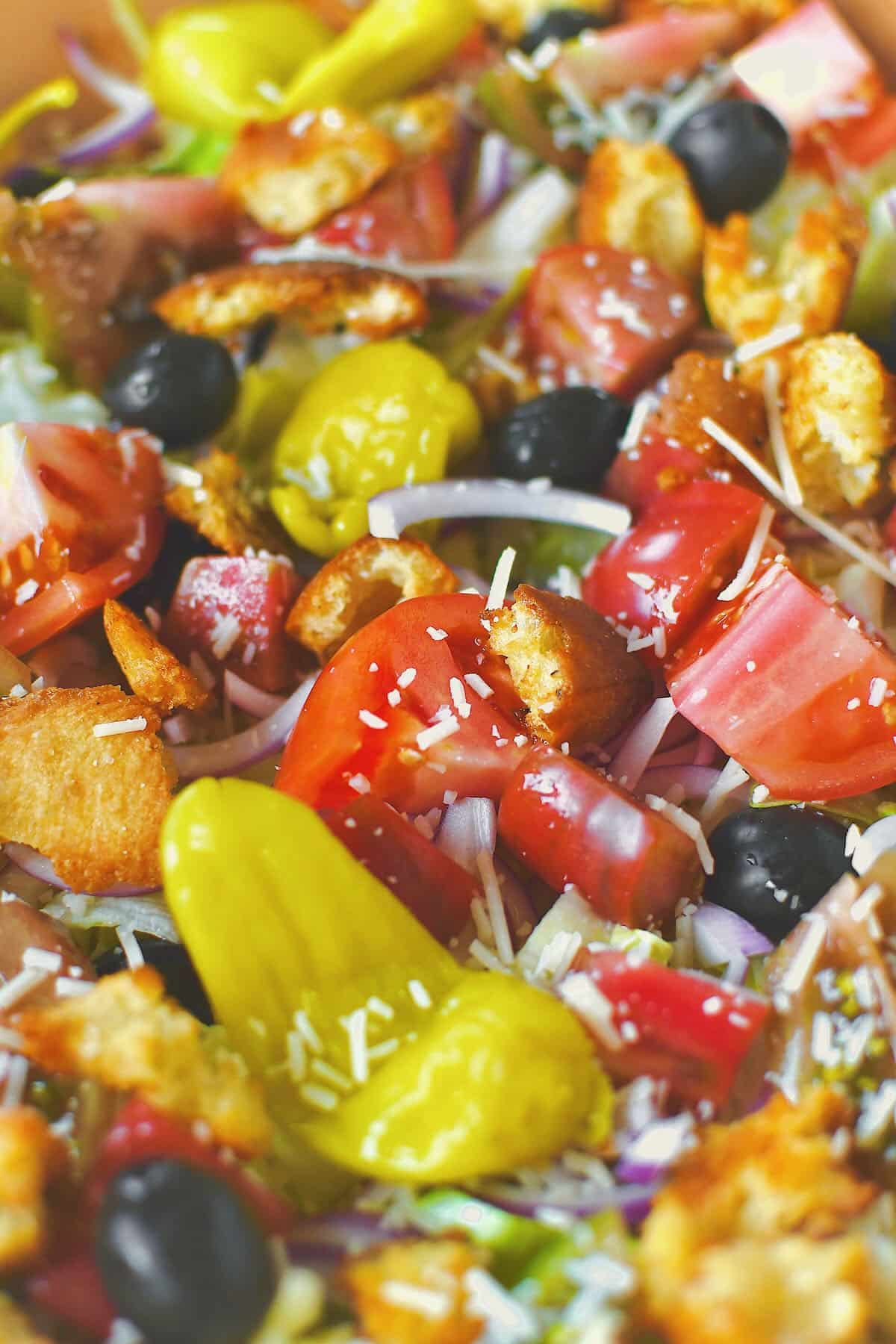 And whether you choose to make your own dressing or use storebought, which I do because why not, and it keeps it authentic, it is always delicious! But do you, I know I often encourage making your own at home, but this is one time I enjoy premade.
Jump to:
Ingredients
All you have to do is look at the salad at the restaurant and you'll see the ingredient list. Iceberg lettuce is the star and is topped with black olives, red onion, tomatoes, croutons, pepperoncini peppers, and parmesan cheese.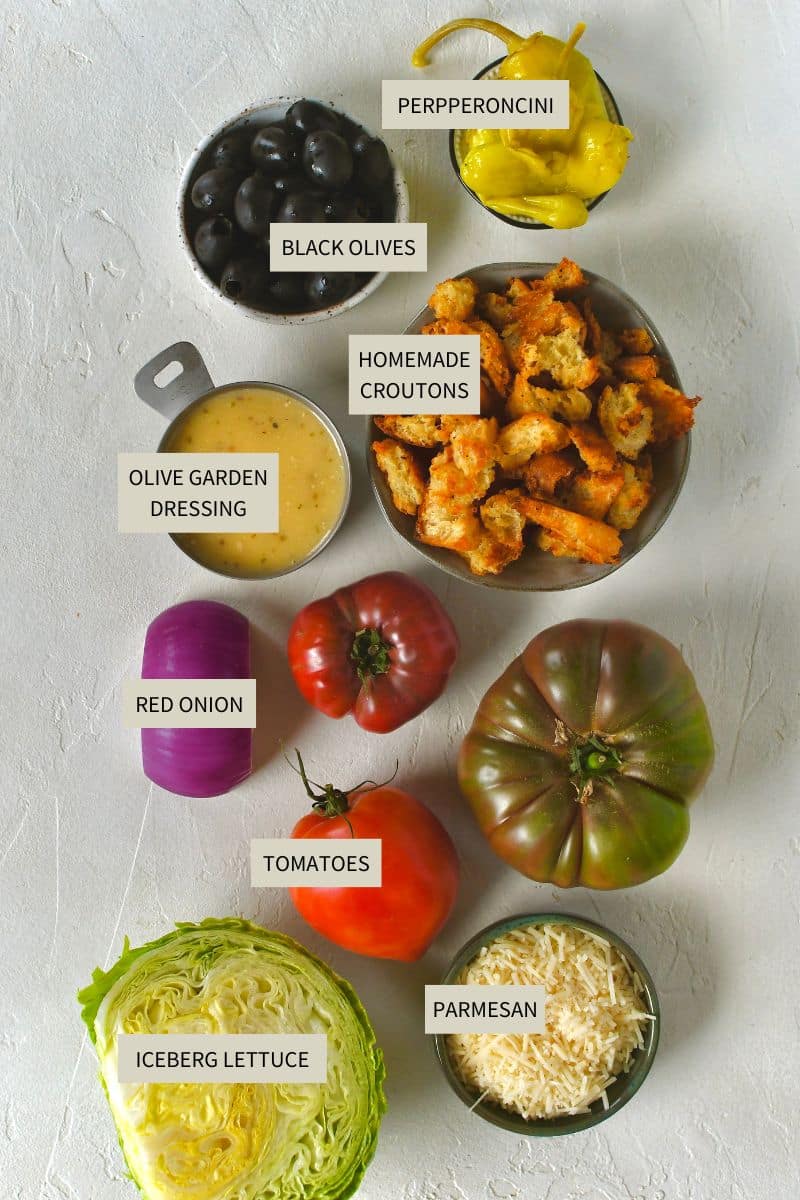 Round everything out with a nice drizzle of Olive Garden Dressing and you will have that restaurant feeling right at home. I do also opt for making my own Homemade Croutons, it is super easy to do and just elevates the salad beautifully.
Use the JUMP TO RECIPE button at the top of the post, or scroll to the bottom of the post to see the full recipe card with ingredient measurements and instructions.
Method
I start by adding the chopped iceberg to a large bowl and tossing it with a little dressing. You could use a bag of iceberg salad mix, but I do not like the carrots or cabbage that can be in those so I use only iceberg. Then top the lettuce with all the veggies, cheese, and croutons. Drizzle over some more dressing and toss everything together.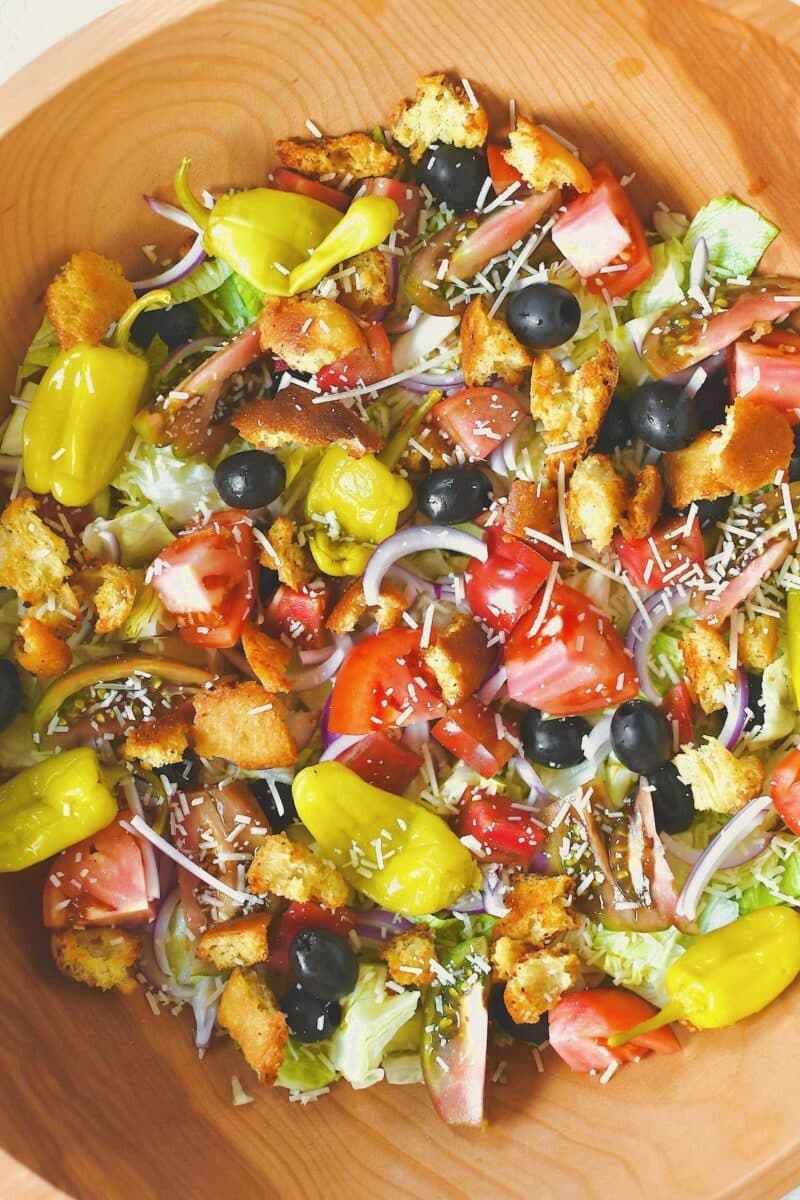 I love this salad because I can prep it early by topping it with all the STUFF and then toss it just as I serve dinner and the meal is complete.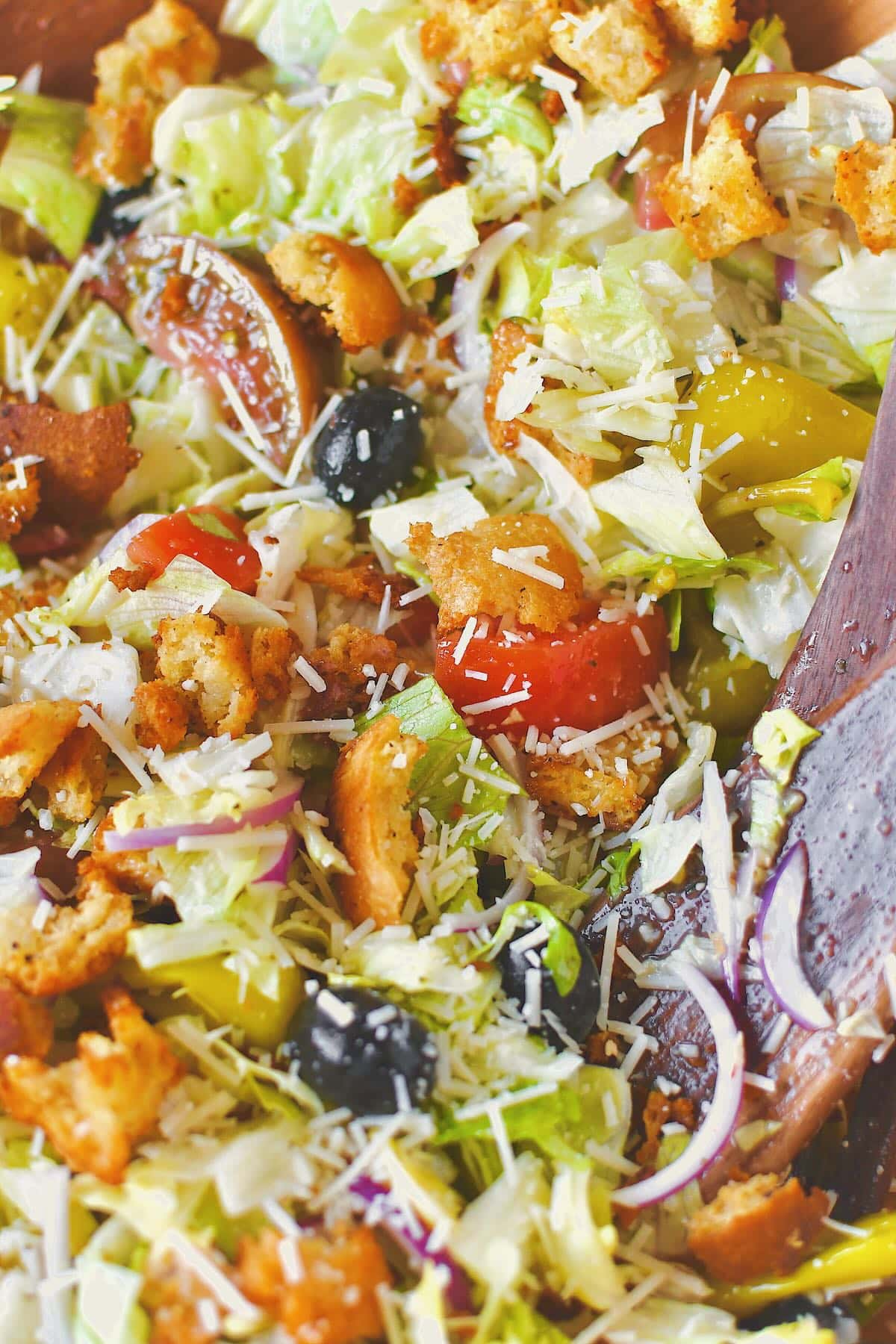 My favorite thing to serve this salad with is my Crispy Parmesan Chicken, it makes for a quick and easy meal. Plus it offers a great balance of the fried chicken cutlet and all the veggies! Cause it's all about balance right? 😛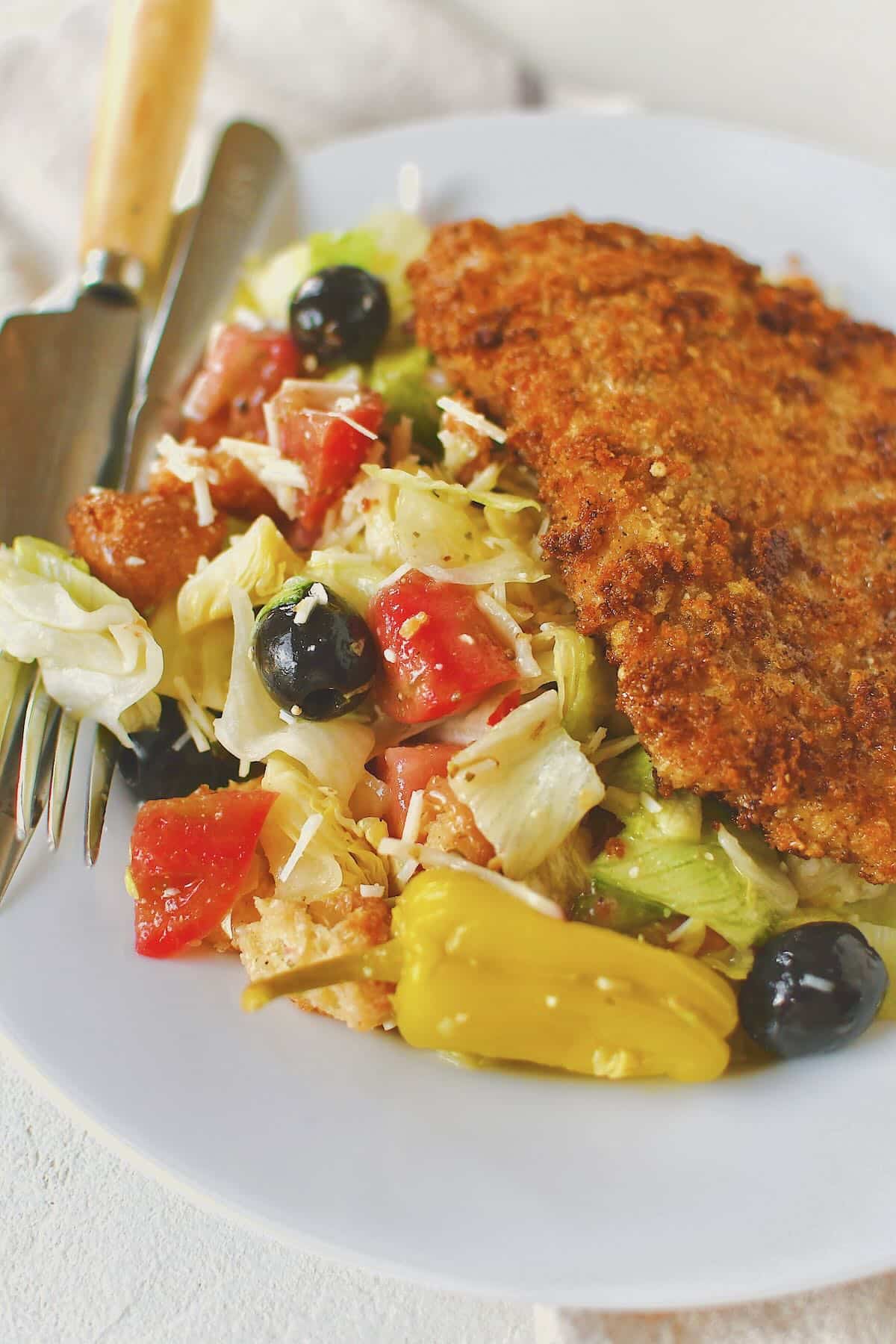 Notes & Tips
I like to start by dressing the lettuce and tossing it together first. Then add all the toppings and let the salad hang out until you are ready to eat it. Then toss everything together and enjoy!
If you want to get this salad ready earlier, place all the toppings on the lettuce, cover it with plastic wrap, and store it in the fridge for up to 8 hours. Then add the dressing and toss when ready to eat.
The salad doesn't store very well if there are leftovers. If you think you will have salad left, I suggest letting everyone add the croutons themselves so they don't get soggy. Also, only toss with a little dressing and serve more on the side to keep the lettuce from getting too soggy.
Substitutions
I like to use a big head of iceberg for this recipe. But if you want to be really authentic use a bag lettuce mix that has carrots and cabbage in it too. Though those are usually not chopped well and have big pieces of lettuce core I don't particularly enjoy sifting through. So use a plain head of lettuce and some shredded carrots if you miss them.
If you prefer to make your own dressing, GO for it! I like the premade bottled dressing and keeping it authentic in that way.
I like to think I class this salad up a little by using heirloom tomatoes, but of course, you can use ANY tomato you like. Use them when you can get your hands on them, I can't always, but Roma tomatoes or Camparini are my second favorites for this salad.
Whole pepperoncini peppers are what you know and love about this restaurant's favorite salad. You could also use sliced peppers, I do this when it is all I have left in my fridge, my family really likes these peppers and we go through lots of them!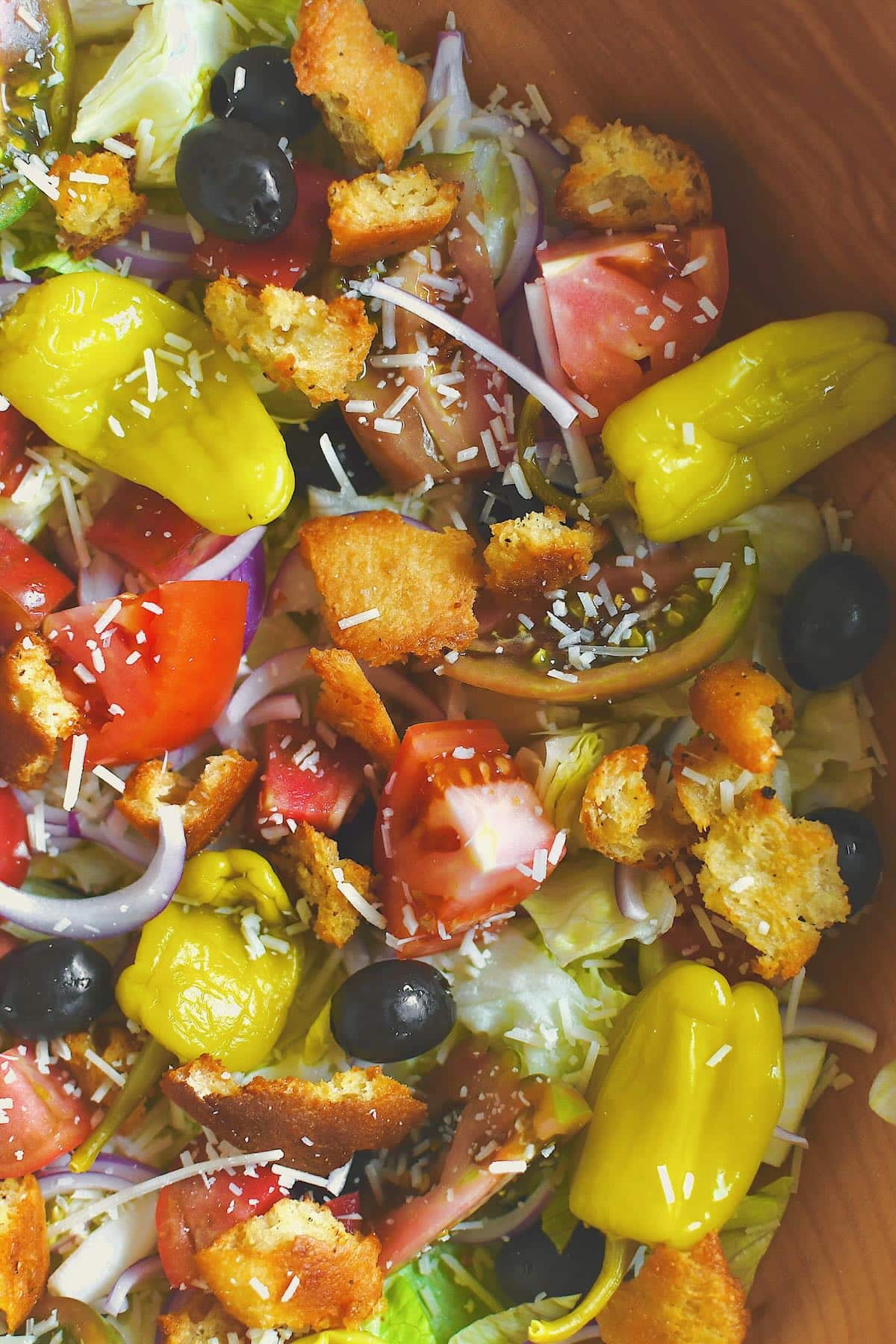 Did you make this recipe? Let me know by leaving a review or comment! And be sure to sign up for my newsletter, and follow along on Instagram, Pinterest, and Facebook!