Whether you have tons coming from the garden, or you're looking for a fresh take on it, these Zucchini Fritters are a perfect way to use this summer star!
I love the crisp exterior and the fluffy interiors of these fritters. I like to serve them with a little flakey sea salt on top, and a spread of my Whipped Goat Cheese makes all the flavors shine!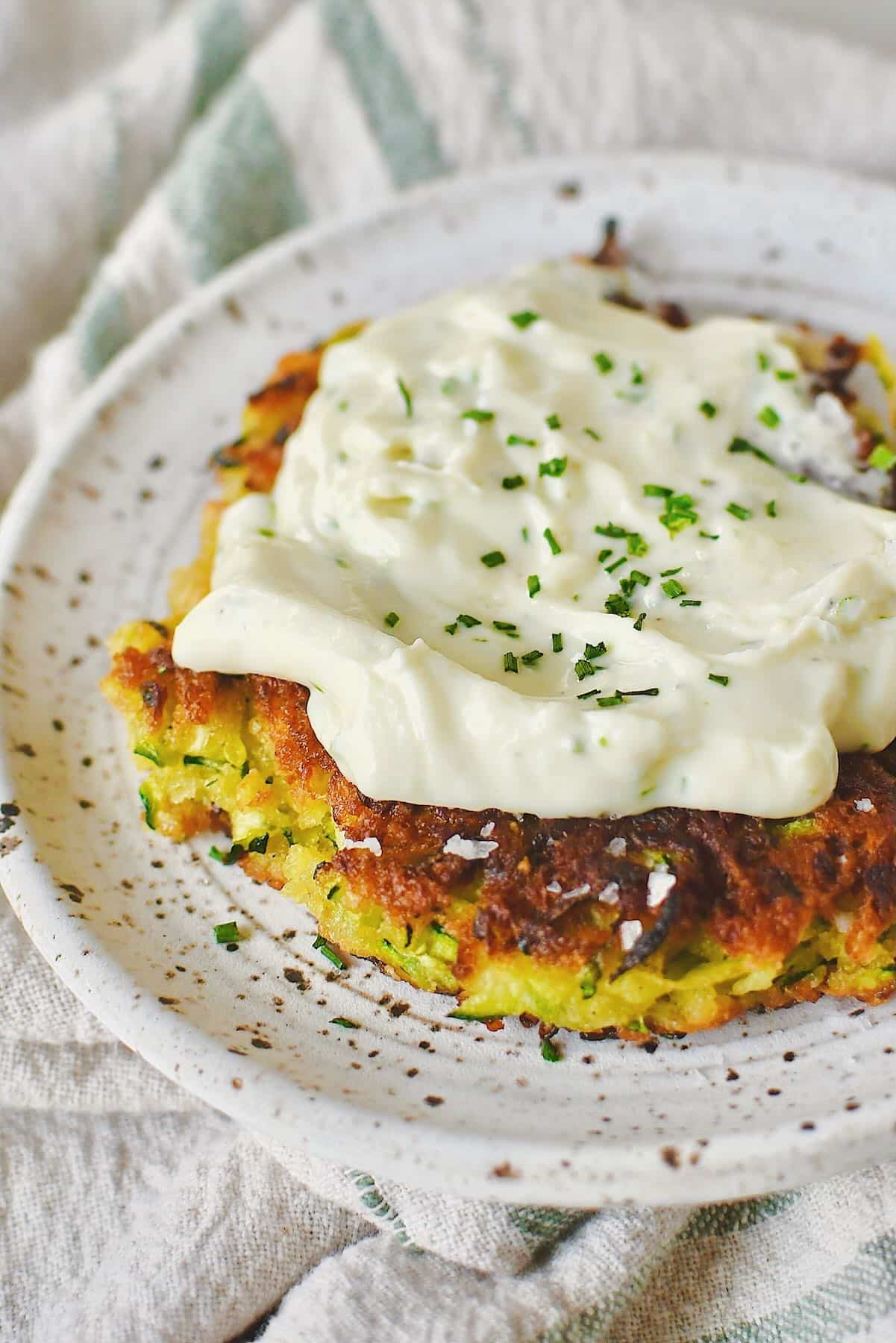 These only take like 15 minutes to whip up, making them THE perfect summer side or appetizer when you don't really want to cook. Whip them up while something is on the grill and get ready to feel a little fancy with minimal effort.
Jump to:
Ingredients
This ingredient list is all about flavor! The green onions and garlic bring crunch and a little spice to the final product. The egg keeps the fritters fluffy and the panko brings great texture while the flour holds everything together.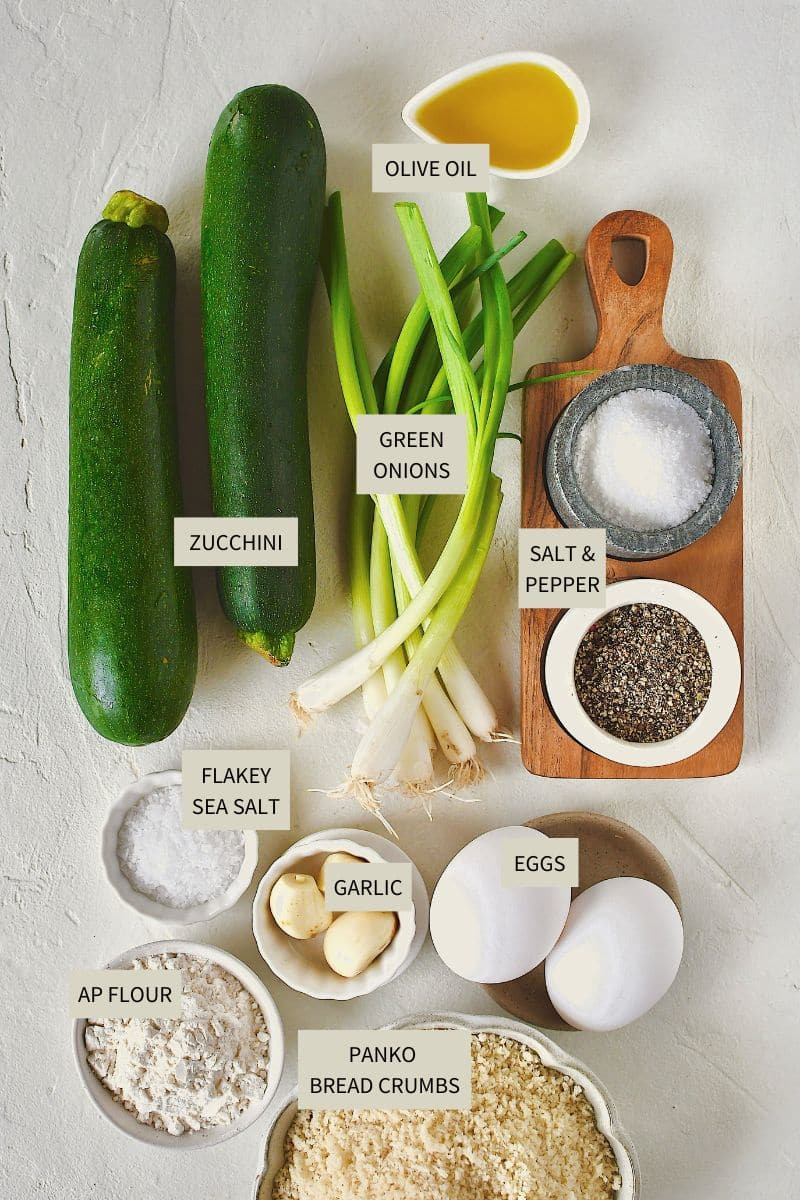 You need fewer zucchini than you think for this recipe, I used only two medium ones and I got about 10 fritters, so a little goes a long way. I made mine fairly large as a dinner side dish, but you could really make them any size you like.
Use the JUMP TO RECIPE button at the top of the post, or scroll to the bottom of the post to see the full recipe card with ingredient measurements and instructions.
Method
Start by grating the zucchini an placing it in a colander. Toss it together with a little salt and let the salt leach out all the excess water from the squash. I let it rest in the sink for 5-10 minutes, then squeeze out the zucchini with your hands and press out as much water as you can.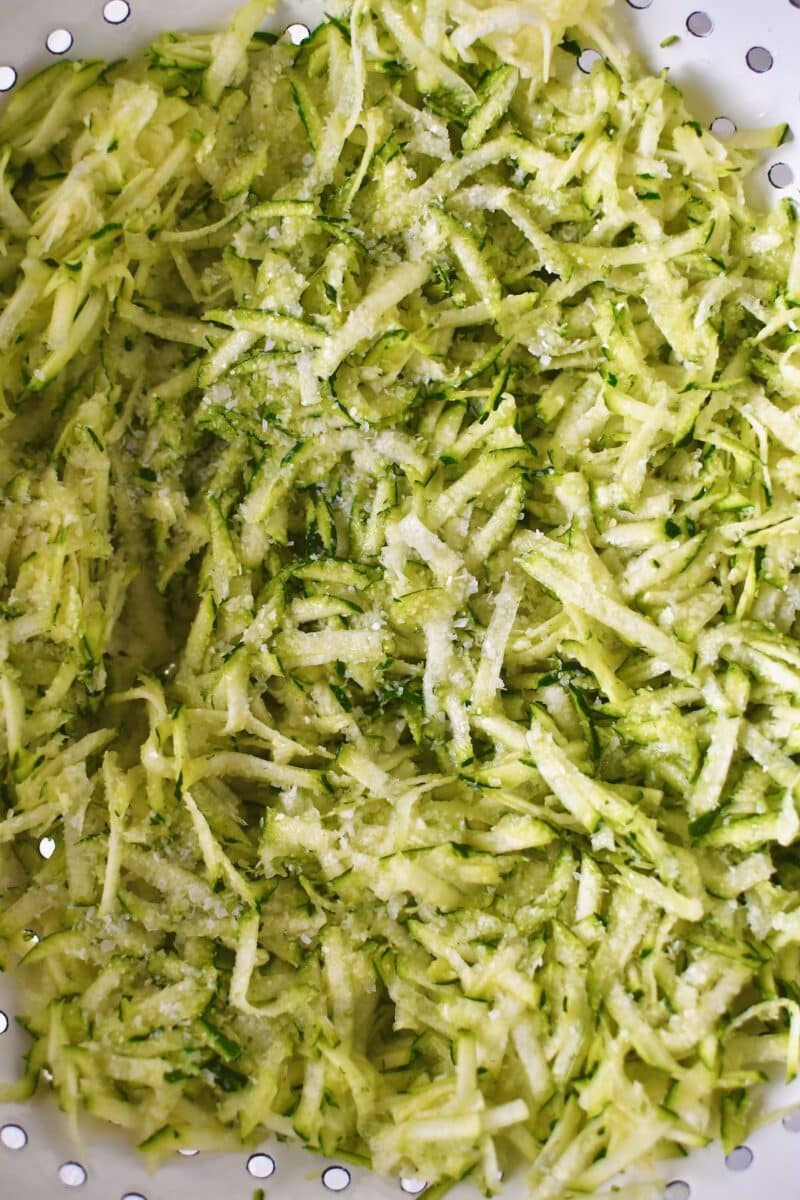 Then mix the zucchini with the green onions, garlic, salt, pepper, and eggs to form a wet batter. Fold the panko and flour in and you should be left with a fairly dry mixture.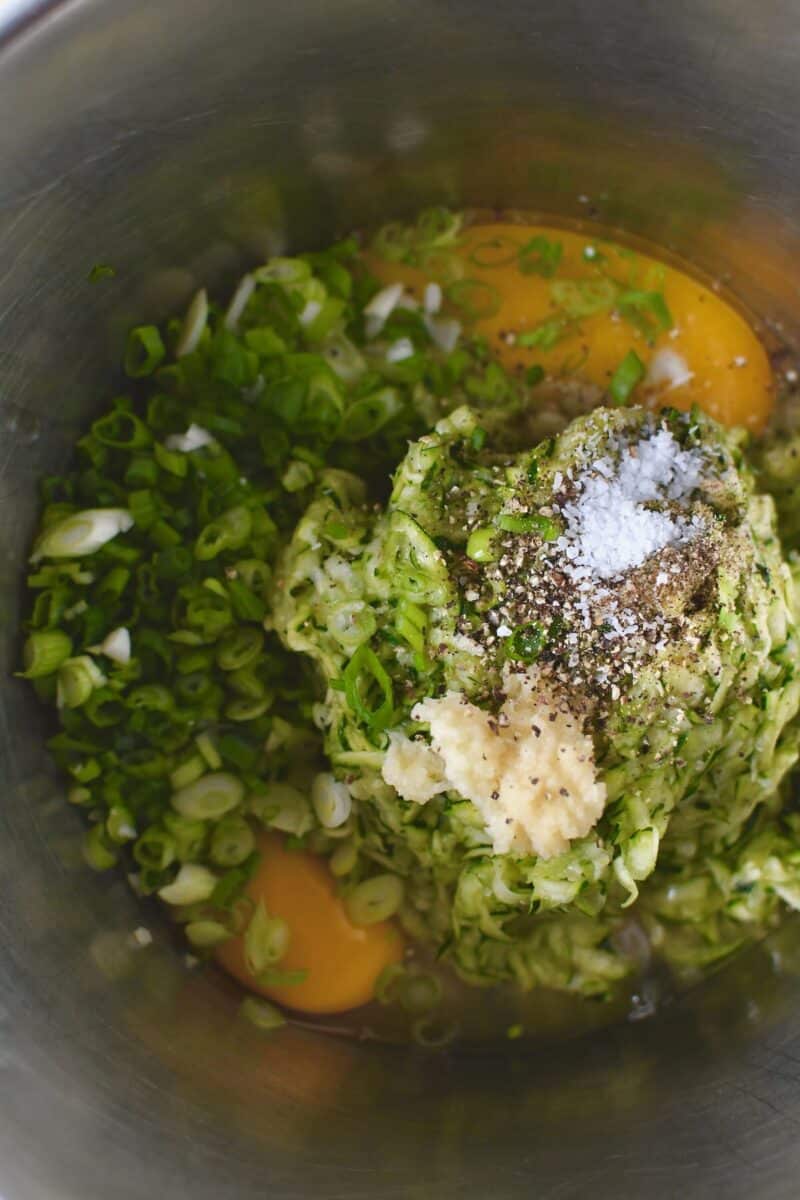 I like to use an ice cream scoop to make uniformly sized fritters, but you could drop spoon fulls into a hot pan too. Flatten the fritters with a spatula, kinda like you would a smash burger once in the skillet.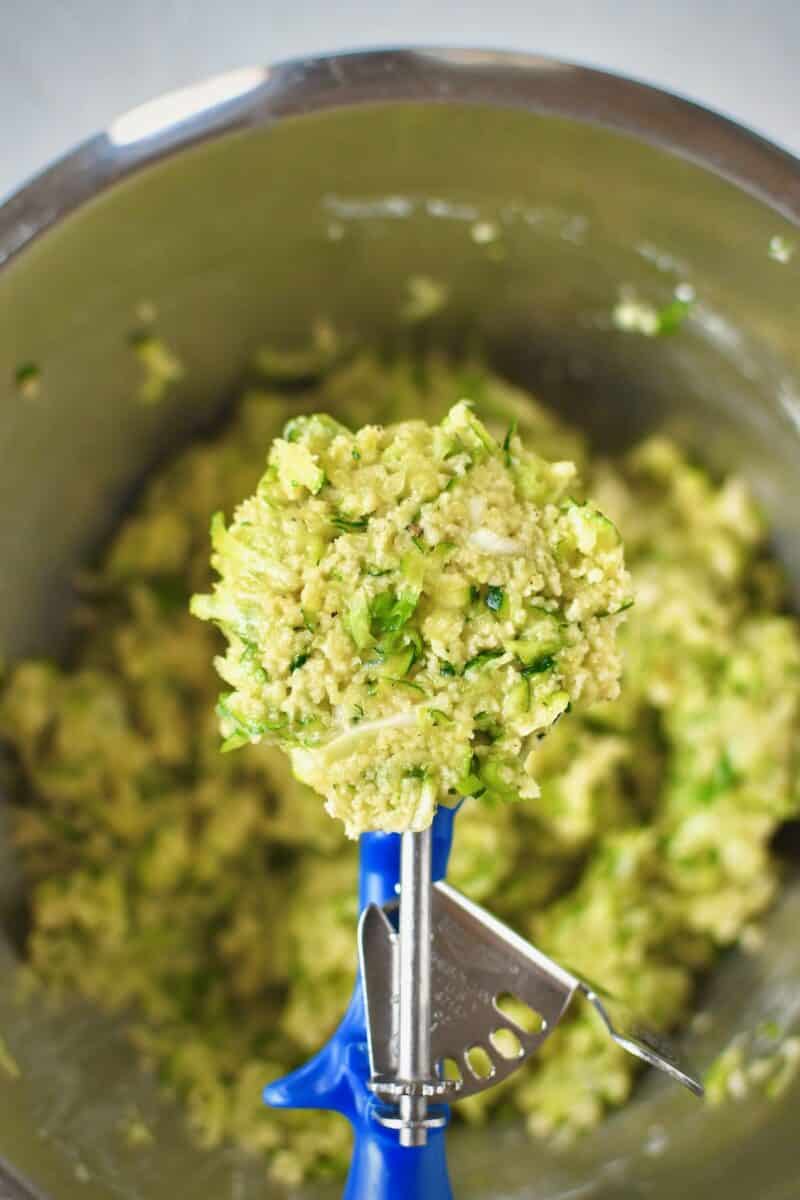 Fry the fritters in olive oil until golden brown on both sides. Then remove them to a paper towel-lined plate to rest.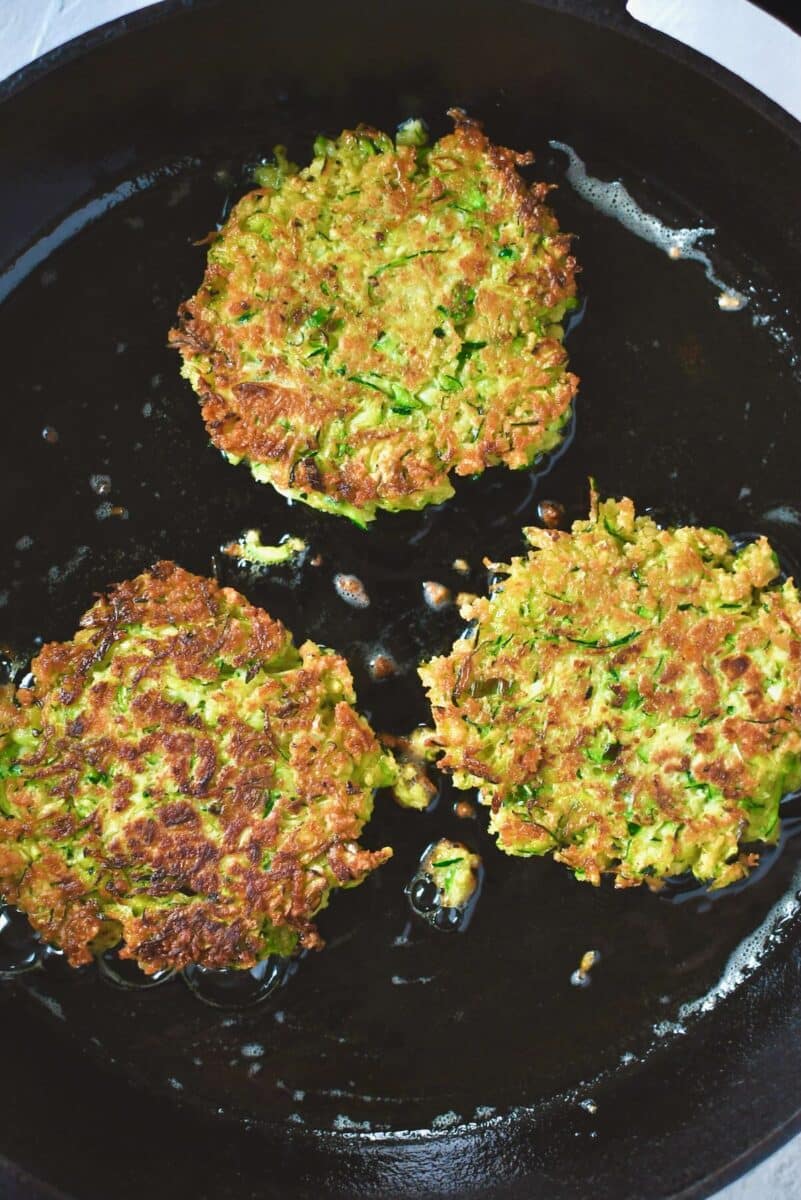 I like to serve mine with my Whipped Goat Cheese on top and some flakey sea salt. But they are equally delicious and crispy right out of the pan.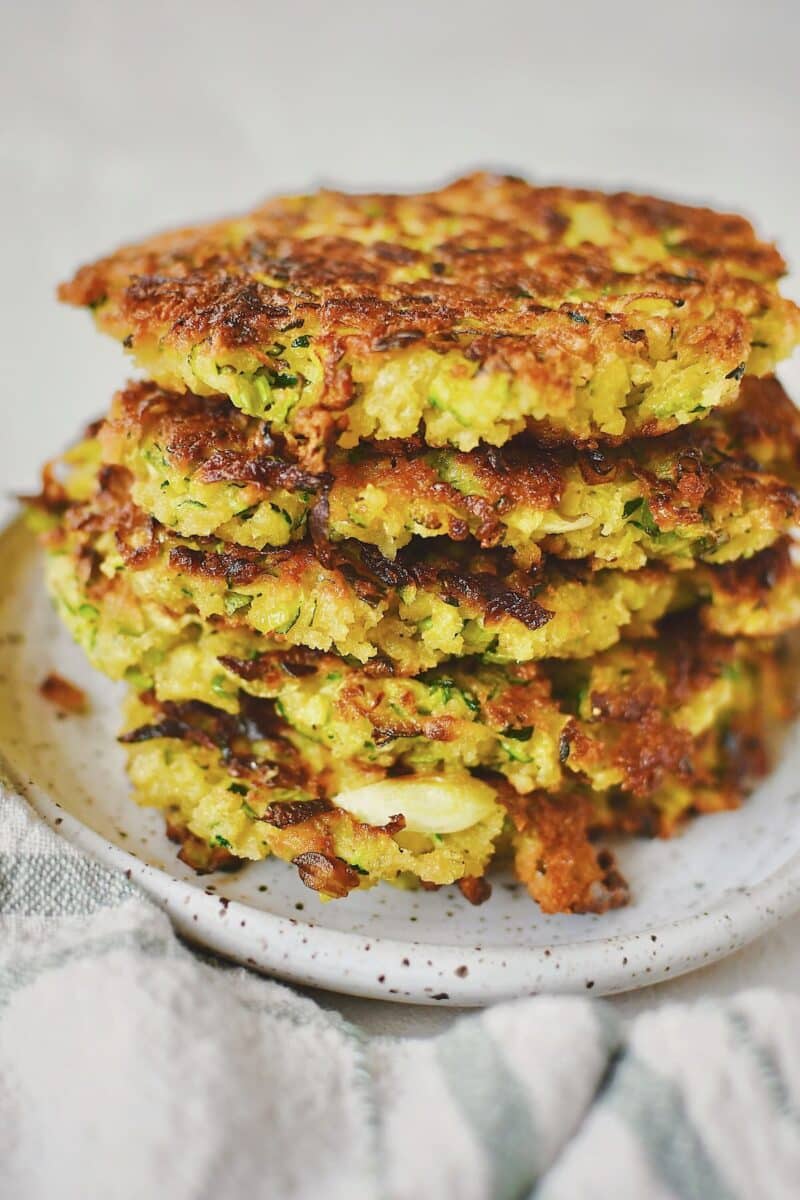 Notes & Tips
The first step is the most important, getting as much of the water out of the zucchini is key to getting a crispy fritter and it staying that way. The panko helps with the texture and will absorb some of the excess moisture, but it can only do so much.
If you'd like to prep these ahead of time and just fry them up when ready to eat, you can scoop them out onto a sheet pan and press them flat. I suggest doing it on some plastic wrap or parchment so you can lift them off easily. Then place them in the fridge till ready to cook.
I like to cook my fritters in olive oil for the extra flavor that oil brings to the final product. Just be sure to cook on medium to medium-low so it doesn't burn before you get through your batch.
These also work great in the air fryer. Brush both sides with a little oil and fry at 390˚F for 6-8 minutes till golden. They also reheat beautifully in there. I prefer to fry on the stove and then reheat leftovers in an air fryer for best results.
Substitutions
While I show this recipe made with zucchini, you could easily also use yellow summer squash or even a mixture of the two.
If you are egg-free, you could easily swap the eggs for flax eggs here. You just need something to bind everything together and that does the job perfectly well.
I like to mild spice and extra crunch the green onions offer. You could also use diced yellow or red onion too. The onion flavor just compliments the zucchini so well.
You don't really want to swap the panko for anything other than it. The only sub I would say work is if you tear up stale sourdough or something into small pieces, but something like Italian bread crumbs won't yield the same texture.
If you are gluten-free, swap the flour for a cup-for-cup alternative, and gluten-free panko too.
As mentioned earlier, I like olive oil for frying these. This is a great place to use an infused oil too. But if it comes down to it, vegetable or canola oil can be used too.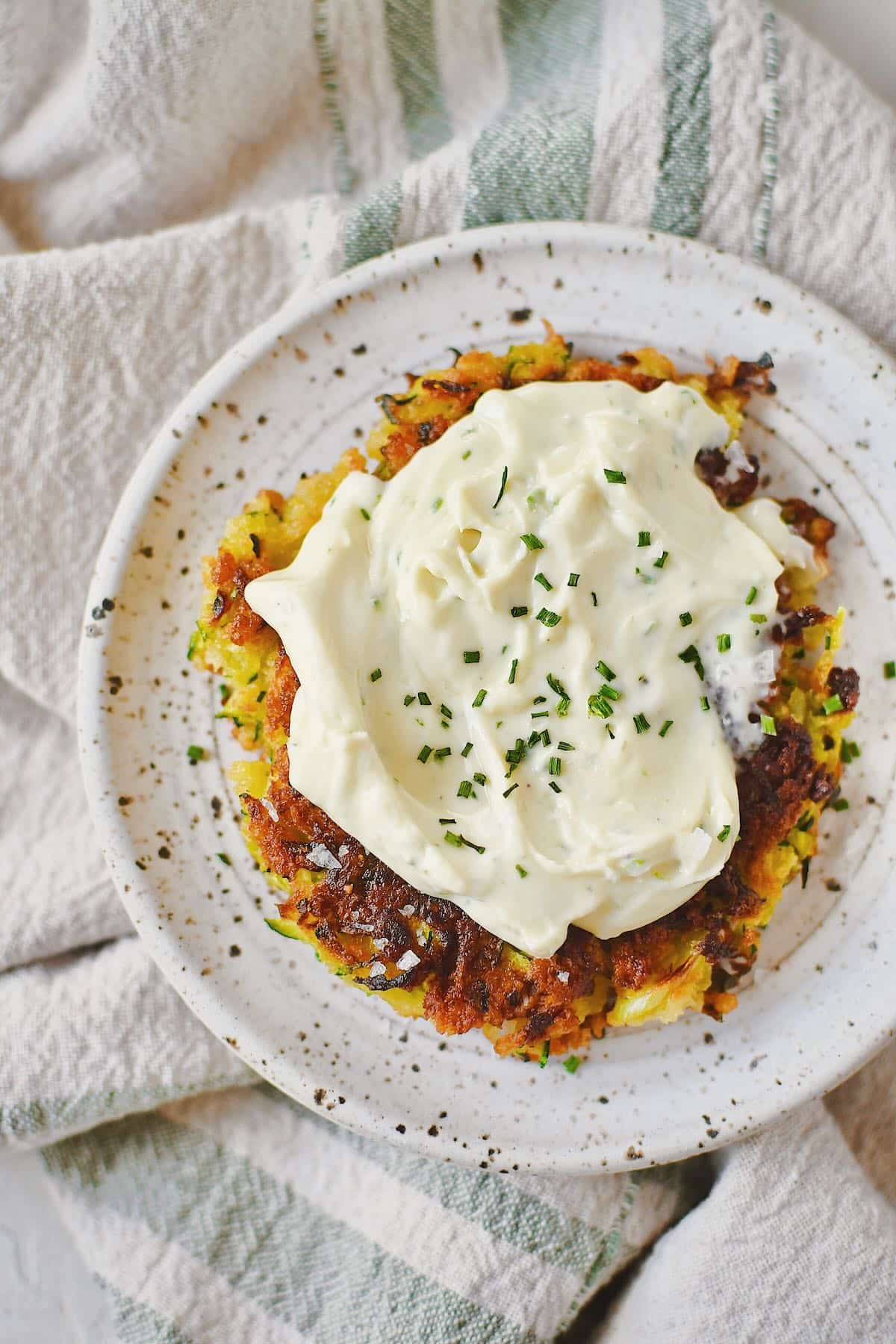 More of my favorite Summer Recipes
Did you make this recipe? Let me know by leaving a review or comment! And be sure to sign up for my newsletter, and follow along on Instagram, Pinterest, and Facebook!