I associate baked beans as a quintessential part of summertime BBQs and these Dr. Pepper Baked Beans are the best I've ever made! They are sweet, salty, and tangy in all the right ways, and are everything you need to round out a backyard meal.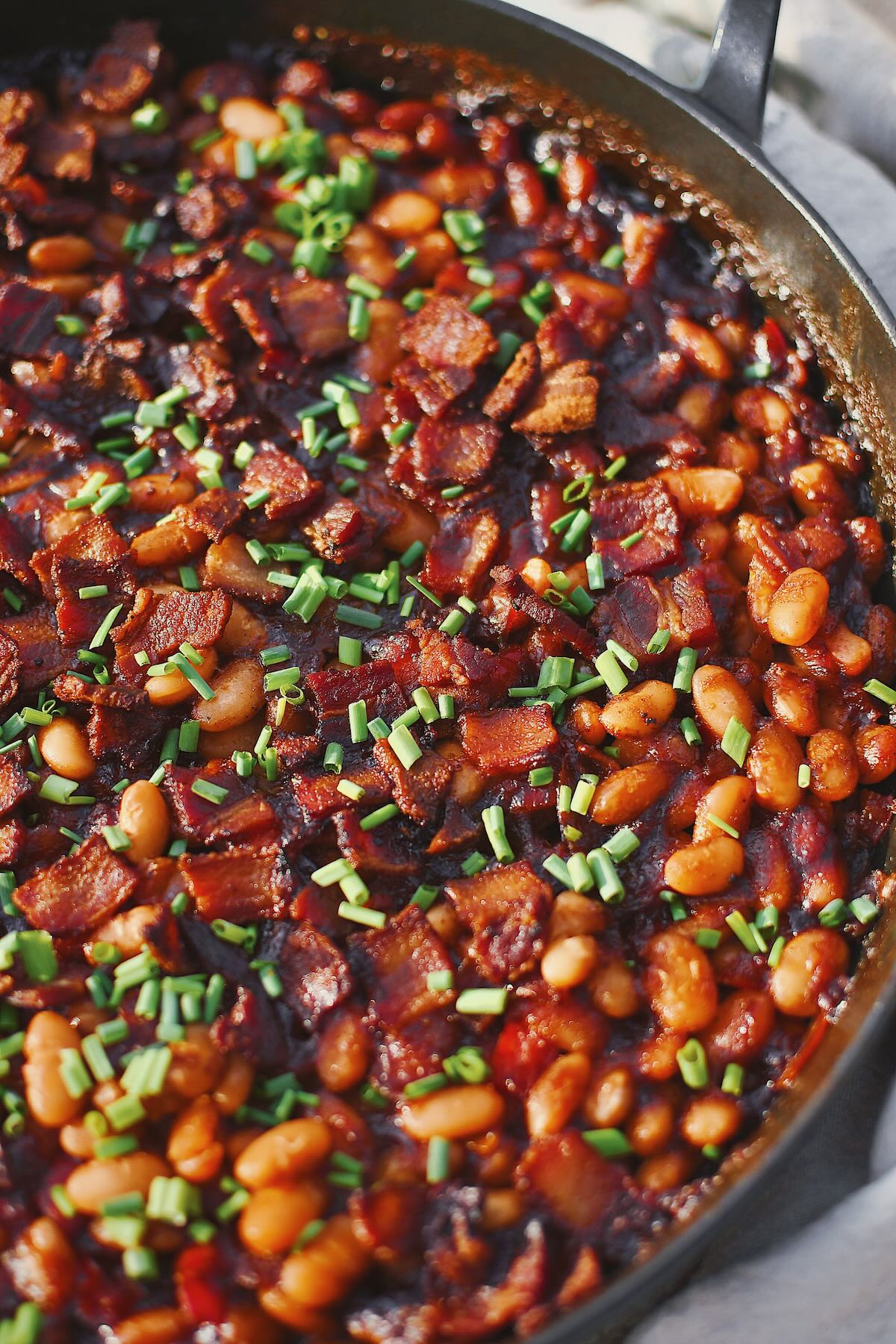 I mean, I love bacon, and Dr. Pepper on a regular day, so mashing them up in a delicious side dish is a no-brainer. And it gives me a great excuse to use more of my Dr. Pepper BBQ Sauce, which is equally delicious in its own right.
Jump to:
Ingredients
Each ingredient in this list infuses uncompromised flavor into this dish. From the smokey bacon to the sweet onion and pepper. The mustard powder brings a hit of spice, and the cider vinegar offers a balanced tang.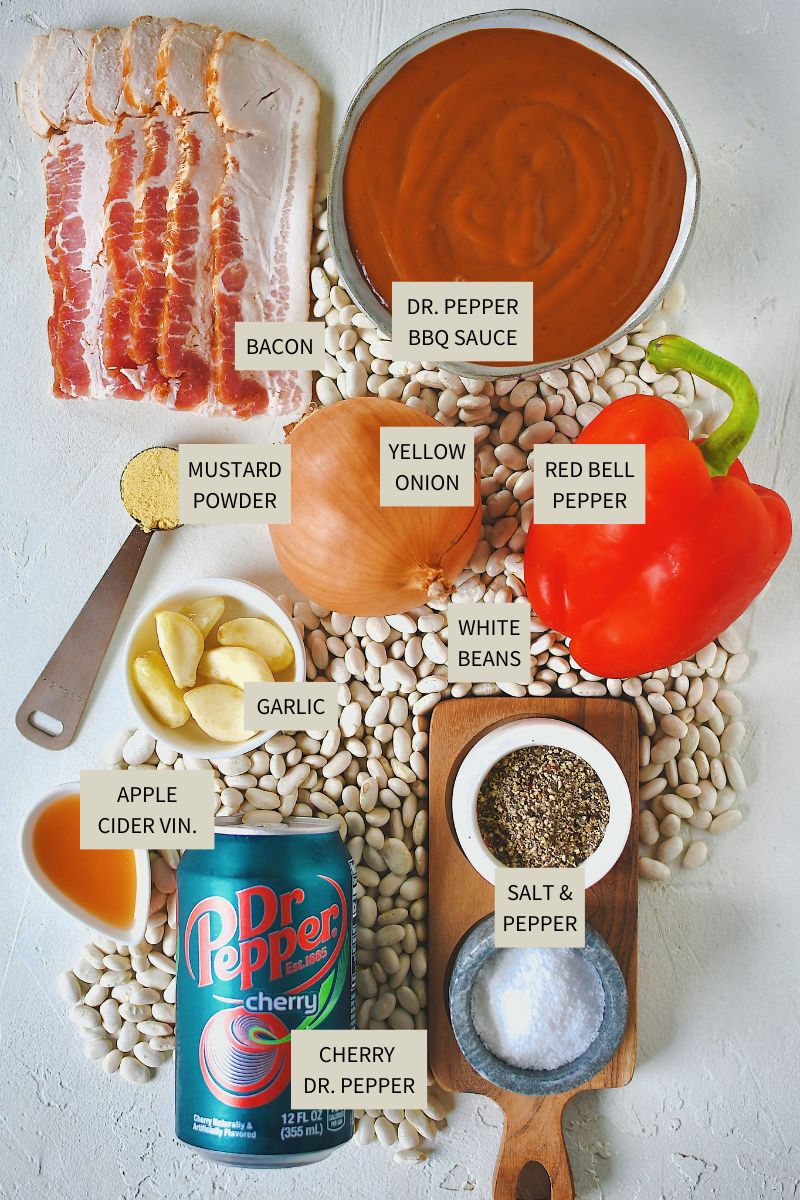 And the cherry Dr. Pepper rounds everything out, without being too sweet. I like to use cherry because I think it is a great balance of flavor to the smokey bacon. All of these flavors soak into the beans making them luscious and tender.
Use the JUMP TO RECIPE button at the top of the post, or scroll to the bottom of the post to see the full recipe card with ingredient measurements and instructions.
Method
Start by cooking some bacon, just till it is almost crispy. It will cook again on top of the beans in the oven, so you want to render most of the fat out of it, but not cook it completely. Leave it just a tiny bit soft.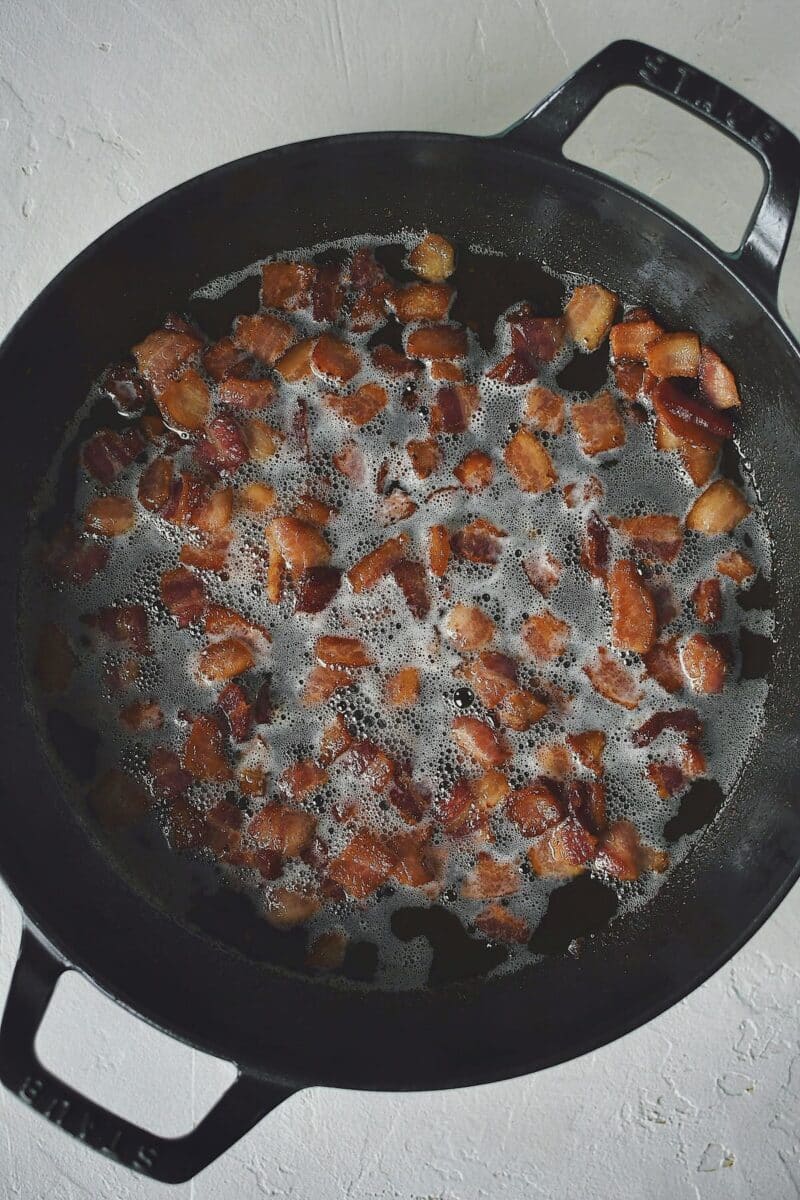 Remove all but a tablespoon of the bacon fat from the pan, then cook the onions in it till soft. Add the bell pepper and garlic and cook for 2-3 more minutes. Deglaze the pan with the cherry dr. pepper and simmer till thickened. Add the seasonings and homemade bbq sauce to the pan and bring it to a simmer.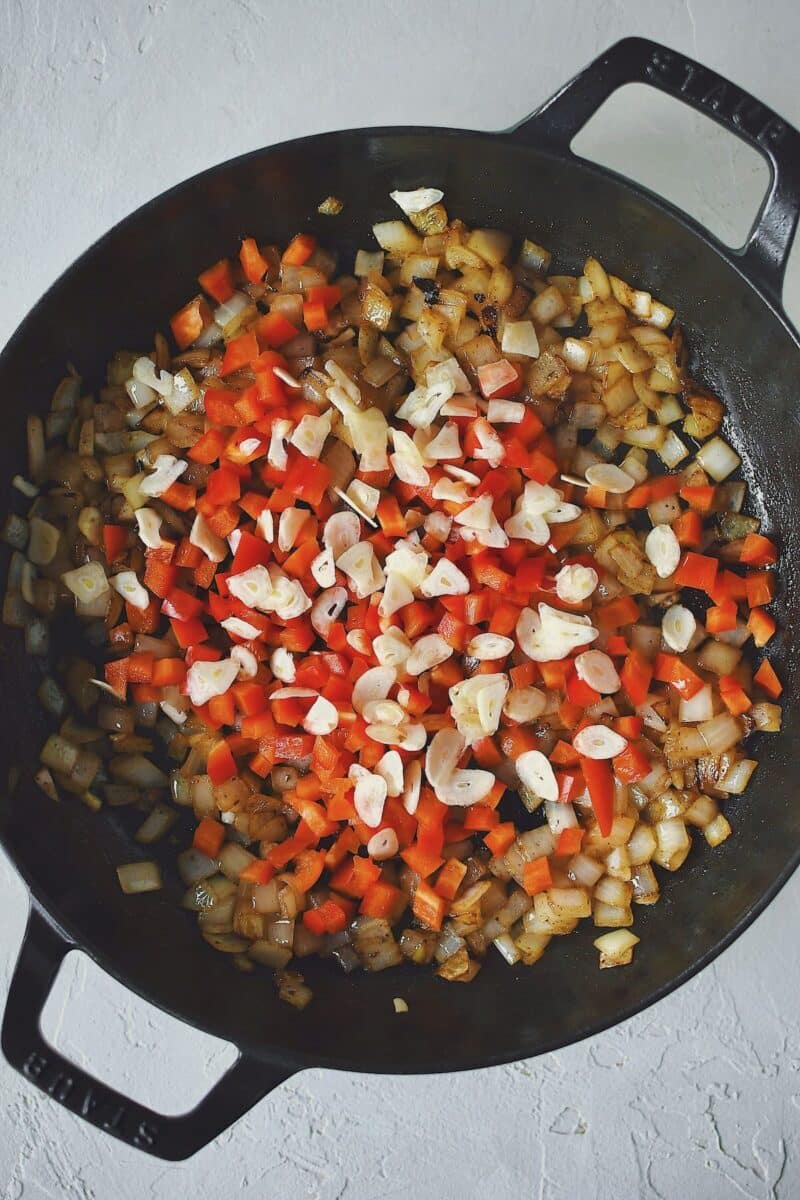 Stir the beans into the sauce and top with the bacon. Bake in the oven until the sauce has gotten very thick and all the bacon on top is nice and crispy. I finish the dish with some chives for a little color.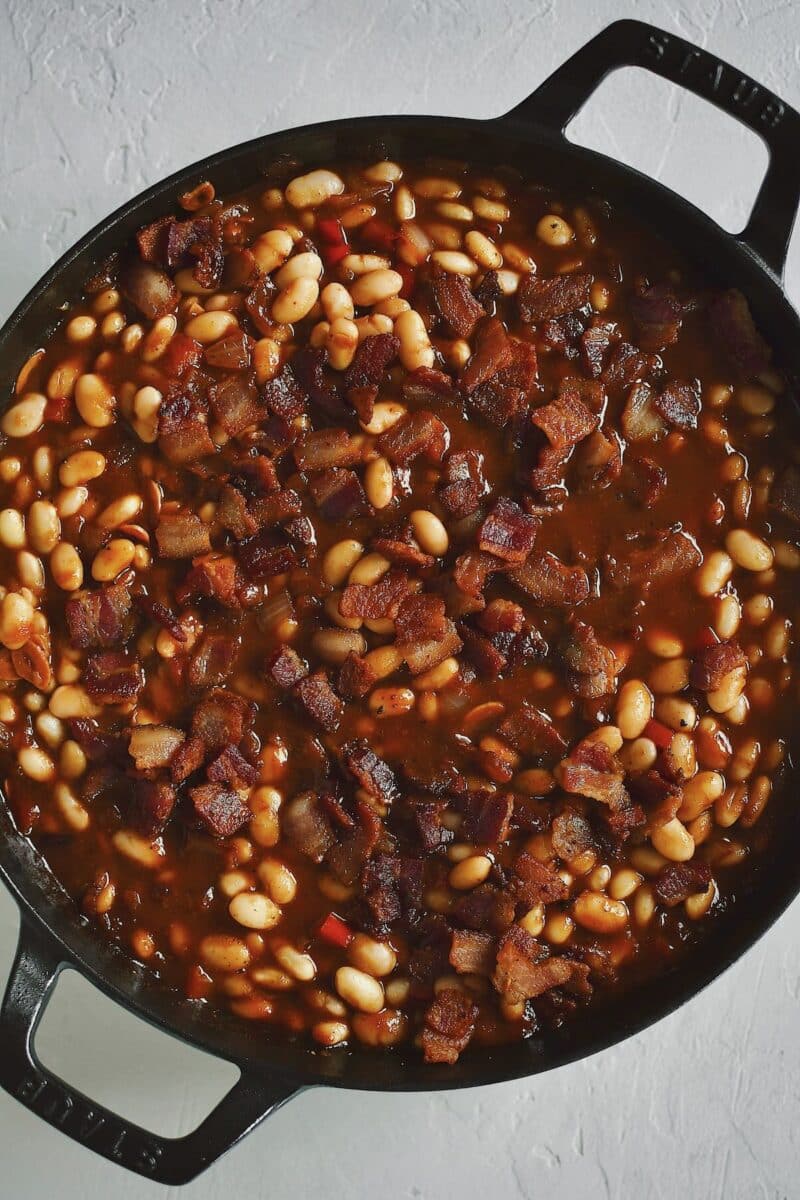 The beans are ready to serve and have absorbed all that delicious flavor. They are sweet, tangy, and salty in all the right ways. Perfectly fit for your next backyard bbq or to serve alongside perfect burgers!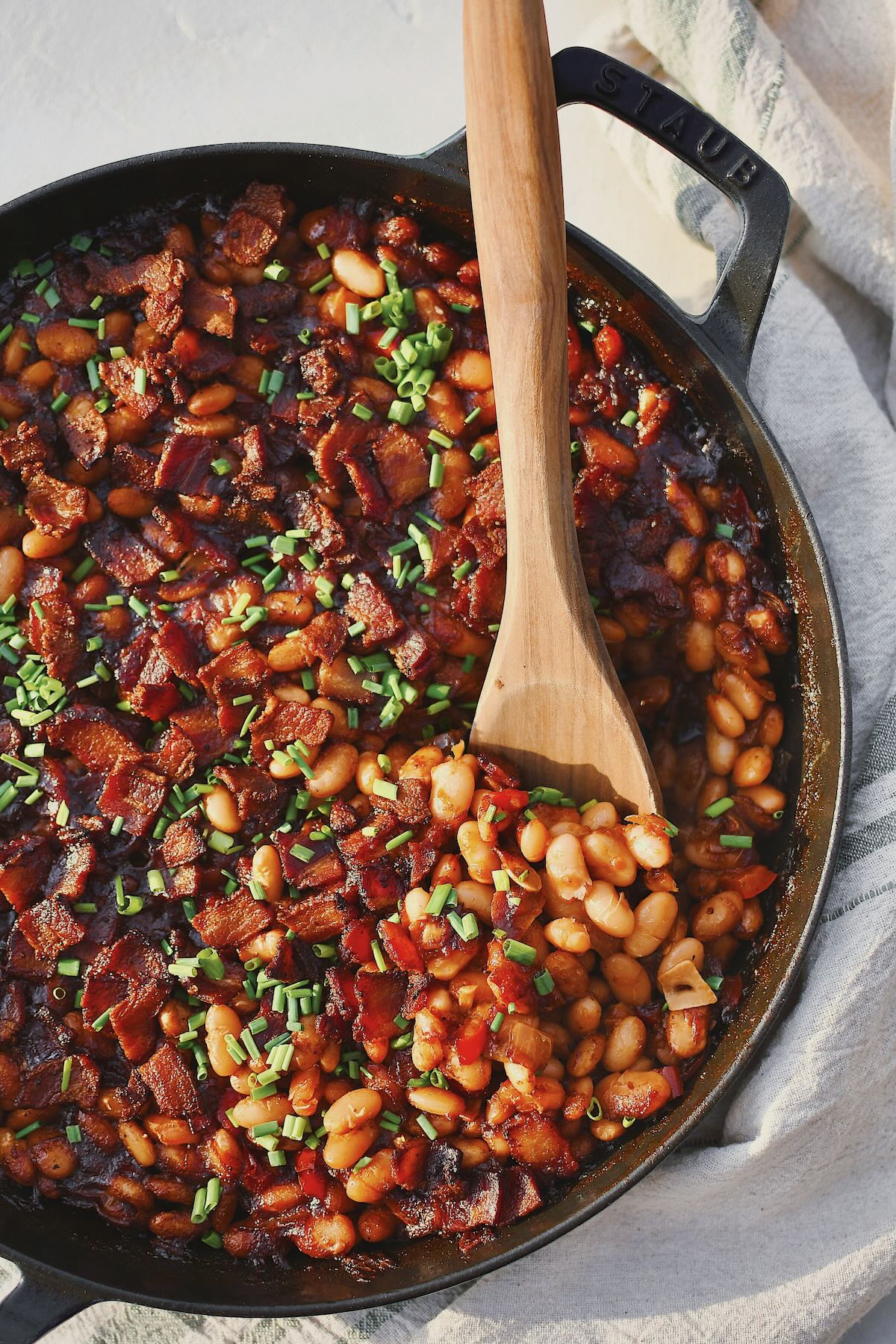 Notes & Tips
I like to start with dry beans, take a look at my Instant Pot Beans recipe. It makes this dish much cheaper to make and takes almost no effort to cook the beans from dry.
Cook the bacon just until it is almost fully crisp, but still a bit soft. This is because it will cook again in the oven and you don't want it to burn during that second cook. Also, after you cook and remove it, I use 2-3 paper towels to sop up some of the fat, just leave behind about a tablespoon of fat to cook the onions in.
After deglazing the pan with the soda, just like you would with wine, cook it till the pan is nearly dry again. This concentrates the flavors and makes them more intense.
If you live in a hot climate like me, instead of using the oven, finish the beans on the stovetop. Put the stove dial to the last dot before low, then place a lid on the pan. Simmer covered for 20 minutes, and uncovered another 20 minutes. I know this removes the "baking" from baked beans, but they are equally great and you don't have to heat up the house having the oven on.
Substitutions
As stated earlier, I like to start with dry beans and cook them in an instant pot. You can swap a pound of dry beans that you cook for 3 cans of Great Northern Beans, drained and rinsed.
If you need to keep these beans vegetarian, ditch the bacon and use a tablespoon of olive oil. The flavor won't be as rich, but you can also add a teaspoon of sweet smoked paprika to get some of it back.
The color onion or bell pepper doesn't really matter. Any color of each will work, don't get hung up on it.
I prefer a cherry Dr. Pepper for this recipe for some extra sweetness and flavor. You could also use a regular Dr. Pepper, but I don't think the flavor is as good.
If you do not have mustard powder, you can use a squeeze of regular yellow mustard from the fridge.
Apple Cider Vinegar is equally sweet and tart, and it offers a great balance to this finished dish. You could also use balsamic or red wine vinegar in a pinch.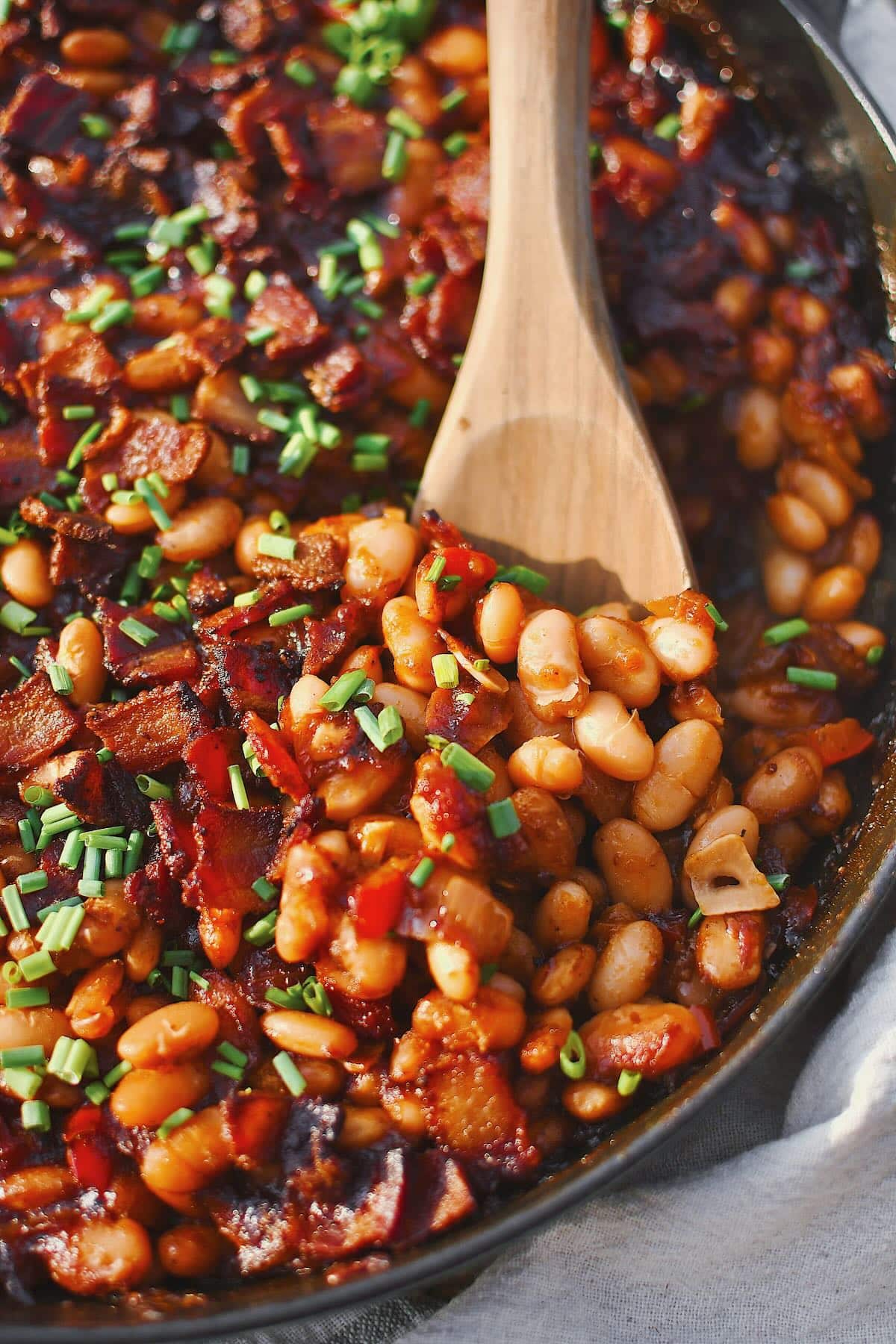 Did you make this recipe? Let me know by leaving a review or comment! And be sure to sign up for my newsletter, and follow along on Instagram, Pinterest, and Facebook!