These tender and juicy Grilled Chicken Thighs are easier to make than you think and will be ready to eat in less than an hour! And whether you choose to baste them in BBQ Sauce or not, they are great either way.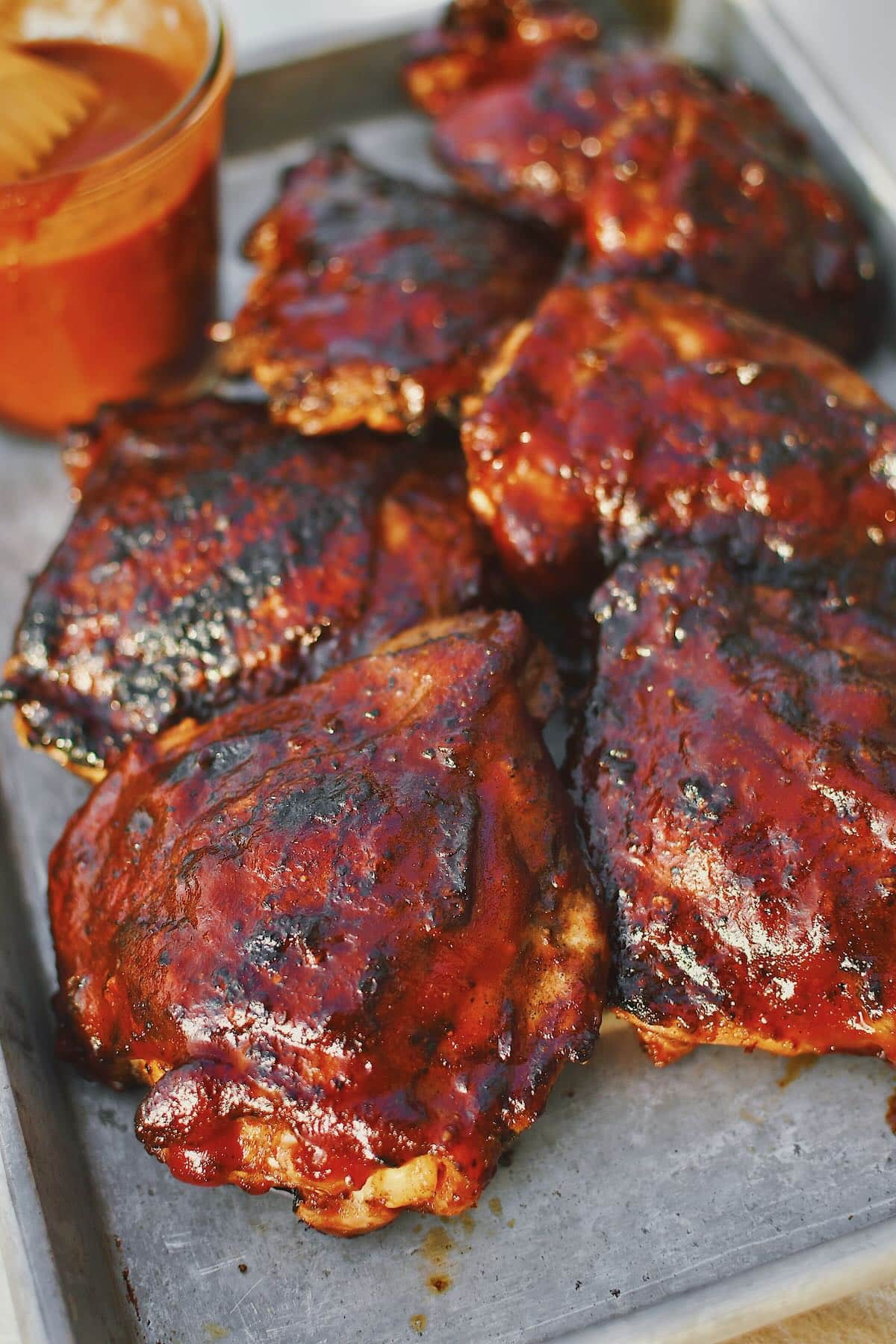 All the secrets lay in heavy seasoning and a screaming hot grill. Did I already say this was a super easy recipe to whip up? Because it is!
Jump to:
Ingredients
The chicken, I like bone-in and skin-on chicken thighs for this one, is the star! You just have to be sure to season it really well, and you just need a little olive oil to help carry that flavor around. That's it!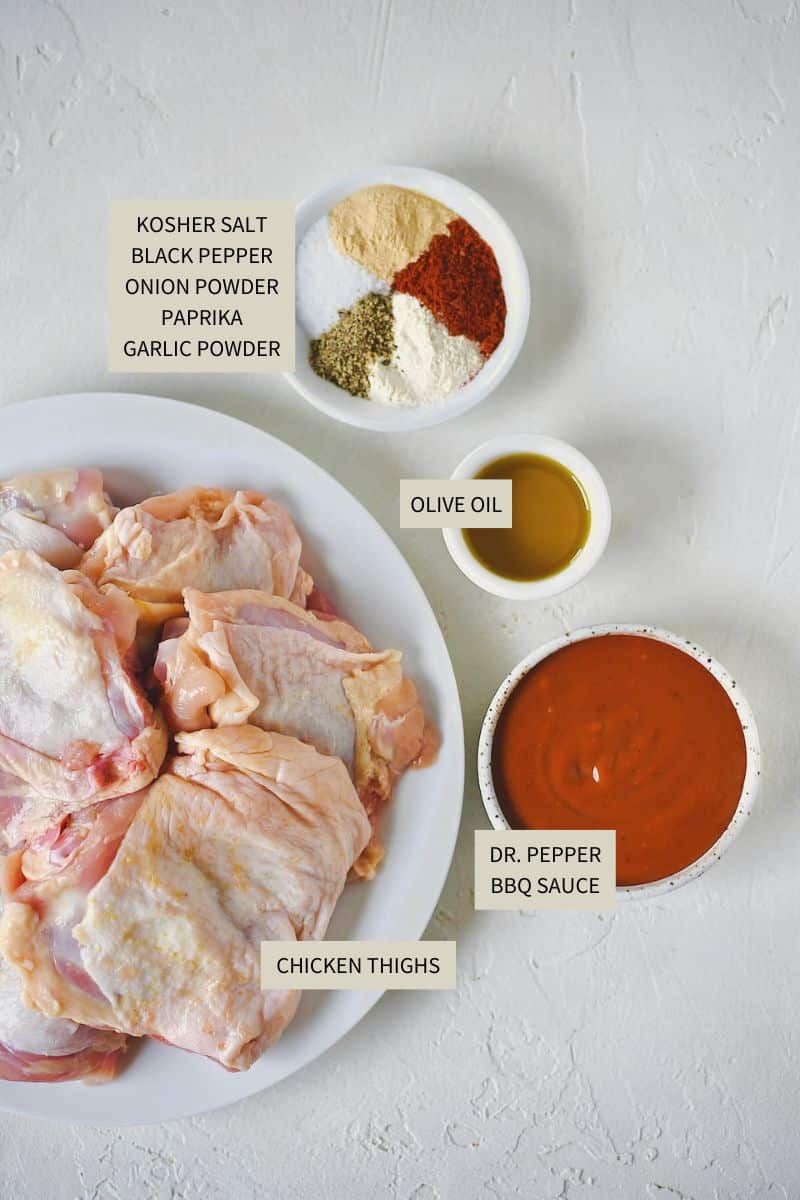 And like I mentioned earlier, you can choose to baste in BBQ sauce or not. Or even just serve it on the side for dipping or personal preference to all diners. I love serving this chicken with my Dr. Pepper Baked Beans too, they are a great accompaniment.
Use the JUMP TO RECIPE button at the top of the post, or scroll to the bottom of the post to see the full recipe card with ingredient measurements and instructions.
Method
Place the chicken in a large bowl and drizzle the olive oil and seasonings over it. Toss it all together till it is well coated. I do this at least 30 minutes before I will be cooking the chicken, but you could also toss it in a zip-top bag and let it sit in the seasoning overnight too.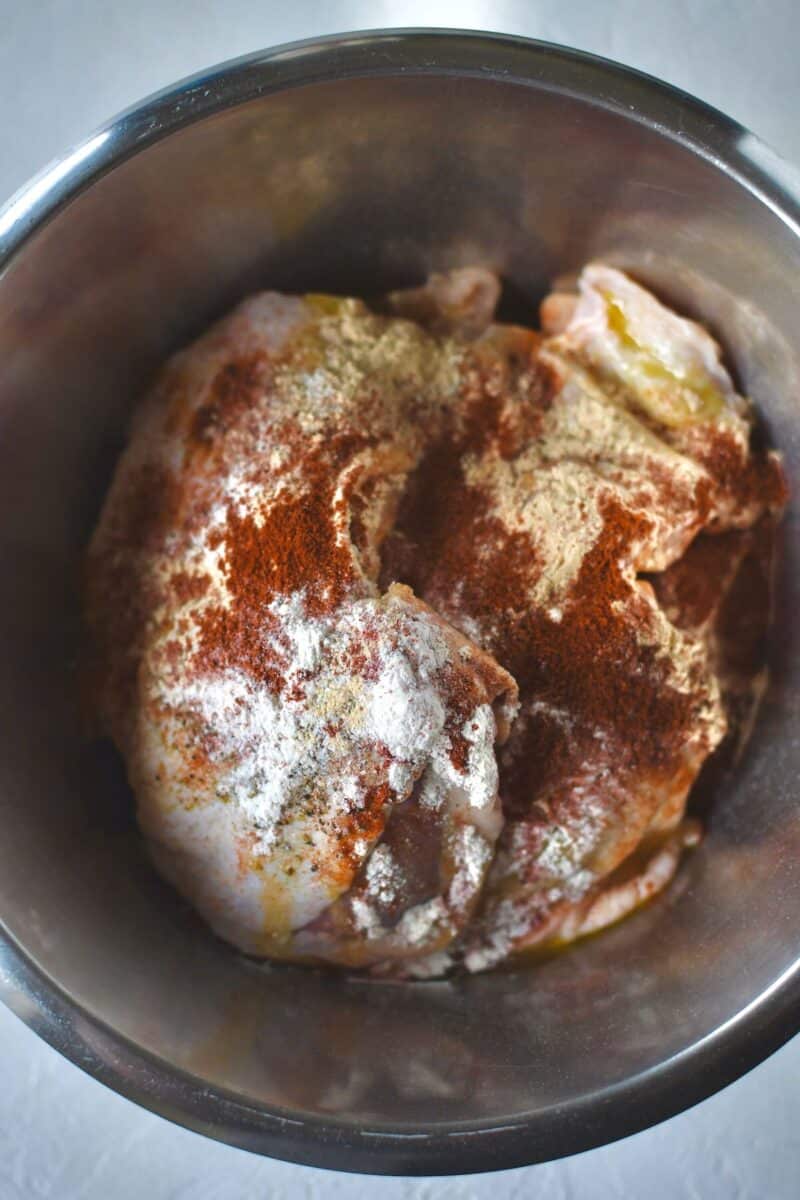 When you are ready to cook the chicken, get a grill as hot as you can, and let it heat up for at least 10 minutes on high. Place the chicken skin side down and cook till the skin gets crispy. Turn one side of the grill off and move the chicken to that side. Close the lid and let it cook for about 15 minutes, or until an instant-read thermometer reads at least 160˚F. Then put the chicken back on the hot side of the grill and baste it with the bbq sauce if you are using it. Close the lid and let it set for 5 minutes.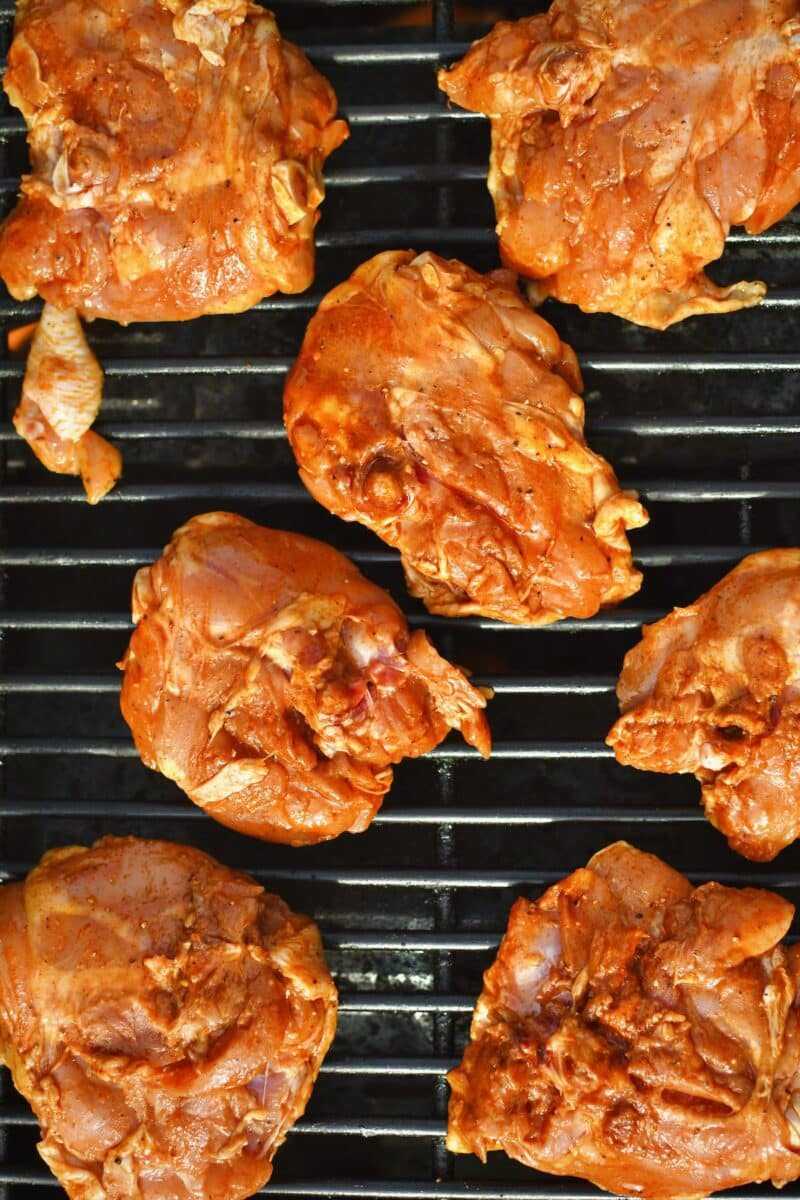 Remove the chicken from the grill and let it rest for 5-10 minutes so the juices can redistribute. Serve with more bbq sauce or just the sauce on the side.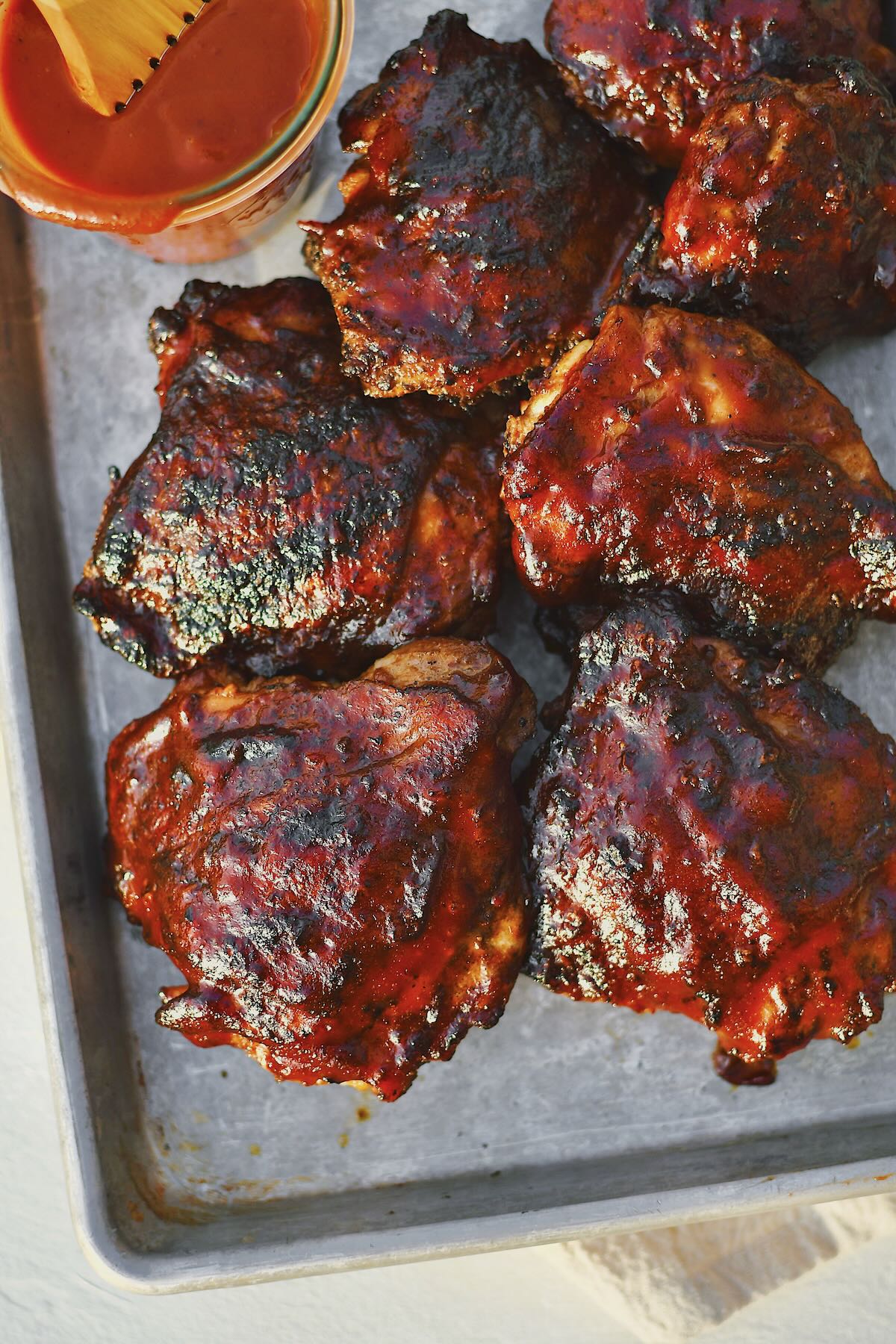 Notes & Tips
Remove the chicken from the fridge and season it, leaving it at room temp, at least 30 minutes before you cook it. You can also season it in a zip-top bag and let it "marinate" overnight if you like. It will be even more flavorful if you do this.
Substitutions
I prefer bone-in, skin-on chicken thighs for this recipe. Something about grilled chicken loves bone and skin. But you could totally use bone-less, skin-less too if you prefer it.
I keep olive oil on the counter so that is what I grab. But any oil can be used, you just need some to get the spices moving and it helps keep the chicken from sticking to the grill too.
I LOVE roasted garlic powder. I call it my little kitchen secret. If you can't find it you can use regular garlic powder. But use true powder, not granulated garlic.
The BBQ sauce is totally optional. I like my grilled chicken thighs with sauce, but that can be up to you completely.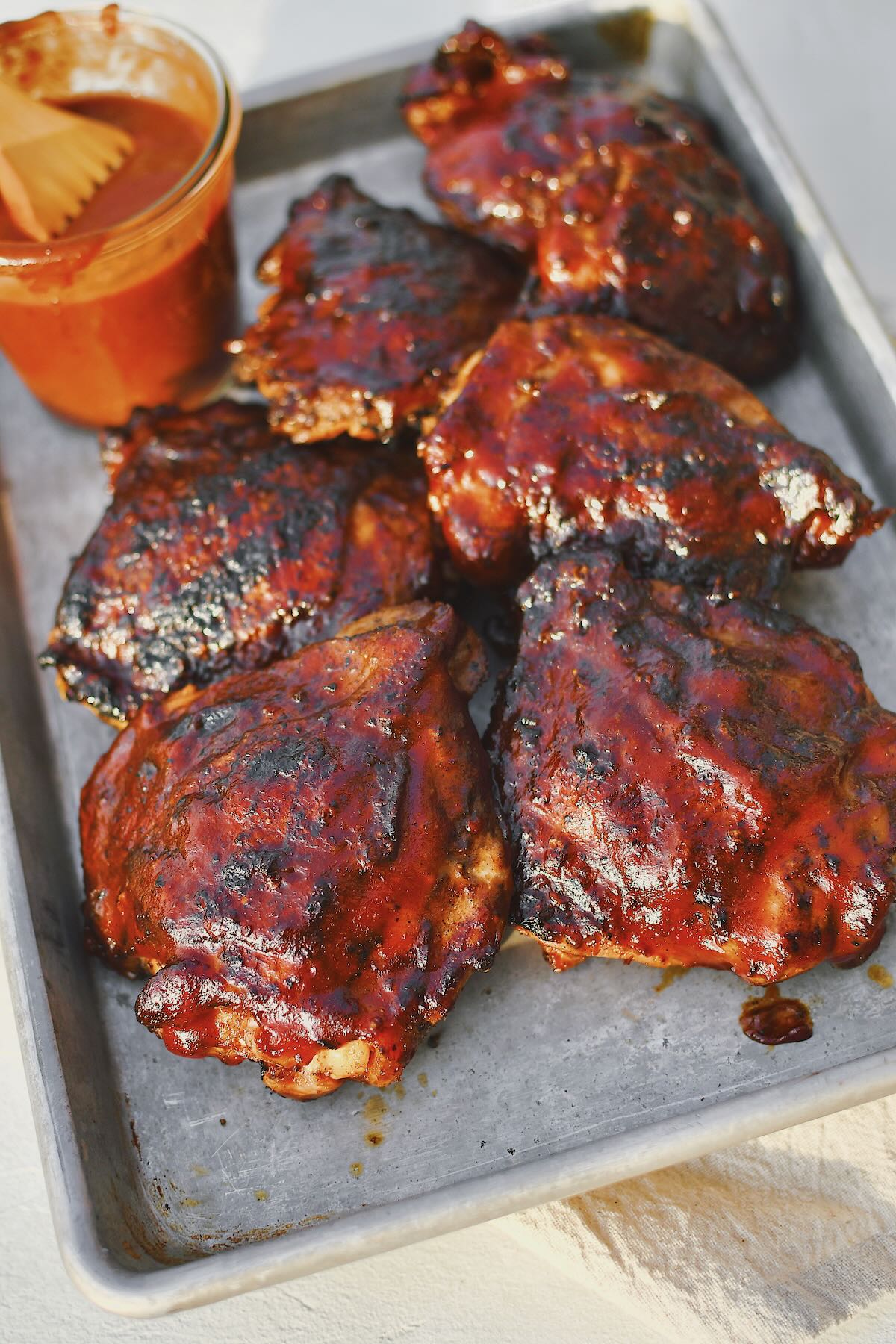 Did you make this recipe? Let me know by leaving a review or comment! And be sure to sign up for my newsletter, and follow along on Instagram, Pinterest, and Facebook!