Pumpkin and pecans just go together in my mind, and I have to say, they are a match made in heaven with these Pumpkin Scones.
And if you are a fan of the now discontinued Starbucks Pumpkin Scones this is a great substitute when the craving for one of those hits. I know it isn't an exact match, but it is pretty darn close and super tasty!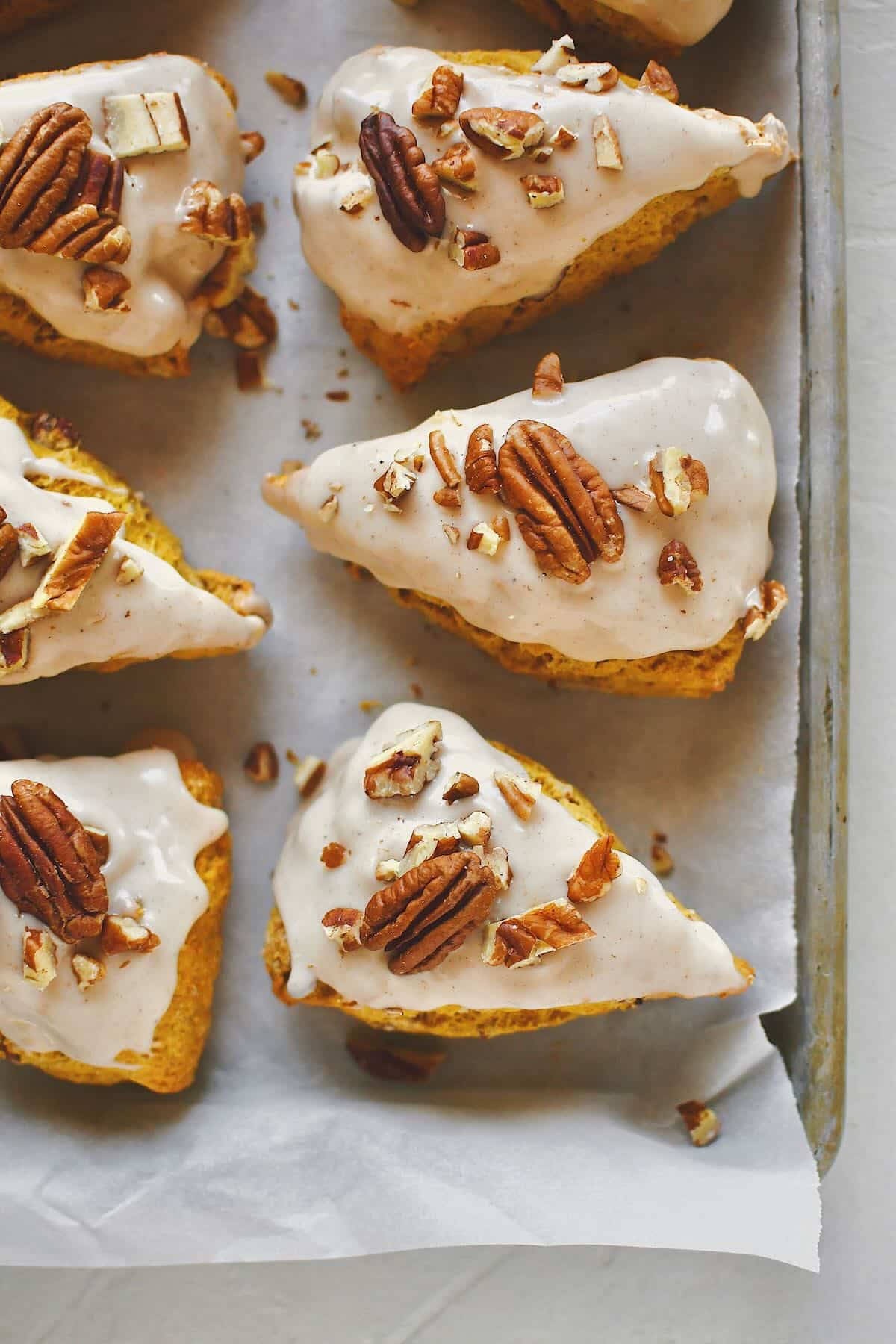 These tender and flakey scones are filled with toasted pecans and topped with a beautiful spiced maple glaze and are a total delight with a cup of coffee or with one of my Pumpkin Spice Iced Chai Lattes.
Jump to:
Ingredients
You will find the usual suspect of ingredients for this scone recipe here. A good scone is flour, butter, a little sugar, and just enough milk to bring it all together. Here I use brown sugar for a little extra flavor and spice it with the pumpkin spice blend.
I use maple syrup to make the glaze and infuse just a little extra flavor. Whisking it into the powdered sugar with a little extra pumpkin spice and a splash of milk just to bring it all together.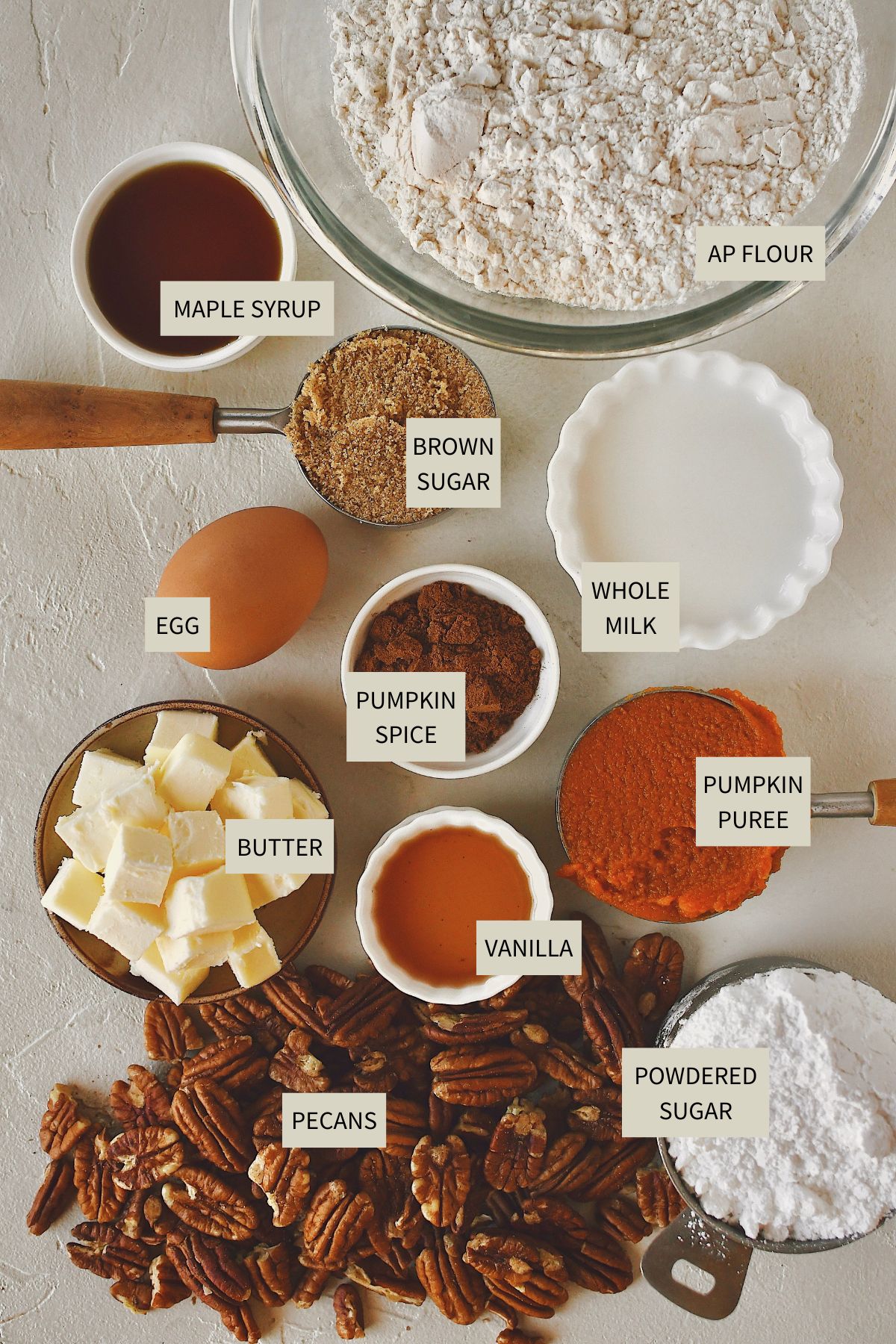 What you need:
All-Purpose Flour
Light Brown Sugar
Baking Powder
Kosher Salt, Morton's
Pumpkin Spice Blend
Unsalted Butter
Pumpkin Puree
Whole Milk
Egg
Vanilla Extract
Pecans
Powdered Sugar
Maple Syrup
Whole Milk
Pumpkin Pie Spice
See the recipe card for full quantities.
Use the JUMP TO RECIPE button at the top of the post, or scroll to the bottom of the post to see the full recipe card with ingredient measurements and instructions.
Method
Start by seasoning your flour with the brown sugar and pumpkin spice. Then add the cold butter to it and work it in with your hand until the flour holds a clump when pressed in your hand.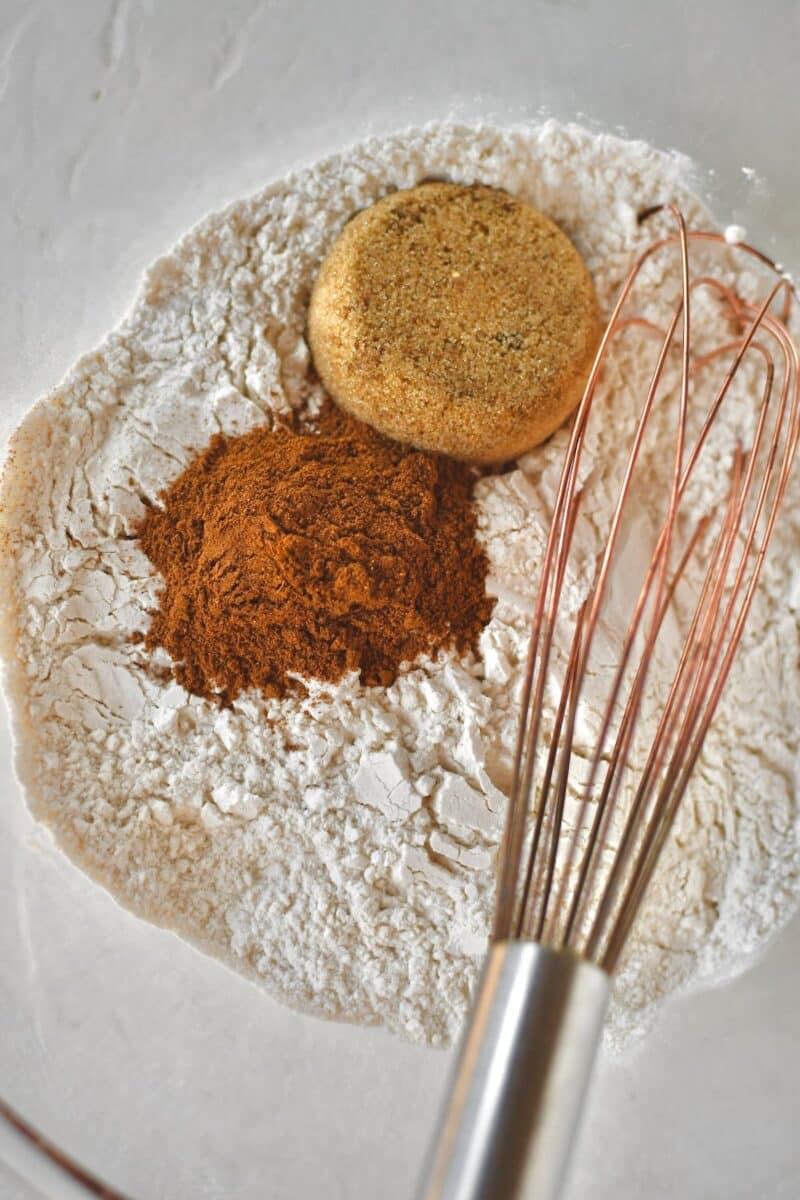 Then whisk together the wet ingredients and stir them into the dry flour butter mixture. Fold in the pecans, reserving some for topping the scones after glazing.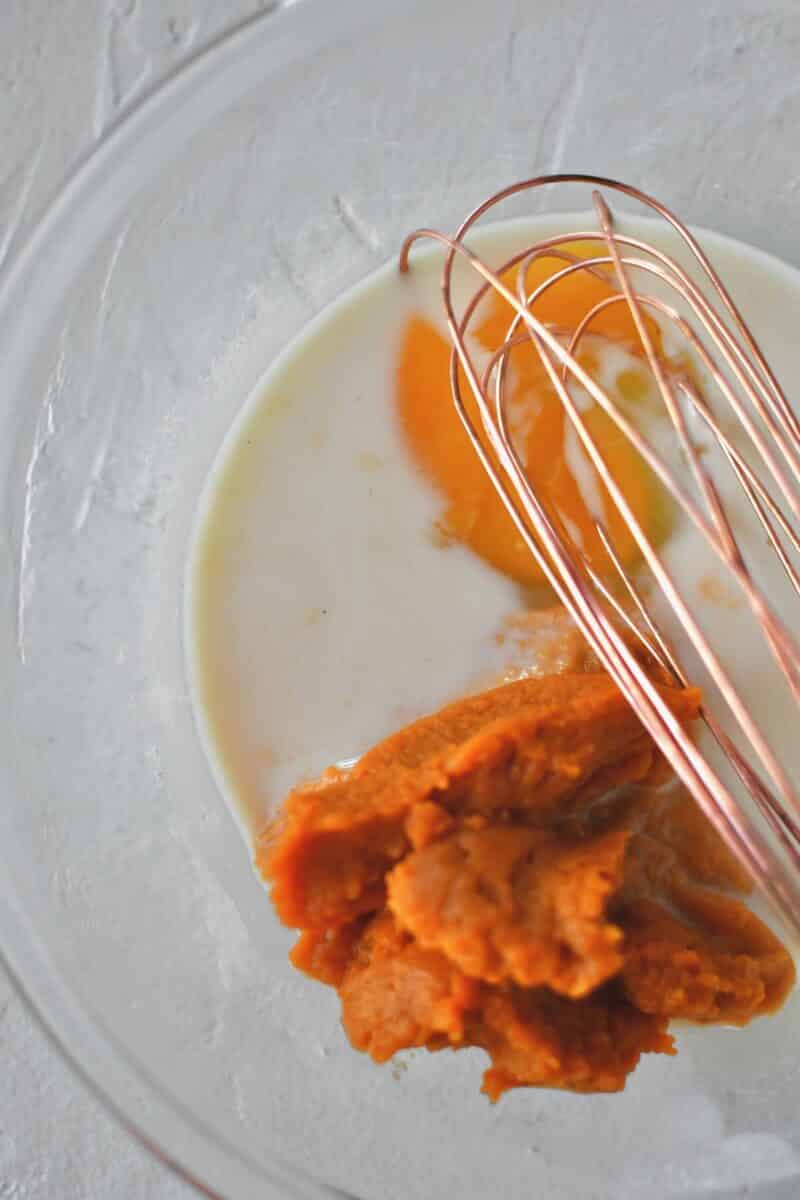 Kneed the dough gently to form a solid dough with no powdery bits left behind. Then pat it into a disk and cut it into 8 wedges.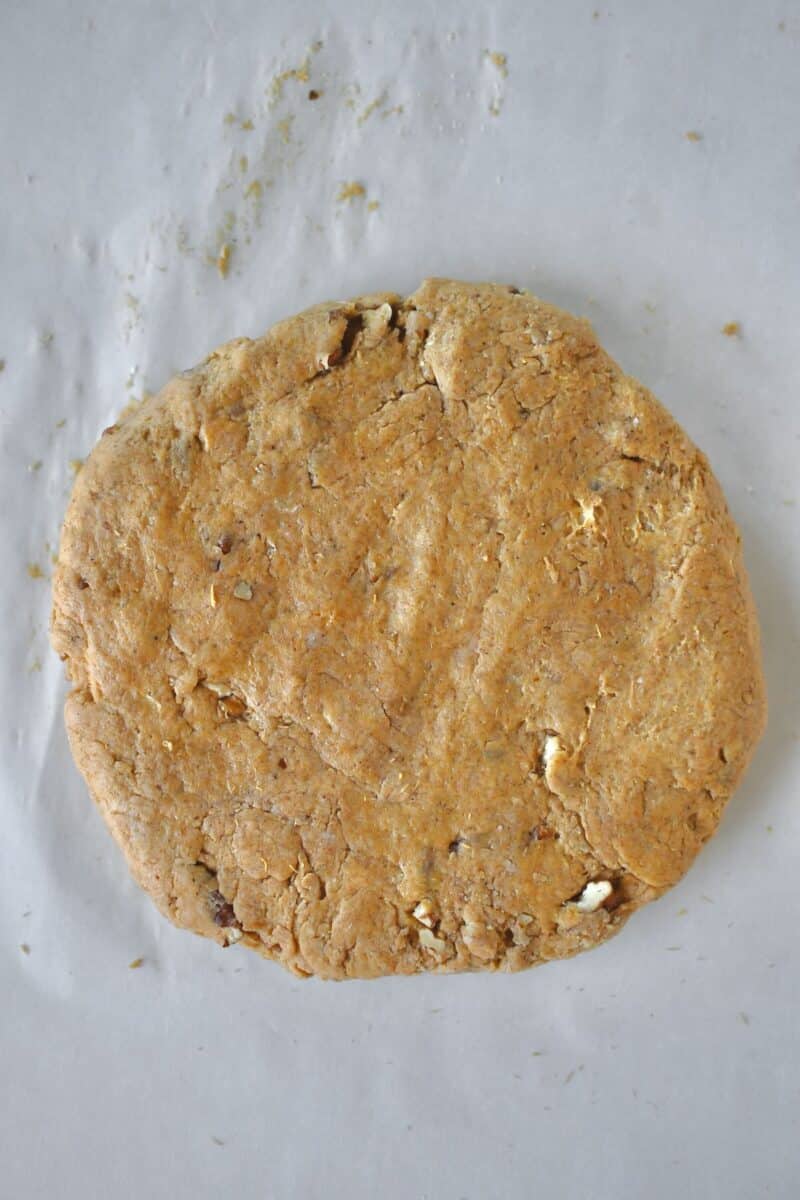 You can bake your scones in the round if you like by not separating them, but I prefer taking them apart and biking them 2-3 inches apart on a tray. Bake them until they have risen and the edges become golden brown.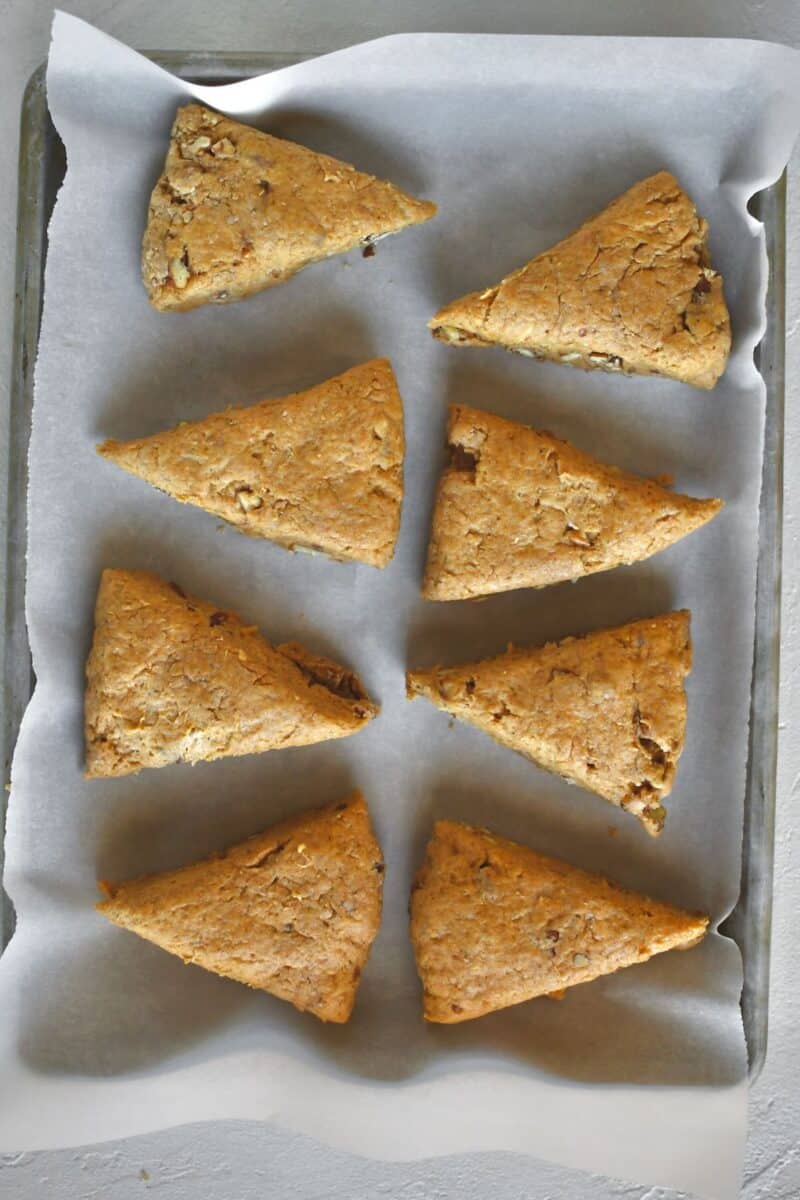 After they cool, whip up the glaze and dip each scone in it. Finish them with a dusting of your chopped toasted pecans. I also like to pull out 8 whole halves so I can put one on each scone just to make them extra pretty and nutty.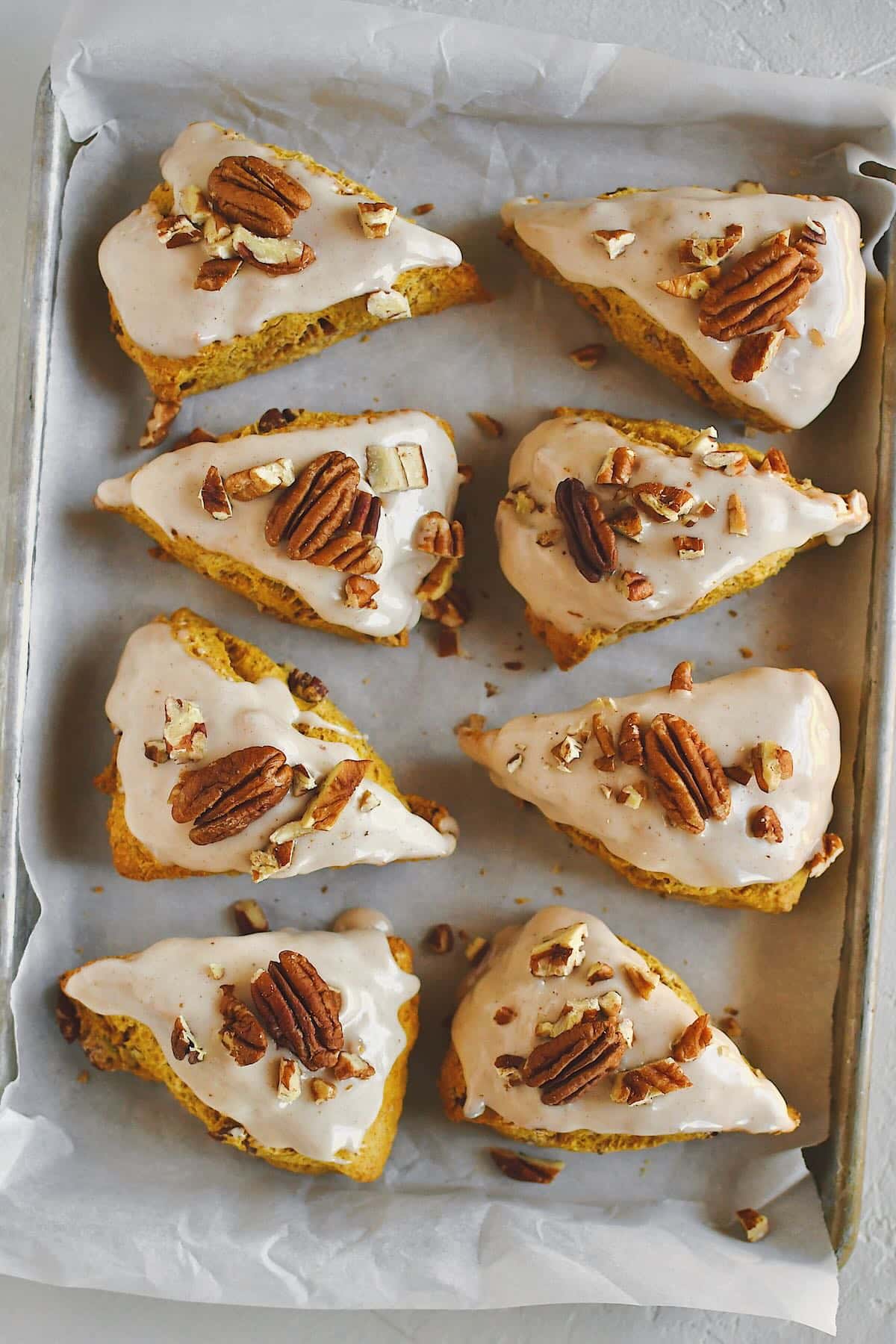 Notes & Tips
Take care to use very cold butter when starting this recipe. It helps ensure your scones will rise really well. You can even refrigerate the scones for extra lift, before baking. Chill them in the fridge for 30 minutes or freezer for 15, but I never have the patience for that.
You can also freeze the scone dough after kneading and cutting and bake only a few at a time if you like. To do this, freeze them flat on a tray, then store them in a zip-top freezer bag for up to 6 months.
If you'd like to get closer to the Starbucks pumpkin scones we can only dream of now, leave out the nuts and add a drizzle of caramel after dipping in the maple glaze.
Finished scones can be stored at room temp, in an air-tight container for up to 3 days, though they are best eaten the day they are made. I warm leftovers for 15-20 seconds in the microwave for that just-out-of-the-oven texture.
Substitutions
You can make this recipe gluten-free, you can use this cup-for-cup swap for perfect gluten-free scones.
Light brown sugar can be swapped for dark brown sugar if needed. If you don't have any brown sugar on hand, use granulated sugar and add a tablespoon of molasses to the wet ingredients.
If you keep diamond crystal salt in your kitchen, double the amount of salt.
You can use salted butter in this recipe if it is all you have on hand. If you do use salted butter, reduce the salt in the recipe by half.
Be sure the pumpkin you use for this recipe is not pumpkin pie mix. It has other ingredients in it, you want pure pumpkin puree. You could also transform these into sweet potato or butternut squash scones by swapping for those purees.
If you need to make this recipe dairy-free, use a plant-based butter swap, and swap the whole milk for cashew milk so it still has the fat content.
If you have any issues with nuts, leave them out altogether. You will end up with a scone that is a very close copycat to the Starbucks version you can't even get anymore. Walnuts can also be swapped for pecans.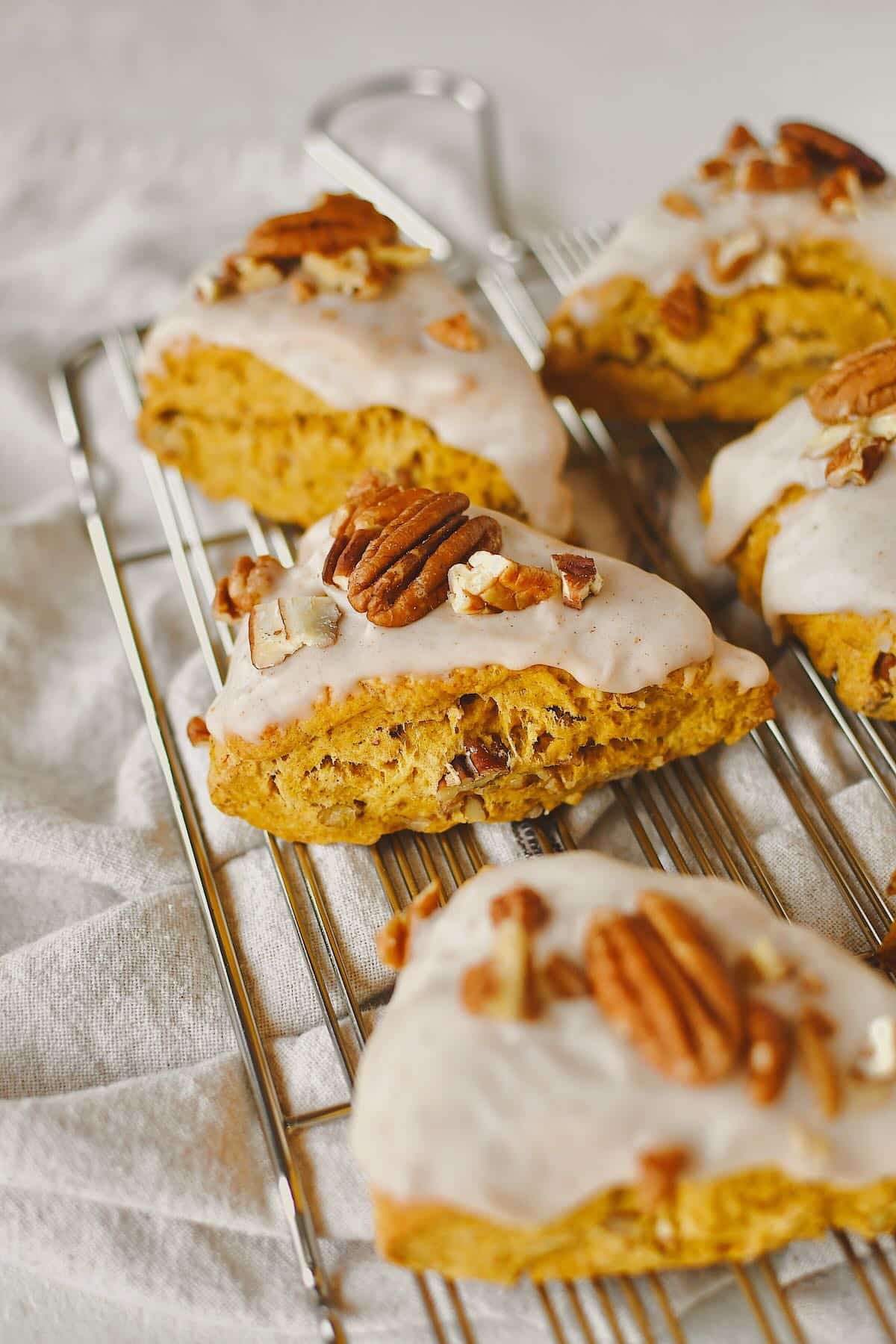 More GREAT Pumpkin Recipes!
If you love a good Starbucks treat at home, make my Pumpkin Spice Bread that tastes just like the one from the coffee giant, but is way more economical to make at home.
If you love to use pumpkin in a savory way, make my Pumpkin Beer Cheese Lasagna that is a little spicy, and all the way delicious!
My very favorite pumpkin recipe that I whip up every weekend of fall is my Pumpkin Spice Pancakes.
And if you need something to feed a crowd for the holidays, try my friend's Pumpkin Trifle which looks incredibly delicious!
Did you make this recipe? Let me know by leaving a review or comment! And be sure to sign up for my newsletter, and follow along on Instagram, Pinterest, and Facebook!