When you want an easy vegetable side dish, that is earthy and warming, reach for this Roasted Mushrooms recipe.
I love to serve these alongside a great steak fresh off the grill or any of my pork tenderloin recipes would be great with them too.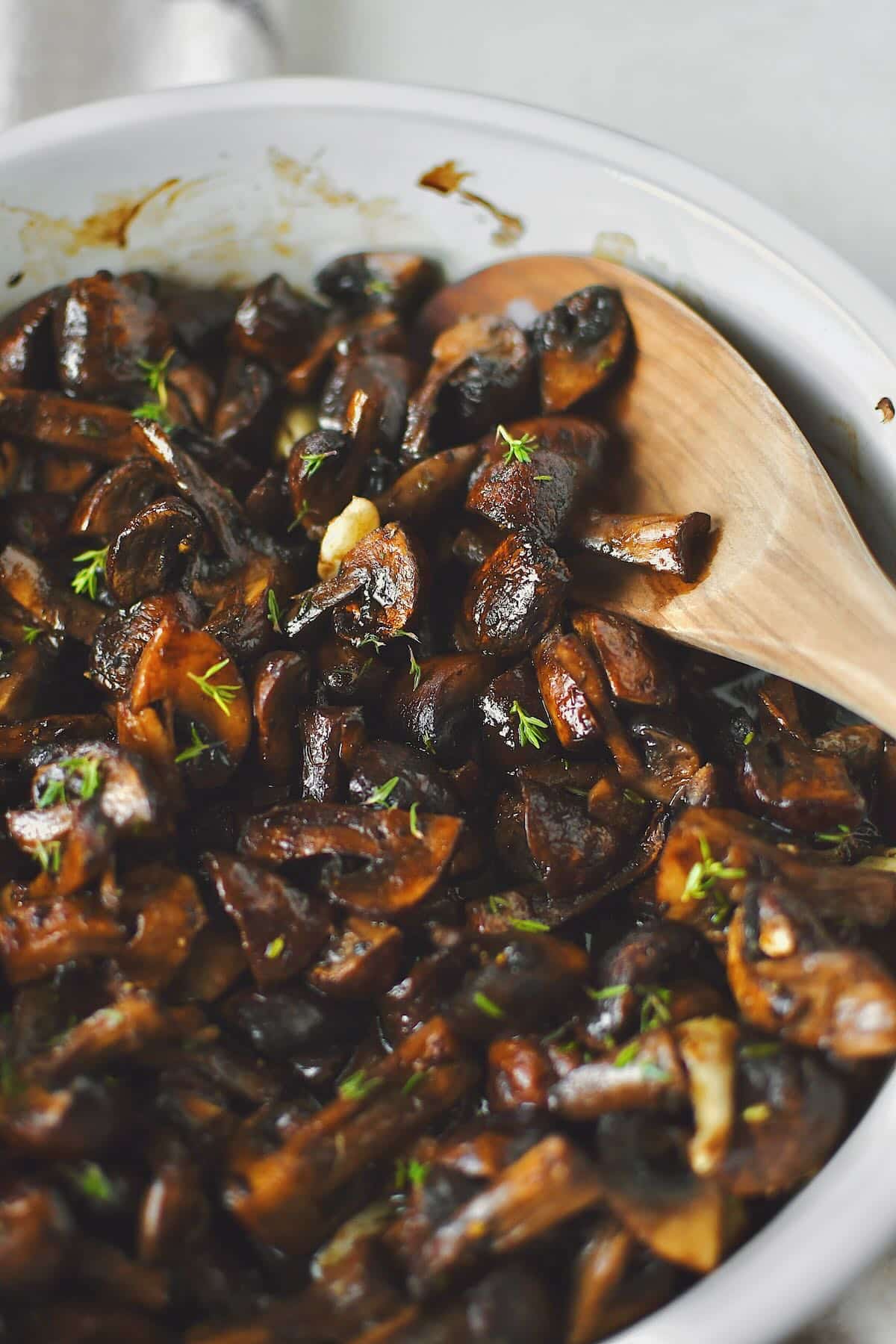 It takes all of 5 minutes to prep, then the oven does the rest of the work. By using a few ultra-flavorful ingredients and mixing them together, you get the easiest, most flavorful side dish.
Jump to:
Ingredients
This ingredient list for these roasted mushrooms is short, sweet, and to the point. Though the ingredients are few, they all pack a punch, and all their flavors create something great when they all marry together.
If you can't find aged balsamic vinegar, use balsamic vinegar glaze. You want something thicker than regular vinegar so it will cling to the mushrooms.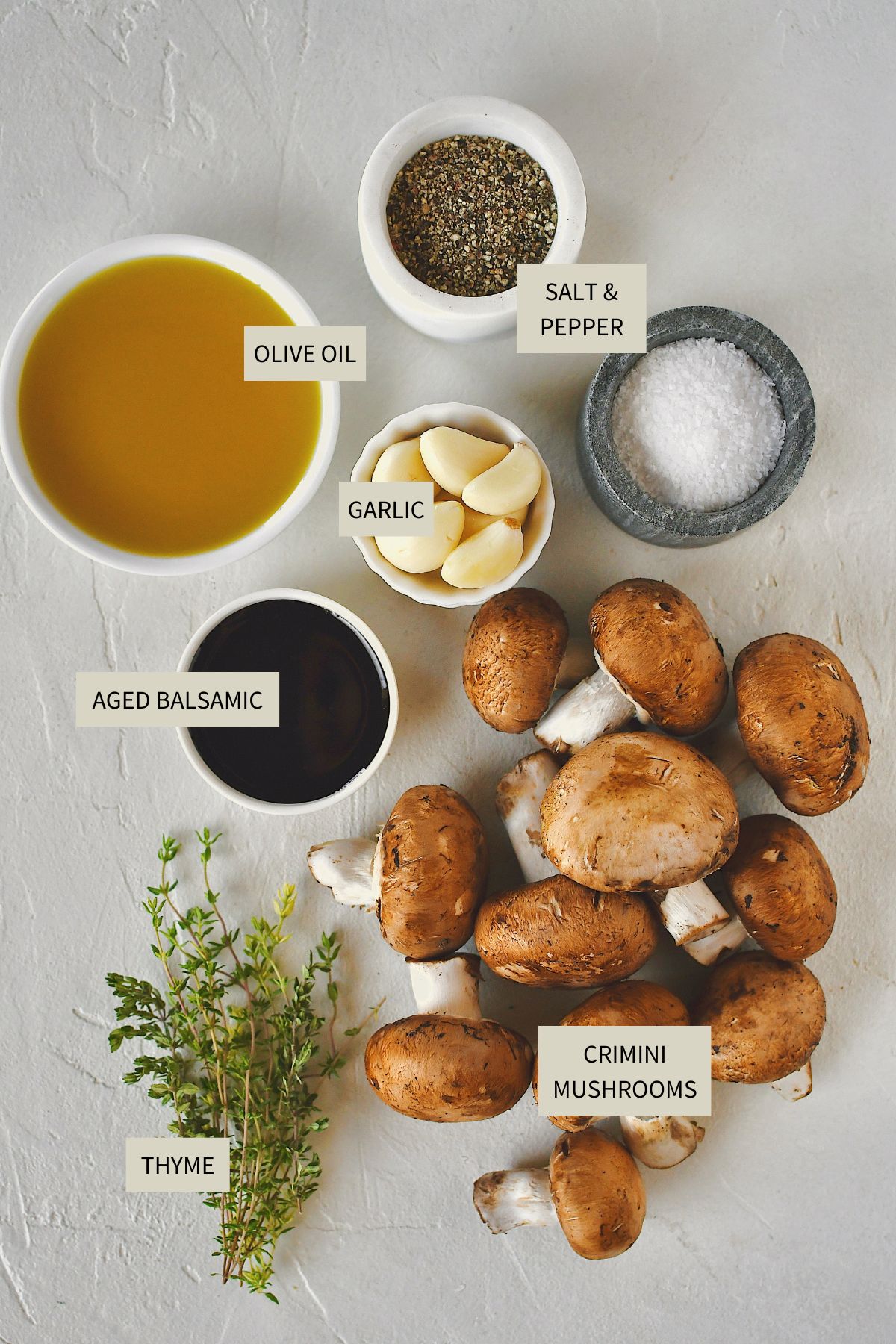 What you need:
Crimini Mushrooms
Olive Oil
Garlic
Thyme Sprigs
Kosher Salt
Fresh Cracked Black Pepper
Aged Balsamic Vinegar
See the recipe card for full quantities.
Use the JUMP TO RECIPE button at the top of the post, or scroll to the bottom of the post to see the full recipe card with ingredient measurements and instructions.
Method
Aside from the few minutes it takes to cup up the mushrooms, the rest of this recipe takes literal seconds of active work. Toss the mushrooms in the olive oil, salt, pepper, and with the smashed garlic and a few sprigs of thyme.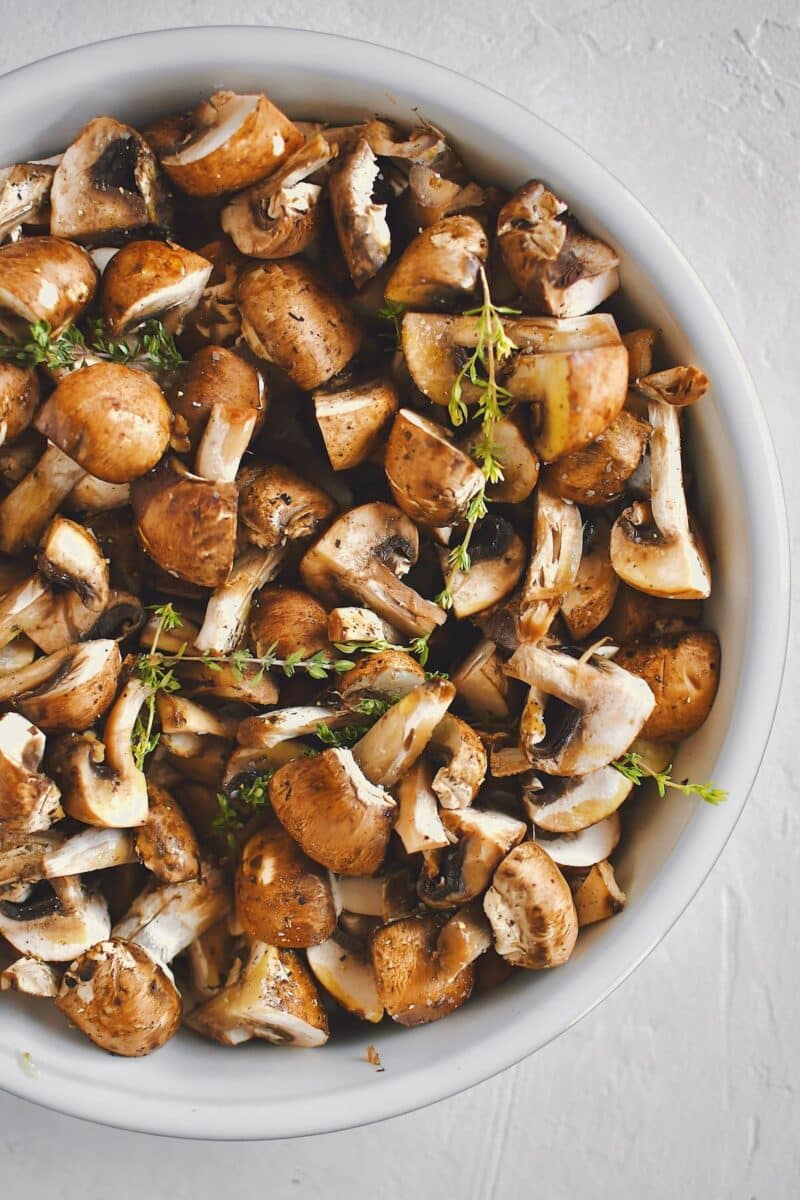 Throw the pan in the oven and when they come out stir in the balsamic. You can add a few more leaves of fresh thyme for color if you like, but they are done and ready to be enjoyed after about 30 minutes.
Like I said, easy peasy and oh so full of flavor!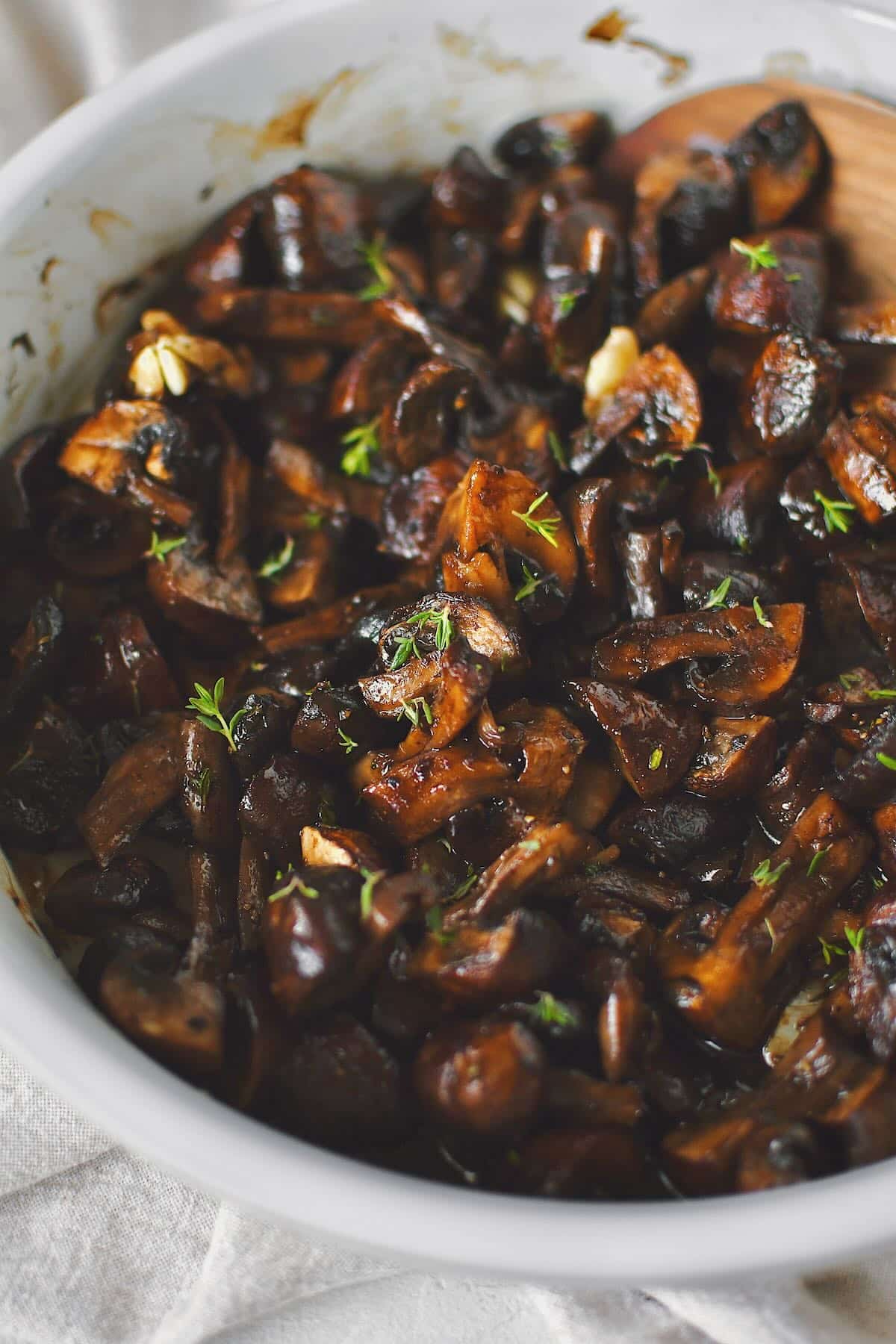 Notes & Tips
You can slice or dice the mushrooms for this recipe. The way they are cut doesn't really make a difference. I prefer to cut them in half or quarters depending on their size, but don't get too hung up on that.
Store leftover mushrooms in the fridge for up to a week. This recipe is also great for meal prep in that it lasts a while after cooking.
The secret to crispy mushrooms is roasting at a high temperature. It gives a nice bite to the exterior while leaving the interior pillowy and soft.
The best mushrooms for roasting are crimini, button, portabello, or shitake, you can use one, or all of them for this recipe.
What enhances the flavor of mushrooms? Balsamic vinegar, butter or olive oil, lots of fresh garlic, and some fresh herbs, and this recipe features all of those!
Substitutions
I prefer to use crimini mushrooms for this recipe, but you can absolutely use any type of mushroom you have on hand or love. A medley of mushrooms would also be great.
I had tons of thyme growing in my garden when I made this recipe, but you could swap that for rosemary or sage for a slightly different flavor.
If you can't find a good quality aged balsamic, use a balsamic glaze or reduction. You want something thick so it will cling to the mushrooms when they come out of the oven.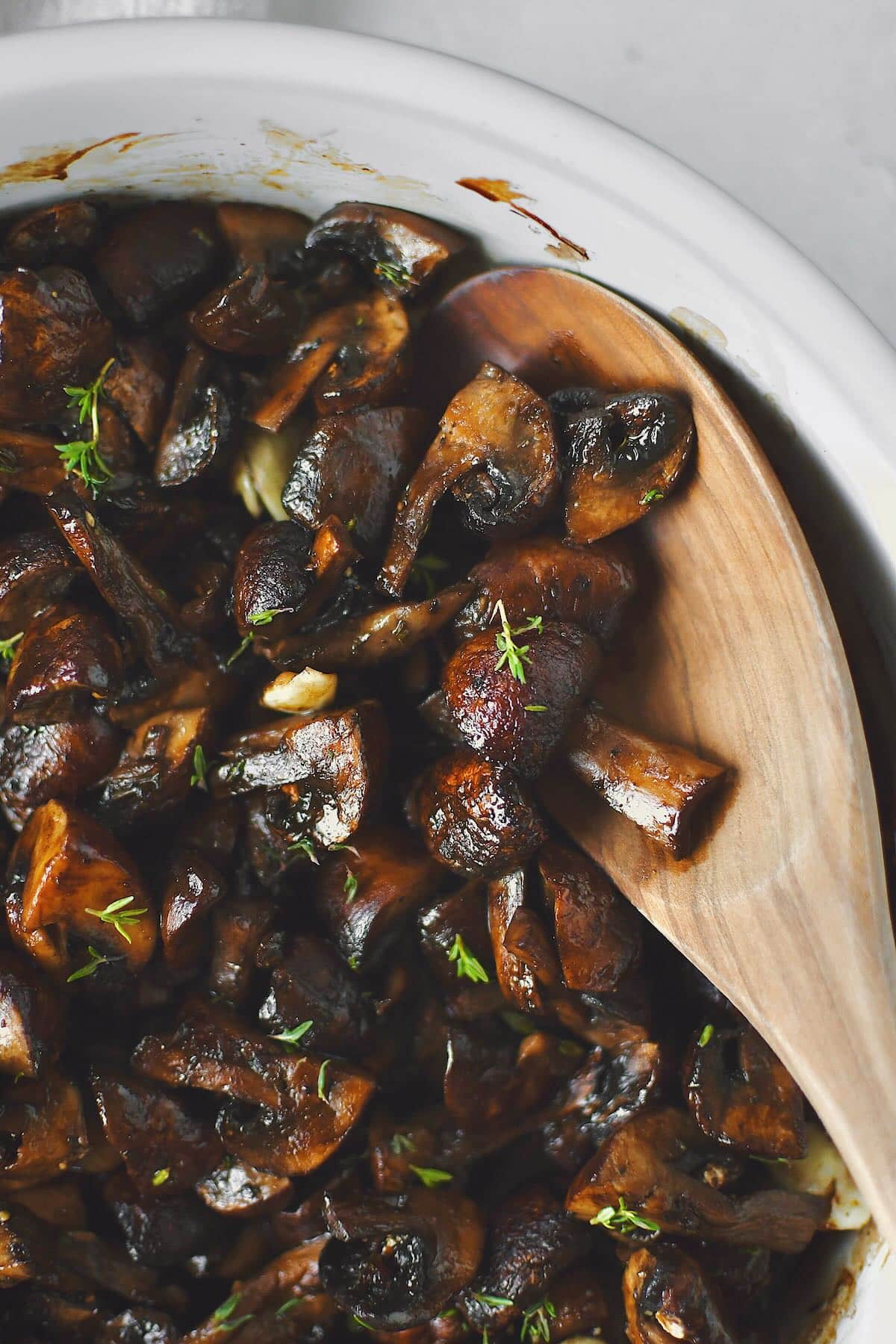 Did you make this recipe? Let me know by leaving a review or comment! And be sure to sign up for my newsletter, and follow along on Instagram, Pinterest, and Facebook!