Some may think this Homemade Hamburger Helper is nothing spectacular, but even I, a Chef, sometimes want something comforting from childhood.
I like to serve this with my Cheesy Garlic Bread to really solidify that comforting feeling! I know it probably needs a vegetable next to it, but we'll save that for another day, haha.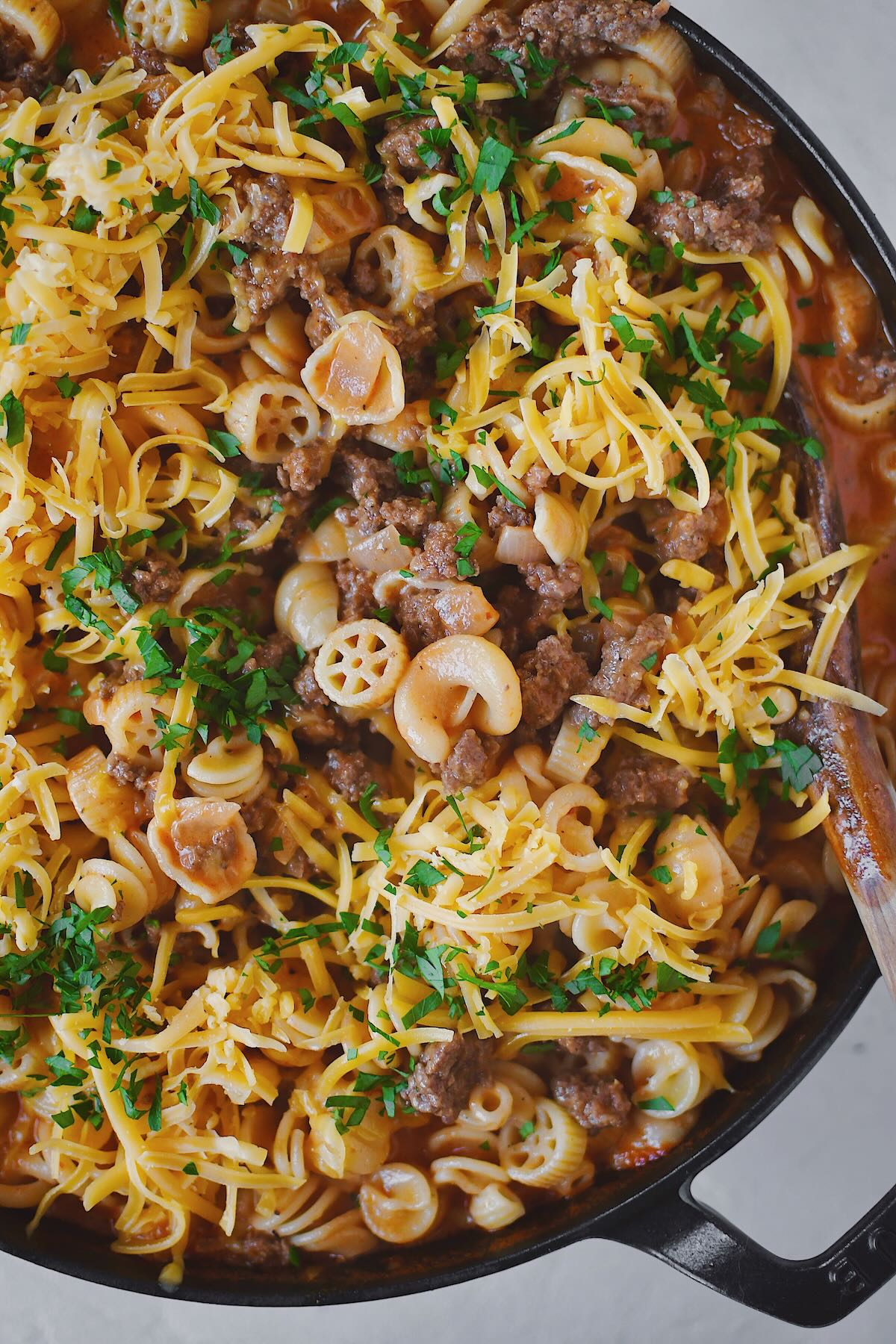 This is my slightly chef'ed-up version but it still calls back to the original, without all the junk that comes along with making it from a box. And did I mention it is a SUPER easy one-pot wonder, just as it should be!
That is one thing I like about recreating childhood favorites, while it may not still be the healthiest thing you ever ate, you can get rid of some of the preservatives and other bad stuff that comes from prepackaged foods.
Jump to:
Ingredients
One of the biggest notes that I want to make about this ingredient list is about the cheddar cheese. You want to be sure to use freshly grated cheese so that you end up with a velvety smooth sauce. Preshredded cheese has gunk on it so it doesn't clump up, and will give you a broken sauce.
Everything else is pretty straightforward, and feel free to use any pasta you like. I picked up the fun medley you see in the photo below at Trader Joe's and I thought this was a perfectly fitting recipe to use it for.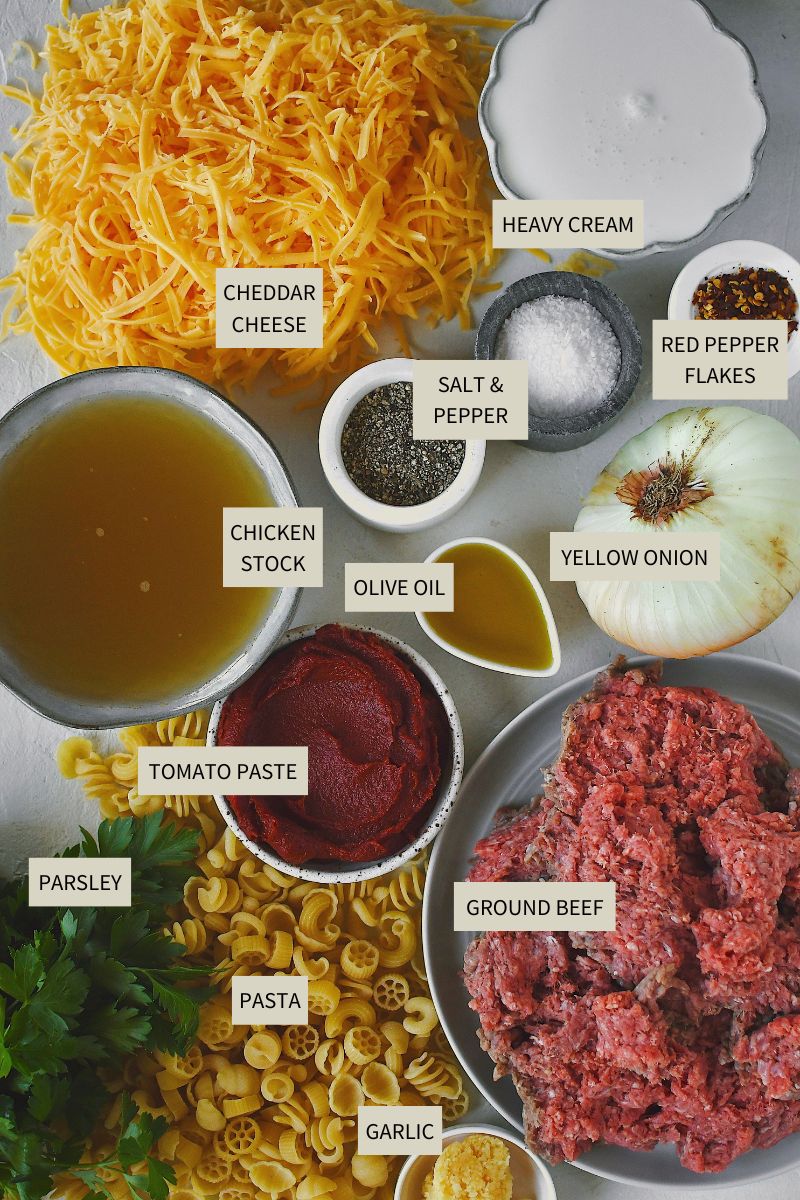 What you need:
Pasta or Macaroni
Olive Oil
Yellow Onion
Ground Beef
Garlic
Kosher Salt, Morton's
Fresh Cracked Black Pepper
Red Pepper Flakes
Tomato Paste
Chicken Stock
Heavy Cream
Cheddar Cheese
Parsley
See the recipe card for full quantities.
Use the JUMP TO RECIPE button at the top of the post, or scroll to the bottom of the post to see the full recipe card with ingredient measurements and instructions.
Method
This homemade hamburger helper recipe starts by layering flavors and making the sauce. First, cook the onions until they are translucent, then add the beef to the pan and cook, breaking into small pieces as you do, till no pink remains.
Then stir in the tomato paste and chicken stock, along with some seasoning, and bring the mixture to a simmer until a smooth sauce forms.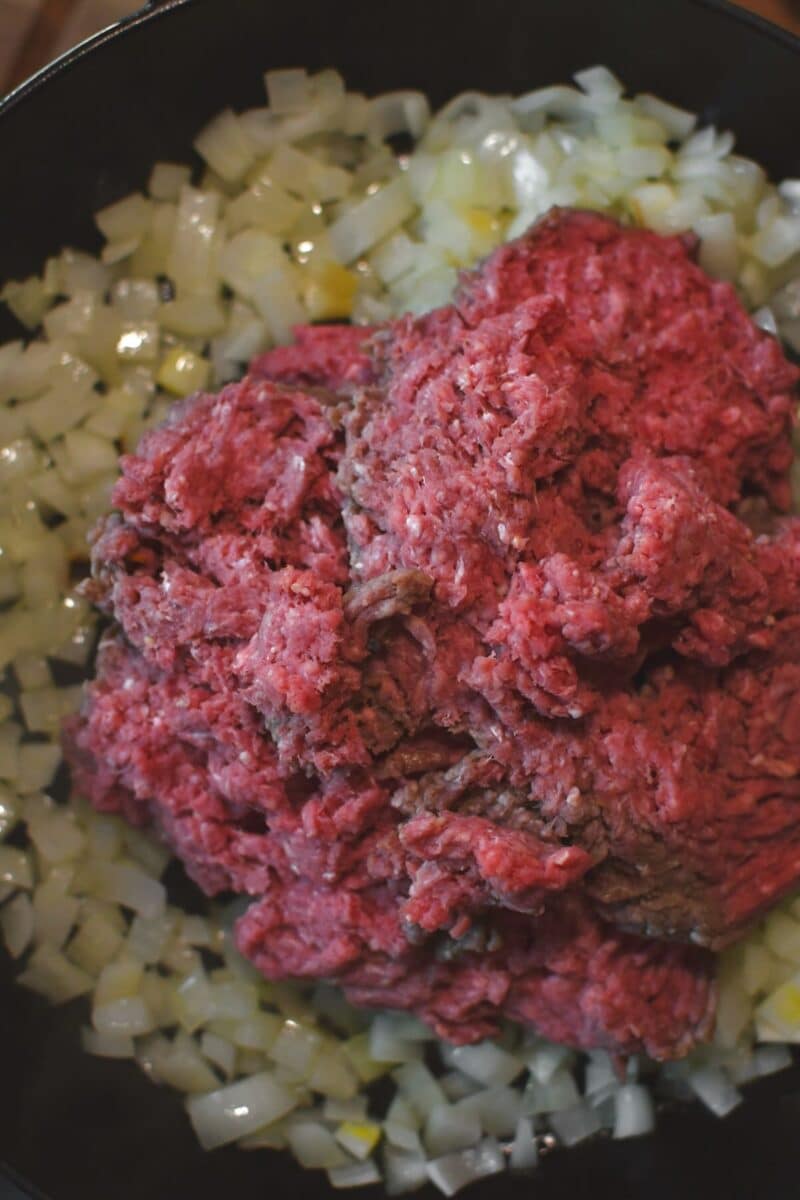 While the sauce cooks, bring a pot of water to a boil and cook the pasta according to package directions. Stir in some of the cheese and the pasta, along with some pasta water, and the dish is DONE.
Whipping this up should take no longer than 30 minutes.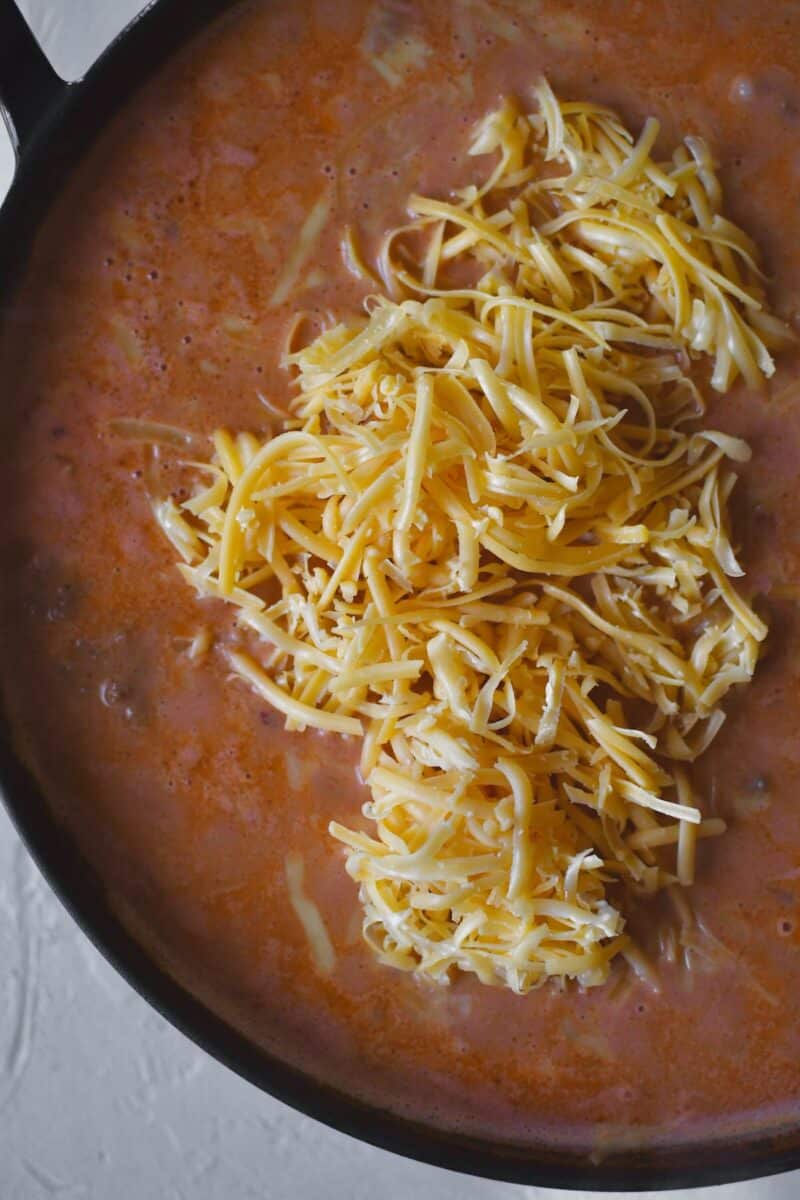 Cook the pasta in the sauce till it thickens a little and begins clinging to the pasta. Top with more cheese and some parsley for color and it is ready to enjoy.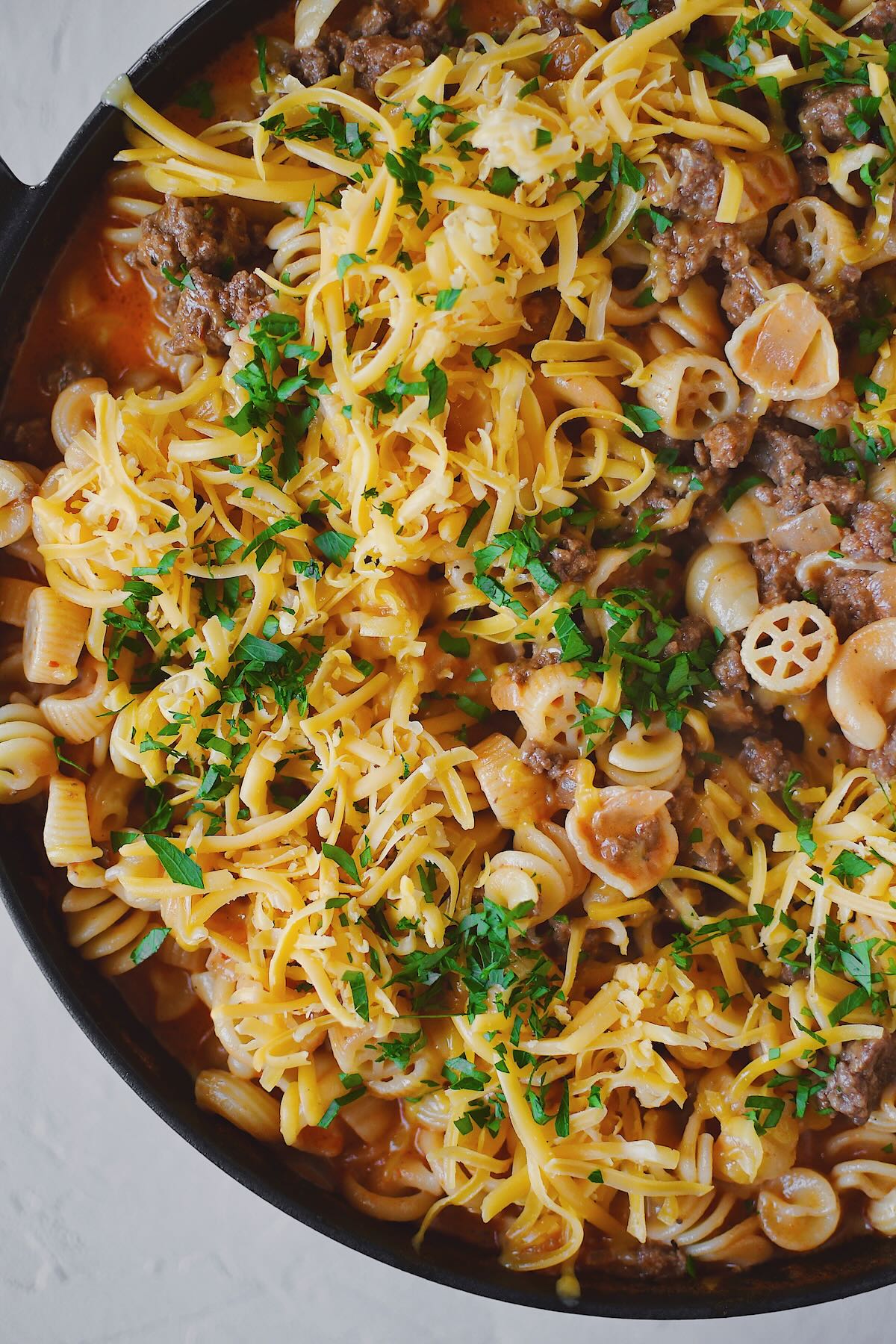 Notes & Tips
Some may call this a stroganoff or a goulash, depending on what part of the country you are from. But I remember, not often, but having from a box, and that is what I was emulating here.
Store any leftovers in the fridge in an air-tight container for 3-5 days. I don't suggest freezing, the sauce doesn't really come back together very well. But it can be done if needed.
Reheat leftovers, stirring often, over medium-low heat on the stove for best results. If the sauce soaks heavily into the pasta, add a splash of more water (as needed) to the pan when warming to bring it back to life.
Substitutions
The classic pasta used for Cheeseburger Macaroni is elbow noodles. But you can really use anything you have on hand or prefer. I picked up this really fun mulit-shaped pasta at Trader Joe's and I was so fun in this recipe.
With the namesake being hamburger, I always go with beef. But you could swap the ground beef for ground turkey or even chicken if you wanted a really lean protein.
If you'd like to take the final flavor of the meal in a bit of a different direction, you can swap the tomato paste for 1 cup of salsa. It would make it a little more festive and Mexican, but it totally works!
Most of the ingredients are pretty basic, but the one that can really change things up a lot is the cheese. If you go the Mexican route, stir in pepper jack. Colby Jack or Provolone would also be great.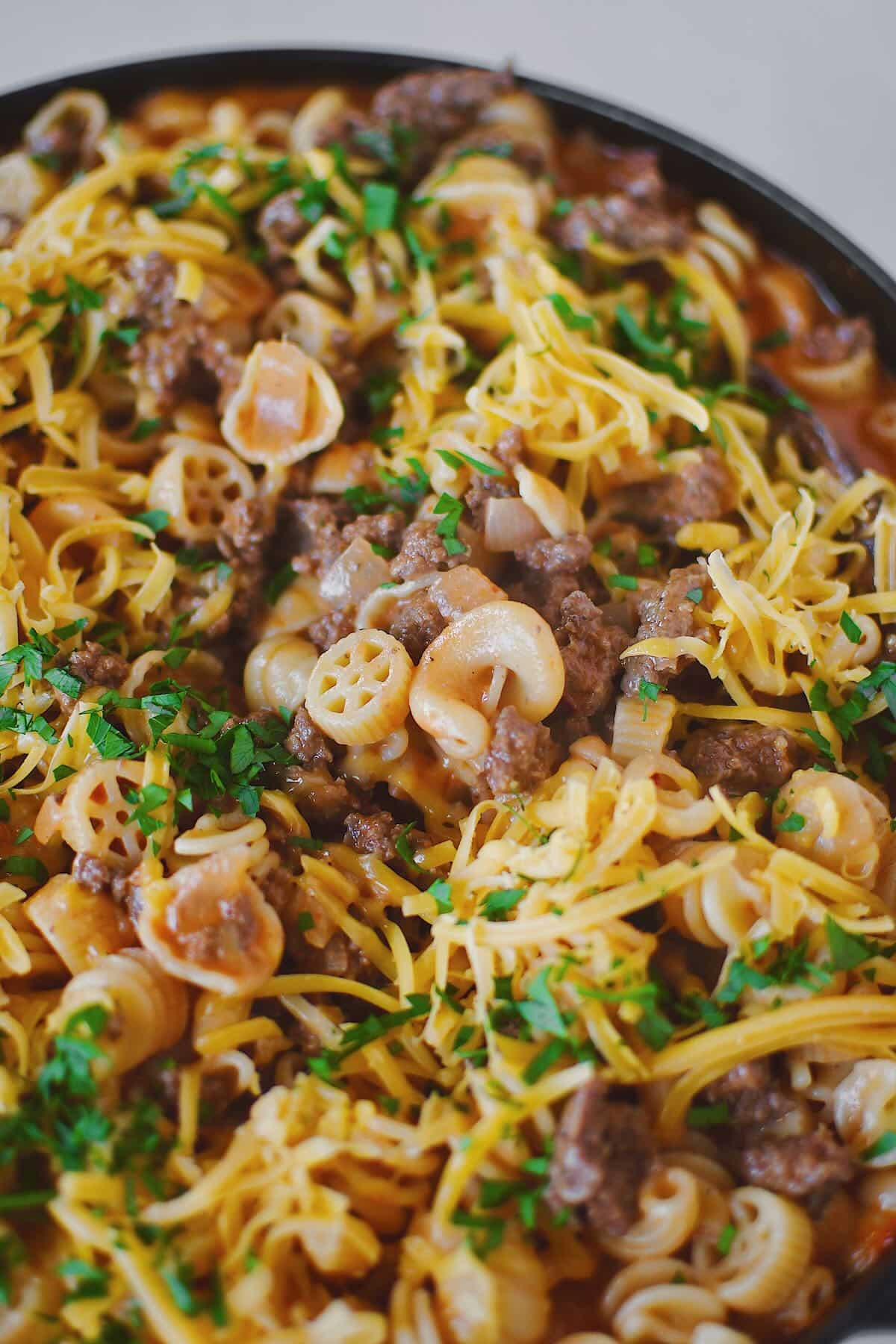 Did you make this recipe? Let me know by leaving a review or comment! And be sure to sign up for my newsletter, and follow along on Instagram, Pinterest, and Facebook!