One of the most frequent questions I get is, how do I make perfect Pan Seared Salmon? So many people struggle with it, and once you master it, you'll realize how easy it is. I'll have you looking like a pro in no time!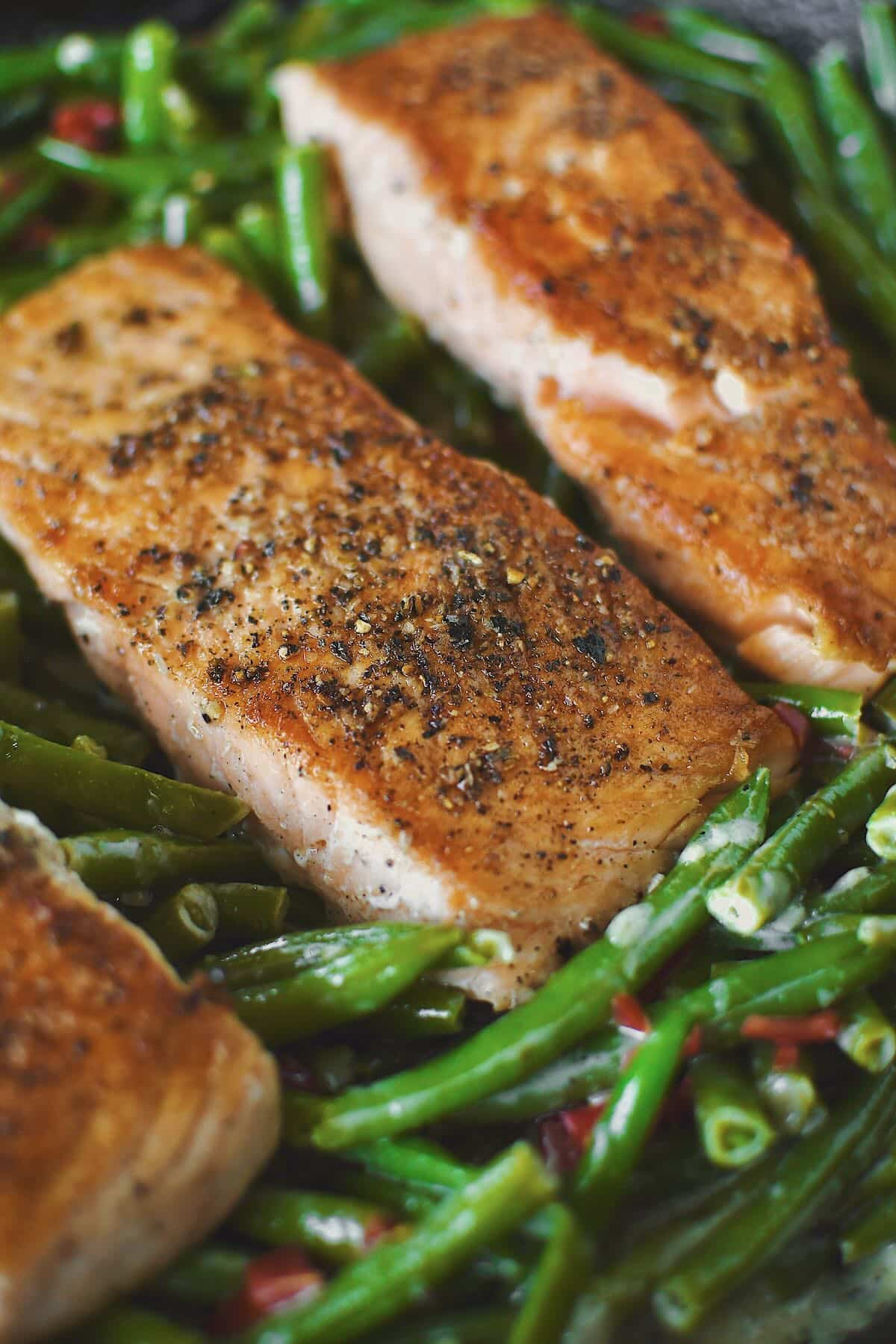 It is easier to do than you think. All it takes is a couple of little tweaks. I am going to share all my knowledge, tips, and tricks to help you be successful in getting perfectly Pan Seared Salmon.
Jump to:
Ingredients
I personally prefer Atlantic salmon. Don't come at me, I know it is farmed, but Norwegian salmon is my favorite. I lived in the Seattle area for a long time, and Pacific salmon is much gamier and fishy. Atlantic salmon is milder and more enjoyable, and that is just my opinion, I enjoy it more. So that is what I use, and living in Texas, I know I can get a consistent product, frozen that when cooked properly can still be enjoyable.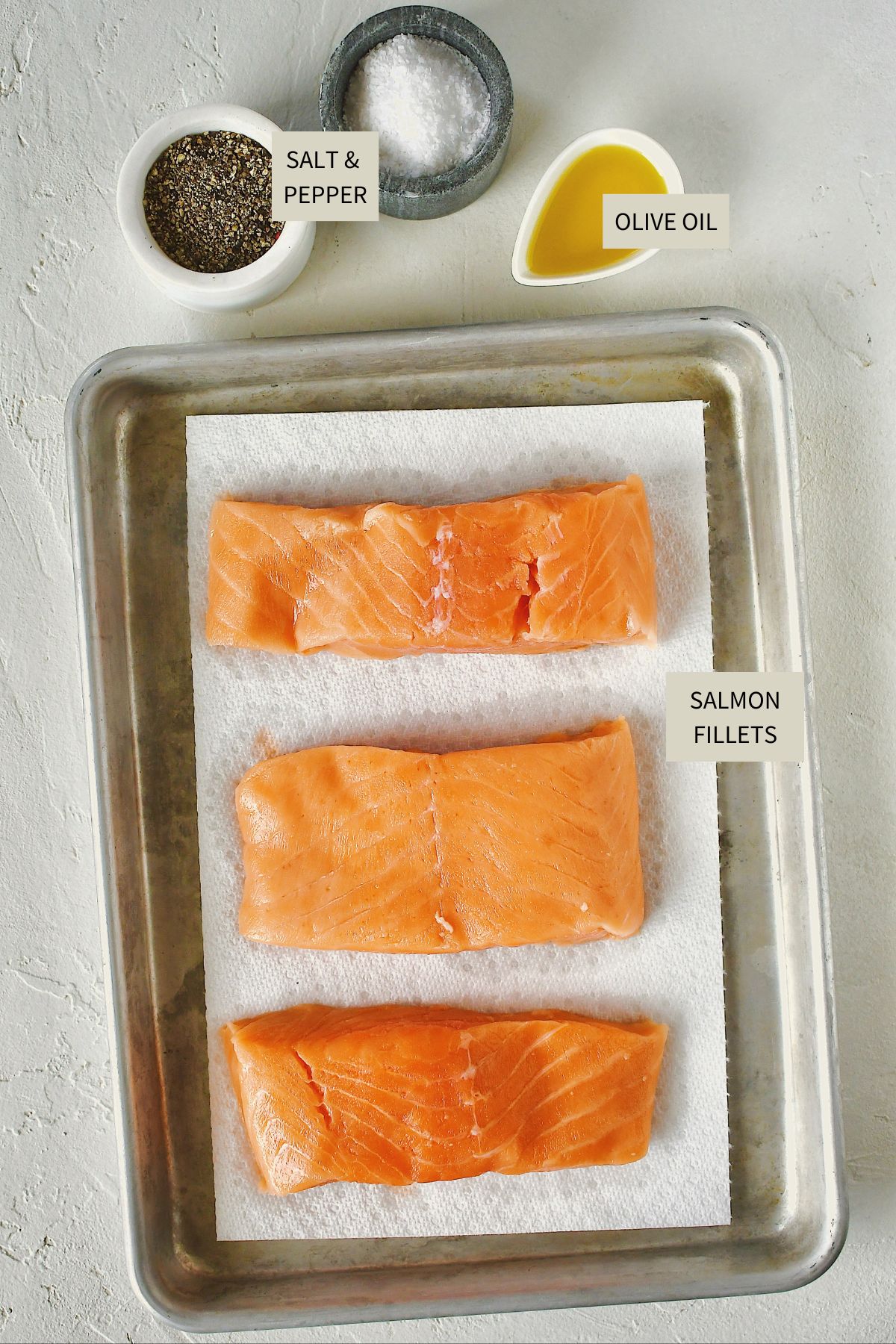 For me, all the delicious salmon needs is salt and pepper on it. You can use other seasonings, but I encourage you to just use salt and pepper the first few times so you can really taste the fish and enjoy it. And the olive oil is on there for insurance, I will explain using it here, but I have a really well-seasoned cast-iron I prefer to use for my salmon and it is so fatty I don't typically use any oil in the pan when I cook it.
Use the JUMP TO RECIPE button at the top of the post, or scroll to the bottom of the post to see the full recipe card with ingredient measurements and instructions.
Method
Start by heavily seasoning the salmon with salt and pepper, only on one side. Then heat a non-stick, or my personal preference a well-seasoned cast iron skillet over medium heat with the oil until it begins to smoke. Gently place the fillets in the pan, while 'big secret here' gently wiggling them in the pan as you set each down so they don't just cling right to the pan. This helps the fish not completely adhere to the pan and will help it release later.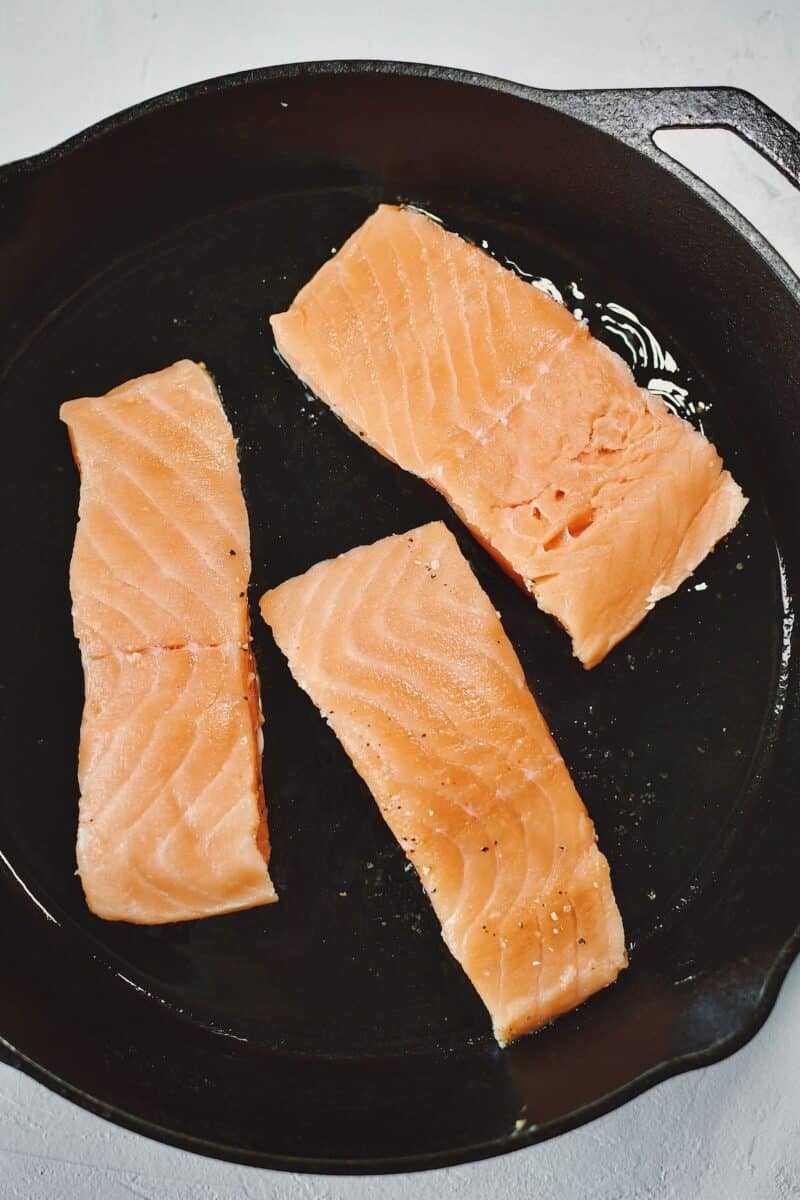 Cook the fish till you see the color change halfway up from the pan to the middle of the fish. And as long as the fish comes loose on its own, flip it over gently with a fish spatula for best results. It is a super thin spatula that helps you be super delicate with fish.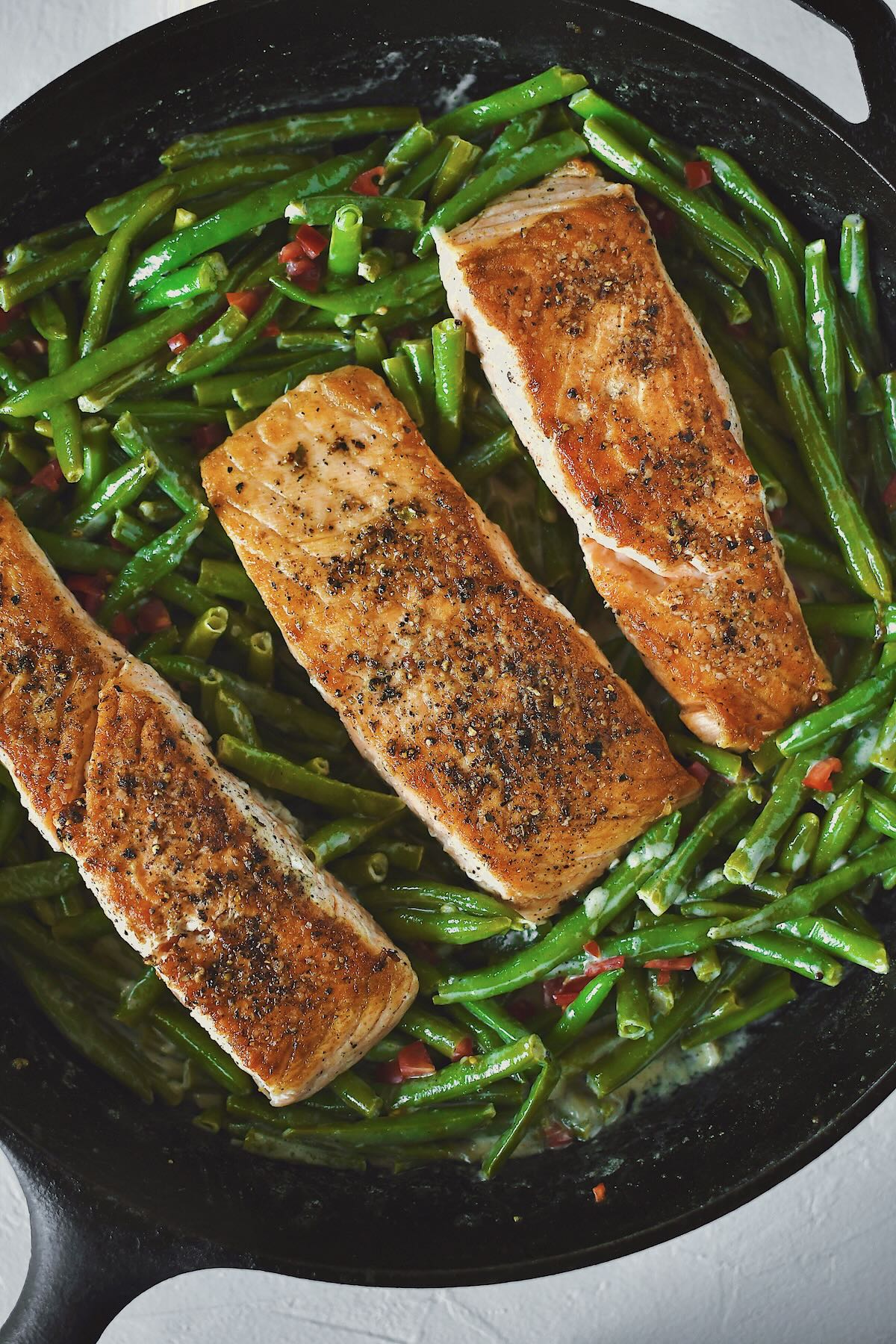 I like to remove the fillets after I sear them and toss in some green beans. The pan has some flavor in it from the fish, get my Creamed Green Beans recipe HERE to serve with your fish. That is the recipe you see above in the image.
Notes & Tips
The biggest tip for success is to use an incredibly well-seasoned cast iron skillet, that has a nonstick surface to it. Or use a non-stick pan. I have a cast-iron skillet that I am super proud of and that is my preferred pan to cook fish in.
One of the best things you can do to help ensure little sticking in the pan is to pat the fish dry before cooking. The drier the better, with any fish. This is a big secret to getting a crisp sear to any fish.
Now here is the real secret. Patience is the biggest secret. You need a really well-heated pan. If you cook in a dry pan, you should see it start to release whisps of smoke before you add the fish to it. You have to be patient and wait for the pan to get really hot. This seals the fish on the seared side almost immediately, which is the biggest factor in getting the fist to not stick.
A lukewarm pan will result in fish steaming, which makes it stick to the pan and will have it falling apart before you can get it flipped. The sear also tightens up the fish and makes it much easier to move and flip, I actually use tongs most of the time when I flip my fish because it holds up so well.
Substitutions
You can apply these principles to most fish. Salmon is a great fish to start with because it is very fatty, which means it has less chance of sticking.
If you are cooking white fish, you defiantly want to be sure to use some form of fat to keep the fish from sticking. You also need to use a good amount of it, my personal preference is to use 1 tablespoon each of butter and olive oil.
For richer flavor, you can cook the salmon in butter and olive oil as I just described. But salmon being as fatty as it is naturally I don't think it really needs it.
I like to keep things simple with just salt and pepper. You can go wild with whatever seasonings your heart desires, but simple is best for me. If you are new to perfecting your fish searing game, start simple, perfect it, then move on from there.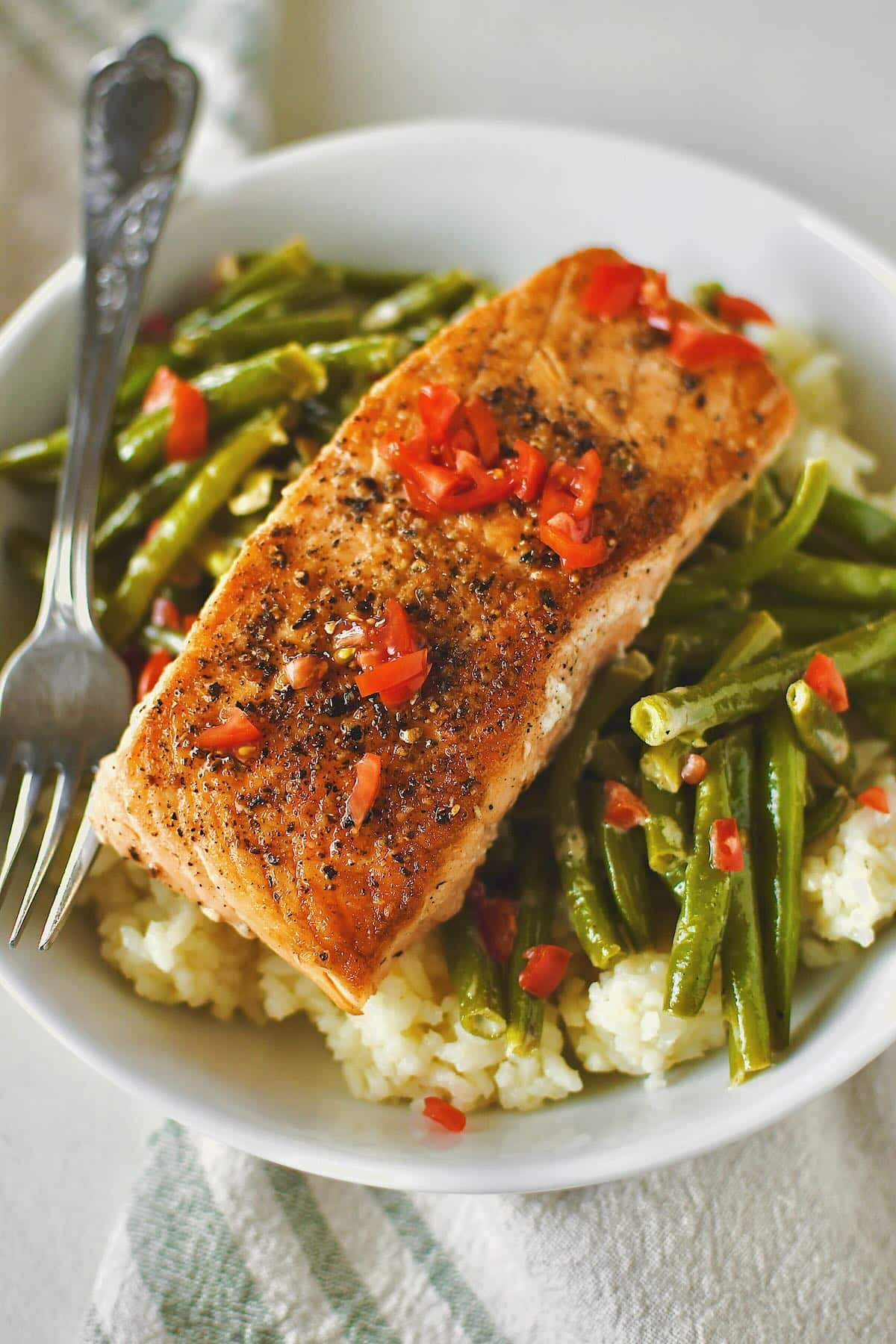 More great Salmon recipes
Did you make this recipe? Let me know by leaving a review or comment! And be sure to sign up for my newsletter, and follow along on Instagram, Pinterest, and Facebook!