When you want a quick side dish that's full of flavor reach for this Sautéed Broccoli recipe. It is ready in about 15 minutes and can be made with fresh or frozen broccoli.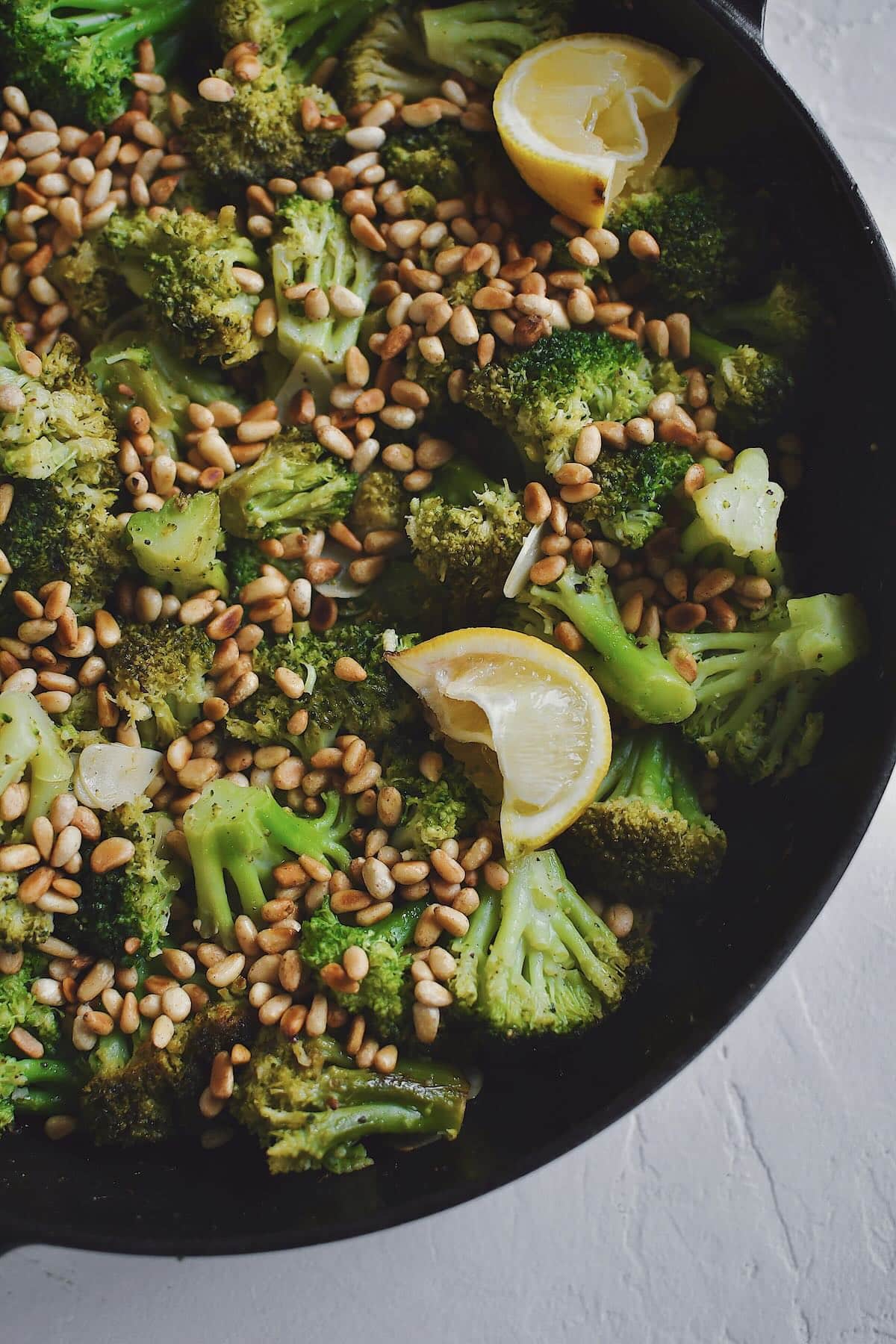 I love the rich buttery flavor of the pine nuts give, mixed with the brightness of the lemon and garlic.
Those are all flavors that are classic marriages that together make this sauteed broccoli decadent and delicious!
Jump to:
Ingredients
What I love about this recipe is that you can make it with fresh or frozen broccoli which means I pretty much always have what I need to make it on hand.
The rest of the ingredients are simple. A little white wine to steam the broccoli in, some butter and oil for richness, garlic to give it some kick. Pine nuts offer a rich toasted flavor that performs each florette and salt and pepper to amplify all of the flavors.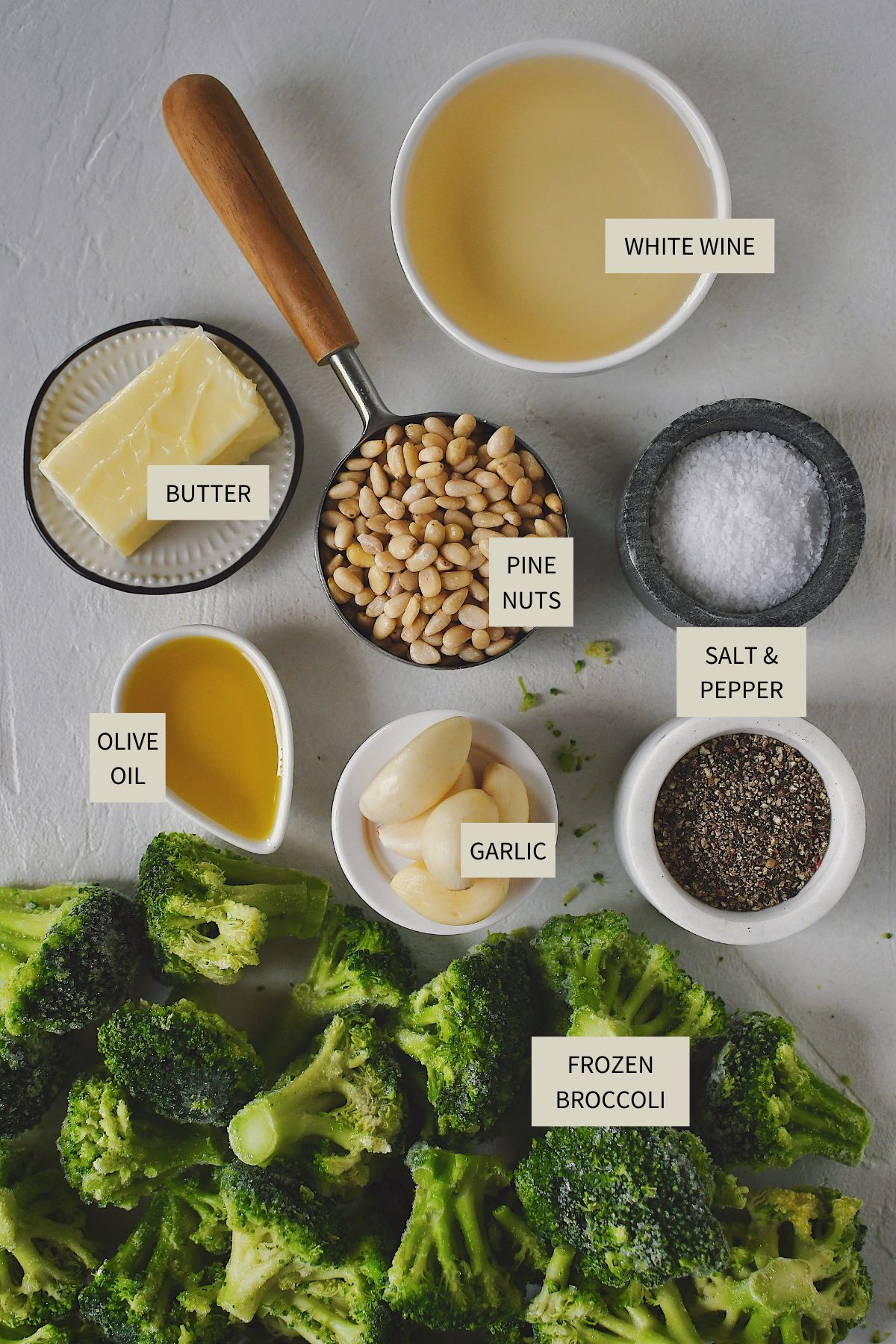 What you need:
Pine Nuts
Unsalted Butter
Extra Virgin Olive Oil
Garlic
Broccoli - fresh or frozen
White Wine -Chardonnay, or Pinot Grigio
Kosher Salt, Morton's
Fresh Cracked Black Pepper
Lemon Wedges
See the recipe card for full quantities.
Use the JUMP TO RECIPE button at the top of the post, or scroll to the bottom of the post to see the full recipe card with ingredient measurements and instructions.
Method
Start this recipe by toasting the pine nuts in a dry pan until they begin to take on a golden color. They have a lot of fat in them and can BURN in an instant, so be sure to keep a watchful eye on them and move them around constantly.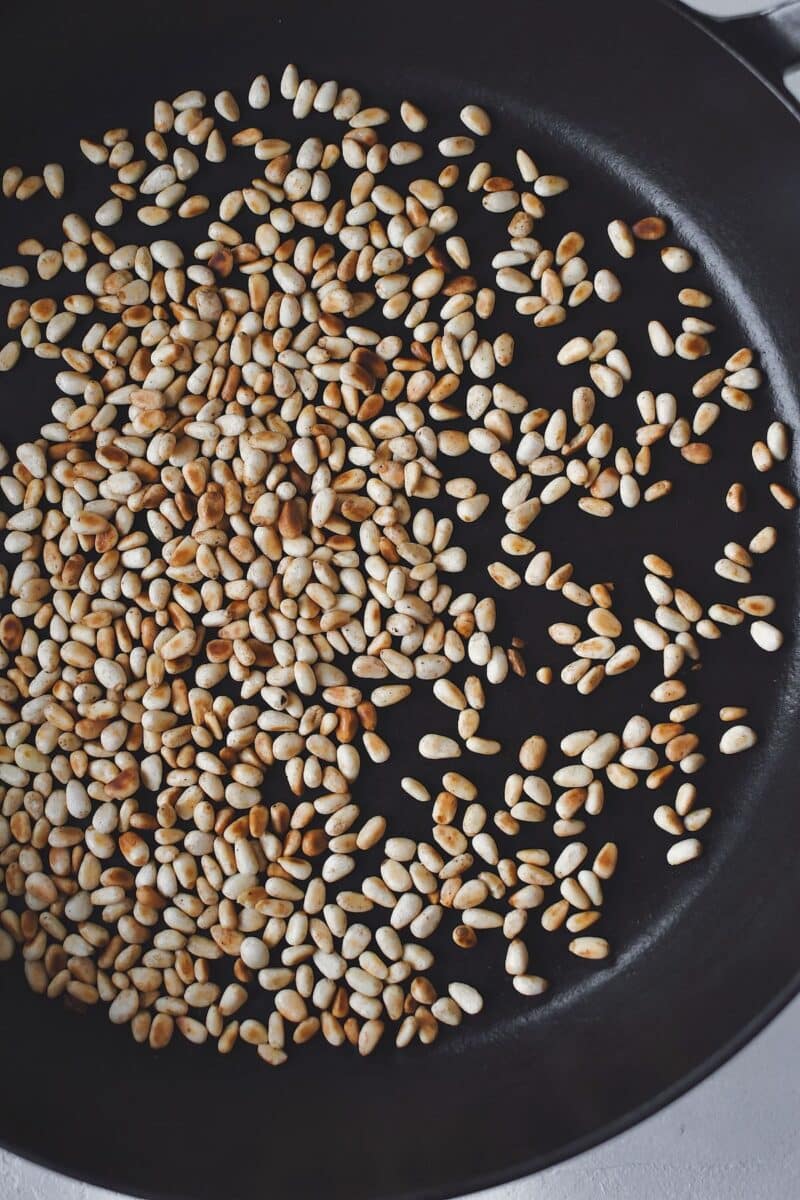 Then remove the pine nuts from the pan, add the broccoli and wine to the pan, and cover with a lid or foil. Let the broccoli steam in the wine for about 5 minutes.
Then move it to the outer edge of the pan and add the butter, oil, and garlic to the middle. Cook the butter and garlic till it is fully melted and the garlic has become fragrant.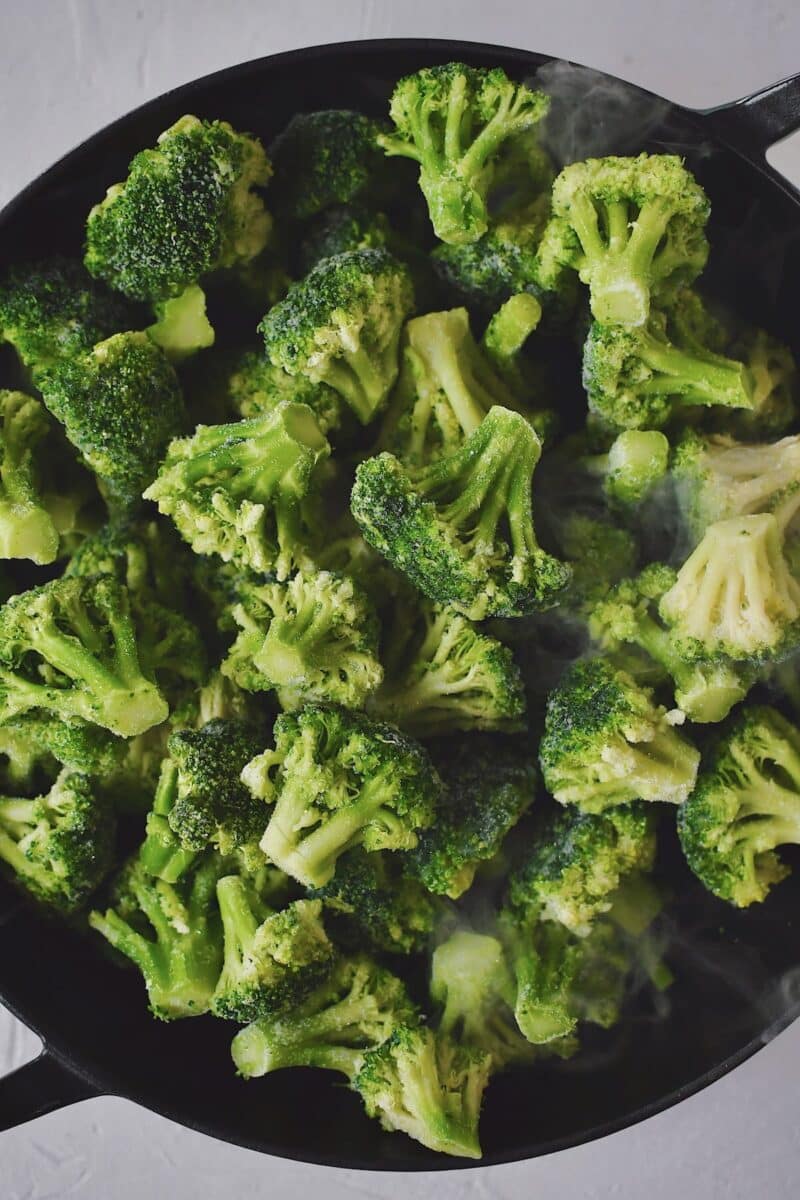 On high heat, continue cooking till the pan becomes mostly dry from the wine and toss to coat the broccoli in the garlic butter.
Season with some salt and pepper, and just before serving, turn off the heat, sprinkle over the toasted pine nuts, and squeeze over some lemon if you are using it.
Notes & Tips
If you have followed the directions and added the pine nuts to a warm pan, DO NOT WALK AWAY FROM IT. Pine nuts have a high fat content and they can BURN in 1 second, ask me how I know.
Keep a very watchful eye on them when toasting in the pan, and always keep them moving to prevent burning.
If you use fresh broccoli, most of the wine should completely evaporate from the pan after steaming allowing the butter to brown the garlic a bit.
Using frozen broccoli will result in more water released from the broccoli and it won't completely evaporate from the pan. If you wish you can drain off the excess water, but it isn't a complete deal breaker to leave it in the pan.
Substitutions
I know pine nuts can be a little pricy, if they are out of your budget or you don't have them on hand, a great, more economical swap is sliverd almonds.
When it comes to the broccoli you can use fresh or frozen for this recipe. You can also make this with broccolini, which is like a smaller more tender broccoli and would be great use here.
A good swap for the white wine is chicken stock. Whether you don't have wine on hand or just don't use it.
If you need to keep this recipe dairy-free, leave the butter out completely and swap it for a little extra olive oil.
The garlic can be left out if it isn't your thing or it doesn't agree with you. Thinly sliced shallot or onion could also be used in its place.
The lemon is totally optional, though I do believe it rounds everything out really well. But if you don't have it or don't want to use it, feel free to leave it out.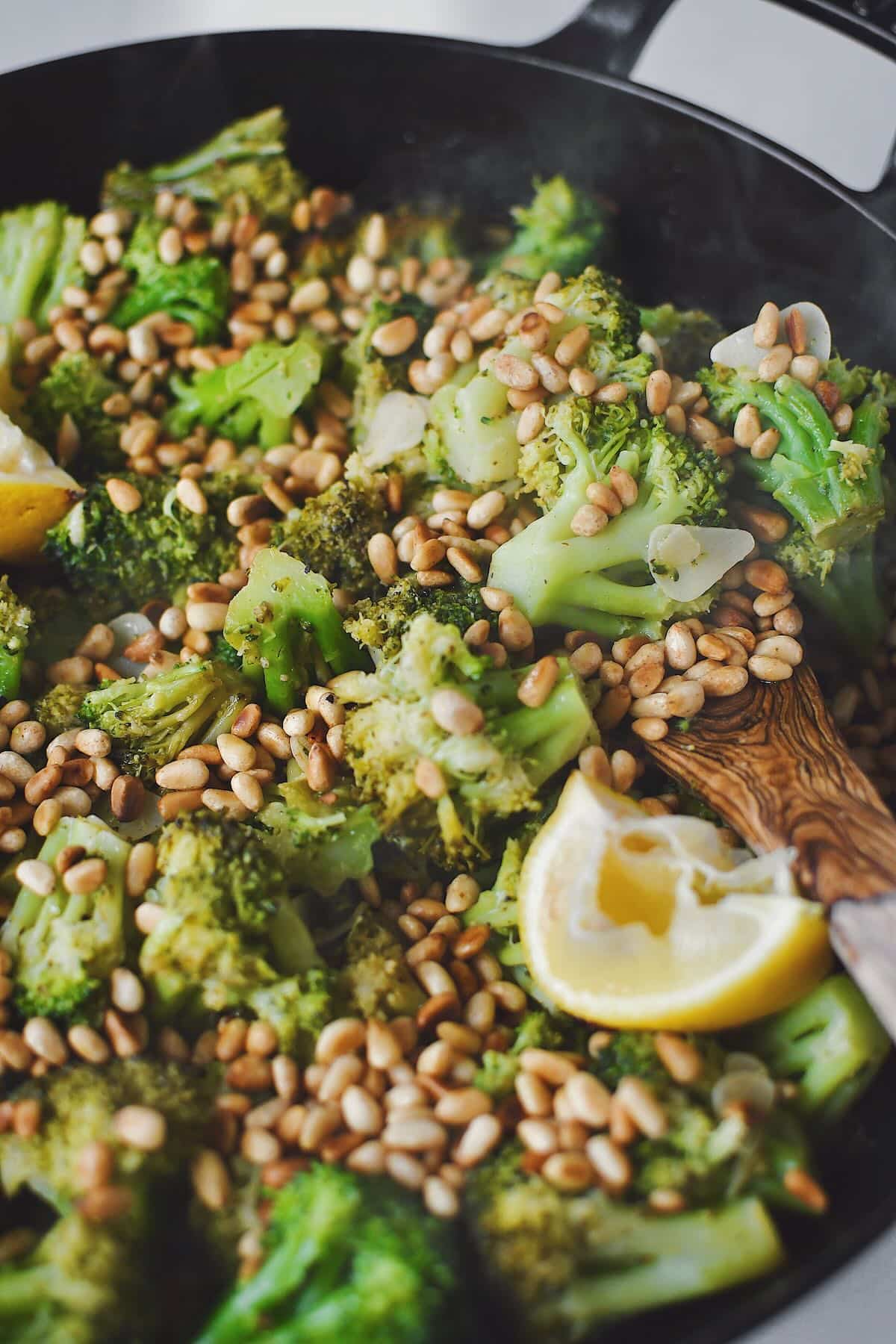 More of my Favorite Side Dishes
For another super flavor-packed and quick side, make these Sautéed Mushrooms and Onions. They are great next to anything off the grill.
One of my favorite things to whip up is these Zucchini Chips. If you slice them thin enough they get just as crispy as chips, yum!
When you need something to feed a crowd, make this Snap Pea Salad, I call it my veggie tray salad, it uses all the good stuff from one.
If you love tossing your veggies in the air fryer, try my friend's Eggplant Fries.
Did you make this recipe? Let me know by leaving a review or comment! And be sure to sign up for my newsletter, and follow along on Instagram, Pinterest, and Facebook!