Breakfast is my #1 favorite meal of the day, but I don't get to really enjoy it that often. I am a big-time night owl, so I usually get moving a good while AFTER it is done being served most places. So sometimes I just have to make a big ol' brunch at home, and my Banana Walnut Waffles pictured below are the perfect addition to any brunch table.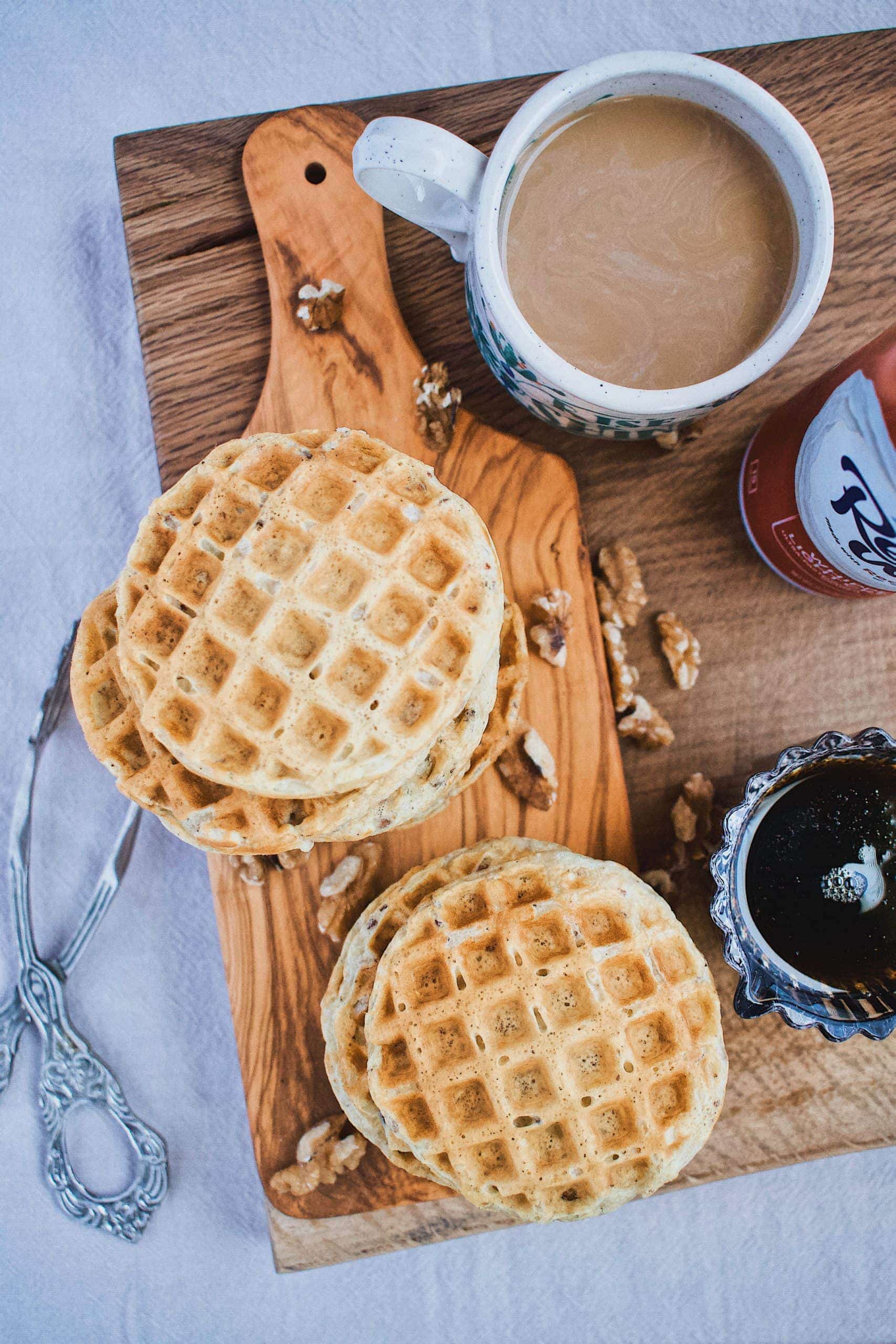 Basic Brunch Essentials
1-2 Pastry Items – Croissants, Muffins, Donuts
1 Breakfast Cake – Pancakes, Waffles, Shortcakes
1-2 Breakfast Meat's – Bacon, Sausage, Ham, Canadian Bacon
1 Fruit Platter – Melon's, Berries, Pineapple, Oranges
2-3 Drinks – Coffee, Mimosas, Orange Juice, Watermelon Lemonade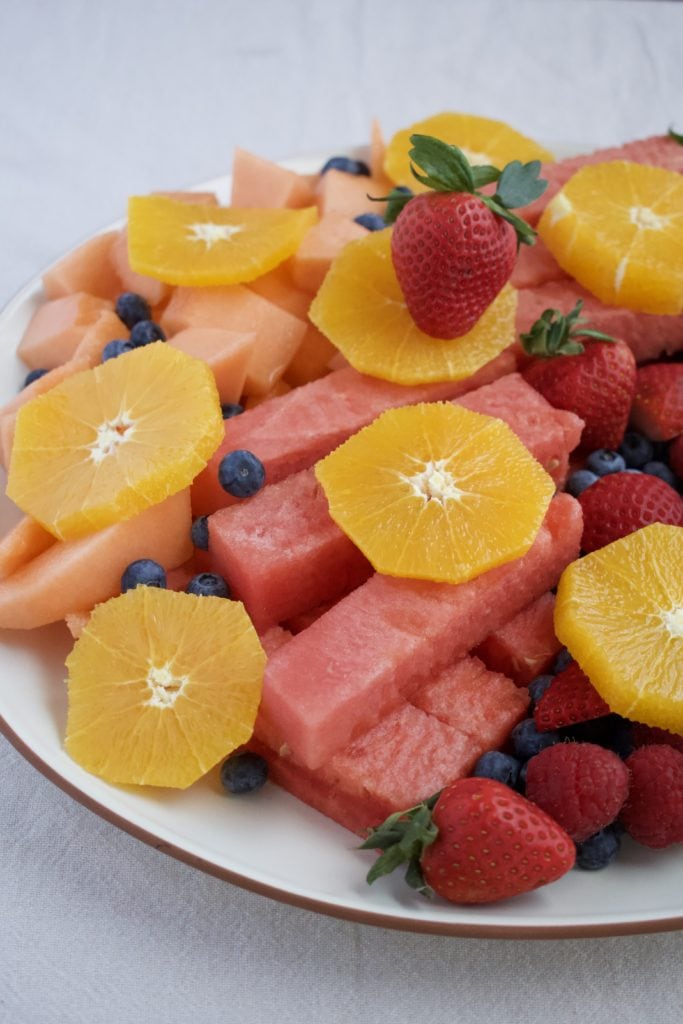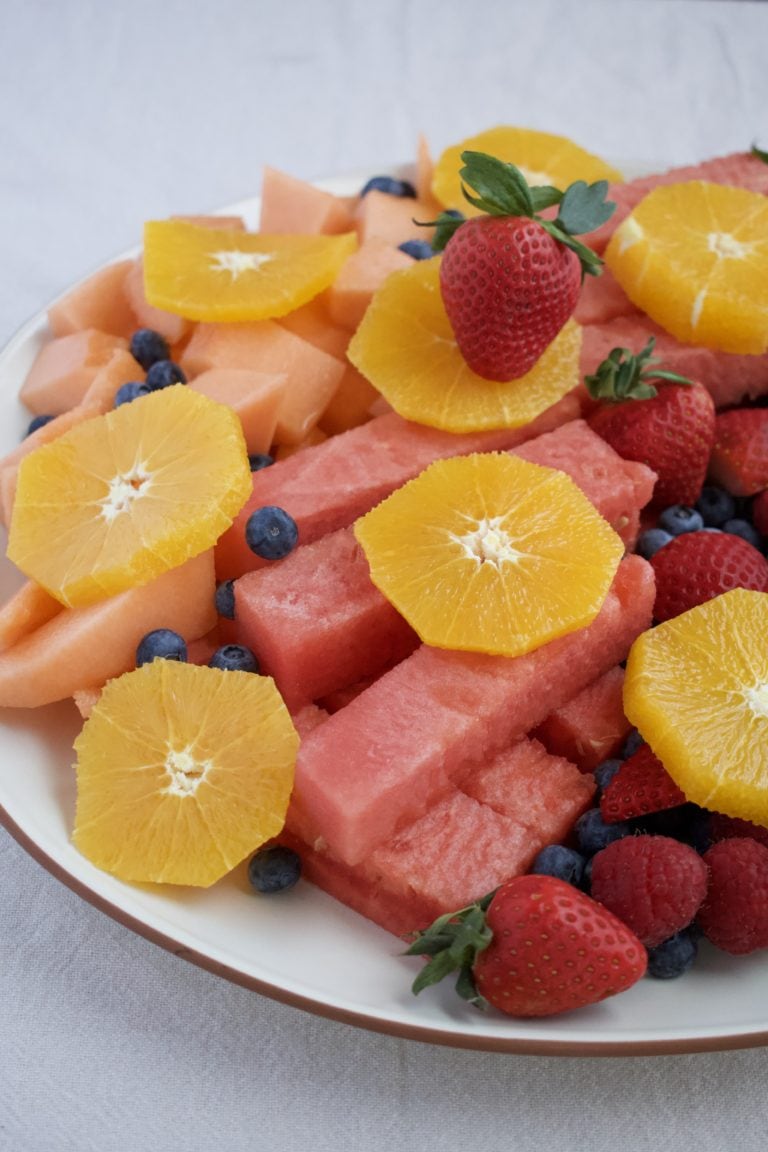 Fruit Platter tips:
Rinse your berries as one of the last things you do, moisture makes them mold super fast, and use what's left at the end of brunch to blend into a smoothie or throw in the freezer. They won't last long after they get wet.
Cut your oranges as you would for supremes, but then slice into discs for the effect you see above. I actually almost always cut my oranges this way, it is my favorite way to eat them.
Find creative ways to cut your melons, I like to cut my watermelon into batons to give a little textural contrast to my fruit platter. For more on breaking down a watermelon like a chef, check out my how-to guide. You could also melon ball them and skewer them.
Make-ahead as much as possible for a stress-free Brunch!
Bacon – I like to prepare as much as I can the day before I host a big brunch. I even cook my bacon ahead of time. It can be one of the most time-consuming things to prepare, and it can go wrong in a split second. Cook it on a foil-lined sheet pan in the oven the night before at 400 degrees for 20 minutes.
Cooking what you can in a stress-free environment is the real key. You could even go as far as cooking your pancakes or waffles the day before and placing them in a warm oven with your bacon just before your guests arrive to gently warm them through. This is a great thing to think about if you are expecting a large group of guests.
Drinks – Be sure all of your drinks are in the refrigerator or cooler the night before so that is one less thing to even have to think about on the day of. Also, set the coffee maker up so you just have to hit the button and start it when you wake up, cause you are gonna need the first cup to keep you moving.
Fruit – Your fruit platter can even be made the night before, I would just suggest making it the last thing you put together before going to bed. Another option is to cut all the fruit and store it in separate containers then assemble your platter the morning of.
Pastries – When it comes to croissants, muffins, or donuts, those can be made 1-2 days ahead of time and gently refreshed in a warm oven the morning of your brunch. If you make my attached jelly donuts, those would be something I would wait to the night before to fry, and then maybe fill and dust with sugar late the night before or the morning of.
Bruch Recipe Inspiration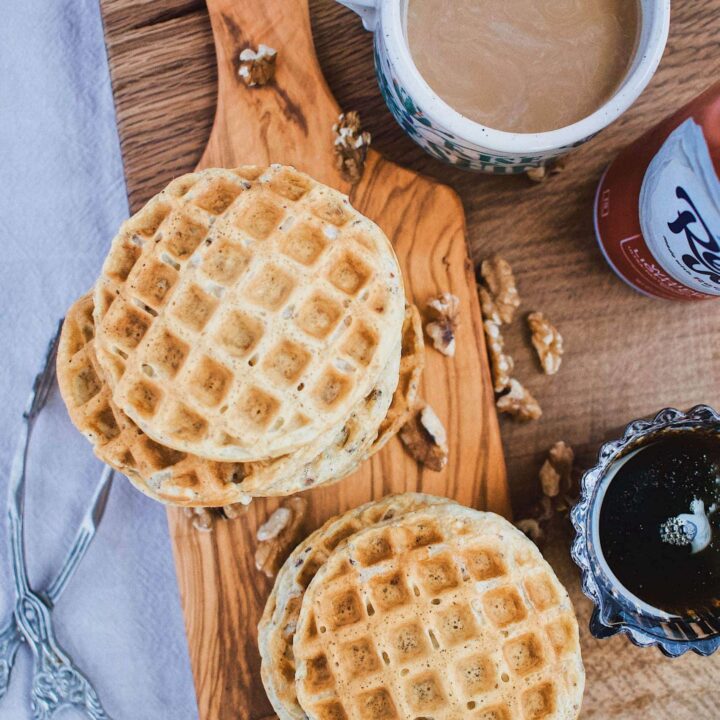 Banana Walnut Waffles
I love to make these in the mini waffle iron I have, especially if I am doing a brunch spread. But they also hold up really well to being made into pancakes or full-sized waffles.
Ingredients
2 C Buttermilk
1/2 C Vegetable Oil
2 lg Eggs
1 t Vanilla Extract
2 C AP Flour
1/2 C Sugar
1 T Baking Powder
2 t Baking Soda
1 t Kosher Salt
2 med Banana's, mashed
1/2 C Walnuts, chopped
Instructions
In a large bowl, whisk together the buttermilk, oil, eggs, and vanilla.
Add the flour, sugar, baking powder, baking soda, and kosher salt. Mix until well combined. Fold in the bananas and walnuts and let the mixture sit for 20-30 minutes. The batter will get fluffy and being to bubble a little bit in this time.
Heat your waffle iron about 10 minutes before you are ready to begin cooking. Cook the waffles for one cycle until lightly browned.
Notes
If making this mixture into pancakes, heat a skillet or griddle over medium heat and generously oil the hot skillet. Pour 1/4 cup of batter per pancake onto the pan about 2 inches apart. Cook until all the bubbles have popped on one side, then flip and cook until lightly browned. Keep the pan oiled and continue until all batter is cooked.
Nutrition Information:
Serving Size:

1 grams
Amount Per Serving:
Unsaturated Fat:

0g
If you make this recipe, please let me know by leaving a review at the bottom of this page!
And make sure to sign up for my newsletter and follow along on Instagram, Pinterest, and Facebook for more KendellKreations!
MY LATEST RECIPES!
Get my NEW e-Cookbook here!! ⬇️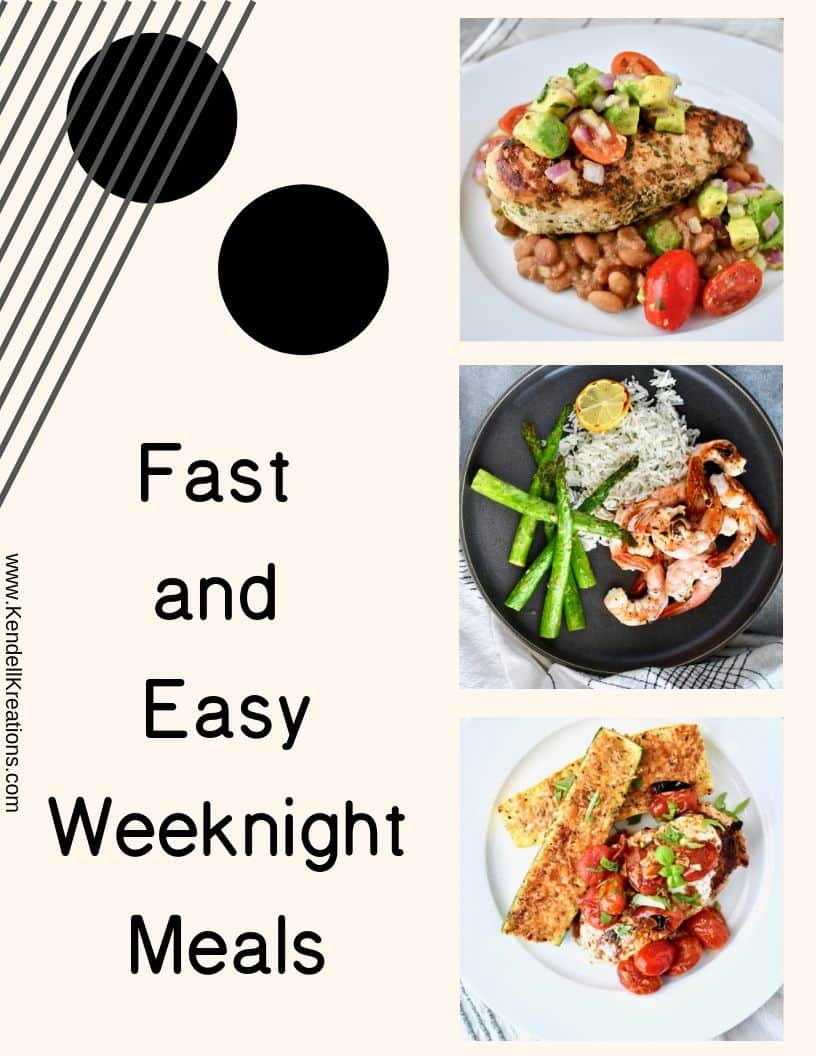 MY FAVORITE KITCHEN TOOLS!
Here are a few links to some of my favorite kitchen tools! You get a car, YOu get a car, YOU ALL GET A CAR…in my best Oprah voice
These Rösle Silicone Tongs are a little pricey but they will last you the rest of your life and are the softest in your hand. This is important for someone like m that cooks so much. It reduces strain, I have 4 sets in my kitchen!
These are my FAVE Nordic Ware Sheet Pans, every kitchen should have at least 2 sets of these! I think I have at least 4 of each of these.
This is my favorite pressure cooker, the Fagor is the same concept as the "Instant Pot" but easier to use in my opinion, if you don't have one you NEED one, it will be your best friend in the kitchen!
A sharp knife is the most important tool in the kitchen, these Japanese steel "Shun" knives are my favorite! And this is a great starter set to build on. Once you try them you will be in love so use this as a foundation you can build on for years to come.
This Scanpan 11″ skillet is just the right size for almost anything you will need to cook and my best friend and a real workhorse in my kitchen, it's also a great deal at $99. Scanpan is the best in the world for healthy cooking. It is coated with a proprietary ceramic-titanium coating that is durable while allowing you to use fewer fats and oils when cooking. It is a coating only they use. I could talk all day about my love for these pans, message me if you want more info. Here are some other sizes that are available if you are looking to outfit your kitchen with some new goodies. 8″ & 10″ Skillet set or 8″ Skillet, I still need this one for my kitchen Also, I don't really know how to cook small so the 12.5″ is my other fave!
This giant vat of olive oil is my favorite, I decant it into a smaller bottle for my counter. Or put this spigot on top of a wine bottle!
My favorite baking dish that is so easy to clean even burnt on cheese slides right off!
This Tovolo jar scraper has to be my single favorite kitchen tool, it is definitely the most used tool in my kitchen. If you are NOT a gadget person, this is the only necessity I say is a MUST beyond the wooden spoon.
A great wood spoon is essential, this Olive Wood one is my favorite, I have more than I can count. But can you really ever have too many?
A food scale can be a very important tool in your kitchen, this one is the one I use every day!
If you love Joanna Gaines as much as I do then the 'Magnolia Table Cookbook' is a must in your kitchen, get a copy HERE!