Here we will go over How to Cook a Tri-Tip steak or roast. It is a cut of beef that was made famous when traditionally cooked over a Santa Maria style bbq grill. A Santa Maria BBQ is an open-air grill that is typically wood-fired and has a pulley system. That allows the grill grate to be lowered to raised, toward, or away from the heat to control the cooking process.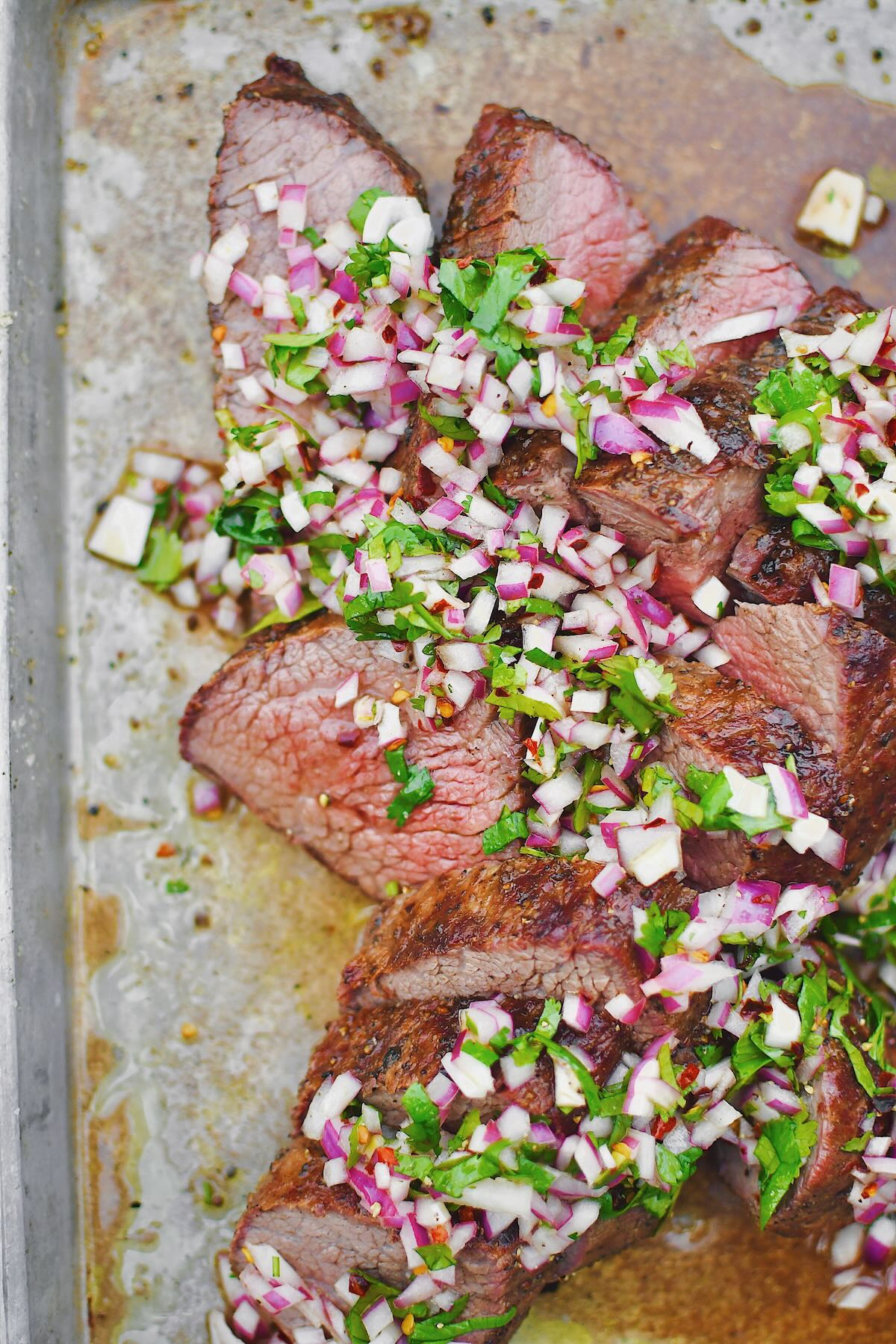 When cooked in Santa Maria Style, it is traditional to serve it with a bit of relish or salsa, made of onion, cilantro, vinegar, salt, pepper, and a little red pepper flake. This cuts the fattiness of the Tri-Tip cut of beef. It brings a welcome punch of flavor to the dish.
The salsa can also be made with peppers, and some add tomato or corn, think of using it like a pico in Mexican cuisine, but with a California twist. I make a simple version, but for more in-depth information on it, CLICK HERE.
Jump to:
Ingredients
But here we will focus solely on how to cook a tri-tip. It is a slightly fatty cut of beef so I like to keep the seasonings simple. I pick this one up at a butcher shop, and it was actually Wagyu and had all the silverskin and fat removed from it. It was a beautiful cut of meat.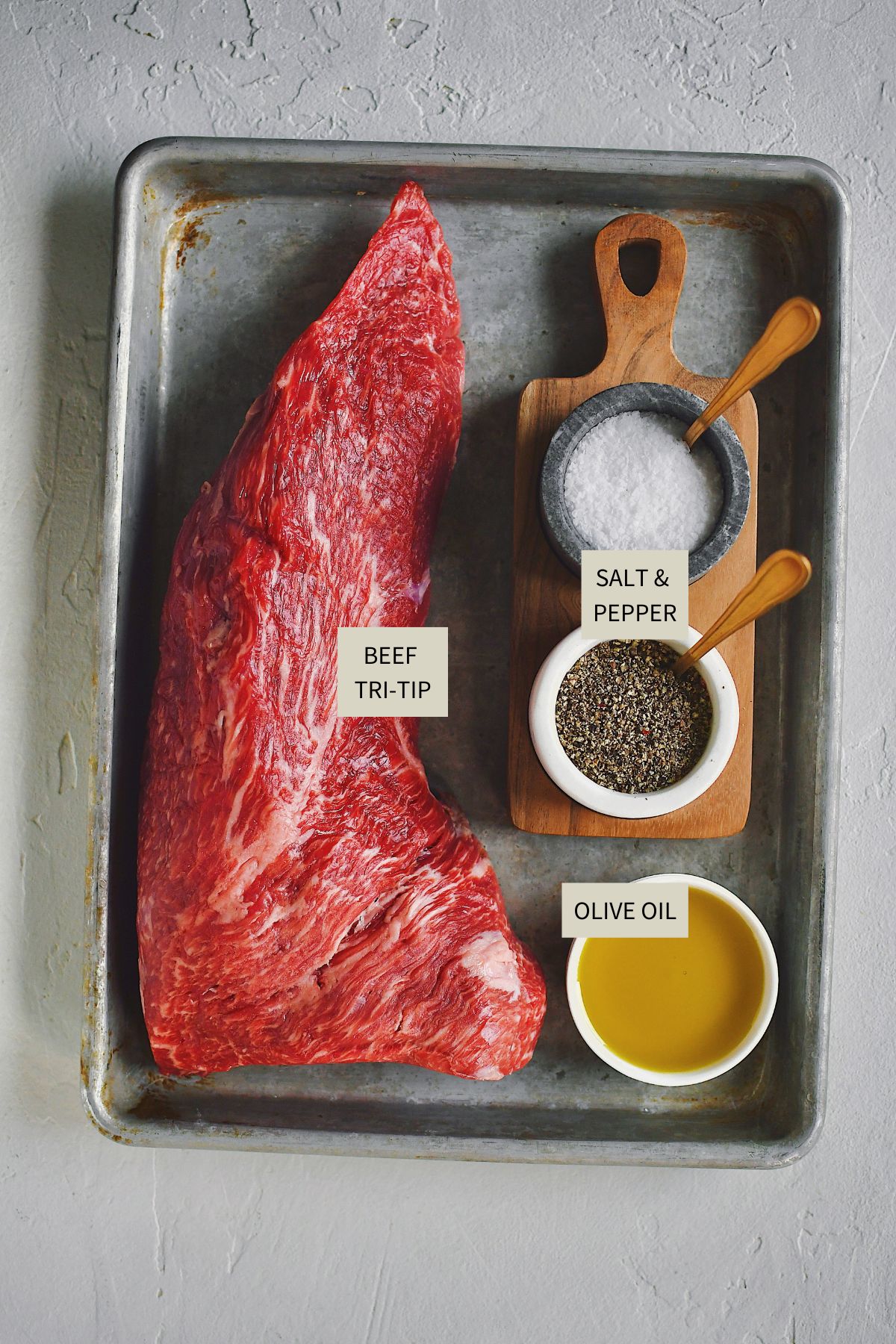 Aside from the tri-tip, all you need, in my opinion, is salt, and pepper, and I like a little olive oil just to help the seasonings stick to the beef. SIMPLE! Simple is best and really lets this great cut of beef shine.
Use the JUMP TO RECIPE button at the top of the post, or scroll to the bottom of the post to see the full recipe card with ingredient measurements and instructions.
Method
First, sprinkle on the salt and pepper and drizzle on the oil. Rub it all over the beef so that it is well coated. Don't be shy with the salt and pepper, it is thick almost roast so it needs a lot to penetrate to the core of the meat. Let it rest for at least and hour, but you can do this up to overnight.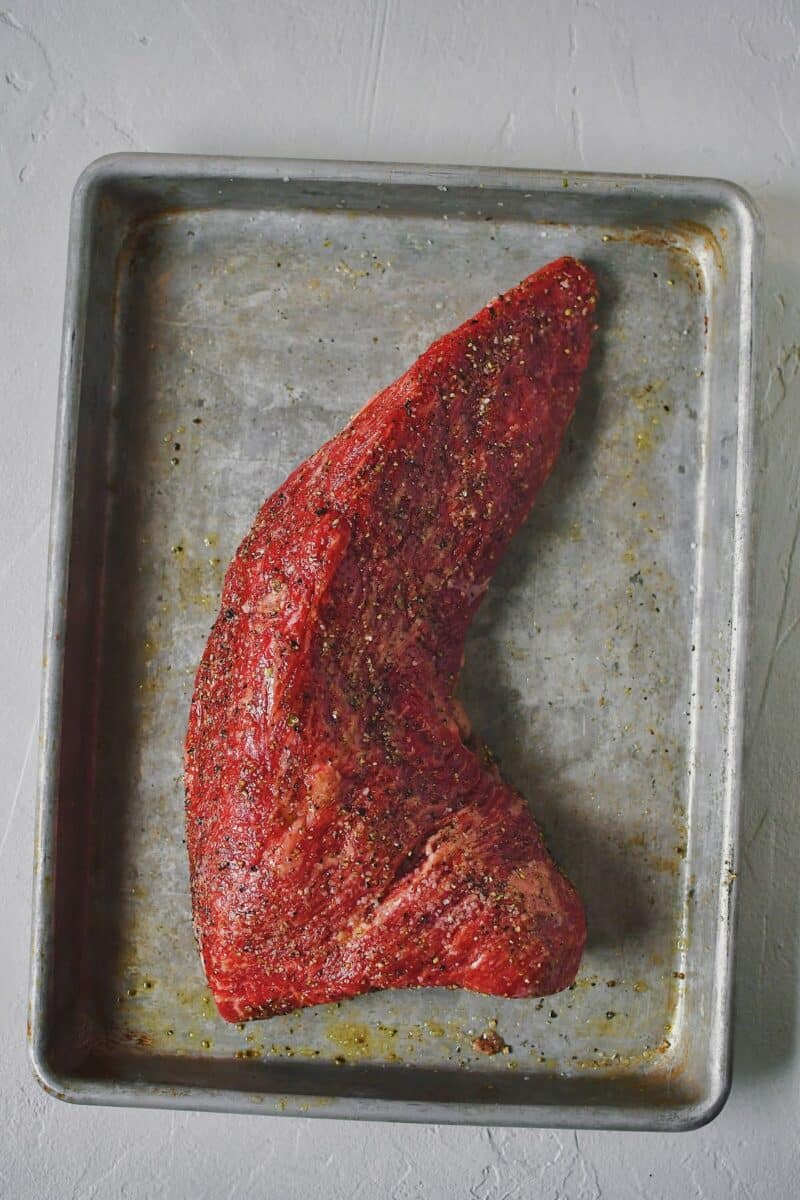 When you are ready to cook your tri-tip, take it out of the fridge about an hour before you are ready to cook it. Then heat a grill over high heat and get a really good sear on both sides. Then turn the heat off on half the grill, keep the beef on the no-heat side. Cook till it reaches an internal temperature of 130 degrees Fahrenheit.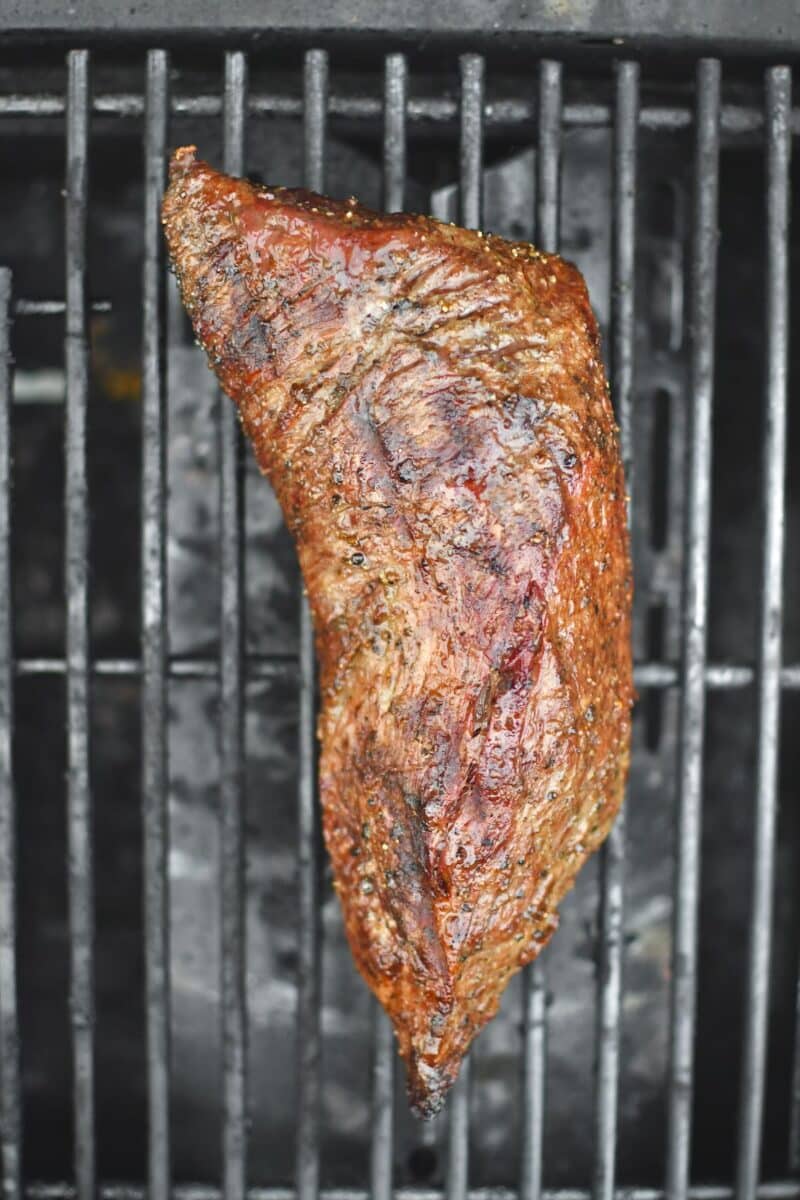 Rest the beef for 10-15 minutes before slicing it. One important note about the tri-tip is that the grain of the beef changes directions usually about halfway through the cut. Take note of this when it is still raw so you have a rough idea of where the split is. After cooking, cut the tri-tip into two pieces at that split, then slice it against the grain. Serve the slices topped with some relish, pico, or salsa of you choosing.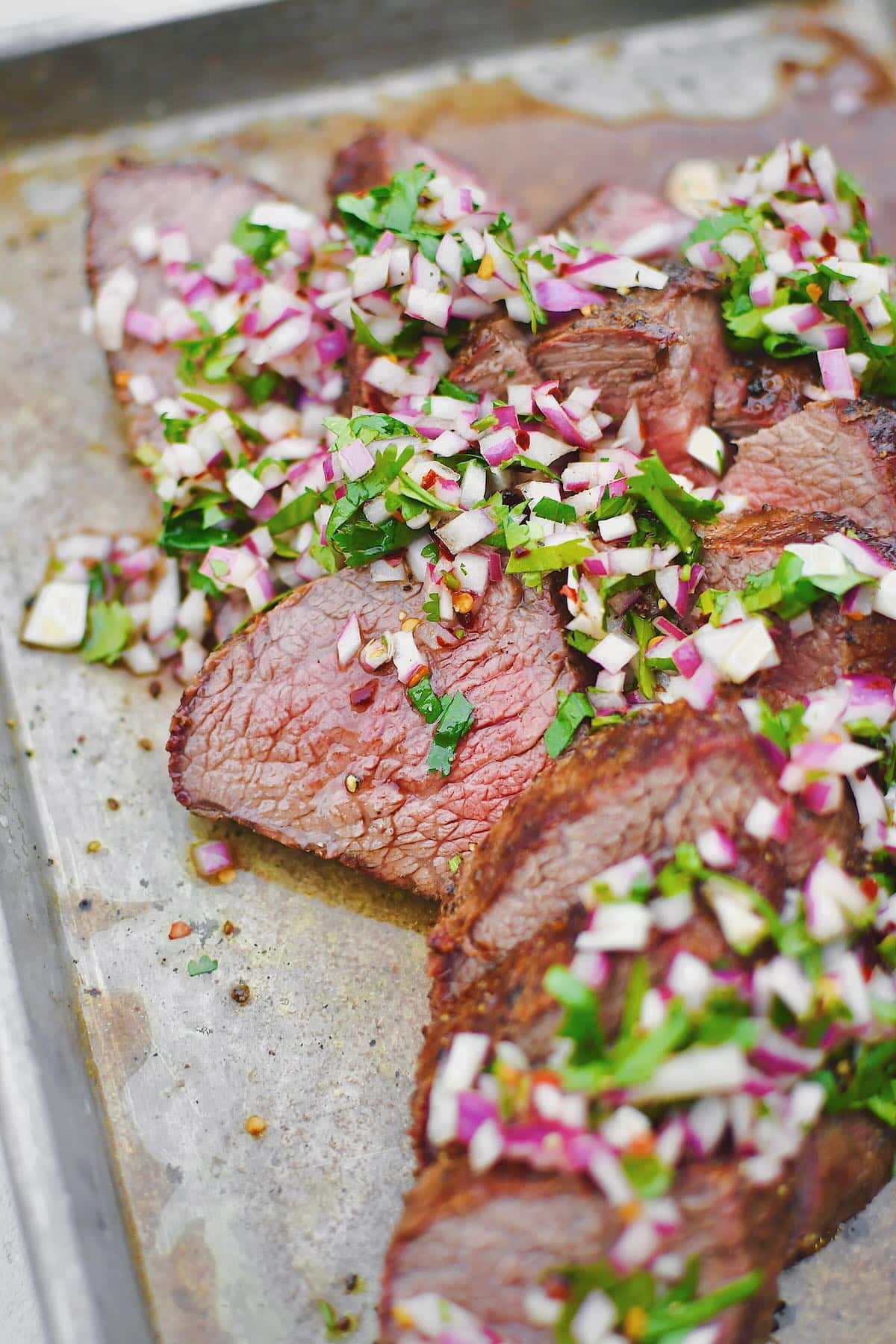 Notes & Tips
Before you cook, or even season your tri-tip, take note of the break, usually near the middle of the roast, where the grain completely changes directions. This is important to note, so after cooking you can change the directions in which you slice the beef. You want to slice against the grain for the best eating experience. So after cooking, gut the beef in half at the break, then slice the two pieces separately against the grain.
Because Tri-Tip is a thick cut of beef, it is important to season it heavily and to let the seasoning rest so it can penetrate all the way through the meat. Let the seasoning rest for at least an hour, up to overnight.
When you are ready to cook the tri-tip, it is important to have a really hot grill. The goal when cooking is to crisp the outside, seal in all the juices, and keep the middle medium rare to medium.
For cooking in the oven, heat to 400˚F and sear the meat in a large cast iron skillet until dark seared on two sides. Then cook a 2-3 pound roast in the preheated oven for 20-30 minutes until it reaches an internal temperature of 130˚F.
It is traditional to serve this cut of beef with a Santa Maria Style salsa or relish. I make a quick one of half a red onion finely diced, some red wine vinegar, salt, pepper, and red pepper flakes to taste, and a heavy pinch of cilantro. The vinegar helps cut the fatty cut of beef that is a Tri-Tip.
You may also find this cut of steak called a California cut, a Santa Maria steak, a Newport steak, a triangle steak, or a bottom sirloin butt. It goes by many names, but this tender cut is a bit on the less popular side, so you may have to ask for it to be ordered at your market.
Substitutions
While this recipe is all about the Tri-Tip, you could also apply this cooking method to beef tenderloin or sirloin.
If you want to add a little extra spice to your meat, you can swap the salt and pepper for a rub or steak seasoning blend.
I use EVOO for just about everything, it actually holds up really well for most things. You can also use a higher smoke point oil like avocado or vegetable oil.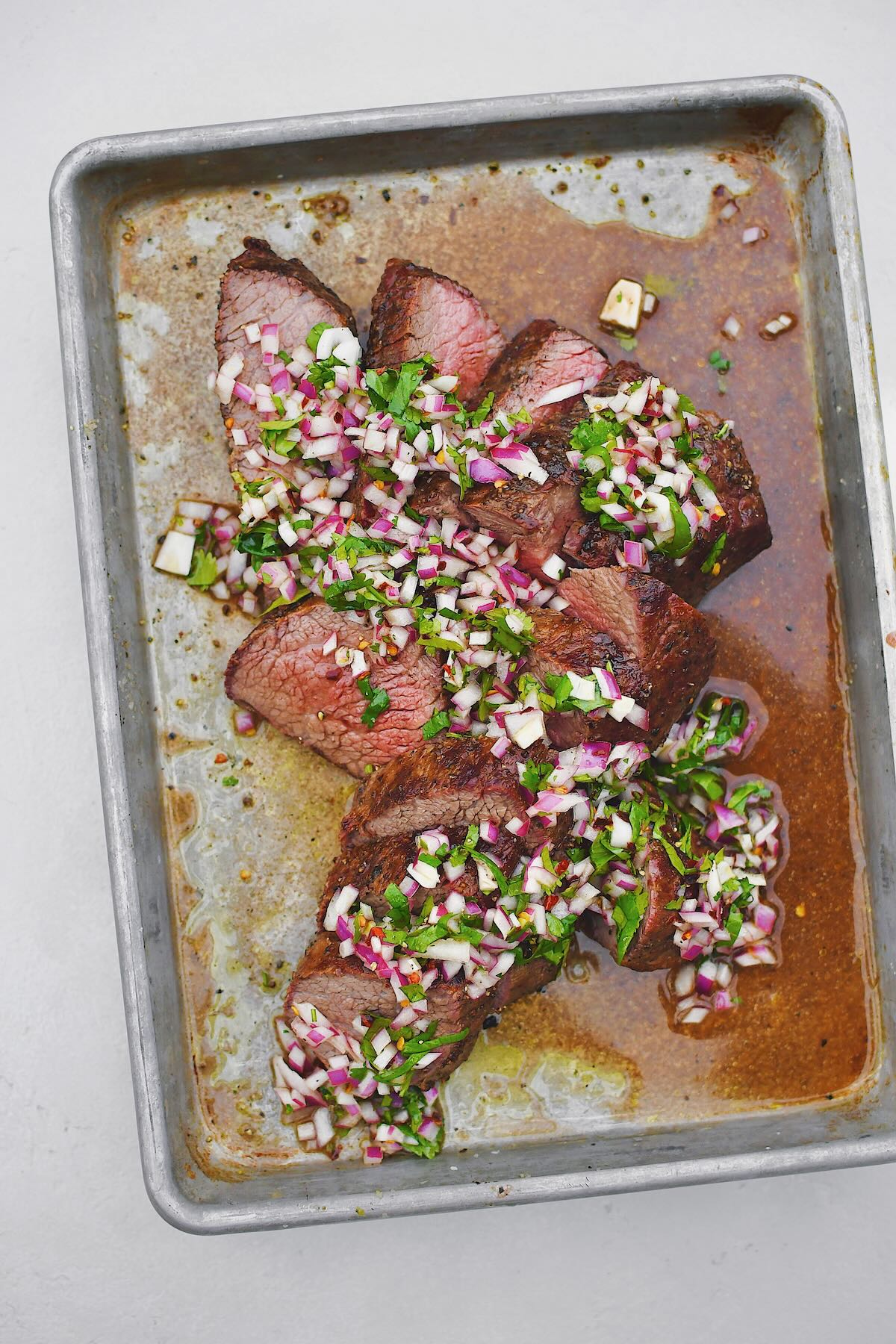 Did you make this recipe? Let me know by leaving a review or comment! And be sure to sign up for my newsletter, and follow along on Instagram, Pinterest, and Facebook!