This recipe for Clementine Shortcake came about during the WHOPPING 3 days break I took over the Christmas holiday. I tried to sit and do nothing for a while, but I just didn't know what else to do with myself. I was watching some documentaries about other Chefs around the world and I just had to jump back in the kitchen.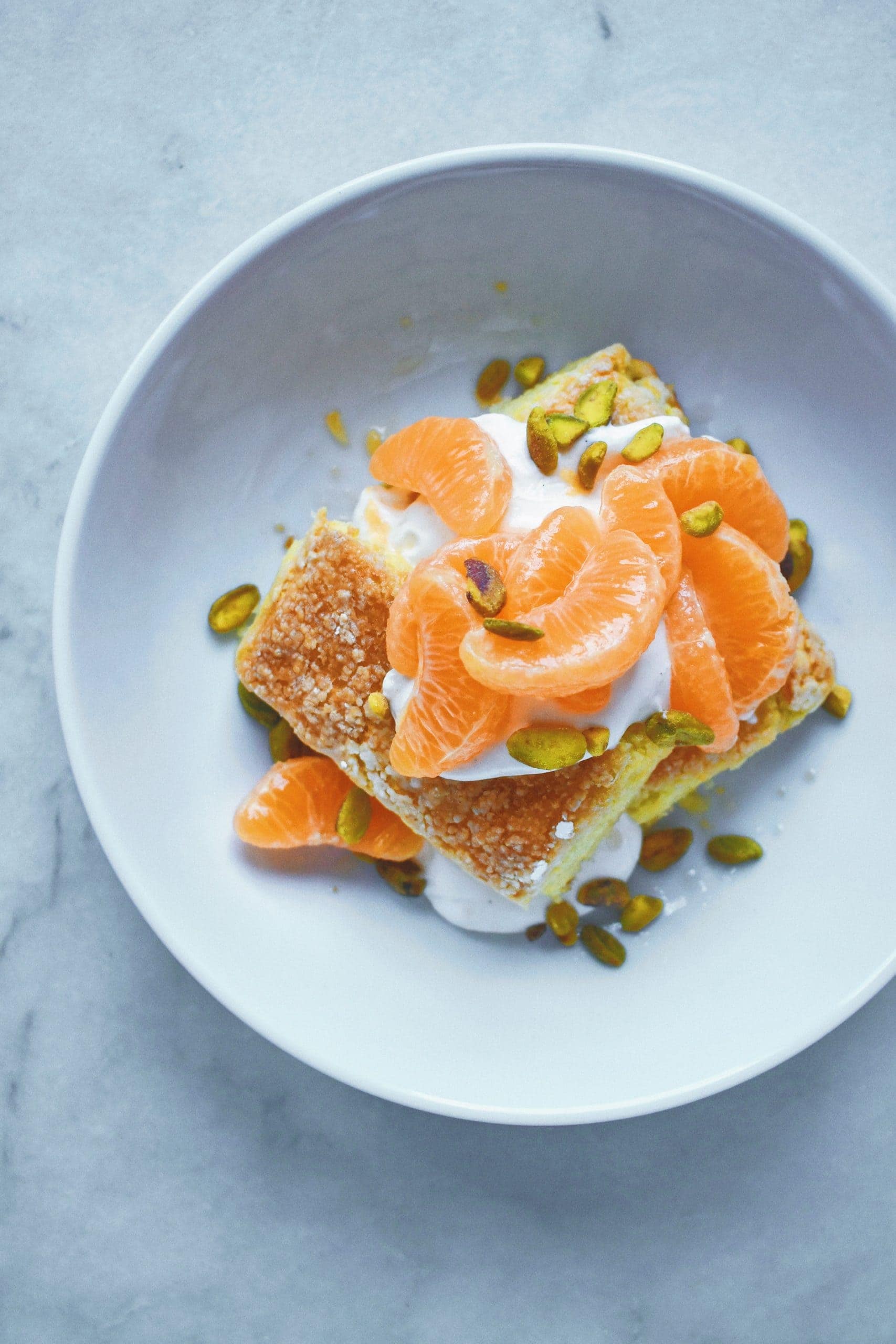 Making the Shortcake
This shortcake highlights the seasonal citrus of winter and wraps it up and the warmest of hugs! I played around with a classic southern shortcake recipe that is very biscuity and gave it my own spin with the addition of olive oil. I then rolled it out onto a powdered sugared board and dusted it before baking that added some sweetness to the cake and gave a bit of a crunch to the outside.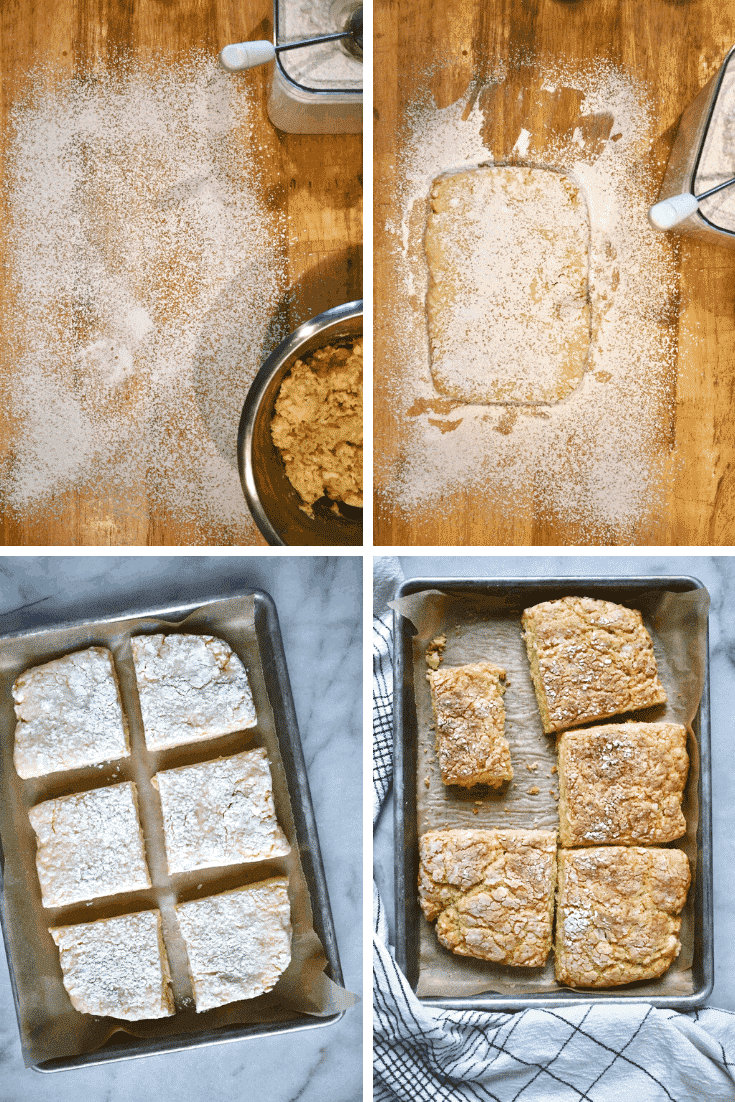 Making the Clementine topping
Then peeled and cleaned the clementines, dusted them with a couple of tablespoons of sugar and the juice of 2 clementines and let them macerate for about an hour. Follow the same technique that you would when making strawberry shortcake. I then whipped a little bit of heavy cream and powdered sugar just until it began to thicken, leaving it a bit like a clotted cream.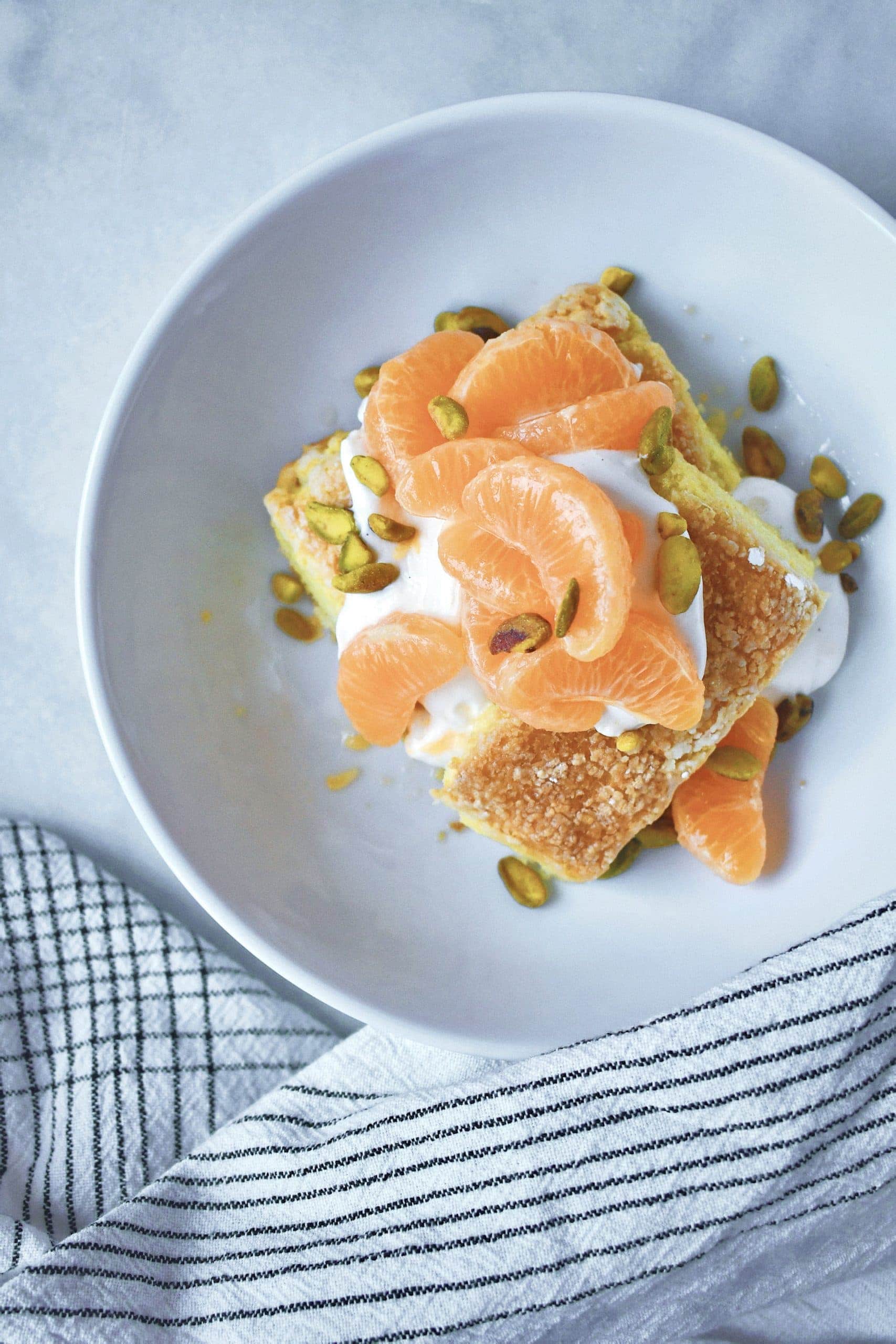 Creating a Clementine Shortcake
Layer the biscuit-like cake and cream with a topping of the macerated clementines and toasted pistachios. I love the layer of flavors that show off here. It makes me reminisce over a favorite Persian style dessert of rice pudding, with pistachio, orange blossom water, and fruit.
To tell the truth, this recipe came together in my head after hearing the stories of other Chefs with different cultural and economic backgrounds. They were sharing about how food shaped their childhoods and eventually their lives. It made them who they are today and shapes the food they serve.
These flavors came together in my head and then applied them in the kitchen. I am happy to report that it worked GREAT, and I can share it with you here now. I hope you enjoy my take on shortcake and give it a try.
If you make this recipe, please let me know by leaving a review at the bottom of this page!
And make sure to sign up for my newsletter and follow along on Instagram, Pinterest, and Facebook for more KendellKreations!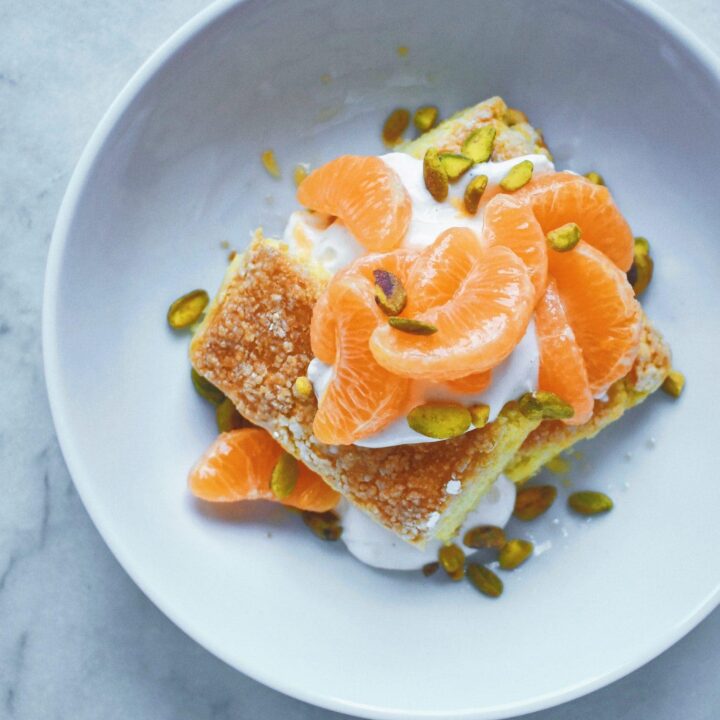 Clementine Shortcake
This recipe came together in my mind after being inspired by the stories of other chefs around the world. I put pen to paper and it turned out amazing! I hope you give it a try and that you love it as much as I have.
Ingredients
for the shortcakes:
2 cups Self-Rising Flour
2 tablespoons Baking Powder
1 teaspoon Baking Soda
¼ teaspoon Kosher Salt
½ cup Unsalted Butter
1 lg Egg
¾ cup Buttermilk
¼ cup Extra Virgin Olive Oil
Powdered Sugar for rolling and dusting
Raw Pistachios, toasted
for the clementine syrup:
6 Clementine Orange
2 tablespoons Granulated Sugar
for the whipped cream:
1 cup Heavy Cream
2 tablespoons Powdered Sugar
1 teaspoon Vanilla Bean Paste
Instructions
for the shortcakes:
In a large bowl, whisk together the flour, baking powder, baking soda, and salt. Grate the butter into the flour and toss to coat. Work the flour in by rubbing it into the flour with your hands until it begins to form a paste, much like making a biscuit.
Stir in the egg, buttermilk, and olive oil until a dough forms and works it into a ball. Cover the bowl with plastic wrap and chill for 30 minutes.
Position a rack in the middle of the oven and preheat to 400 degrees. Line a baking sheet with parchment paper.
Generously dust your counter with powdered sugar. Turn out the dough on the sugared surface and dust the dough with more sugar. Press the dough out into a ½ inch thick rectangle and cut into 6 pieces. Continue to coat the dough in sugar as needed so it doesn't stick to your hands. Place the cakes onto the parchment-lined sheet pan ¼ inch apart. Bake 15-20 minutes until lightly golden on top.
for the clementine syrup:
Peel and clean the white membrane off of 4 oranges as best as possible. Break the individual segments apart and place them in a bowl. Sprinkle the sugar over the segments and squeeze the juice of the other two over top. Toss to coat, refrigerate 30 minutes minimum, up to overnight.
for the whipped cream:
Gently whip the heavy cream until you start to see it thicken slightly. Add the powdered sugar and vanilla and continue to whip until it just begins to get thick. You don't want a whipped cream that holds peaks, you just want a thickened and sweetened soft cream to top the shortcakes with.
Build your clementine shortcakes by layering pieces of shortcake and whipped cream and then topping with the clementines and syrup. Top with toasted pistachios and enjoy!
Nutrition Information:
Serving Size:

1 grams
Amount Per Serving:
Unsaturated Fat:

0g
MY LATEST RECIPES!
Get my NEW e-Cookbook here!! ⬇️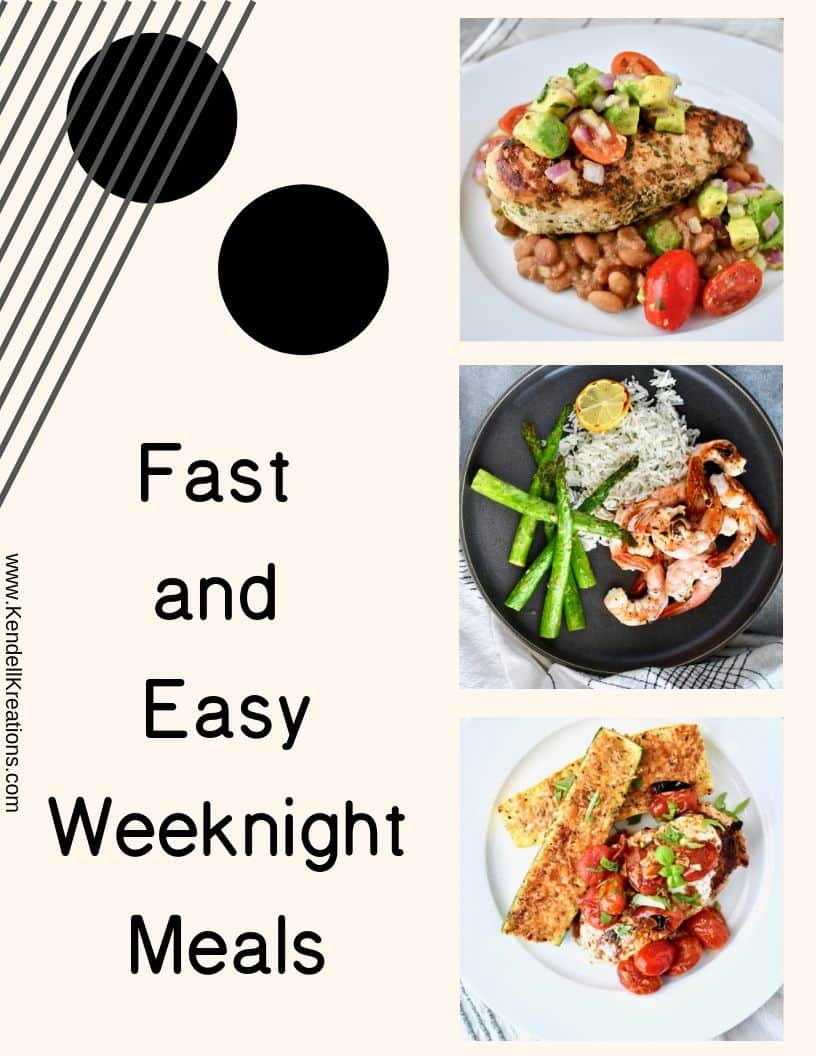 MY FAVORITE KITCHEN TOOLS!
Here are a few links to some of my favorite kitchen tools! You get a car, YOu get a car, YOU ALL GET A CAR…in my best Oprah voice
These Rösle Silicone Tongs are a little pricey but they will last you the rest of your life and are the softest in your hand. This is important for someone like m that cooks so much. It reduces strain, I have 4 sets in my kitchen!
These are my FAVE Nordic Ware Sheet Pans, every kitchen should have at least 2 sets of these! I think I have at least 4 of each of these.
This is my favorite pressure cooker, the Fagor is the same concept as the "Instant Pot" but easier to use in my opinion, if you don't have one you NEED one, it will be your best friend in the kitchen!
A sharp knife is the most important tool in the kitchen, these Japanese steel "Shun" knives are my favorite! And this is a great starter set to build on. Once you try them you will be in love so use this as a foundation you can build on for years to come.
This Scanpan 11″ skillet is just the right size for almost anything you will need to cook and my best friend and a real workhorse in my kitchen, it's also a great deal at $99. Scanpan is the best in the world for healthy cooking. It is coated with a proprietary ceramic-titanium coating that is durable while allowing you to use fewer fats and oils when cooking. It is a coating only they use. I could talk all day about my love for these pans, message me if you want more info. Here are some other sizes that are available if you are looking to outfit your kitchen with some new goodies. 8″ & 10″ Skillet set or 8″ Skillet, I still need this one for my kitchen Also, I don't really know how to cook small so the 12.5″ is my other fave!
This giant vat of olive oil is my favorite, I decant it into a smaller bottle for my counter. Or put this spigot on top of a wine bottle!
My favorite baking dish that is so easy to clean even burnt on cheese slides right off!
This Tovolo jar scraper has to be my single favorite kitchen tool, it is definitely the most used tool in my kitchen. If you are NOT a gadget person, this is the only necessity I say is a MUST beyond the wooden spoon.
A great wood spoon is essential, this Olive Wood one is my favorite, I have more than I can count. But can you really ever have too many?
A food scale can be a very important tool in your kitchen, this one is the one I use every day!
If you love Joanna Gaines as much as I do then the 'Magnolia Table Cookbook' is a must in your kitchen, get a copy HERE!