Last summer I shared a few versions of my favorite Greek Salad and this year's obsession is Caesar. This Grilled Caesar Salad is one that I remember from a restaurant that I worked in and I have recreated it for you here. It is a great side dish for grilling season and just needs a quick second on the hot grill.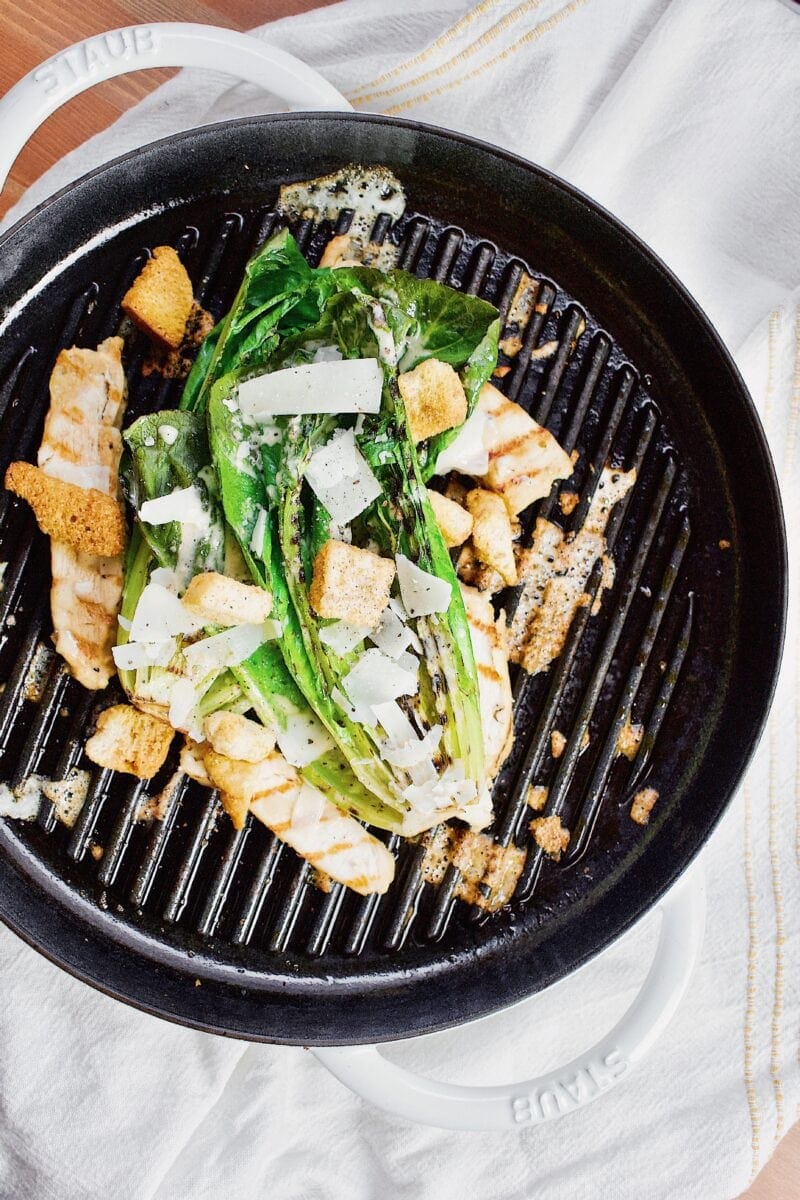 This salad is quick, easy, and refreshing. I could eat it all year long, but it is really nice in the summer. I even top it with some grilled chicken from time to time to make it a meal in itself.
How to make a Grilled Caesar Salad:
The main key to success here is a HOT, HOT grill! You want to cook the lettuce as quickly as possible, but not wilt it more than you need to. I use spray oil to make sure I get an even coat of oil over the surface of the cut lettuce, this will ensure grill marks and help it brown quickly.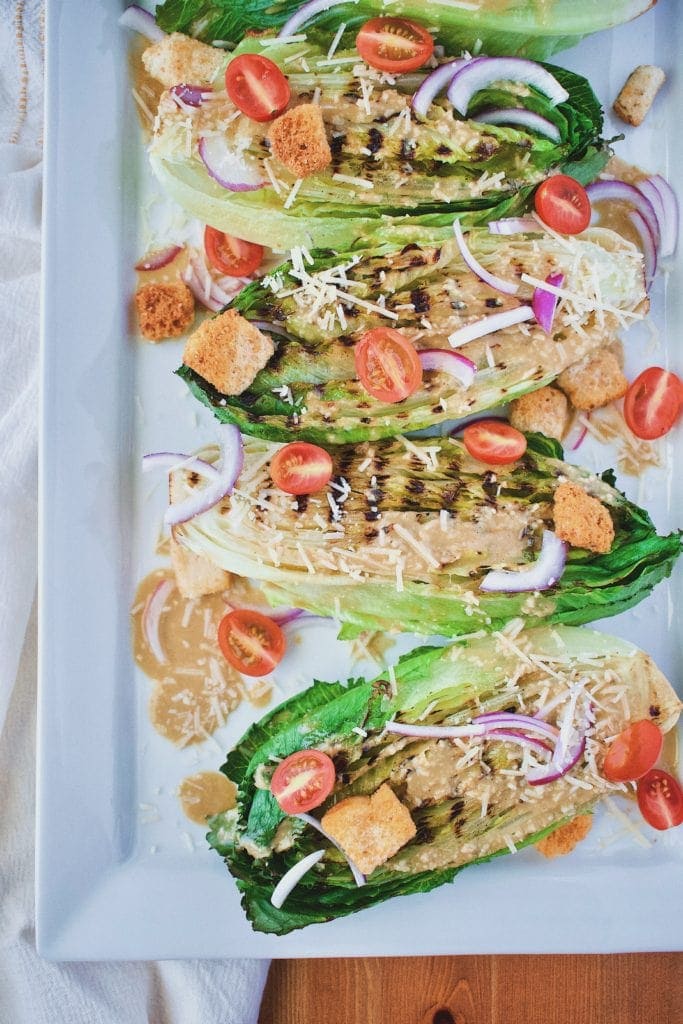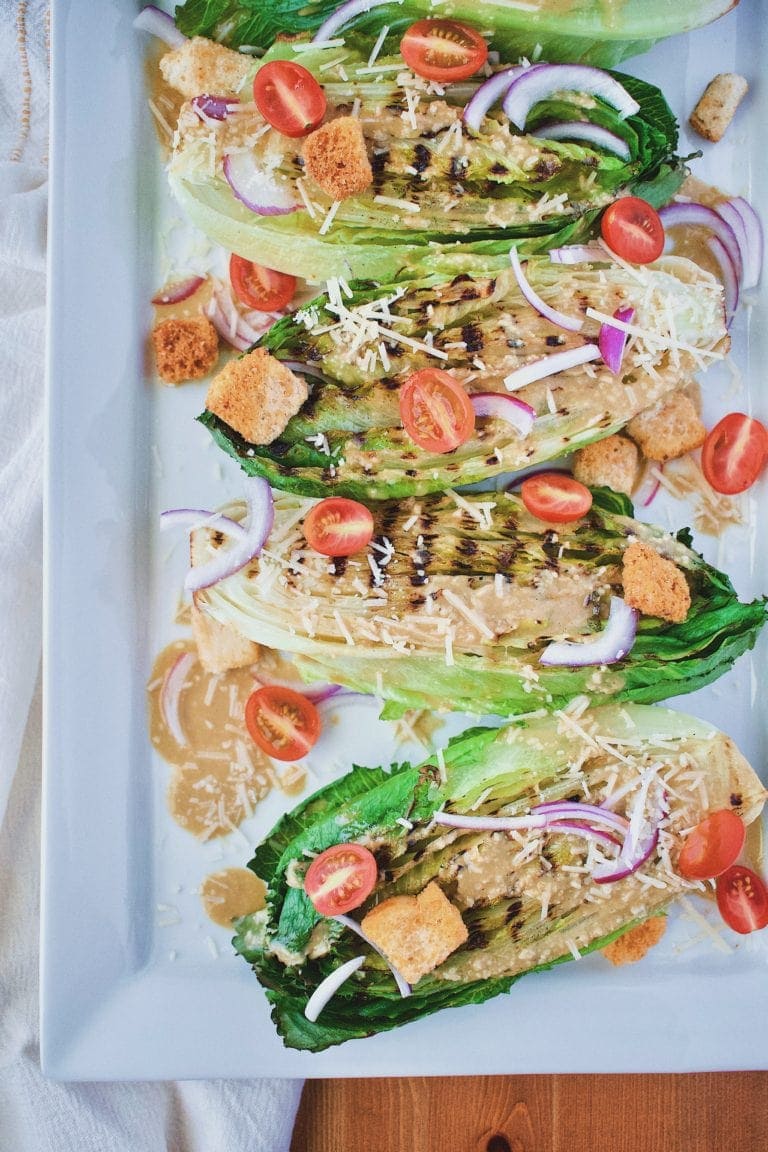 The next best thing to have is a great fresh dressing. I have included a recipe for one in the recipe. I like one that is Caesar at heart, but thinner and lighter for summer grilling.
If you just can't do the anchovies, feel free to leave them out. But I even got this one down to a good even flavor that even the pickiest person in my house didn't know it had anchovies. They just round out the flavor so nicely and using the white anchovies provides a lighter flavor all around.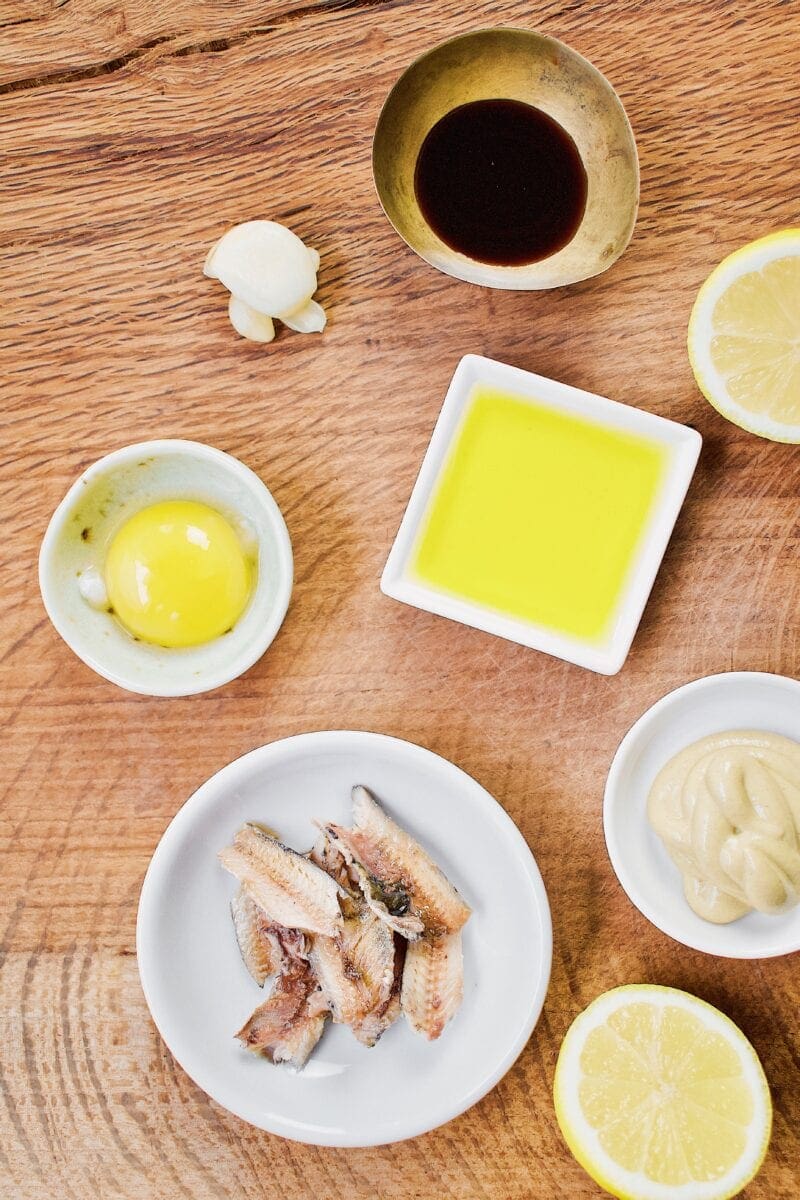 Of course, you can top your salad with whatever you like, these are just my suggestions. I love a Caesar salad that has some red onions on it. It is just my own little thing, but nowadays a non-negotiable. It is something a restaurant my family used to frequently did, and I have always loved it.
You might be looking at me crazy when you see the tomatoes too. I know that the traditional recipe just calls for lettuce, dressing, parm, and croutons, but I like to round out all the flavors with some baby tomatoes. When they are in the high season they are so good and this dressing loves them.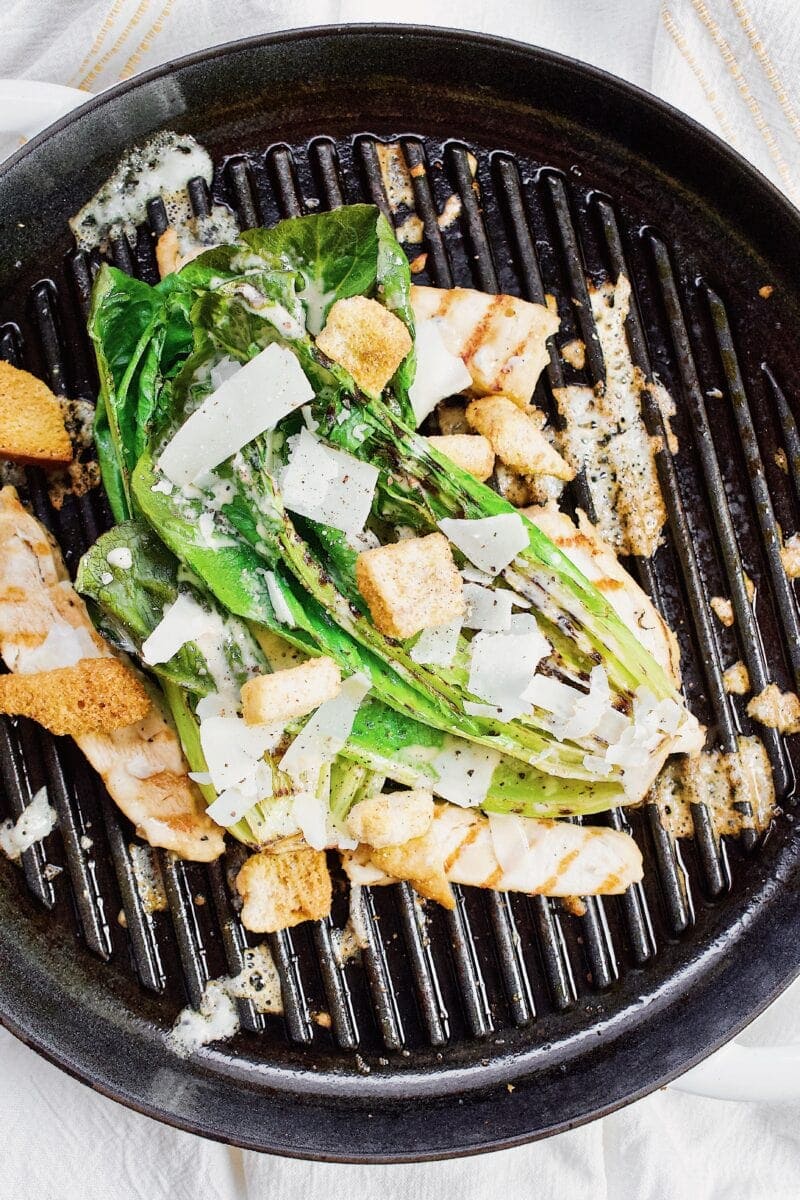 Serving your Salad
What I love about this salad is that I can quickly grill it up and throw it on a platter and serve a crowd, or just make a single serving. Dress it up for a crowd or a BBQ like you see in my photos or even make a single serving. And like I said, the addition of some grilled chicken makes it a meal!
This makes a quick and easy side dish for your next cookout or backyard barbeque. If you want to use it in the application, I would suggest prepping everything ahead of time. Have everything except the lettuce cut, and ready, and then grill the lettuce at the last second.
You can even cut the lettuce, cover with a damp paper towel and store in the fridge the night before. Then spray with the oil and season just before it hits the grill.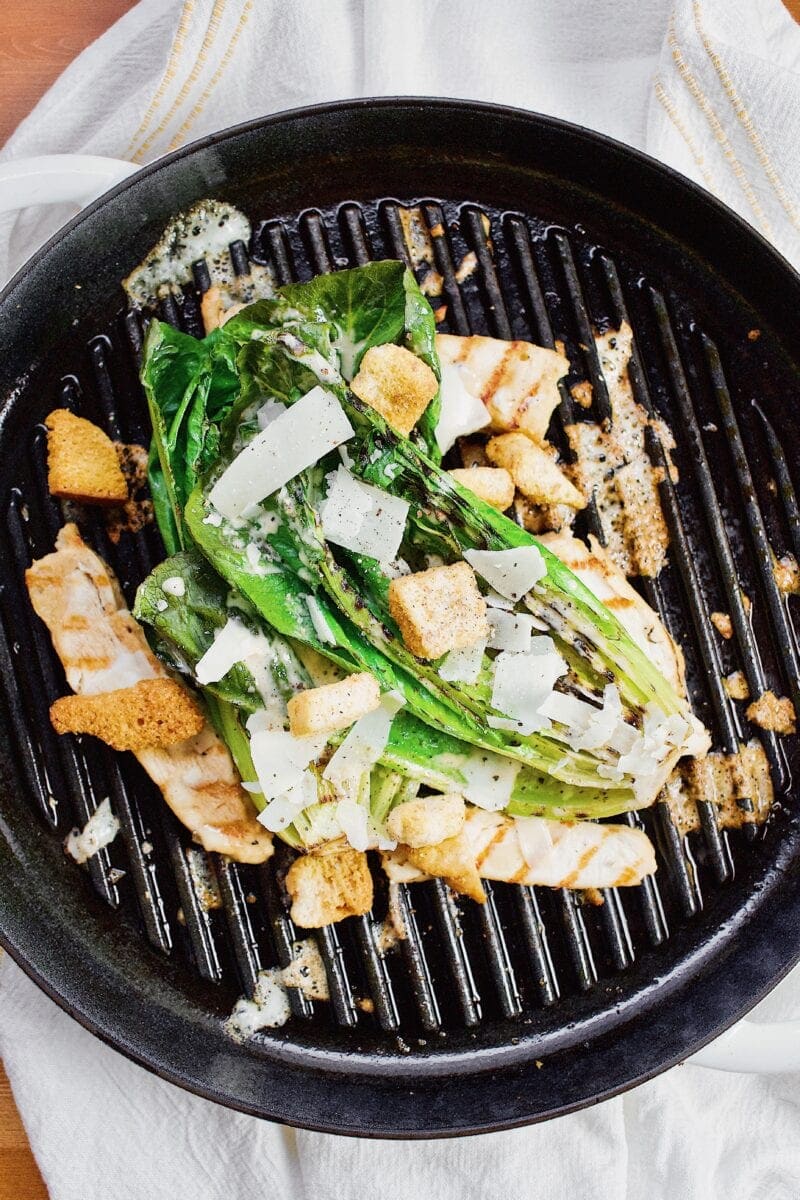 I hope you enjoy this take on a classic Caesar, it is just a little different and takes you salad from basic to Fantastic! Give it a go, I think you'll like it!
Grilled Chicken Caesar Salad
This recipe is a little bit of a play on words. It features grilled chicken as well as grilled romaine. Get your grill or grill pan good and hot so nice grill marks appear on the lettuce.
Ingredients
For the dressing:
2

cloves

Garlic

minced

3

White Anchovy Fillets

1/2

C

Olive Oil

2

T

Lemon Juice

fresh squeezed

1

t

Worcestershire sauce

1

t

Dijon Mustard

1

T

White Balsamic Vinegar

1/4

t

Black Pepper

fresh cracked

Kosher Salt

as needed

1/4

C

Shredded Parmesan Cheese
For the salad:
2

heads Romaine Lettuce

Olive Oil

Kosher Salt
Black Pepper

fresh cracked

Parmesan Cheese

shredded

Croutons

if desired

1/4

C

Red Onion

thinly sliced

1/2

C

Grape Tomatoes

halved
Instructions
For the dressing:
In a blender or food processor process the garlic, anchovies fillets, and olive oil until smooth. Drizzle in the lemon juice. Add the Worcestershire, dijon, white balsamic, and black pepper and pulse to combine. Taste and adjust the salt and pepper as needed. Finish with more white balsamic vinegar to thin into a vinaigrette if needed. Add the parmesan at the very end and pulse a couple of times just to combine.
For the salad:
Preheat your outdoor grill or grill pan over medium-high heat and lightly oil the surface.

While the grill is warming, slice the romaine heads in half lengthwise and drizzle the halves lightly with olive oil and season with salt and pepper. If you have an oil mister, use that to get an even spread of oil on the cut sides of the lettuce.

Place the lettuce halves cut side down on the HOT grill and cook for as little time as possible while achieving grill marks.

Remove the lettuce from the grill and spoon the dressing over the halves. Top with a few cracks of black pepper, some parmesan cheese, croutons, red onion, and tomatoes. Enjoy!
Notes
You can turn this into an entree salad by adding some grilled chicken breast on top. I do this often in the summer for a quick and light summer lunch or dinner.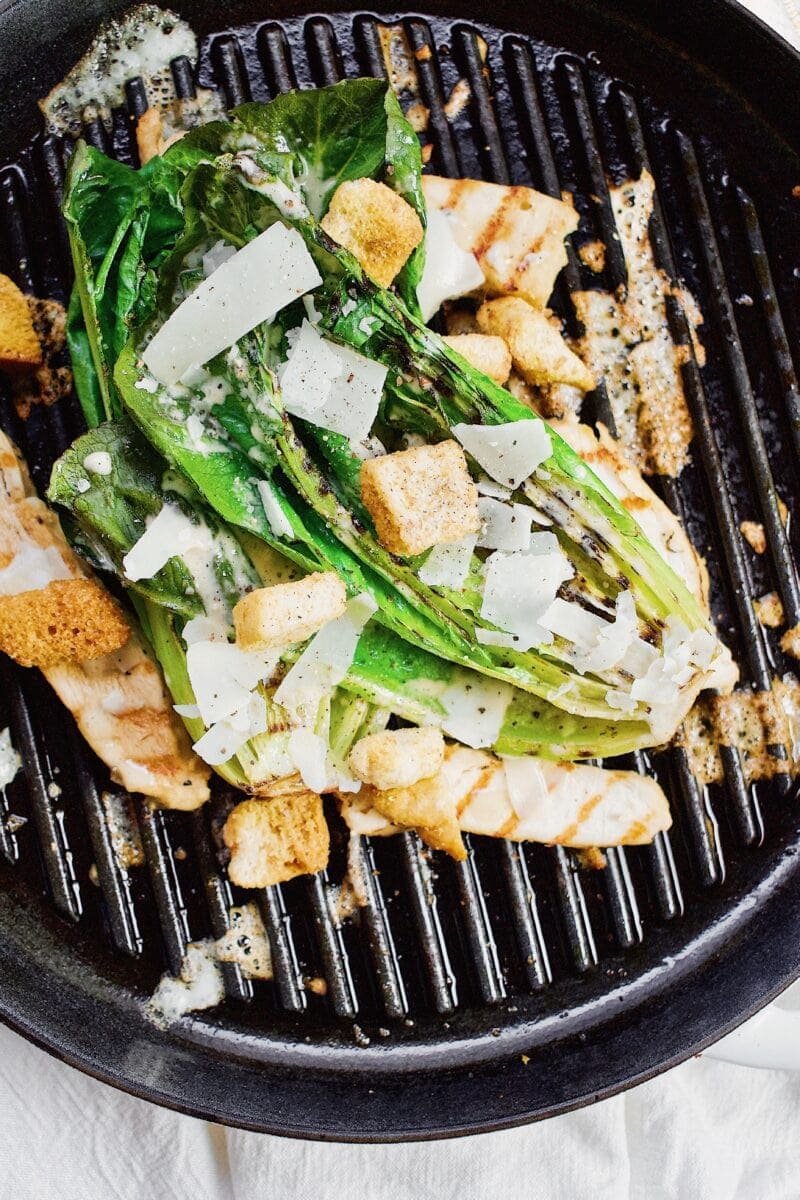 If you make this recipe, please let me know by leaving a review at the bottom of this page!
And make sure to sign up for my newsletter and follow along on Instagram, Pinterest, and Facebook for more KendellKreations!
MY LATEST RECIPES!
Get my NEW e-Cookbook here!! ⬇️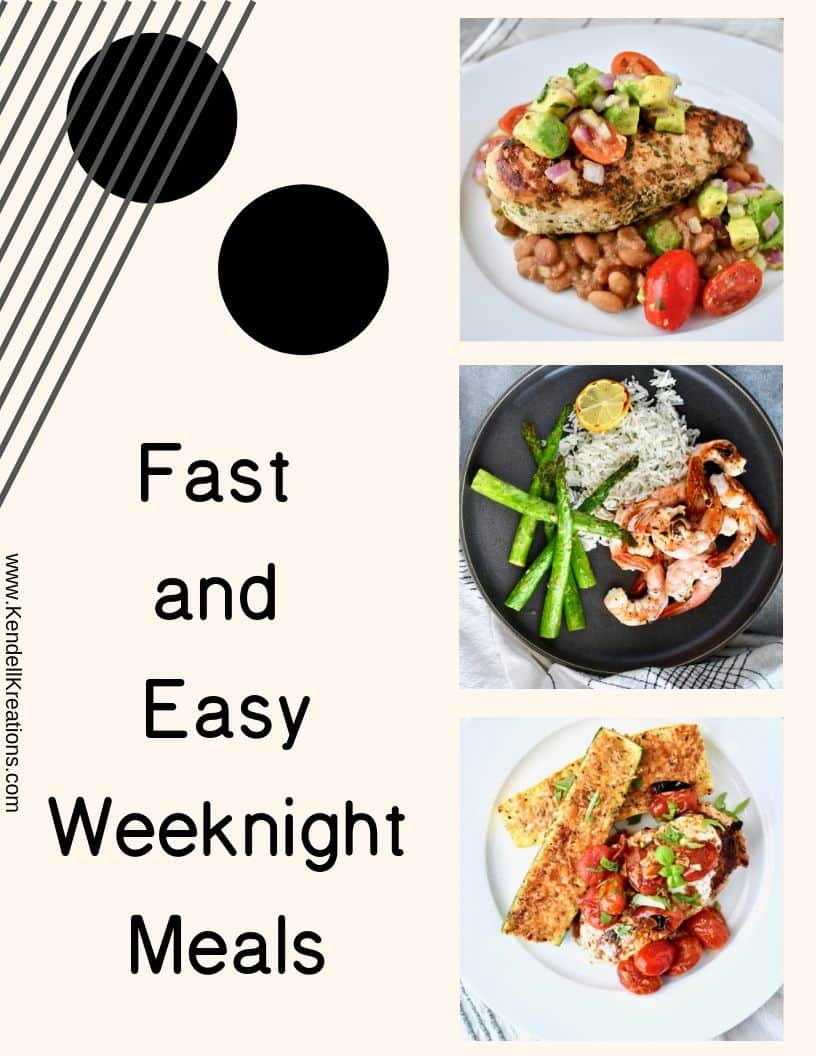 MY FAVORITE KITCHEN TOOLS!
Here are a few links to some of my favorite kitchen tools! You get a car, YOu get a car, YOU ALL GET A CAR…in my best Oprah voice
These Rösle Silicone Tongs are a little pricey but they will last you the rest of your life and are the softest in your hand. This is important for someone like m that cooks so much. It reduces strain, I have 4 sets in my kitchen!
These are my FAVE Nordic Ware Sheet Pans, every kitchen should have at least 2 sets of these! I think I have at least 4 of each of these.
This is my favorite pressure cooker, the Fagor is the same concept as the "Instant Pot" but easier to use in my opinion, if you don't have one you NEED one, it will be your best friend in the kitchen!
A sharp knife is the most important tool in the kitchen, these Japanese steel "Shun" knives are my favorite! And this is a great starter set to build on. Once you try them you will be in love so use this as a foundation you can build on for years to come.
This Scanpan 11″ skillet is just the right size for almost anything you will need to cook and my best friend and a real workhorse in my kitchen, it's also a great deal at $99. Scanpan is the best in the world for healthy cooking. It is coated with a proprietary ceramic-titanium coating that is durable while allowing you to use fewer fats and oils when cooking. It is a coating only they use. I could talk all day about my love for these pans, message me if you want more info. Here are some other sizes that are available if you are looking to outfit your kitchen with some new goodies. 8″ & 10″ Skillet set or 8″ Skillet, I still need this one for my kitchen Also, I don't really know how to cook small so the 12.5″ is my other fave!
This giant vat of olive oil is my favorite, I decant it into a smaller bottle for my counter. Or put this spigot on top of a wine bottle!
My favorite baking dish that is so easy to clean even burnt on cheese slides right off!
This Tovolo jar scraper has to be my single favorite kitchen tool, it is definitely the most used tool in my kitchen. If you are NOT a gadget person, this is the only necessity I say is a MUST beyond the wooden spoon.
A great wood spoon is essential, this Olive Wood one is my favorite, I have more than I can count. But can you really ever have too many?
A food scale can be a very important tool in your kitchen, this one is the one I use every day!
If you love Joanna Gaines as much as I do then the 'Magnolia Table Cookbook' is a must in your kitchen, get a copy HERE!