Last summer I shared a few versions of my favorite Greek Salad and this year's obsession is Caesar. This Grilled Caesar Salad is one that I remember from a restaurant that I worked in and I have recreated it for you here. It is a great side dish for grilling season and just needs a quick second on the hot grill.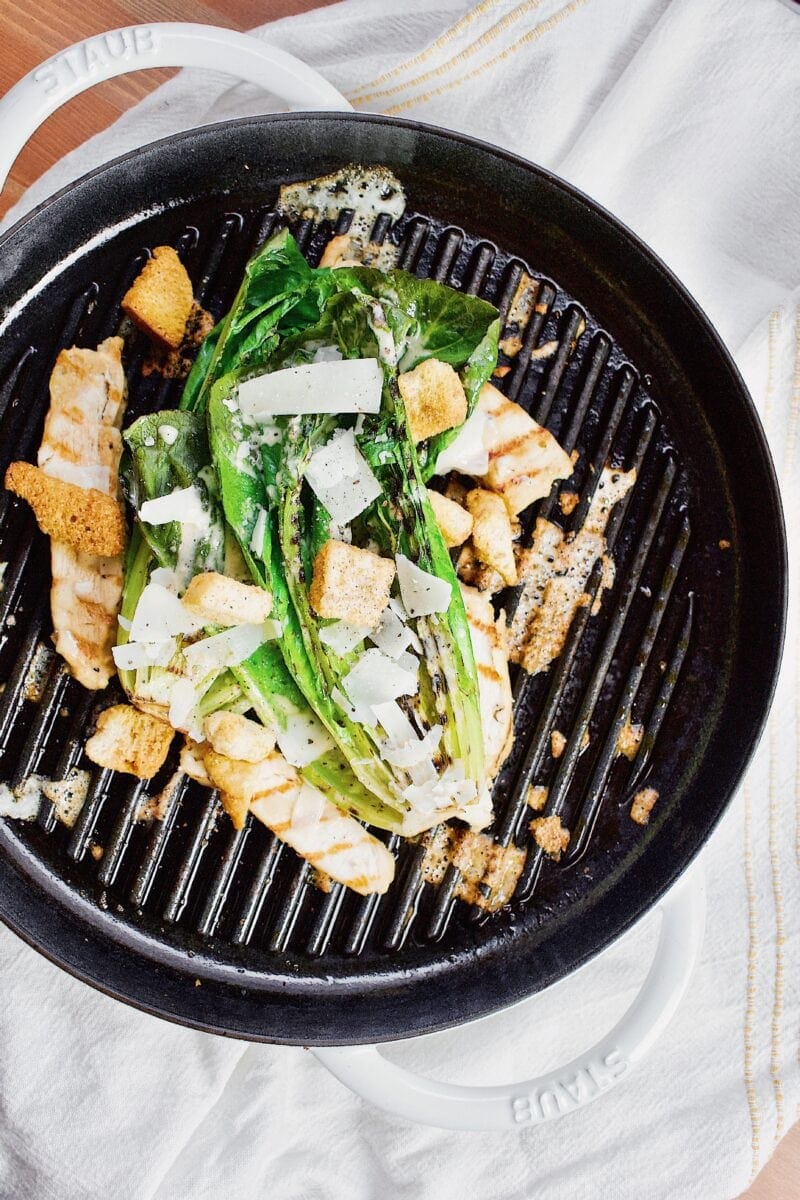 This salad is quick, easy, and refreshing. I could eat it all year long, but it is really nice in the summer. I even top it with some grilled chicken from time to time to make it a meal in itself.
How to make a Grilled Caesar Salad:
The main key to success here is a HOT, HOT grill! You want to cook the lettuce as quickly as possible, but not wilt it more than you need to. I use spray oil to make sure I get an even coat of oil over the surface of the cut lettuce, this will ensure grill marks and help it brown quickly.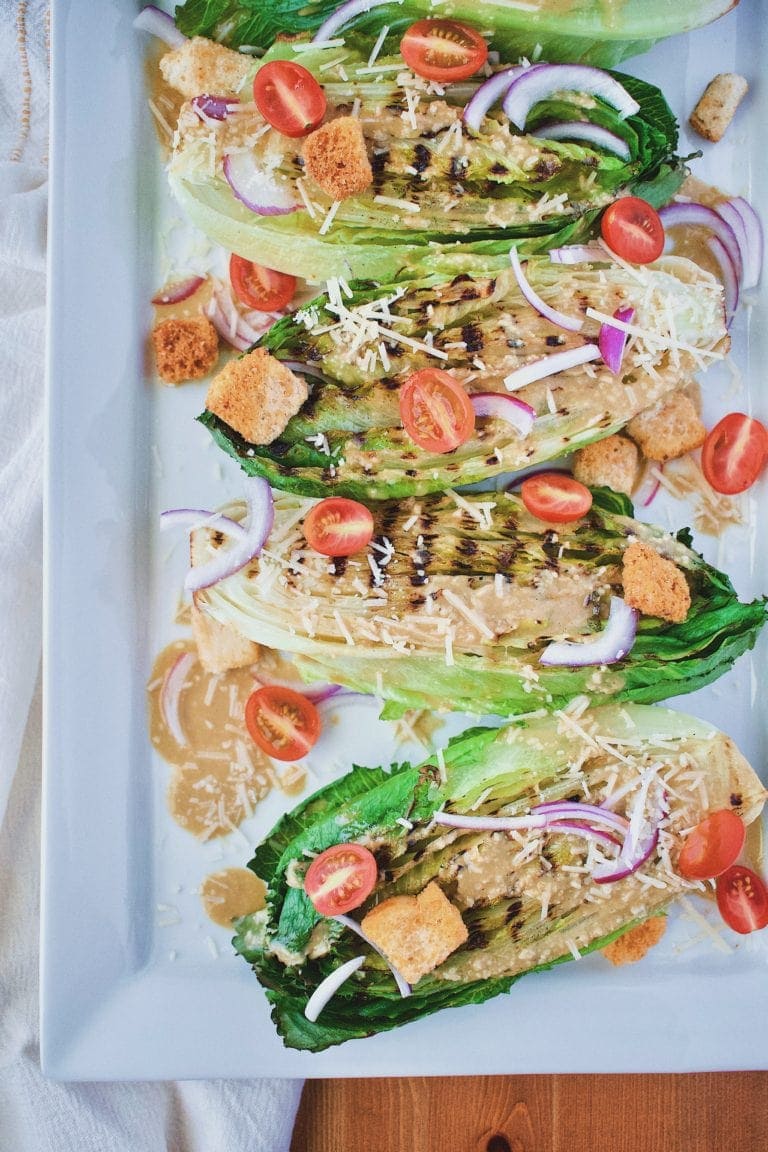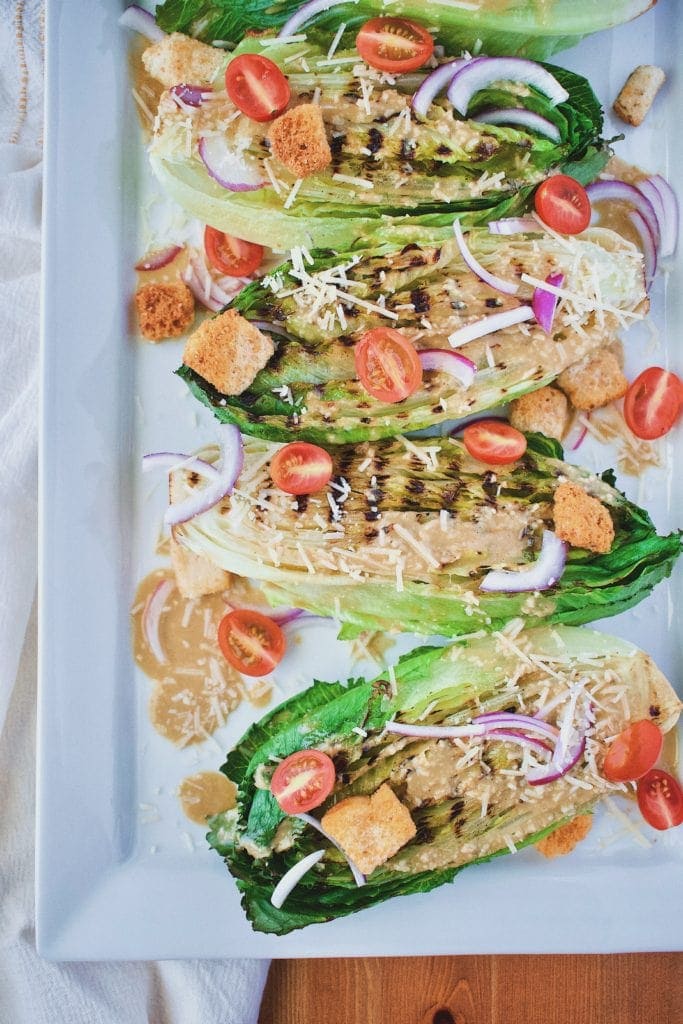 The next best thing to have is a great fresh dressing. I have included a recipe for one in the recipe. I like one that is Caesar at heart, but thinner and lighter for summer grilling.
If you just can't do the anchovies, feel free to leave them out. But I even got this one down to a good even flavor that even the pickiest person in my house didn't know it had anchovies. They just round out the flavor so nicely and using the white anchovies provides a lighter flavor all around.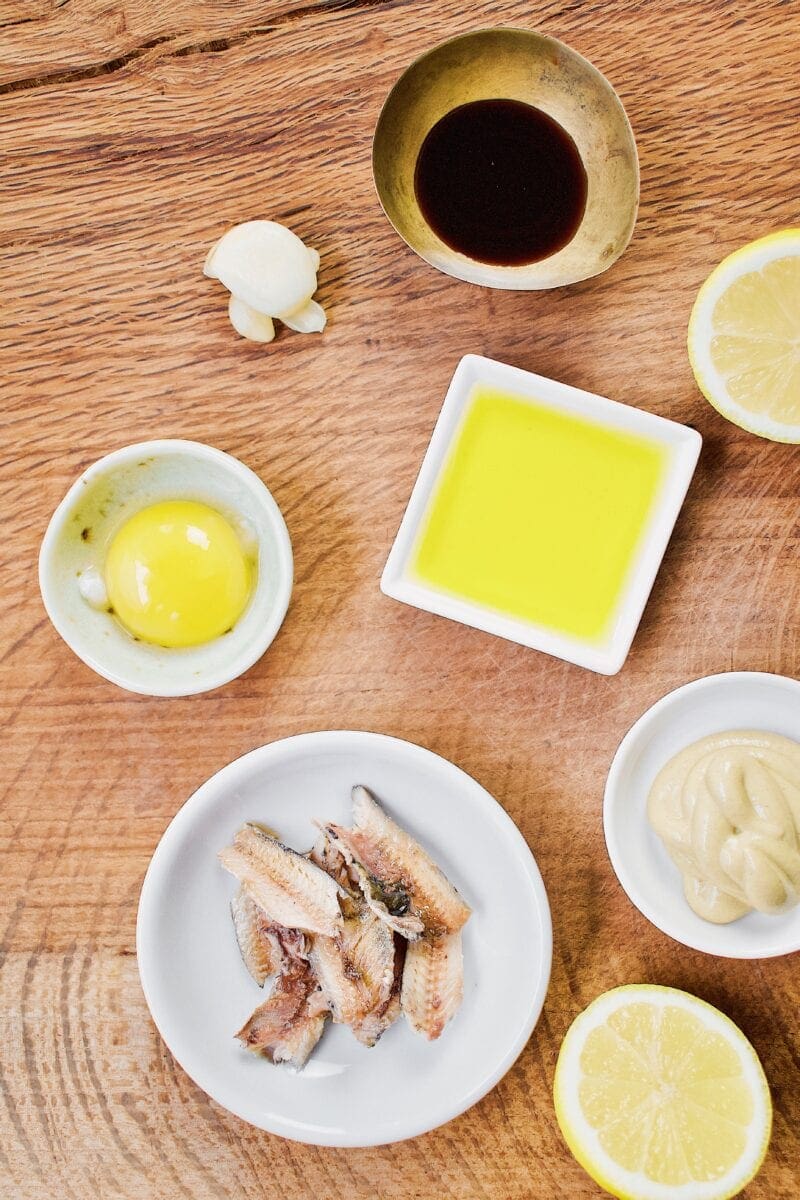 Of course, you can top your salad with whatever you like, these are just my suggestions. I love a Caesar salad that has some red onions on it. It is just my own little thing, but nowadays a non-negotiable. It is something a restaurant my family used to frequently did, and I have always loved it.
You might be looking at me crazy when you see the tomatoes too. I know that the traditional recipe just calls for lettuce, dressing, parm, and croutons, but I like to round out all the flavors with some baby tomatoes. When they are in the high season they are so good and this dressing loves them.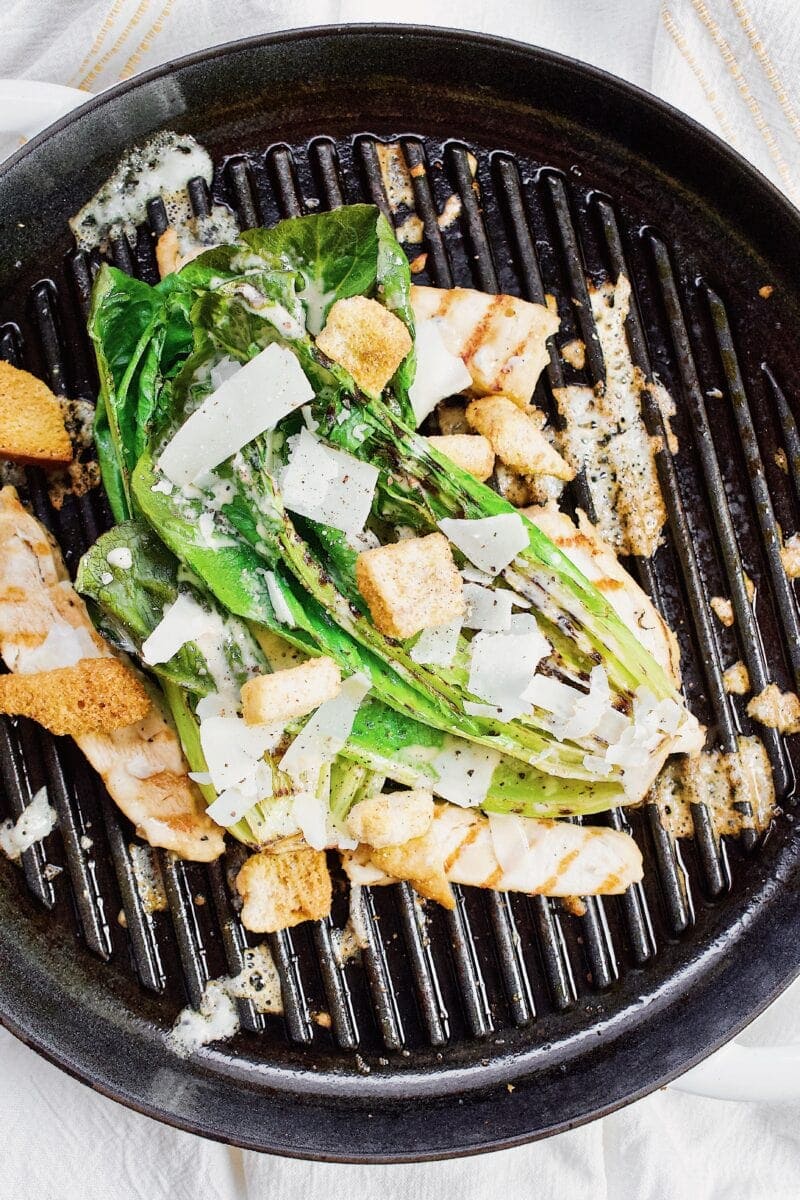 Serving your Salad
What I love about this salad is that I can quickly grill it up and throw it on a platter and serve a crowd, or just make a single serving. Dress it up for a crowd or a BBQ like you see in my photos or even make a single serving. And like I said, the addition of some grilled chicken makes it a meal!
This makes a quick and easy side dish for your next cookout or backyard barbeque. If you want to use it in the application, I would suggest prepping everything ahead of time. Have everything except the lettuce cut, and ready, and then grill the lettuce at the last second.
You can even cut the lettuce, cover with a damp paper towel and store in the fridge the night before. Then spray with the oil and season just before it hits the grill.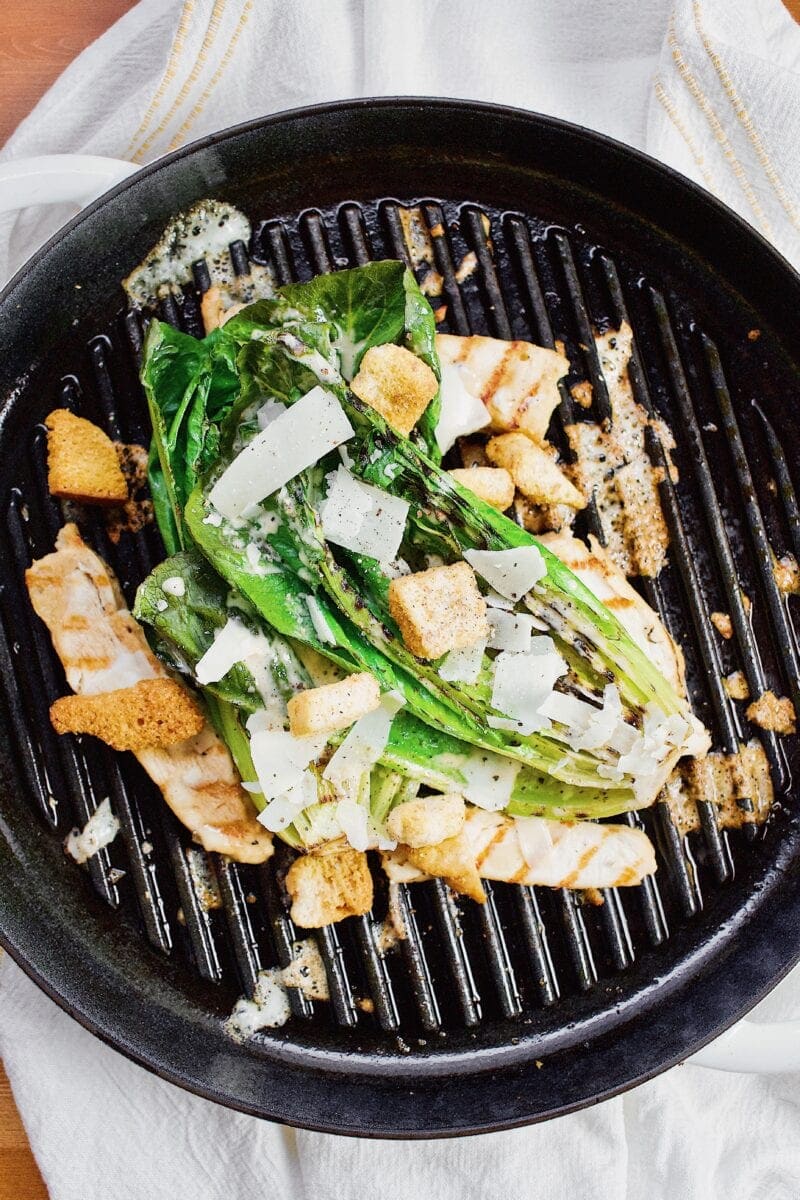 I hope you enjoy this take on a classic Caesar, it is just a little different and takes you salad from basic to Fantastic! Give it a go, I think you'll like it!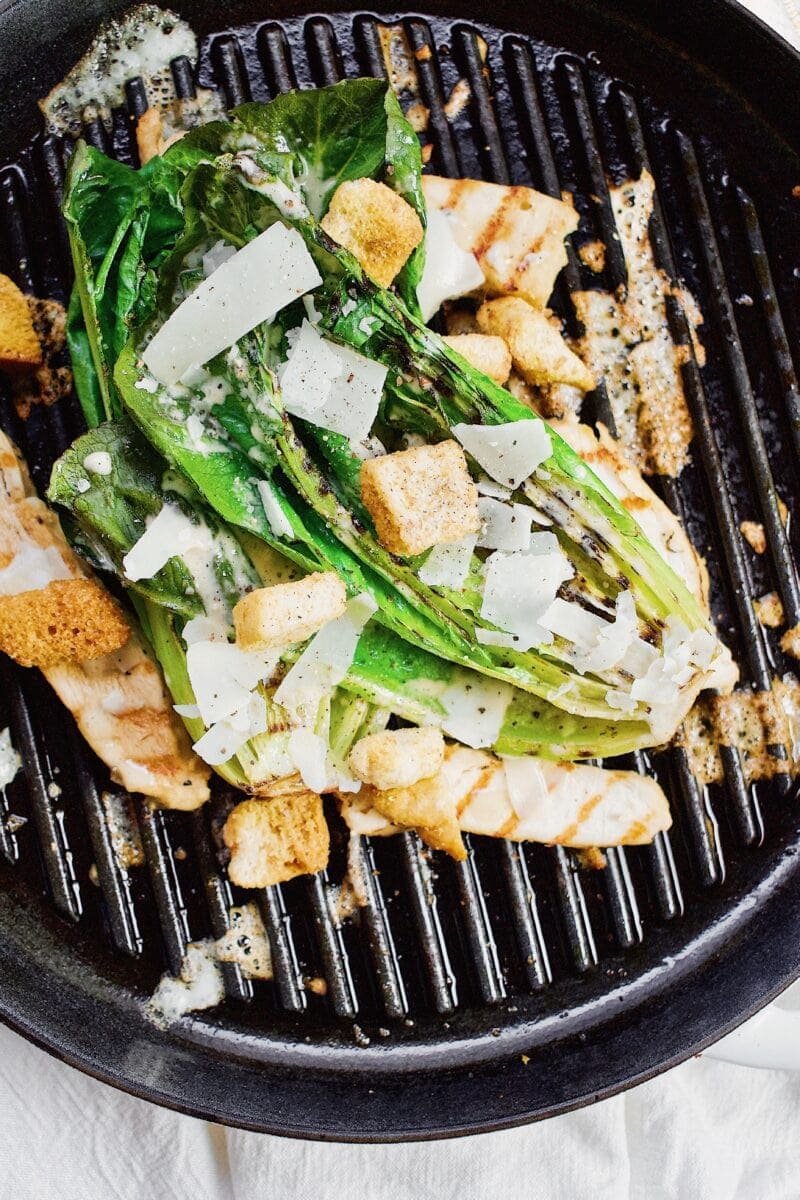 Did you make this recipe? Let me know by leaving a review or comment! And be sure to sign up for my newsletter, and follow along on Instagram, Pinterest, and Facebook!