This is the epitome of why I love cooking at home. I enjoy a pizza out as much as the next person, but the sticker shock of what a pizza costs often has me running out the door. Pizza is one of the most inflated restaurant items, so when I am craving it I simply make it at home and enjoy a Homemade Pizza Party!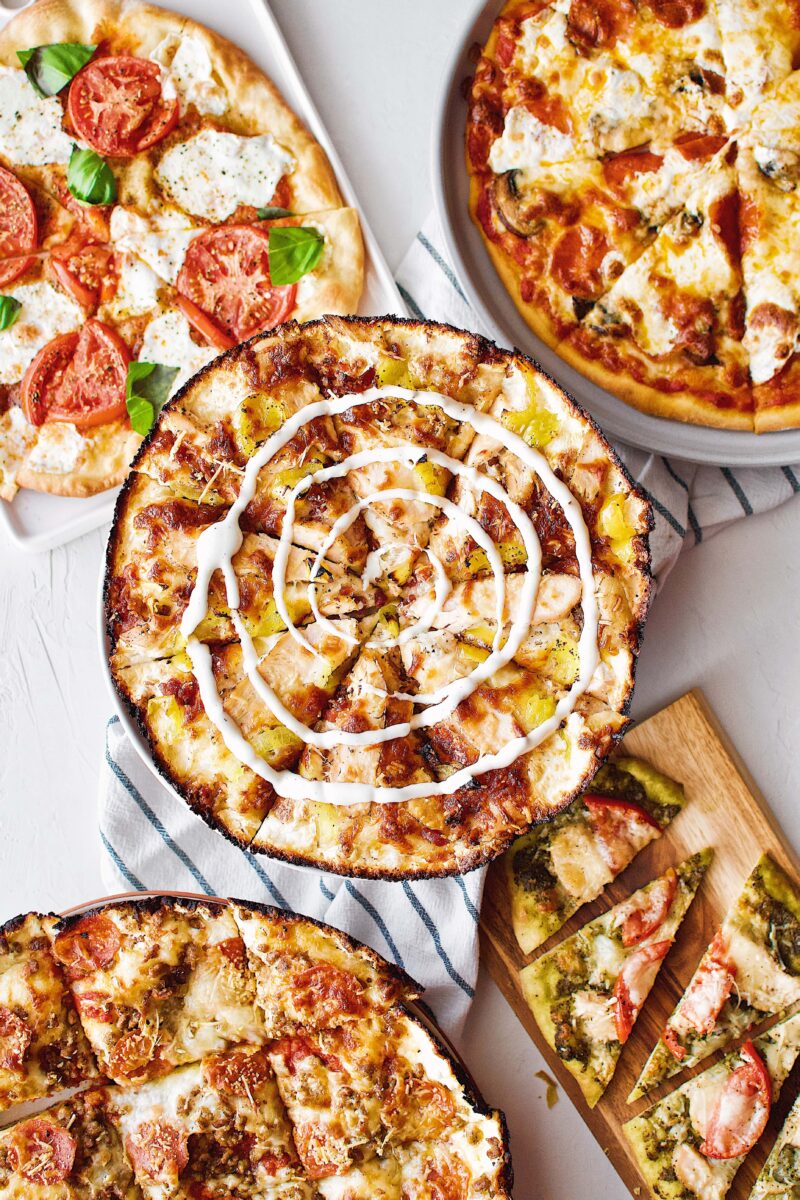 I am sharing the recipe as part of a series explaining how I only grocery shop 20-24 times a year. I push myself to plan for about 14 meals at a time and then grocery shop for each of them all at once! It takes an entire day to shop, organize, separate and freeze proteins, and unwrap and wash all fruits and vegetables, but it is 100% worth it to only shop 1-2 times a month.
Here I will share mainly some inspiration for how I plan and execute pizza night at home, and pointing you in the direction of my favorite crust recipe. So let's dive into what types of pizza are my favorites to make and get the recipe for the most delicious and decadent crust!
The BEST crust EVER!
At the beginning of 2020, I was mesmerized by the pizza recipe that was shared by King Arthur Baking and their declaration that this would be the year of the pizza! The recipe they were highlighting was one that they declared a Detroit style crust that is a deep dish with a crispy cheesy crust. I made it the first time EXACTLY as the recipe dictated, but I have since used the dough recipe as a base for endless configurations.
I have really fallen in love with this recipe and pizza has become quite the weekly affair. I have two cast-iron pans I cook this recipe in, one is 16-inch that I make a double batch of dough for, and a 12-inch that I make a single batch for. THE BIGGEST SECRET, use a scale and measure the ingredients out in grams!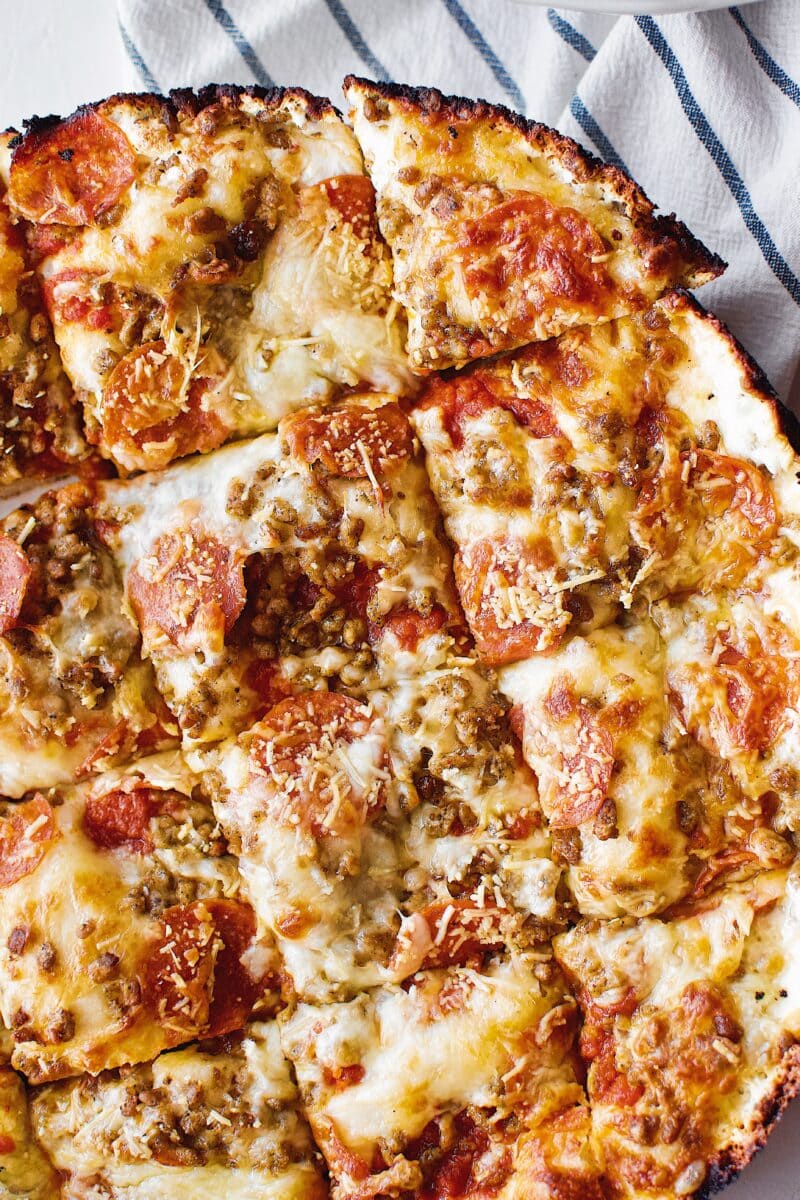 The scale is your friend here. Only once did I try too quickly to just toss it together to get it done, and the results were nowhere near what I had experienced before. THIS SCALE is the one I use and perfect for any home kitchen!
Now lets talk pizza variations!
I grew up in a family that favored the "meat and potatoes" when it came to dinner so a meat lovers pizza is always a request when I cook for my family. I am a big fan of a white pizza with chicken and bacon and sometimes a few banana peppers and a squeeze of ranch dressing. How ever you like it, lets run through a few combos to give you some inspo!
Classic Margherita
A perfect pizza dough and a few fresh ingredients is all you need to make this classic pie.
Tomato Sauce
Fresh Mozzarella
Sliced Tomatoes
Fresh Basil Leaves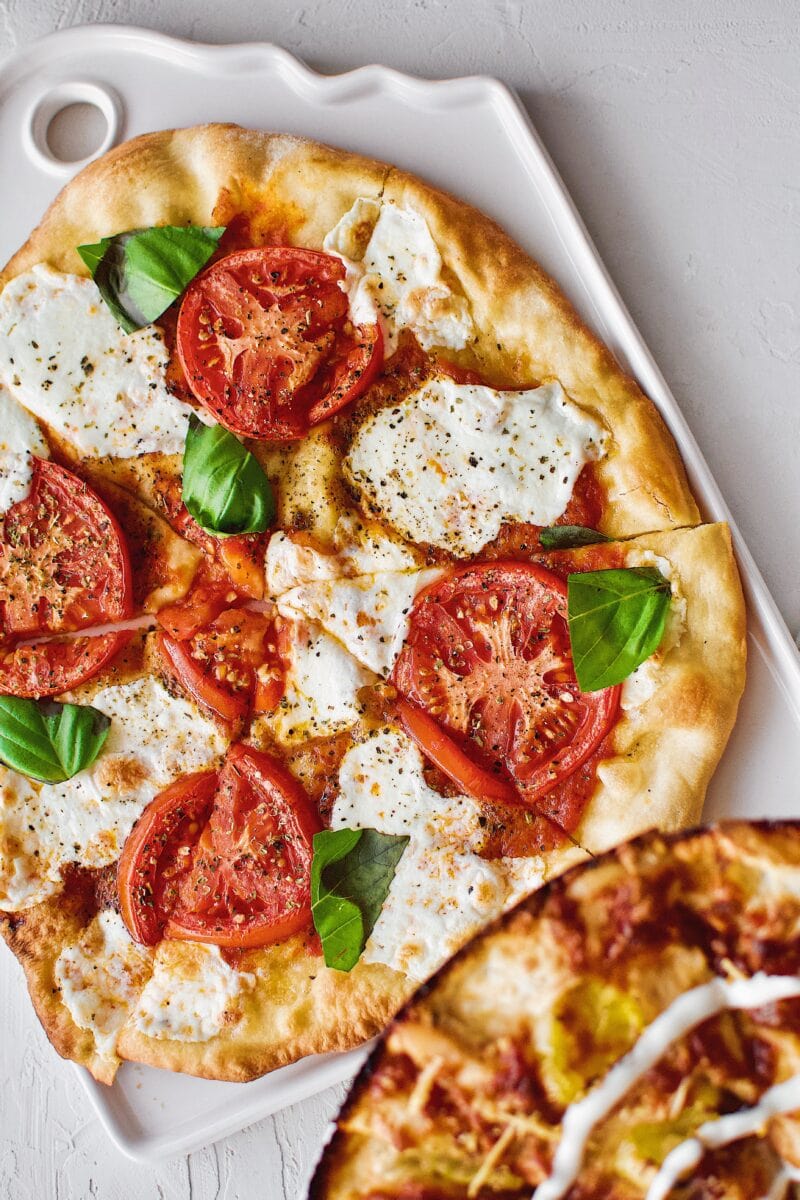 Meat Lovers
This one leaves you open to a bit of interpretation, but at a minimum, I always include pepperoni and sausage with loads of cheese!
Pepperoni
Sausage, Pork, Beef, Italian, or all of the above!
Ham
Bacon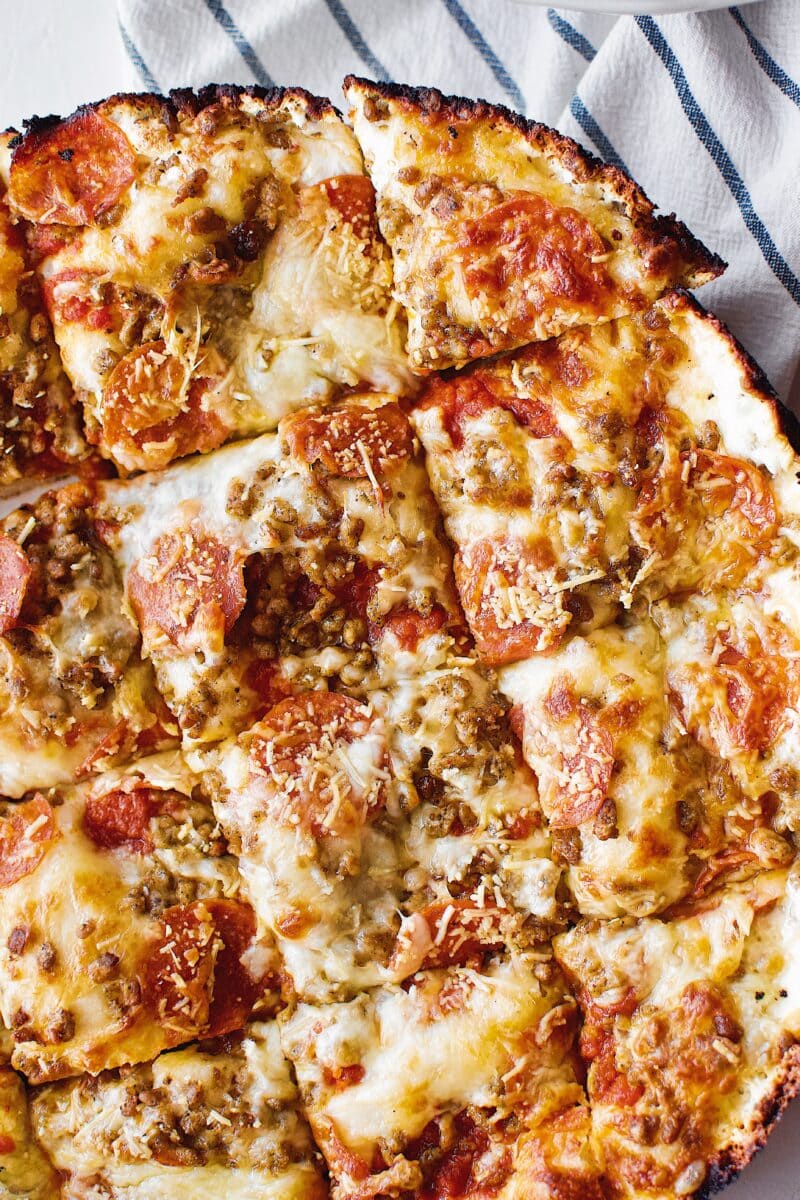 Chicken, Bacon, Ranch
This might be my personal favorite. Use a white sauce or simply a drizzle of olive oil then finish with a drizzle of ranch. I sometimes like to add the pickled banana peppers for some extra zing!
Cooked Chicken Breast slices
Bacon Bits
Pickled Banana Peppers
Ranch Dressings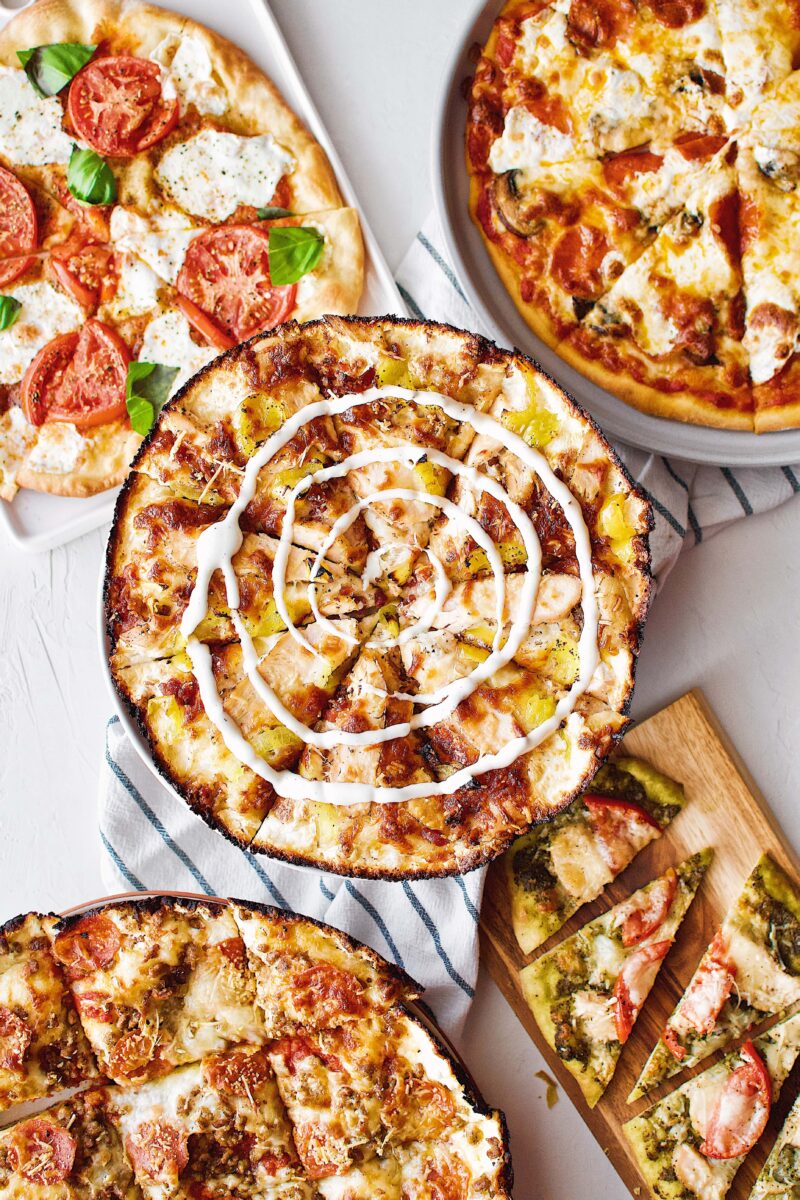 Pepperoni and Mushroom
My sister ALWAYS requests this one. She loves it, my secret is to layer in this order...sauce, pepperoni, cheese, mushrooms, pepperoni, cheese! The double pepperoni makes all the difference!
Pepperoni
Crimini Mushrooms
Mozzarella and Parmesan Cheese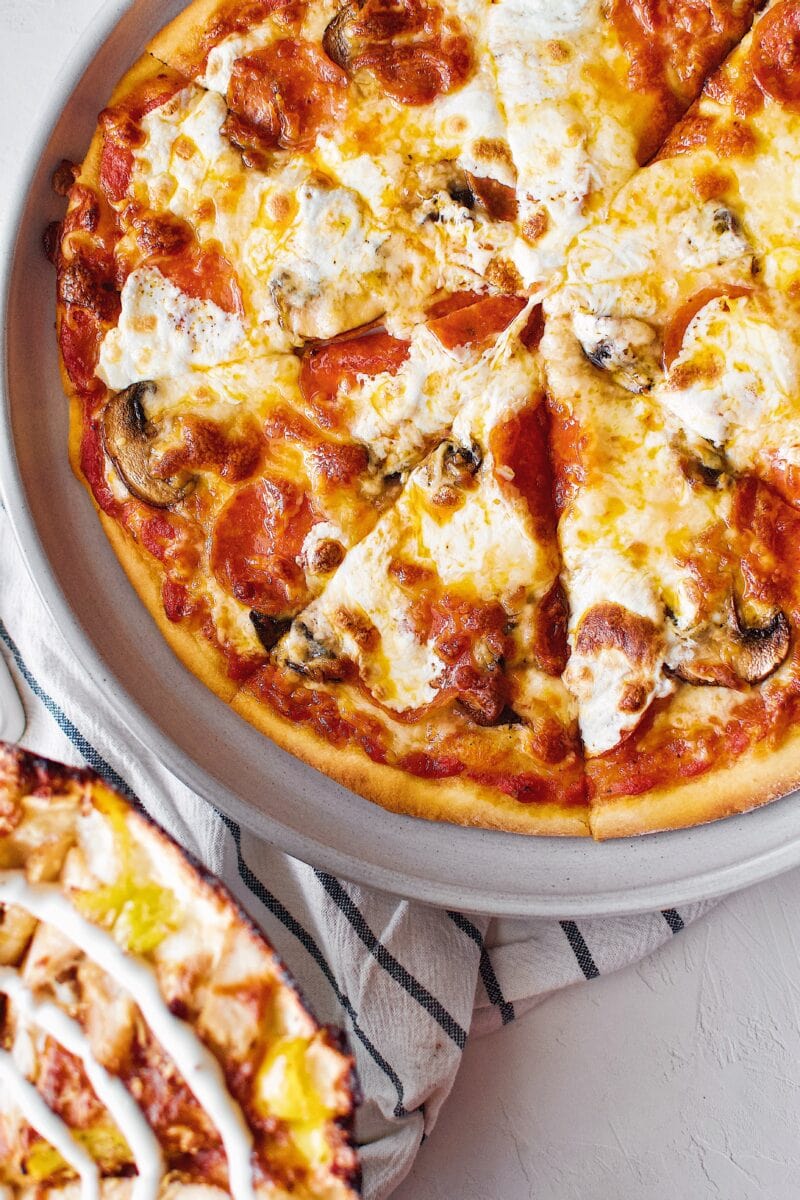 Pesto Chicken Pizza
I love the earthy, herby flavor of pesto and pizza crust. Super simple flavors, but so delicious!
Pesto
Cooked Chicken Breast slices
Tomato Slices
Salt, Pepper, and Oregano before cheese on top
Mozzarella and Parmesan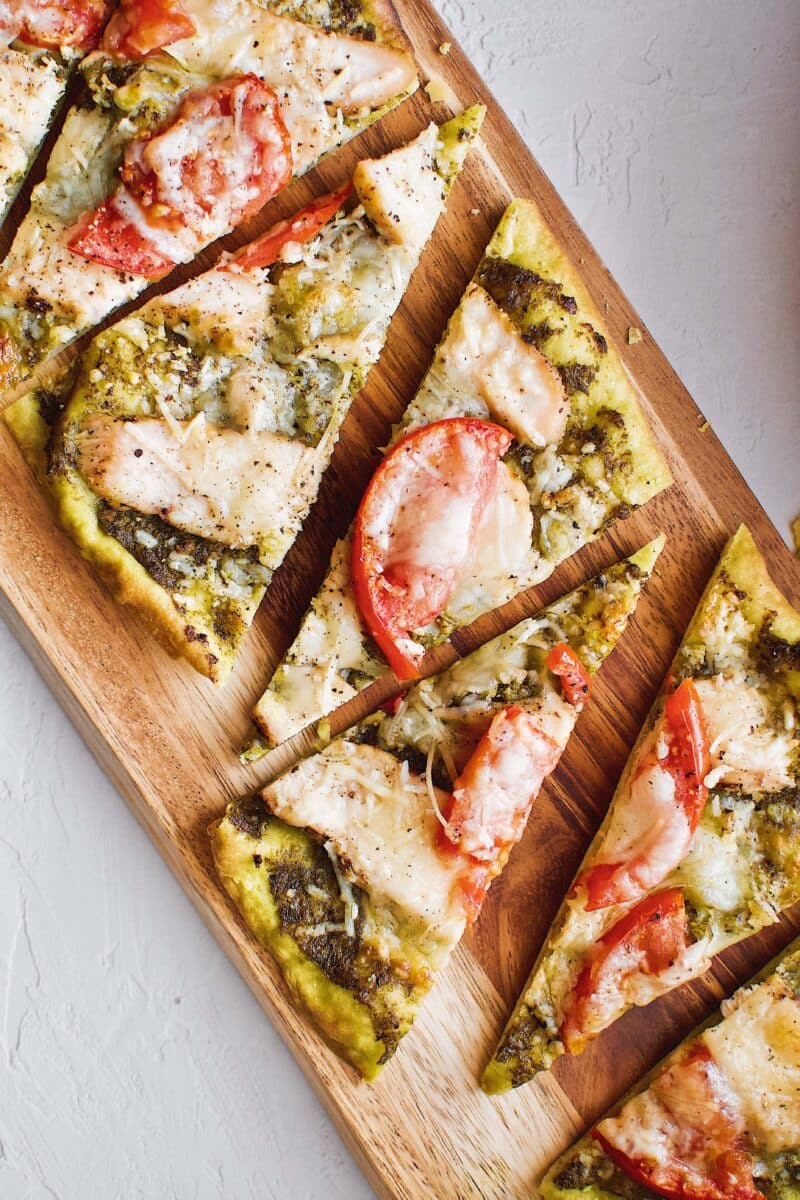 Of course, the possibilities are endless these are just a few of my favorite flavor combos. Just use that dough recipe, you can top it any way you like!
For the thin crusts, I used THIS RECIPE!
The $$$ Breakdown!
As you might tell, I made all 5 of these pizzas for a friday night Homemade Pizza Party. This cost breakdown is for 5, yes you read that right 5 pizzas! Like I mentioned at the top, I am always blown away at how much pizza costs to eat out. Cooking at home is ALWAYS cost effective and I can get it exactly as I like it!
$0.54 - AP Flour
$0.56 - Olive Oil
$2.79 - Shredded Mozzarella
$2.99 - Fresh Mozzarella
$1.99 - Parmesan
$1.75 - Tomato Sauce
$1.66 - Pepperoni
$0.99 - Mushrooms
$0.99 - Pesto
$0.79 - Fresh Tomatoes
$2.13 - Chicken Breast
$1.00 - Bacon
$0.50 - Banana Peppers

Total Cost for 5 pizzas: $18.68
I hope you give making pizza at home a try. It really is simple and you only limit is your imagination. Enjoy!
MY LATEST RECIPES!
Get my NEW e-Cookbook here!! ⬇️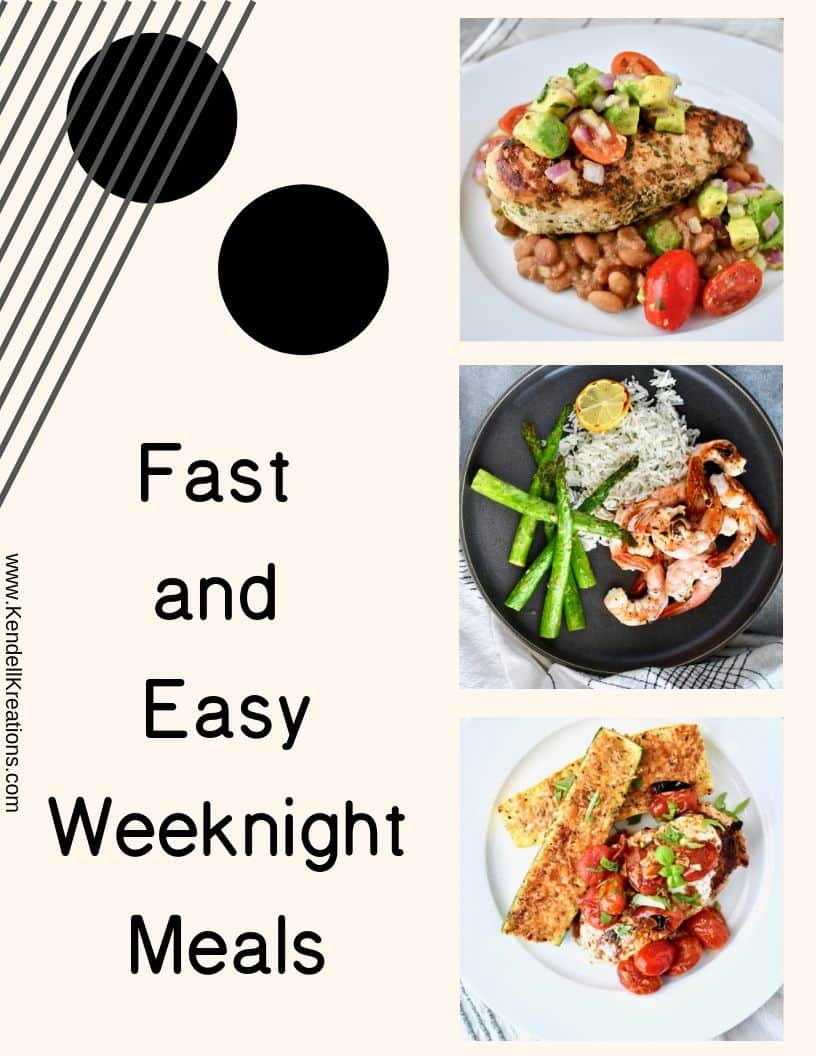 MY FAVORITE KITCHEN TOOLS!
Here are a few links to some of my favorite kitchen tools! You get a car, YOu get a car, YOU ALL GET A CAR…in my best Oprah voice
These Rösle Silicone Tongs are a little pricey but they will last you the rest of your life and are the softest in your hand. This is important for someone like m that cooks so much. It reduces strain, I have 4 sets in my kitchen!
These are my FAVE Nordic Ware Sheet Pans, every kitchen should have at least 2 sets of these! I think I have at least 4 of each of these.
This is my favorite pressure cooker, the Fagor is the same concept as the "Instant Pot" but easier to use in my opinion, if you don't have one you NEED one, it will be your best friend in the kitchen!
A sharp knife is the most important tool in the kitchen, these Japanese steel "Shun" knives are my favorite! And this is a great starter set to build on. Once you try them you will be in love so use this as a foundation you can build on for years to come.
This Scanpan 11″ skillet is just the right size for almost anything you will need to cook and my best friend and a real workhorse in my kitchen, it's also a great deal at $99. Scanpan is the best in the world for healthy cooking. It is coated with a proprietary ceramic-titanium coating that is durable while allowing you to use fewer fats and oils when cooking. It is a coating only they use. I could talk all day about my love for these pans, message me if you want more info. Here are some other sizes that are available if you are looking to outfit your kitchen with some new goodies. 8″ & 10″ Skillet set or 8″ Skillet, I still need this one for my kitchen Also, I don't really know how to cook small so the 12.5″ is my other fave!
This giant vat of olive oil is my favorite, I decant it into a smaller bottle for my counter. Or put this spigot on top of a wine bottle!
My favorite baking dish that is so easy to clean even burnt on cheese slides right off!
This Tovolo jar scraper has to be my single favorite kitchen tool, it is definitely the most used tool in my kitchen. If you are NOT a gadget person, this is the only necessity I say is a MUST beyond the wooden spoon.
A great wood spoon is essential, this Olive Wood one is my favorite, I have more than I can count. But can you really ever have too many?
A food scale can be a very important tool in your kitchen, this one is the one I use every day!
If you love Joanna Gaines as much as I do then the 'Magnolia Table Cookbook' is a must in your kitchen, get a copy HERE!