This beautiful old world recipe is one that will transport right to the emerald isles. It is a recipe that has been being made for generations, and once you make it you will understand why. It uses ingredients that would have been readily available on the farm and I can see why this Potato Bread was and is a part of everyday life.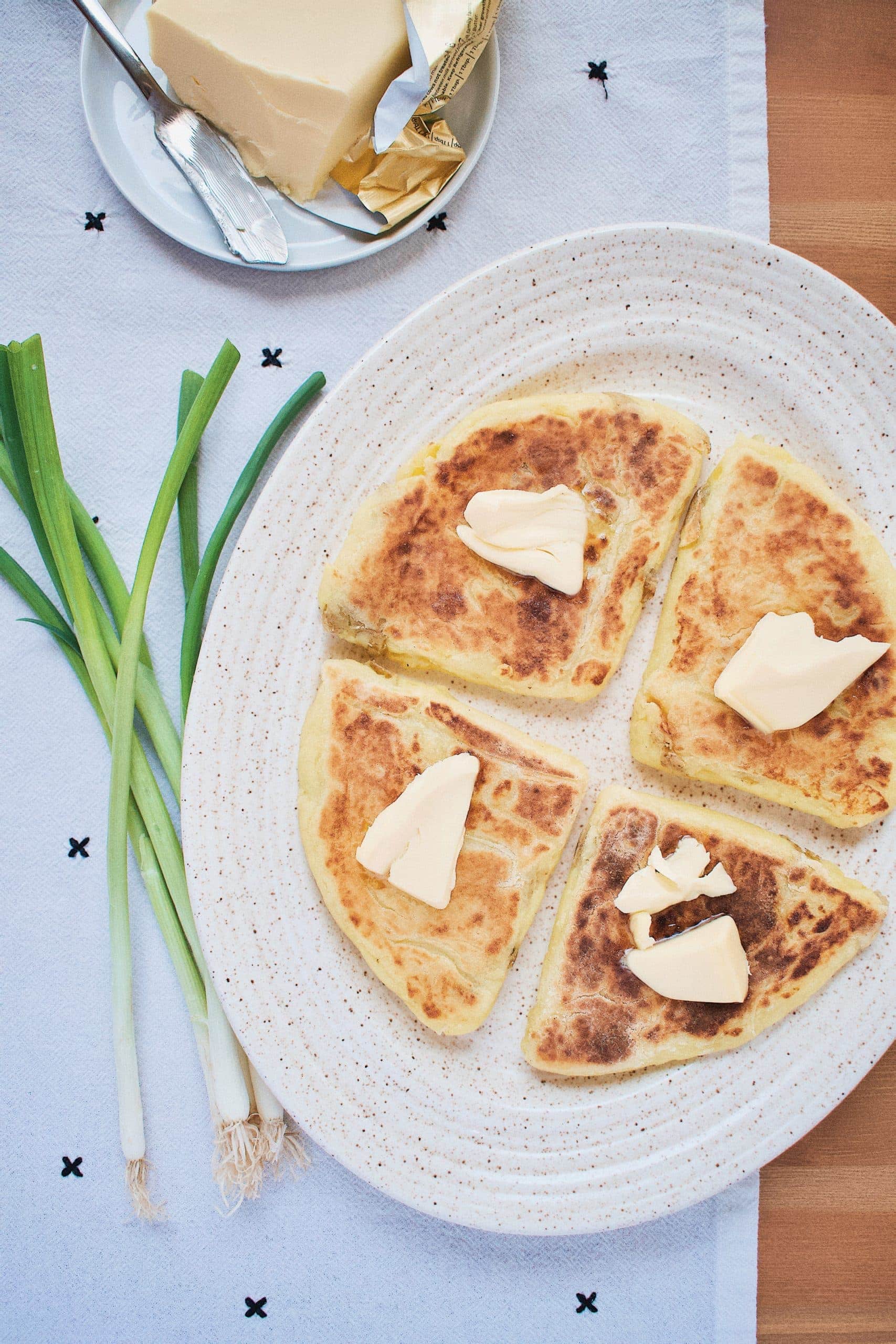 I had never really heard of or experimented with a potato bread recipe like this one before I began playing with it so I could share it with you here on the blog. It is a similar technique and cooking method as the Soda Bread that I just shared a few days ago. This classic side dish is something I would love to see revived, it is 100% delicious and I mean, when can you go wrong with potatoes and butter!?
Potato Bread at Home!
So as you might imagine, if this was a recipe that was being made on the daily, it is super simple to make. If you can boil water and mash some potatoes, you can make this bread.
Like the soda bread that I mentioned above, I believe this may have been a recipe that was a stepping stone toward the English Muffin. In my eyes, they must be cousins because the cooking method is so similar.
This recipe begins with cooked and mashed potatoes that have been seasoned with a little butter and salt. That simple, potatoes, butter and salt with the addition of just enough flour to make the mixture slightly bready. The steam of the warm potatoes and the butter allow the mixture to puff slightly when cooking, but other than that there is no leavener and the finished product is a bit like a potato pancake.
And as in true Irish fashion, it is suggested that you top them with a heaping helping of Irish butter! Everything gets some butter on top in Ireland. And I can't say I am mad about it, it was also one of the good things they would have had around if there was a cow on the farm, so heap it on and enjoy!
This Irish Potato Bread also makes a great addition to your St. Patrick's Day feast, I have also shared recipes for Soda Bread, Irish Shortbread, Colcannon Potatoes, Corned Beef and Cabbage, and my Nextover recipe for Ruban Casserole.
If you can't tell, I love celebrating a holiday and these recipes are actually a few of my favorites that I look forward to having every year! I hope you enjoy them as much as I do, now go get cooking!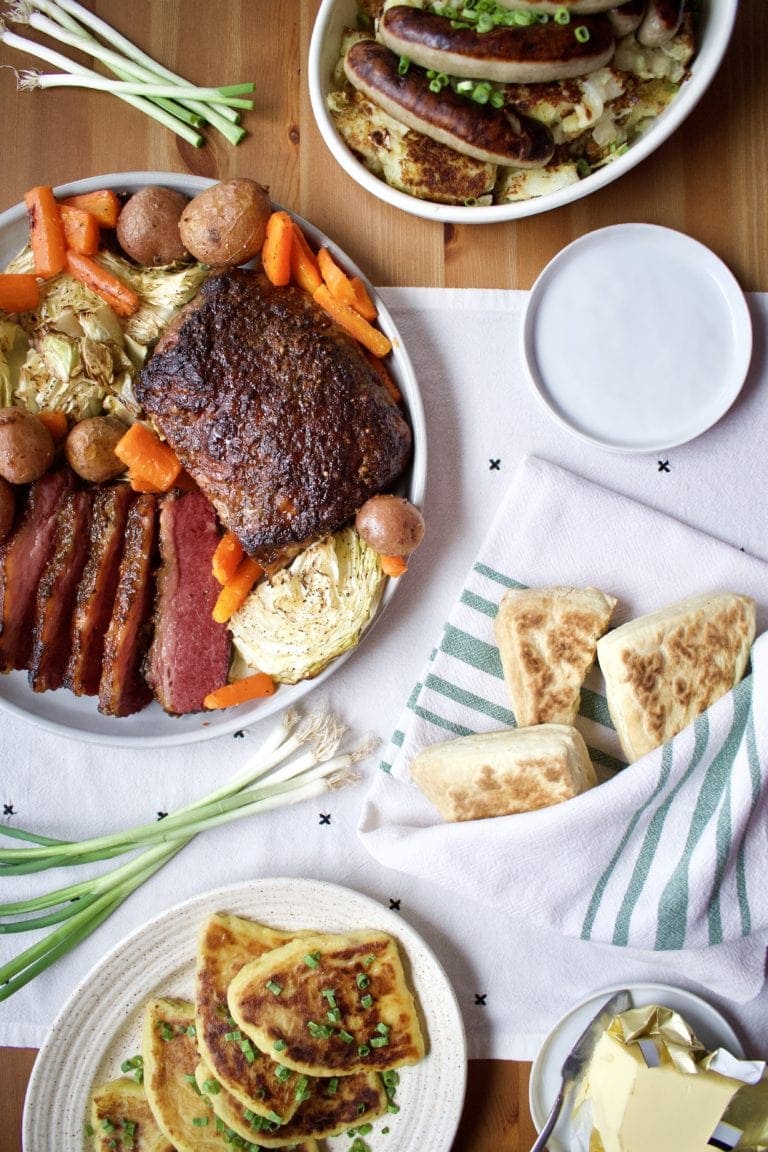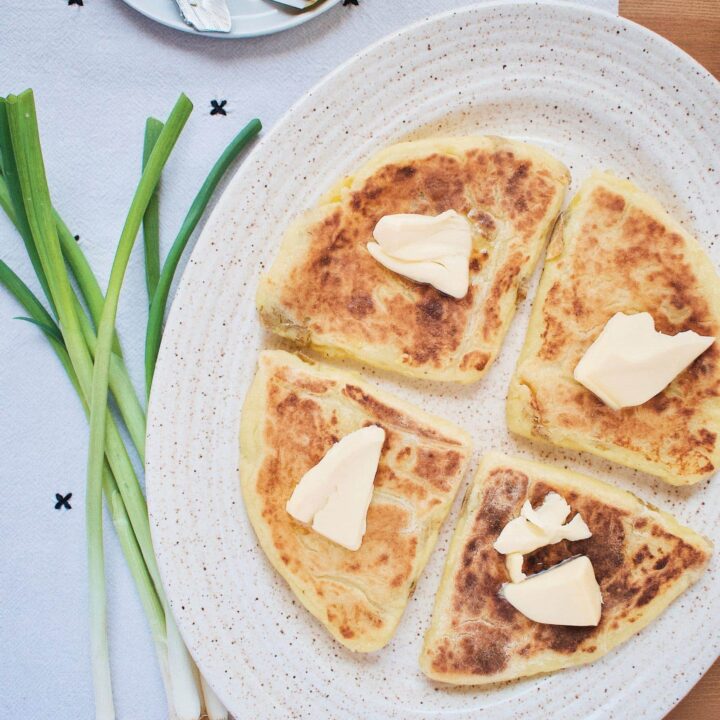 Irish Potato Bread
This potato bread recipe is one that is right out of the pages of your medieval novels. Traditionally made over a stone hearth, it has stood the test of time and is a proven winner.
Ingredients
1 lb Yukon Gold Potatoes, peeled & diced
1 tablespoon Irish Butter
1 teaspoon Kosher Salt
½ cup All-Purpose Flour
Instructions
Boil and mash the potatoes.
Add the butter and salt and mix to combine.
Add enough flour to make a stiff dough, adding more if needed to keep it from being sticky.
Cut the dough into two pieces and flatten them to about ½ inch thickness. Cut the rounds into farls (quarters) and bake on a lightly floured griddle or skillet, turning over as needed until browned of both sides.
You will notice that the quarters puff up a bit when finished but will flatten as they rest.
Serve with a generous ration of butter alongside your corned beef and cabbage.
Notes
I want to give this a couple more tries with some additions to the dough, I think some green onions would be good inside and could even see it with a seasoned sour cream or yogurt on top. Use your imagination and run wild.
Nutrition Information:
Serving Size:

1 grams
Amount Per Serving:
Unsaturated Fat:

0g
If you make this recipe, please let me know by leaving a review at the bottom of this page!
And make sure to sign up for my newsletter and follow along on Instagram, Pinterest, and Facebook for more KendellKreations!
MY LATEST RECIPES!
Get my NEW e-Cookbook here!! ⬇️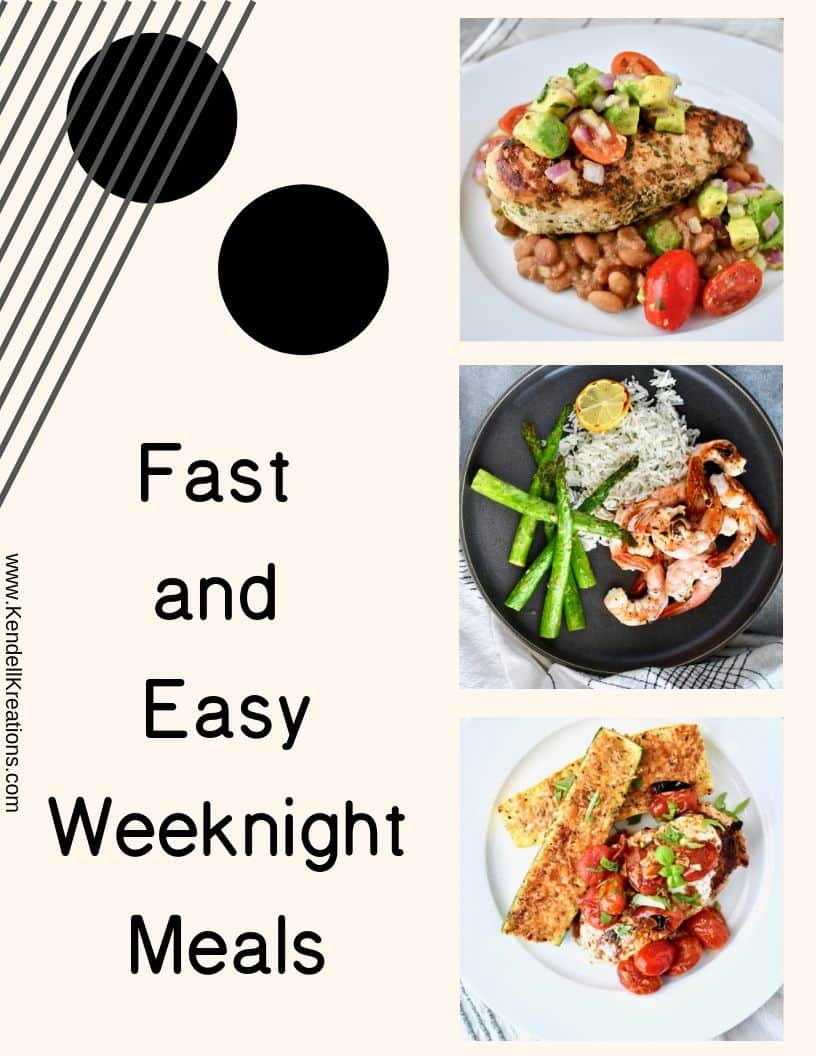 MY FAVORITE KITCHEN TOOLS!
Here are a few links to some of my favorite kitchen tools! You get a car, YOu get a car, YOU ALL GET A CAR…in my best Oprah voice
These Rösle Silicone Tongs are a little pricey but they will last you the rest of your life and are the softest in your hand. This is important for someone like m that cooks so much. It reduces strain, I have 4 sets in my kitchen!
These are my FAVE Nordic Ware Sheet Pans, every kitchen should have at least 2 sets of these! I think I have at least 4 of each of these.
This is my favorite pressure cooker, the Fagor is the same concept as the "Instant Pot" but easier to use in my opinion, if you don't have one you NEED one, it will be your best friend in the kitchen!
A sharp knife is the most important tool in the kitchen, these Japanese steel "Shun" knives are my favorite! And this is a great starter set to build on. Once you try them you will be in love so use this as a foundation you can build on for years to come.
This Scanpan 11″ skillet is just the right size for almost anything you will need to cook and my best friend and a real workhorse in my kitchen, it's also a great deal at $99. Scanpan is the best in the world for healthy cooking. It is coated with a proprietary ceramic-titanium coating that is durable while allowing you to use fewer fats and oils when cooking. It is a coating only they use. I could talk all day about my love for these pans, message me if you want more info. Here are some other sizes that are available if you are looking to outfit your kitchen with some new goodies. 8″ & 10″ Skillet set or 8″ Skillet, I still need this one for my kitchen Also, I don't really know how to cook small so the 12.5″ is my other fave!
This giant vat of olive oil is my favorite, I decant it into a smaller bottle for my counter. Or put this spigot on top of a wine bottle!
My favorite baking dish that is so easy to clean even burnt on cheese slides right off!
This Tovolo jar scraper has to be my single favorite kitchen tool, it is definitely the most used tool in my kitchen. If you are NOT a gadget person, this is the only necessity I say is a MUST beyond the wooden spoon.
A great wood spoon is essential, this Olive Wood one is my favorite, I have more than I can count. But can you really ever have too many?
A food scale can be a very important tool in your kitchen, this one is the one I use every day!
If you love Joanna Gaines as much as I do then the 'Magnolia Table Cookbook' is a must in your kitchen, get a copy HERE!