These delicately light donuts are a part of my polish family heritage that I personally only learned of a year ago. Paczki, pronounced Poonch-Key are a high fat, yeasted dough that is risen twice and then deep-fried. The rich dough produces a wonderfully tasty, super fluffy donut, that filled with a tart jam provides a beautiful flavor explosion in your mouth!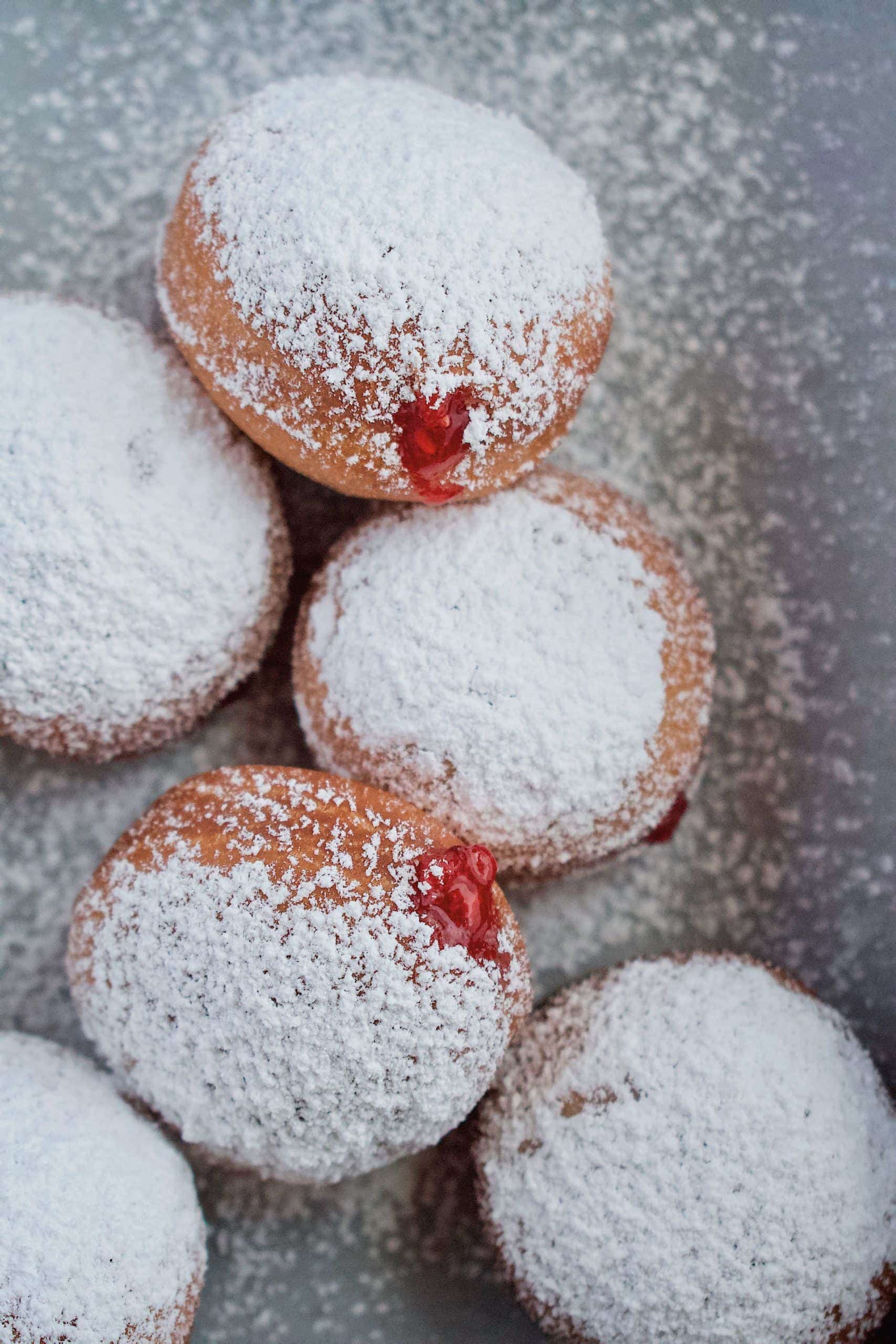 My family is from the Chicagoland area and because we moved away when I was a baby I didn't grow up around my polish relatives. When I stumbled upon paczki's in the grocery store around Mardi Gras time last year and brought them home, my mom said, "Oh yeah, I used to eat these all the time as a kid". Little known to me, I had never heard of them before.
What is the meaning of Paczki Day?
To Americans of Polish descent, Pączki Day means eating pączki, special jelly-filled buns. While the practice of Pączki Day is traditionally observed the day before Ash Wednesday in the United States (Fat Tuesday), in Poland, pączki sales are the highest on Tlusty Czwartek, or "Fat Thursday." (the Thursday before Ash Wednesday).
Paczki's and Fat Tuesday
So this year I am getting ready for Fat Tuesday and/or Tlusty Czwartek and preparing some paczki's to get us through the day. While my family no longer follows the Lenten traditions of the catholic church, I still enjoy learning and exploring my heritage through food.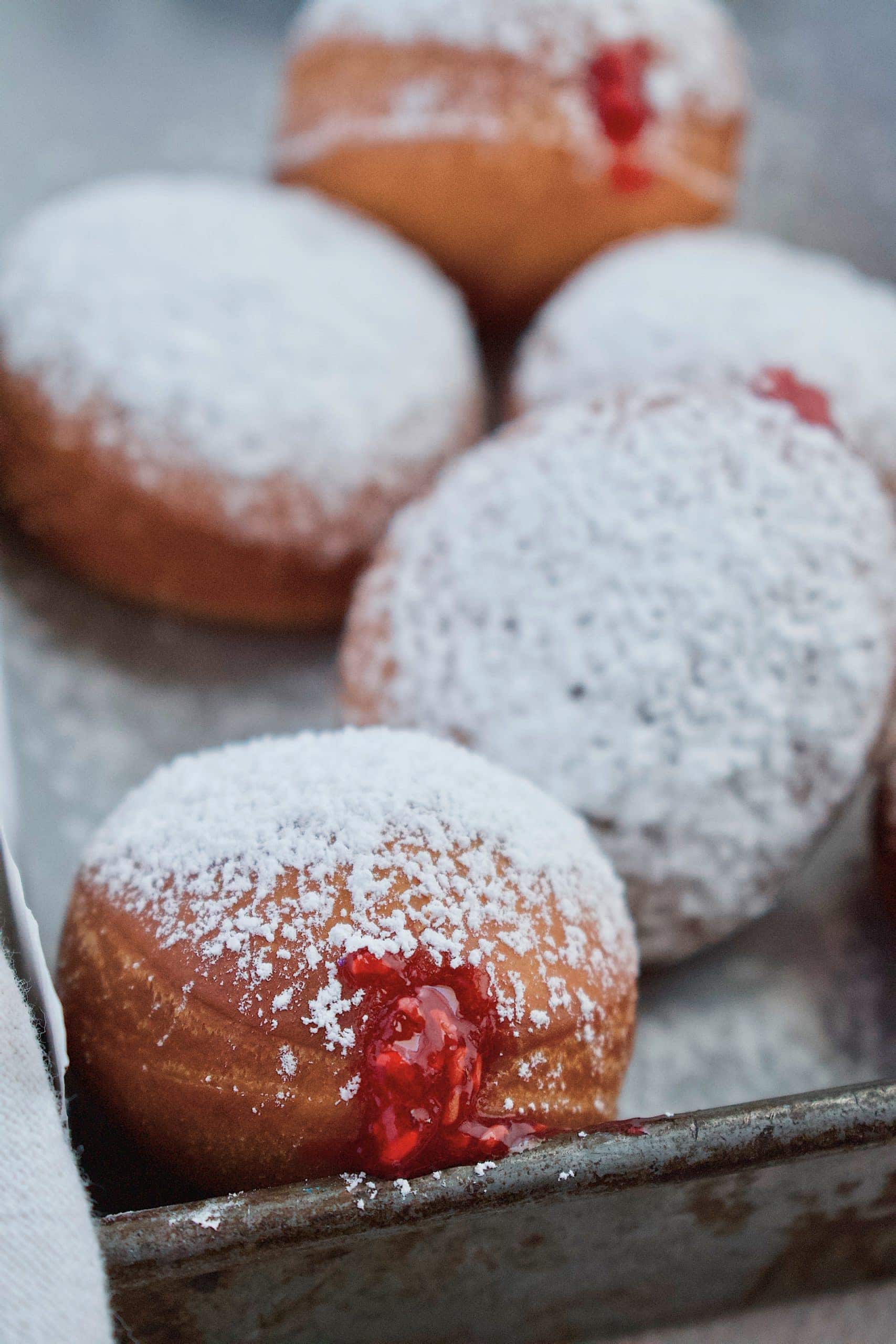 While a traditional paczki is filled with a fruit jam and covered in powdered sugar, I took a little liberty and had some fun with them. Here are my Mardi Gras jelly donuts below, just make a nice thick powdered sugar glaze and dust them with some colored sugars.
Giving them a Mardi Gras twist!
Mix about 1/2 cup powdered sugar and 1-2 tablespoons of water as needed to make a thick glaze, stir until all the sugar is moistened then dip the donuts. Let then dry only for about 1-2 minutes, then dust with the colored sugars. Allow them to dry until the powdered sugar glaze has hardened.
Fill the donuts with the jam after you have decorated and the glaze has hardened. These are my King Cake Jelly Donuts.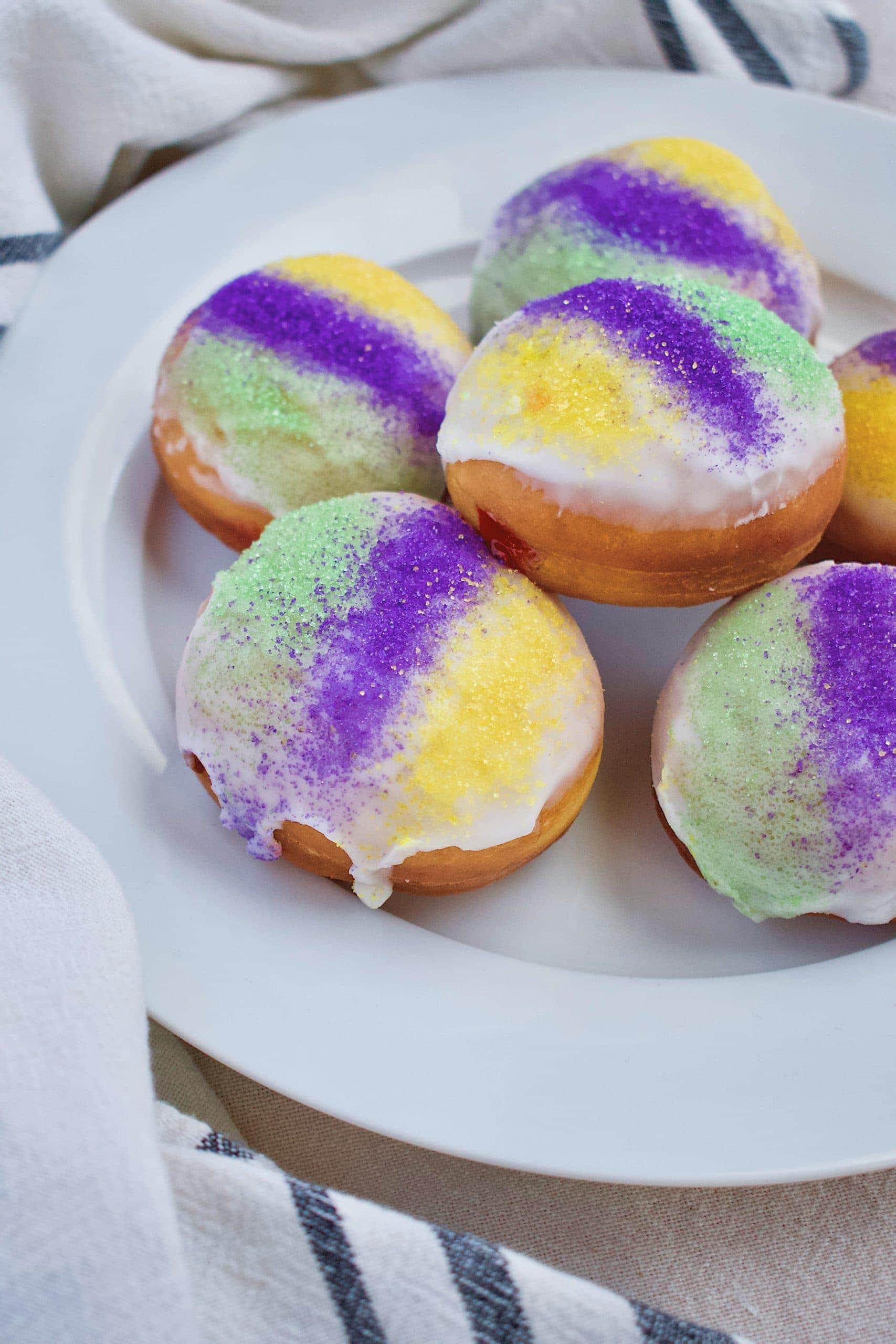 I shared a Raspberry Jam recipe HERE, and that is what I filled my Paçzki with!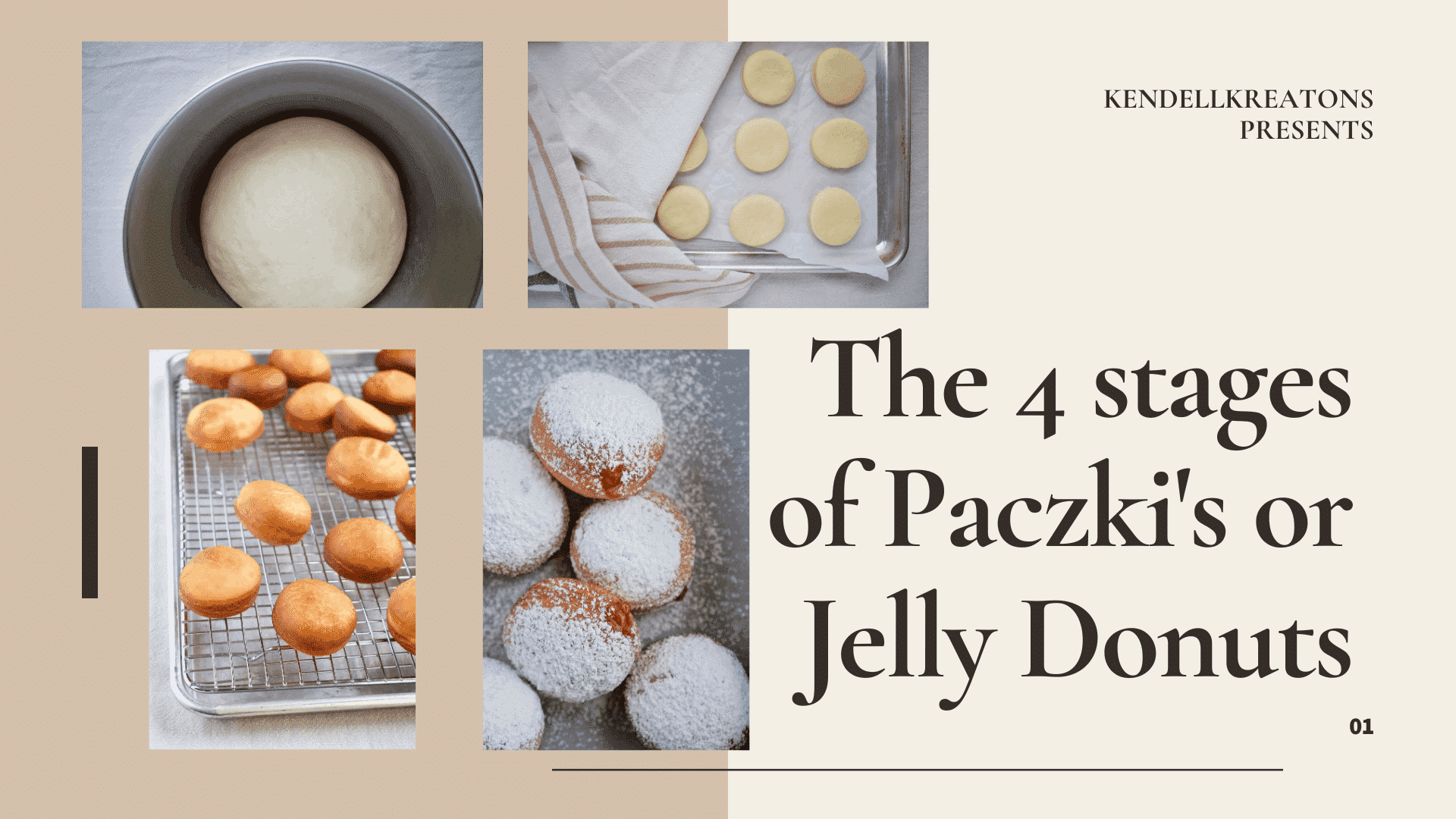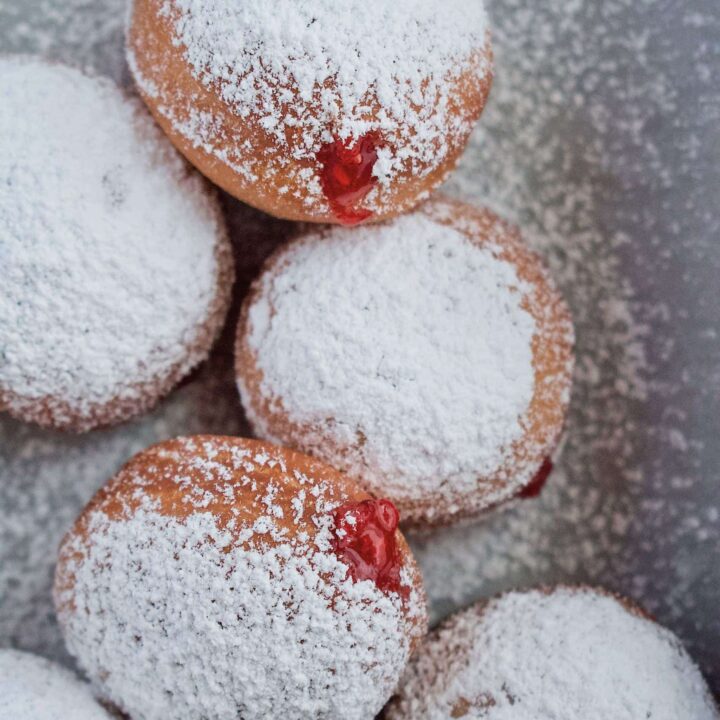 Polish Paczki Jelly Donuts
This is a high fat, yeasted dough that will do well for both a jelly donut but also holds its own as a classic polish paczki. It checks all the boxes for the polish classic.
Ingredients
1 C Milk
2 1/4 t Active Dry Yeast
2 eggs
8 T Butter melted and cooled
1/4 C Sugar
1 t Salt
4 3/4 C All-Purpose Flour plus more for rolling out the dough
Canola Oil Pan Spray for coating the bowl
2 quarts Corn or Peanut Oil for frying, or any neutral oil
1 1/2 C Raspberry, or your favorite jam
Instructions
Heat the milk to 90 degrees. In the bowl of a stand mixer, combine the milk and yeast. Stir lightly, and let rest until the mixture begins to foam, about 5 minutes.
Fit the mixer with the dough hook and beat the eggs, butter, sugar, and salt into the yeast mixture. Add half of the flour, and mix until combined, then mix in the rest of the flour until the dough pulls away from the sides of the bowl. If the dough seems wet at this point and isn't completely releasing from the sides of the bowl, add a little more flour, 2 tablespoons at a time. The dough will kneed for about 5 minutes before it lets go of the bowl. Remove dough and lightly spray the mixer bowl with the pan spray. Cover with a kitchen towel and let rise at room temperature until it doubles in size, about 1 hour.
Turn the dough out onto a floured surface, and roll it to 1/2-inch thickness. Cut the doughnuts out with a 3-inch biscuit cutter. Knead any scraps together, only once, let rest for a few minutes, repeat the process.
Put the doughnuts onto floured baking sheets with plenty of room between each one. Cover with a kitchen towel, and let rise in a warm place until they are slightly puffed up and delicate, about 30 minutes. You can also proof in the oven. Heat to 200 at the beginning of this step, turn off the heat, put the baking sheets in the oven and leave the door ajar. We don't want to heat the dough, just create a warm environment for the yeast to work.
About 15 minutes before the doughnuts are done rising, heat the oil in a Dutch oven over medium heat, and heat it to 375 using a candy thermometer. Meanwhile, line a cooling rack, baking sheets or plates with paper towels.
Carefully add the doughnuts to the oil, a few at a time. If they're too delicate to pick up with your fingers (they may be this way if you rose them in the oven), use a metal spatula to pick them up and slide them into the oil. It's okay if they deflate a bit; they'll puff back up as they fry. When the bottoms are deep golden, after 45 seconds to a minute, use your spider strainer to flip; cook until they're deep golden all over. Transfer the doughnuts to the prepared plates or racks, and repeat with the rest of the dough, adjusting the heat as needed to keep the oil at 375.
When the doughnuts are totally cool fill with your favorite jelly, dust with powdered sugar and enjoy!
Notes
If you want to make my Mardi Gras King Cake version, make a quick powdered sugar glaze by mixing 1/2 cup of powdered sugar and 1-2 tablespoons of water, just to moisten the sugar, and mix to combine. Dip the donuts in the glaze before filling, let it set for 1-2 minutes and then dust with green, purple, and yellow sugars for a festive touch.
I shared a Raspberry Jam recipe HERE, and that is what I filled my Paçzki with!
Nutrition Information:
Serving Size:

1 grams
Amount Per Serving:
Unsaturated Fat:

0g
If you make this recipe, please let me know by leaving a review at the bottom of this page!
And make sure to sign up for my newsletter and follow along on Instagram, Pinterest, and Facebook for more KendellKreations!
MY LATEST RECIPES!
Get my NEW e-Cookbook here!! ⬇️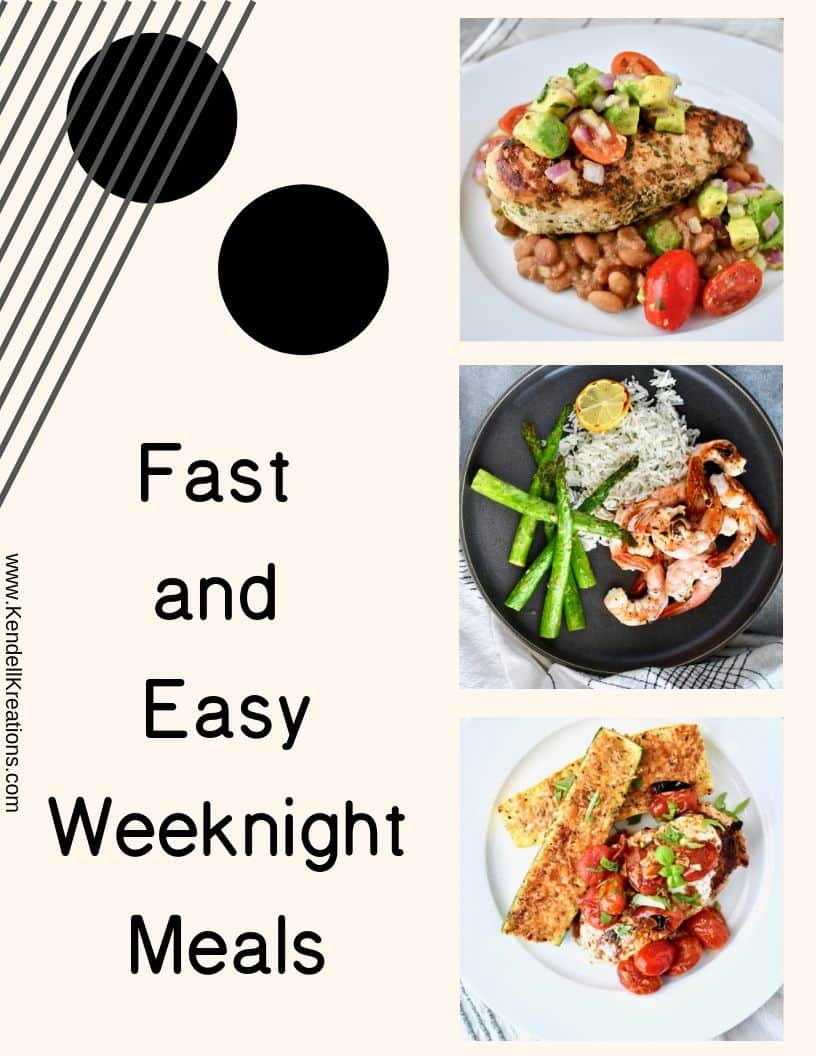 MY FAVORITE KITCHEN TOOLS!
Here are a few links to some of my favorite kitchen tools! You get a car, YOu get a car, YOU ALL GET A CAR…in my best Oprah voice
These Rösle Silicone Tongs are a little pricey but they will last you the rest of your life and are the softest in your hand. This is important for someone like m that cooks so much. It reduces strain, I have 4 sets in my kitchen!
These are my FAVE Nordic Ware Sheet Pans, every kitchen should have at least 2 sets of these! I think I have at least 4 of each of these.
This is my favorite pressure cooker, the Fagor is the same concept as the "Instant Pot" but easier to use in my opinion, if you don't have one you NEED one, it will be your best friend in the kitchen!
A sharp knife is the most important tool in the kitchen, these Japanese steel "Shun" knives are my favorite! And this is a great starter set to build on. Once you try them you will be in love so use this as a foundation you can build on for years to come.
This Scanpan 11″ skillet is just the right size for almost anything you will need to cook and my best friend and a real workhorse in my kitchen, it's also a great deal at $99. Scanpan is the best in the world for healthy cooking. It is coated with a proprietary ceramic-titanium coating that is durable while allowing you to use fewer fats and oils when cooking. It is a coating only they use. I could talk all day about my love for these pans, message me if you want more info. Here are some other sizes that are available if you are looking to outfit your kitchen with some new goodies. 8″ & 10″ Skillet set or 8″ Skillet, I still need this one for my kitchen Also, I don't really know how to cook small so the 12.5″ is my other fave!
This giant vat of olive oil is my favorite, I decant it into a smaller bottle for my counter. Or put this spigot on top of a wine bottle!
My favorite baking dish that is so easy to clean even burnt on cheese slides right off!
This Tovolo jar scraper has to be my single favorite kitchen tool, it is definitely the most used tool in my kitchen. If you are NOT a gadget person, this is the only necessity I say is a MUST beyond the wooden spoon.
A great wood spoon is essential, this Olive Wood one is my favorite, I have more than I can count. But can you really ever have too many?
A food scale can be a very important tool in your kitchen, this one is the one I use every day!
If you love Joanna Gaines as much as I do then the 'Magnolia Table Cookbook' is a must in your kitchen, get a copy HERE!