I don't mean to sound lofty with my title, but this Pumpkin Cheesecake came out literally perfect! The texture is fantastic, it's not too sweet, and the gingersnap crust makes the perfect base. Topping it with the bourbon whipped cream just sends it RI-gh-T over the top!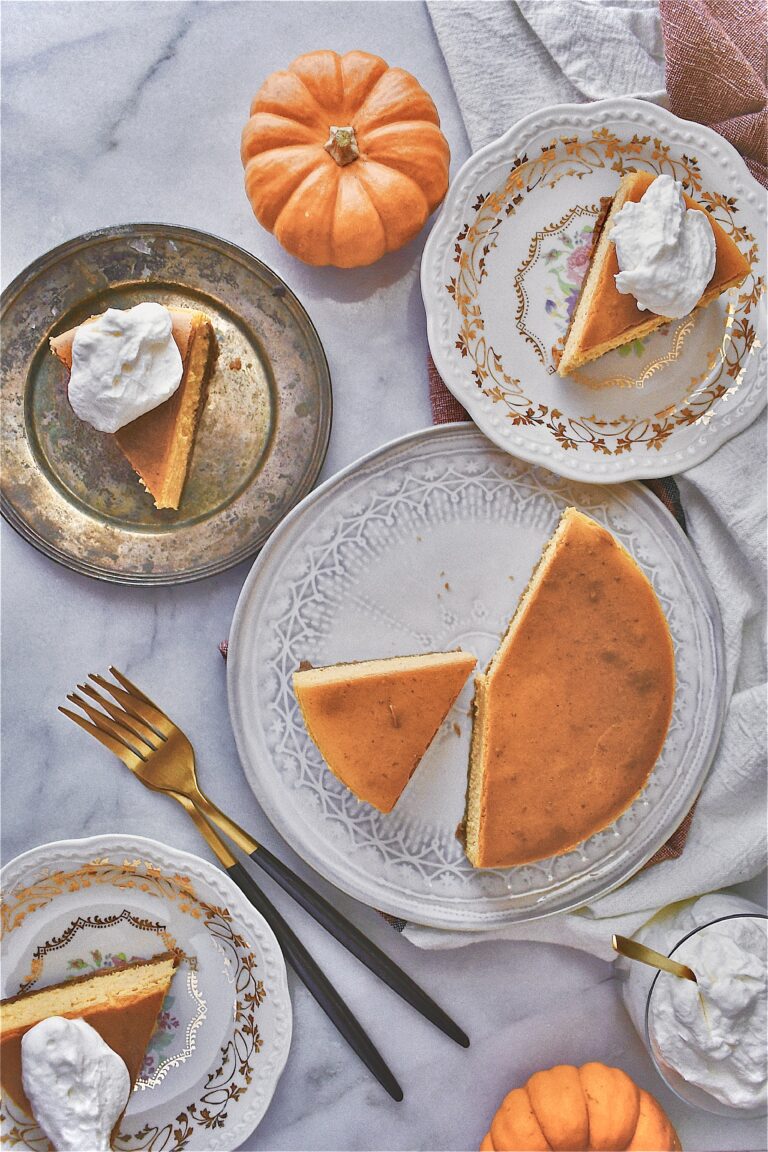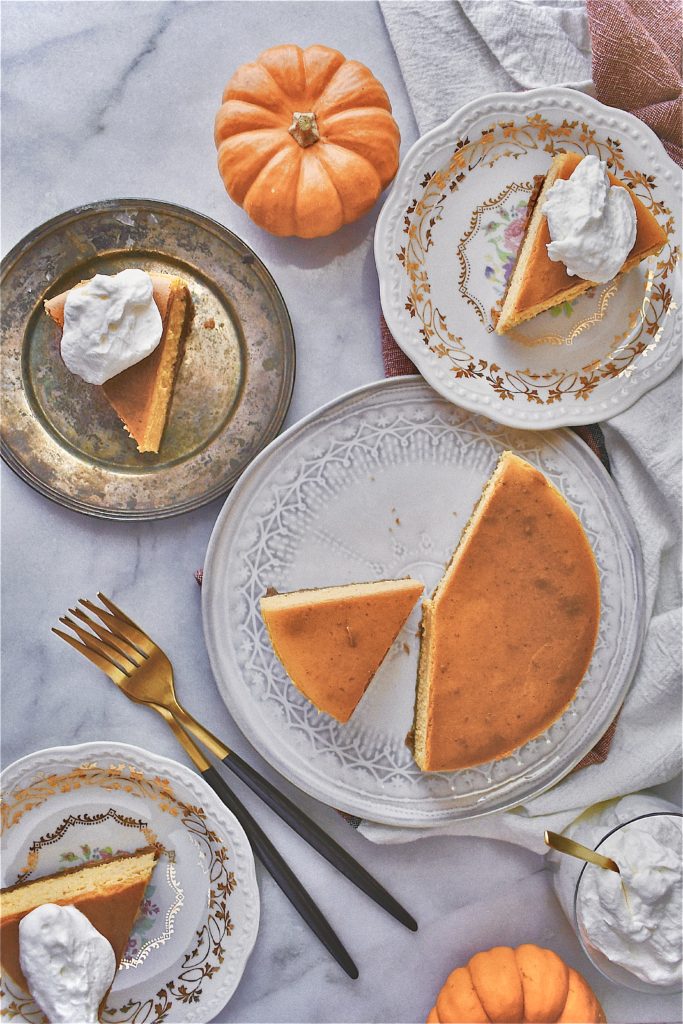 Now I have said it before, but I will say it again. I love all things pumpkin, as long as it's not pumpkin pie! So this pumpkin cheesecake is 100% my stand it.
If pumpkin pie was this good, everyone would love it!
Make ahead and freeze Cheesecake
One of the best things about this cheesecake is that you can make it ahead of time and freeze it. Whether you want to make it for Thanksgiving, Christmas or to a save for when you get that PSL craving in the spring. You can stash some away for any time you need it.
I have also designed this recipe so you can make a few small cheesecakes to take to friends or family you might be visiting during the holidays. The recipe makes 3 6-inch cheesecakes. You could bake it in a 9 or 10-inch large cake pan, but I love the little slices a 6-inch cake leaves you with.
It is literally the most perfect little slice that satisfies my sweet tooth and my craving for pumpkin. Plus this means I can have a small slice at breakfast and dinner if I want! And who doesn't want that?
For the best storage of your cheesecakes, after baking, freeze till firm. Then tightly wrap each cheesecake individually in plastic wrap. Slap a date on it just in case you decide to hold on to it for a while.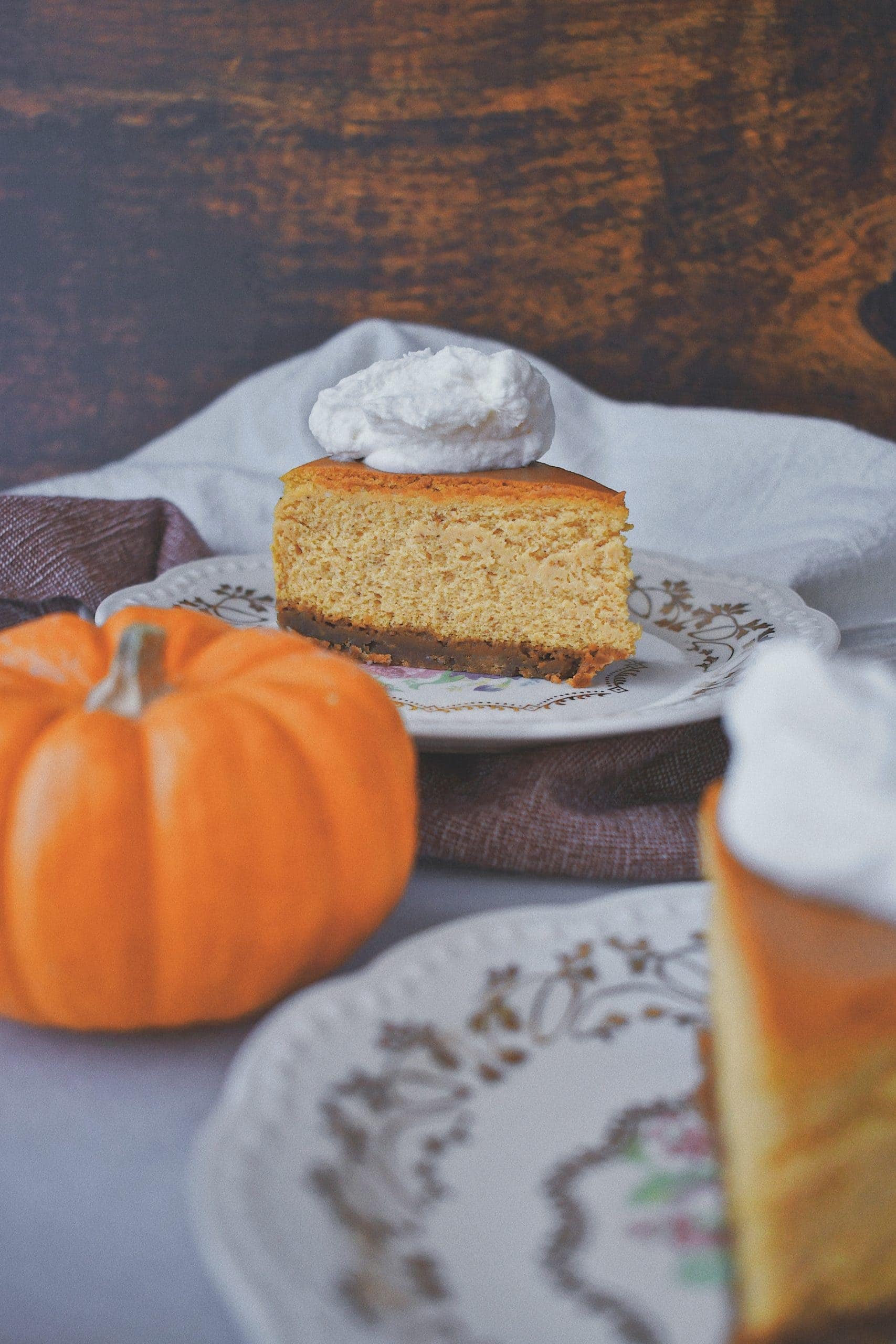 Keys to making a PERFECT Cheesecake!
It is very important to blend the first block of cream cheese with a little sugar, then add in each additional block one at a time and blend. This evens the texture while adding in the perfect amount of air that will leave your cheesecake light and fluffy!
Next, you want to be sure to cook with a water bath. The steam helps keep the cake from drying out and also helps prevent the dreaded crack. If you're not comfortable putting water in the pan you are baking the cheesecakes on, place a pan below them in the oven and fill that one with 1-inch of water.
This will also help prevent any spillage after but still keep your cheesecakes from drying out.
After the cheesecakes have baked and are left with the slightest wobble in them when jiggled, turn the oven off and leave the cakes inside. You want to let the cakes completely cool in the oven, 2-3 hours. This will also prevent cracking that can happen during a drastic temperature change.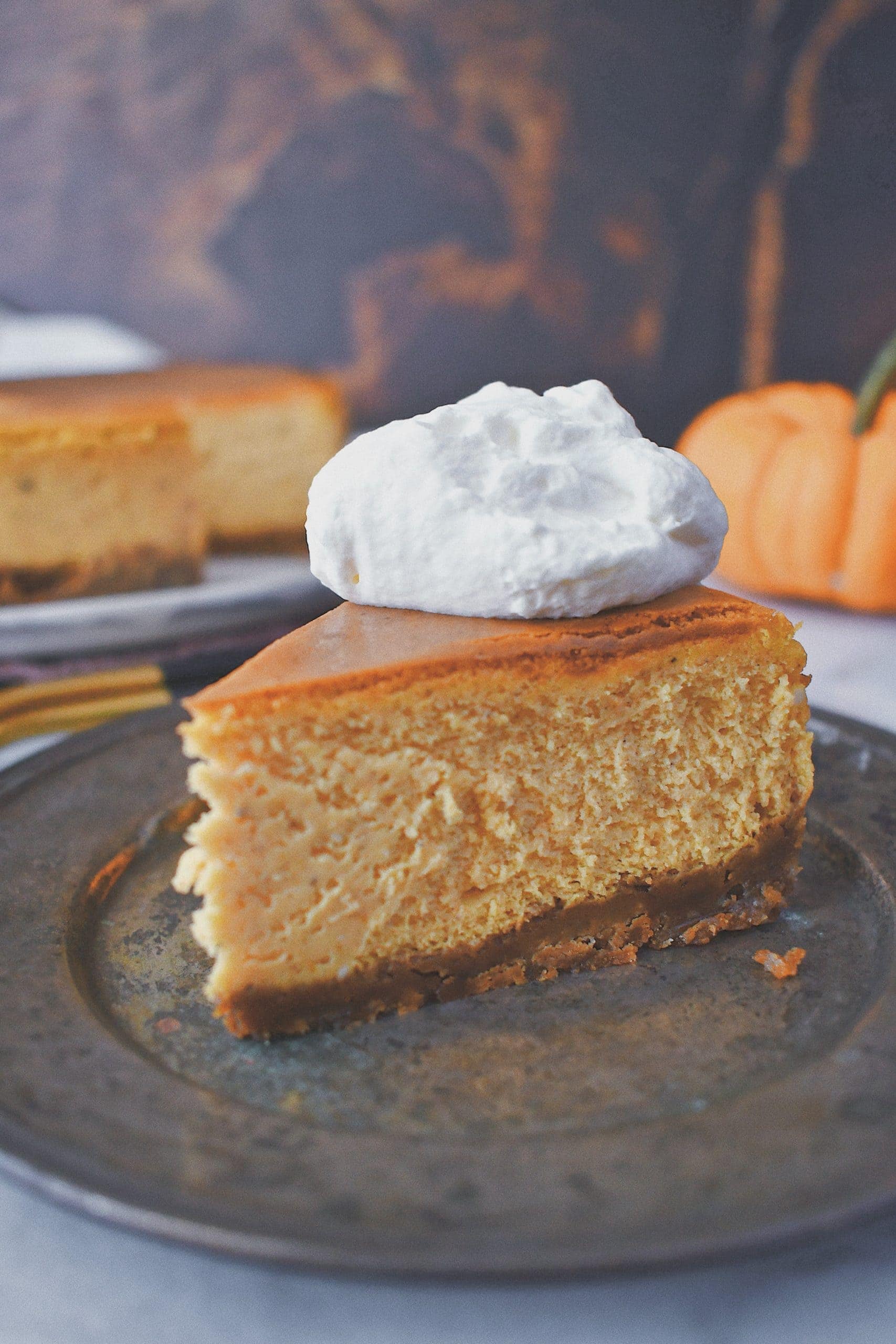 More Pumpkin Goodness
Homemade Pumpkin Spice Coffee Creamer
Copycat Starbucks Pumpkin Cream Cheese Muffins
Harvest Pumpkin Crunch Pancakes
Did you make this recipe? Let me know by leaving a review or comment! And be sure to sign up for my newsletter, and follow along on Instagram, Pinterest, and Faceboo