I don't mean to sound lofty with my title, but this Pumpkin Cheesecake came out literally perfect! The texture is fantastic, it's not too sweet, and the gingersnap crust makes the perfect base. Topping it with the bourbon whipped cream just sends it RI-gh-T over the top!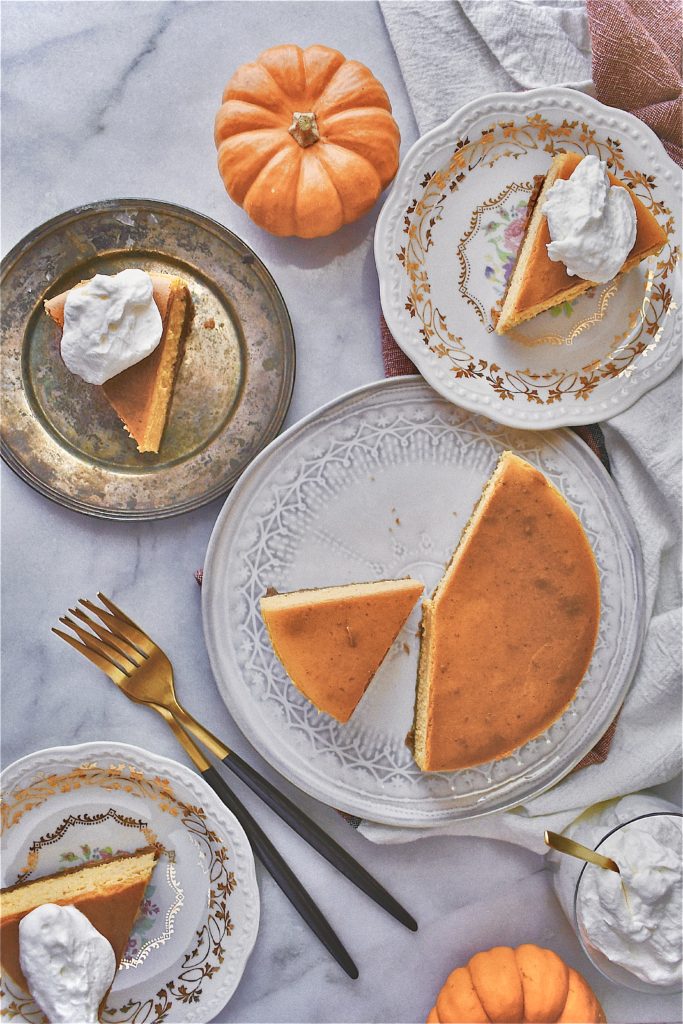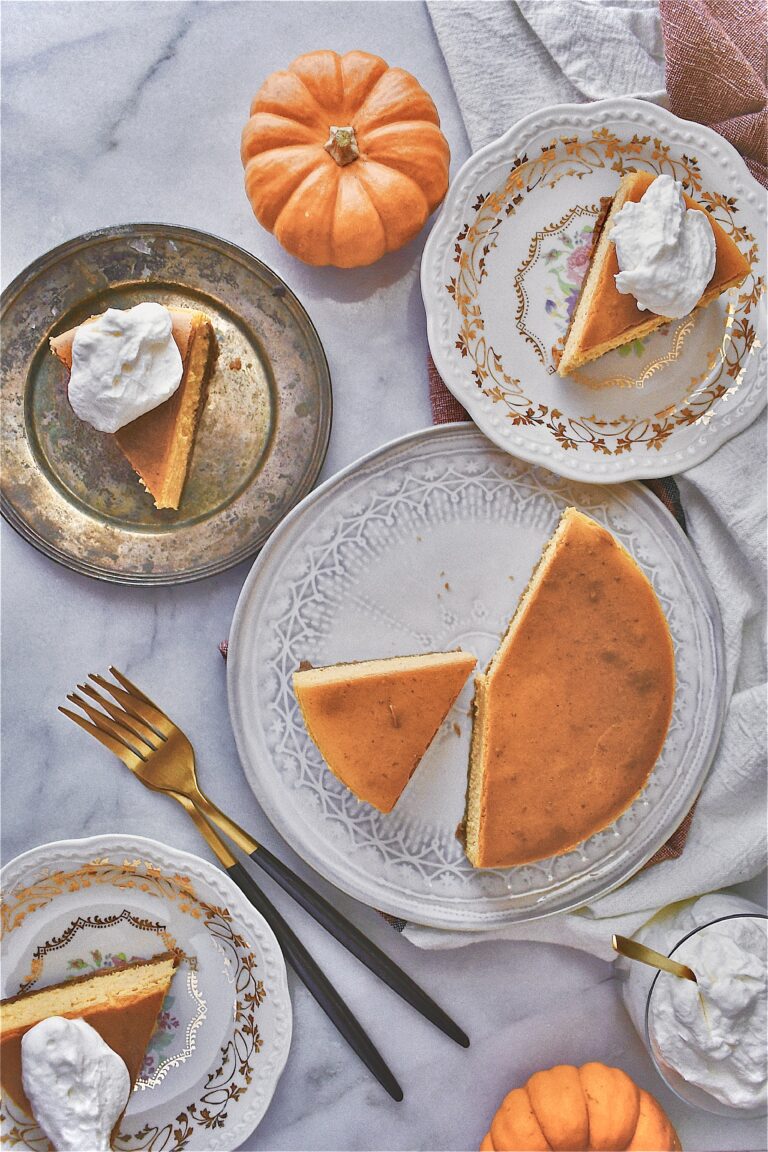 Now I have said it before, but I will say it again. I love all things pumpkin, as long as it's not pumpkin pie! So this pumpkin cheesecake is 100% my stand it.
If pumpkin pie was this good, everyone would love it!
Make ahead and freeze Cheesecake
One of the best things about this cheesecake is that you can make it ahead of time and freeze it. Whether you want to make it for Thanksgiving, Christmas or to a save for when you get that PSL craving in the spring. You can stash some away for any time you need it.
I have also designed this recipe so you can make a few small cheesecakes to take to friends or family you might be visiting during the holidays. The recipe makes 3 6-inch cheesecakes. You could bake it in a 9 or 10-inch large cake pan, but I love the little slices a 6-inch cake leaves you with.
It is literally the most perfect little slice that satisfies my sweet tooth and my craving for pumpkin. Plus this means I can have a small slice at breakfast and dinner if I want! And who doesn't want that?
For the best storage of your cheesecakes, after baking, freeze till firm. Then tightly wrap each cheesecake individually in plastic wrap. Slap a date on it just in case you decide to hold on to it for a while.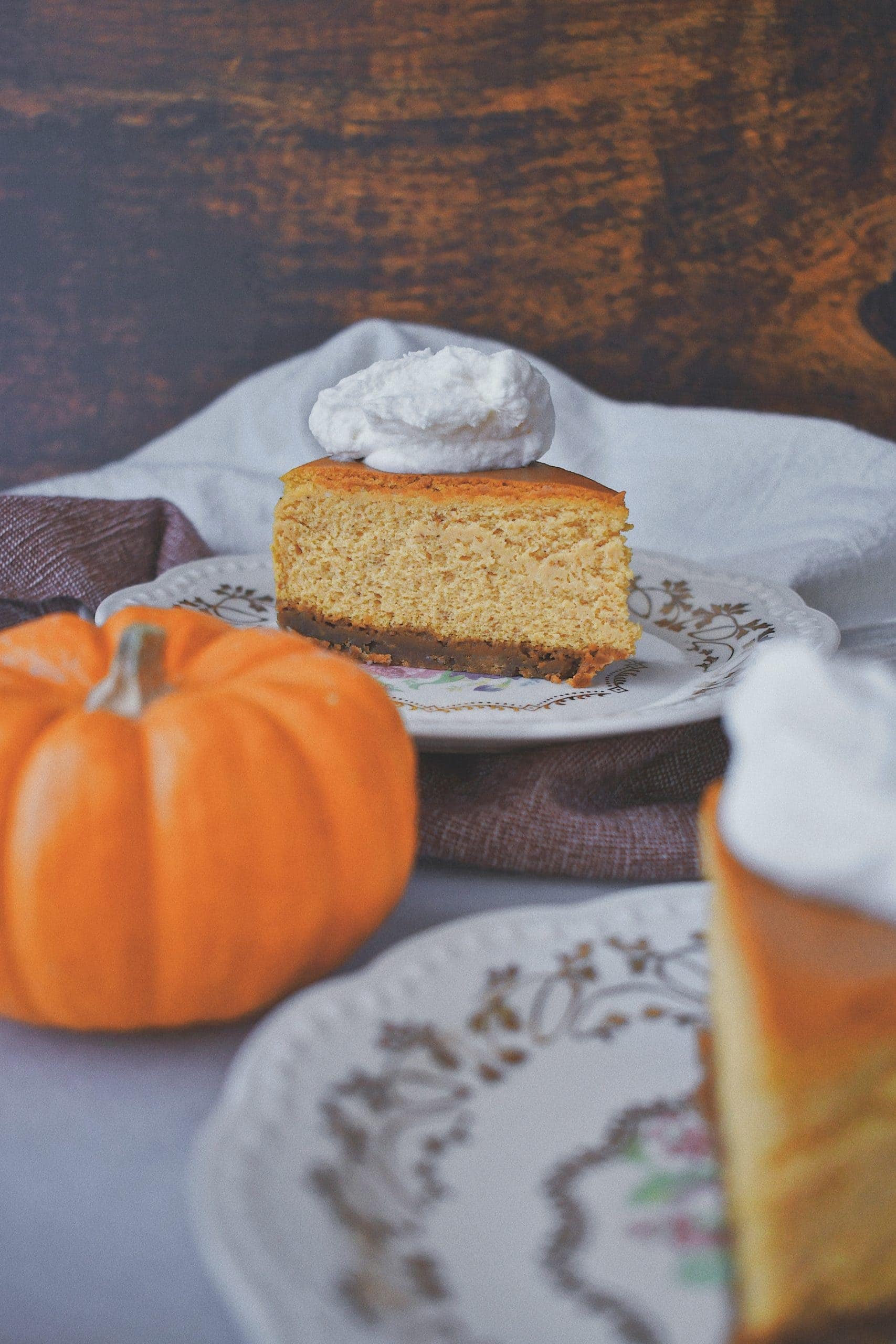 Keys to making a PERFECT Cheesecake!
It is very important to blend the first block of cream cheese with a little sugar, then add in each additional block one at a time and blend. This evens the texture while adding in the perfect amount of air that will leave your cheesecake light and fluffy!
Next, you want to be sure to cook with a water bath. The steam helps keep the cake from drying out and also helps prevent the dreaded crack. If you're not comfortable putting water in the pan you are baking the cheesecakes on, place a pan below them in the oven and fill that one with 1-inch of water.
This will also help prevent any spillage after but still keep your cheesecakes from drying out.
After the cheesecakes have baked and are left with the slightest wobble in them when jiggled, turn the oven off and leave the cakes inside. You want to let the cakes completely cool in the oven, 2-3 hours. This will also prevent cracking that can happen during a drastic temperature change.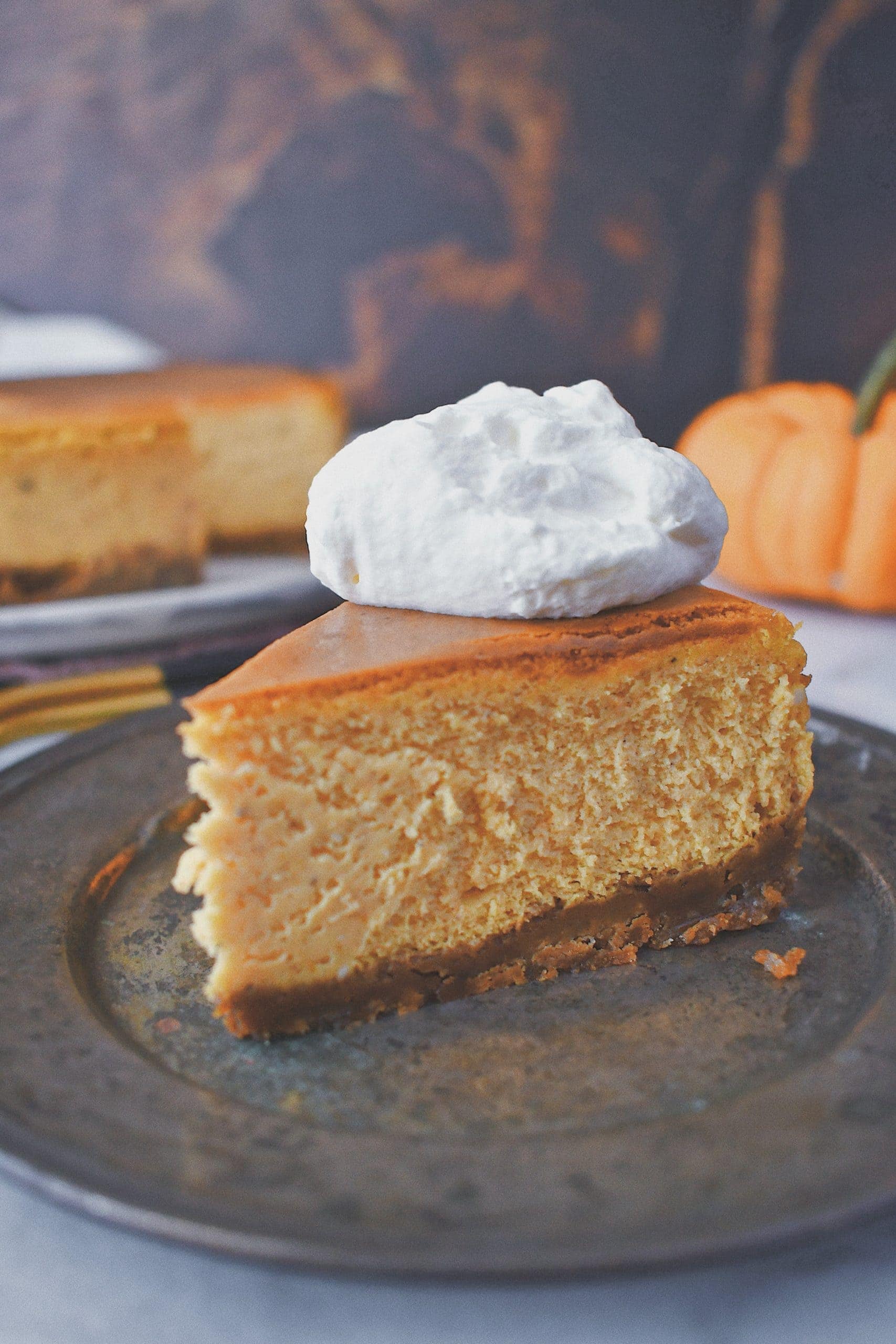 More Pumpkin Goodness
Homemade Pumpkin Spice Coffee Creamer
Copycat Starbucks Pumpkin Cream Cheese Muffins
Harvest Pumpkin Crunch Pancakes
Perfect Pumpkin Cheesecake
I don't mean to sound lofty with my title, but this cheesecake came out literally perfect! The texture is fantastic, it's not too sweet, and the gingersnaps make the perfect base and topping it with the bourbon whipped cream just sends it over the top! It is all around greatness…ENJOY!
Ingredients
Crust
3

C

Gingersnap Cookie Crumbs

1/2

C

Butter

melted
Cheesecake Batter
3 8

oz

Cream Cheese Blocks

room temp

1

C

Sugar

1/8

C

Corn Starch

1

T

Vanilla Extract

1

C

Pumpkin Puree

1

heaping teaspoon Pumpkin Pie Spice

2

Eggs

1/2

C

Heavy Cream
Whipped Topping
1

C

Heavy Cream

1/2

C

Powdered Sugar

2

t

Bourbon

1

t

Vanilla Extract
Instructions
Crust
Prepare 3 6-inch cake pans by lining the bottom with parchment paper and greasing the bottom and sides well with pan spray.

In a small bowl combine gingersnap cookie crumbs, and melted butter to form your crust mixture.

Press 1 cup of the crust mixture into the bottom of each pan using the base of a measuring cup or drinking glass.

Bake the crust in the oven for 7 minutes. Remove and set aside while making your filling.
Cheesecake Batter
In a stand mixer, combine one package of cream cheese and 1/3 cup of sugar. Mix on low until well combined, about 3 minutes. Add each of the remaining cream cheese blocks one at a time until they are all combined. Scraping the sides and bottom of the bowl after each addition.

Add the remaining sugar, corn starch, pie spice, and vanilla. Mix on medium speed adding the eggs one at a time, making sure they are well combined after each addition. Add the cream and only mix until combined, being careful not to over mix.

Spoon equal parts of the cream cheese mixture into each of your prepared pans.

Place the cakes in a shallow pan, place in oven and fill the pan with 1 inch of water. This is a water bath, and it will keep the cheesecakes from cracking while cooking.

Bake for 45-55 minutes until the top is golden brown and it has the slightest wiggle to it. Turn off the oven and leave the cheesecakes in the oven until cool. about 3 hours. Leave the cakes in the pans and cover loosely with plastic wrap and place in refrigerator until completely cool, 4 hrs up to overnight.

To remove from pan, turn upside down keeping the plastic wrap on top and warm the bottom with your hands. You do this because the butter when cold will keep the cake in the pan. Rub the bottom for about a minute and then give the bottom a good whack. The cake should fall from the bottom and be in perfect condition. Lift the cake using the plastic wrap and place it on a plate. If needed, run a knife around the outside of the pan to loosen the cake.
Whipped Topping
In a stand mixer fitted with the whip attachment, whip the cream on medium speed until you see it beging to hold a ribbon. Add the powdered sugar, Bourbon, and vanilla and continue whipping on medium speed until stiff peaks form. Top each slice of cheesecake with a generous dollop and enjoy.
MY LATEST RECIPES!
Get my NEW e-Cookbook here!! ⬇️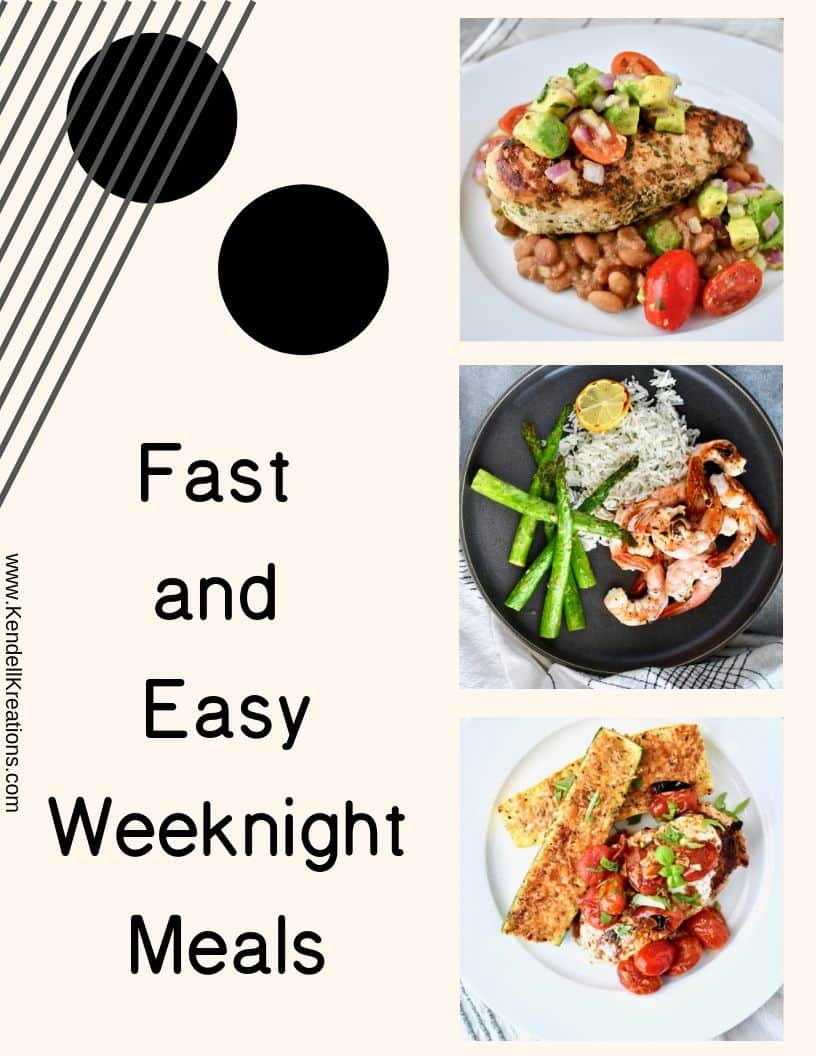 MY FAVORITE KITCHEN TOOLS!
Here are a few links to some of my favorite kitchen tools! You get a car, YOu get a car, YOU ALL GET A CAR…in my best Oprah voice
These Rösle Silicone Tongs are a little pricey but they will last you the rest of your life and are the softest in your hand. This is important for someone like m that cooks so much. It reduces strain, I have 4 sets in my kitchen!
These are my FAVE Nordic Ware Sheet Pans, every kitchen should have at least 2 sets of these! I think I have at least 4 of each of these.
This is my favorite pressure cooker, the Fagor is the same concept as the "Instant Pot" but easier to use in my opinion, if you don't have one you NEED one, it will be your best friend in the kitchen!
A sharp knife is the most important tool in the kitchen, these Japanese steel "Shun" knives are my favorite! And this is a great starter set to build on. Once you try them you will be in love so use this as a foundation you can build on for years to come.
This Scanpan 11″ skillet is just the right size for almost anything you will need to cook and my best friend and a real workhorse in my kitchen, it's also a great deal at $99. Scanpan is the best in the world for healthy cooking. It is coated with a proprietary ceramic-titanium coating that is durable while allowing you to use fewer fats and oils when cooking. It is a coating only they use. I could talk all day about my love for these pans, message me if you want more info. Here are some other sizes that are available if you are looking to outfit your kitchen with some new goodies. 8″ & 10″ Skillet set or 8″ Skillet, I still need this one for my kitchen Also, I don't really know how to cook small so the 12.5″ is my other fave!
This giant vat of olive oil is my favorite, I decant it into a smaller bottle for my counter. Or put this spigot on top of a wine bottle!
My favorite baking dish that is so easy to clean even burnt on cheese slides right off!
This Tovolo jar scraper has to be my single favorite kitchen tool, it is definitely the most used tool in my kitchen. If you are NOT a gadget person, this is the only necessity I say is a MUST beyond the wooden spoon.
A great wood spoon is essential, this Olive Wood one is my favorite, I have more than I can count. But can you really ever have too many?
A food scale can be a very important tool in your kitchen, this one is the one I use every day!
If you love Joanna Gaines as much as I do then the 'Magnolia Table Cookbook' is a must in your kitchen, get a copy HERE!